Between tomato seasons, when it's hard to find vine-ripened tomatoes, you can rely on Romas. Next to cherry-type tomatoes, they will have the most flavor of any store-bought tomato. Nothing beats a tomato that's been home-grown, but, we don't always have them. You can take an ordinary, run-of-the-mill Roma tomato, roast it and turn it into something quite incredible. Roasting intensifies the flavor. Romas hold up to roasting since they have a lower water content. They don't fall to pieces during the cooking process. Roasted Roma Tomatoes look quite lovely on a buffet. Serve them warm or at room temperature. Garnish with chopped basil just before serving.
Roasted Roma Tomatoes
Wash and slice tomatoes in half lengthwise. Place on a large prepared baking sheet covered in aluminum foil and sprayed with non-stick spray. Drizzle with olive oil and sprinkle on your favorite seasonings. I prefer to use 4-1-1. Toss to make sure everybody's coated. Rearrange everybody in a single layer cut side up.
Roast in a 400 degree oven for about 1 hour or until the tomatoes have collapsed and most of the liquid has cooked out.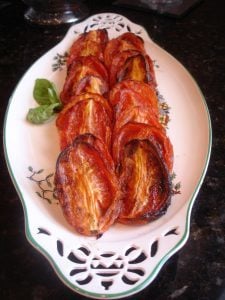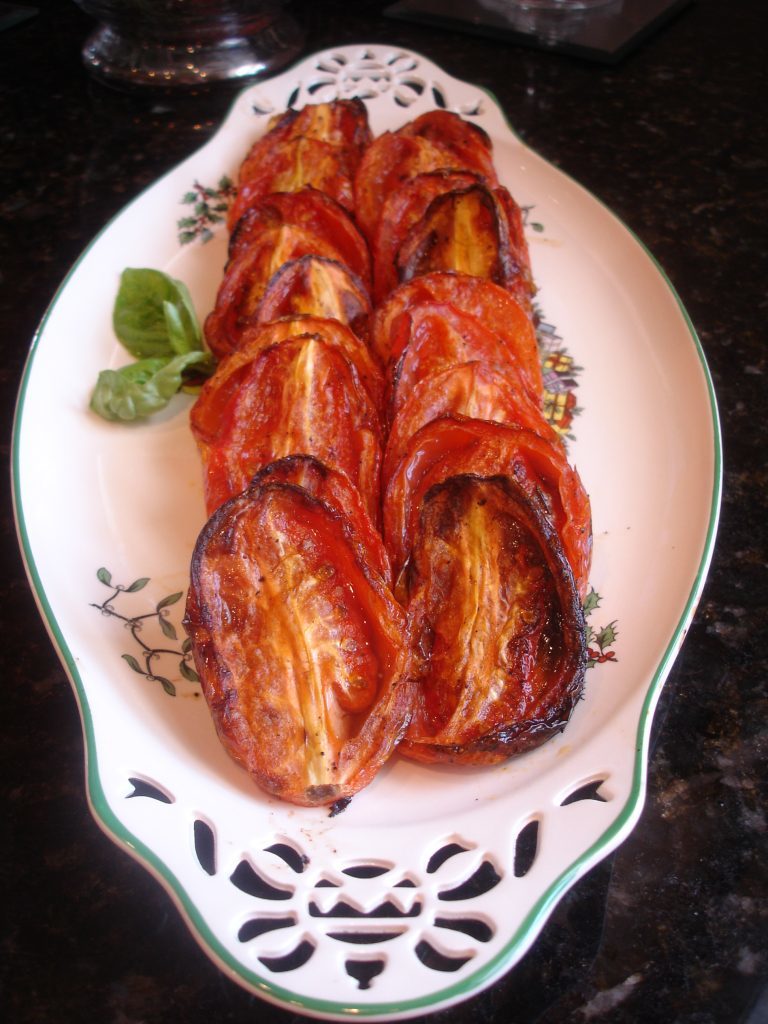 Roasted Roma Tomatoes
Ingredients
4

Roma tomatoes

sliced lengthwise

Olive oil for drizzling

4-1-1

for sprinkling

Chopped fresh basil for garnish
Instructions
Place tomato halves on a baking sheet that's covered with aluminum foil and sprayed with non-stick cooking spray.

Drizzle with olive oil then sprinkle with seasoning.

Bake in a preheated 400 degree oven for one hour.

Remove from oven and sprinkle with chopped basil.

Serve warm or at room temperature.