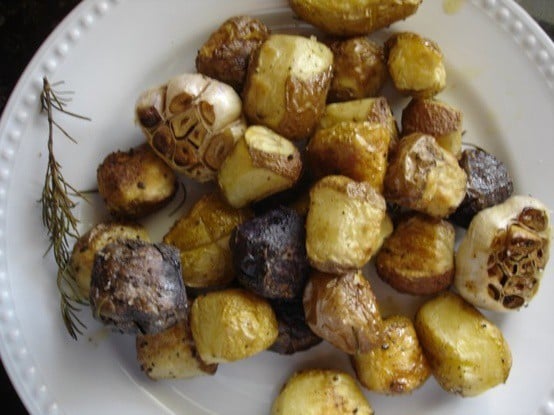 I just love, love, love those bags of mixed baby potatoes and fingerling potatoes. They represent themselves quite well, in my opinion. You can serve an elegant dish that is so easy to make. What else can you ask from a dish? Elegant AND easy.
Wash all potatoes and trim as you would like. I like cutting off strips of the peeling on each just to add a little "design" element. Place them on a cookie sheet. Drizzle olive oil and salt and pepper. Mix well to make sure all the spuds are covered.
Cut the tops off the heads of garlic. I used two smalls one here. Roll the garlic heads in the oil and seasoning in the bottom of your cookie sheet. Place them cut side up. Place a few twigs of fresh rosemary over the top. No need to strip the leaves. They will fall off the stems while cooking. You can remove the stems before serving unless you want to eat the stems, too. I wouldn't recommend that.
Roast at 400 degrees until the garlic and potatoes are browned and tender. It takes between 30 and 40 minutes, usually.
To serve, squeeze the pulp out of the garlic and eat along with your potatoes. The roasted garlic is amazingly mild and sweet.