Mushrooms aren't included in my list of food cravings. I like cooked mushrooms, but I don't crave them. There's never been I time where I thought I would die if I couldn't get my hands on some mushrooms. That doesn't mean they don't play an important role in my cast of food characters. They take on a supporting role and add a bit of flair. Flair is good if you're looking to make a meal extraordinary for a special occasion like a birthday celebration, Valentine's Day, anniversary dinner or a Tuesday.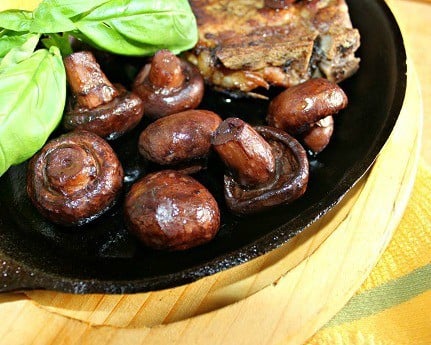 White mushrooms, sautéed in a red wine and butter sauce, take on a velvety chocolate appearance and add a special touch to a meal. They're shown, in the photo above, along side Skillet Roasted Pork Chops . Valentine's Day is just around the corner and I will be serving these lovelies to my Valentine with his favorite hunk of meat: rib-eye steak.
Select any button-type mushroom and keep them whole. I have no animosity toward sliced mushrooms or the person responsible for the slicing of the mushrooms. My preference simply leans toward whole mushrooms, perhaps because they retain their mushroom-y appearance. If you're not a member of the "let's retain the mushroom-y appearance club" and prefer sliced mushrooms, you can substitute them. However, if they appear on your plate sliced and you can't identify them, we have room in our club for you.
Y'all come see us!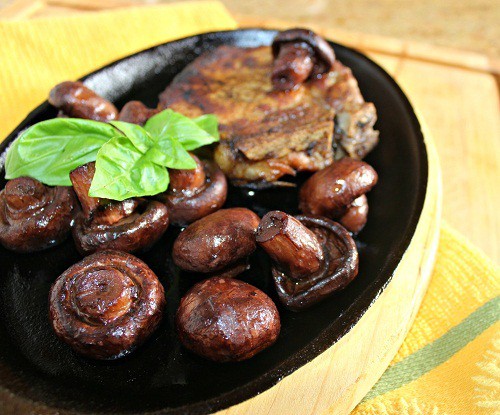 Mushrooms Sautéed in Wine and Butter
The recommend cleaning method, from folks that are supposed to know such things, is that you wipe each mushroom with a damp a paper towel to clean. That's NOT my recommendation. In fact, I find it absurd. It takes way more patience than I have to complete that little mundane task. Granted, you don't want to soak mushrooms in water. They are as absorbent as paper towels. Give them a quick rinse in a colander , drain well by bashing the colander on the side of the sink a few times and cook immediately.
The size of the mushroom container I bought at Costco just happened to be 23 ounces. There's nothing magical about 23 ounces of mushrooms. Adjust the amount of butter and wine up or down to accommodate the amount of mushrooms you cook.
23 ounces whole button-type mushrooms, cleaned using the rinse and bash method described in the headnote.
1/2 stick butter
1/2 teaspoon salt
1/2 cup red wine
Melt butter in skillet. Add mushrooms and stir continuously until the volume of mushrooms had reduced by about 1/2 and they have starting browning.
Add salt and stir well.
Add wine and stir. Continue cooking, stirring occasionally, until all the wine is absorbed.
Send me a note and thank me for saving you all that time by introducing you to the "rinse and bash" method of cleaning mushrooms instead the "wipe each one with a damp paper towel" method.