Pumpkin Pie Biscuits have all the flavors of pumpkin pie rolled into an easy to make, tender, flaky biscuit.
People love good biscuits. That's a fact. Tell them you're serving homemade Pumpkin Pie Biscuits and they'll follow you around like little puppy dogs. So….be prepared.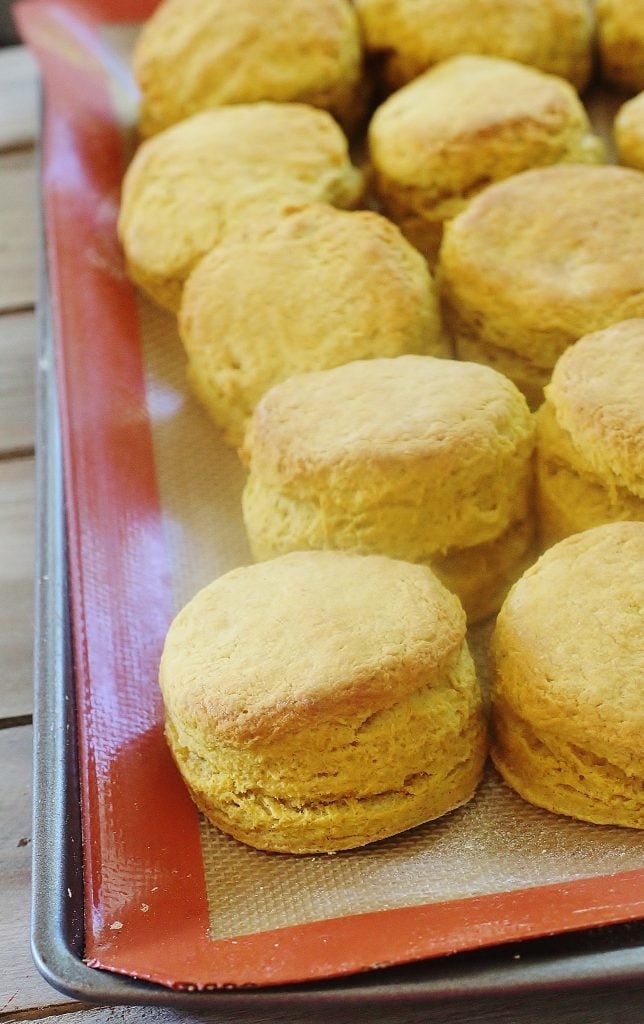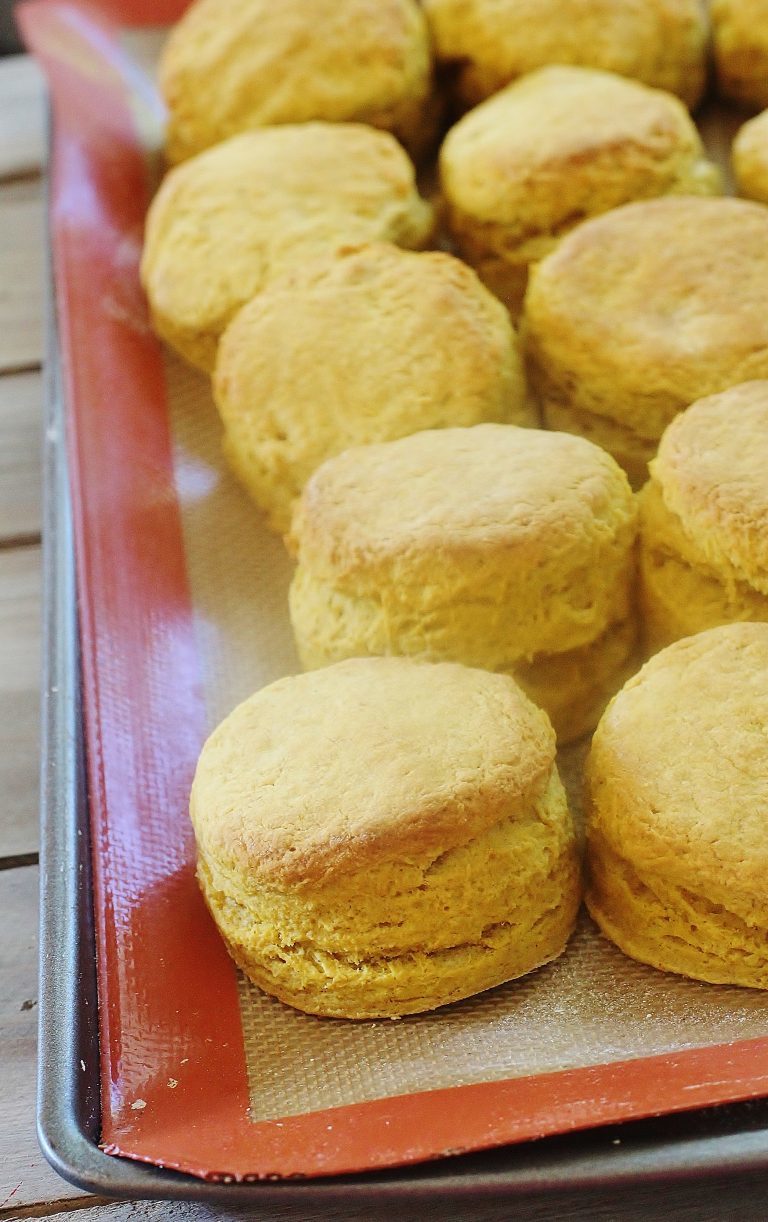 Canned pumpkin and pumpkin pie spices are incorporated into my standard buttermilk biscuit recipe to create a unique and flavorful biscuit. Try it for breakfast with a slice of ham. For a snack, slice it open and drizzle with honey. At dinner, it makes a perfect side for chicken.
Canned pumpkin vs fresh pumpkin
I've never cooked down a fresh pumpkin and used the flesh. In my opinion, canned pumpkin is a great product, so I stick with that.
My preference.
I have no knowledge of the consistency and texture of fresh pumpkin and can't advise whether the amount of cooked fresh pumpkin should be equal to the amount of canned pumpkin in this recipe. If you make the substitution, please comment and let us know the results.
Are homemade biscuits hard to make?
There's nothing hard about making homemade biscuits. It requires confidence and a good teacher, more than anything else. I can teach you everything you need to know about biscuit making. Check out my post detailing the process step-by-step.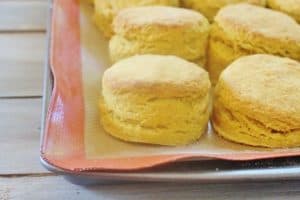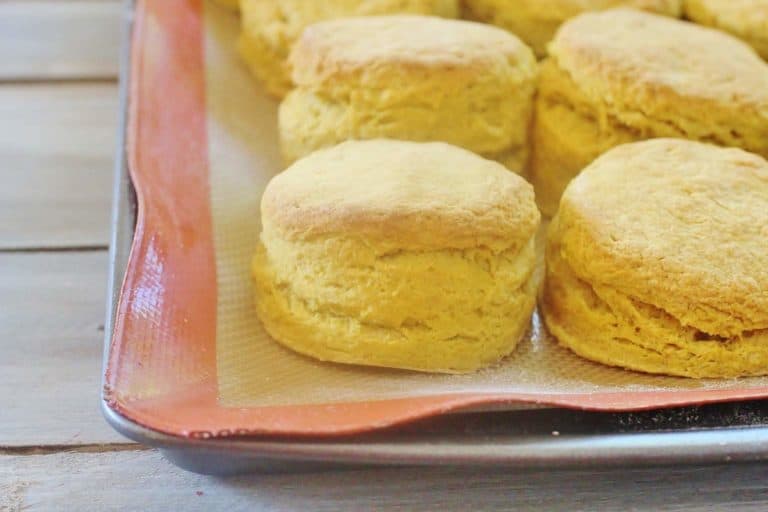 Is a rolling pin needed to make biscuits?
No, it's not necessary. You can pat out the biscuits with your hands. I prefer using a rolling pin for the nostalgia as much as anything. The rolling pin I use belonged to my Granny. It's priceless to me. If you're not in possession of a rolling pin that belonged to Granny or Aunt Eunice or Mrs. McClasky, or anyone who meant something to you, don't hold off making biscuits until you get one. You get right on in your kitchen and give it a go by patting out the dough with you hands.
Baking mat vs parchment paper
I use both for baking biscuits. I can't say one works better than the other. The only true advantage I see for a baking mat over parchment paper is that you'll always have it, whereas, you might be out of parchment paper and not be aware of it. No last minute runs to the store to buy it because you just realize you don't have it and you've already preheated your oven.
The equipment lists contains affiliate links. Purchases made though the links might result in a small commission paid to us.
Equipment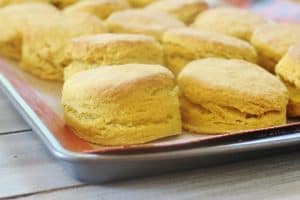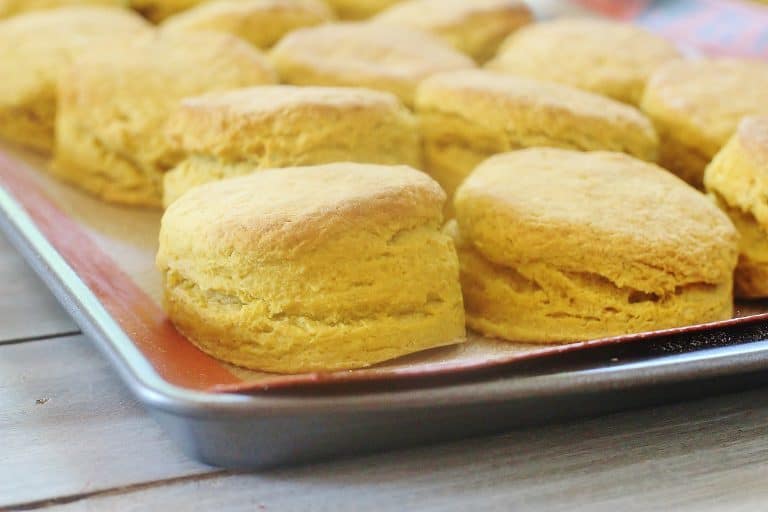 Y'all come see us!
Pumpkin Pie Biscuits
Pumpkin Pie Biscuits have all the flavor of pumpkin pie rolled into a tender flaky buttermilk biscuit.
Equipment
mixing bowl

measuring tools

Rolling Pin

biscuit cutter

baking sheet
Ingredients
2

cups

self-rising soft winter wheat flour

(I prefer White Lily)

1

teaspoon

ground cinnamon

1

teaspoon

ground ginger

1/2

cup

unsalted butter

cubed and chilled

1/2

cup

buttermilk

1

cup

canned pumpkin

4

tablespoons

honey

cooking oil or melted butter for brushing tops of biscuits
Instructions
Add flour, cinnamon and ginger to a large bowl. Stir to mix.

Rub or cut in butter until mixture resembles coarse meal.

Whisk together buttermilk, pumpkin and honey. Add to flour and stir with a large spoon until dough is wet and sticky.

Turn onto a well floured surface. Sprinkle with flour. Gently work flour into dough with your hands, adding more flour as needed, until the dough is no longer stick and holds its shape.

Roll or pat out to 1/2 inches thick.

Along the long side, fold 1/3 of right side toward middle. Then, 1/3 of left side toward middle. Fold the dough in half from top to bottom and then bottom to top. Gently roll or pat our to 1 inch thick.

Dip 2 1/2 inch biscuit cutter in flour. Cut out biscuits with floured cutter by pressing straight down and don't twist.

Place biscuits 1/2 inches apart on a baking mat or greased cookie sheet. Brush tops with cooking oil or melted butter

Bake in a 450 degree preheated oven for 15 to 17 minutes or until tops are golden brown.

Serve warm with additional drizzles of honey or maple syrup.
Check out these great recipes: