I'm not exactly sure of the mechanism of action, but blackberries create some sort of chemical reaction that binds grandchildren to grandparents forever and ever. In order for this magical mystical reaction to occur, grandparents must feed their grandchildren blackberries. The form and composition of blackberries isn't important. It works just as well with fresh blackberries as it does with blackberry cobblers, pies and jelly.
I'm living proof of the everlasting power of this chemical reaction. My grandmother fed me all manner of blackberry goodies. As a result, I grew extremely close to my grandmother and think about her every day. I'm sure the blackberries are responsible for linking my earliest food memories to Granny.
You might scoff at my theory but I would advise you not to take any chances if having a close relationship with your grandchildren is important to you.
Sam and I recently experienced our first spend the night party with our two-year-old twin grandchildren. The prospect of having them spend the night was exciting and highly anticipated. The thought pressing on my mind was trying to figure out the best method of blackberry infusion. I wanted them to ingest as much blackberry as possible even though I'm not certain if a correlation exists between quantity consumed and intensity of emotional attachment. I thought it best to err on the side of caution and give them blackberries in a form they would love and consume ravenously.
Pancakes and blackberry syrup for breakfast. What kid can resist? For additional blackberry protection, I threw in some blackberry butter. If you look closely at the garnet/purple sweet liquid, you can clearly see the mystical powers mingling and getting ready to jump into action as soon as they hit the taste buds of a grandchild who's in the presence of his/her grandparents.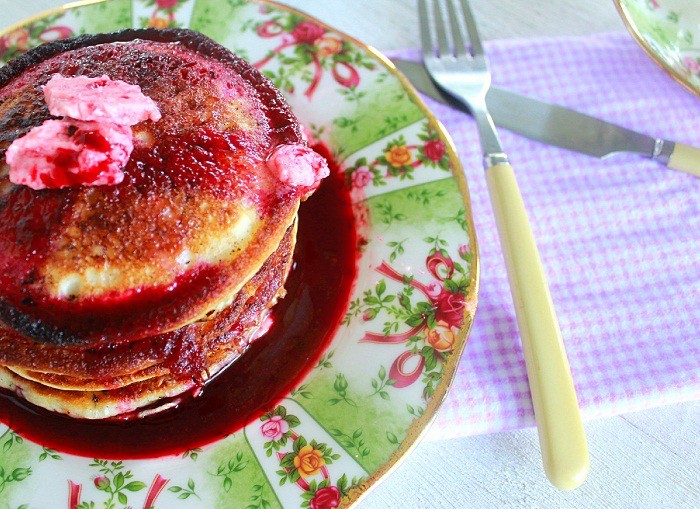 Time will tell if the magical mystical blackberry reaction works as intensely in them as is it did in me. I know that it's working at some level because Sam and I are madly, hopelessly, ridiculously in love with these two little people. I sure hope the feeling is reciprocal. Blackberries, don't fail me now!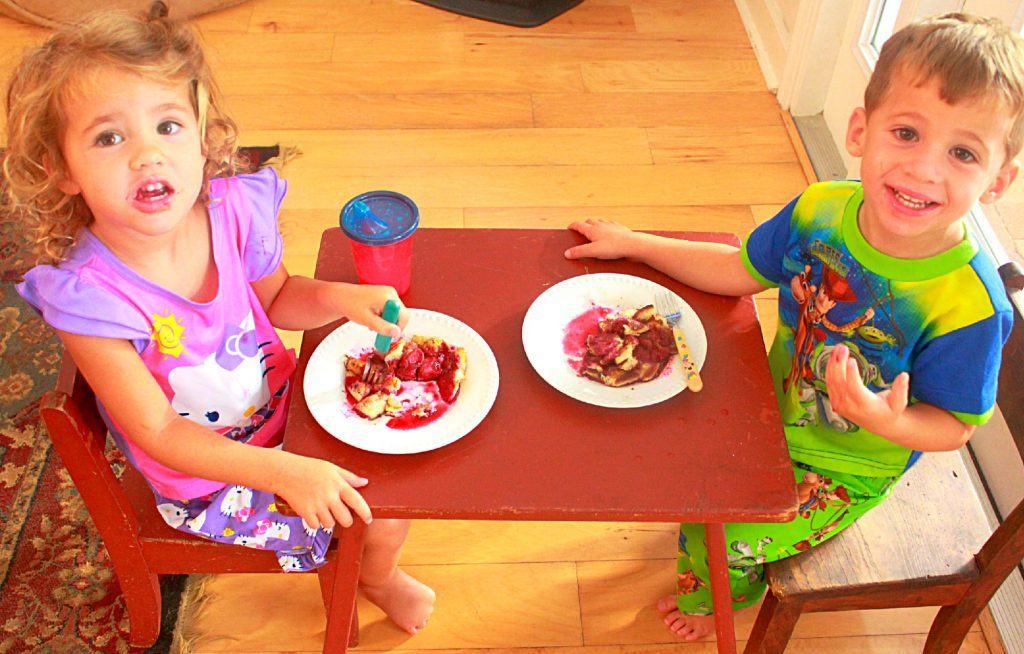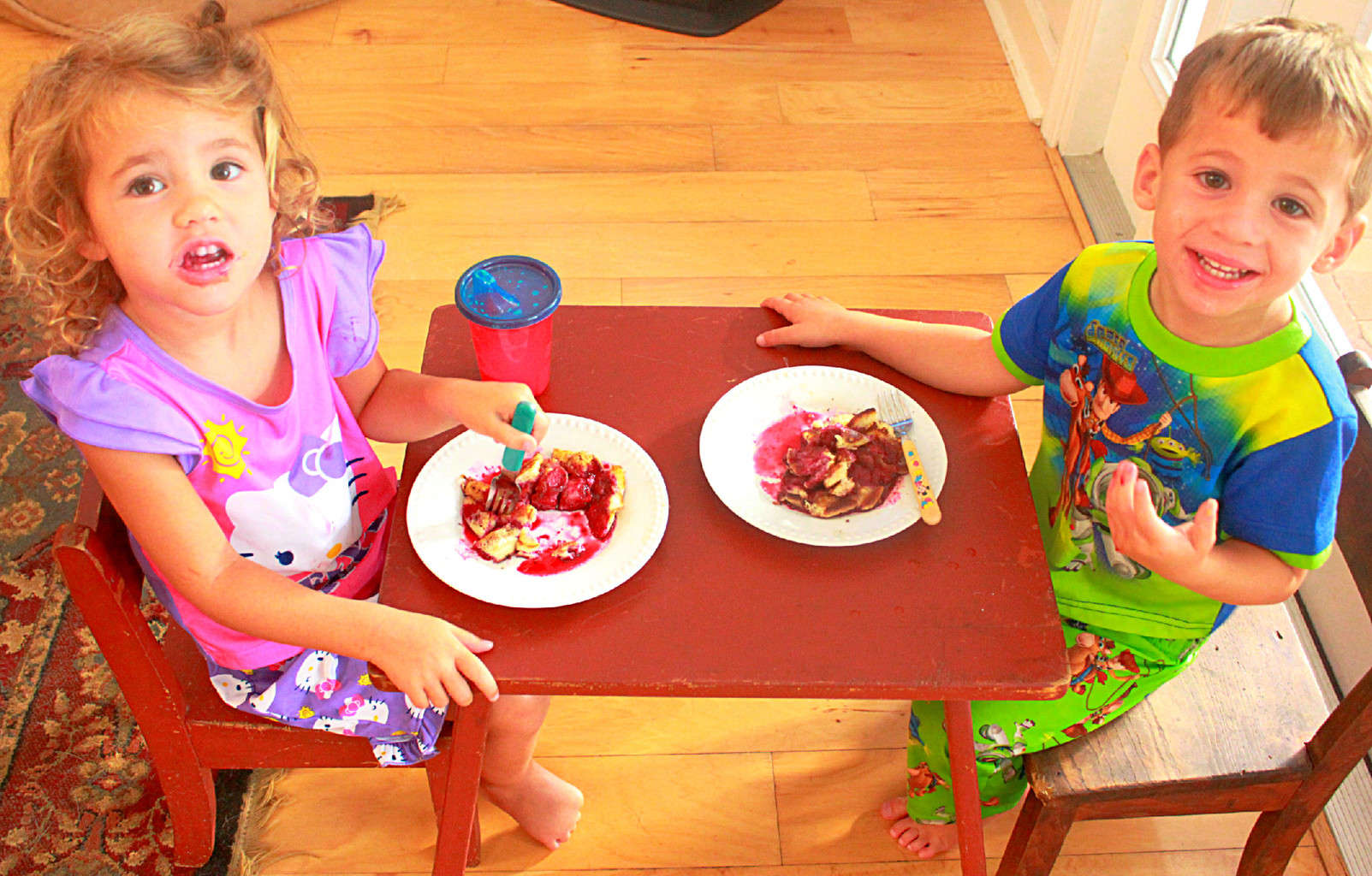 Y'all come see us!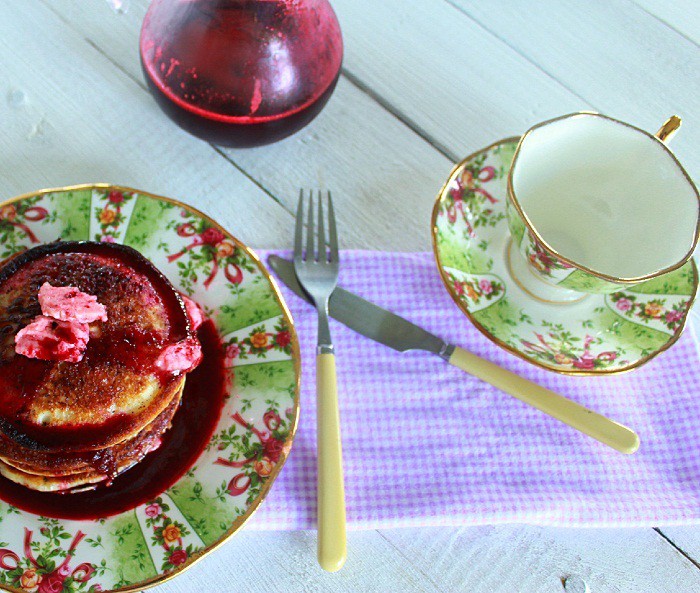 Blackberry Syrup and Blackberry Butter
Ingredients
Blackberry Syrup

yield: approx 1/2 to 3/4 pint

I didn't fuss over making pancakes from scratch because the pancakes serve as a vehicle for delivery the magical mystical blackberry in the form of blackberry syrup. I simply used a baking mix

buttermilk and eggs.

My husband missed the taste of maple which he feels anything called "syrup" should contain. As a result

he wanted half maple syrup and half blackberry syrup. If you're so inclined, you might add maple syrup or maple flavoring to the blackberry syrup.

8

cups

blackberries

washed

1/2

cup

granulated sugar

1/2

cup

brown sugar

half a lemon

sliced

Blackberry Butter

I tried using some of the syrup to mix in with butter but it was hard to incorporate it. Jelly or jam works better.

1

stick unsalted butter at room temperature

1 - 2

tablespoons

blackberry jelly or jam
Instructions
Blackberry Syrup

Place all ingredients in a large saucepan. Bring to a medium boil, stirring constantly until sugars are dissolved. Cook, uncovered, for at least 30 minutes. I mashed the berries with a potato masher after they got soft. I don't know that this is entirely necessary, I just felt like doing it. That's all.

Strain syrup through a cheesecloth. Store in refrigerator. Reheat before using.

Blackberry Butter

Mix jelly or jam well with softened butter. Pour onto a sheet of waxed paper, wrap and form into a log. Chill in refrigerator until firm.