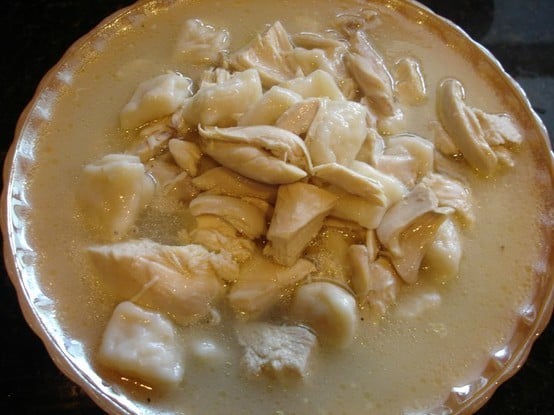 Chicken and Dumplings
They say confession is good for the soul. I don't know who "they" is, but I think it's time for me to "fess up". Unitl today, I was a Southern cook who could cook anything under the sun considered Southern…..except dumplings. I have spent countless hours pouring over Chicken and Dumpling recipes and testing the recipe only to wind up with a solitary dumpling. All my many dumplings would fall apart and then be joined together as one large dumpling. I have been trying for years to perfect the technique. Some recipes say drop the dumplings in simmering broth, some say to drop in boiling broth. Some say add eggs to the dough, other say just flour, leavening, salt and milk. Some say stir vigorously, some say don't stir. My Granny was a dumpling maker from way back. She used to let me drop the dumplings for her before I was old enough to be interested in the actual cooking technique and ask questions. So, I couldn't remember the temperature of the broth. Was it simmering or a hard boil? After I gained some years and wanted to know how she made her dumplings, she had gotten to the point where she was looking for cooking shortcuts. She said to me, "Shug, you just go on down to the store and get you some of them flour tor-till-ers (tortillas). They's just as good as dumplin's and way yonder easier" I never learned from my grandmother how to make dumplings. But I've spent years trying to figure it out.
I posted a poll on Syrup and Biscuits on Facebook and asked, "Which recipe would you like to see posted next: Chicken and Dumplings, Herb Roasted Chicken, Seafood Gumbo. I hesitated to even include Chicken and Dumplings as an option. But the more I thought about, the more I was convinced that it needed to stay. If it won the poll, I would have no option but to perfect the technique. I was prepared to have a dumpling testing marathon if need be. This little dumpling business wasn't going to stand in the way of giving my readers what they asked for.
I owe each of you that voted for Chicken and Dumplings my sincerest "Thank you". Because of you, I had to put the petal to the metal and "Git her done". In return, I have developed the perfect recipe and technique. My portfolio is now complete!
Good ol' fashioned Chicken and Dumplings. I DID IT!!!!!
Mix baking mix and buttermilk. Turn onto a floured surface and knead about 5 times. Keep adding baking mix to keep the dough from being sticky.
Roll out the dough to about 1/4 inch thick.
Square up the dough just so you can make the dumplings uniform in size. Save the scraps. We'll be using those, too.
I used a pizza cutter and cut the dumplings into 2X2 inch pieces. You can make them any size you want. I prefer bite size.
Place all the dumplings on a floured pan to keep them from sticking.
Debone and chop one whole chicken.
This is the critical part and the part that I have been getting wrong for the past few decades. Have your broth BOILING as fast as you can get it. As I was doing this, I did recall my Granny telling me to drop the dumpling "in the eye of the boil". That's the spot that has the highest temp and is boiling the fastest. Drop the dumplings ONE by ONE. Don't stir. Just push them down into the broth with the back of a big spoon. After they are all in, add chicken. Test the dumplings for doneness. They need to be a little "toothsome" and not mushy. You want them to have some substance to them. The size dumplings that I made cooked in just a few minutes.
Y'all, I'm so proud! I danced around my kitchen. They turned out just like Granny's.
For dumplings:
2 cups baking mix (I used Bisquick)
3/4 cups buttermilk
Two ingredients. That's all you need.
For stock, use 2 quarts of my Homemade Chicken Stock. If you are using a commercially prepared stock, just make sure it's of good quality. Chicken and Dumplings can only be good if the stock is good. Taste for seasoning.