I love yellow (summer) squash but I get stuck in a rut and resort to cooking it one way: stewed with sweet onions. Man, oh man! We love it. If you're into gardening, summer squash is easy to grow and produces like crazy. You'll be up to your eyeballs in squash in no time flat.
Unless…….you get hit by the dreaded downy mildew. That happened to me. It effects everything in the cucurbit family: squash, zucchini, watermelon, cucumber. It's hateful about it, too. It usually waits until your plants are growing beautifully and are bearing fruits. Then, like a thief in the night, it sneaks up and takes out your plants.
Every plant in the cucurbit family. Gone. Poof. Once it starts, it's all over but the crying.
So, I waved my white flag and gave up. Never again will I plant cucurbits on the land where we currently live.
Thank Heaven for Publix. I can buy the produce I need there.
Because I love onions and squash cooked together and because it's Vidalia season, I came up with a new dish for us. A caramelized Vidalia onion cream cheese filling in a yellow squash served with a garden fresh red summer sauce. It's a meal by itself. I ate three for lunch. Don't tell me that's the equivalent of three meals. I don't want to hear that.
Y'all come see us!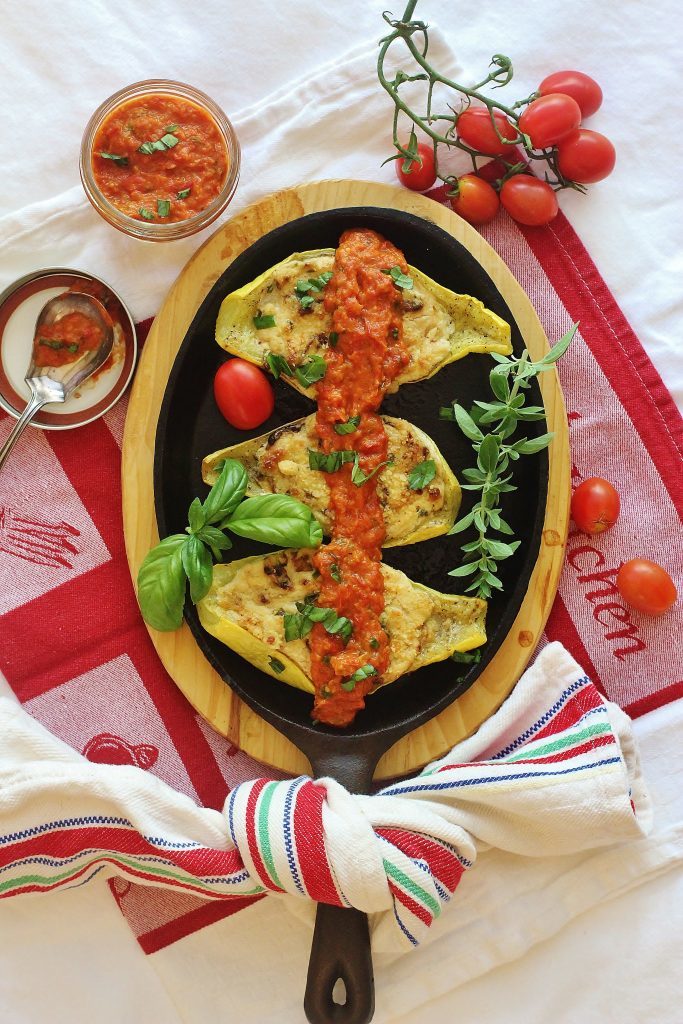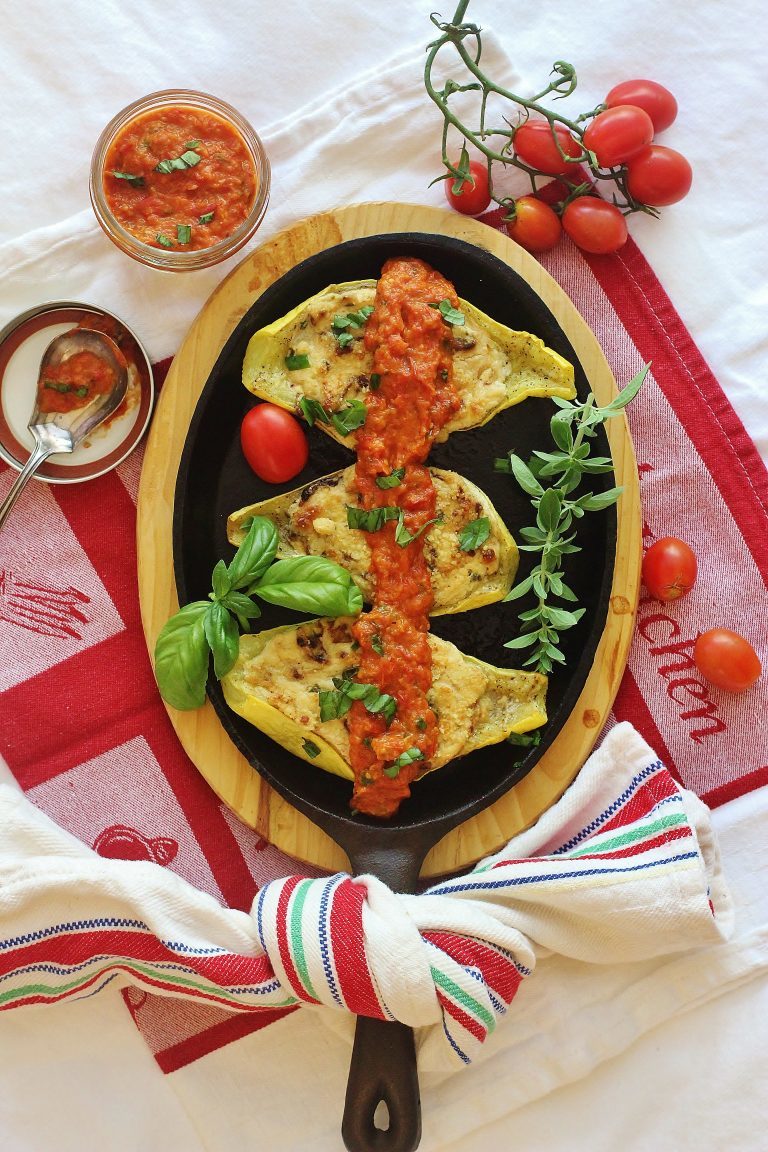 Onion Filled Yellow Squash with Red Summer Sauce
yield: 6-8 servings
A caramelized Vidalia onion cream cheese filling adds flavor and pizzazz to yellow squash. A red sauce made from garden fresh tomatoes, green onions and herbs adds a bright finishing touch.
make the sauce:
preheat oven to 400 degrees
1 tablespoon cooking oil
2 green onions, chopped (white and most of green)
4 cups whole cherry type tomatoes, ripe
1/2 teaspoon kosher salt
pinch of red pepper flakes
2 tablespoon fresh basil, thinly slice
1 tablespoon fresh chives, chopped
splash of balsamic vinegar
Add cooking oil to an ovenproof pan over medium heat. Use a cast iron skillet if you have one.
Add chopped onions and cook for 3 to 4 minutes or until soft.
Add tomatoes. Stir until coated with oil.
Sprinkle with salt and red pepper flakes. Stir.
Place in 400 degree oven for one hour.
Remove from oven and purée. The thickness of the purée will differ depending on how much water cooked out of the tomatoes.
Stir in chopped herbs and balsamic vinegar. If sauce is too thick for your liking, add a few drops of liquid such as water or tomato juice.
Taste and adjust for seasoning. Set aside. Reheat, if necessary, before serving on squash.
make the squash:
preheat oven to 400 degrees
4 straight-neck yellow summer squash
cooking oil
salt and pepper
1 medium sweet onion – use Vidalias if you can find them
1 tablespoon cooking oil
8 ounces cream cheese, softened
1 tablespoon fresh chives, chopped
1 teaspoon Worcestershire sauce
Grated Parmesan cheese for sprinkling
Wash squash and cut in half lengthwise. Use a spoon to scoop out seeds. Brush both sides of squash with cooking oil and sprinkle with salt and pepper. Place squash cut side down on baking sheet line with aluminum foil and sprayed with non-stick spray. Bake for 20 minutes, remove from oven and set aside. Do not turn oven off.
While squash is baking, add one tablespoon cooking oil to a skillet over medium heat. Peel onion. Cut in half and slice thinly. Add onion slices to skillet. Cook for 15 to 20 minutes or until onion is caramelized and medium to dark brown.
After onions are cooked, place them in a medium bowl along with softened cream cheese, mayonnaise, chives and Worcestershire sauce. Beat with an electric mixer until smooth and creamy.
Divide the filling among the cavities in the 8 squash halves. Sprinkle with Parmesan cheese. Bake for 15 minutes or until filling is bubbly and browned.
Remove and serve warm with Red Summer Sauce.