Fried pies are as familiar to Southerners as boiled peanuts and Moon Pies. We've been making them forever and a day. The construction is simple. It's a crust filled with a sweet filling typically made of fruit or berries. The crust , made from pie or biscuit dough, is cut into small pieces, filled, folded over, crimped and drop into hot oil, cooking it briefly. The pie is removed from the hot oil to drain and cool. Sometimes they get rolled in sugar and sometimes they get frosted.
My Grandmother made these scrumptious treats a good bit. I only knew her to use dried apples for the filling. She would cook the apples in water to reconstitute them and add sugar for sweetening. She probably made her own dough early on, but I only remember her using canned biscuits. She rolled out the biscuits to flatten them and filled each one with apple filling. Her pies weren't sugared or iced after frying. They were notable even in their simplest form.
We're enjoying a good crop of blackberries from our backyard vines. I had the idea to make a blackberry filling for fried pies in the same manner as my Grandmother's fried apple pies. The blackberries are too big to be used fresh in the pies.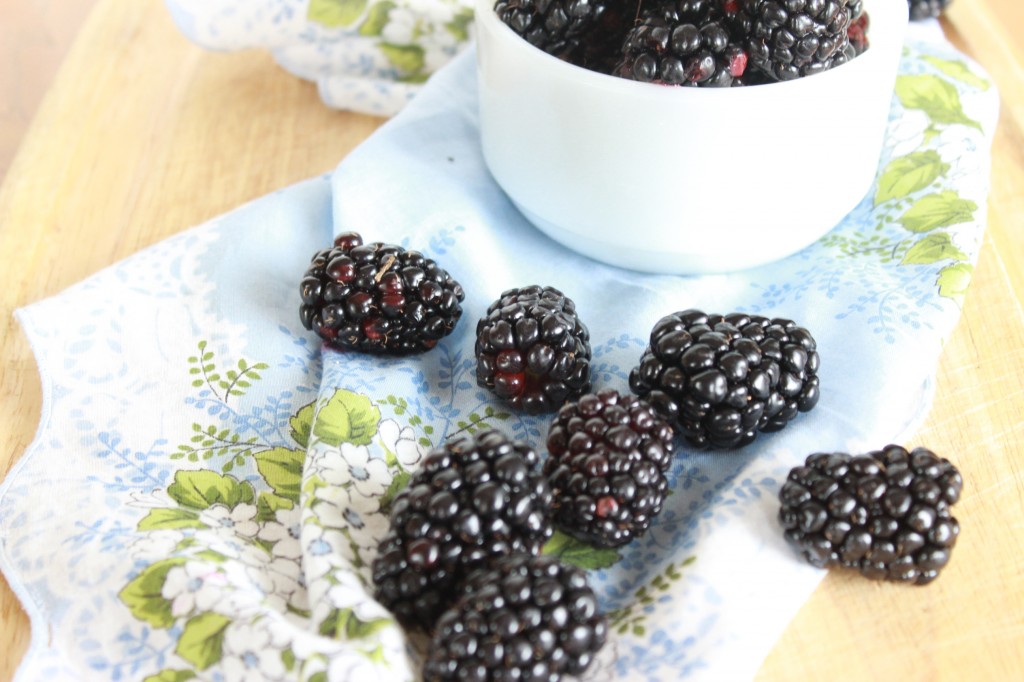 The result would be a big lumpy, puffy piece of cooked dough. Plus, each pie would only be able to support one or two berries. Cooking the berries and mashing them seemed the best idea.
As I cooked the blackberries with water, sugar and lemon, I noticed the filling didn't seem to thicken. I reached for some cornstarch to dissolve in water and add to the filling as a thickening agent. When the slurry was added to the blackberry mixture, it bubbled up and almost came out of the pot. That seemed odd to me but I kept stirring until the mixture returned to normal. Still, it wouldn't thicken. I figured I either had more water in the mixture than I realized or the berries were juicier than I had anticipated. I repeated the procedure. And got the same results. The volcano erupted once again. As before, I stirred and the mixture returned to its normal state. But, it still didn't thicken. Finally, it dawned on me that perhaps I should check the box of cornstarch. On the box written as plain as day was "baking powder". It didn't say a word about cornstarch. Then the bell went off. I had forgotten about a new box of baking powder packaged almost exactly like my box of cornstarch. Luckily, we do have the fine crop of blackberries in the backyard so I was able to start over. Two lessons I learned from this little fun experiment. First, baking powder is NOT a substitute for cornstarch. Secondly, keep the baking powder and cornstarch side by side in the pantry so I won't make that mistake again. The second time would be really embarrassing. Unless, of course, I keep it to myself and not tell y'all.
Y'all come see us!
Small Version of a Good Thing (Recipe: Mini Fried Blackberry Pies)
Ingredients
Mini Fried Blackberry Pies

yield: 36

3 inch pies

These pies are smaller than the typical size. They're the perfect size for almost 3-year-old hands. That works out very well since my grandchildren are almost 3 years old. I cut them out with a 3-inch biscuit cutter. There was about 1/4 cup of the filling left over which will make a great topping for a bowl of hot oatmeal. I used ready-to-bake rolled pie crust and was able to get 12 mini pies from each pie crust. Frozen blackberries may be substituted for fresh. The amount of sugar used in the filling depends on your sweet-o-meter and the sweetness of the blackberries. My blackberries are rather tart.

For filling:

2

cups

fresh blackberries

3

tablespoons

water

divided

1/4 to 1/2

cup

sugar

juice of one lemon

1

teaspoon

lemon zest

2

tablespoons

cornstarch

For crust:

3

ready-to-bake rolled pie crusts.

For icing:

2

cups

powdered sugar

3

tablespoon

milk

1/2

teaspoon

vanilla extract
Instructions
For filling:

Add blackberries, 1 tablespoon water, sugar, lemon juice and lemon zest to a small saucepan. Bring to a medium boil. Cook for 5 minutes. Mash the berries. Mix cornstarch with remaining two tablespoons of water. Slowly add half the cornstarch mixture to the berries, stir constantly and return to a boil. If the berry mixture doesn't thicken after it's brought to a boil, add remaining cornstarch mixture stirring constantly until the mixture boils. Remove from heat and let cool. The filling may be made ahead and kept in the refrigerator.

For crust:

Place pie crusts on a floured surface. Cut with a 3 inch biscuit cutter. Place a teaspoon of filling in the center of each circle. Fold over and crimp edges. Flip the little pie over and crimp the other side. This keeps the pie from coming apart while it's frying. As you crimp, you'll lose some of your filling. I haven't found a way around that. Just eat all the filling that comes out of the crust.

Drop the little pies in a pot with at least two inches of hot oil. Only fry a few at once. If the pot gets too crowded, bad things might happen like your pies sticking to the pot. This size pie only needs to cook for about 30 seconds per side. So, don't leave your station. As soon as they are brown on one side, flip them and brown the other side. Remove from the hot oil and drain.

For icing:

Mix until sugar dissolves. Drizzle over cooled pies.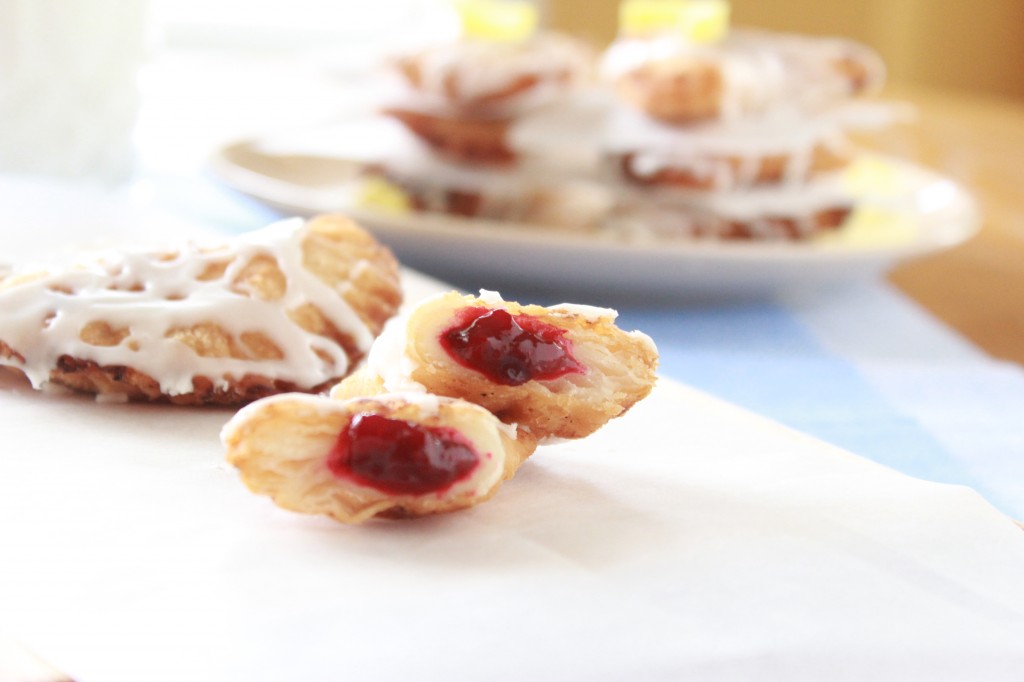 You might also enjoy: