The year 2014 will be different for me than any year to this point. I'm going to do something I've never attempted: write a cookbook.
Just in case you didn't hear me, I said, "I'M GOING TO BE WRITING A COOKBOOK!"
I'm so sorry I yelled. It seemed you were trying to fall asleep on me. My sincere apologies for my rudeness.
Yep, it's going to happen. At least I think it's going to happen. I hope and pray this isn't one of those deals that happened to Pam in CBS's Dallas, a 1978 TV series. She had a dream that lasted the entire season. Poor thing.
If it is real, I'm under contract with Skyhorse Publishing, located in NYC. I hope you follow along with me as I learn the publishing industry while I attempt to meet deadlines to get this book published. I sincerely appreciate the risk Skyhorse was willing to take on this unknown author. Actually, I'm so excited I'm about to burst wide open.
What I can tell you now is that the book 's scheduled for a Spring 2015 release date. So, there' s lots of work between now and then to get done. I've already gotten my manuscript started and, from the looks of the flour all over my kitchen floor, some significant cooking is underway.
Well, what in the world does Stewed Beef have to do with writing a cookbook? The recipe won't be included in the cookbook. Stewed Beef, a "pop in the oven and let it go" sort of dish is a fine example of the only non-cook book cooking I 'll be doing from now until July 10, 2014. That's when my manuscript and photos are due. You'd think it'd be easier to keep yourself fed when writing a cookbook but actually it's harder. So much attention's directed toward planning, buying groceries, cooking, photographing and writing about many dishes in a compressed time frame, that it's hard to find time to sit down to a regular meal. I just know that 7 months will come and go so quickly and the manuscript and photos delivery date will be here before I can turn around good. I'm not going to have a hard time remembering the date, either. July 10 is my birthday. What a nice present I will give to myself when I turn in the manuscript for my first published cookbook.
Ain't life grand?
Y'all come see us!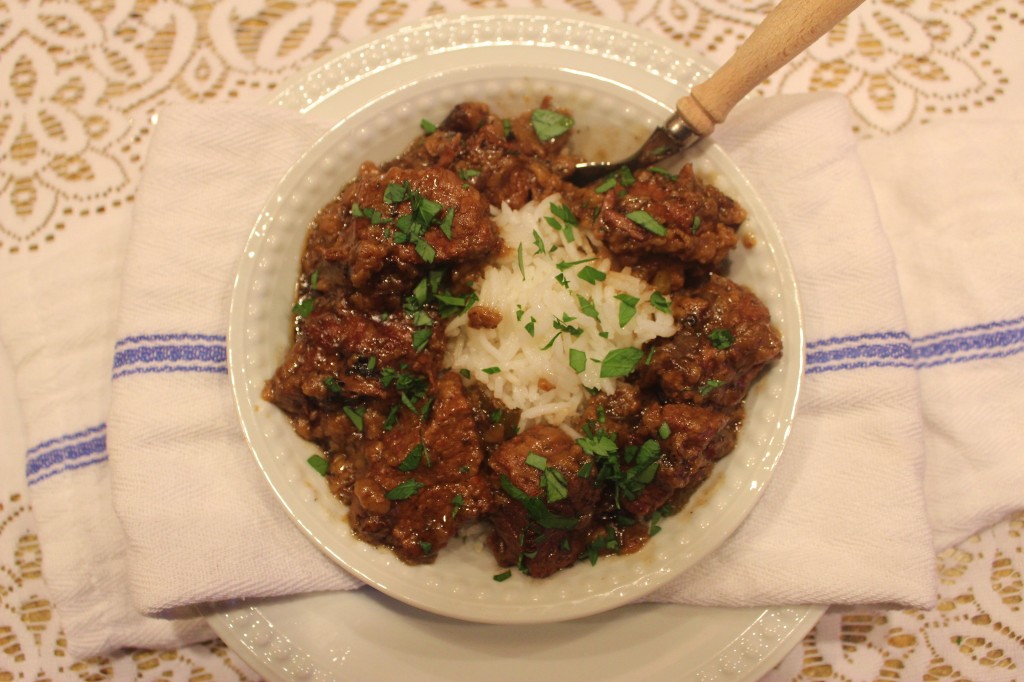 Stewed Beef and Rice
yield: 4 to 6 servings
Stewed beef, not to be confused with Beef Stew, is simply chunks of stew meat braised in stock and vegetables until it's ridiculously tender. Some people may know it as Beef Tips. In my family, it was always called Stewed Beef. I don't even bother cutting the larger pieces of stew meat into bite size pieces before cooking. This stuff cooks up so tender you don't need a knife.
1/2 cup all-purpose flour
1 tablespoon Season-all seasoning
1/2 teaspoon garlic powder
1/2 teaspoon dried thyme
1 1/2 pounds stew meat
1 heaping tablespoon bacon drippings
2 tablespoons cooking oil
2 sweet onions, diced
2 celery stalks, diced
2 cups beef stock
1 tablespoon Worcestershire sauce
cooked rice
minced parsley for garnish
Place flour and next three ingredients in a gallon size ziplock bag. Shake a few times to mix.
Heat bacon drippings and cooking oil in a Dutch oven.
Add beef to bag with seasoned flour and shake well to coat each piece of the meat.
When oil is heated, cook the meat in two or three batches, until browned on all sides. Remove each batch and set aside.
Add onions and celery to Dutch oven and cook until they begin to soften, about 5 or 6 minutes.
Add meat back in Dutch oven.
Mix beef stock and Worcestershire, pour over meat.
Cover tightly and cook in a 300 degree oven for 2 to 3 hours until meat is falling apart tender. Serve with cooked rice.
You might also enjoy: