While I rave about how good school lunches were back in the day when the lunchroom ladies actually cooked, they had epic fails with broccoli. I don't know why they tried to serve it from a food line. It's one vegetable that doesn't hold well. As it sits in the steamer pan, the aroma grows stronger while the vegetable gets mushy. A strongly flavored, mushy vegetable isn't the stuff which makes fond food memories. It turned me off broccoli for a long time. Decades went by before I discovered that broccoli is edible if cooked properly. Let's just say I've made up for all those years of not eating broccoli.
The weather in the deep Deep South has been on the gloomy side off and on. It's get rainy and then cold. I can't complain because for every one or two cold and gloomy days, we get four or five times that of beautiful blue skies and mild temperatures. While I love soup year round, I especially love it when the weather is cold and dreary. Broccoli Cheese Soup filled the bill for a hot and hearty soup that would warm our cockles……whatever they may be.
As many times as I've spelled b-r-o-c-c-o-l-i, I always have to check to make sure I have the right number of c's and l's. I have a tendency toward too few c's and too many l's. Perhaps I need to stop now and write the word 200 times. We had to do that in fifth grade for every misspelled spelling test word. I was always a good speller and miss very few spelling test words. It's quite obvious, to me, that we never had b-r-o-c-c-o-l-i as a spelling test word.
Y'all come see us!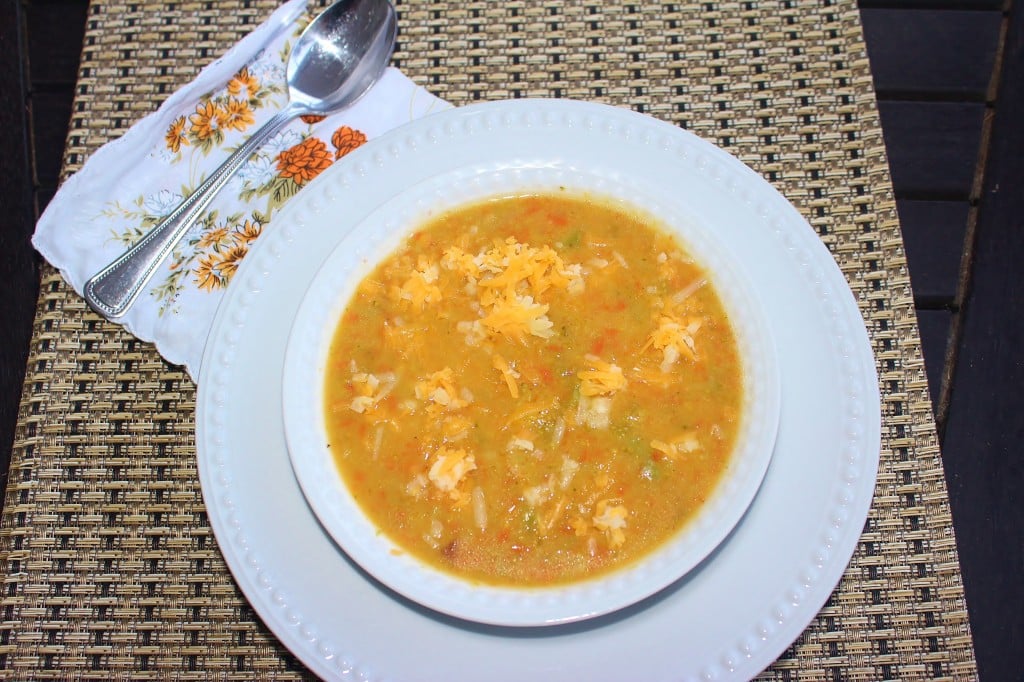 Broccoli Cheese Soup
yield: one quart of soup
This is a great recipe for using up bits of left over cheese. Any type of hard and semi-hard cheese that's meltable can be used. Don't add additional salt until after you've added cheese, it has completely melted and you've tasted. The salt content of cheese varies.
1 medium sweet onion, chopped
2 tablespoons cooking oil
1/4 cup all-purpose flour (substitute gluten free for wheat if necessary)
1 quart chicken stock
4 cups broccoli flowerets, roughly chopped (3 small heads or one large head)
2 medium carrots, shredded (about 1 1/2 cups)
4 ounces sharp cheddar, grated
4 ounces Asiago, grated
1 teaspoon salt, optional
additional grated cheese for garnish.
Cook onion in cooking oil until soft. Add flour and stir until all the oil is absorbed and flour has lost its white color, roughly 3 to 4 minutes.
Gradually whisk in stock. Bring to a boil. Add broccoli and carrots. Cover, reduce heat to a low boil. Cook until broccoli and carrots are fork tender. Partially purée with an immersion blender, if desired.
Add cheese and stir until melted. Taste for salt and add if needed.
Garnish with grated cheese. Serve hot.
You might also enjoy: