Before you decide to make Pralines, there's a few things you need to get straight. First, you need to decide how you want to pronounce "praline". Some of us say "pray-leen". Some folks around Nawlins (New Orleans) are convinced you should say "prah-leen". My mouth just naturally says "pray-leen". I don't have to think about it. It does it all on its own. The pronunciation can be a real big point of contention. I don't have strong feelings about it either way. I do, however, have definite ideas regarding the pronunciation of the nuts that are included in these pralines. I put puh-kahns in my pralines. I do not cook with pee-cans. They go under your bed.
The next thing you need to decide is whether or not your stirring arm is in good enough shape. Pralines require a considerable amount of hand stirring and beating. When you think you've done all the stirring you can, you've still got about 10 to 15 minutes of stirring left. A syrup of sugar, milk and cream has to be brought up to 234 degrees. You have to keep your stove on medium to medium low heat to keep the milk and cream from scorching so it takes a little while to reach the correct temperature and you need to stir constantly. Then, you add butter and vanilla, rest for 5 minutes and starting beating with a wooden spoon until the mixture thickens and losses its glossy appearance. You might need to line up some stirring/beating volunteers.
The last decision is whether or not you want to share or keep them for yourself. If your choice is the latter, you better hide those puppies. If your choice is the former, you're going to make folks very happy. Of course, if you recruited stirring/beating volunteers, your choice should be the former unless those volunteers were especially naughty this year. In that case, you may choose the latter. If you're looking for a special gift for people, choose the former.
I would like to choose the former and send a special gift of Southern Pecan Pralines to each and every one of you. You've all enriched my life.
Y'all come see us!
Southern Pecan Pralines
yield: 34 pieces
There's not another confection that's quite like Pralines. The taste is similar to caramel but the consistency is more delicate and not chewy like caramel candy. The origin is somewhat debated but is mostly believed they were brought to New Orleans from France.
I cup granulated sugar
1 cup brown sugar (I used light brown)
3/4 cup half and half
1/4 teaspoon kosher salt
2 tablespoons butter (plus a little extra for buttering the sides of a saucepan)
1 1/2 teaspoon pure vanilla extract
1 1/2 cups pecans, chopped
Be sure to use a heavy saucepan. You'll need a 2 quart size. Butter the sides. Add both sugars, half and half and salt.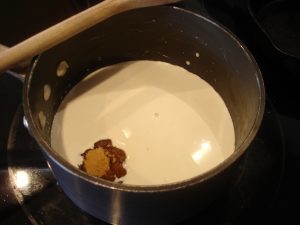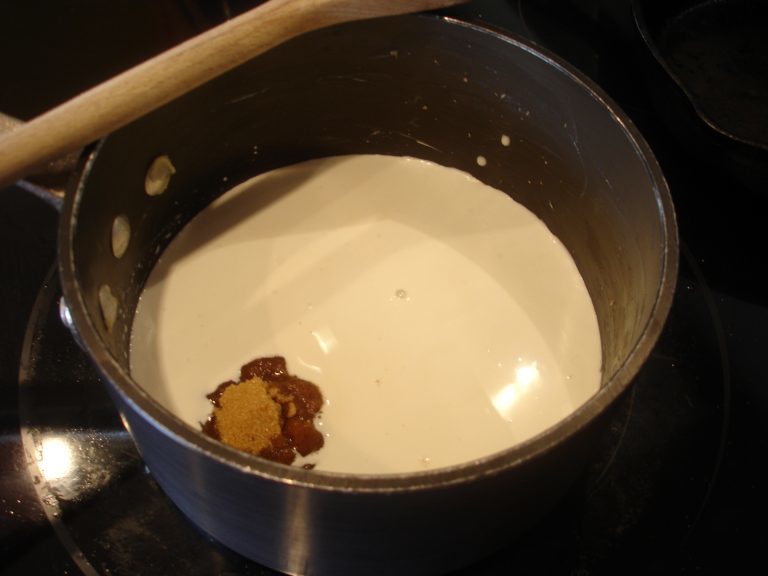 Cook over low heat until the sugars dissolve. Stir constantly. I was a one-man show today so the pictures of each cooking step are scarce. I discovered right away that I'm not coordinated enough to stir with one hand and take photos with the other. I kept moving my camera around in circles.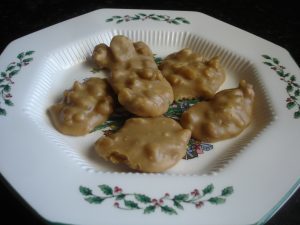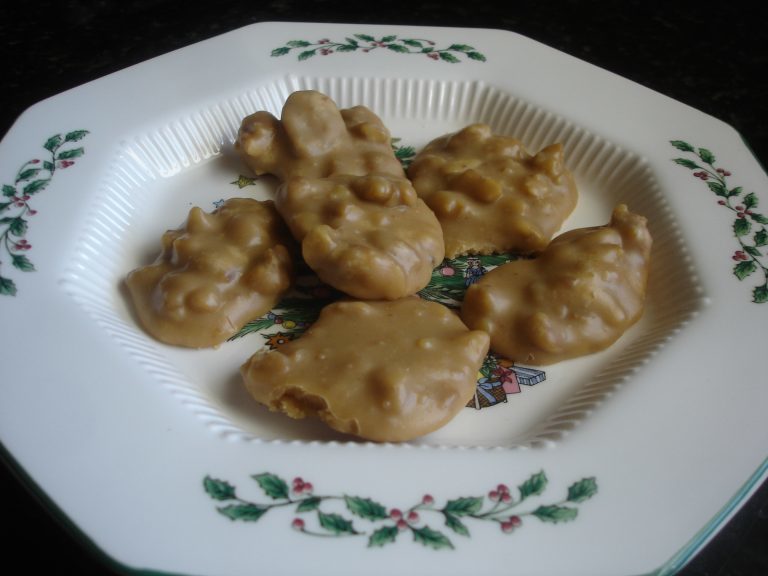 After the sugars dissolve, turn up your burner to medium and keep stirring until the mixture boils. Turn down the heat a tad, keep stirring until the mixture reaches the soft ball stage or 234 degrees. I highly recommend using a food thermometer.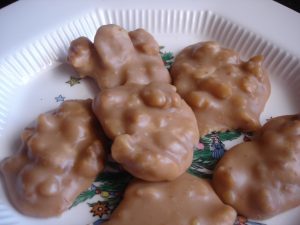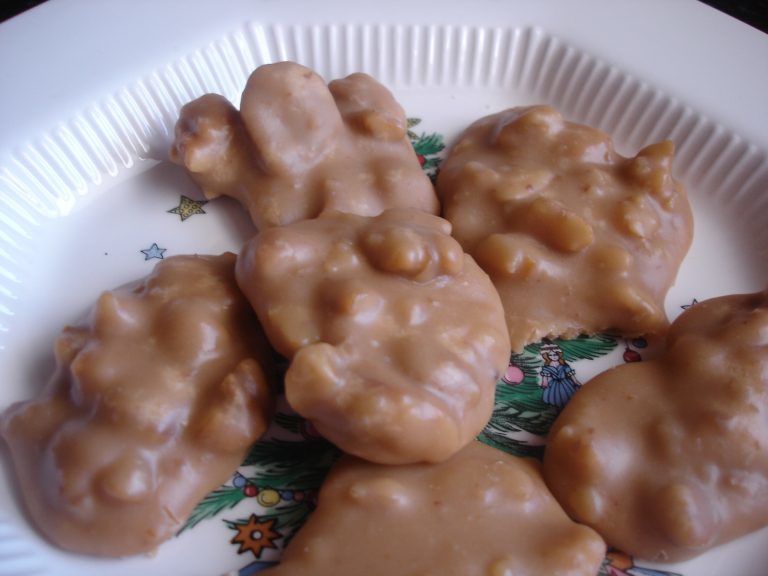 As soon as you reach 234 degrees, hopefully before your arm falls off, remove from heat. Add vanilla and butter. DO NOT STIR! In fact, take the next 5 minutes off and let the syrup and your arm cool for a bit. Ice down your stirring arm.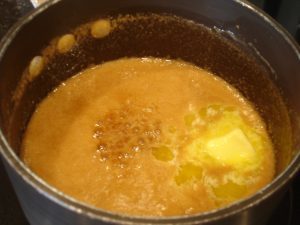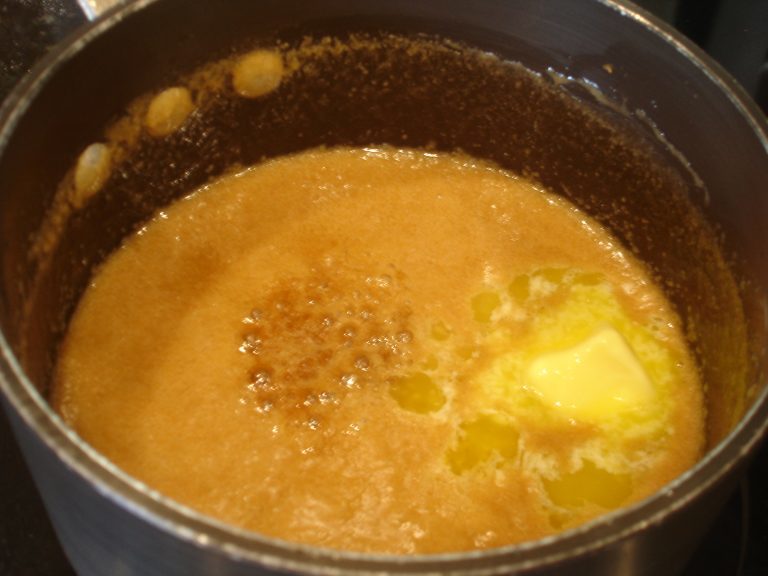 After 5 minutes, add pecans and beat with a heavy wooden spoon until the mixture has thickened and lost its glossiness. This is the hardest part to judge. You want the candy to set up as soon as you pour it out, but you don't want it to get so hard that is sticks to the spoon and doesn't pour. I make little test runs. Drop tiny bits onto your prepared pan which has been covered with waxed paper or a Silpat mat. This will help you decide if the pralines are ready. Drops from spoon easily. Check. Sets up on the pan. Check. You're ready to rock and roll. The praline mixture will stay creamy and not get hard like peanut brittle. Now before you start spooning out the pralines, you'll need to clear your pan of all your little test runs (read: eat them). Drop the mixture from a spoon. I used a tablespoon and wound up with about 36 glorious pieces of Southern Pecan Pralines.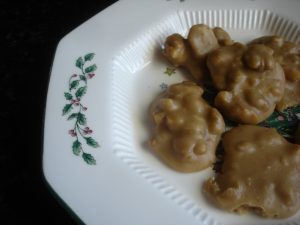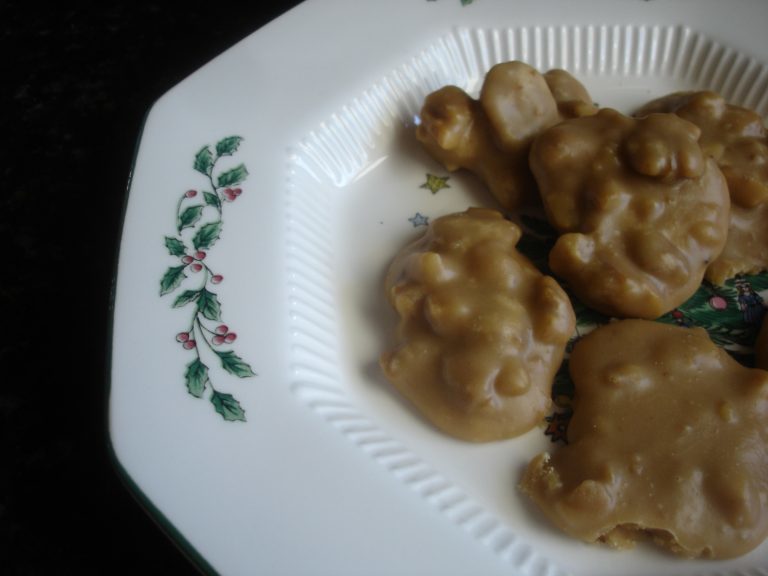 Let them sit on the pan until they are completely cooled. Serve them in pretty dish.
You might also enjoy these posts: