Homemade Cinnamon Rolls have been a Christmas tradition for my family for decades.  I've experimented with so many different versions over the years, from scratch yeast dough  as well as quick.  I've decided this is THE BEST recipe, especially for bulk production.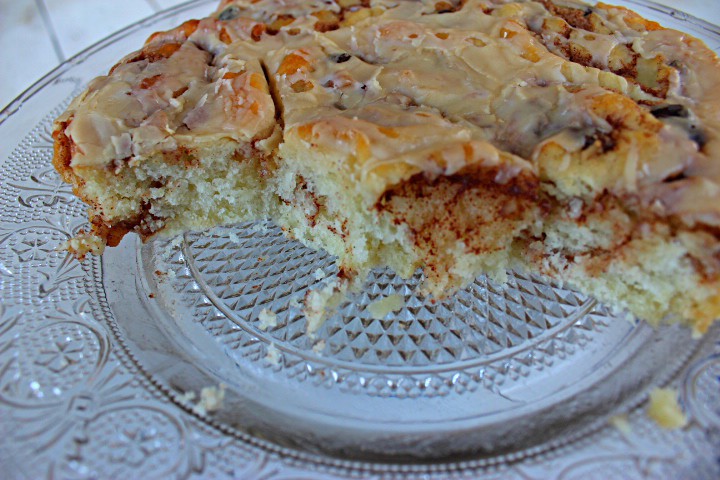 I used The Pioneer Woman's recipe for inspiration and make a few modifications. Her recipe is perfectly lovely, just the way it's written. It's  very popular and I think has become one of her signature recipes.  You can't go wrong using her recipe and kicking my modifications to the curb.
I wanted to use real maple syrup instead of maple extract so I modified the icing to accommodate.  Instead of spreading melted butter on the dough to build the filling, I made a compound butter with sugar and cinnamon which made it easier for me to roll the dough. I'm naturally messy when I cook and I was slinging melted butter all over my kitchen.  The compound butter spread stayed in place.  Also, I wove a little bit of maple syrup into the butter for some added maple flavor.  I used Maple  Gold U.  S. grade A dark amber. Different grades of maple syrup have differing degrees of "mapleness".  For a guide, click here.   In Florida, we're at the mercy of whatever maple syrup we can find in the grocery stores.
For the dough, I substituted buttermilk for whole sweet milk because I'm a lover of what buttermilk does for baked goods; it adds tenderness and flavor. I like tenderness and flavor.
Forever until infinity, this will be my cinnamon roll recipe. No more 'sperimenting for me.
Y'all come see us!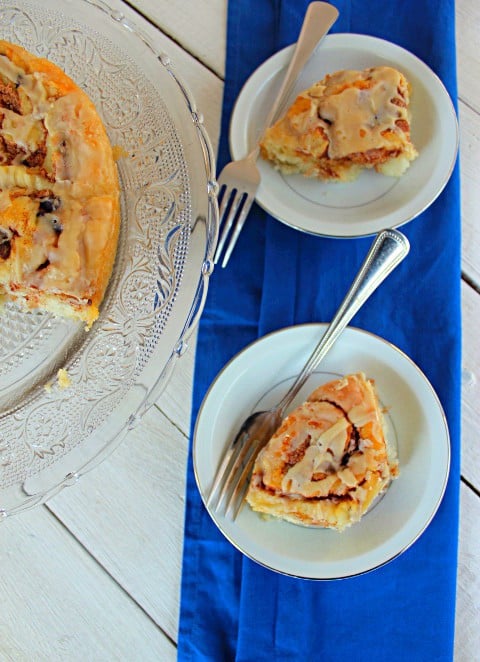 Maple Syrup Cinnamon Rolls
adapted from The Pioneer Woman
yield: 64 rolls
For dough:
1 quart buttermilk
1 cup granulated sugar
1 cup vegetable oil
2 (2 1/4 teaspoon)  packages  active dry yeast – each package is 1/4 ounce
9 cups all-purpose flour, divided plus additional for dusting work surface (I used White Lily brand)
1 1/4 tablespoon baking powder
1 teaspoon baking soda
1 tablespoon kosher salt
For filling:
2 cups (4 sticks) softened unsalted  butter
1 1/2 cups granulated sugar
1/4 cup grade A maple syrup (I used Maple Gold U.S. Grade A dark amber)
1/4 cup ground cinnamon
1 cup raisins
1 cup chopped pecans
For icing:
2 pounds powdered sugar
1/2 cup coffee, strong
1/4 cup plus 2 tablespoons  maple syrup
1/2 cup melted butter, cooled
1/4 teaspoon salt
For dough: Add buttermilk, sugar and vegetable oil to a stockpot.  Heat until sugar is dissolved but don't heat to boiling.  Remove from heat, cool to about 125 degrees,  and sprinkle yeast over top.  Let sit until bubbles start to form.  Add 8 cups of flour and stir until combined.  Cover with clean dry towel and keep in warm, dry place for one hour.
Mix baking powder, baking soda and salt with remaining 1 cup of flour  in small bowl and set aside.  After one hour, remove cloth and  add dry flour mixture to wet dough. Stir well to combine. Place dough in refrigerator for at least one hour up to three days.
For filling:  Cream butter and sugar in a mixer until fluffy and light.  Mix in maple syrup and cinnamon.
For icing: Add all ingredients to a mixer bowl and pulse with mixer  until the sugar blends into the wet ingredients enough that it doesn't fly all over your kitchen, in your eyes and up your nose.  As soon as the sugar is wet enough, blend until smooth.  The icing is thick but pourable. Make the icing while the cinnamon rolls are baking.
To assemble –  Use half the dough at one time.  Turn it out onto a surface that is liberally sprinkled with flour.  The dough will be sticky.  Keep covering dough with flour until it's no longer sticky.  Knead 6 or 7 times. Roll out into a rectangle that's about 1/4 inches thick.  I roll mine out to double the length of my 16 inch rolling-pin. That's a good and easy yardstick that makes the dough just the right thickness and length.  The final dimensions are somewhere in the neighborhood of 32 inches long by 10 inches wide.
Spread half the filling all over the dough.  Get as close to the edges as you can.  Sprinkle with half the nuts and raisins.
Start rolling from the long side opposite you.  Keep the roll as even as possible.  If the dough sticks to the counter in places, throw down more flour next to the dough where it's sticking. Keep rubbing the flour against the side of the dough and it will loosen.  Don't be afraid to use too much flour.
When the dough is rolled up, pinch together the seams.  I smash the ends in a little to make the roll as uniform as possible.  The ends wind up skinnier than the middle so it needs fixing.
Cut the dough into 32 equal (or kind of equal) portions. I find it's easiest to do by cutting in halves, then fourths, then eighths , then sixteenths  and then thirty-secondsth….thirty-secondesths…..into thirty-two pieces.  If you aren't making these cinnamon rolls for a million people and you want bigger rolls, cut them in bigger portions and adjust the baking times.
Butter or oil 4  aluminum cake pans (they're about 8 inches across ).  Place 8 rolls in each pan. Let rise for at least an hour or until doubled in size.
Repeat above process with remaining dough and filling.  You should wind up with 8 pans of 8 rolls each.  That makes 64, best as I can count.
After the rolls have risen sufficiently, bake in a 350 degree preheated oven for 14  to 18 minutes or until slightly browned.  Don't overcook.
Remove from oven and pour the icing over the rolls while still warm.  Don't be afraid.  The icing will melt all around but will leave enough on top to harden somewhat.  I'm fortunate to have enough oven space that I can bake 8 pans at once.  If you bake them in "shifts", portion out the right amount of icing for each batch.  You don't want to get carried away and wind up with no icing for the last batch.  That would be sad.
The disposable cake pans fit perfectly inside a gallon zip lock bag.  Let the pans cool completely before slipping them in the bags for transporting.
For freezing, place them in freezer bags before baking.  Freeze.  Let thaw and rise before baking.
You might also enjoy:
Sausage Gravy and Buttermilk Biscuits
High-rise Buttermilk Butter Biscuits