Our New Year's Day menu follows the Southern tradition of pork, greens, blackeye peas and rice and cornbread. Each component has a special significance that's explained by clicking here.
Not only do I love the tradition associated with this meal, it keeps me from wondering what I should cook. Giving my brain a rest is sometimes a good thing. Not too much of a rest, though. It might stop working all together.
I just heard each snicker coming from you out there.
Sam fetched a gorgeous 6 pound pork loin roast from the grocery store for the pork portion of our New Year's Day meal. It's just the two of us feeding today so I cut half into chops and left half as a roast. It's into the freezer for the chops and into the brining solution for the roast.
Brining's the best thing that's happened to pork roasts since applesauce. Or since that Brady Bunch episode where Bobby was trying to imitate Humphrey Bogart and he practiced by saying repeatedly, "Pork shops and appleshosh". Brining does take a little planning ahead so the roast can brine overnight. However, the solution is quite easy to make and the only other issue you might face is finding room in your refrigerator to store the roast and brining solution in its container. I use a stock pot. Use whatever you can find that's big enough.
For the brining solution, mix 2 quarts warm water, 1/2 cup salt and 1/2 cup brown sugar. Stir until dissolved. Cool and pour over roast making sure it's entirely covered. Add a little more water, if needed for complete coverage. Brine overnight.
The next morning, remove the roast from the brining solution and wipe dry, coat with the rosemary garlic mustard marinade at least two hours before cooking. Let the roast come to room temperature before cooking.
A word of caution. Be sure you put your roast at the highest peak in your house while you are letting it come to room temperature. Basset Hounds are surprisingly tall when they stand on their hind legs. Just sayin'.
Happy New Year! Happy New Year's Day! Happy First Day of 2013!
Y'all come see us!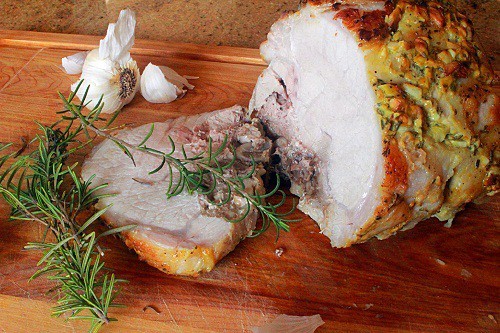 Rosemary Garlic Pork Loin Roast
yields: 4 to 6 servings
Brining the pork roast overnight, coating with marinade and bringing the roast to room temperature before cooking, ensures a moist, flavorful pork roast. For the marinade, I used a combination of yellow and Dijon mustard, but you use whatever cranks your tractor. Seven to eight cloves of garlic might seem like a lot for such a small amount of marinade. We've had some vampire sightings in our neighborhood recently so I didn't want to take chances. If you're not having a vampire issue, or if that seems like too much garlic for your system, cut it back. However, I can assure you the garlic isn't overpowering when cooked according to my specifications. It mellows out as it roasts. If your pork loin roast comes with a nice fat cap, don't you dare trim it off. Simply score it so the marinade can get down to the meat. You need the fat to keep the meat moist and flavorful.
3 to 4 pound pork loin roast (bone-in), brined
2 tablespoons mustard
1 tablespoon fresh rosemary, finely minced
7 to 8 cloves garlic, finely minced
1/2 teaspoon fresh ground pepper
olive oil
Remove roast from brine and wipe dry.
Place mustard, rosemary, garlic and pepper in a small bowl and stir. Add in enough olive oil to make it smooth and spreadable.
Shmear (playing off Bobby Brady's Humphrey Bogart imitation) the marinade all over the roast at least two hours before cooking. Bring roast to room temperature before cooking.
Place in a roasting pan rib side down. The ribs form a nice little rack making an additional roasting rack unnecessary..
Roast at 325 degrees until an internal temperature of 150 degrees (roughly 1 hour 30 minutes to 1 hour 40 minutes). Remove from oven, tent with foil and let rest 10 minutes before slicing.
You might also enjoy: