For a little extra special touch for this year's Thanksgiving dressing, I'm making homemade croutons. For a little extra special touch for the croutons for this year's Thanksgiving dressing, I'm making them out of biscuits. For a little extra special touch for biscuits that will become croutons for this year's Thanksgiving dressing, I'm adding sage and onion to the dough.
I just shared with you the process that goes on in my head when I'm trying to come up with a new idea.
I know.  It makes me dizzy, too.
Regardless of how convoluted the road, the trip's worth it. I worked up something that I think is a fair substitute for Pepperidge Farm Sage and Onion Croutons,  a wonderful product  I've used for years in my dressing along with Southern Buttermilk Cornbread, or, as my grandmother called it, eggbread.  Also, those little sage onion biscuits will be the topper for the next chicken pot pie I make.
Or, turkey pot pie from leftover Thanksgiving turkey. Stay tuned.
Y'all come see us!
Sage  Onion Biscuits and Croutons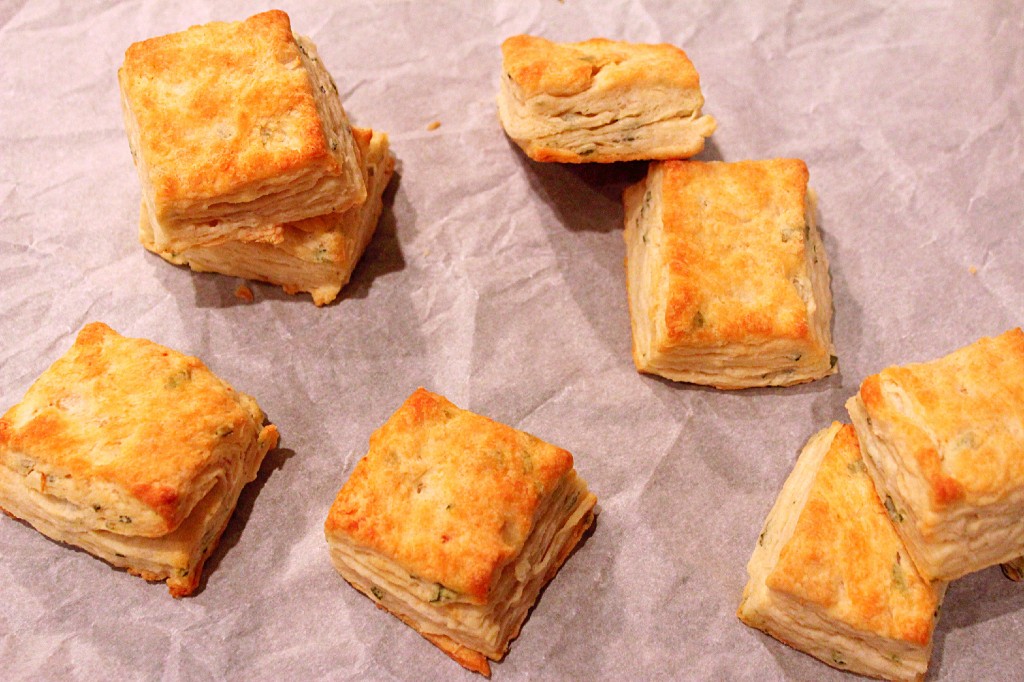 For biscuits:
I'm a biscuit traditionalist and prefer them round instead of square. I know the shape doesn't influence the flavor but I prefer the looks of round biscuits. Because this batch of biscuits will be cut into cubes for croutons, I made them square. 
yield: approx.16 (2 inch) biscuits
2 cups self rising flour
2 tablespoons finely diced fresh sage
1 tablespoon grated or finely diced sweet onion
1/2 cup (one stick) cold butter, diced
1 cup cold buttermilk
Mix sage and onion with flour.
Add diced butter and cut in or mix in until flour resembles coarse cornmeal.
Add cold buttermilk and mix in with flour.
Turn out onto a floured surface.  Sprinkle flour on top of dough. Knead a few times until dough  is no longer sticky, adding flour as necessary.
Roll out to about 3/4 inches thick.  Cut with a 2 inch cookie cutter for round biscuits or cut into squares with a knife.  Place apart on a baking sheet that has been greased or covered with a baking mat. Brush tops with cooking oil.
Cook at 450 degrees for 12 minutes or until tops are brown.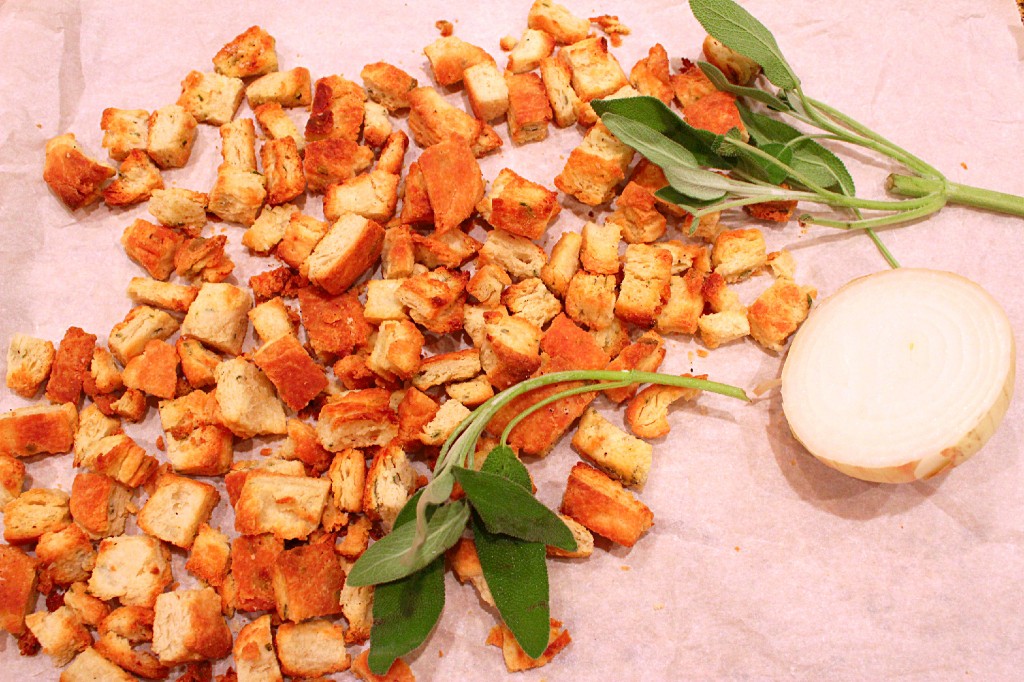 For croutons:
yield: 6 cups
11 or 12  sage  onion biscuits
cooking oil
1 teaspoon 4-1-1 seasoning
Cut biscuits into one inch cubes.  Place on a prepared baking sheet.  Drizzle with cooking oil and sprinkle with seasoning.  Toss.
Toast in a 450 degree preheated oven for 15 to minutes until golden brown.
You might also enjoy:
Old Fashioned Cornbread Dressing