I learned a lot about food, cooking and feeding folks from my Granny. She taught me how important it is to taste your food as you cook and season all along the way. "If it don't taste good to you, it ain't a-gonna taste good to anybody else", she would say. Such a simple idea. Such common sense. Not only did she arm me with the knowledge of how to make food taste good, she made me appreciate the value of food. There's no better way to learn the lesson of food value than from someone who knows what it's like to be hungry because food was in short supply. When food's scarce you don't waste one bit of it. My grandmother was born in 1909 and knew plenty about hard times way before The Great Depression. The Federal poverty guidelines were established in 1963/1964. She lived in poverty before poverty was defined.
On a large scale, it pains me to think about the amount of food we waste in this country daily. On a smaller scale, I'm riddled with guilt every time I throw away food. The impression made by my Granny has stayed with me. I struggled along as my children went through their "eyes being bigger than their stomachs" phase. I never understood why it seemed to be so hard for them to learn that you can put small amounts on your plate and go back for seconds if you wish. On one occasion, I had taken my middle-school aged daughter to a Sweet Tomatoes restaurant which offers a salad, soup and bread/dessert buffet. Going into the restaurant, I told her about the buffet and reminder her not to put more on her plate than she thought she could eat. Entering the line to the buffet, I saw the stars collecting in her eyes and quickly reminder her to start slowly. She walked away from the buffet with food loaded so high on her plate that she could barely see over the top. Cherry tomatoes rolled off her plate and her path was sprinkled with salad greens as she walked. Trouble was brewing. I knew it as well as I knew my name. She zealously ate a few bites of her lunch. The next few bites seemed less interesting to her. She stopped eating and started poking at her food. I guess she thought I wouldn't notice that she had barely made a dent in the mountain of food. When she noticed my mother glare, she said, "I thought I could eat it all." It's not often people can eat a heap of food as big as they are. I made her take money out of her piggy bank to repay me for the food she wasted. Today, she is most frugal with food. Part of her frugality was born out of economic necessity when she decided to become a stay-at-home Mom. I like to think the Sweet Tomatoes incident play a big part.
I sharply remember the first time I heard the phrase, "Make good with what you've got." My mother and grandmother had come to visit us in Mobile. It was rare that my grandparents came to my house. They had gotten to the age where Granddaddy didn't feel comfortable driving any distance and we lived about 3 hours away. The morning after they arrived, Granny asked me what I had planned for today. I told her that ordinarily I would be catching up on laundry that day. The couple of toddlers living in our house ensured that my dirty clothes baskets stayed full to the brim. I wanted to spend the day just visiting with her and doing whatever she wanted. She insisted that we do the laundry because she wanted to help me get it caught up. The laundry was started. That chore let to another and another and another, each with Granny's hands right beside mine. Time had gotten away from me and I now realized that it was close to dinner time and I had no idea what I was going to cook. I told her that I needed to run to the store to pick up dinner fixin's. She said, "Well, shug, you've got lots of food in your refrigerator. You need to make good with what you've got." My original idea for dinner didn't include feeding my grandmother leftovers. I wanted to cook her something new and unique. Something she rarely got to eat. I wanted to make her feel special. There's nothing special about leftovers.
She insisted we eat from the frig.
I gave in.
We started pulling food in containers and fresh food from the refrigerator. She and I made plans about how we could use this or maybe we could add a little something to that. In a short while, we had pieced together a pretty good meal. This practice was nothing new to me. As a young family living on one income, we had a limited food budget and I made sure we used food efficiently. As the meal plans progressed, she and I talked about our commitment to using all the food we had and how we felt being wasteful was a shame and not tolerable. I told her ways that I had "repurposed" foods. She thought I was so smart. I reminded her of snippets of our prior conversations that taught me to be frugal with food.
As we sat the table for dinner, it occurred to me that this impromptu meal made from leftovers was a rite of passage for me. Granny had now seen, firsthand, that I knew the art of proper food management and utilization. Those particular words never entered her mind. They weren't part of her vocabulary. She was satisfied that I knew how to make good with what I had. She left my house, the last visit to my house, beaming with pride, knowing for certain that she had one of the best meals of her life.
For years and years after, I would hear Granny talk about it. She would describe to her friends that time she came to visit me and I had nothing planned for supper but she and I pulled first one thing and then the other out of the refrigerator and wound up with a fine meal. The first time I heard her recall the story in this manner, I bristled. It seemed like she was making a disparaging remark about my lack of planning. After reflecting on her words, it became clear to me that she was bragging about my resourcefulness. And, she loved telling the story that showed what a good teacher she was and how I had been an attentive student. She was tickled that she had taught her granddaughter a critical life lesson. I was awfully proud to have her as a teacher. That pulled together meal from leftovers was symbolic of the student's gift of an apple to the teacher. In her eyes, I'd passed that test with flying colors. It was the most memorable "A" I ever made.
Y'all come see us!
************************
Watermelon Marinaded Flank Steak
How could I ever forget the lesson of "make good with what you've got"? I can't. We got a watermelon this year that had a good enough taste but the texture was a little on the mealy side. It would take a lot to get us to not eat a watermelon. I believe we would actually suffer through a bad one. Every time I eat watermelon, which happens to be a lot, I think about my granddaddy's line that he would say every single time we ate watermelon with him. He would say, "Watermelon's good for your kidneys." And he was right! It is good for your kidneys.
We got down to the end of the mealy melon and I thought I would come up with something different to use up the rest of the melon. Frequently, I make a marinade for meat that consists of olive oil, lemon juice, soy sauce, honey and spices and herbs. There was a flank steak waiting for me in the refrigerator and I was in the mood to put on my mad scientist hat. I substituted the sweetness of the watermelon for the honey. Adding fruit to a meat marinade isn't new or creative. It's done all the time but I had never used watermelon in this fashion.
2 pound flank steak
1/2 c. watermelon juice
1/2 c. soy sauce (I used low sodium)
1/2 c. olive oil
1/4 c. fresh squeezed lemon juice
1/2 tsp. onion powder
1/2 tsp. garlic powder
1/4 tsp. dried ginger
1/2 tsp dried thyme
Puree and strain water melon to get 1/2 cup juice.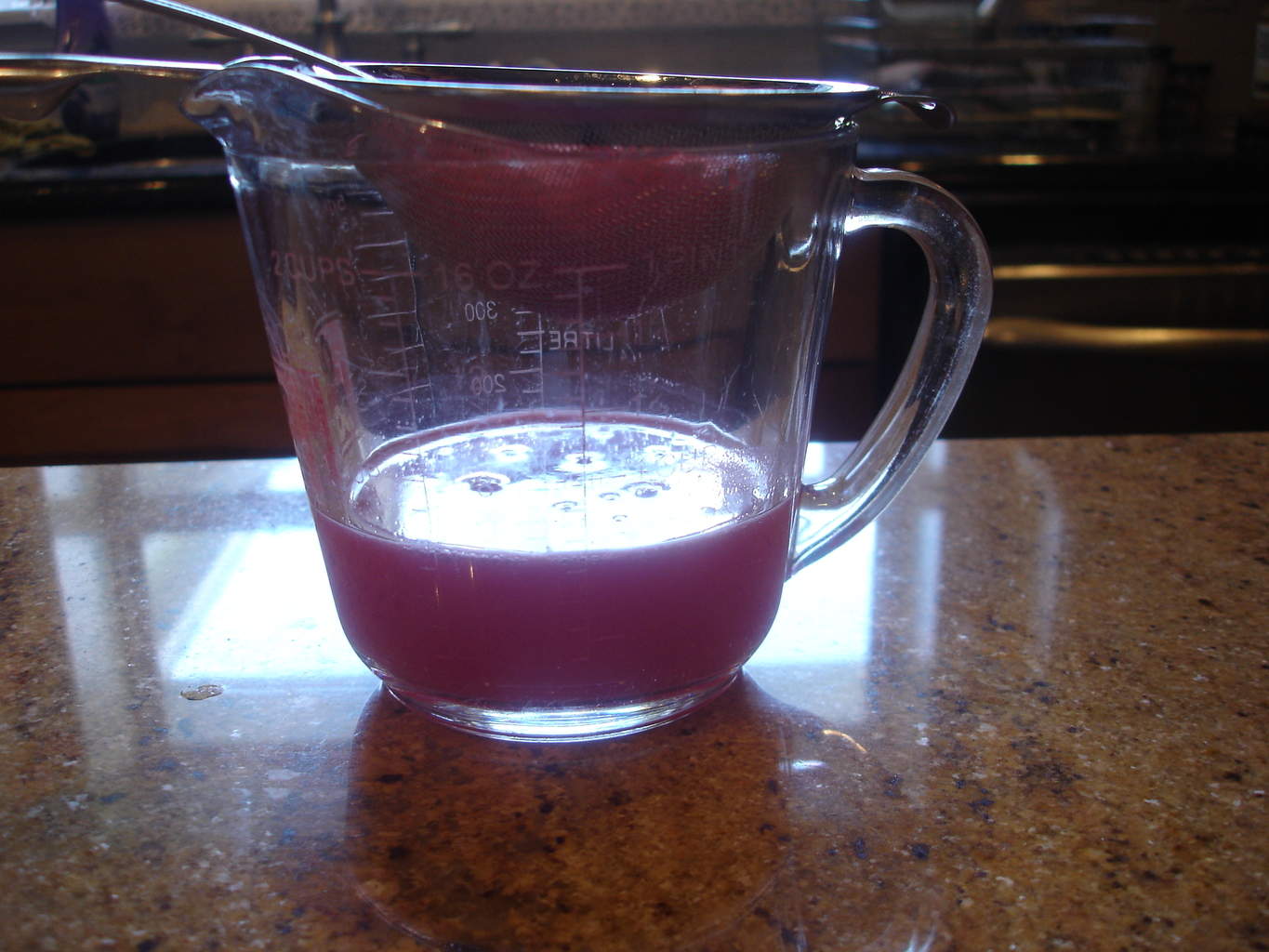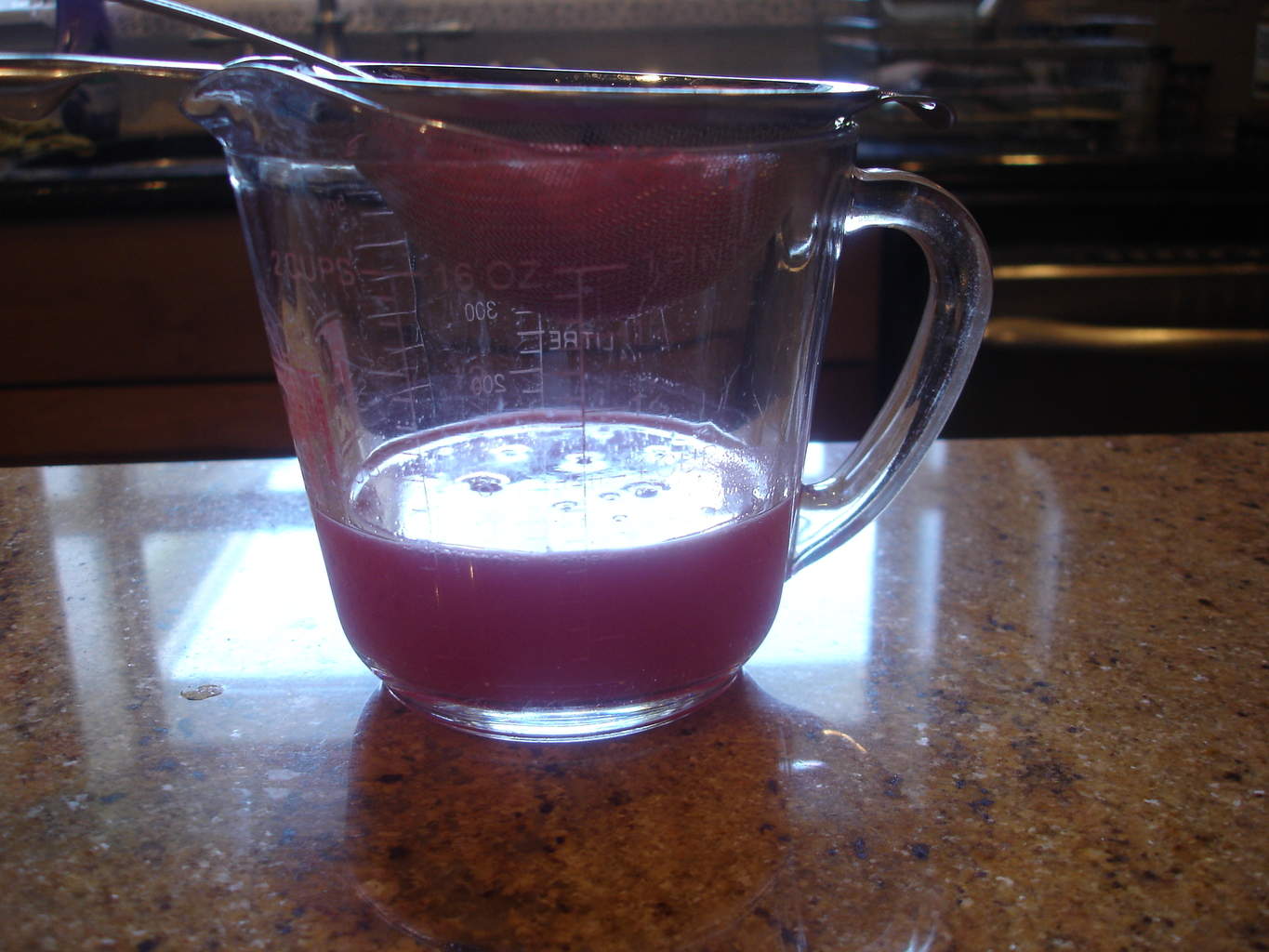 Add the remainder of the ingredients, except the flank steak, and mix well. Place the flank steak in a gallon plastic bag. Pour marinade over, seal and let sit in the refrigerator overnight.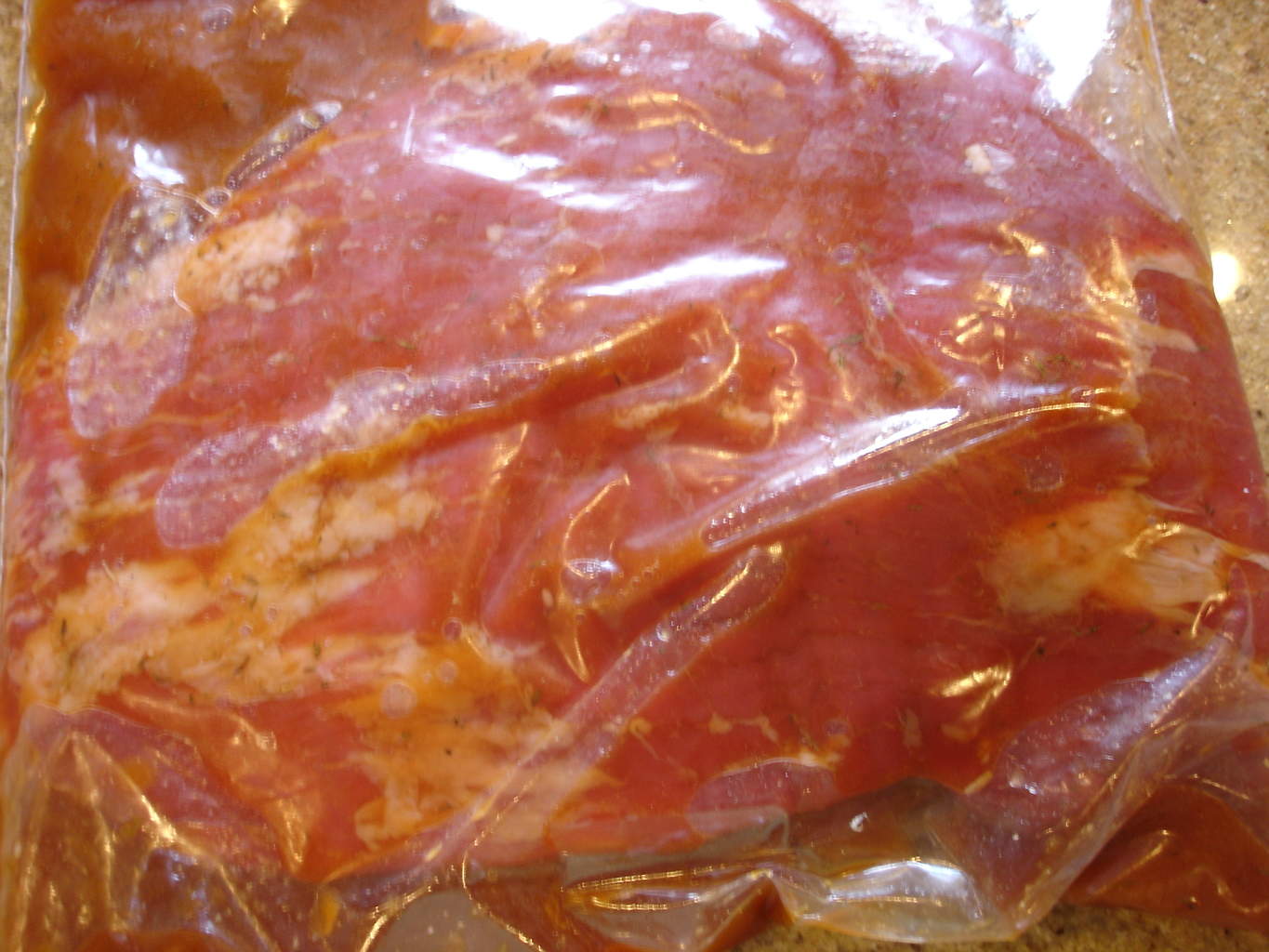 Drain well before cooking. Season liberally with ground pepper. I used low sodium soy sauce for this marinade and I felt the beef could have stood up well to more salt. A more delicate protein, such as chicken, may have bbeen salty enough with the low sodium soy sauce. I had to season the beef with salt after cooking. Place on a hot grill and cook 6 to 7 minutes on each side. Remove from grill, tent with foil and let rest for 10 minutes before slicing.
When ready to serve, slice against the grain. You will be rewarded with tender, juicy medium beef.