Of all the events we celebrate in the South, the menu for a traditional Southern New Year's Day probably carries the most tradition. Each component has a special meaning. We wouldn't think of letting New Year's Day get passed us without enjoying this traditional meal. The foods represent progress, luck, money and gold. Why take a chance?
Below the link to the recipe, I've included an explanation of the significance of the dish as part of the traditional menu.
Traditional Southern New Year's Day Menu
A pig roots forward. A chicken scratches backwards. A cow stands still. Pork symbolizes forward progress. If I'm feeding lots of folks, I'll cook a Rosemary Garlic Pork Loin Roast. Since we only had three today, I opted for pork chops.
Just to make sure I've covered the bases, I always use pork seasoning, either ham hocks or ham, in the collards and blackeye peas. You just can't be too careful.
Greens symbolize money. You can use any kind of greens, it doesn't have to be collards. Even cabbage is acceptable. At least that's what I think. If I've been wrong all this time, I don't even want to know. Collards can either be the best thing you've ever put in your mouth or the worst. You have to pay attention to the seasoning in collards to make them good.
Making a good stock from ham hocks or ham is something I highly recommend. Add salt as needed and either sugar or honey to balance the bitterness. Also, strip them off the big vein in the center of the leaf. That thing is no good. It's tough and bitter.
Eat blackeye peas for luck. Some believe that you need to eat 365 peas to solidify your luck. I don't count my peas. I just make sure to eat plenty. We like our peas served over Basmati rice which isn't part of the tradition. We simply like the way it tastes.
Cornbread cooked in little medallion shaped pieces represent gold. As high as gold is, I think I'll cook lacey cornbread for the next 364 days.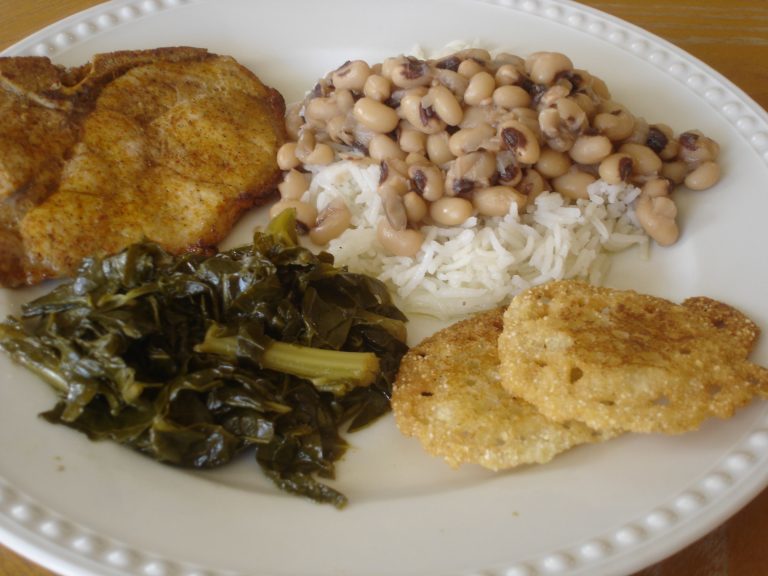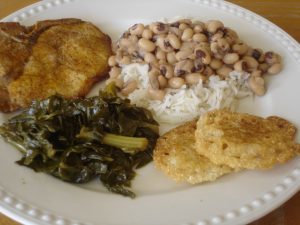 From our Southern home to yours, Happy New Years, y'all! We wish you good luck, prosperity, progress and lots of good tomatoes in the New Year.