The idea of school lunches evokes a pleasant thought for me. I grew up in the era of real lunchroom ladies who cooked meals from scratch. They arrived at school before the chickens were up and started cooking. Wonderful aromas wafted throughout the school letting your lucky nose and sense of smell give clues about what might be in store at lunchtime. I'm sure menus went home, but I don't remember that. It seems to me I would just wait to catch the drifting aromas and figure out the day's lunch. I never brought my lunch from home so whatever the lunchroom ladies had in store would take up residence in my gullet, sooner or later.
School Lunchroom Rolls were a big hit with almost everyone. That fresh-baked yeasty roll would make you weak in the knees it was so good.
Anyone who was lucky enough to eat in a school lunchroom during the era, probably had Hamburger Soup. Ahhh…..Hamburger Soup. I remember it well. It was often served with a cheese sandwich, not grilled cheese but cold cheese, or peanut butter balls. The soup had plenty of protein making the addition of another protein interesting.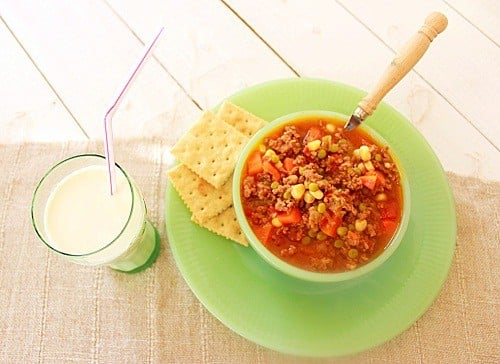 To this day, a bowl of soup and a glass of milk is one of my favorite things in the whole big world. God bless Lunchroom Ladies, where ever they may be.
Y'all come see us!
School Lunchroom Hamburger Soup
yield: 6 to 8 servings
Ground hamburger meat joins lots of good vegetables for a soul-warming, gullet-pleasing, uncomplicated, big 'ol bowl of soup.
4 large carrots, peeled and diced
4 stalks celery, diced
2 onions, diced
1/4 cup olive oil
3 to 4 clove garlic, minced
3 pounds ground beef (85/15)
2 (14.5 oz.) cans diced tomatoes, undrained
1 (15 oz) can tomato sauce
1 quart stock
1 tablespoon Worcestershire sauce
2 bay leaves
2 cups whole kernel corn, fresh, frozen or canned
1 (15 oz.) can LeSuer very young small sweet peas, drained
salt and pepper to taste
Heat large soup pot and add olive oil. Sauté carrots, celery and onions for 10 minutes or until soft. Season with salt and pepper. Add garlic and cook for 2 minutes.
Throw ground beef on top of all those beautiful vegetables and cook the meat until pink is gone. Don't you dare drain away all that good juice after the meat is cooked. There's very little fat in 85/15 ground beef. What little bit is there is going to add flavor.
Add tomatoes, tomato sauce, stock and Worcestershire sauce. Stir well.
Add bay leaves. Return to simmer. Cover and cook for 30 minutes.
Remove cover and add corn and peas. Stir. Cover and cook 15 minutes.
Taste for seasoning and adjust.
Ladle in soup bowls. For Cheeseburger Soup, add grated cheese to each bowl.