Tom Hegg wrote two books which capture the essence of the Christmas spirit. The idea of giving of yourself and your time is sometimes overshadowed by times spent at busy shopping malls searching for the "right" gift. These precious little books remind us that the best give that have to offer someone….anyone….is to simply set apart time to spend with them to let them know you care and that they are important to you.
These little books inspired me to create a Christmas tea party, invite a few friends and celebrate the season. I kept the place settings as simple as I thought I could get away with but still remain festive and tea-ish. I opted for gold chargers instead of placemats. The plates are luncheon size, so the chargers were large enough to place things on the rim. Attaching a small ornament to the napkin rings adding a three-dimensional effect to the plate. Sugared cranberries served as a festive tree topper to the Christmas tree design. On the right side of the charger plate is a cracker which is a fun English tradition that adds levity and whimsy to a very civilized tea.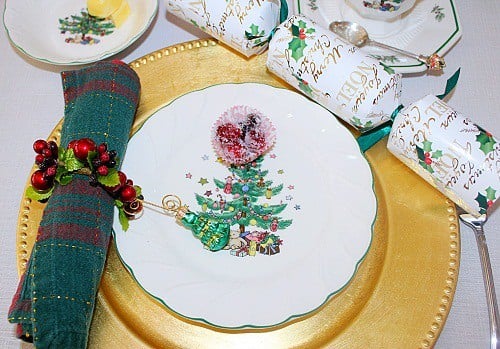 I set out crackers at my elegant Christmas dinner. Break open the cracker by pulling on the ends creating a "crack" sound. Out falls a silly paper hat, a small toy and a joke. Everyone wears their paper hat. You can't possibly take yourself too seriously when wearing this silly paper hat.
The menu was simple.
The tea was a Maharaja Chai Oolong and Samurai Chai Mate blend and had the perfect amount of spices to make it an excellent choice for a Christmas Tea.
There's something special about sharing food and drink with friends, especially during the holidays. To make the event even a touch more special, I decide that we would participate in one of my favorite activities: reading. We passed the books around and read them out-loud Each person could read as much or as little as they wanted. It was strictly up to them. Together, we relived the story and the importance of sharing our time during this hectic season.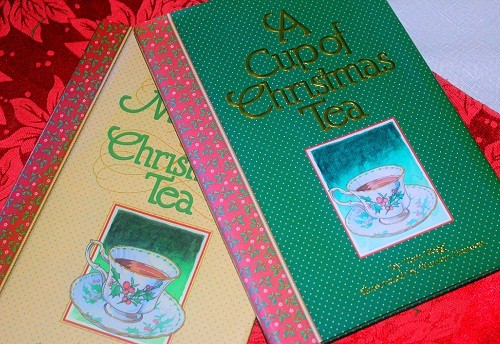 For favors, I gave them each a box that contained gingerbread cake and two cloth napkins. In keeping with the spirit of the books, I asked them to share the gingerbread with someone….perhaps someone who wouldn't expect such generosity.
I had a perfect afternoon of sharing and giving with my friends. Oh….one more thing. They were instructed to wear comfy shoes. Chile, if your feet aren't comfortable, you're not comfortable. Please ignore that obnoxious flash reflection in the center of our comfy shoes picture. I gave up trying to get rid of it. Sometimes you win. Sometimes even your editing program can't even help you.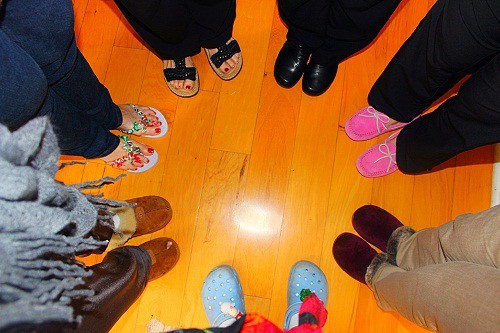 The highlighted items below will take you directly to the recipes. I don't have a recipe posted, yet, for Cranberry Orange Biscuits.
MENU
Cucumber Sandwich with Dill Cream Cheese Spread
Ham Salad Sandwich with Mixed Greens
Cranberry Orange Biscuits with a Trio of Jams and Jellies
Frosted Cranberries
Mary Ball Washington's 1784 Gingerbread Cake with Fresh Orange Nutmeg Whipped Cream
Maharaj Chai Oolong and Samurai Chai Matte by Teavana