I strongly identify with my Southern heritage and take great pride in it. Any chance I get to show my "southerness", I'll jump at it. The idea of a Southern-style Wine and Cheese party seemed like the perfect theme for a Christmas party. Showcasing Southern wine and food while showing folks some genuine Southern hospitality has my name written all over it.
Planning for the party was fun. I intended to make some of the food and purchase some ready-made. A wine and cheese party is relatively stress-free because you don't have to make the wine or the cheese unless you're a wine and cheese maker. I'm neither. I simply had to find a source for Southern made wine and cheese. In case you haven't heard, we're not known for our wine and cheese making in the South. This proved to be a little bit of a challenge, but one that I was willing to take on. If this type of party is one that interests you, I've done a lot of the leg work for you. That's just the kinda guy I am.
The items on the menu in blue are direct links to the recipes.
MENU
Red Wines
Biltmore: Cabernet Sauvignon, Asheville, NC
San Sebastian: Vintners Red, St. Augustine/Clermont, FL
Lakeridge Winery & Vineyards, Clermont, FL
White Wines
Biltmore: Chardonnay Sur Lies, Asheville, NC
The Williamsburg Winery: James River White, Williamsburg, VA
Cheese
Sweet Grass Diary, Thomasville, GA
Cow's milk cheese: Green Hill, Thomasville Tomme, Asher Blue
Goat's milk cheese: Holly Springs, Eden
Ham Biscuits with Honey Mustard Butter
Ham: Cumberland Gap Provision Co., Middlesborough,KY
Biscuits: Garvin kitchen, Valrico, FL
Honey Mustard Butter: Garvin kitchen, Valrico, FL
Pear Preserves
Braswell's, Statesboro, GA
Vidalia Onion Honey Mustard Sauce
McClain's, Sarasota, FL
Tupelo Honey
Savannah Bee Company, Savannah, GA
Pickled Okra
Wickles, Dadeville, AL
Spicy Sweet Jalapeno Relish
Louisiana Delights, Lake Charles, LA
Sea Salted Almonds
Blue Crab Bay Company, Melfa, VA
Pecans: South Georgia Pecan Company, Valdosta, GA
Spicy Coating: Garvin kitchen, Valrico, FL
Virginia Peanuts with Chesapeake Bay Seasoning
Blue Crab Bay Co.,Melfa, VA
Garvin kitchen, Valrico, FL
Mary Ball Washington's 1784 Gingerbread Cake
Recipe from Mount Vernon, Mount Vernon, VA,
Baked in the Garvin kitchen, Valrico, FL
The wine table was set up on our back patio and we had all the food in the kitchen. Setting up food and beverages in different locations helps with the traffic flow. It keeps everyone from being bunched up in one spot. We had seating both inside and outside. This is Florida. We can go outside in December. Don't hate.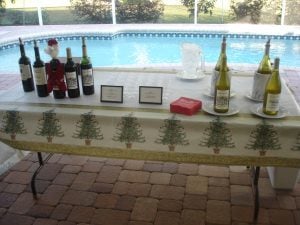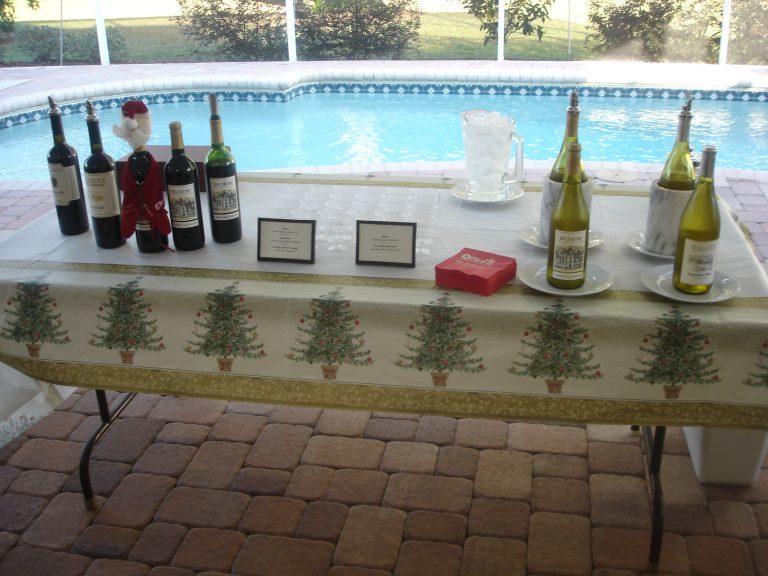 Reds. We were familiar with Biltmore wines but had never sampled any wine from Florida wineries and were pleasantly surprised. The only grapes suited for Florida climate are muscadines which have a unique flavor that's nothing like traditional wine grapes.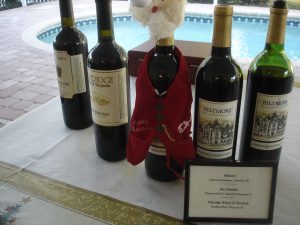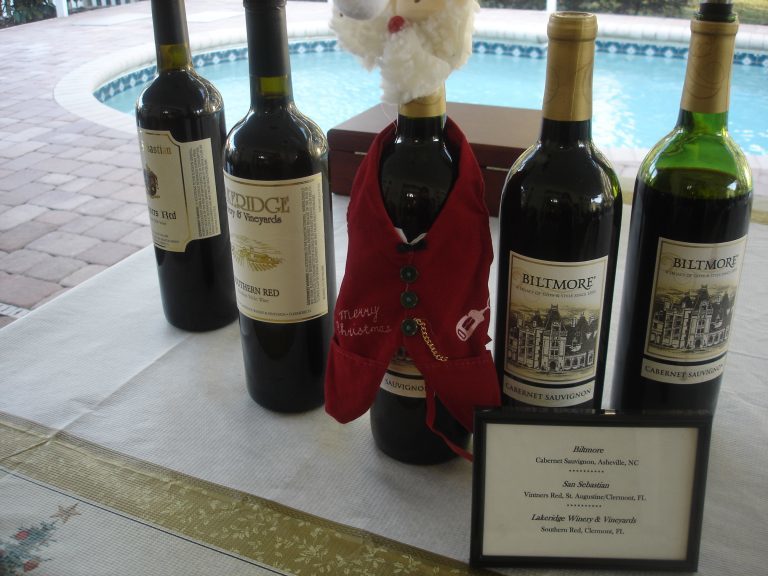 Whites. Biltmore and The Williamsburg Winery both have quality wines.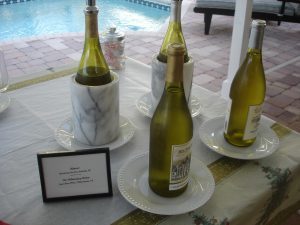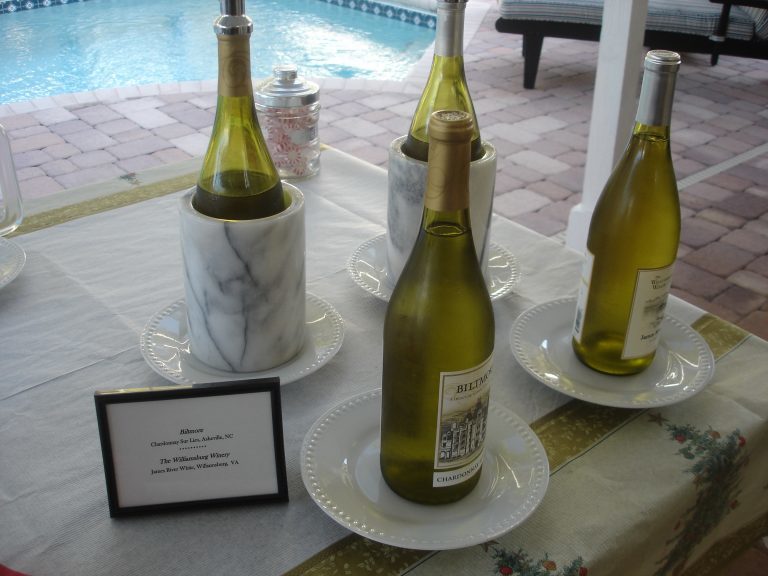 The food buffet.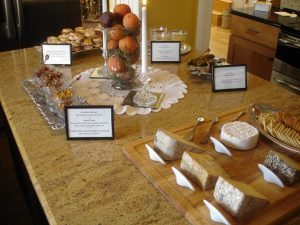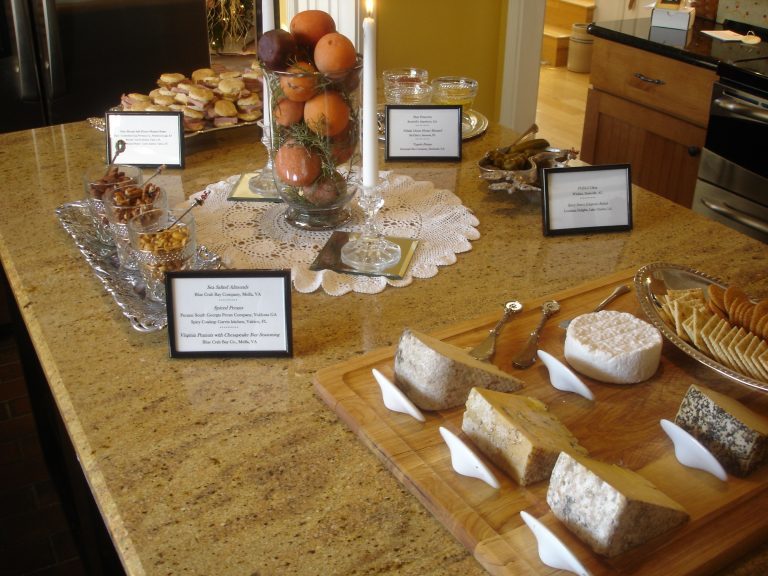 Cheese. This was the most difficult item to find. I located several sources but they were either out of inventory, prohibitively expensive or the shipping costs were more than the product. I posted a comment on Facebook asking if anyone knew of a good Southern cheese maker. Janet posted a comment right away and suggested Sweet Grass Dairy in Thomasville, GA. I found their website and called them immediately. They had an excellent selection, reasonable prices and even better customer service. Along with your order, they send you some cards that have a picture and description of each variety of cheese your order. I will order from Sweet Grass Dairy again, and again, and again….
I decided to stick close to my Southern roots and have soda crackers (saltines) and Ritz crackers. Neither of those are made in the South and they were the only exception to the rule. Both of these crackers were readily available throughout the South and I grew up with them. I've found that the multi-grain versions of both types crackers hold up better than the original versions which have become very crumbly for some reason.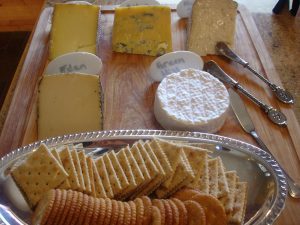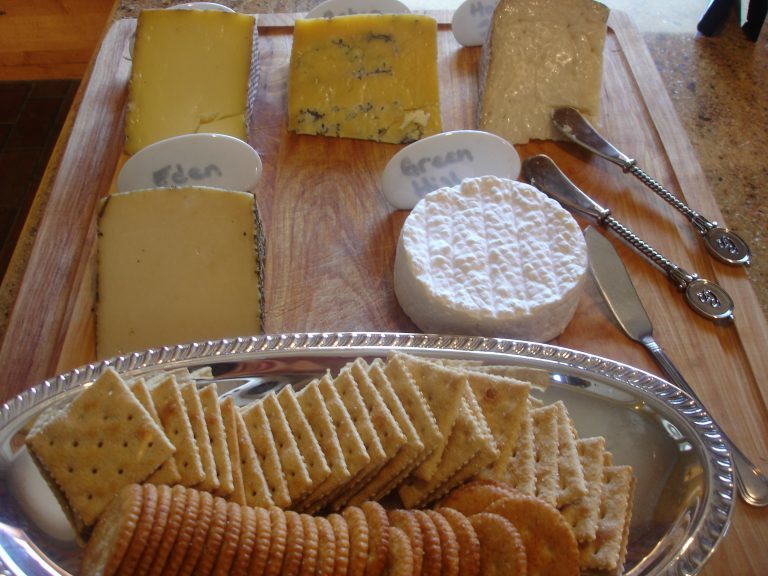 Ham Biscuits with Honey Mustard Butter. Cheese boards typically have some type of cured meats. I added my Southern thumbprint by serving miniature ham biscuits. Cumberland Gap ham is consistently good. It's the only ham I'll buy now.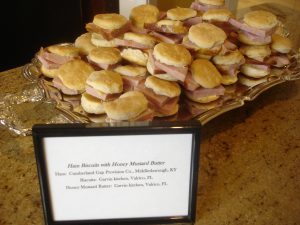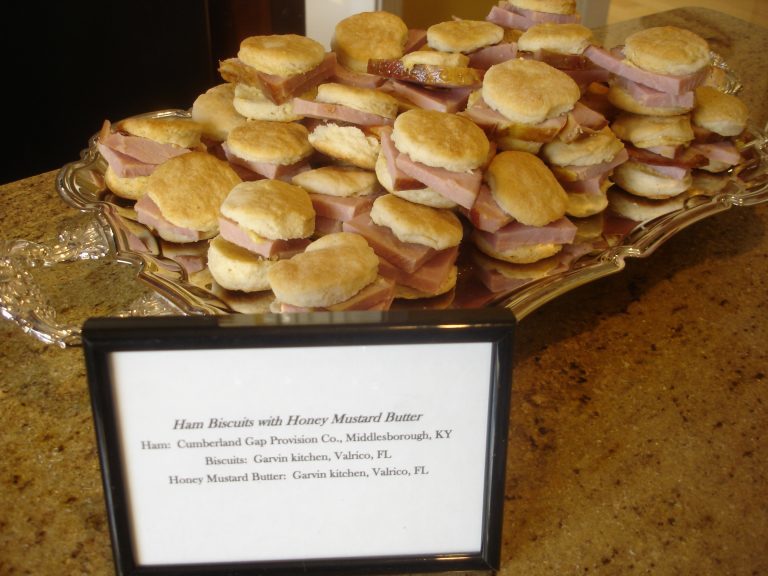 Pear preserves, Vidalia Onion Honey Mustard, Tupelo Honey. Instead of fresh or dried fruit, I chose pear preserves to honor our canning heritage. Mustard is a classic ingredient for a cheese board and Vidalia onions, grown only in Vidalia, GA, added to mustard was a slam-dunk. The sweetness of honey pairs well with salty cheeses. Tupelo honey is my favorite.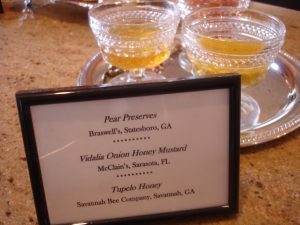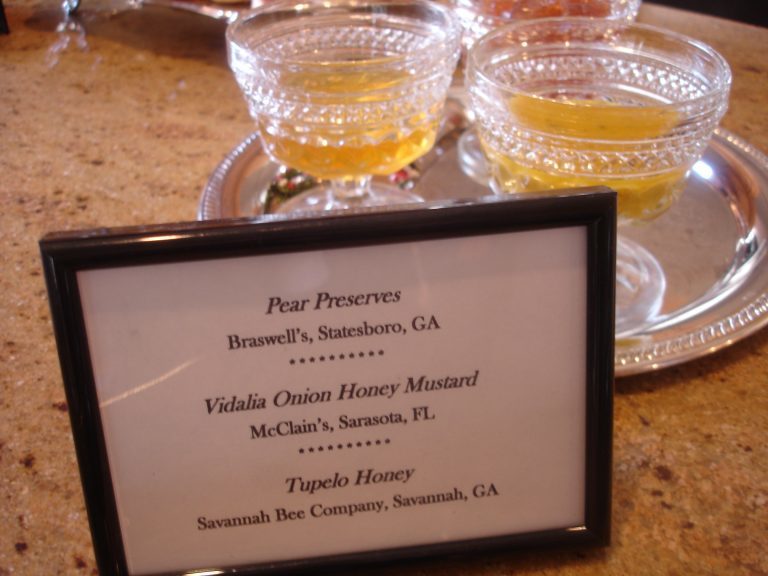 Pickled Okra and Spicy Jalapeno Relish. If you're going to include a pickle on a Southern-style cheese board, you don't need to look any further than pickled okra. Wickles brand pickled okra is out of this world good. Southerners love relish and jalapeno relish was a new find that became a nice addition.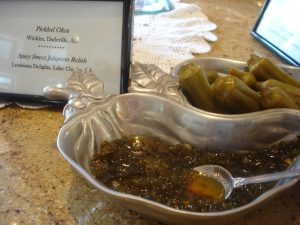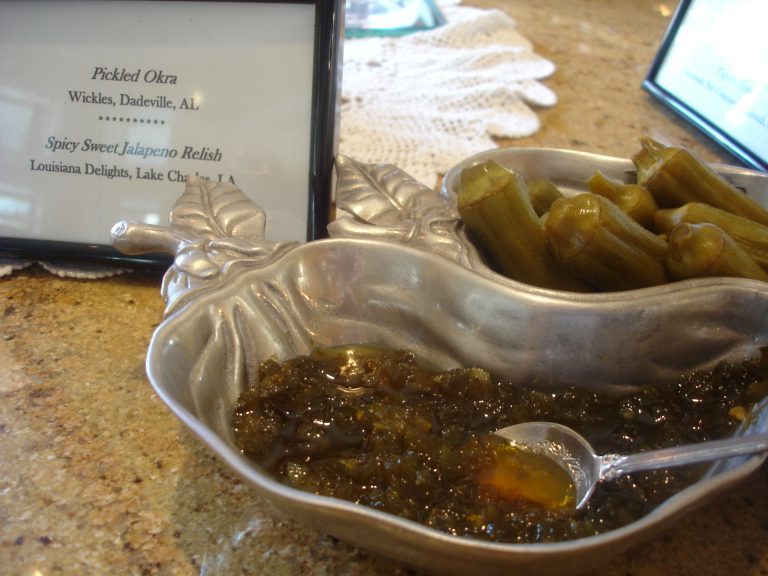 Almonds, pecans and peanuts. Salty, sweet/spicy and savory. We've covered all the bases.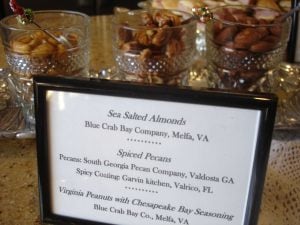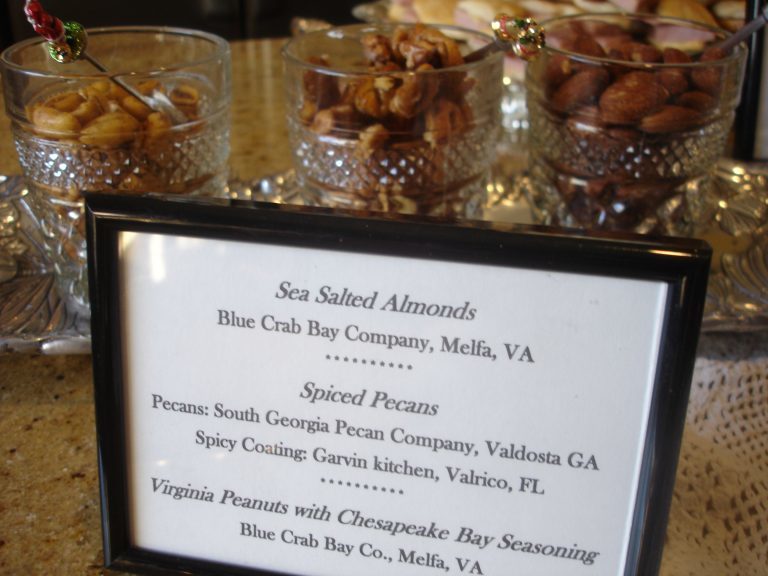 I just love the look of these.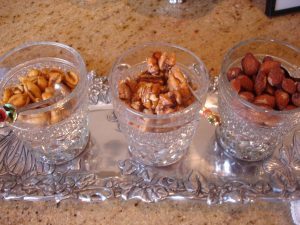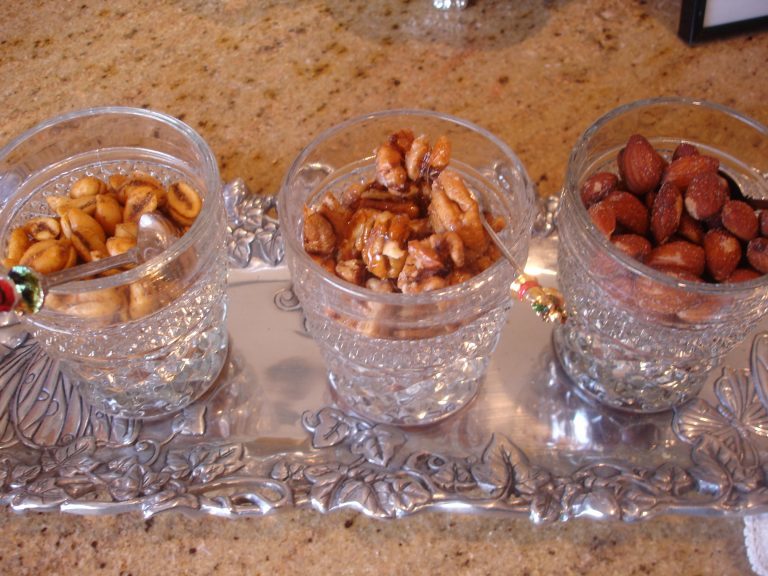 The hot beverage and dessert bar. I used my Keurig coffeemaker and offered a variety of k-cups: coffee, hot chocolate, hot apple cider and hot tea.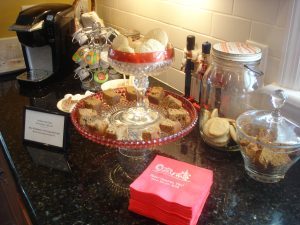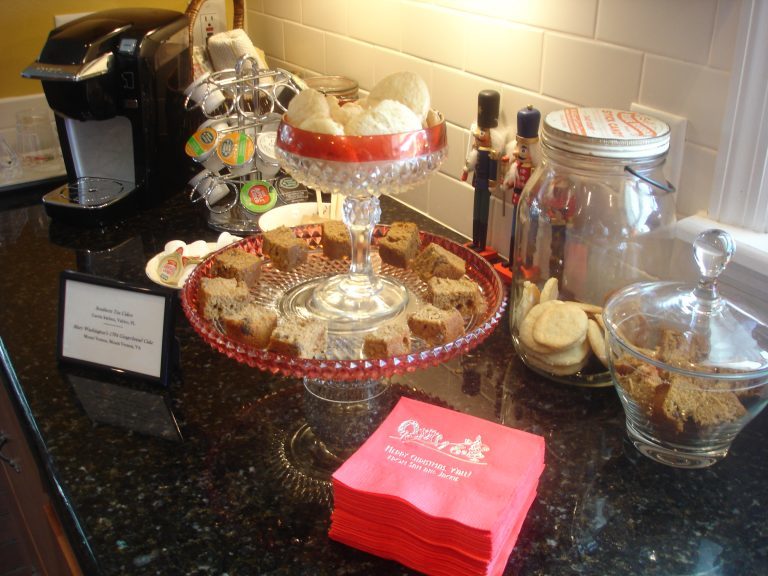 Southern Tea Cakes and Mary Washington's Gingerbread Cake. Both were fine choices if I do say so myself.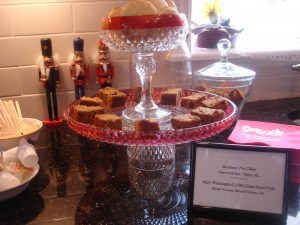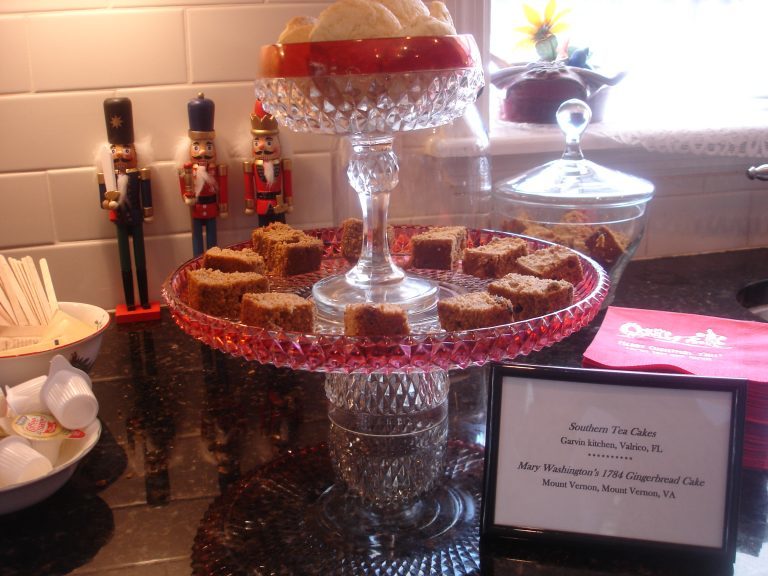 Our napkins. I don't need to explain them. I just need to say I love them.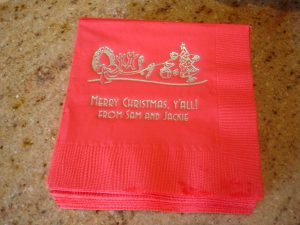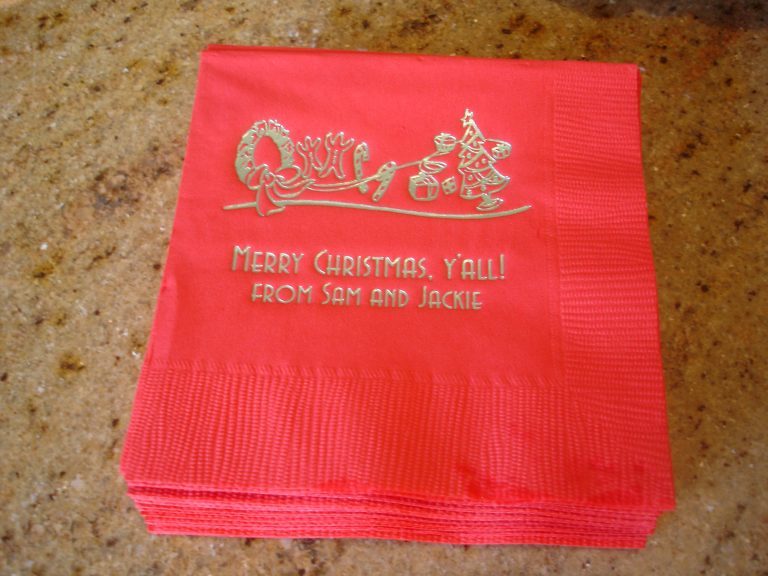 We had 24 attend the party. I had 5 (1/2 pound) cheese selections and I think that was just about the perfect amount. This is the first time that I've used paper and plastic when entertaining. I felt that glass, crystal and china was proper. Finally, practical meets proper in my little brain. I've come to realize that when you have that many guests, unless you're catering the event or have hired someone to help you clean up, using paper and plastic is just fine. In fact, it's sensible. I'm all about sensible these days. Thank heavens the light bulb finally went off in my gray matter.
We sent our guests away with a little bit of southern hospitality. We put homemade hot chocolate mix, homemade marshmallows and a Southern Tea Cake in a pint canning jar with a note on the top that read, "Thanks for coming, y'all! Add 1/4 cup hot chocolate mix to a large mug. Fill with boiling water. Stir well. Top with marshmallow. Eat with Southern Tea Cake." We signed the card, "Sam and Jackie". The hot chocolate mix was measure into a small plastic ziplock bag, the marshmallows each went into petit four wrappers and the tea cake in a cupcake wrapper.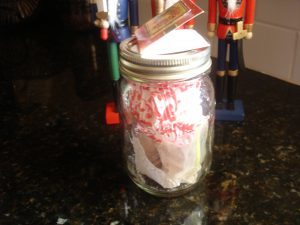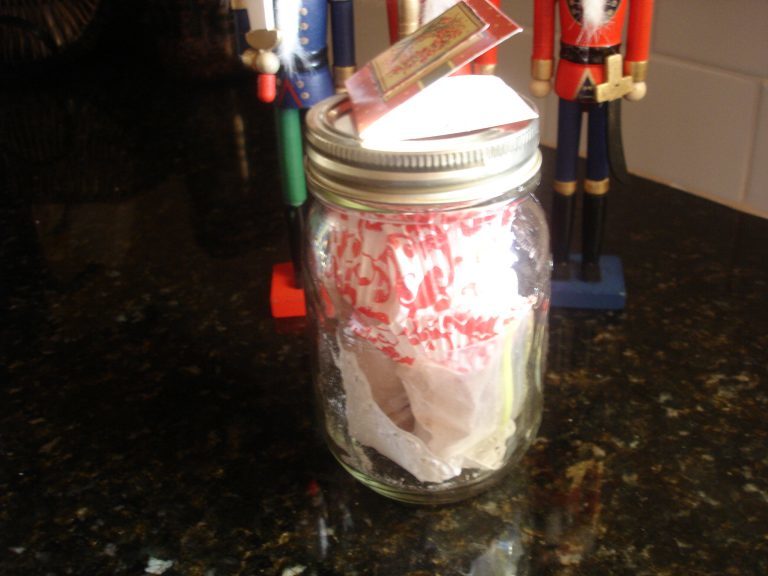 Merry Christmas!