We awaken each morning without the harshness of an alarm clock or the blaring music from a clock radio. He makes the coffee and I make the bed. He reads his newspaper and I read mine as we sip our morning coffee. Breakfast is enjoyed at a leisurely pace as we talk about our plans for the day. The discussion always includes our children and the latest news with them. We talk about the babies, their new "tricks" and when we might see them again. Included in the conversation will be a discussion of upcoming travel plans. He inquires about my Bible study class and the current lesson. I ask if he has any special requests for dinner. He wants to know what I plan to cook next for inclusion in my cookbook "Apron Strings" or my food blog. Sometimes we will take a walk together or he will help me with some gardening chores. He heads off to his activity of choice, usually golf. My attention turns to keeping up with training for my first 10K in March, gardening and writing my book and blog. Some days Amy and the babies come visit. Some days we visit them. He returns home. Dinner is enjoyed unhurried and it includes pleasant conversation. We take our Basset hound, Belle, for a walk. We go to sleep when we get sleepy.
This is my life with my husband, Sam. Our life is a dream. We are retired, secure, happy and healthy. The road getting here had some potholes. Sometimes it was completely washed out and we had to detour. But our compass always brought us back to where we needed to be. That compass has been steering us in the right direction for 35 years.
We appreciate where we are because of where we've been. Married at a young age, we didn't start off with any advantages. In fact, we had numerous disadvantages. We know what it's like to be poor as dirt. Literally. The first little house that we lived in, as a newly married couple, was old and in need of some repairs. The front door and back door lined up and apparently neither door had weather-stripping. If you sat between them, the wind would blow your hair just like you were standing outside. Something was wrong with the electrical wiring, too. You had to decide if you wanted to use the hair dryer, the window unit air conditioner (only one for the whole house) or the clothes dryer. Any combination of two would blow fuses. The entire house would fit on the lanai of our current home.
Lean years continued for quite some time. We used to drive our cars until they fell apart or just completely konked out on us. Any unexpected event, such as a major appliance dying or car repairs , would cause severe financial distress. We flat didn't have extra money. I would scrimp and safe to put $2.00 a week in a Christmas fund. Despite it all, our children were loved and taken care of, we had clean clothes to wear and food to eat. And we loved each other.
For thirty-five years we've celebrated Thanksgiving, Christmas, Easter, birthdays and Valentine's Day together. That's a lot of history and a lot of memories. I wouldn't trade places with anyone. Once again, I celebrated Valentine's Day with my soul mate. We finally got the roads paved.
Y'all come see us.
***********************************************************************************************************************************************
Valentine's Day Menu
Cane Syrup Glazed Cornish Game Hen
Roasted Yukon Gold Potatoes
Garvin Farms Buttered Cabbage
Old Fashioned Lemon Ice Box Pie
+++++++++++++++++++++
My husband loves simple uncomplicated meals. This is a perfect meal for him. That's what I wanted to do. Make a perfect meal for my Valentine on Valentine's Day. The simplicity, also, is a nod to our meager beginnings. We wouldn't have had Cornish Game Hens. That's a splurge. But, what better way to show your love than giving a guy his own chicken to eat! Our Valentine's Day menu would more likely have included chicken and rice. The cabbage was fresh picked from the garden this morning. The recipe for the pie is coming up in its own blog later this week. I have a story to tell about it.
Cane Syrup Glazed Cornish Game Hen
Wash and pat dry hens. Season liberally with salt and pepper. Don't forget the cavity! Place in baking pan. Fill cavity with onions, celery and garlic. Add remaining vegetables to pan.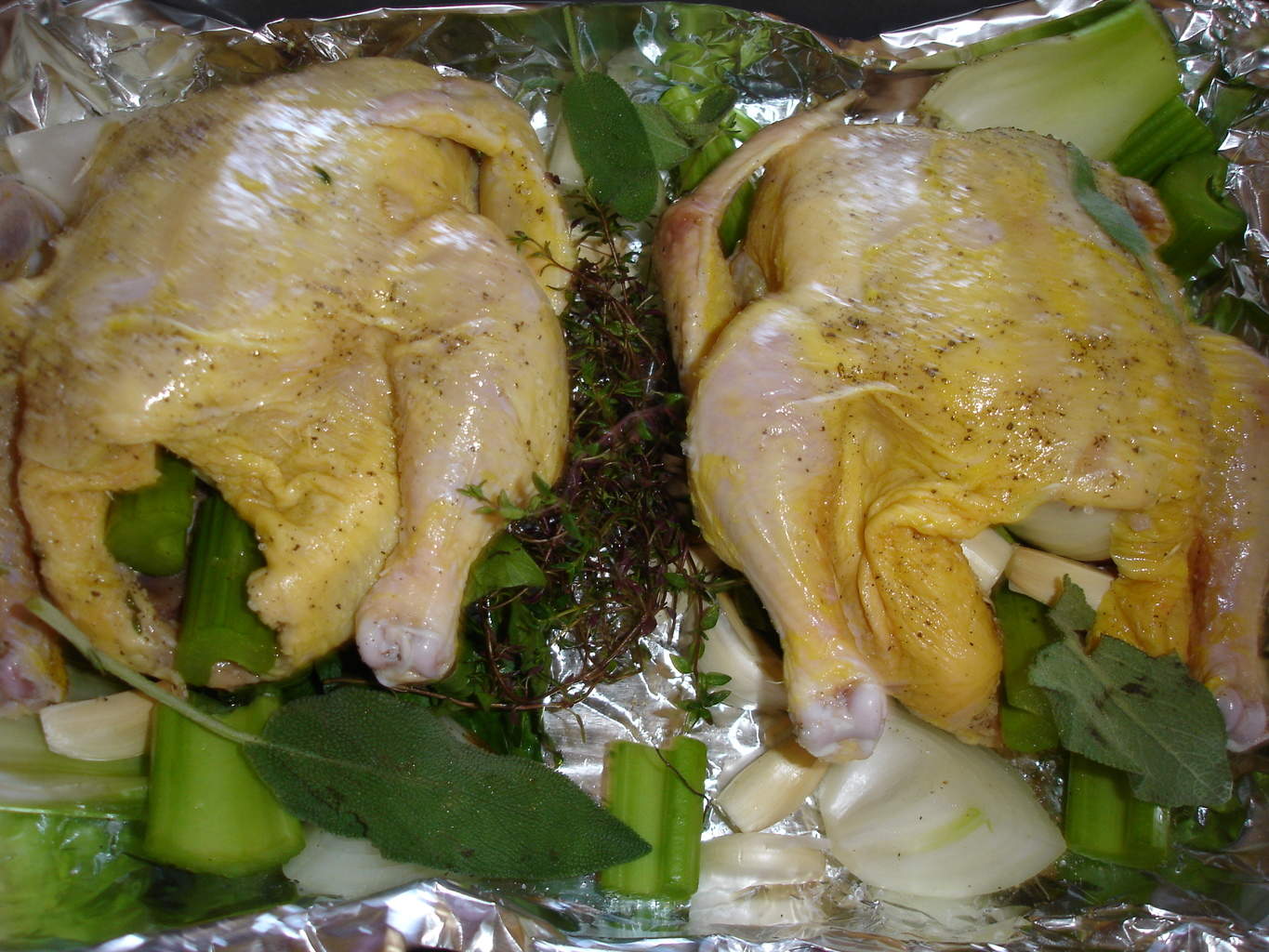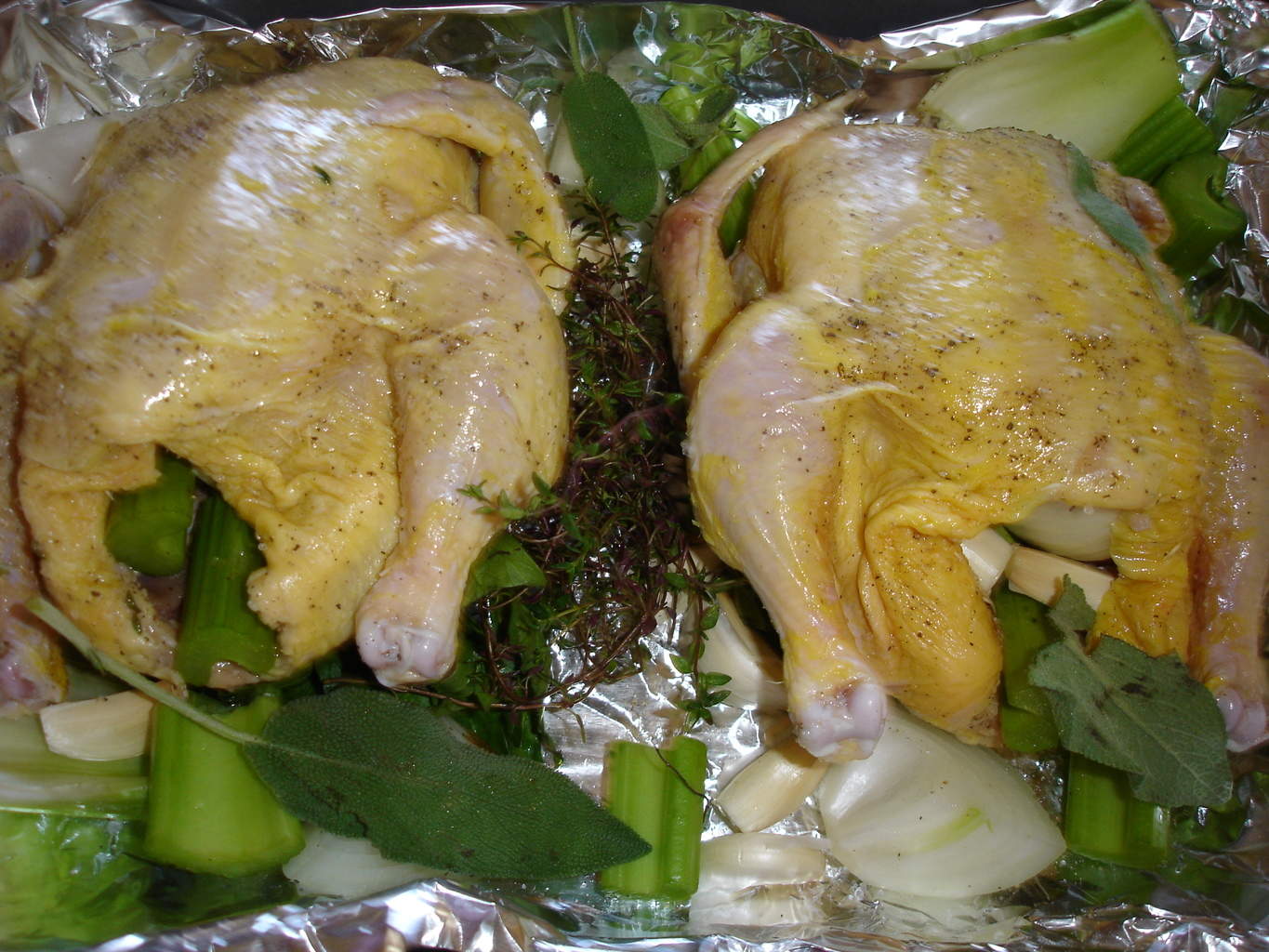 Mix syrup, orange juice, sage, thyme, butter and hot sauce. Spoon lightly over hens.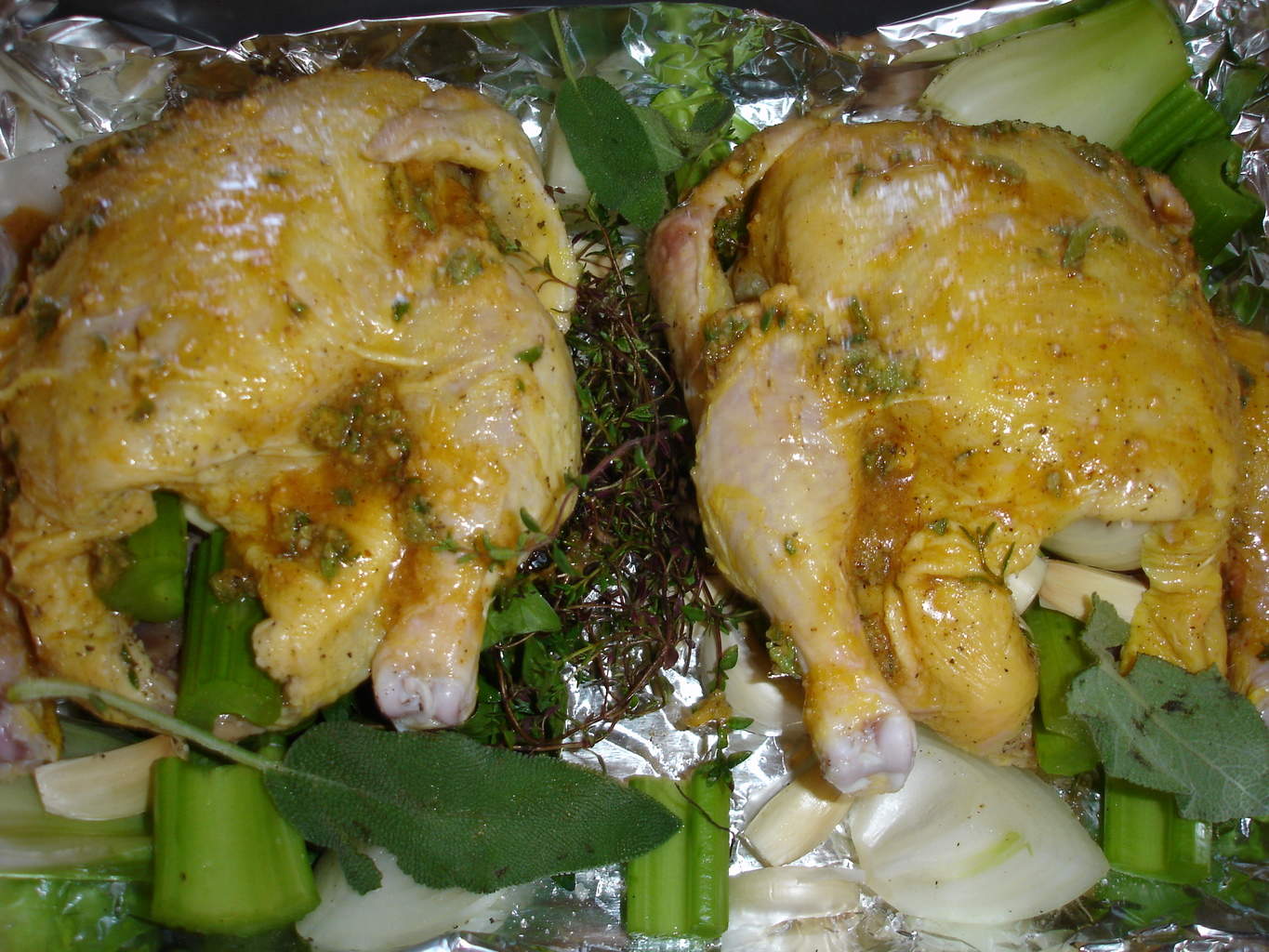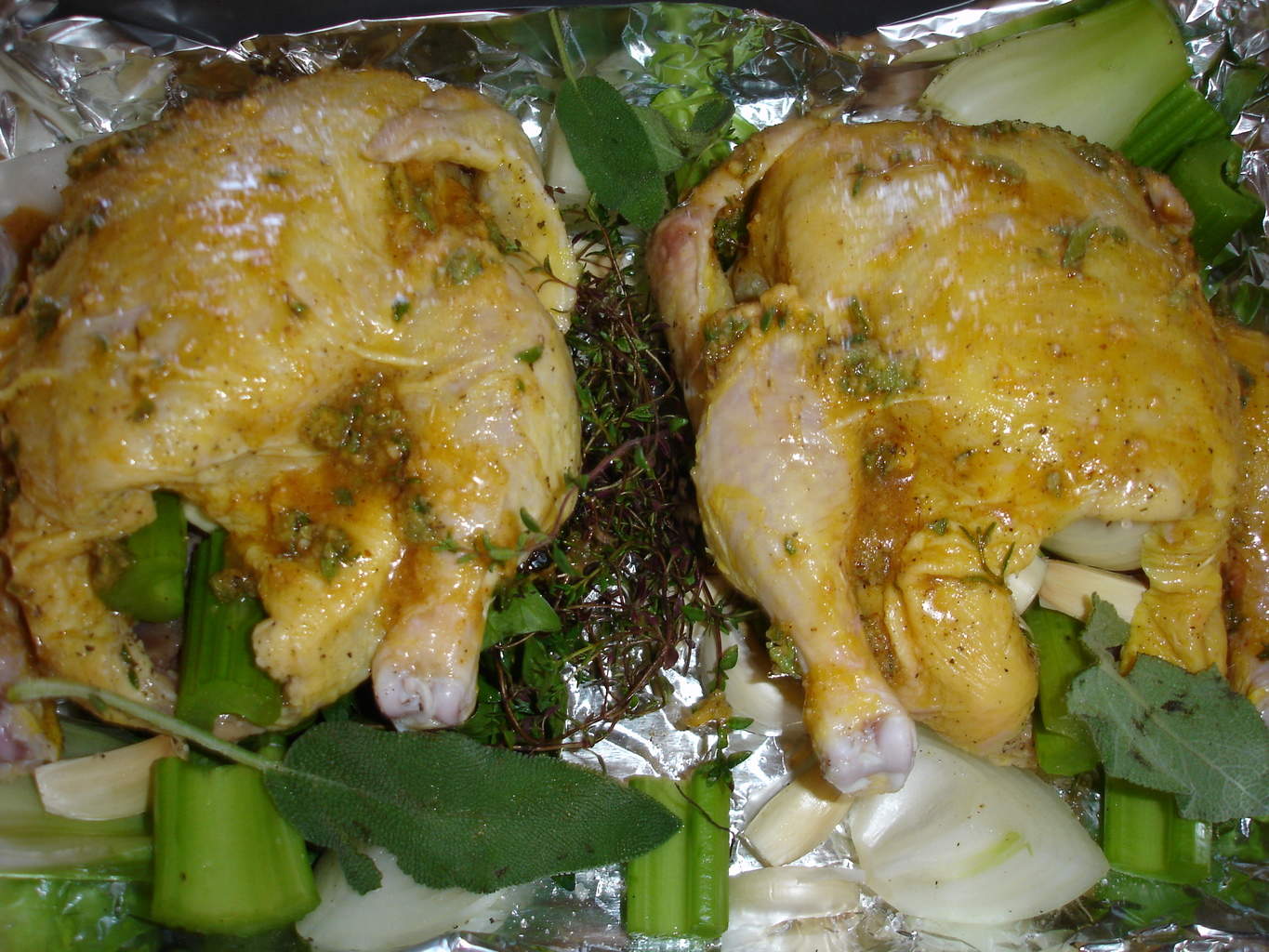 Cover tightly and bake for 45 minutes. Uncover and bake until brown basting occasionally. As you can see, I covered the pan with aluminum foil. I didn't make the sauce this time because Sam's not a real saucy kind of guy. If you want to make the sauce, and I recommend that you do, don' t cover the bottom of the pan so you can deglaze it.
Ta-da!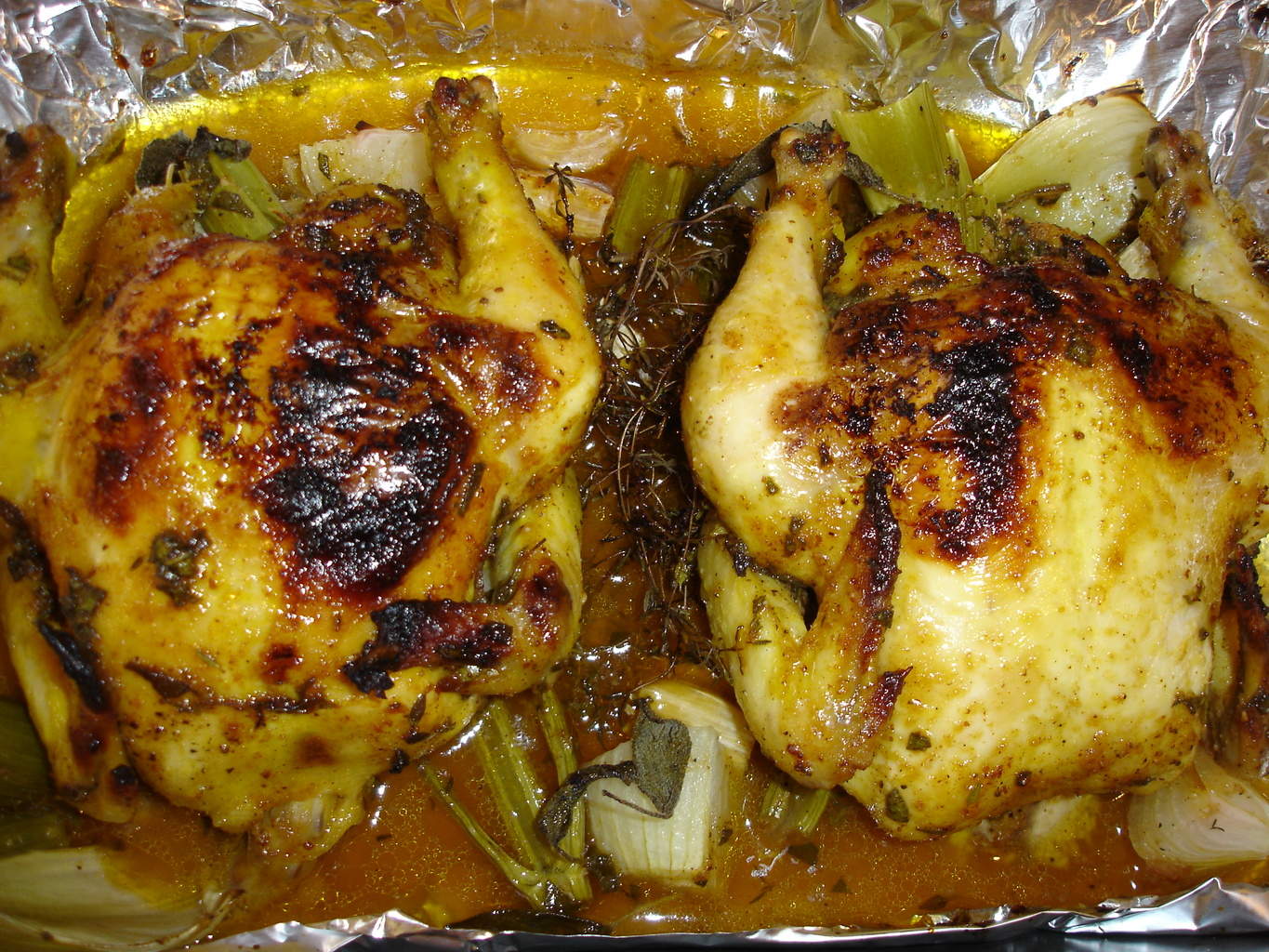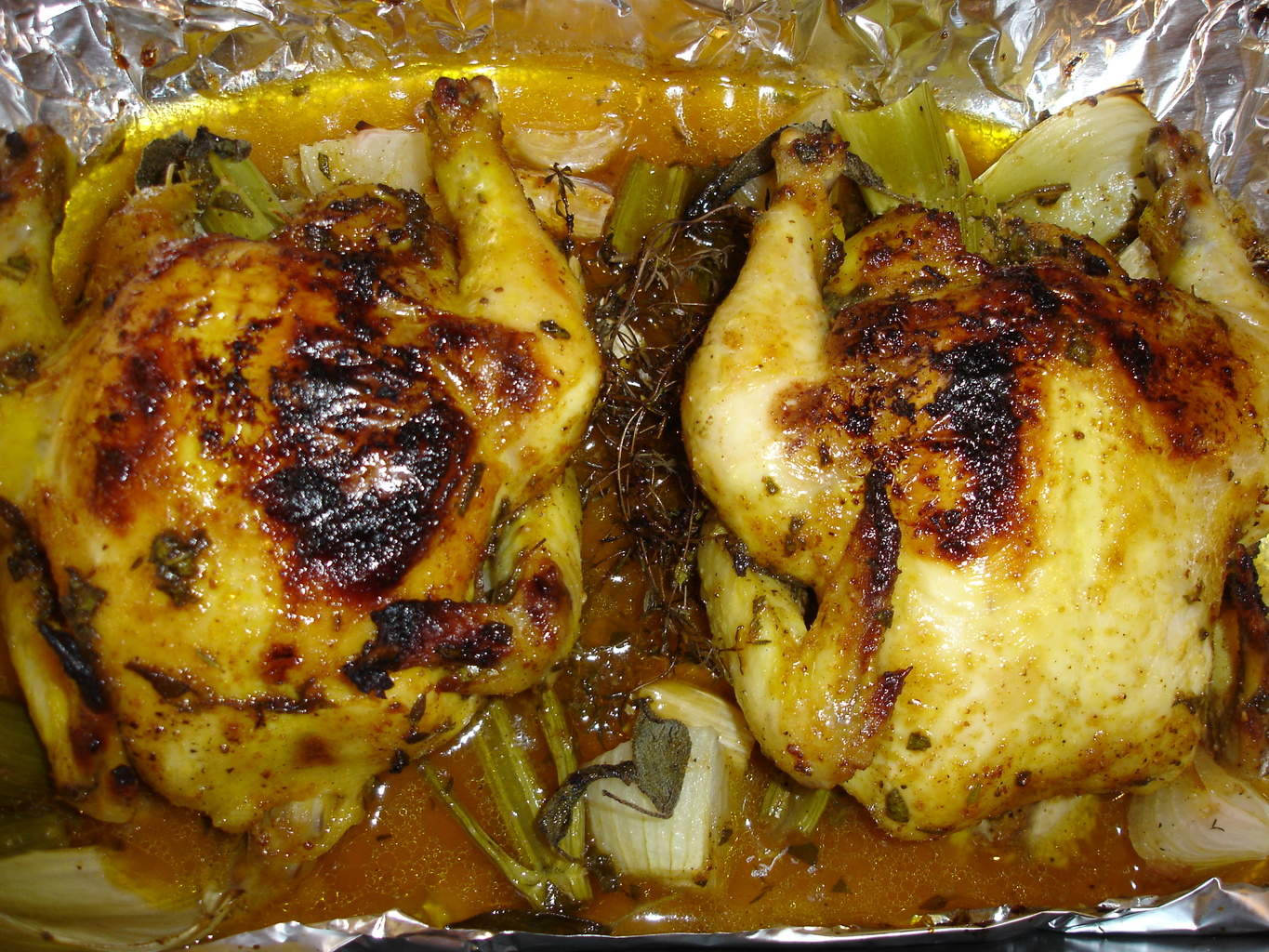 The table is set with the first set of dishes that my in-laws ever owned. My mother-in-law was sweet enough to give them to me. My daughter, Amy, gave me the monogrammed linen napkins.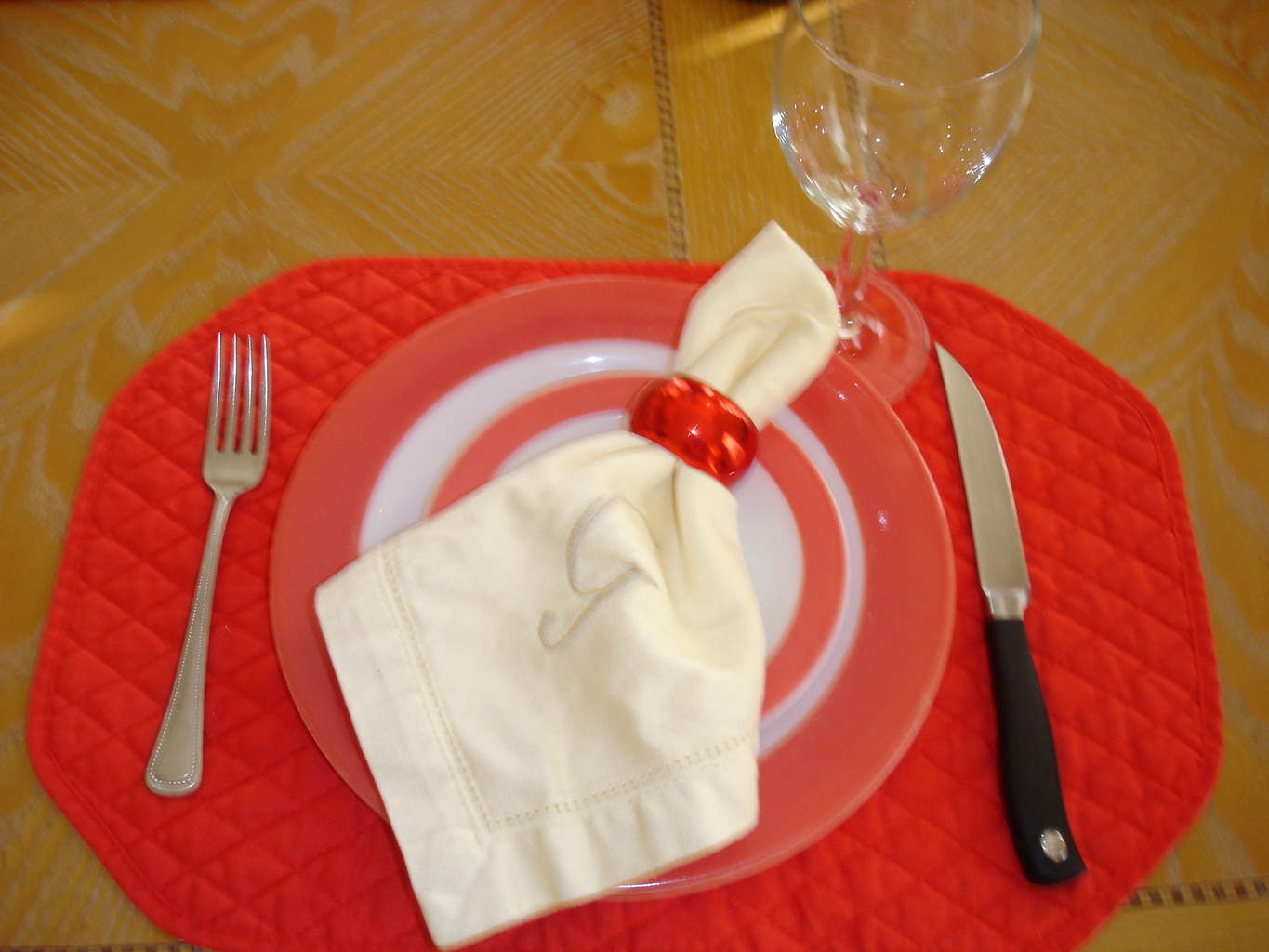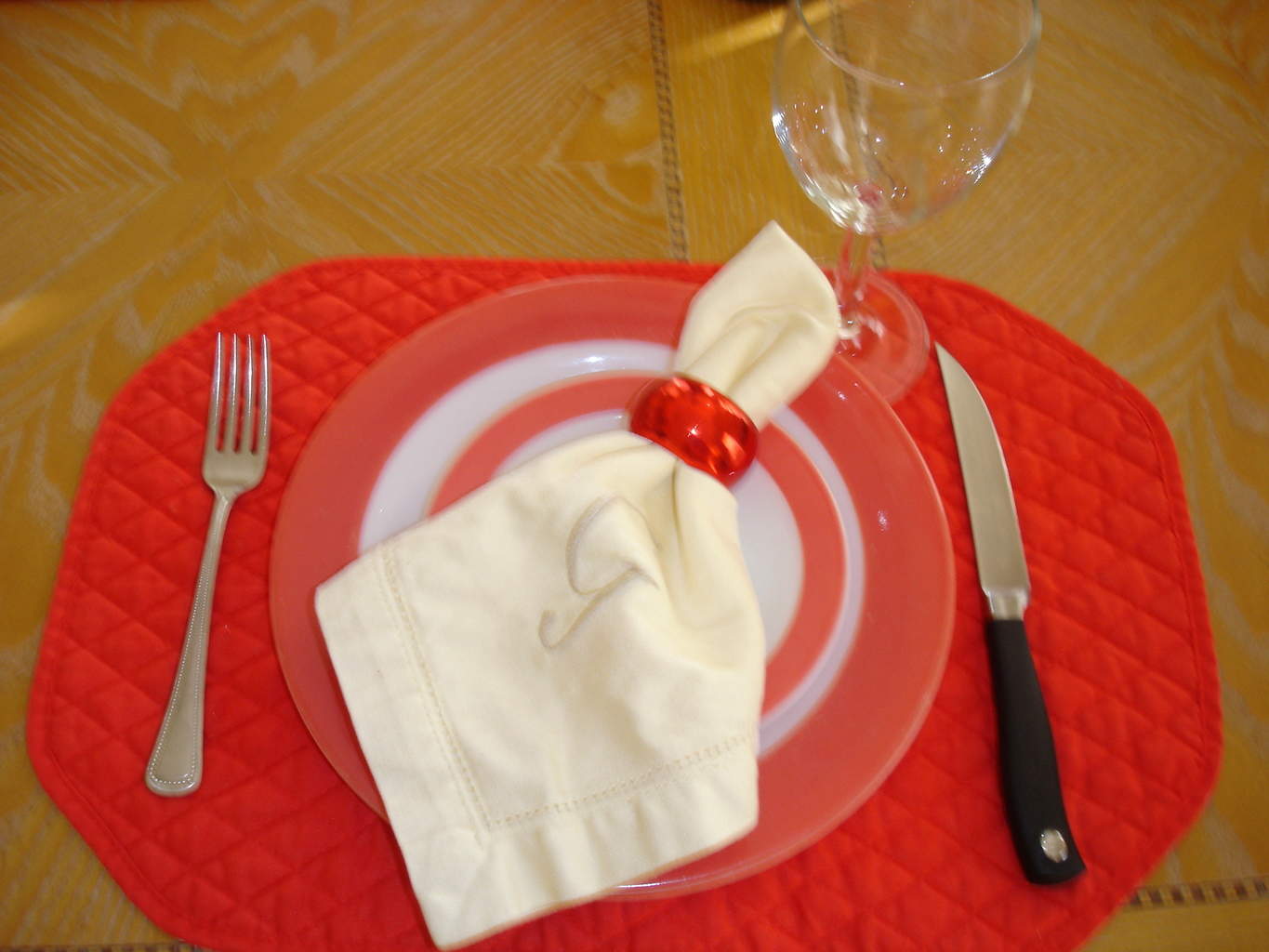 My Valentine bought me beautiful roses and one of those sweet cards that sing to you. My card sings, "She's Everything" by Brad Paisley. Awwww!!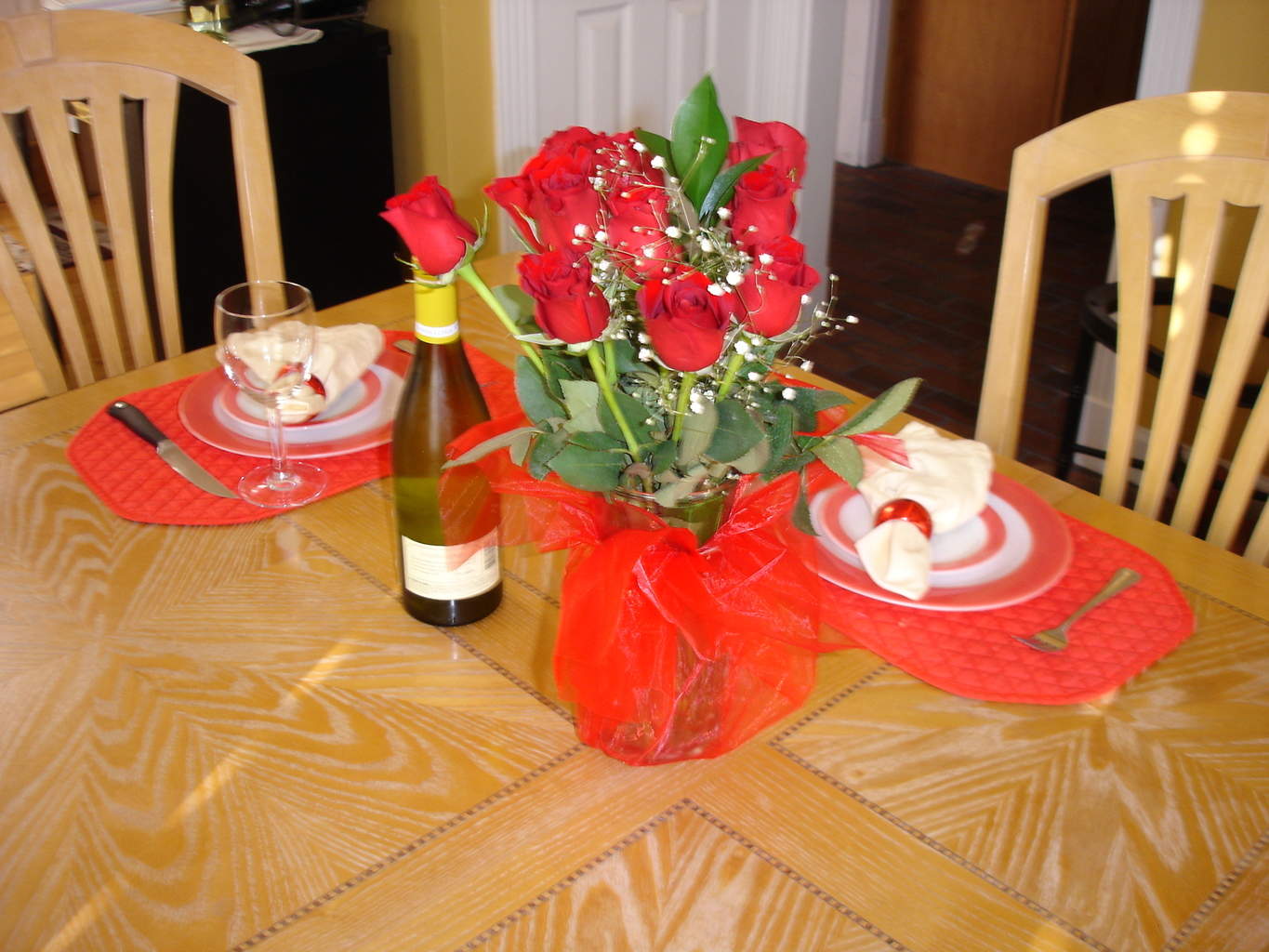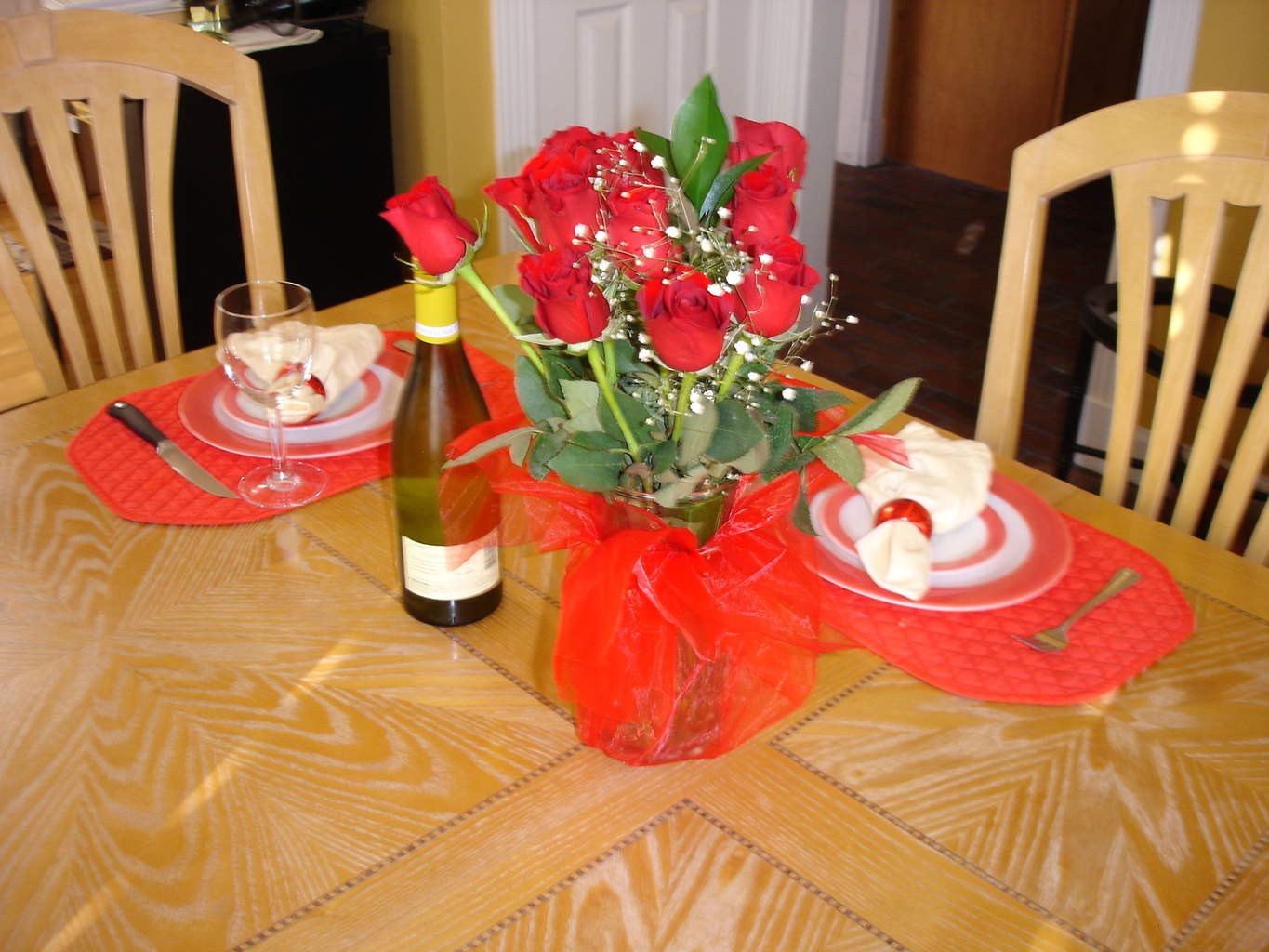 Happy Valentine's Day, Sam!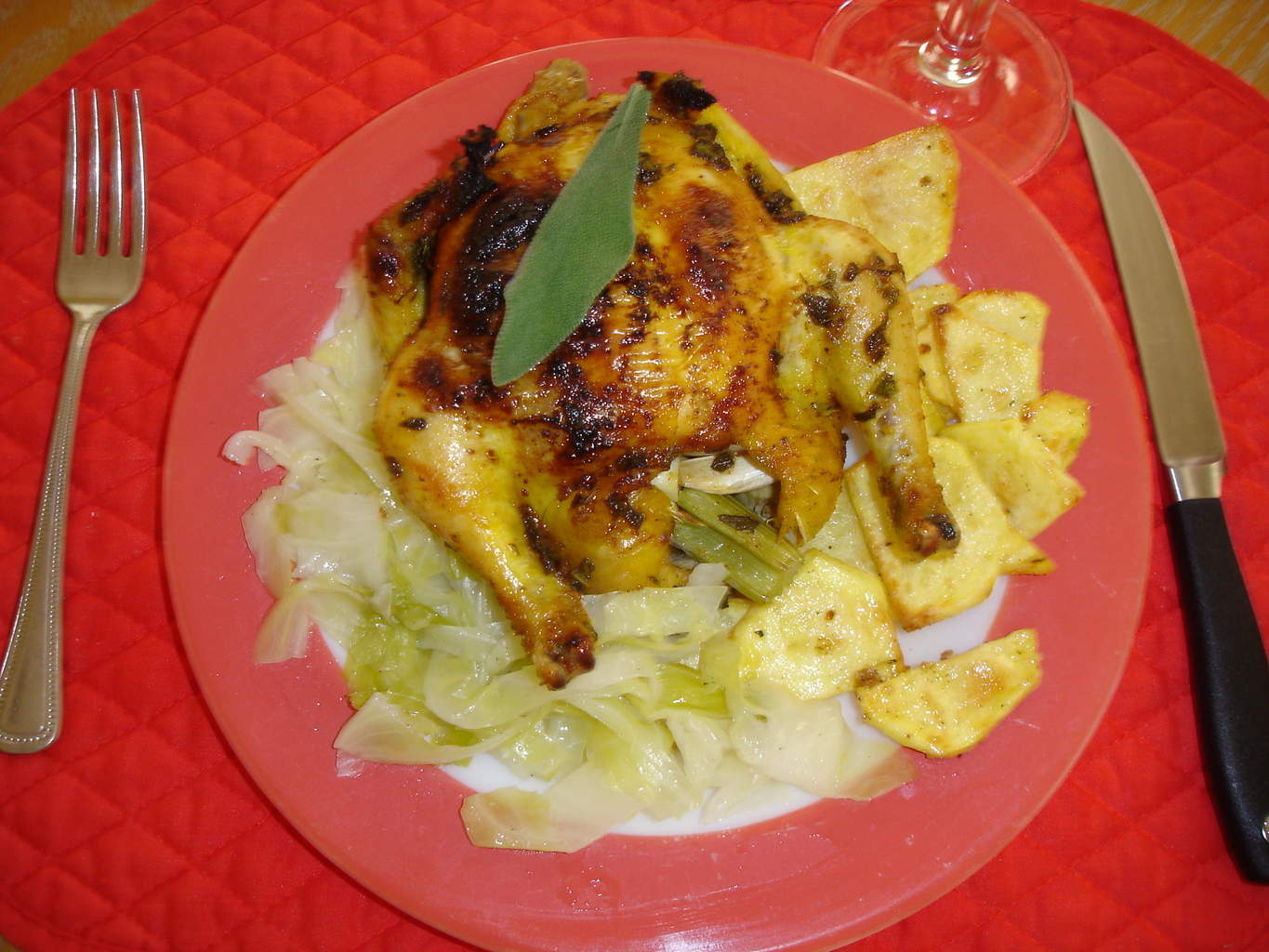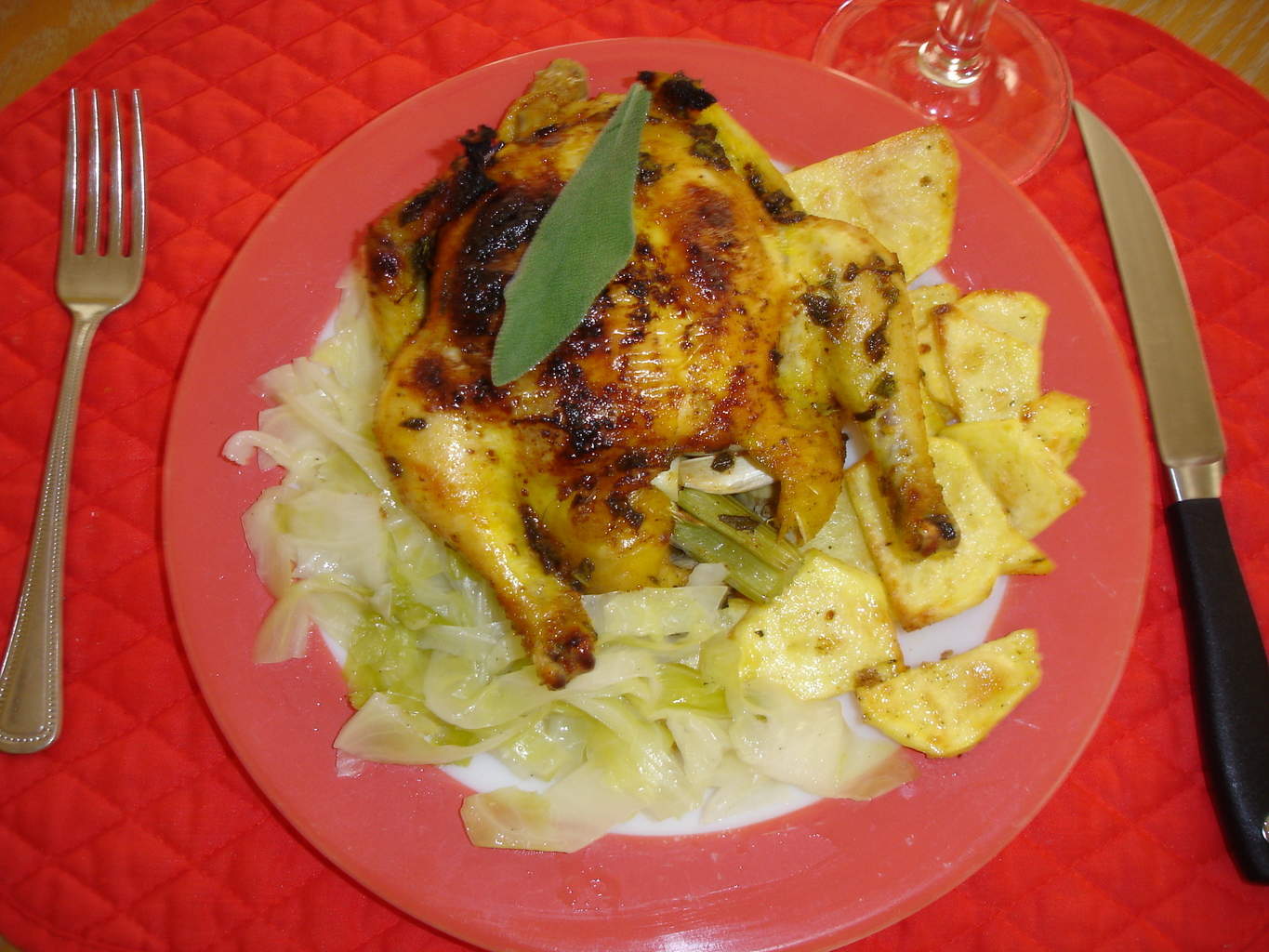 2 Cornish Game Hens
Olive oil for coating game hens
3 celery stalks, cleaned and roughly chopped
¼ cup Steen's Cane Syrup
2 tbsp butter
2 tbsp chopped fresh sage
Salt and pepper to taste
1/8 tsp paprika
Hot sauce, to taste
1 cup chicken stock
1 sweet onion, quartered
1 head of garlic
2 tbsp fresh squeeze orange juice
2 tbsp fresh thyme, chopped
1 orange, sectioned
½ cup white wine
Wash game hens and pat dry. Rub olive oil all over and season generously with salt and pepper. Don't forget the cavity! Place onions, celery and whole garlic cloves in cavities. Place game hens, breast side up in a roasting pan. Combine syrup, orange juice, butter, thyme, sage and paprika and hot sauce. Brush hens lightly with glaze. Place remaining vegetables in pan with hens. Cover and roast for 45 minutes. Uncover and brown evenly. Brush on glaze while hens are browning. Remove hens and vegetables from pan after done. Deglaze pan with wine. Add stock and cook until reduced to create a pan sauce.