Mr. Lovell Brooks' store was just down the street from where my grandparents lived in the Cotton Mill Village in Geneva, AL. It was an old timey store where my grandparents, Payton and Virginia Phillips, "traded" as Grandaddy called it, for no telling how many years. Mr. Brooks was there before the retail grocery stores came to town. He beat the Piggly Wiggly and the IGA. My grandparents were loyal to Mr. Brooks, and his store, whose fate is unclear to me. My hunch is that the retail chains probably forced the closing of his store, either single-handedly or in conjunction with his health and advancing age. A favorite story of mine involving Grandaddy also includes Mr. Brooks. After we arrived home from "trading" with Mr. Brooks, something prompted Grandaddy to count his money. Responding to the look of sheer puzzlement on his face, Granny asked what was wrong. He pondered and pondered and finally said, "I just sho' think they made a mistake in countin' out my change. I come away with $1.65 cents more than I should of." Each of you can silently decide how you might handle this moral dilemma. Grandaddy handled it in only the way his character would allow. He promptly got back in his car, drove to Mr. Brooks' store and returned the $1.65. That's the stock from which I'm made.
Unfortunately, I have only been able to come up with one photo of Mr. Brooks' store . The picture below, from the 1950s, is of Sara Hatcher Hundley and Faye Riley Owens taken inside the store. Sara, right, was related to Mr. Brooks.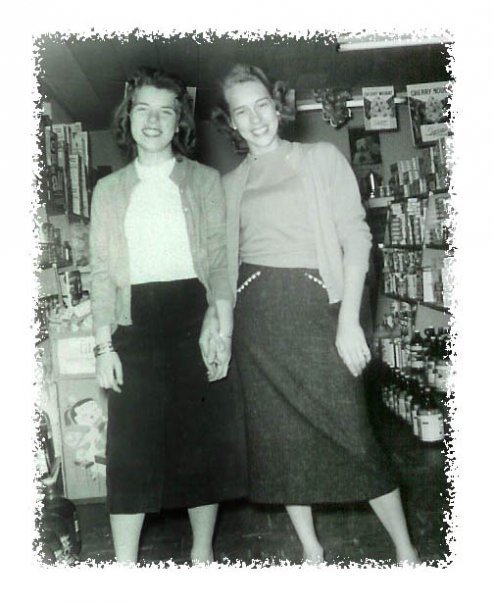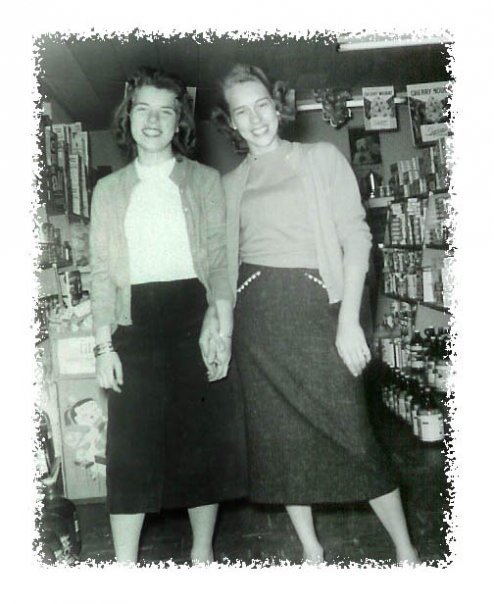 I will have to rely on my mind's eye to take you on a virtual tour. Let's hope the lens isn't covered with cobwebs.
The store was located on the part of the main highway that was pretty close to town, the kind of downtown common to small towns where you park at an angle in front of the stores. It was a small store with parking for only a few cars in front. My recollection of a wooden facade and a single gas pump might not be entirely accurate. But that's how I remember it, none-the-less. As you entered the front door, you just about ran smack dab into the checkout counter that housed the single cash register. Behind the cash register were shelves that contained items such as stick candy. Below is a candy jar that Granny and Grandaddy got for me from Mr. Brooks. Different flavors of stick candy, such as peppermint and perhaps orange and lemon, were in the jar. I mostly remember the peppermint.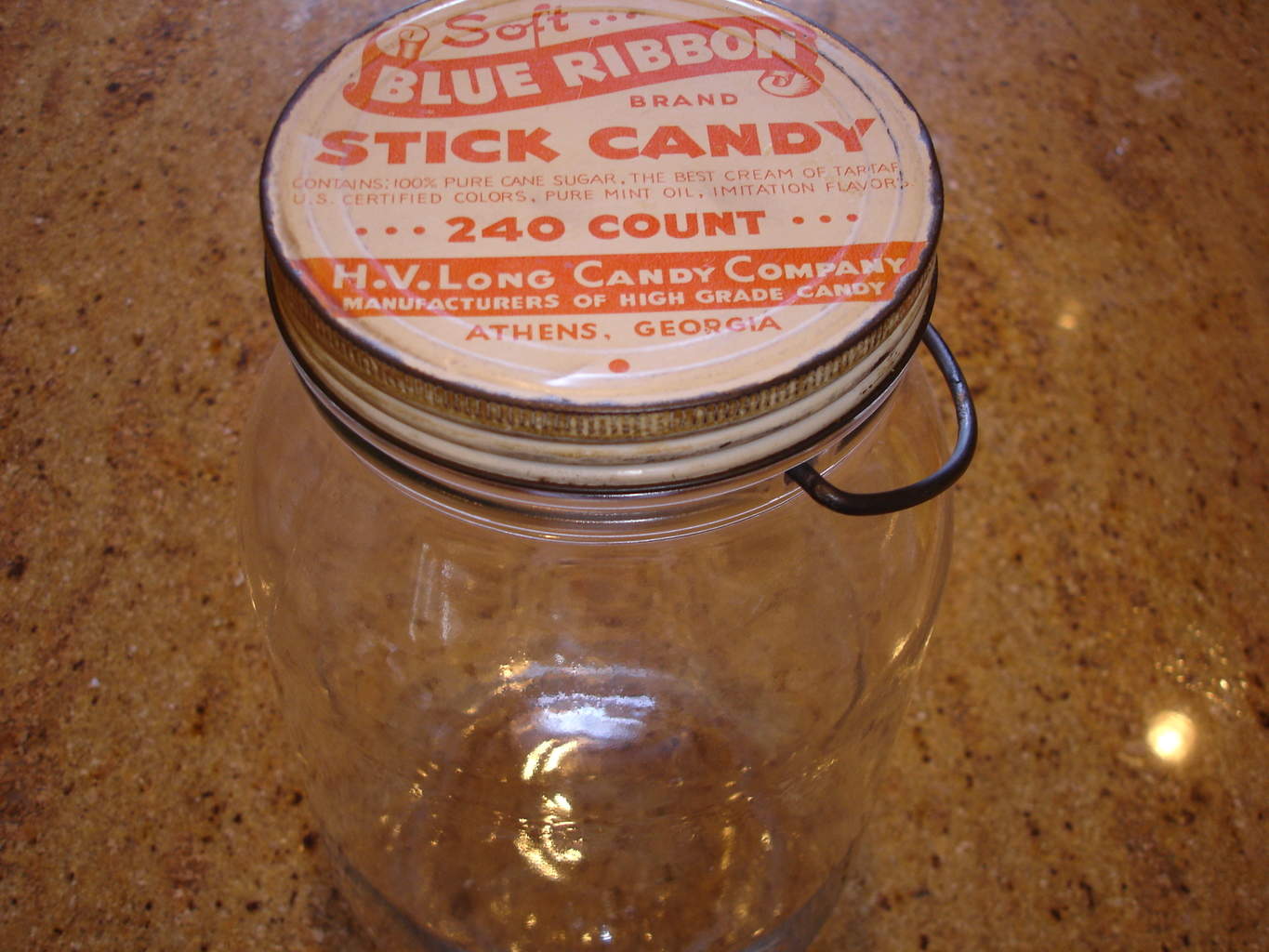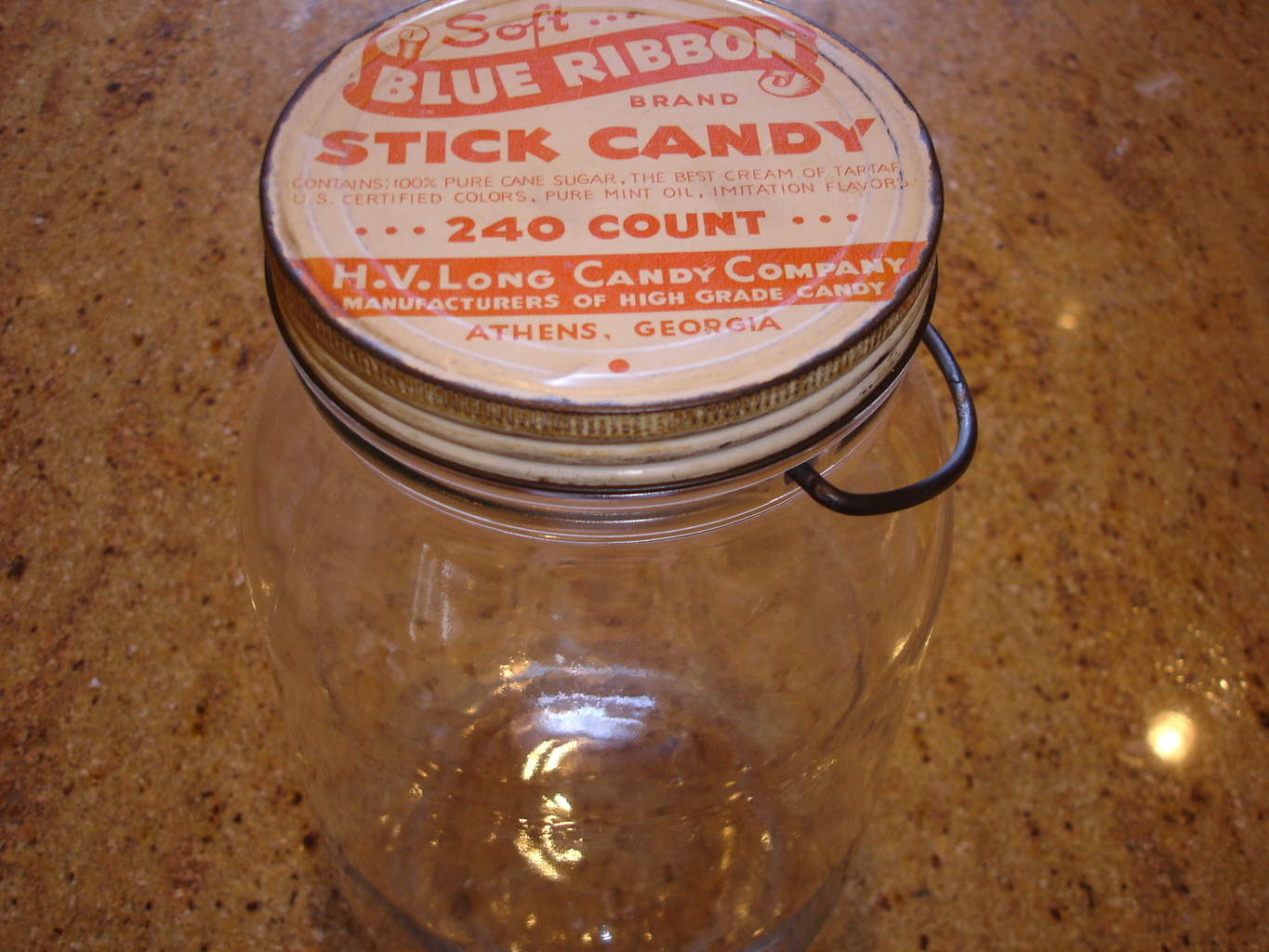 The shelves behind the cash register held other things, too. Maybe tobacco products. Maybe Goody Powders and black plastic combs. I only need to remember the stick candy.
To the right, was a freezer chest that contained ice cream bars and popsicles. I had one or two ice creams from this freezer chest. You pulled up the top and freezing sweet-smelling air rushed at you. So refreshing on a hot, humid Alabama summer day. If there was a "co-cola" machine, I can't picture it in my mind but it probably would have been here, too. And it would have those little 6 1/2 ounce bottles. There were a few isles throughout the store where various food items were shelved. The very back of the store contained the meat counter. You selected your meat from the cuts on display and had them packaged. I don't remember how much inventory this store had in the way of hardware items. That may have been on the left of the store away from the stuff that I cared anything about. But, back in the store was another case for dairy and frozen food. In that case is where we got these little frozen pies that we were crazy about. There were three flavors: lemon, coconut and chocolate. We would never buy chocolate because Granny didn't like chocolate. We made up for it with the consumption of the lemon and coconut pies, though. The brand name of these little frozen pies is lost in my mind and I just can't seemed to find where it's filed. It seems to me the pies were smaller than a regular 9 inch pie. The flavor of the pies wasn't remarkable, but the sweetness of the memory is overwhelming. We would make special trips to the store just to buy these pies. They were a treat. The recollection of one of those pie buying trips has forever stayed with me. Grandaddy and I went by ourselves to buy a lemon frozen pie. That was the sole purpose of the trip. We brought the pie home, sat at their little enamel kitchen table , under a pull string light that hung down from the ceiling, and ate the whole pie. Just Grandaddy and me. I'm not sure where Granny and my two sisters were, but they were no where around this pie eating session. Just Grandaddy and me. Parts of the conversation, if it even existed, aren't vivid in my memory. Grandaddy may have said, " This little pie sho' is good, ain't it, Jack?" I would have answered, "Yes sir!". The words, or lack thereof, didn't matter. What mattered was the moment with my Grandaddy. My sweet, quiet unassuming Grandaddy. Later that day, Granny was looking for the pie that she knew we purchased and brought home. She was bumfuzzled and wanted to know, "Just where is that pie?' Oh, brother! I was going to let Grandaddy handle this one! He said, "We did buy it and Jack and me ate the whole thing." Oh, lawd! She came out guns a-blazin'. She fumed and fussed and fumed and fussed some more. Grandaddy just laughed at her in his sweet little quiet way. I'm not sure Granny ever got over this because we heard about it for years….and years. She certainly never heeded her own admonition to us, "You better get glad in the same britches you got mad." Every time the subject was brought up by her (we surely didn't bring it up), she would fuss and fume and Grandaddy would laugh in his sweet little quiet way, again. When Mr. Brooks bought those little frozen pies to sell in his store, he had no idea he was shaping the life of a little girl who would grow up, write a story about them, turn off her computer and cry.
Y'all come see us.
******************************************************************************************************************************************************
The pie in the story wasn't a Lemon Icebox Pie but it's similar. That little frozen pie had a lemon filling and some type of cream topping and it probably had a graham cracker crust. Lemon Icebox Pie is the one dessert that may be most closely associated with Southern cuisine. Well that and Red Velvet cake… and Coconut Cake…and Pecan Pie…don't forget Lane Cake. There are several steps but none are complicated. You may substitute a prepared graham cracker crust, but I like to nestle the vanilla wafers into the soft crust and then brown it. The difference in the flavor is worth the effort to me.
Old Fashioned Lemon Icebox Pie
Make the graham cracker crust by crushing 16 squares of graham crackers. That's one little package of the crackers. And I get to use my mini food processor! This is one of the neatest kitchen gadgets I own. It is made by Cuisinart and, in addition to the mini processor, it has a whisk and an immersion blender. Love it!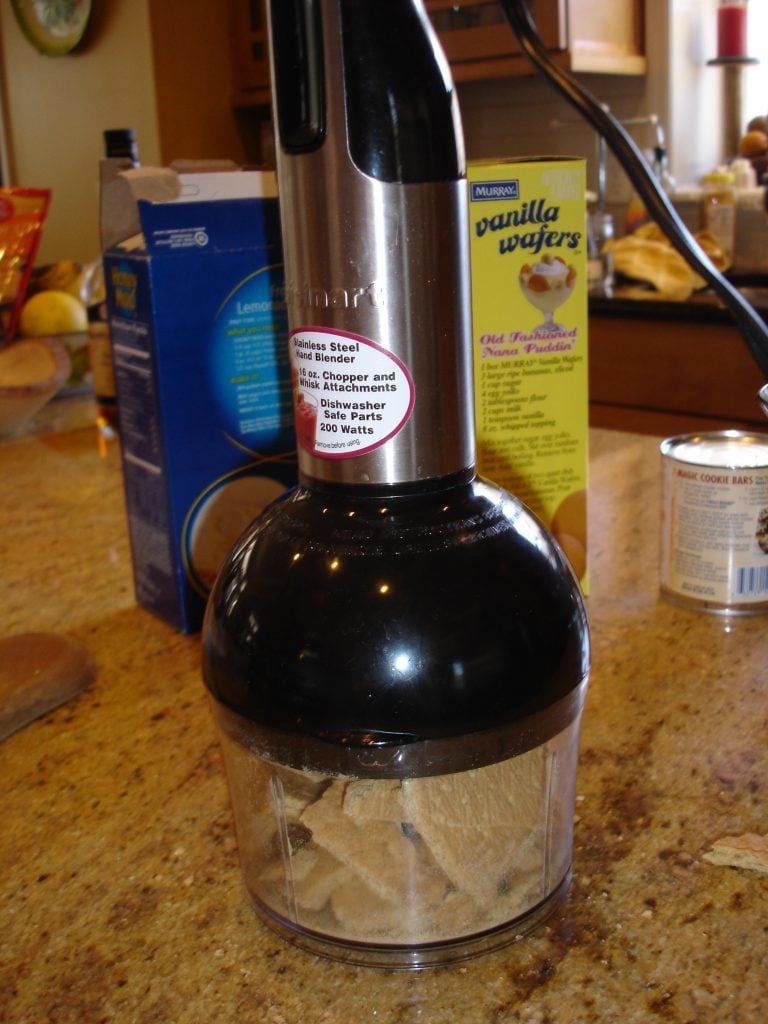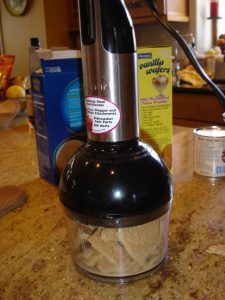 Add melted butter and place in pie pan and form crust. I use the bottom of the butter melting cup just to help form the sides.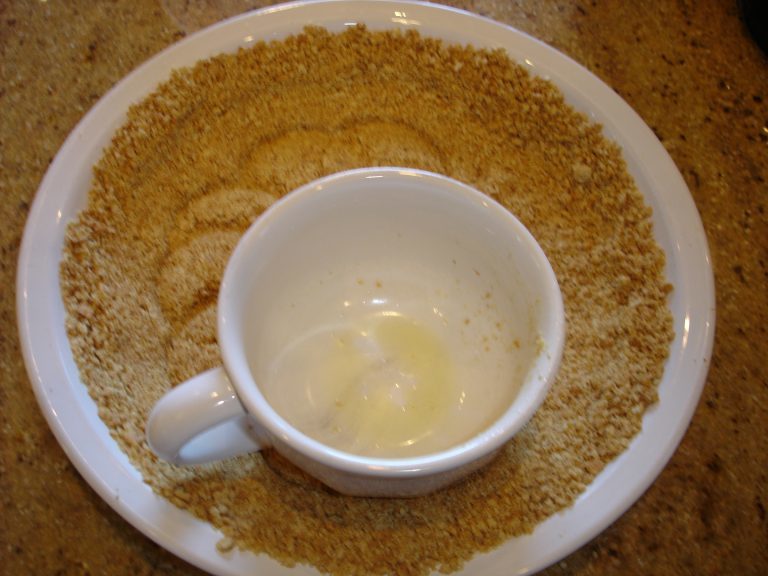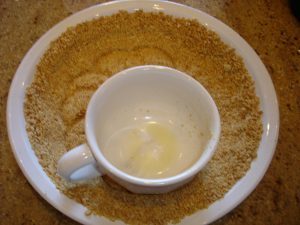 Next, gently moosh the vanilla wafers into the side of the crust and bake at 350 degrees for 10 minutes or until the crust is lightly browned. Remove from oven and cool.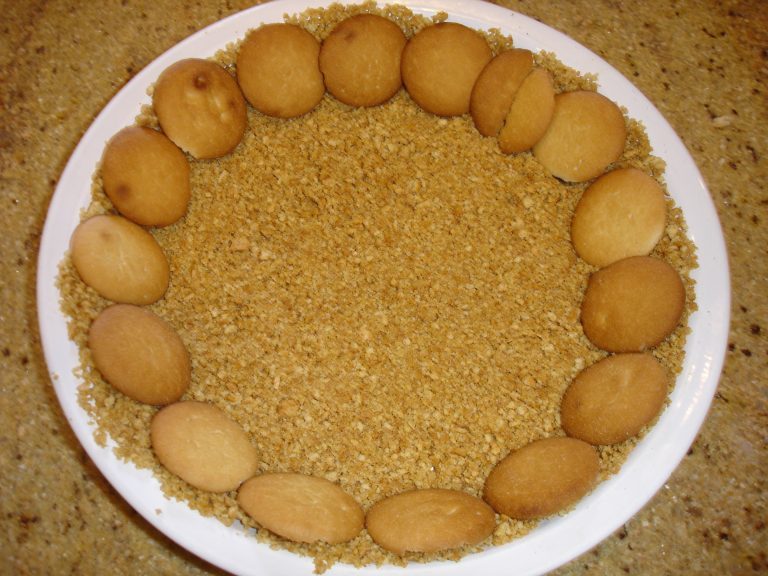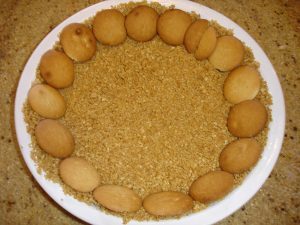 Whisk together egg yolks, lemon juice and sweetened condensed milk. Pour into pie crust and bake at 350 degrees for 10 minutes. Remove from oven and cool.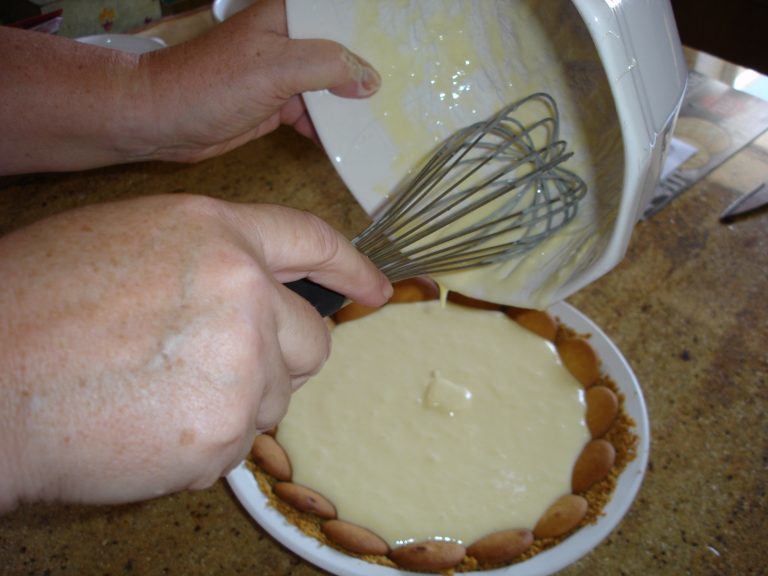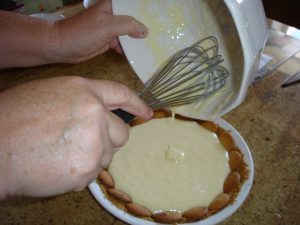 Mix egg whites, sugar and vanilla for meringue topping. Spread evenly over pie. The hand mixer is a General Electric avocado green that was given to me as a wedding gift 35 years ago. I've had it longer than I've had my children. Actually, I have it longer than I've had my husband!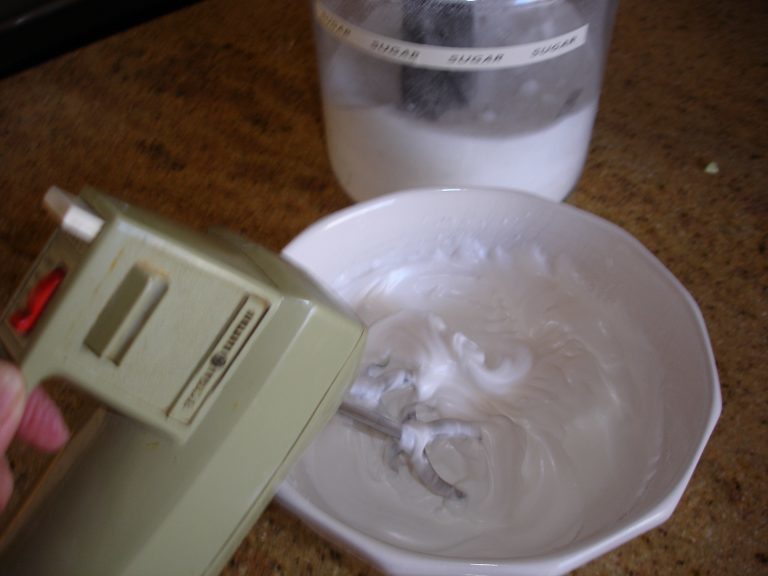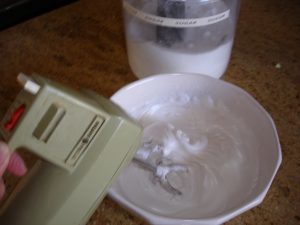 Form swirls and peaks in meringue and bake at 350 degrees for about 10 until lightly browned.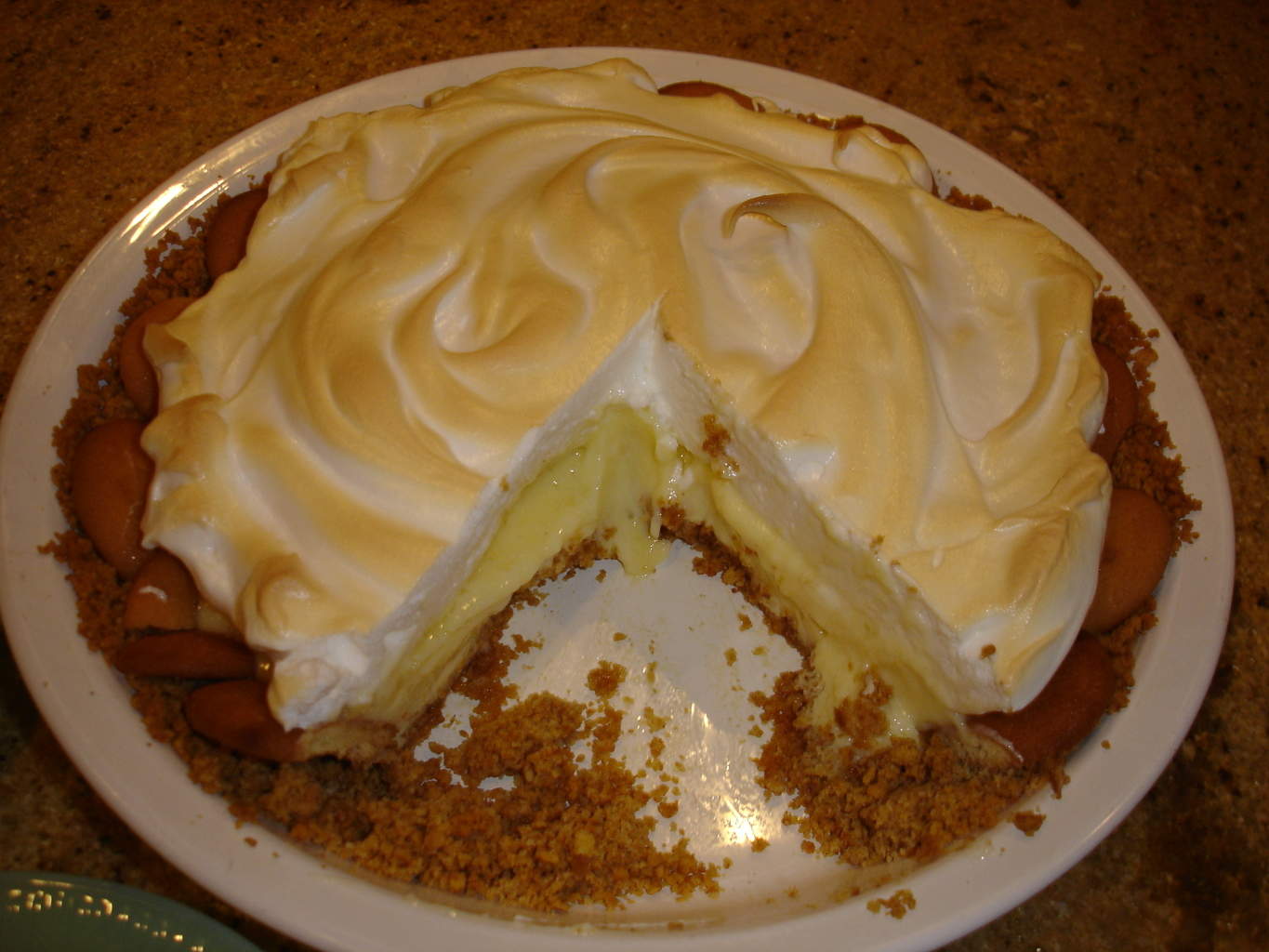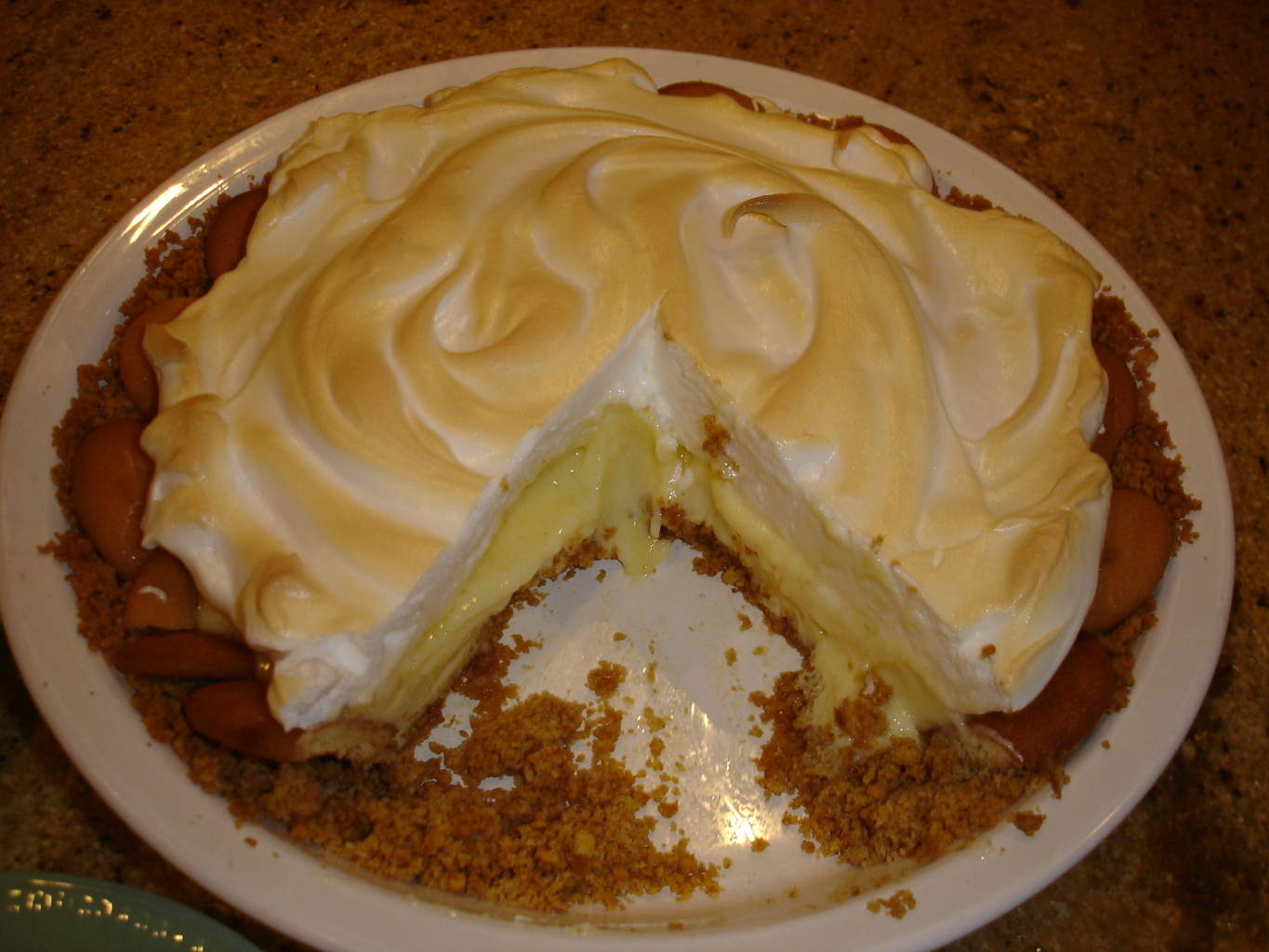 Share!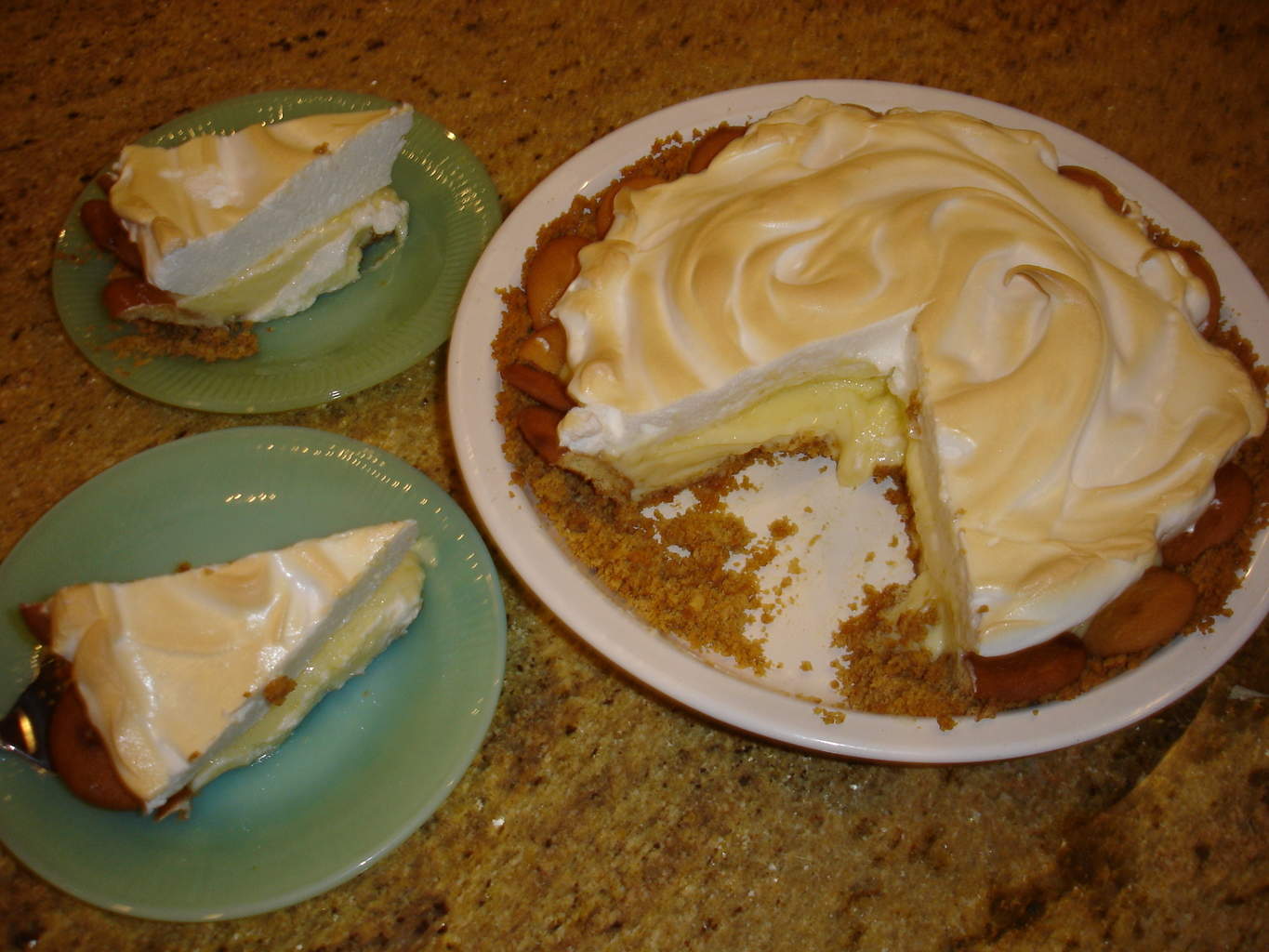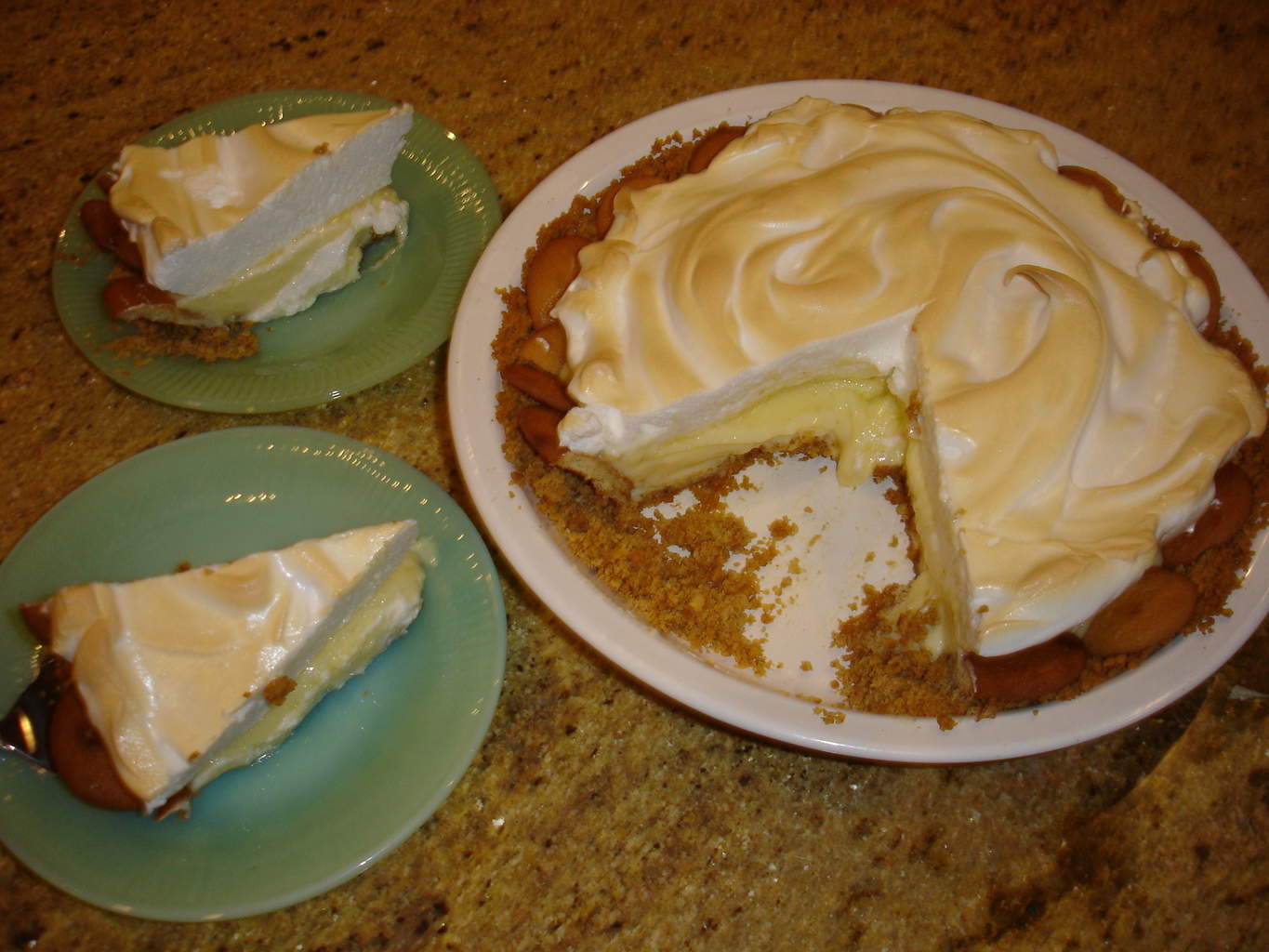 For crust:
16 graham cracker squares
6 tbsp. melted butter
Vanilla wafers
For filling:
I can Eagle Brand sweetened condensed milk
¾ cup freshly squeezed lemon juice
3 eggs, separated
For meringue:
3 egg whites
6 tbsp sugar
½ tsp vanilla
Finely crush graham crackers in food processor. Pour into bowl. Add melted butter and mix. Pat out into a 9 inch pie plate. Gently add vanilla wafers along the side of the pie crust. Bake at 350 degrees for 8 to 10 minutes until lightly browned. Remove and cool.
Add egg yolks and lemon juice to Eagle Brand and whisk well. Pour into cool pie crust and bake at 350 degrees for 10 minutes. Remove from oven and completely cool before adding meringue.
Beat egg whites until stiff peaks form. Gradually add sugar and continue beating. Add vanilla and mix well. Cover cooled pie filling with meringue and form peaks and swirls. Bake at 350 degrees for 10 to 12 minutes until peaks are browned. Remove from oven.