Today we celebrated Amy's birthday even though her birthday was a week ago. Our family members could coordinate and harmonize their calendars better today than last Sunday. A celebration can take place anytime plus I firmly ascribe to the 'birthday zone" theory. A birthday is really too special to confine the revelry to just one day.
Thirty-one years and one week ago, Amy Leigh Garvin made Marcia become a big sister. Marcia was delighted to meet her new baby sister. My two little girls. Seeing them together would almost make my heart explode.
Amy came here with a strong nurturing instinct. She always thought about her sister and wanted to make sure she wasn't left out. As a small child, Amy would get very restless if night was drawing near and a member of our little family wasn't at home. Everybody had to be in their appointed places. Her favorite place was sitting in her Mama's lap.
Early on, it was apparent that other children were drawn to her. There were always scores of children who wanted to be around her. One of my fondest memories of her childhood was watching her line up her troops from smallest to biggest. I never could get her to tell me why she wanted to do that but she did it time and time again. The children never protested. They went along with because it was Amy making the request. Several teachers told me children would fight over who would sit next to Amy. Everyone loved Amy and Amy loved everyone. She was destined to be the world's greatest Mommy.
There were behaviors that became predictable. She memorized the colors of the rainbow and would put things, such as crayons and stuffed animals, in rainbow order. Each time we passed by a fountain, she would always ask me for three coins, never two or four. Always three. She would throw the coins in one by one, turn on her heel and off we would go. She never talked about the three coins but she always carried out her ritual.
When she was in elementary school, she would tell me, repeatedly, how she wished I would have another baby. This is a common request from little girls, especially those who love to play with their baby dolls. But with Amy, it seemed the request was driven by her powerful instinct to nurture and not just because she wanted a new baby in the house that she could dress.
When the girls were nine and eleven, I found out I was pregnant. Sadly, the pregnancy was wrought with complications. There was a great degree of uncertainty about whether or not I would be able to maintain the pregnancy. We made the decision not to tell the girls right away. We wanted to protect them from potential heartbreak and anguish. Especially Amy. How cruel to tell her of a wish come true and then take it all back.
After I had gotten through the first trimester and the chances of maintaining the pregnancy were in my favor, we decided to make the announcement to the girls. I couldn't wait! Amy was going to be so excited. This natural little mommy was going to be beside herself. We sat the girls down at the kitchen table and told him about the new baby. I looked at Amy to see her reaction. Without a saying a word, she immediately jumped up from the table and ran out the front door. My heart jumped into my throat. Never in a million years would I have predicted that reaction from her. Not only was she running down the street, she was screaming. After what seemed like a lifetime, she finally came back home. I can't recall exactly how the conversation went when she walked in the door. All I remember is hearing her say, "Mama, you know how I would always ask you for three coins when we passed a fountain? It's because I would always make three wishes. One, for you to have a baby. Two, for it to be healthy. Three for it to be a boy." As it turns out, I did have a healthy baby boy named Tyler. Amy had wished her little brother here. As you might have imagined, Amy was just as sweet as she could be to her baby brother. She never grew tired of being around him.
Fast forward to October, 2002. Amy's a young woman now who be marrying David Wren on this day. Tyler is twelve years old and proudly donned a tuxedo for the first time to be in his sister's wedding. The thought of baby Wrens swirled around in her head.
Years clicked by and no baby Wrens. By the cruelest twist of fate imaginable, Amy was plagued with infertility. There would be no greater shame in this world than for this natural Mommy not to be able to become a Mommy. After years of disappointment, heartaches and painful treatments, she finally got pregnant! We all crossed our fingers, held our breath and prayed for a healthy Mommy and healthy pregnancy. Then a miracle happened. On July 24 2009, she gave birth. Finally! Our prayers had been answered. Mommy was healthy and the pregnancy was healthy. What a joyous day for our family. There's only one thing that could have made this joyous occasion of welcoming a new baby Wren to our family even more special.
Welcoming TWO baby Wrens to our family!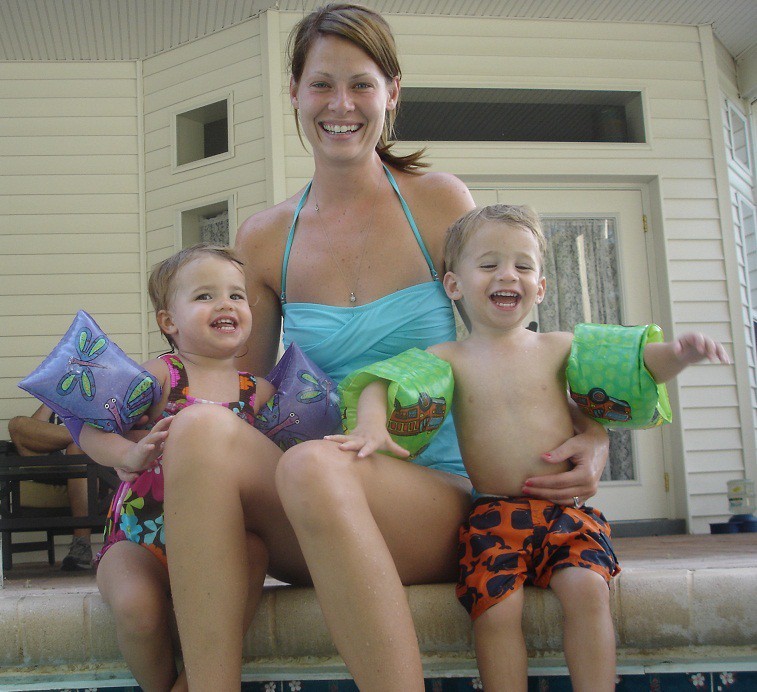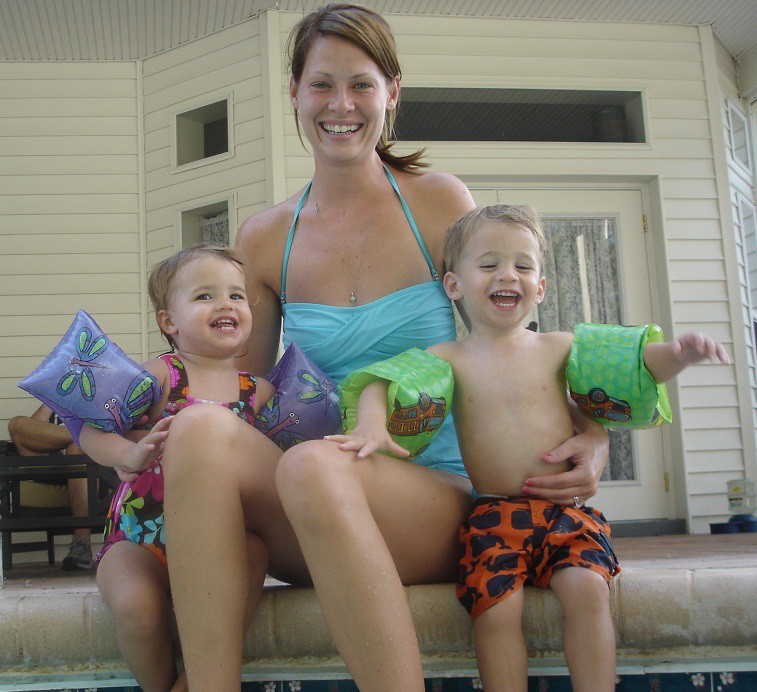 Amy is living her lifelong dream of being a Mommy. Happy Birthday, Amy! You're the best Mommy in the world. But, I knew you would be.
Fairy tales really do come true.
Y'all come see us.
*****************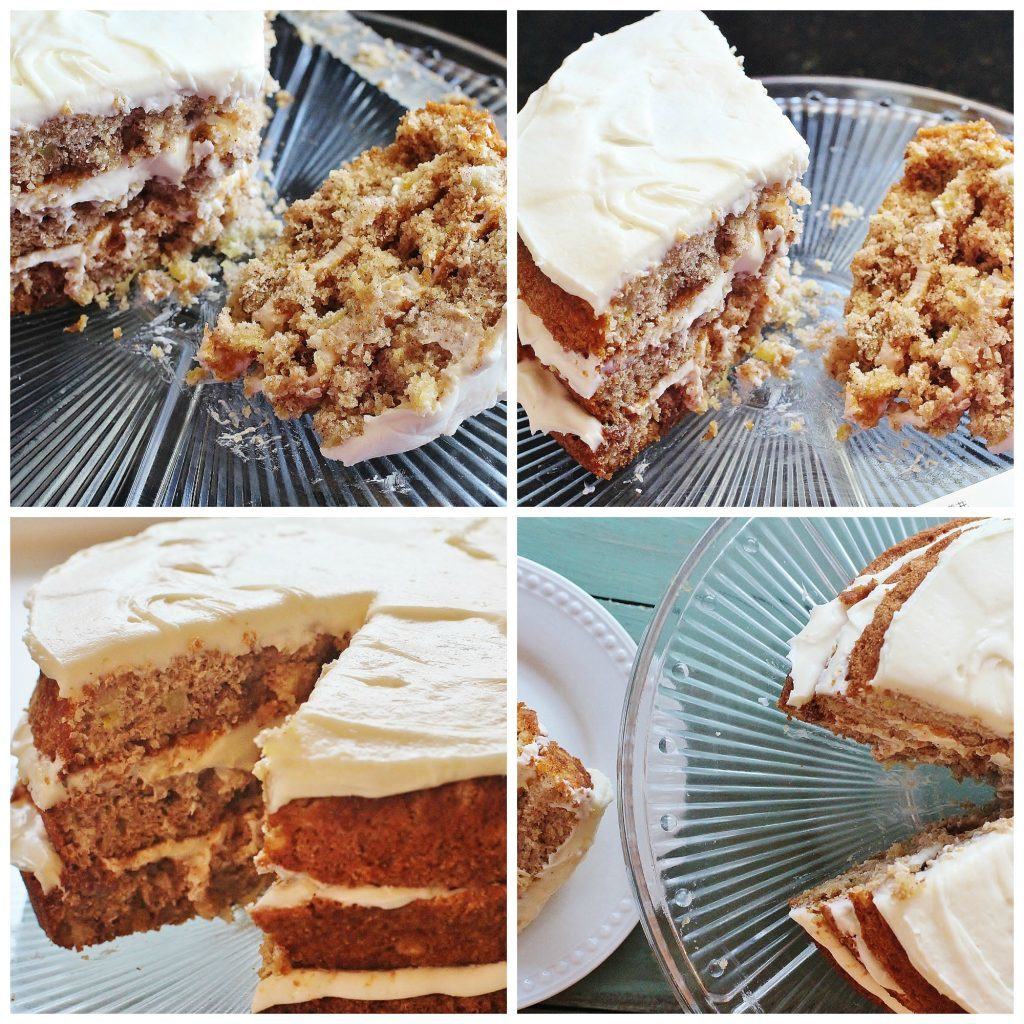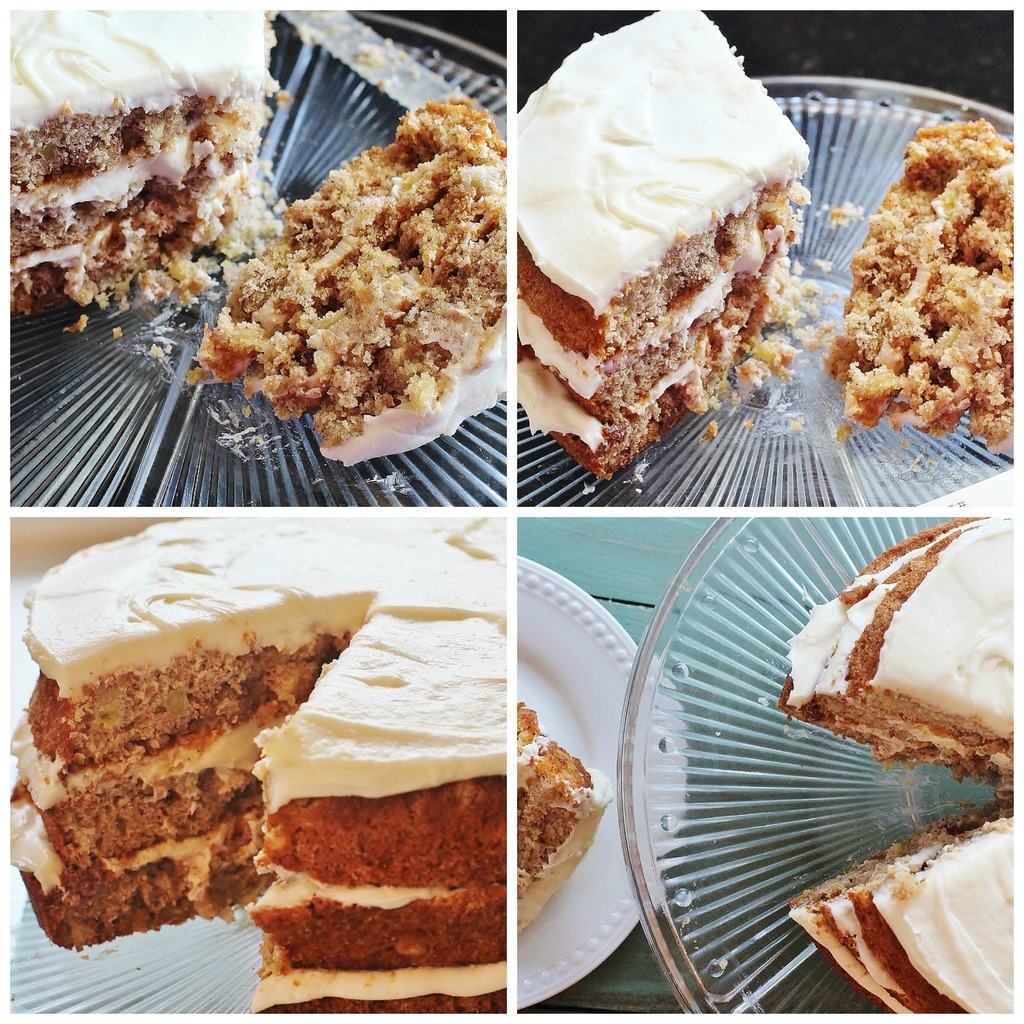 Hummingbird Cake
Adapted from The Southern Living Cookbook
This is Southern Living's most requested recipe. It's not just their most requested dessert recipe. It's the most requested recipe overall. That's saying a lot for an organization that's known for turning out amazing recipes. I've been waiting for a special occasion to make this cake. I think I found just the right occasion.
This cake is a BIG cake. My cake platter dome wouldn't even fit over it. It's moist and delicious and everything you want a special occasion cake to be. Plus, it's easy! You don't mix it. You stir it by hand. And you frost it with Cream Cheese frosting. This cake has a whole bunch going for it.
For cake:
3 cups all-purpose flour
1 teaspoon baking soda
1 teaspoon salt
2 cups sugar
1 teaspoon ground cinnamon
3 eggs, beaten
1 cup vegetable oil (I used canola oil)
1 1/2 teaspoons vanilla extract
1 (8 ounce) can crushed pineapple, undrained
1 cup chopped pecans
2 cups chopped bananas
For frosting:
8 ounces softened cream cheese
1 stick softened butter
1 pound powdered sugar
1 teaspoon vanilla extract
1/2 teaspoon ground cinnamon (optional)
1 cup chopped pecans (optional)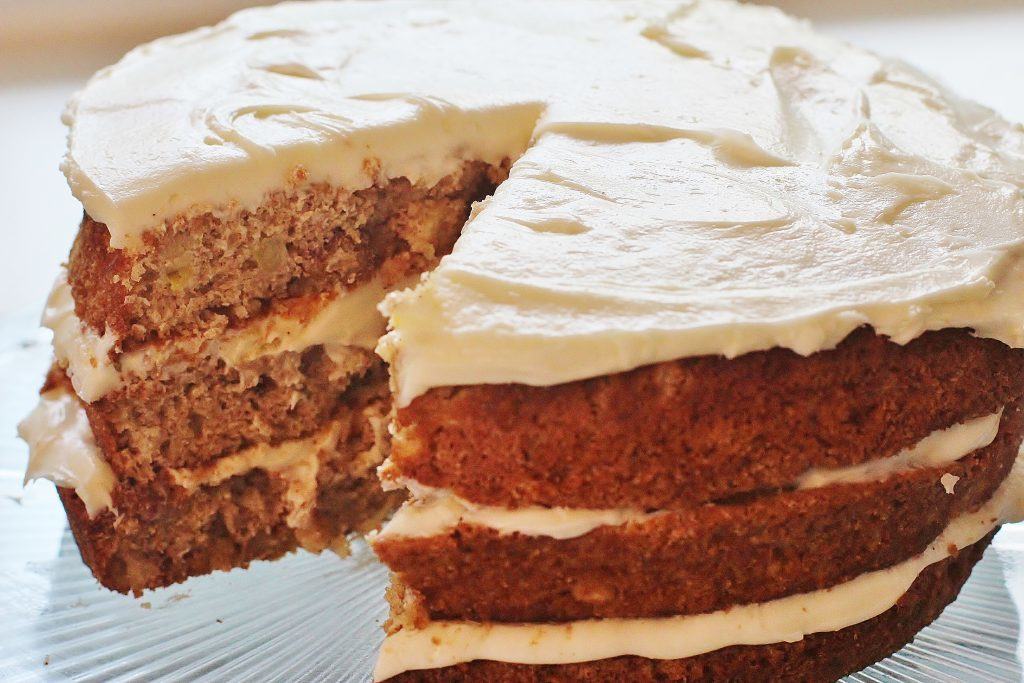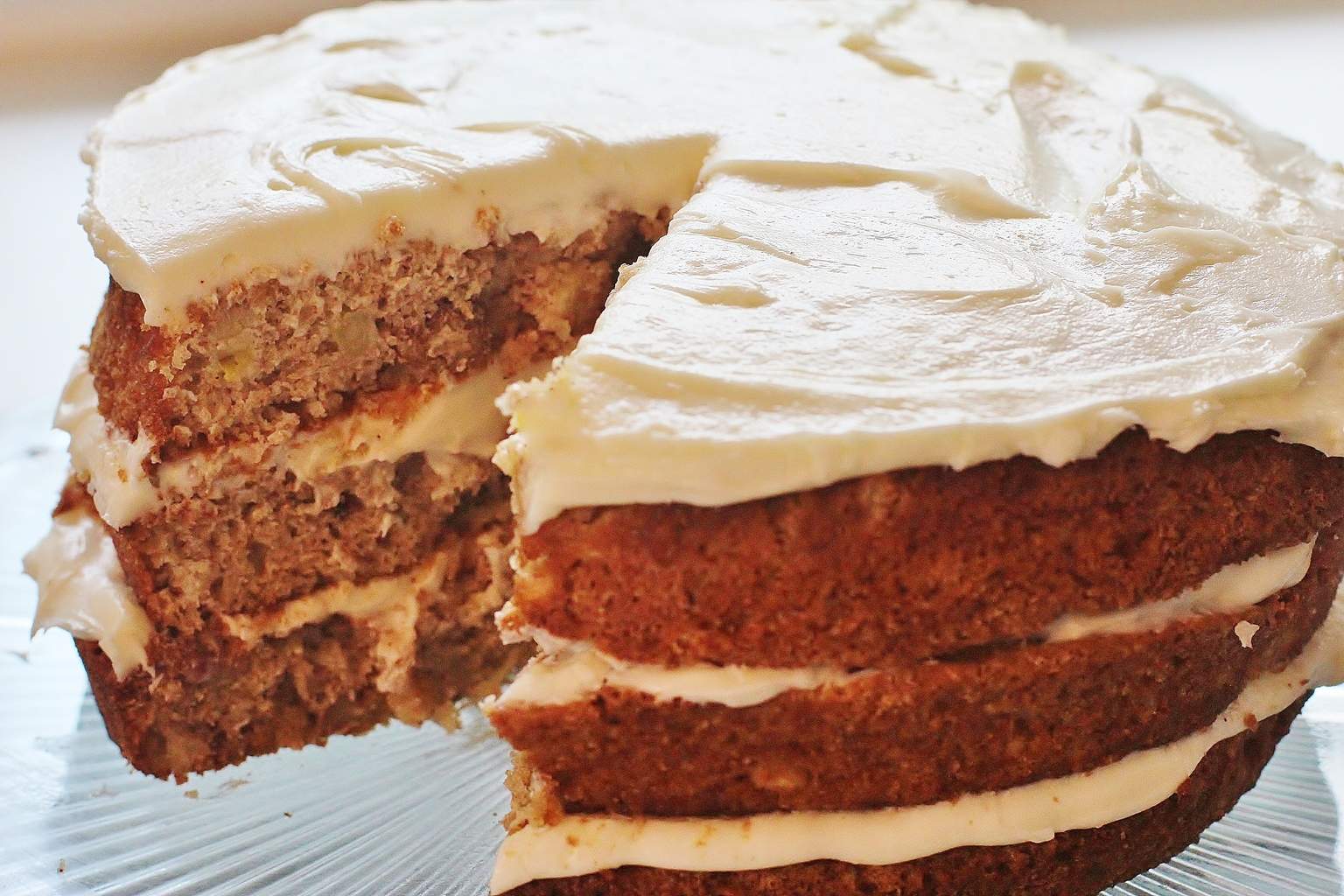 For cake:
Combine first 5 ingredients in a large bowl.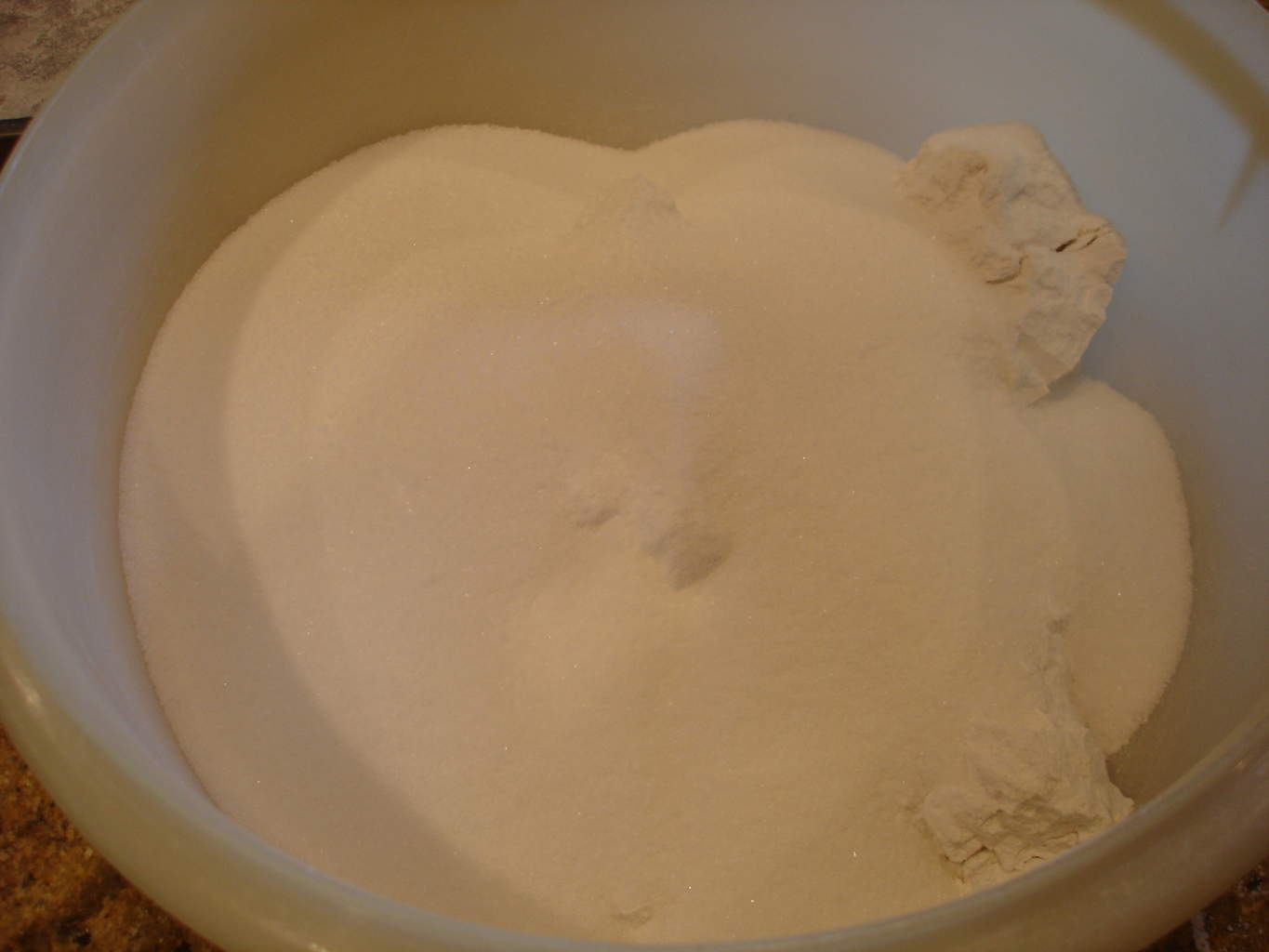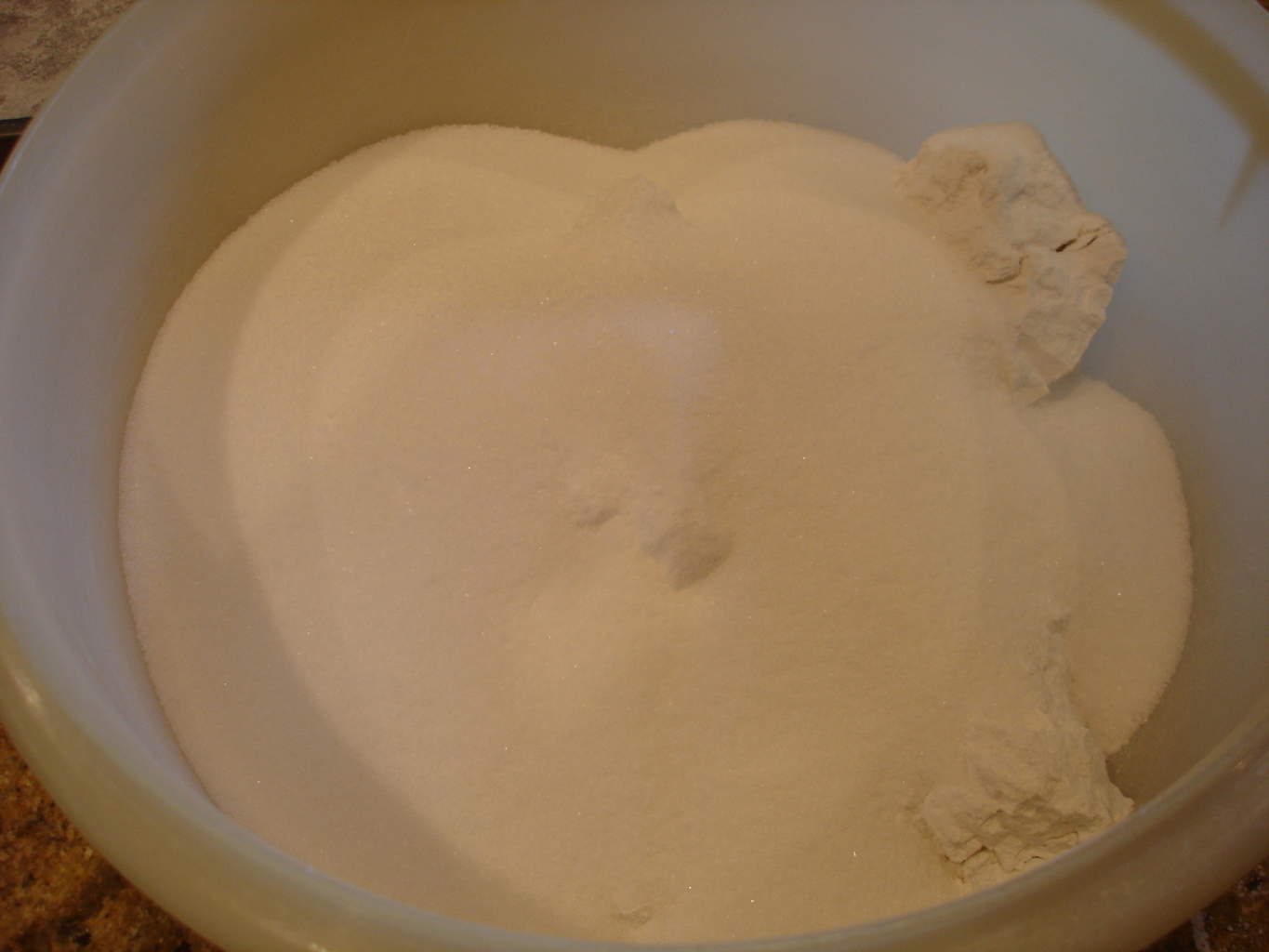 Add eggs and oil and stir until dry ingredients are moistened. Do not beat, just stir.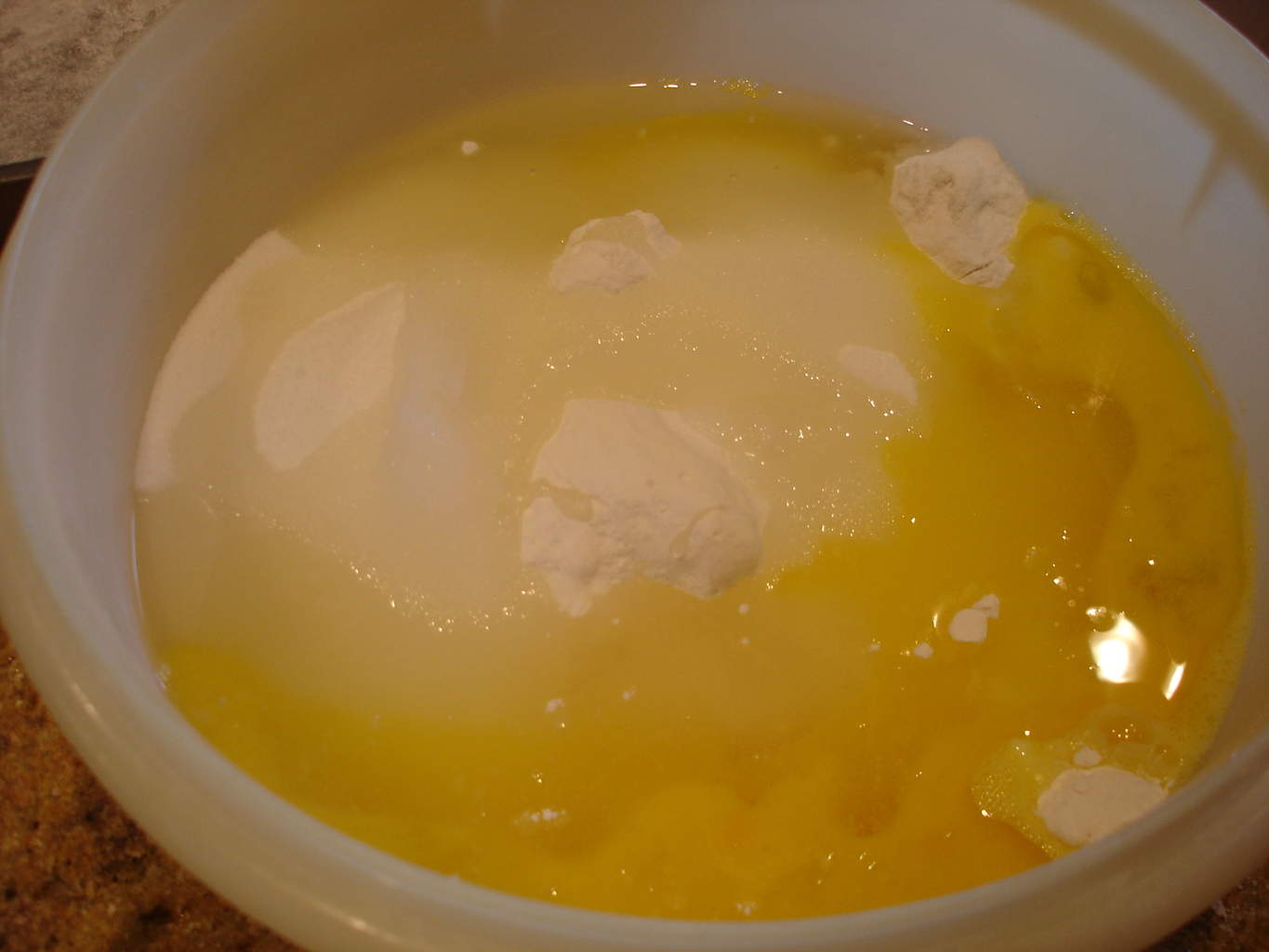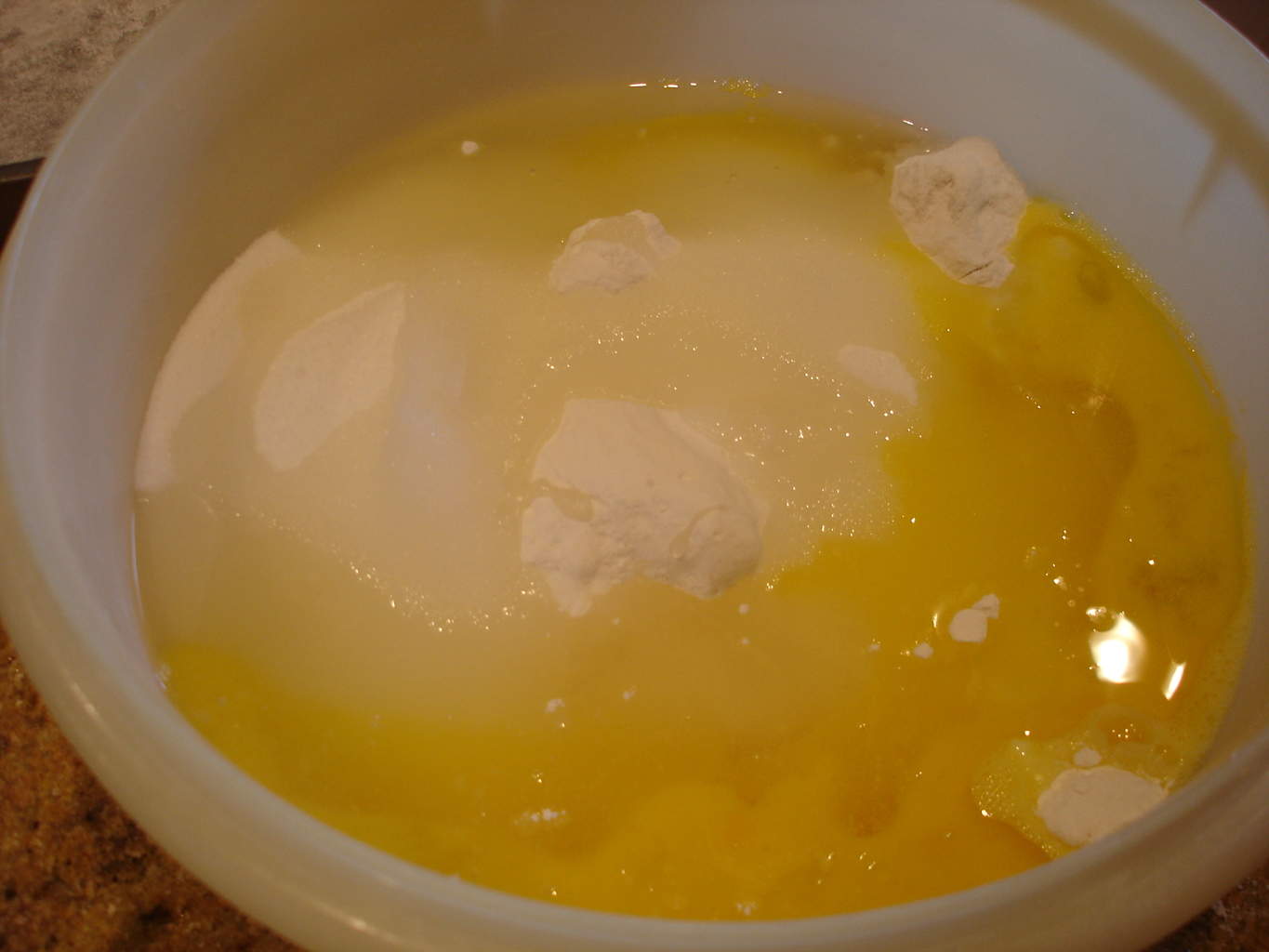 You get a batter that looks like this.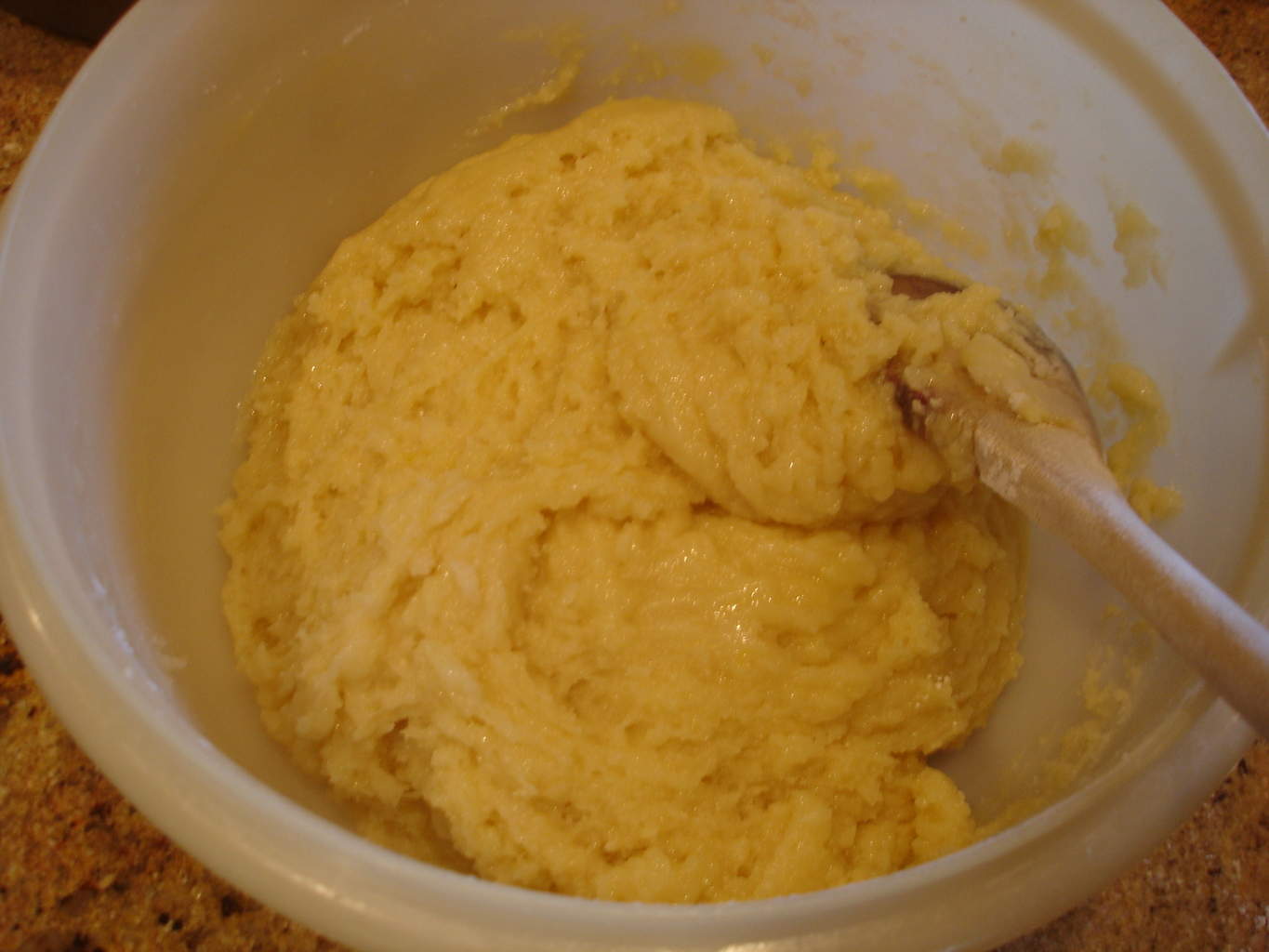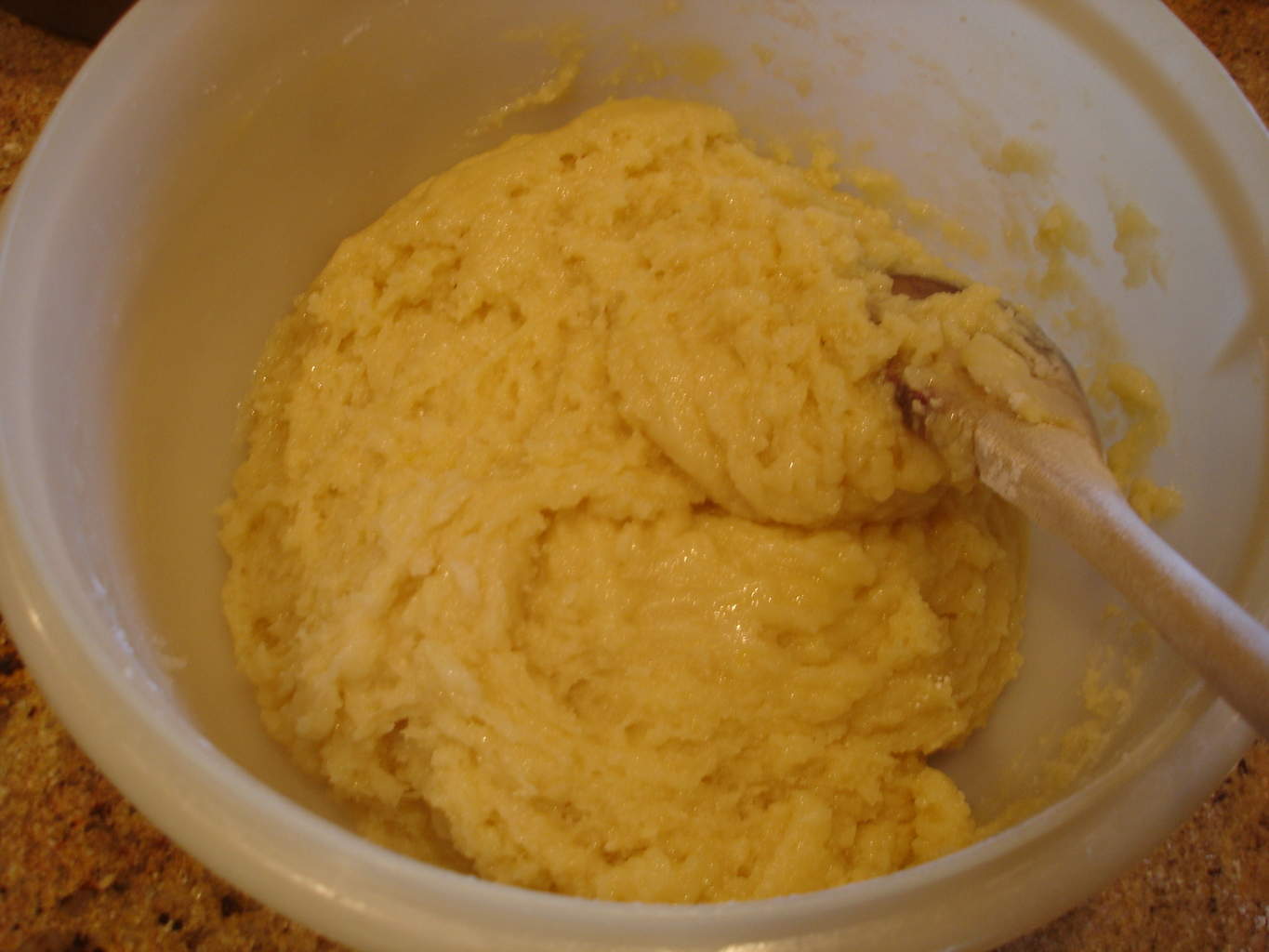 Add chopped bananas, pineapple, pecans and vanilla to batter. I used 2 1/2 bananas to get 2 cups. Stir well.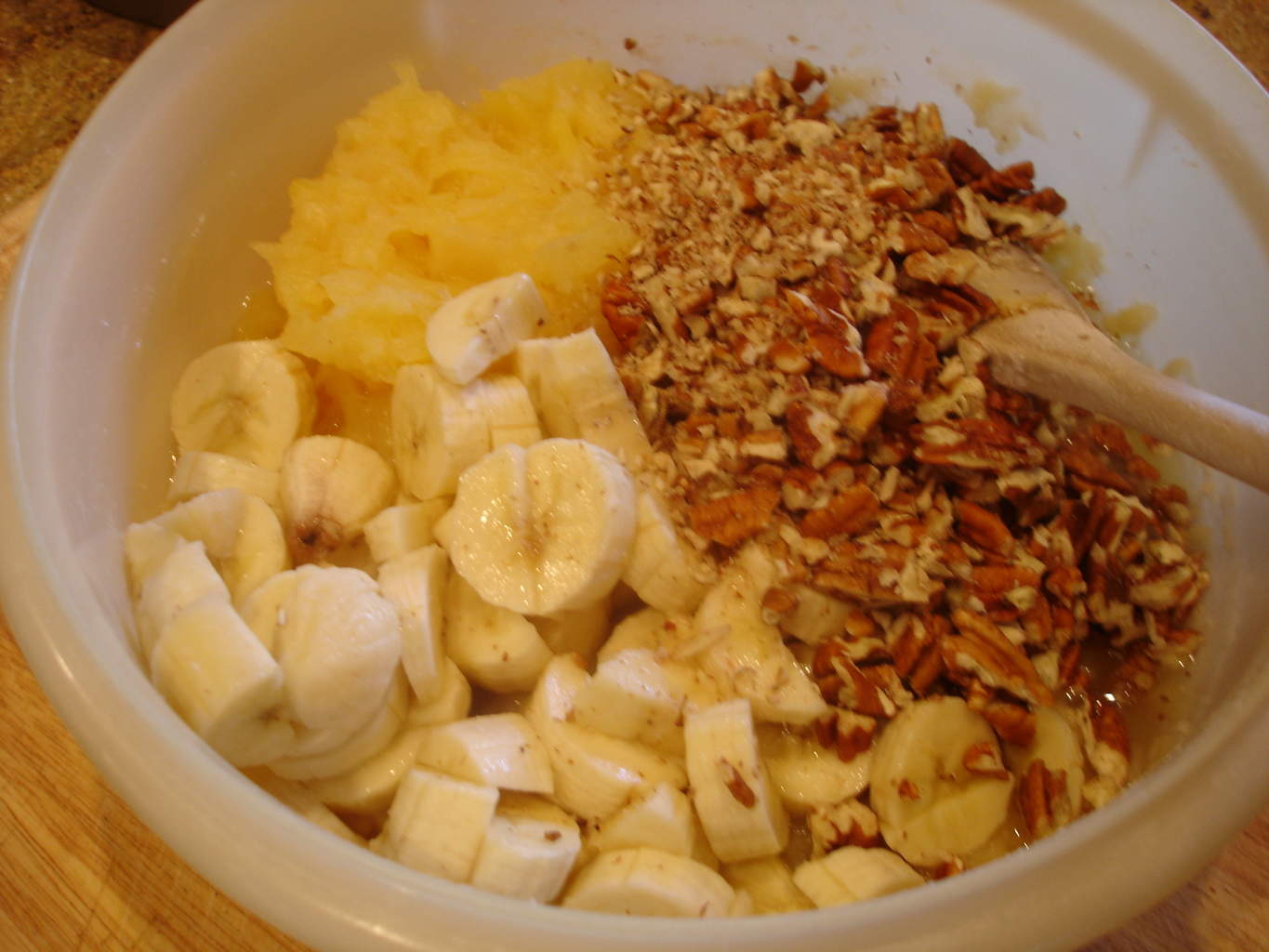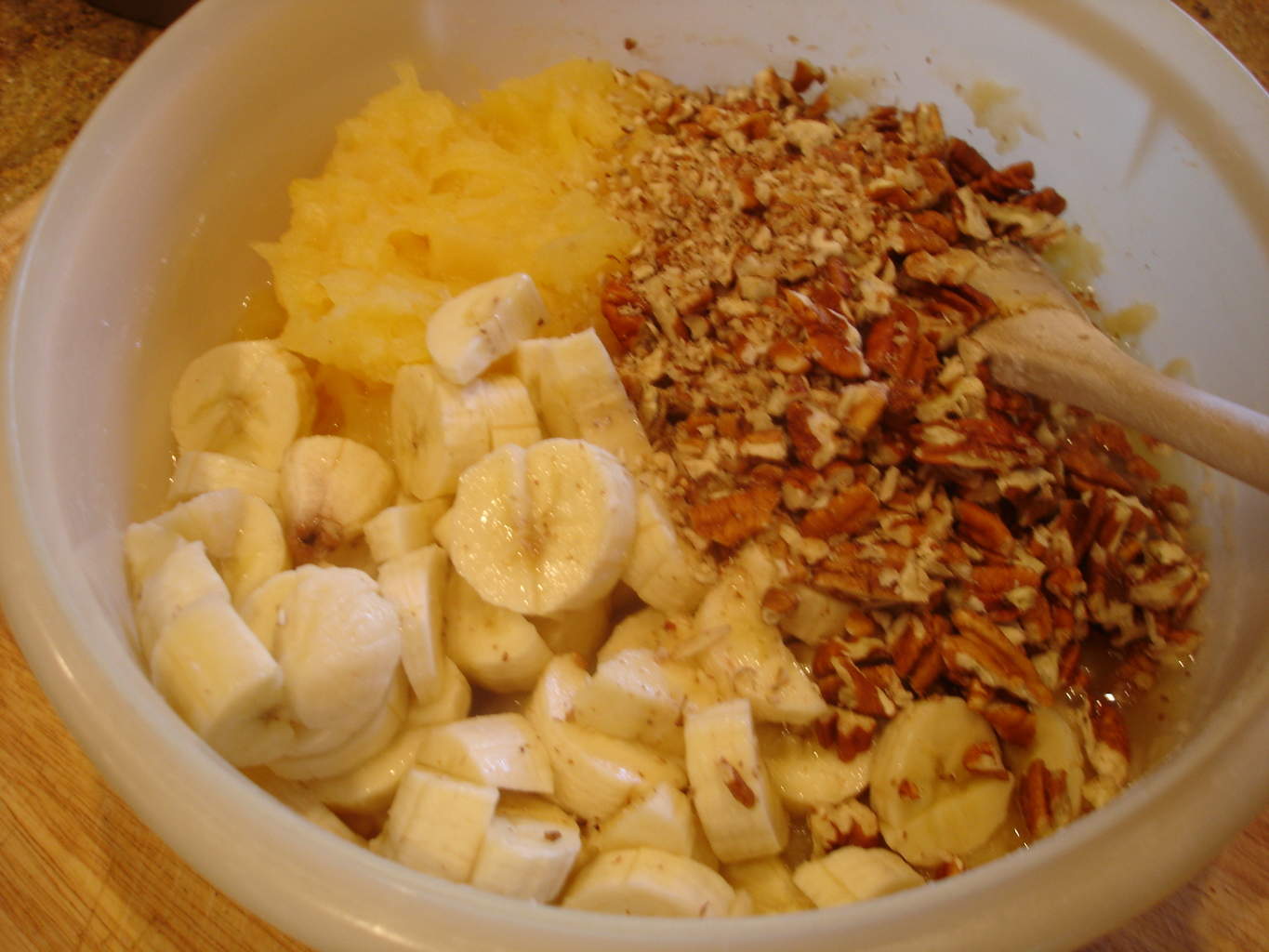 Pour into three well-greased and floured cake pans. Bake at 350 degrees for 25 to 30 minutes or until a tooth pick inserted into the cake comes out clean.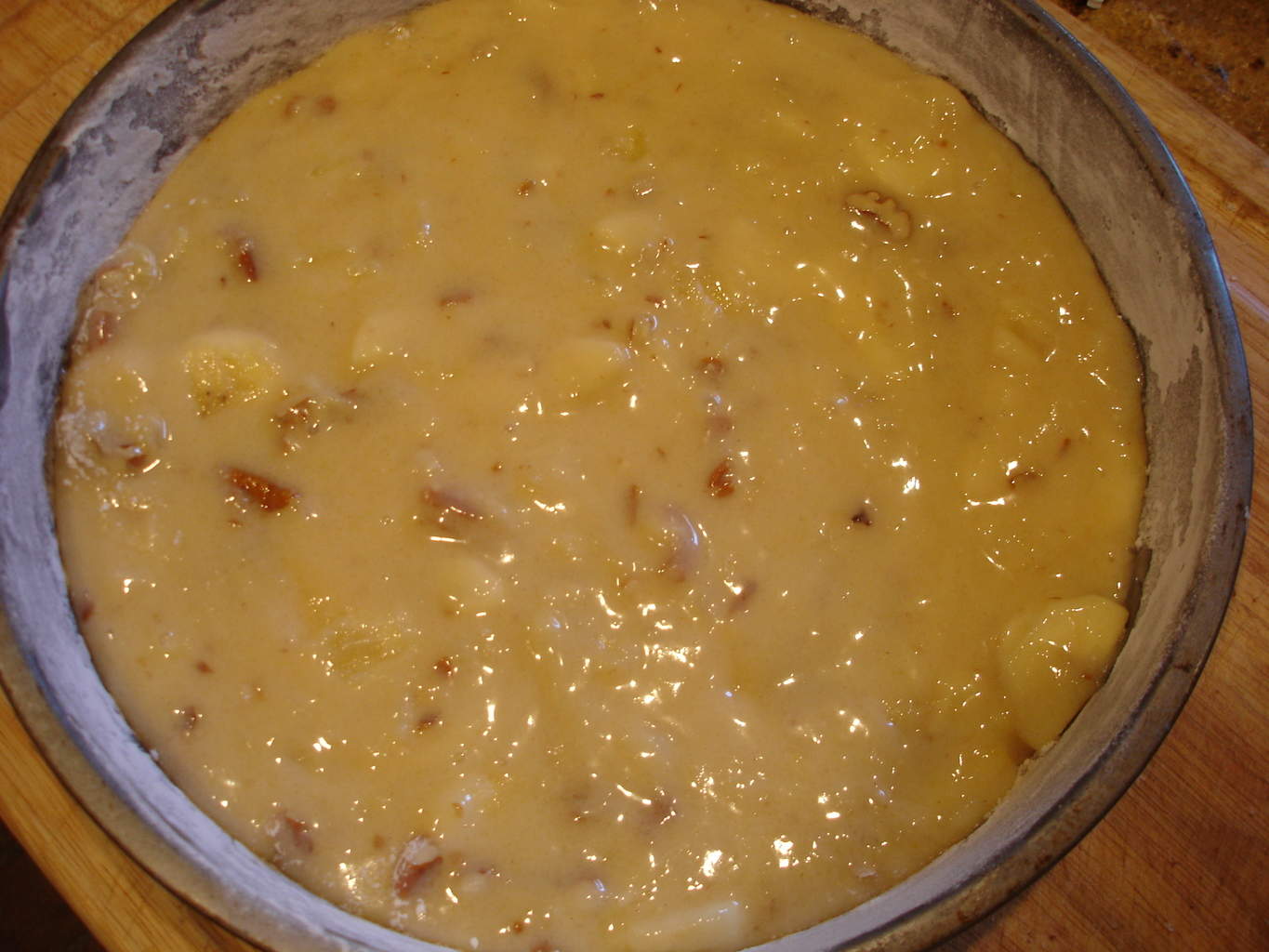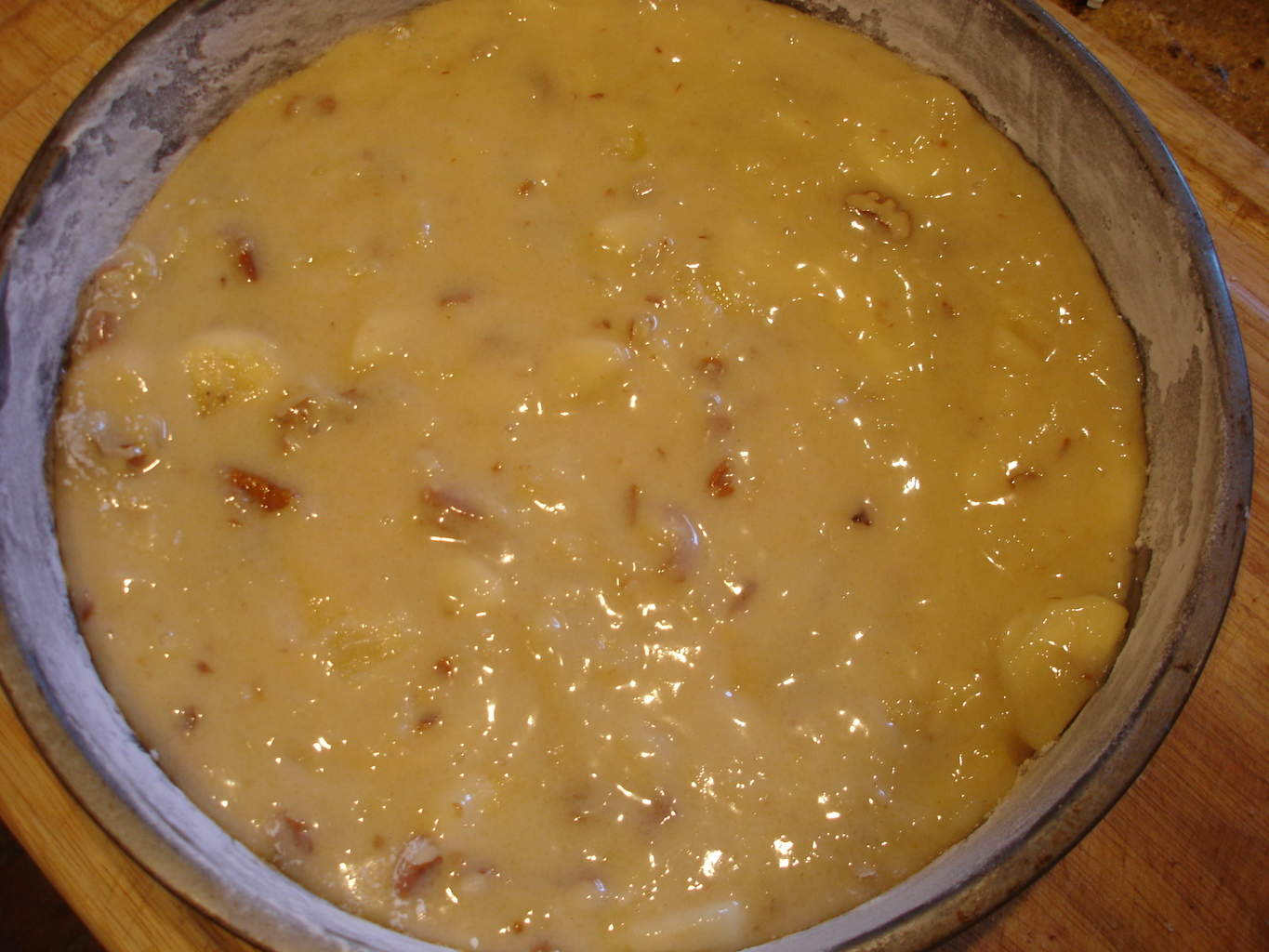 When done, cool in pans for 10 minutes and then turn out the cakes to a cooling rack. Cool completely before frosting.
For icing:
Cream softened cream cheese and butter. Gradually add powdered sugar and beat until fluffy. Add vanilla, cinnamon (optional) and pecans (optional)and mix well. Spread between layers, on top of cake and on the sides.