I love sweet potatoes. I mean I really love sweet potatoes. That hasn't always been the case. There was an unfortunate incident that occurred when I was a very young child that created a sweet potato aversion that lasted well into my adulthood. It saddens me to think of all the wonderful sweet potato eating opportunities I missed. Life's cruel sometimes.
The incident took place in my grandmother's tiny little kitchen in their Cotton Mill Village house in Geneva, Alabama. She was making candied yams, which are really sweet potatoes. Southerners have been confused about the difference between sweet potatoes and yams for years. Some of us are still confused about them. The canned potatoes found on grocery stores shelves labeled as yams are not yams at all. They're sweet potatoes. Anyway, she was making candied sweet potatoes from the canned potatoes that called themselves yams. She thought she was making candied yams. She called then candied yams. I was sitting at the kitchen table while she was putting the finishing touches on the dish of candies yams which were actually sweet potatoes. The salt shaker on the table caught my attention. For reasons I can't even begin to understand, much less explain, I poured some of the salt in my hand and started licking it. Perhaps I had delusions of being a deer. Distracted by her delightful sweet potato (a.k.a yam) casserole, Granny didn't see me. I remember hearing her say how she couldn't wait to get this done as I kept licking more and more salt. In a relatively short period, I became intimately aware of the negative gastrointestinal effects of too much salt. I felt ill. Very ill. My increasing level of nausea coincided perfectly with Granny's increasing level of enthusiasm over her candied yam (a.k.a. sweet potato dish). Something told me I shouldn't tell Granny what I'd done. Doing something I shouldn't caused me to get sick. Just as I felt I needed to run out the kitchen door to outside, she proudly announced that the dish was done and was cooling some on a spoon for me to taste. Oh, Lord. I may have been a young child, but I was wise enough to know that I had created a world of trouble for myself. There was nothing for me to do than pretend I wasn't sick as a dog and taste the sweet potato/yam thing; the really sweet and rich sweet potato/yam thing that was just about to land right on top of a mountain of salt in my fragile stomach.
It was an unpleasant experience. The details don't really matter. And there were lots of details. The details just went on and on.
Many years passed before I could tolerate the thought of sweet potatoes. Oddly enough, I don't remember the same aversion to salt. Thank my lucky stars that I finally got over my little sweet potato thing. I can eat them everyday now and never get tired of them. A baked sweet potato is one of the best things in the world. They're so good I eat them plain.
I never told my Granny about the salt story. That will be one of the many stories I have to tell her when I see her again in Heaven. I'll tell her while we eat sweet potatoes.
Y'all come see us!
***************
Twice Baked Sweet Potatoes
Sweet potatoes deserve a spot at the table all year round. These potatoes can be made ahead and frozen. When ready for use, thaw them overnight in the refrigerator, then heat. The cream cheese adds just a slight tang that really adds dimension to this dish. The filling isn't so sweet that you can't add honey or cinnamon sugar before eating.
Makes 12 servings
6 medium sweet potatoes
8 oz cream cheese, softened
2 tablespoons butter, softened
1/4 cup firmly packed brown sugar
1/2 teaspoon kosher salt
1/2 teaspoon cinnamon
1 teaspoon vanilla
1 tablespoon honey, optional
Wash sweet potatoes and place on a baking sheet. Bake at 350 degrees for 1 to 1 1/2 hours or until soft.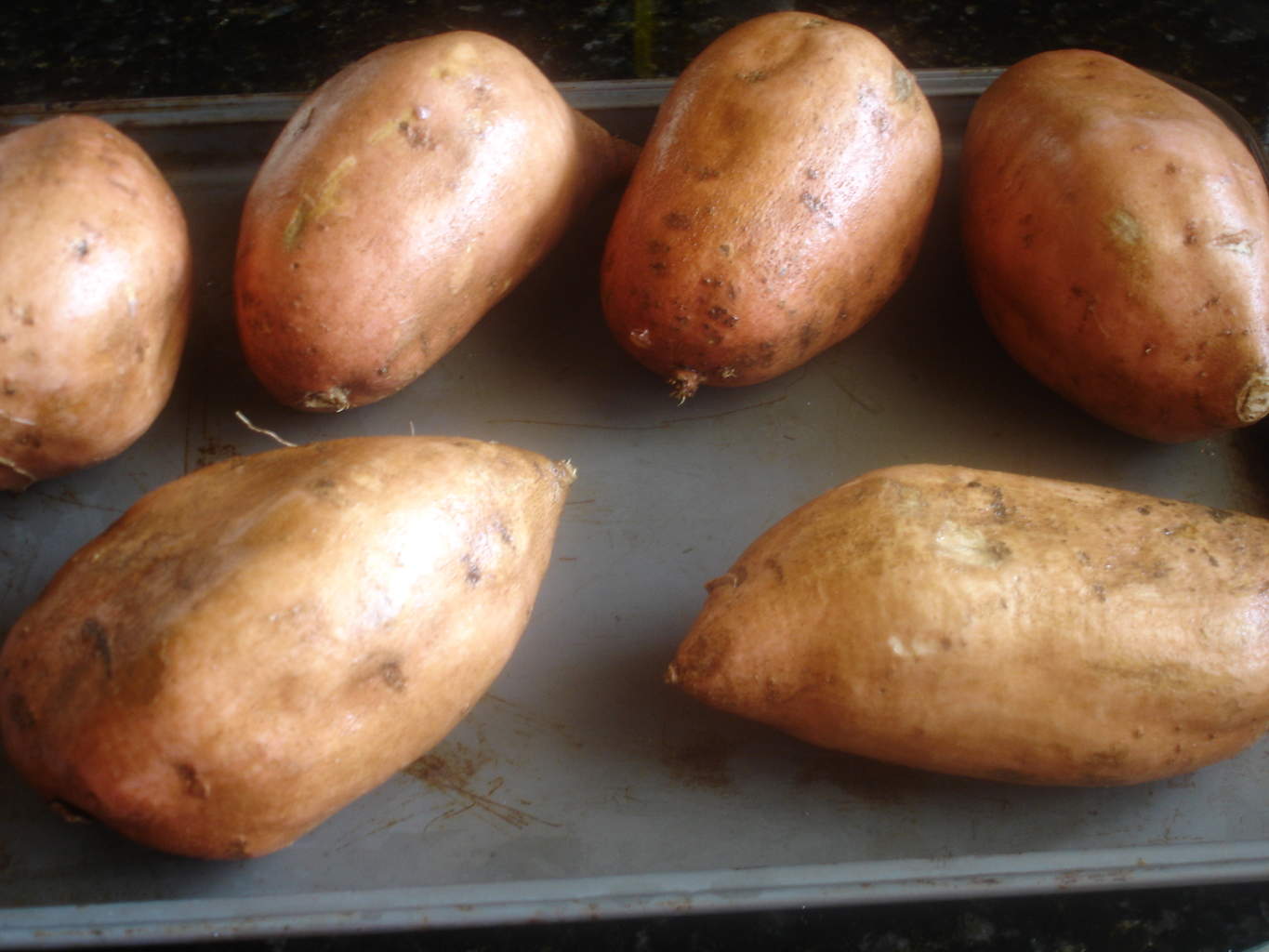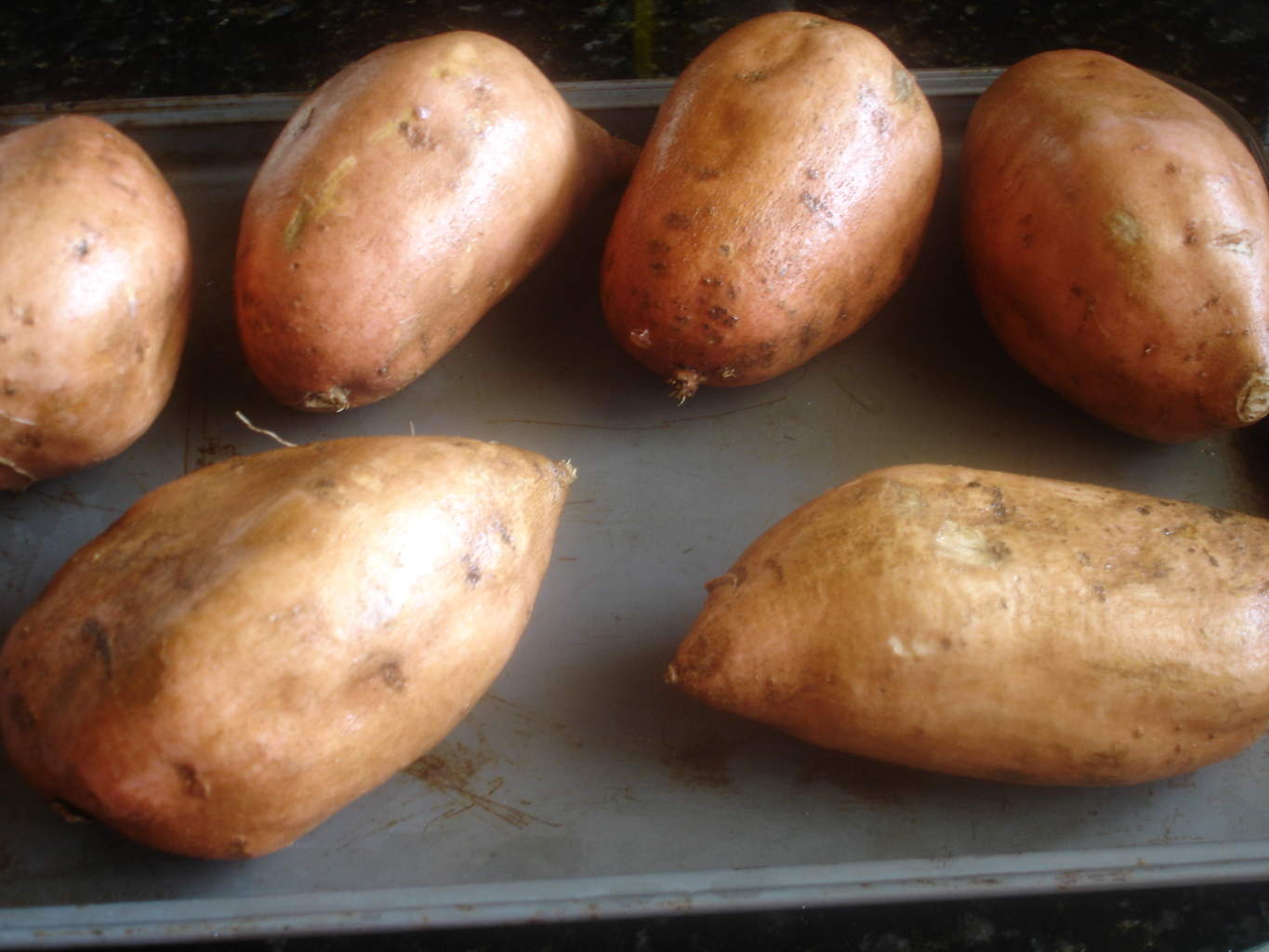 Cream together cream cheese, butter and brown sugar. Add cinnamon, salt and vanilla. Mix well. After the potatoes are done and are cool enough to handle, split them open and scoop out the pulp, being careful not to tear the skins, and add it to the cream cheese mixture. Mix well. Taste for sweetness and add honey if needed.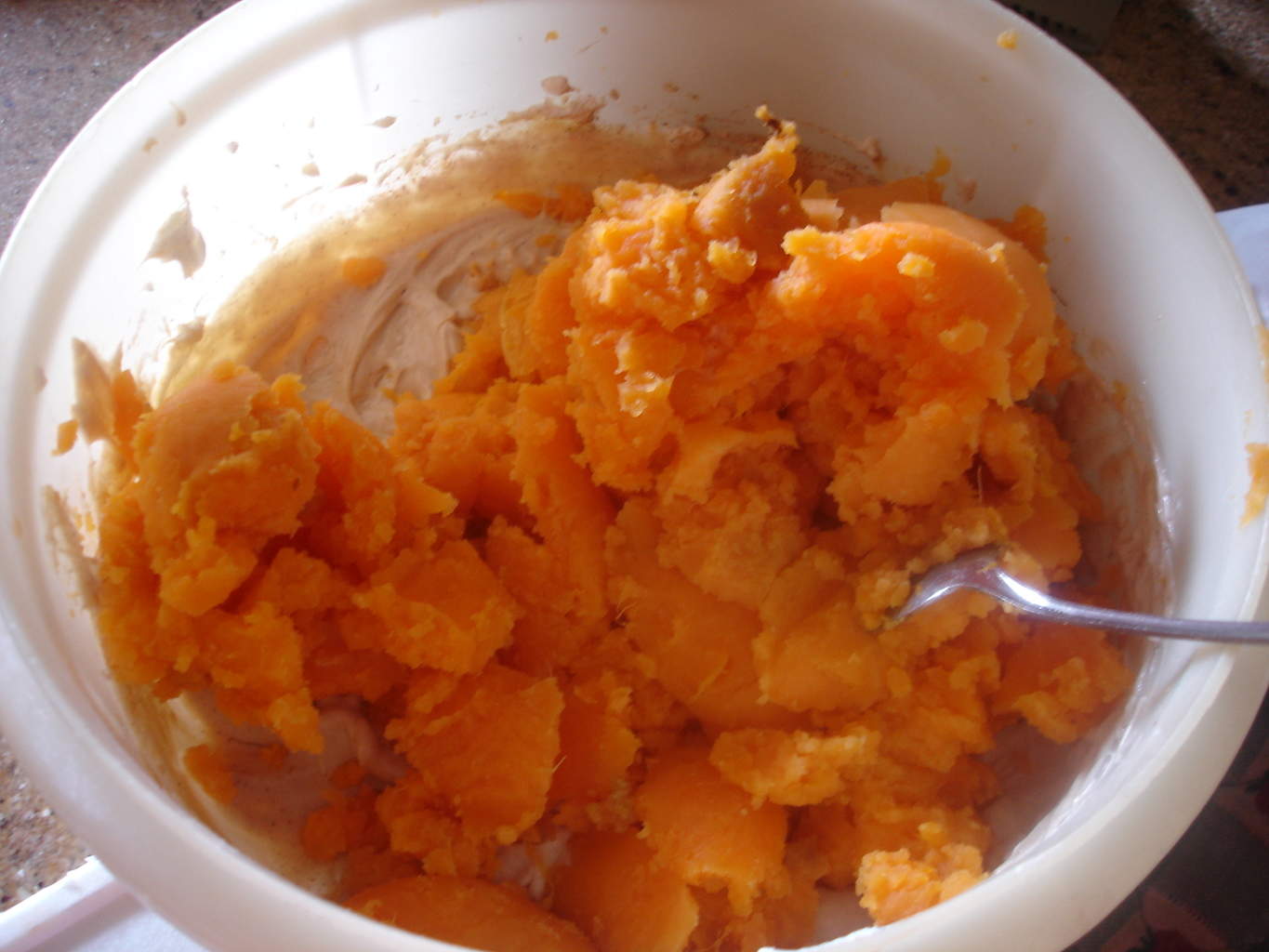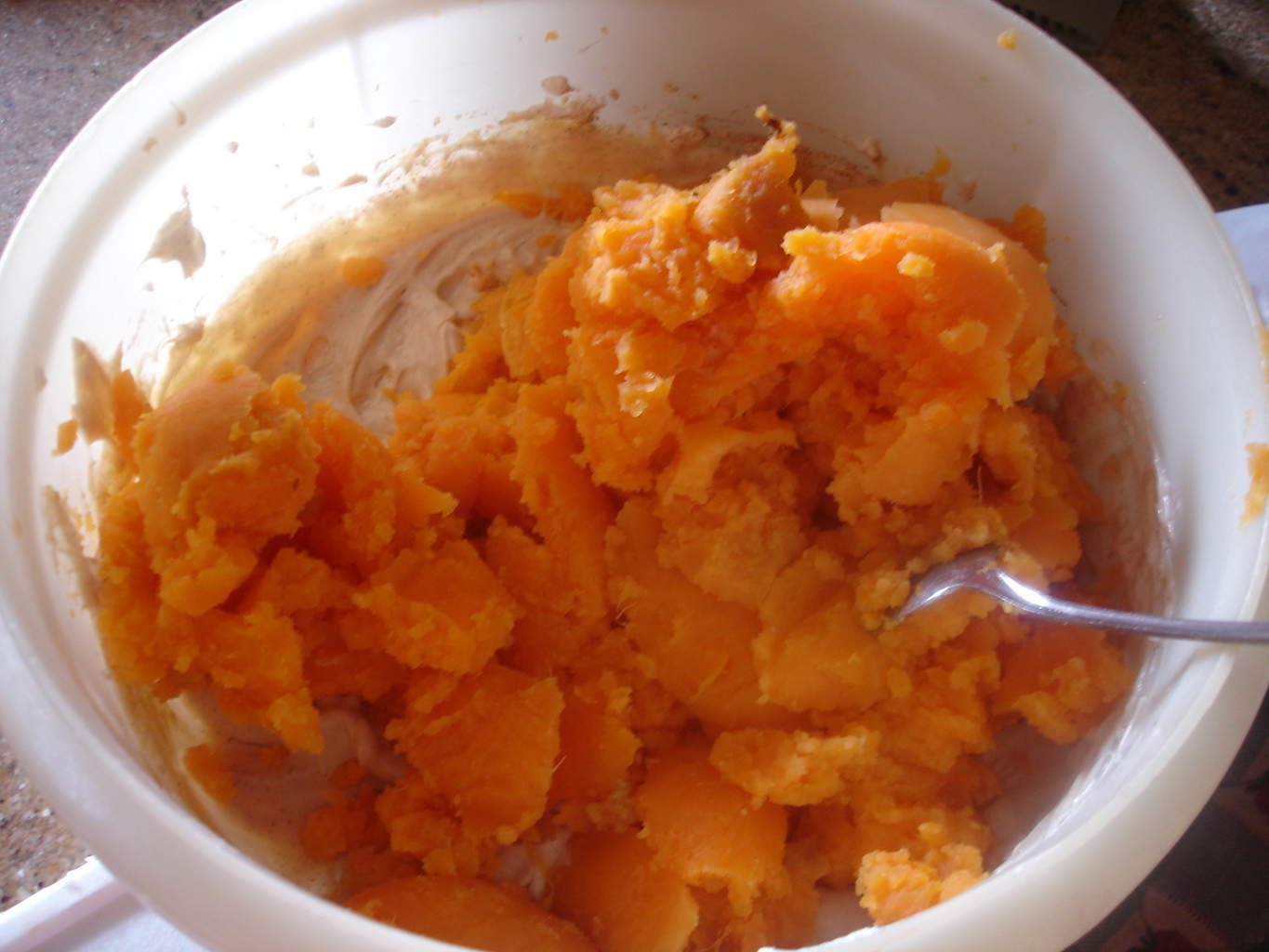 I leave a thin layer of the sweet potatoes in the shell to give it more structure.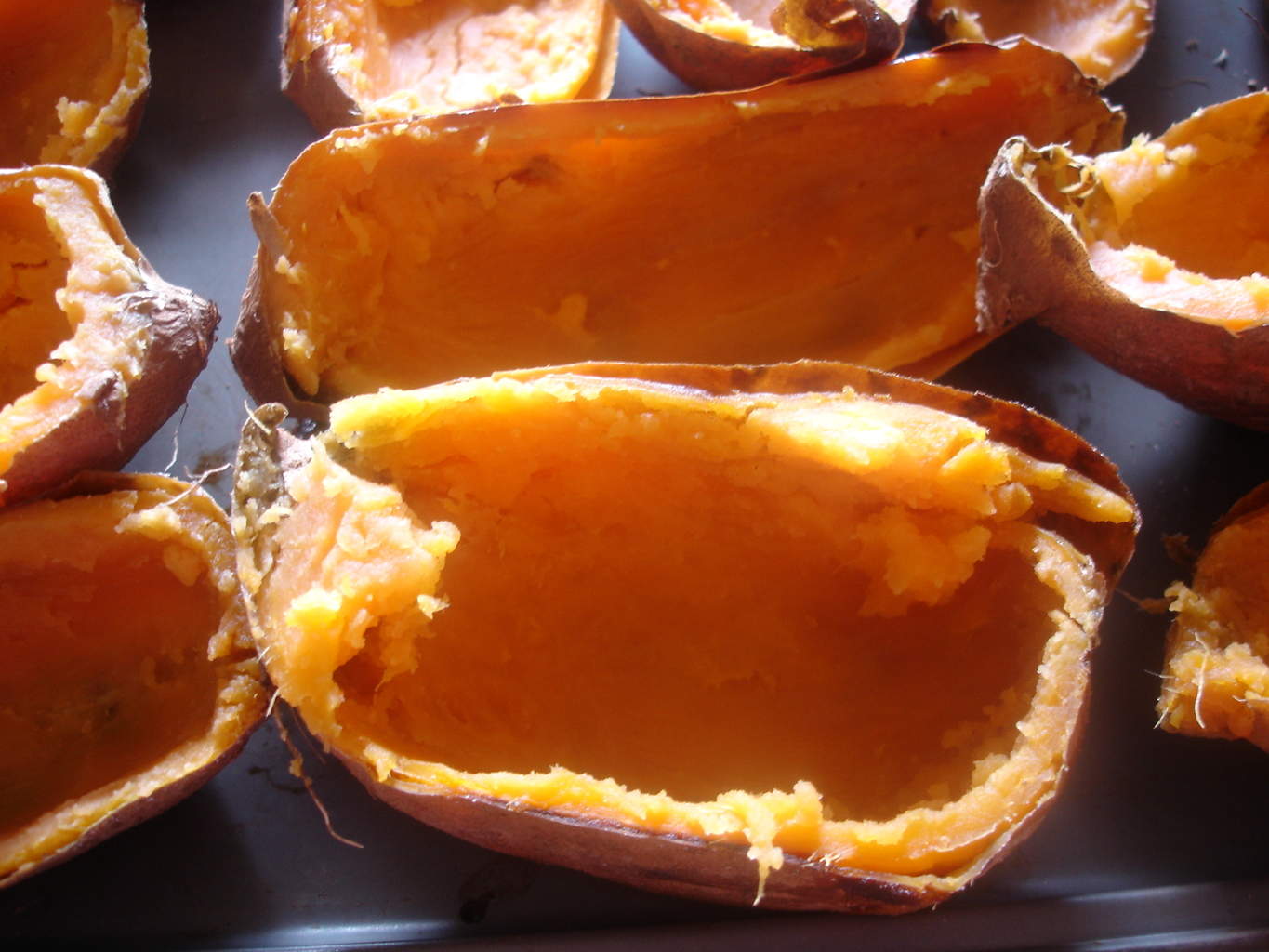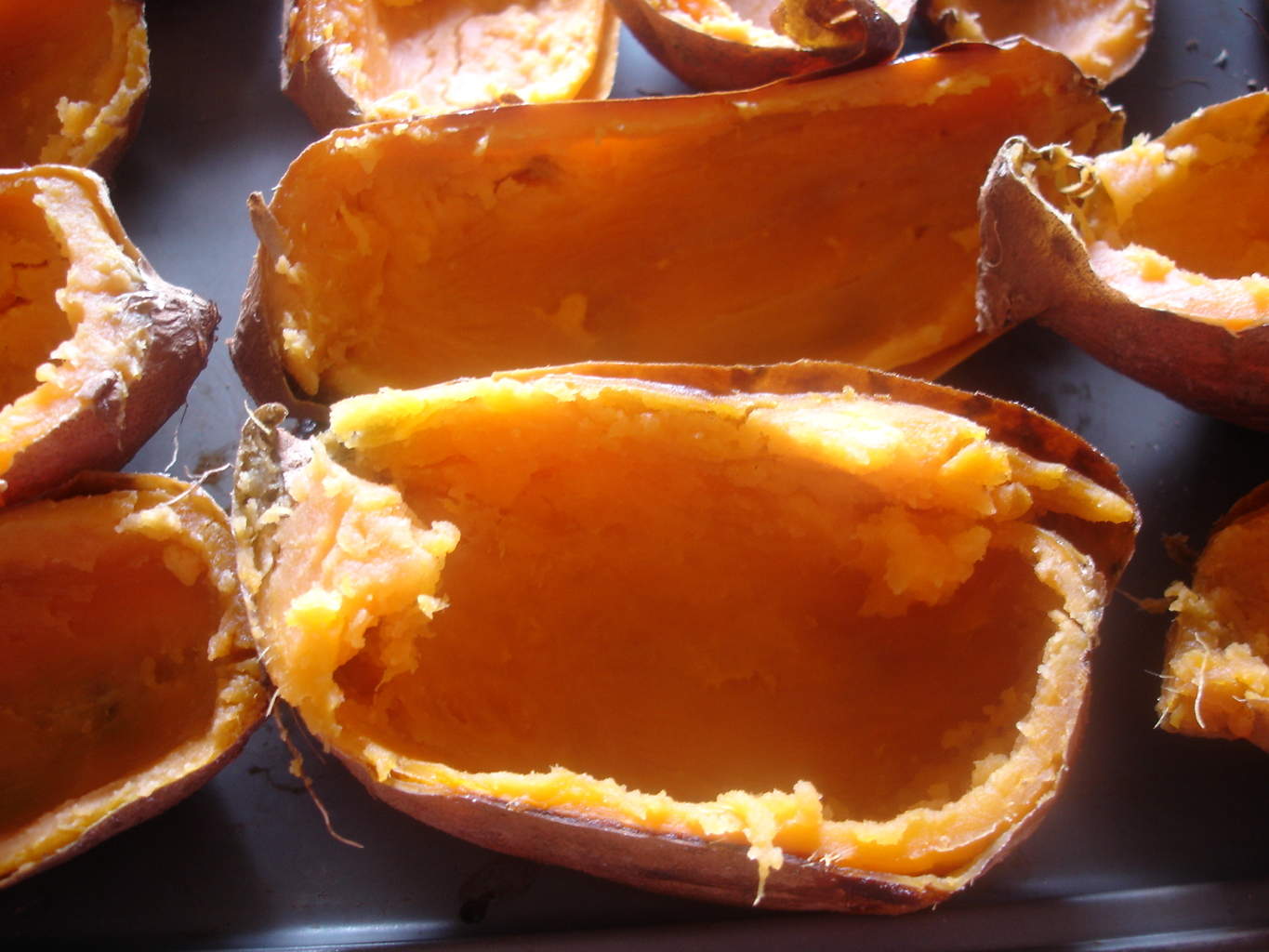 Refill the shells with the sweet potato mixture. Reheat for 5 to 10 minutes on 350 degrees or until the potatoes are thoroughly heated. Serve with added butter, honey and cinnamon sugar.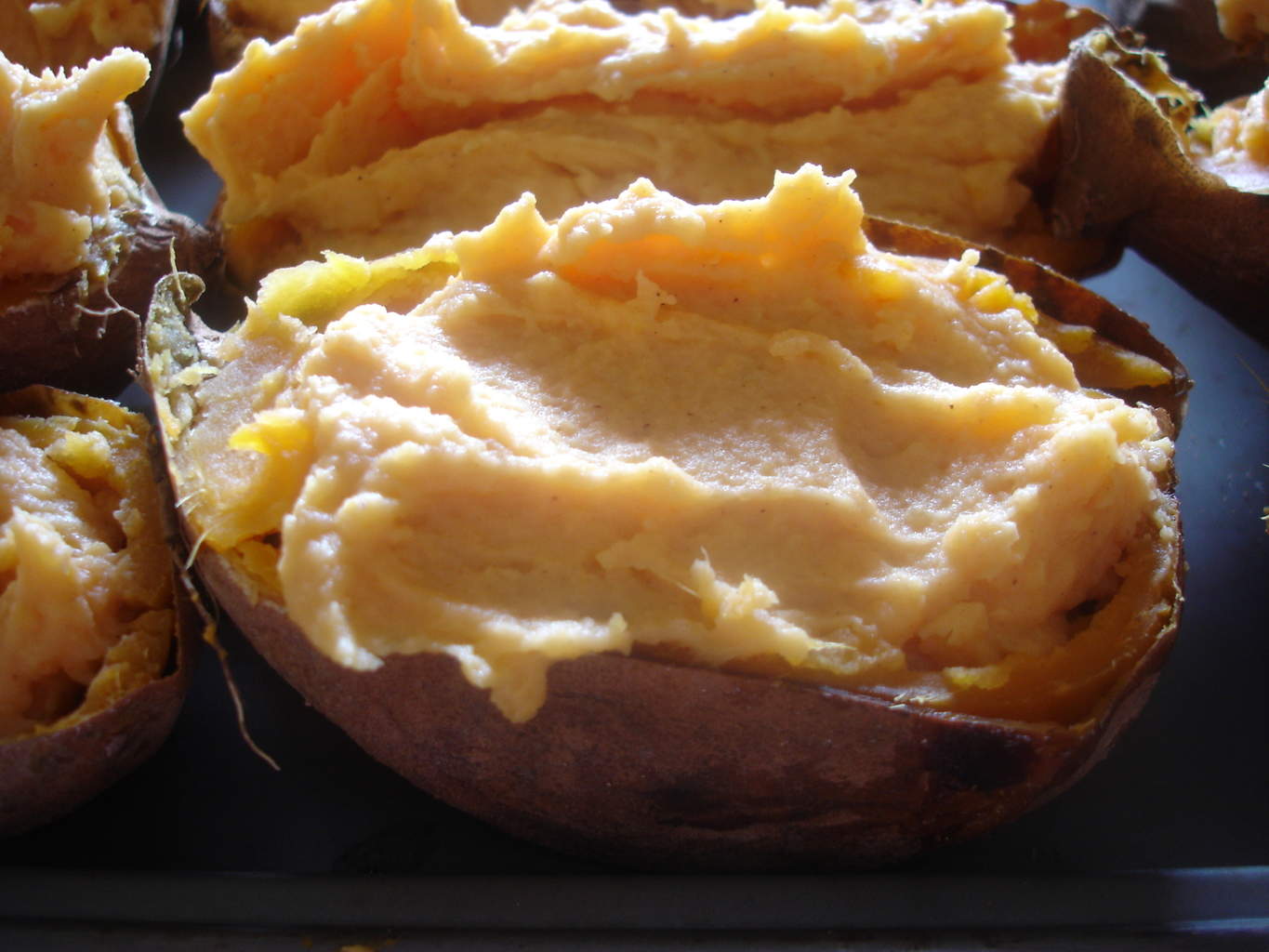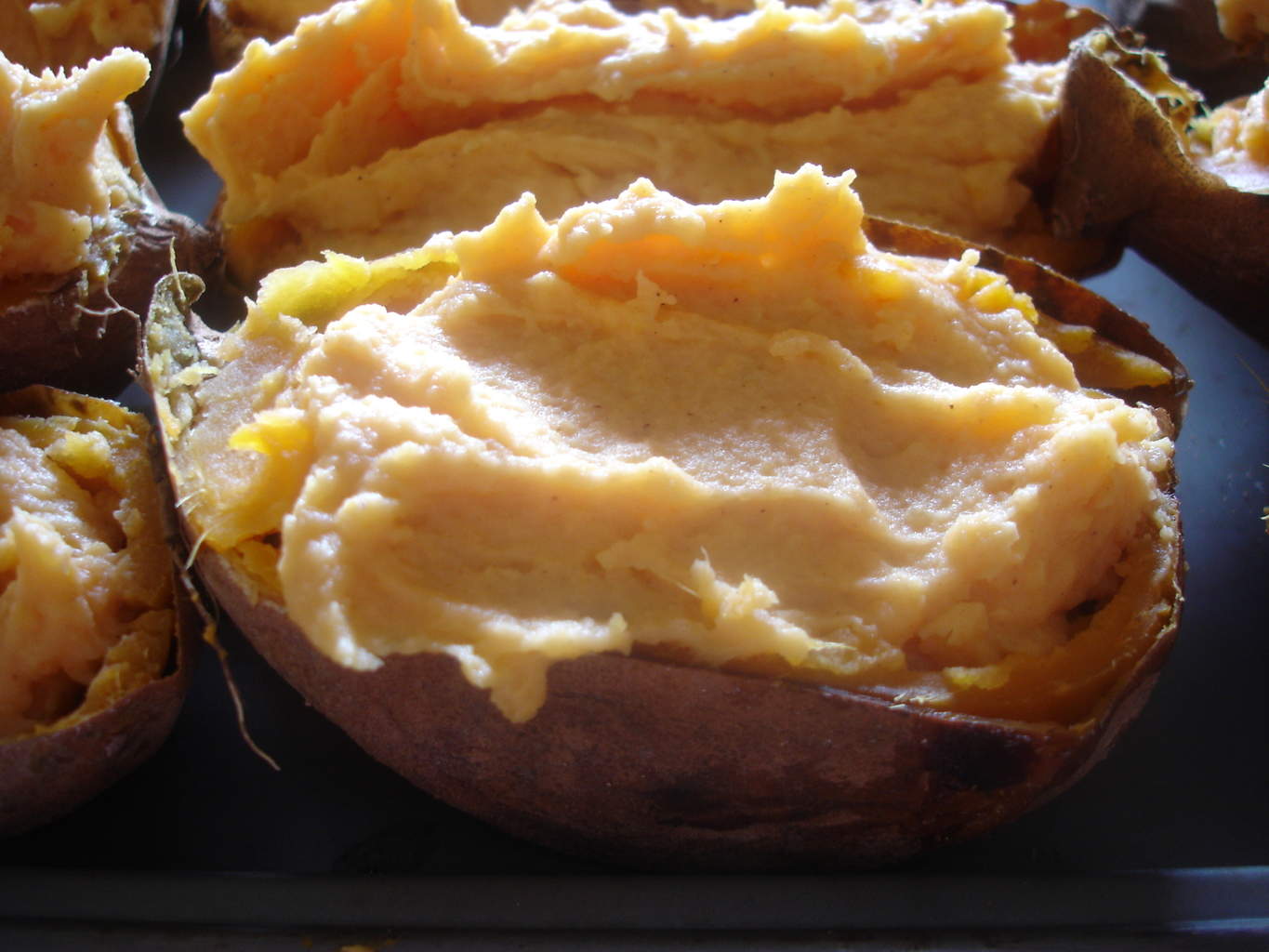 If the potatoes aren't going to be used right away, place them on a cookie sheet unwrapped and on a shelf in the freezer overnight.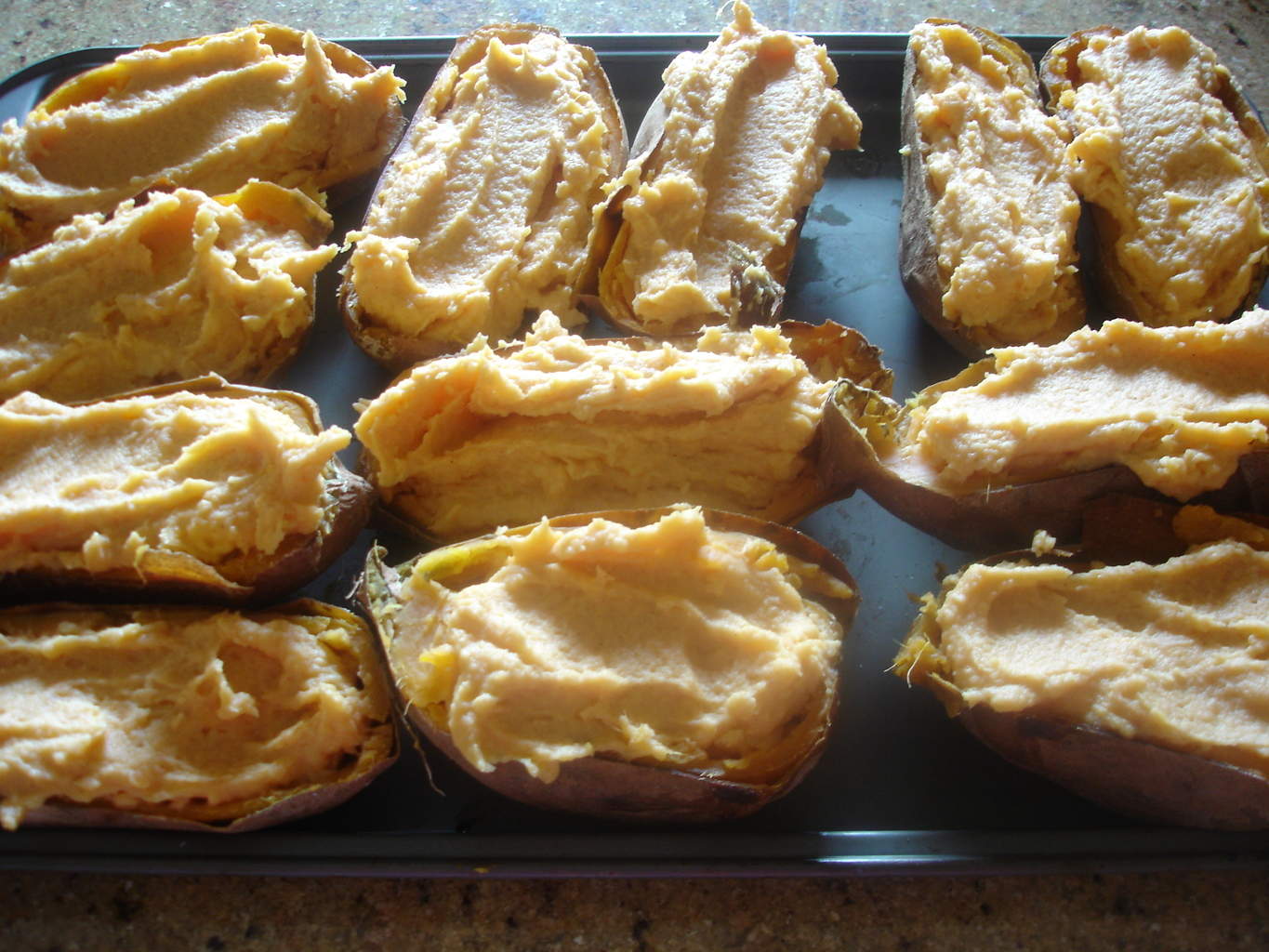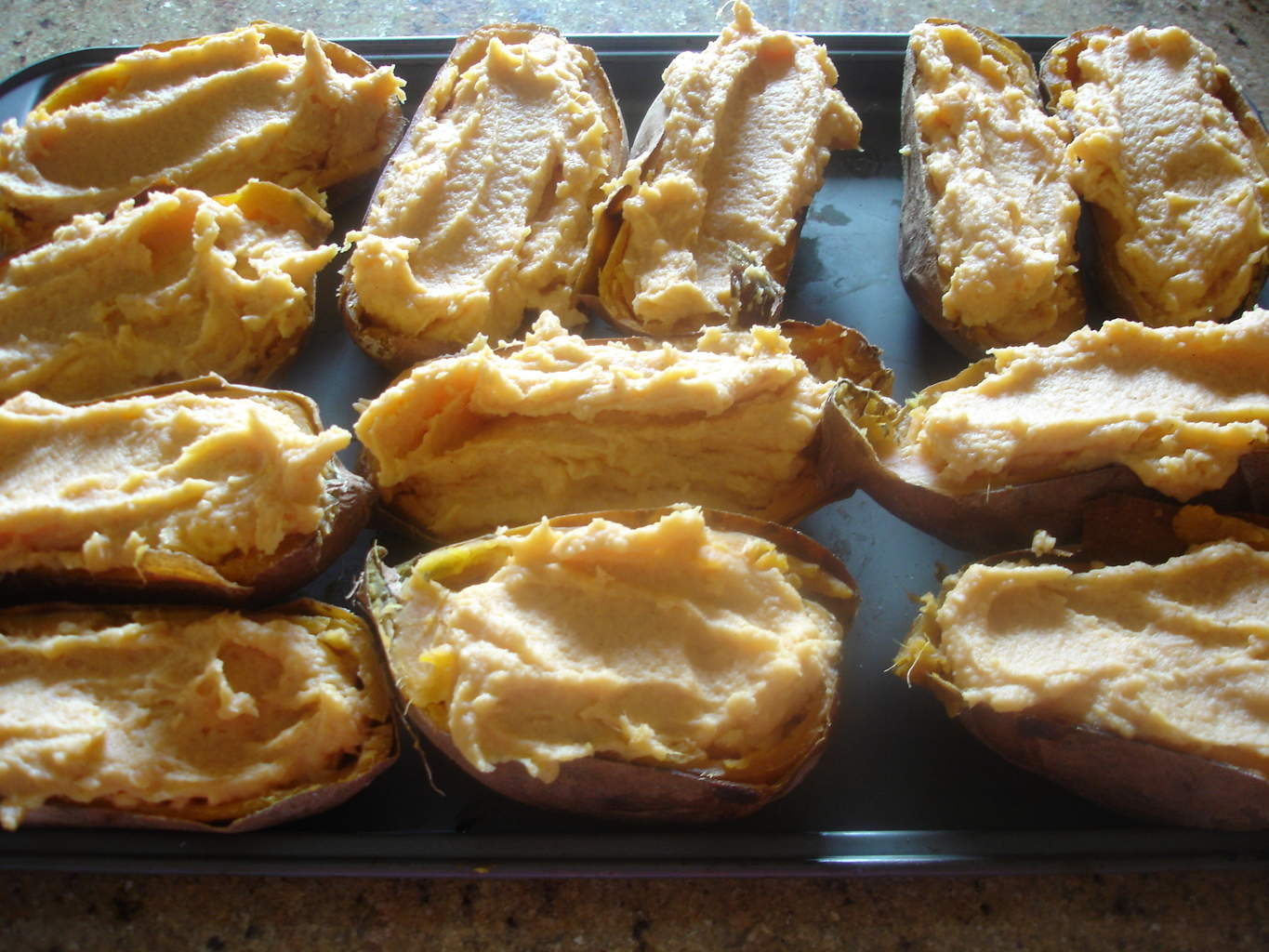 Once they are frozen solid, they can be wrapped or placed in individual freezer bags and kept in the freezer until needed. When ready to use, thaw them in the refrigerator overnight. Reheat at 350 degrees until hot.
Here's some more sweet potato recipes you might like:
Baked Sweet Potatoes with Cinnamon Honey Butter
Whole Wheat Sweet Potato Biscuits
Sweet Potato Pie with Meringue Topping