Pears impress me with their elegance. They're in a class all their own and different, in some way, from other fruits. Maybe it's the shape. Perhaps it's the stems. Something about them is special. And elegant.
The elegance of the pear makes it a fitting dessert for a fine dinner party, yet, the simplicity will have it fit in comfortably with a casual supper. Elegant and versatile. That makes for one classy lady…er…fruit.
Y'all come see us!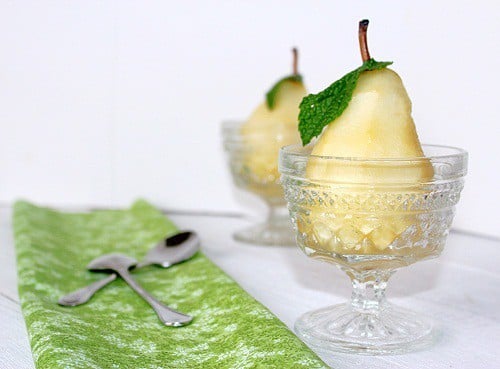 Spiced Pears
yield: 2 servings
When trimming the pear prior to poaching, it's best to leave the core intact to prevent the pear from crashing in on its very self after it's cooked. Heated vanilla ice cream makes a nice, easy sauce to drizzle on before serving.
2 cups sugar
2 cups water
1 cinnamon stick
5 to 6 whole cloves
orange peel, a few strips
2 pears, peeled whole leaving stem intact reserve peelings
Place all ingredients, except pears, in medium sauce pan. Add pear peelings. Cook on medium heat, stirring until sugars melts, for 5 minutes.
Add whole, peeled pears, baste with cooking liquid, cover and simmer for 5 minutes. After 5 minutes, uncover, turn pears so exposed side gets covered in cooking liquid. Simmer for 5 minutes. Remove from heat, baste, and let steep for 5 additional minutes. Carefully remove with a large spoon.
Pear Gorgonzola Bites
Gorgonzola cheese and pears are perfect flavor combination. A frosted cranberry adds a new dimension to this famous pairing providing a sweet, salty, tart flavor explosion.
spiced pear, cored and cubed into bite size pieces
gorgonzola cheese, cubed into sized that match the pears
To assemble, place cheese cube on surface, top with pear and then cranberry. Keep stack flat on surface and spear with a toothpick. These little bites are a little on the delicate and side and won't hold up to much handling.