You just don't know what you can and can't say anymore. The mere act of opening your mouth and having words come out is subject to offend somebody somewhere at sometime. I'm not talking about stupid and hateful talk. I'm talking about just regular old everyday talk that you say with the best of intentions. Who knows what the rules are any longer? It really doesn't matter if you know the rules because it seems they change daily.
Remember when single ladies were addressed as Miss? Now we say Ms.
I'm not going any further with examples. You all can come up with plenty of your own. I have no intentions of ill will and don't want to spur a political firestorm of a debate. The reason I even brought up the subject to begin with is because I thought seriously that I should change the name of this recipe that has been around for ever and a day. It's one of those that has survived through the years. and no one is even sure when it got started and who should receive credit. It's been made in millions of kitchens by millions of parents and children and given to millions of teachers, postal workers, next door neighbors, pastors, pharmacists and grocery store baggers as Christmas gifts. But, the name made me stop and think.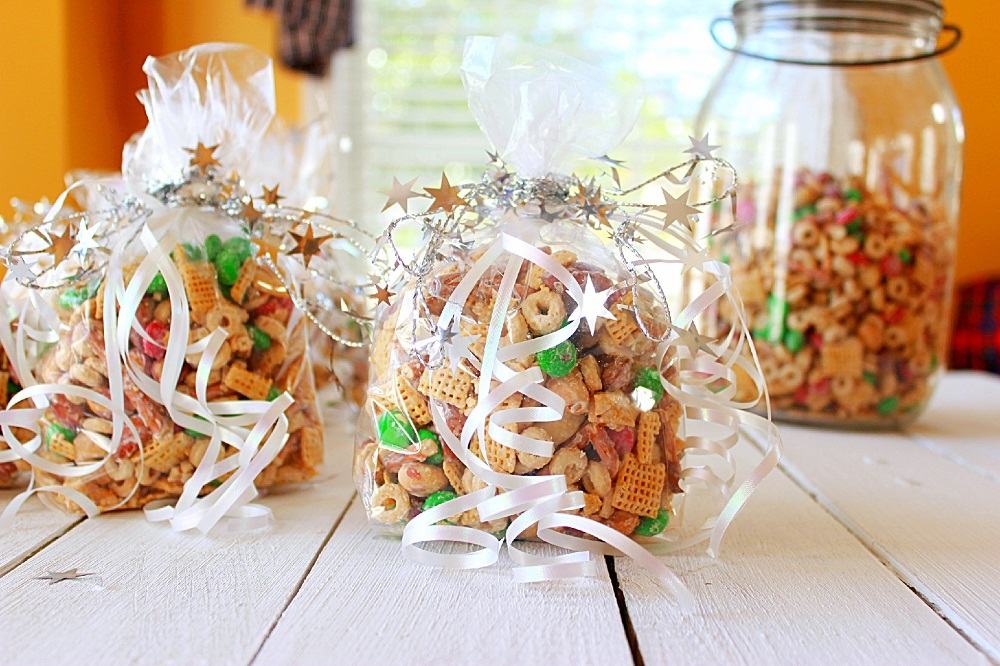 Fortunately, good sense won out over political correctness. This recipe is called White Trash because it's thrown all together in a big ol' bowl and covered with white chocolate. In no way is a reference to unmotivated Southerners inferred or implied. No way at all.
So, let's get beyond tossing back and forth about how the name possibly, maybe, might be offensive to a certain group of people.
This is snack. It's not a political campaign.
Y'all come see us!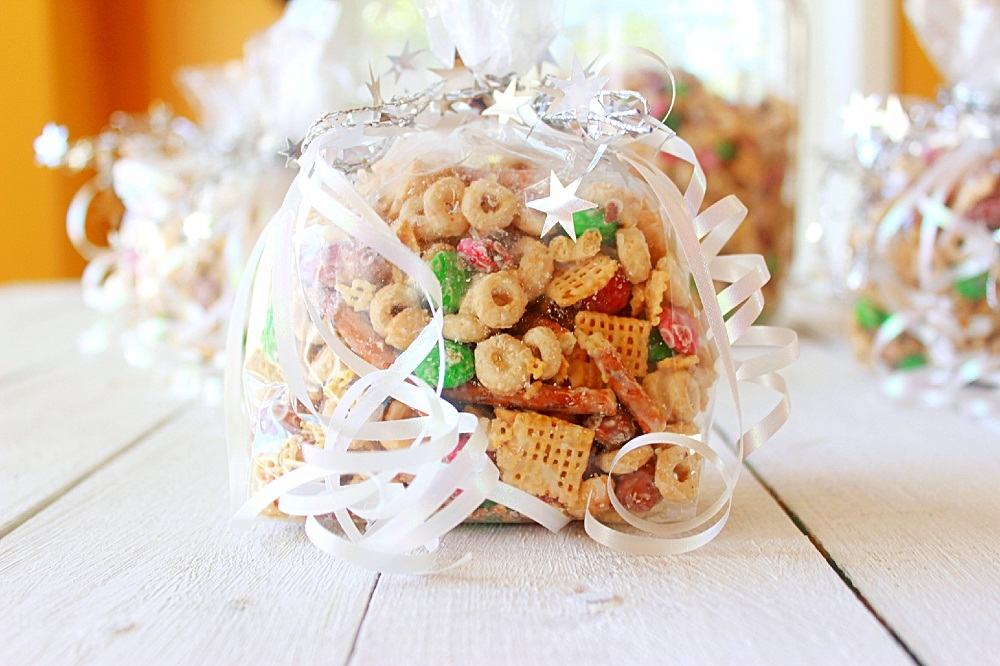 White Trash
yield: a whole bunch. You can fill approximately 10 (9 inch by 4 inch) cellophane goody bags.
Mix and match the ingredients to suit your taste and your whim. I prefer unsweetened cereal to sweetened (e.g. Honey Nut Cheerios, Golden Graham) because the saltiness of the mixed nuts and pretzels lends just the right balance to the sweetness of white chocolate and M & Ms yielding the prefect salty/sweet combo that's palate pleasing. The amount of coating is light enough that each piece of the mix can be identified but is sufficient enough to coat each piece with sweetness.
5 cups regular Cheerios
5 cups Corn Chex
15 ounces premium mixed salted nuts
19 ounces M & Ms (thank you Mars Candy Company for making bags of green and red M & Ms at Christmas!)
2 cups stick pretzels, broken slightly
18 ounces Baker's Premium White Chocolate baking squares
Throw first 5 ingredients in a big ol' bowl. You'll need the bowl that used to mix up your Thanksgiving dressing.
Place white chocolate squares in a microwave safe bowl. Microwave until melted, stirring after every minute. It will take about 5 minutes total.
Pour white chocolate over trash and mix until well coated.
Turn out onto parchment paper and let dry, approximately 30 minutes.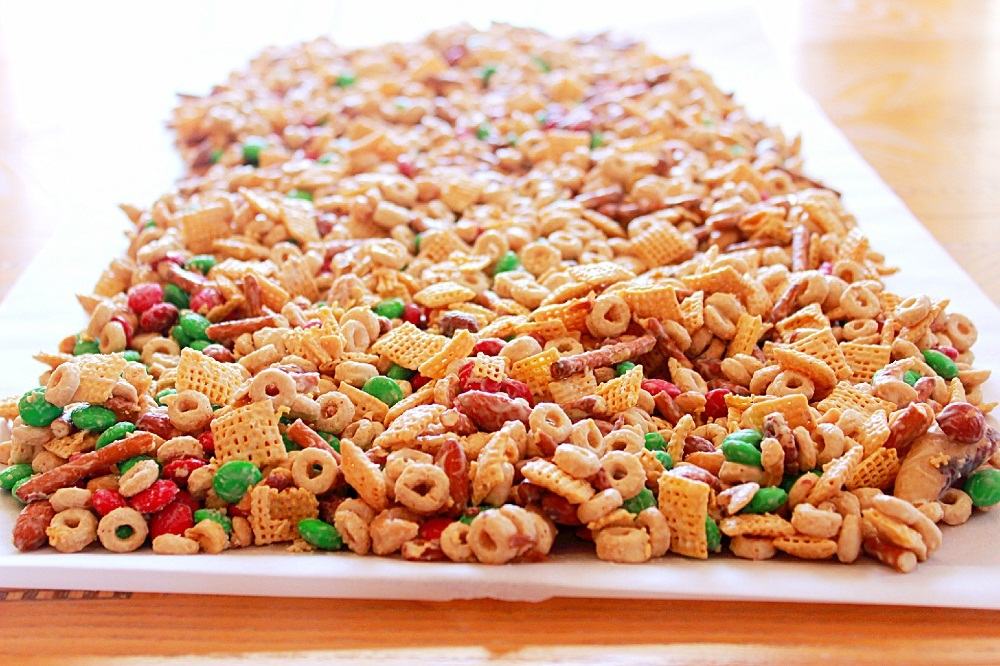 Break into pieces and store or wrap up in cute little packages for gifts.