I loved the days when I would walk in Granny and Granddaddy's house and before I shut the front door, one of them would say, "Shug, go look in the safe and find ya something to eat." The safe was a free-standing, multi-shelved cabinet with doors that stored leftover bits of breakfast meats, biscuits, cornbread, cakes, cookies and sometimes fried chicken. Any leftover that was safe to store all day at room temperature, had a home in the safe. And you could always find something to eat there.
Biscuits were never thrown away. Leftover biscuits made biscuit pudding and bits and pieces of biscuit and cornbread were crumbled and used for dressing. If there were enough biscuits for breakfast the next morning, they were either wrapped in aluminum foil and reheated in the oven or toasted in butter or bacon grease in an iron skillet on top of the stove. If Granny's sweet tooth was calling her name, she split the biscuits, slathered them with soft butter and sprinkled cinnamon and sugar and baked them until the butter melted and the sugar slightly crystallized.
This morning, I toasted biscuits in an iron skillet for the first time in quite some time. Gosh, they're even better than I remembered. I enjoyed them with crispy bacon and apple peel jelly.
Another bittersweet memory. I would give up everything I own just to hear,
"Shug, go look in the safe and find ya something to eat."
Y'all come see us!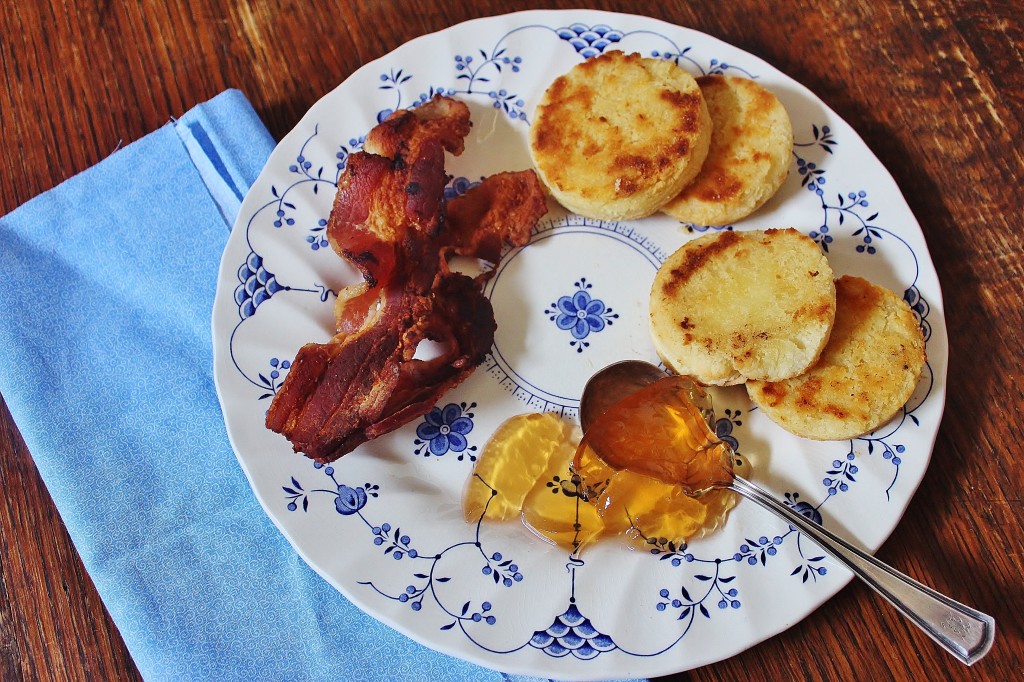 Skillet Toasted Biscuits
yield: 1 or 2 servings
Leftover biscuits toasted in a cast iron skillet are a delight. Toasty and buttery, they eagerly await the addition of jelly, jam or preserves.
2 leftover biscuits, split
1 tablespoon butter
Heat a cast iron skillet on medium. Add butter to pan to melt. Stir it around to coat the bottom of the skillet. Place biscuit split side down and stir around to coat with butter. Cook until toasted, flip over and repeat on outside. Serve hot with jelly, jam or preserves.
You might also enjoy: