Biscuit Pudding is a vintage recipe created to use leftover biscuits. Simply pour a vanilla custard over crumbled biscuits and bake. My first encounter with Biscuit Pudding was in my Granny's kitchen. She used a no-nonsense method of mixing, baking and serving in the same baking dish. Bread Pudding is popular on the menu of upscale restaurants. Folks pay a lot of money for a dish whose humble origin was born out of a way to use leftovers with simple, basic ingredients.
My grandmother's cooking style was as straight-forward as she. Granny rarely measured her ingredients and she used as few dishes and cooking utensils as possible. Her kitchen efficiency wasn't necessarily by choice. It was a necessity because she only had a few kitchen items. One dish cooking is a common theme among many vintage recipes. I'm committed to returning to a more efficient way of cooking. Why mess up a dish if you don't have to?
For Biscuit Pudding, she crumbled biscuits in the pan and let them soak up some milk. Then, she sprinkled on the sugar and started adding the eggs one at a time, stirring after each addition. Some cinnamon and vanilla extract was mixed with more milk and poured over the biscuit mixture. Lastly , the top was dotted with butter and baked until the custard was set. The closest I came to getting a recipe from her was that you need two eggs for every cup of milk that you use. Of course, the amount of milk that you need is "owing to how many biscuits ya got, Shug." She didn't make a sauce for the Biscuit Pudding either. If she had been inclined to do so, it certainly wouldn't have been bourbon sauce like I've chosen to make. My grandparents were devout Southern Baptist and teetotalers despite the fact that Granny took cough medicine with an alcohol content that may have been higher than table wine. That mess would burn the fool out of your throat.
Raisins are popular in bread puddings. Granny didn't usually have raisins on hand. To keep the recipe authentic , they're not added to this dish. Cocoa powder could be mixed with the custard mix for Chocolate Biscuit Pudding or chocolate chips could be added.
Out of respect for my grandparents, I would never cook with alcohol if they were around. I would also forego my occasional glass of wine. Even the tiny bit of Bourbon in this sauce would not be seen as acceptable in their eyes. Abstinence from alcohol was one of their strong beliefs as it is with a lot of people. However, with the diversity of Southern culture, you'll find moonshiners, teetotalers and everything in between. We're not a boring group of people by the stretch of anybody's imagination.
While the Biscuit Pudding is a recipe out of my Granny's kitchen, it seemed somewhat disrespectful to make a sauce to go with her dish that she would have frowned upon. Never mind that both of my grandparents have been gone for a long time. Never mind that I'm an adult well into my fifties. Be respectful is just part of my raising. Now that the deed's been done, I think the Bourbon Sauce is a good idea after all. I feel a slight cold *cough, cough* coming on.
Y'all come see us.
******
Biscuit Pudding with Bourbon Sauce
For biscuit pudding:
4 or 5 leftover biscuits
2 cups milk
1 cup sugar
4 eggs
1 teaspoon vanilla
1/2 teaspoon cinnamon
1 tablespoon butter, diced
Crumble biscuits in greased baking dish. I used a 9 X 9 glass dish.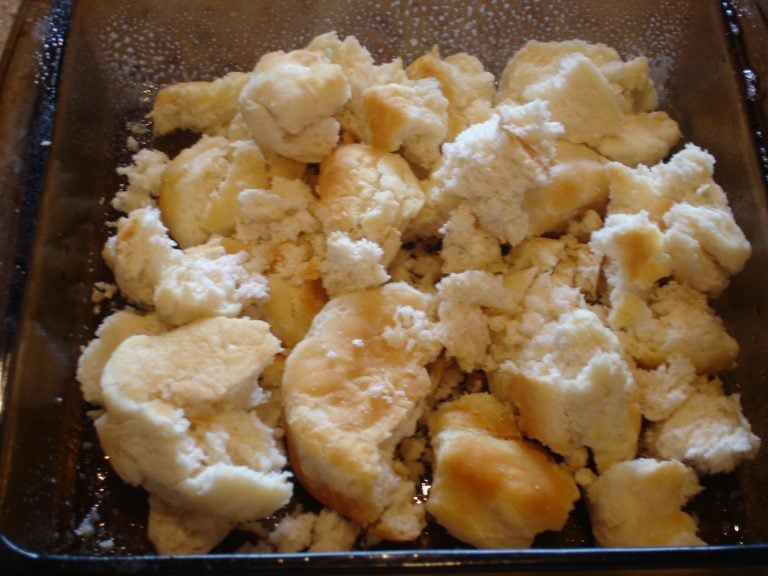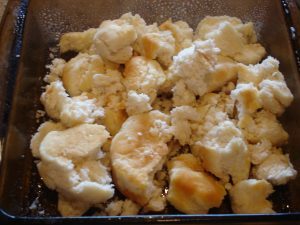 Pour 1 cup of milk over the biscuits.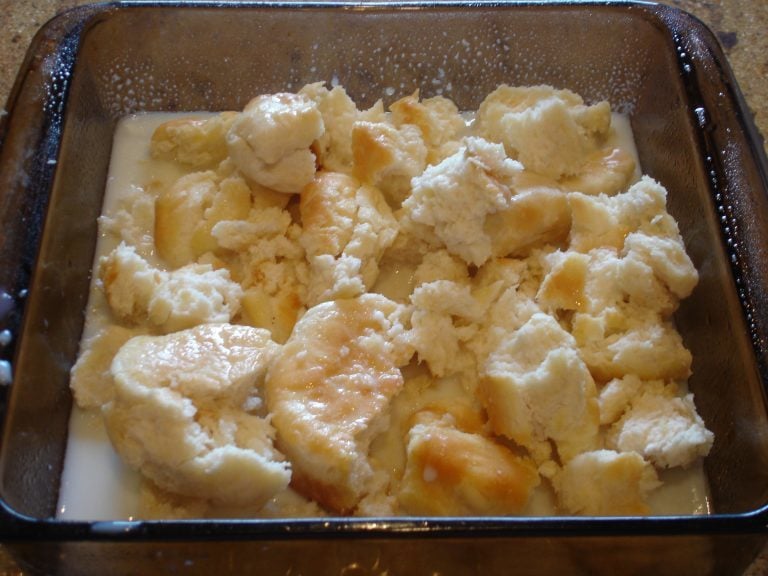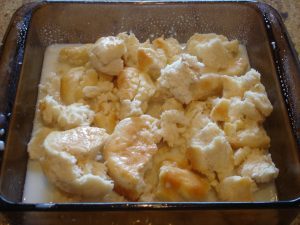 After the biscuits have soaked up enough milk to become soft, add the sugar. Next, add eggs one at a time mixing after each one.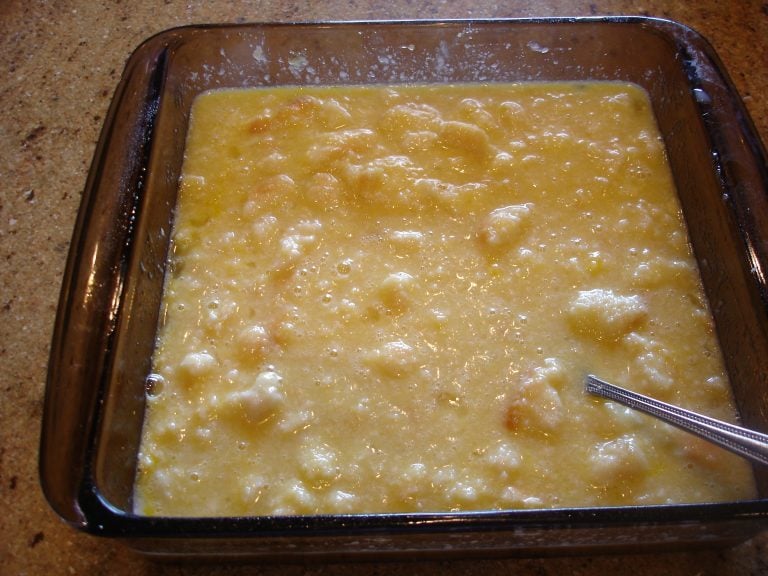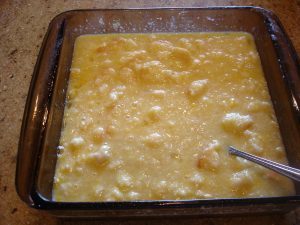 Mix remaining milk with vanilla extract and cinnamon. Pour into dish and dot with butter.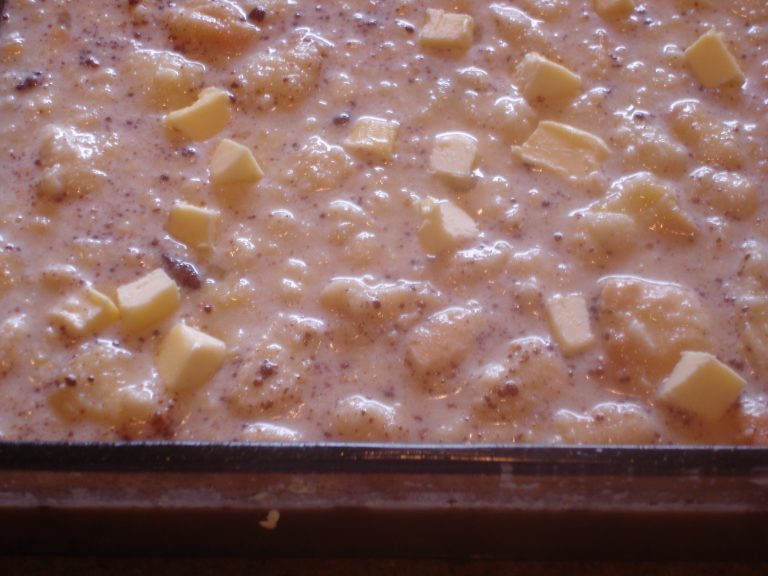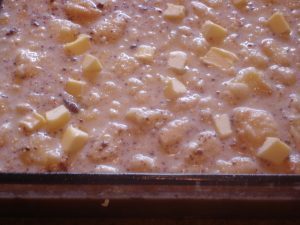 Bake at 325 degrees for 40 to 45 minutes until the top is firm. The custard will still jiggle but not slosh. Remove from oven. It's normal for the pudding to deflate.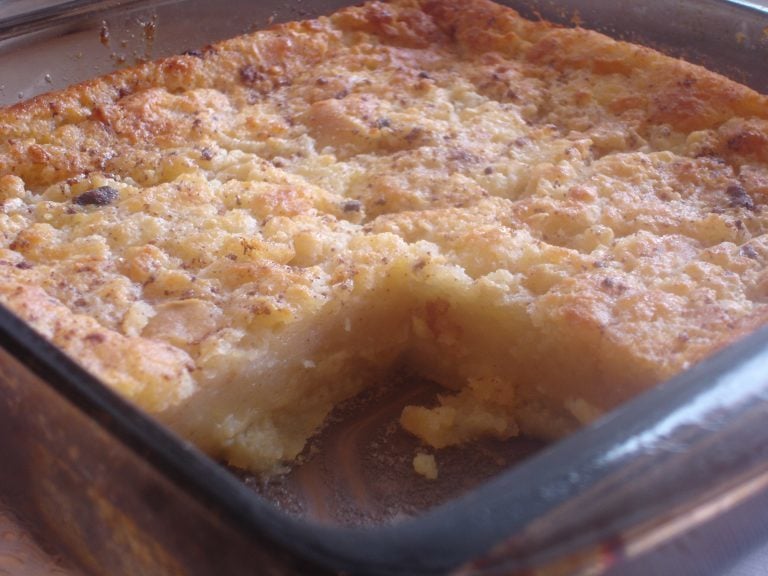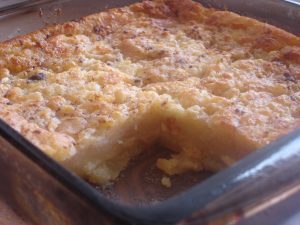 Serve warm with warm Bourbon Sauce.
For bourbon sauce:
Adapted from about.com Southern food
I substituted brown sugar for white because wanted a rich, butterscotch-y flavor. I omitted the corn syrup, also. This sauce would be great served warm over vanilla ice cream. If you want to omit the bourbon, you'll still have a great tasting sauce. Bourbon adds smoothness and richness.
1 cup brown sugar
6 tablespoons butter
1/2 cup buttermilk
1 tablespoon Bourbon (I used Jim Beam)
1/2 teaspoon baking soda
1 teaspoon vanilla
Add all ingredients to a small saucepan and bring to a boil stirring frequently. Boil for one minute and remove from heat. Serve warm.