Once smoothie stores starting popping up all over tarnation, I learned that a strawberry banana combination is a winner. Piccadilly Restaurants used to have servings of heavily glazed strawberries and chopped bananas but they didn't appear appetizing. I always passed them over for banana pudding or sweet potato souffle. The sides and desserts in the serving line seemed to meld together. It was hard telling where one ended and the other started.
My first encounter with a strawberry banana smoothie was as pleasing visually as it was tasteful. The color was a pretty shade of pink, the drink was flavorful and refreshing on a Deep South mid-summer day. I've been in love with the flavor combination ever since.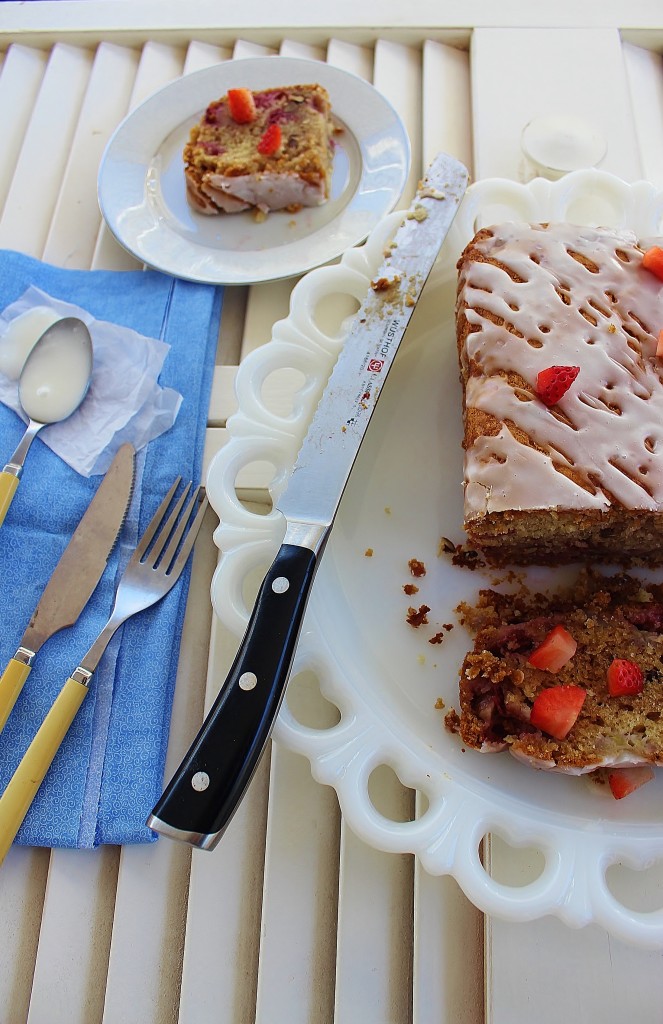 The most recent #cookclub installation is a recipe for Strawberry Bread with Honey Butter. Below is my interpretation and spin.
Check out #cookclub and join us. There are no geographic or creativity boundaries. It's loads of fun.
Y'all come see us!
Strawberry Banana Nut Biscuit Bread with Orange Buttermilk Glaze
I turned the loaf into a biscuit bread by using my standard buttermilk biscuit recipe, omitted eggs and added extra baking soda to the sour cream for some lift. I used orange extract in addition to vanilla extract for a little flavor boost and because I made up a batch of orange extract this year and look for ways to use it. Instead of honey butter, I bathed the loaf in a Buttermilk Orange glaze. Same orange extract, again. This bread needs to cool for at least an hour before cutting it. For the best flavor, make the loaf a day ahead. The difference in the flavor the day it's made versus the next day is stunning.
Yield: one loaf
½ cup unsalted butter, softened
¾ cup granulated sugar
8 ounces sour cream
1 teaspoon baking soda
1 cup diced strawberries
½ medium banana, diced
1 cup chopped pecans
½ teaspoon vanilla extract
½ teaspoon orange extract
2 cups self rising soft winter wheat flour
Using an electric mixer, cream together butter and sugar until light in texture and pale yellow in appearance. Add vanilla and orange extracts and mix.
Stir together sour cream and baking soda in a bowl. Set aside. If the mixture expands, you will know that your baking soda is active. If it doesn't expand, discard your baking soda and make a trip to the store.
Mix together strawberries, banana and pecans. Set aside.
Add a small amount, about 1/3 or less, of the flour to the creamed butter mixture in the mixing bowl. Pulse until flour is mixed in. Mix in half the sour cream mixture. Continue alternating until flour and sour cream are mixed into the dough.
Gently fold in fruits and nuts.
Spread dough evenly in a 9×5 inch loaf pan that has been prepared with a non-stick baking spray.
Bake in a 350 degree preheated oven for 60 minutes or until toothpick inserted comes out clean. Cool in pan on a wire rack for 30 minutes. Remove and glaze.
Glaze:
1 cup powdered sugar
2 tablespoons buttermilk
1 teaspoon orange extract
Mix together with spoon until smooth. Drizzle over bread as soon as it's taken out of the loaf pan.
You might also enjoy: