Think back to drug store soda fountains where you could order fountains drinks and different varieties of ice cream. Imagine grabbing a stool at the soda fountain counter and ordering a Cherry Coke Float while you wait for your prescription being filled by someone who sings in your church choir. If you wanted to do that today, you'd be hard pressed to find a drug store that had a soda fountain. Drug stores are now called pharmacies and they sell everything under the sun. The space that was once allocated for the soda fountain is now filled with Pringles, Tide and school supplies. Of course, you can still get your prescriptions filled but the store is just a store. You don't get excited about going in. It's become a commodity. And you don't know a John Brown thing about the person who fills your prescription.
Perhaps some old timey drug stores with soda fountains still exist in small town America. If ever I happen on one, I hope I have my camera with me. I want to take a picture of the person behind the soda fountain counter that makes me a Cherry Coke Float. I want to know their name and their favorite color. I want to know their favorite part of their hometown. I want to know their hobbies. I'm not curious about the person in the big box pharmacy that fills my prescription. I believe a soda fountain counter seems friendlier than Pringles, Tide and school supplies. Maybe we should place a higher value on friendliness than convenience.
Y'all come see us!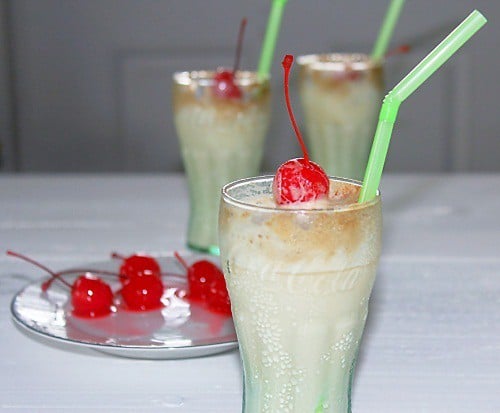 Cherry Coke Float
Simple, sweet and refreshing. This is not as much a recipe as it is a happy reminder of this delightful Americana treat. The ice cream melts and mixes with Coke producing a flavor that is like nothing else.
good quality vanilla ice cream (I use Blue Bell Homemade Vanilla)
Coca-Cola
maraschino cherries
Fill glass with ice cream. Pour Coke over ice cream. Be careful because it will bubble up. Top with cherry. Serve immediately.
You might also enjoy:
Coca-Cola Cake with Coca-Cola icing