The history of Brunswick Stew varies depending on who's telling the story. Many locales with Brunswick in the name, have laid claim to being the originator of this time-tested recipe. Some accounts claim the stew started out containing only squirrel and no vegetables. Others will lead you to believe a hunting camp stew master, well provisioned with tomatoes, potatoes, onion, corn and beans, cleverly hunted squirrel to add to the pot. Brunswick County, VA feels so strongly the origin of Brunswick Stew belongs to their citizens, they have included a stew festival in their economic development plans. For what it's worth, Virginia's General Assembly passed a resolution proclaiming Brunswick County, VA as the official home of Brunswick Stew stating it was created there in 1828. However, Colonial Williamsburg historians state that Brunswick Stew was a popular dish among their 18th century residents and travelers which would have been the period between 1700 and 1799. We've been eating Brunswick Stew a long time. There's no getting around that!
Brunswick Stew remains a favorite throughout the South. You can find at family reunions, political rallies, barbecue houses, church dinners and in my kitchen. Commonly accepted ingredients include both pork and chicken, corn, tomatoes, butterbeans (the tiny green lima variety) cooked in a tomatoey broth. A Syrup and Biscuits reader commented that she remembers Brunswick Stew from her childhood as being
That subtle melange of chicken and do I dare say, a whole hog's head, simmered in a rich tomatoey broth for hours, then corn and butter beans added.
I'm fresh out of hog's head, but I do have chicken, pork, corn, butterbeans and a tomatoey broth. I also add okra and potatoes to my version.
I created a slow-cooker version to make use of leftover chicken and pork. The stew can be assembled the night before, leaving out the stock and BBQ sauce, and stored in the refrigerator. The next morning, fire up the slow-cooker and add the liquids. In a few hours, the aroma will have you starving slap to death.
A traditional, long cooking version is coming up soon. I'll make it over the holidays when we have lots of house guests. The batch makes up about forty 'leven gallons.
This dish follows the make good with what you've got principle. I'm happy and Granny's proud.
Y'all come see us!
*******
Slow-cooker Brunswick Stew
I used leftover roasted chicken and pulled pork. Chicken stock, corn, butterbeans and okra were in the freezer. Canned tomatoes were in the pantry. Potatoes and onions are a kitchen staple. BBQ sauce was from slow-cooker pulled pork. I didn't have to show my face in the grocery to get one item for this stew.
If you don't have homemade stock or BBQ sauce, commercial preparations work just fine. Fresh vegetables can be used instead of frozen. We are between growing seasons so fresh isn't readily available. I did find fresh okra in the grocery store but I didn't like the way any of it looked.
2 cups butterbeans (I used tiny green limas)
2 cups corn ( I used Silver Queen)
1 pound okra, sliced
2 cups potatoes, diced (I used Yukon Gold)
1 sweet onion, diced (Vidalia, of course!)
2 (1 pound )cans of diced tomatoes. (Note: I think the cans are actually 14.5 ounces. The sizes are shrinking)
2 cups cooked chicken, shredded or chopped
2 cups cooked pork, shredded or chopped
1 tablespoon seasoned salt, (I used Season-all)
1 cup chicken stock
1 cup BBQ sauce
Start layering the vegetables. In go corn, butterbeans, okra……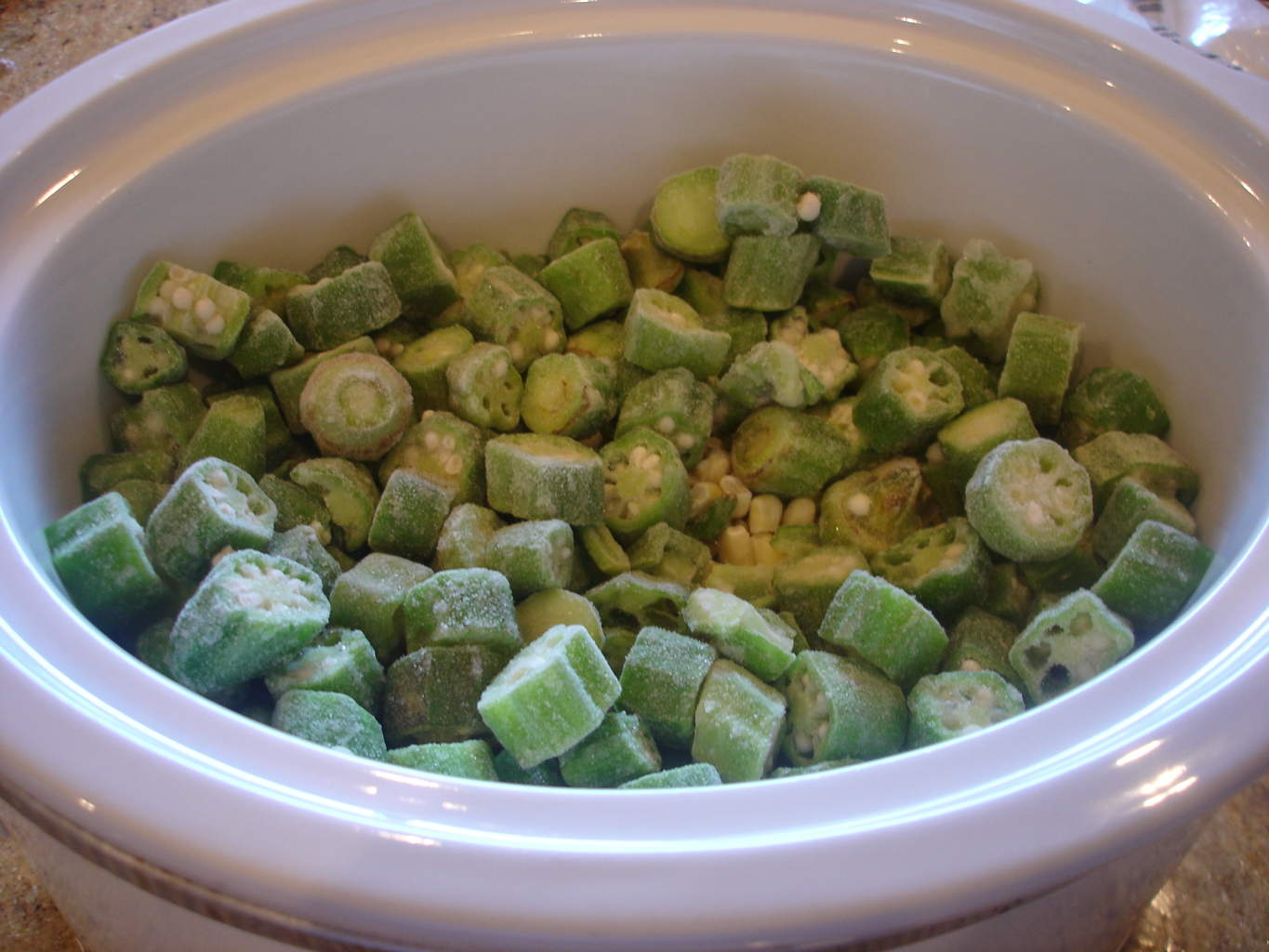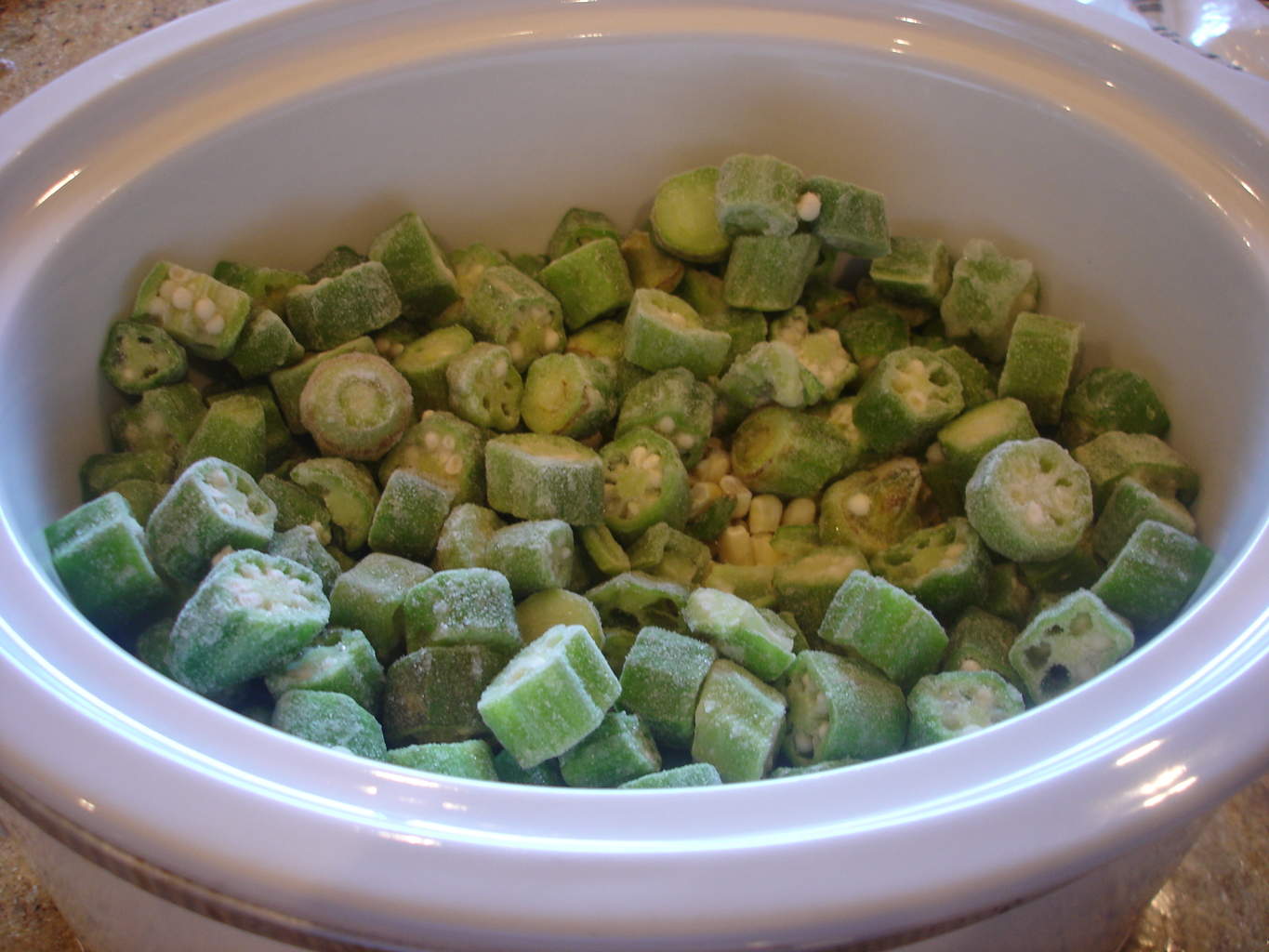 …….potatoes, onions……..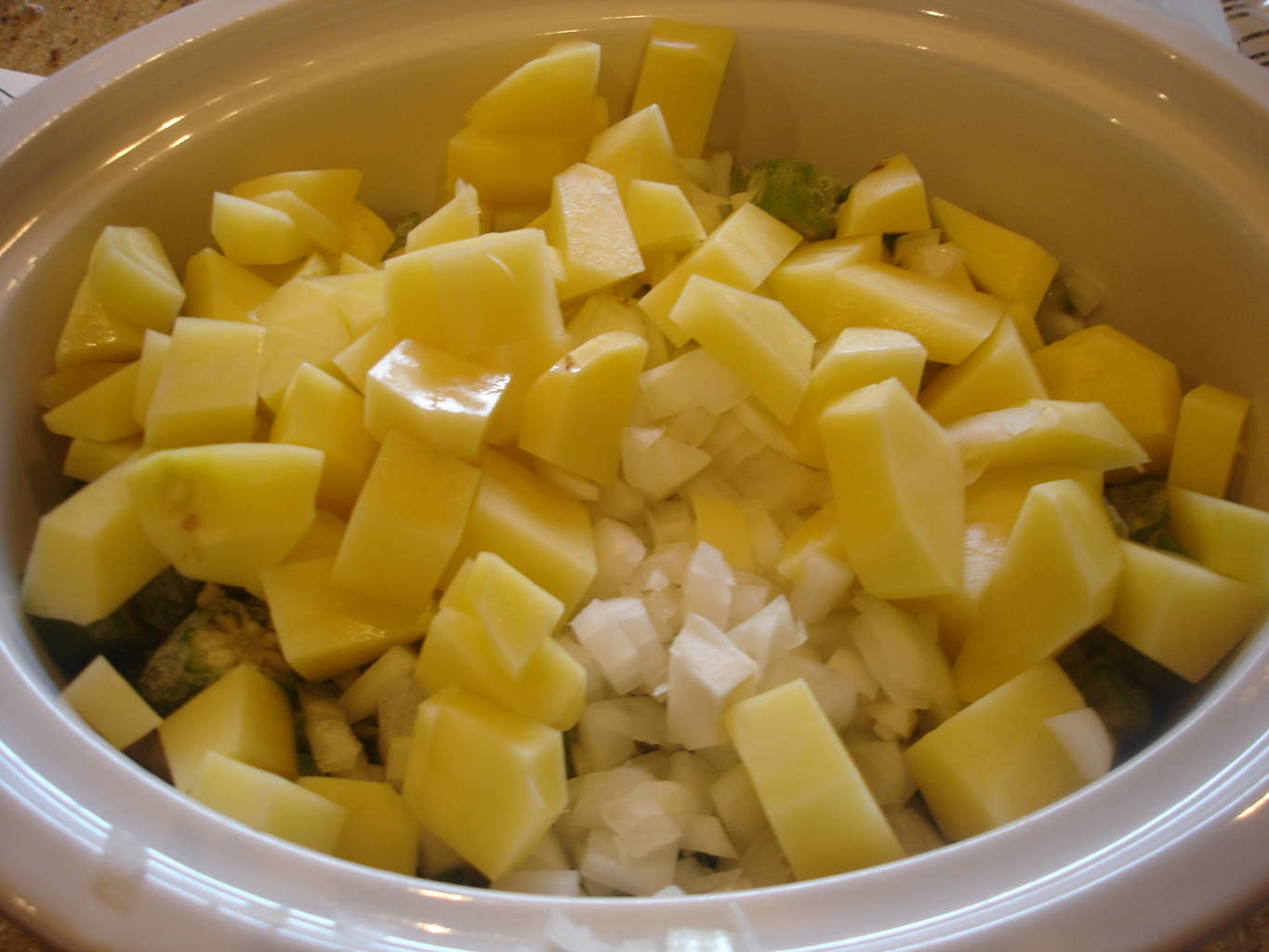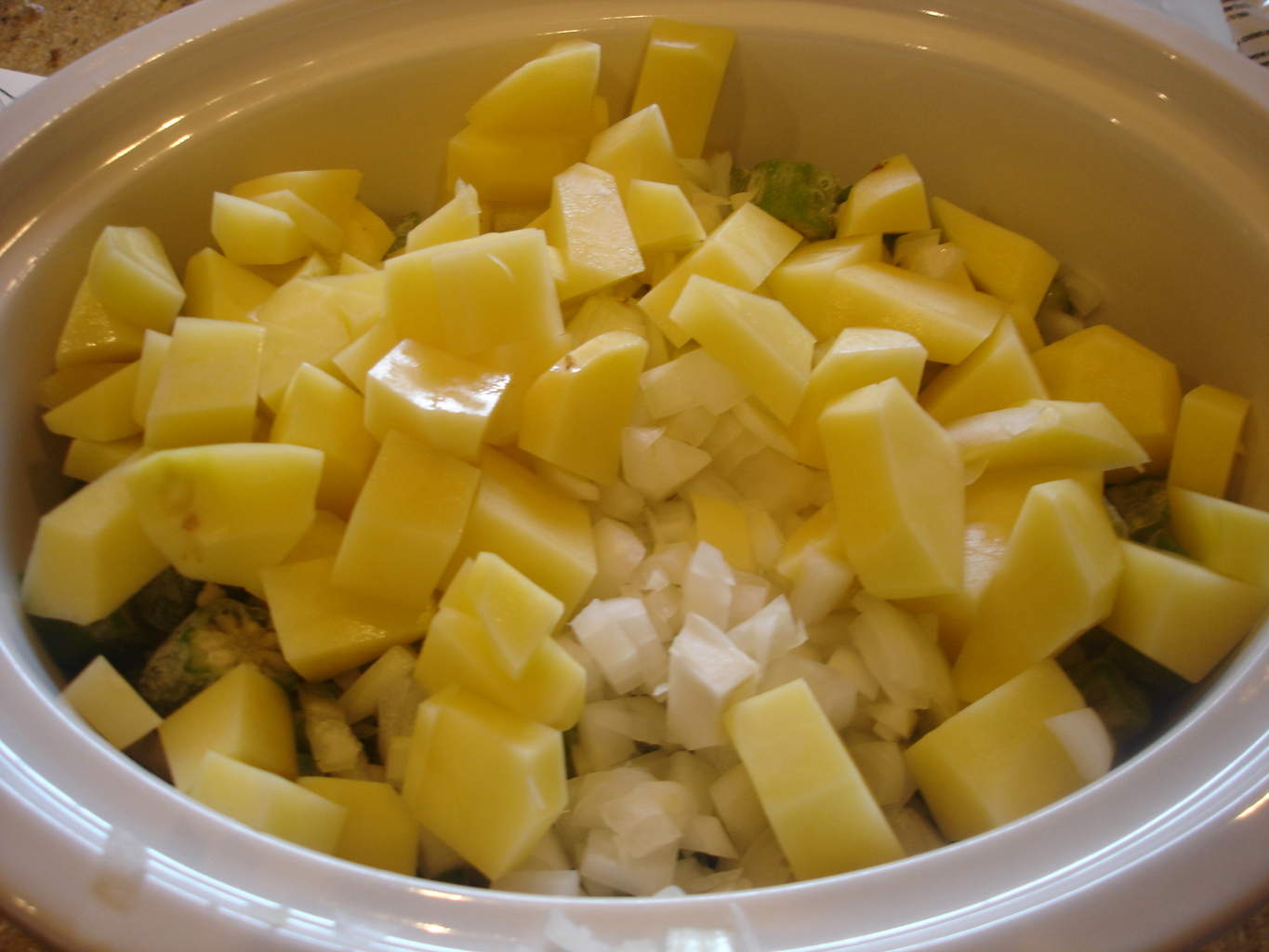 ……and tomatoes with their juice.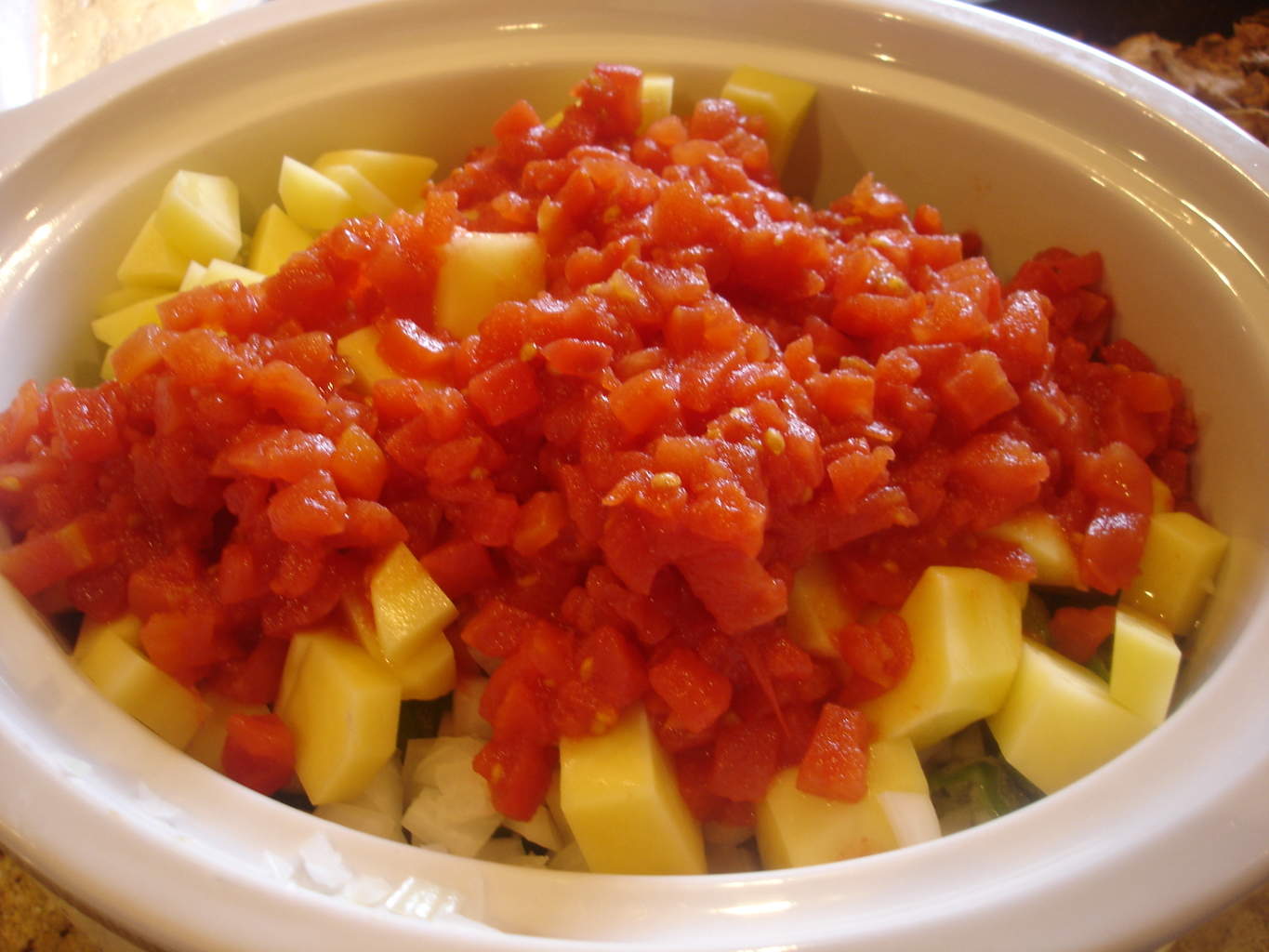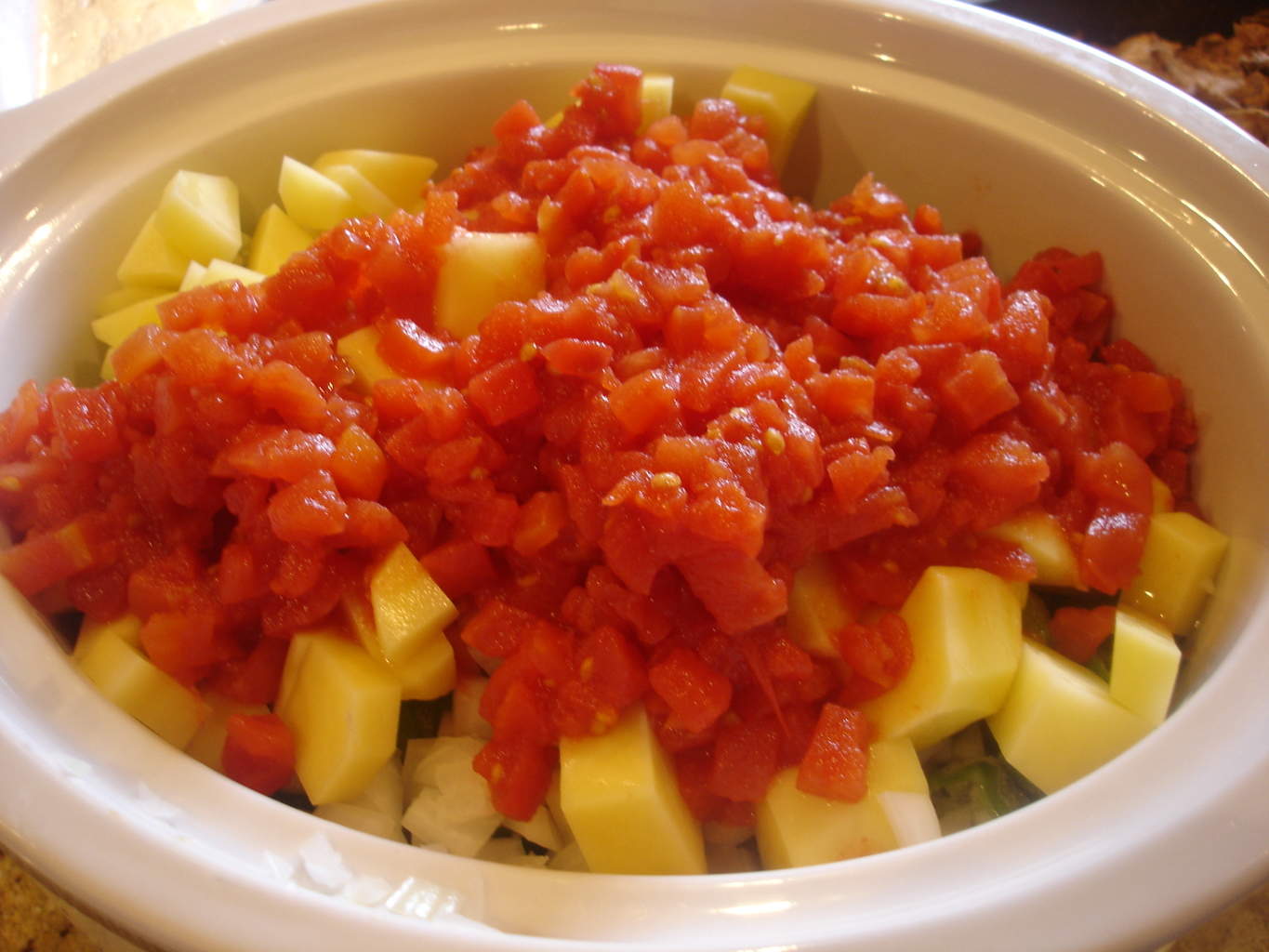 Throw in chicken, pork and seasoned salt. Pour BBQ sauce and stock over all. Cover and cook on high for 4 hours or low 8 hours or until the vegetables are tender.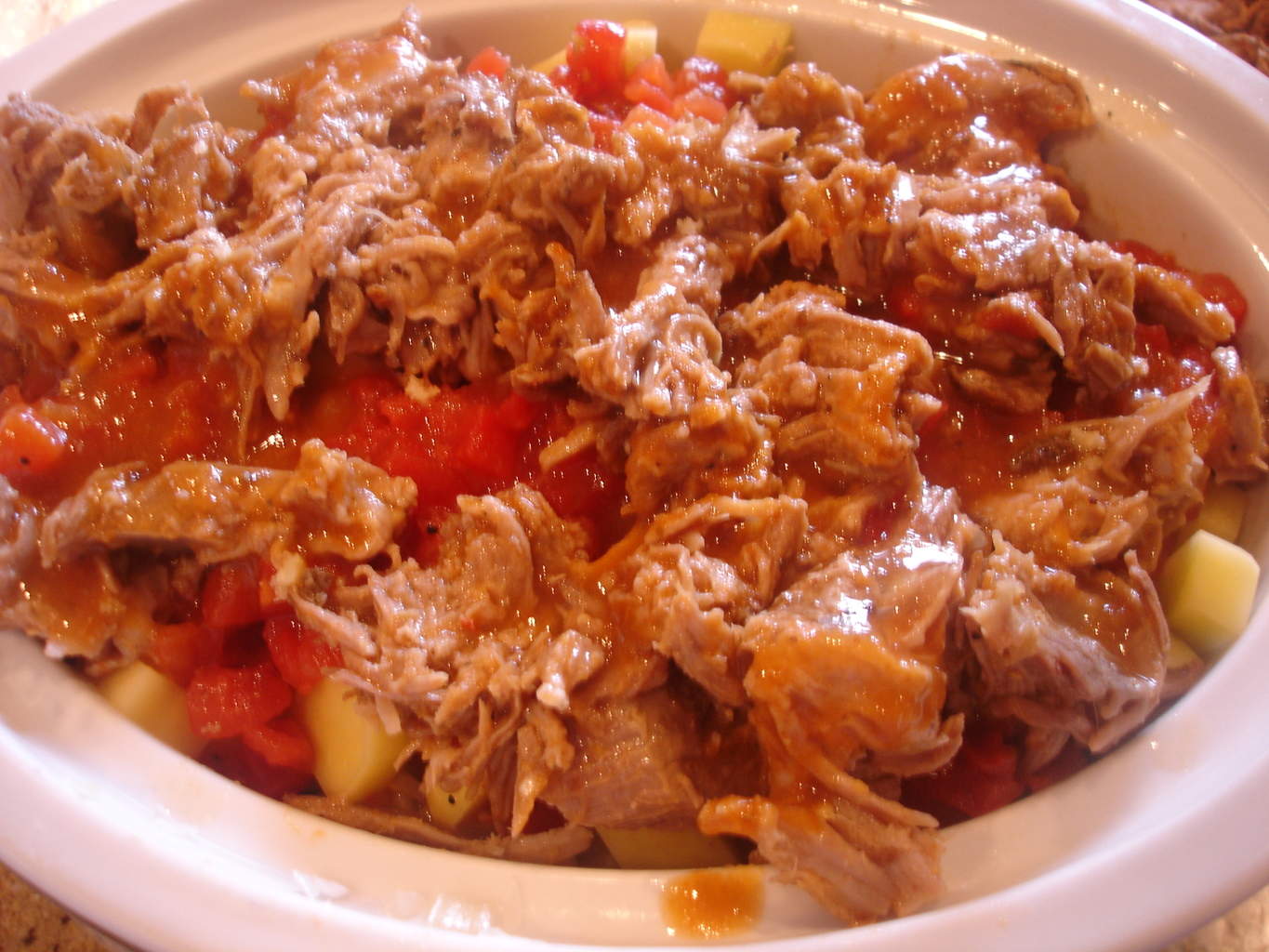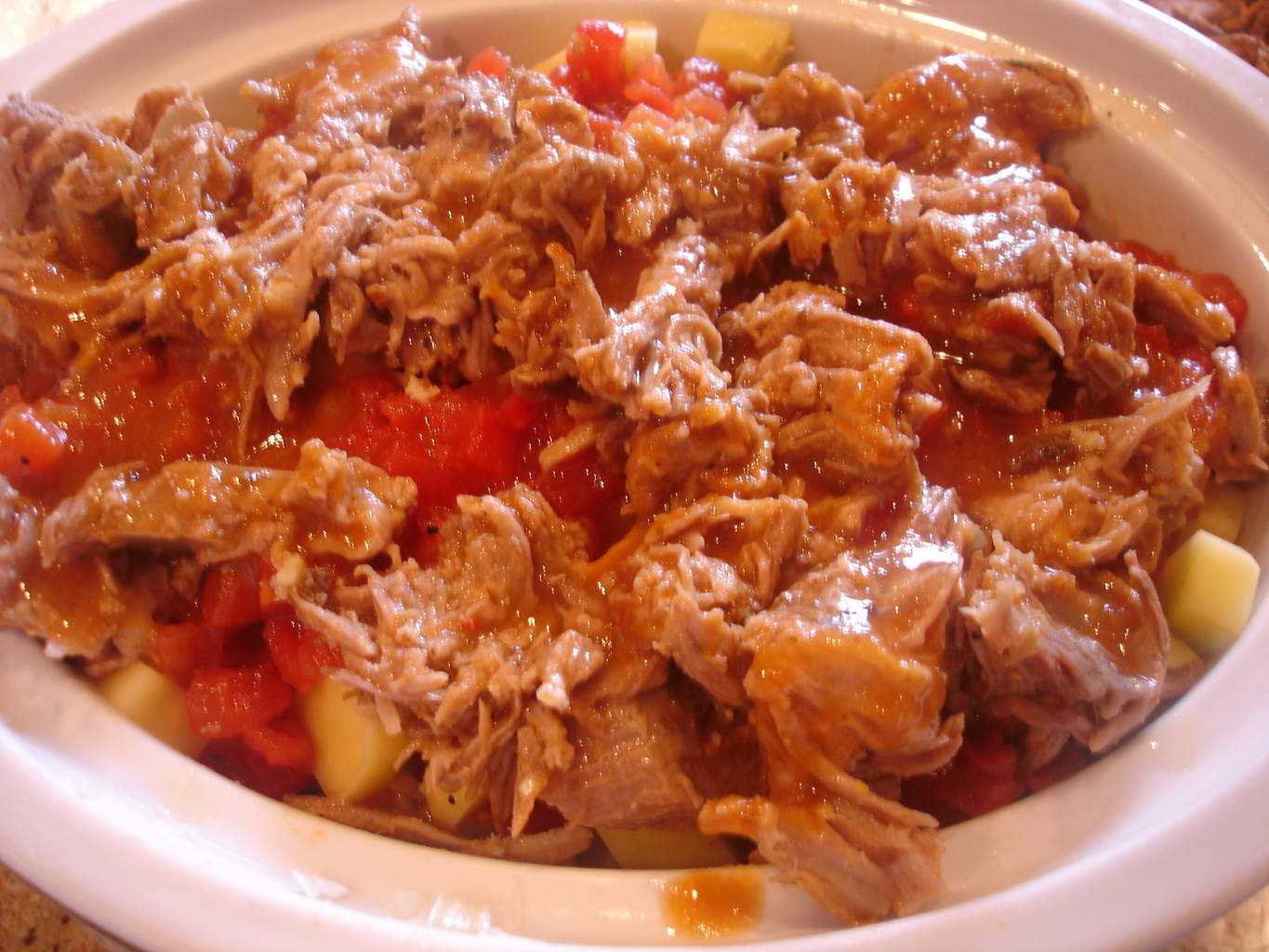 Stir and serve over cornbread.