Red Velvet cake is a Southern standard. Aside from the stunning color, the cake blends powerful flavors that mingle and mesh like old friends at a high school reunion ,to make a spectacular, unforgettable eating experience.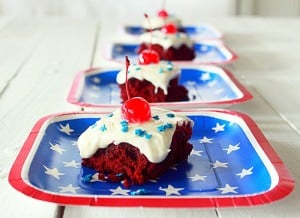 Chocolate, buttermilk, vinegar and vanilla are responsible for transforming a good cake into something as treasured as a teacher's pet.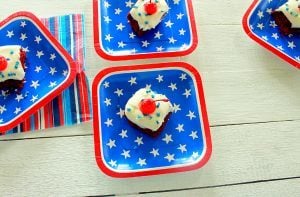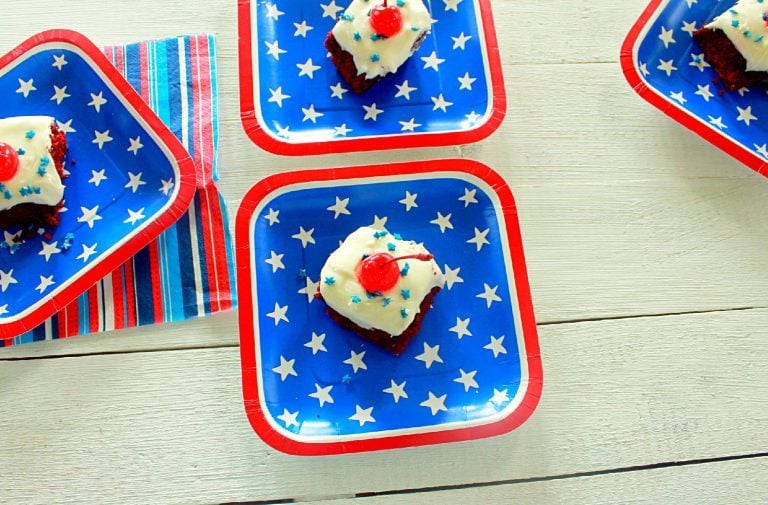 Instead of a traditional cake, I thought Red Velvet Brownies would be nice. I wanted to take advantage of a shortcut and use a premium brownie mix. I don't use a tremendous amount of convenience foods. Most of my cooking is from scratch. But it's my opinion that a premium brownie mix is just as good as homemade.
Simply adding red food coloring to a brownie recipe doesn't give it authentic status. Red Velvet Cake has a particular flavor that can only be achieved by recognizing buttermilk, vinegar and vanilla as honored guests at the party.
I used special vinegar I made several weeks ago from blackberries and lavender. This lovely lady had been waiting patiently for the perfect opportunity to get all dressed up. I keep the bottle sitting in my kitchen window so I can see it everyday. The color is ravishing. I'll use it to make a vinaigrette for a green salad that has added fruit, too. Don't feel like you need to go to the trouble of making lavender blackberry vinegar. Use whatever you have on hand. Or sitting in your kitchen window.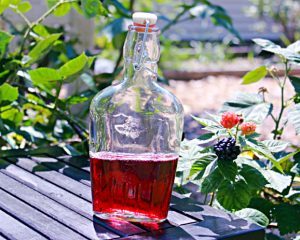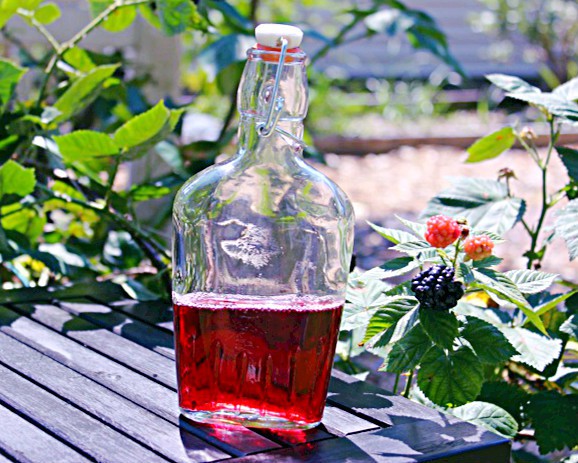 Grab a box of brownie mix and get started on a journey to bliss. The trip is nice and easy and rewards are smooth as velvet.
Y'all come see us!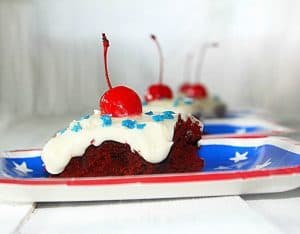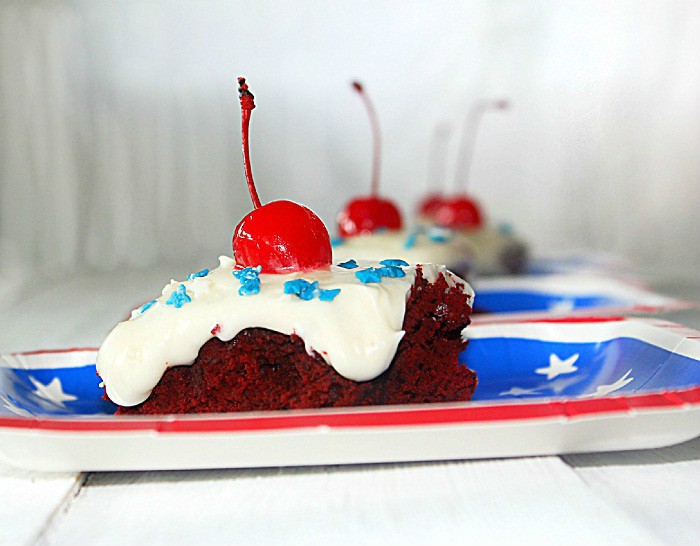 Red Velvet Brownies
Using a boxed brownie mix makes these delights almost effortless.
For brownies:
1 box premium brownie mix (I used Betty Crocker Original Supreme Premium Brownie Mix with Hershey's Chocolate Syrup)
1 ounce red food coloring
1/4 cup buttermilk
1/4 cup vegetable oil
1/2 teaspoon vanilla
1/2 teaspoon vinegar
1 egg
Place brownie mix in bowl. Add chocolate syrup included in mix. In small bowl, mix remaining ingredient and add to bowl with brownie mix. Stir until blended well.
Pour mix into an 8×8 that has been oiled and floured or sprayed with Baker's Joy.
Bake at 325 degrees for 45 minutes or until tooth pick inserted 2 inches from side of pan comes out clean. Let cool in pan.
For icing:
1 (8 ounce package) cream cheese, softened
4 tablespoons butter, softened
3 cups powdered sugar
1 teaspoon vanilla
Cream butter and cream cheese with electric mixer until smooth. Add vanilla and slowly add powdered sugar. Mix until blended.
Spread on brownies while still in the pan.
You might also enjoy: