Red is a powerful color. It grabs your attention. Through out my tenure in Corporate America, I strategically donned a red power suit. For me, the color red stirs up some happy memories. And it has nothing to do with my red power suits.
My Granny, Virginia Phillips, loved pretty flowers. While Grandaddy always had a vegetable garden going, Granny made sure there were plenty of pretty things blooming in her yard. They didn't have a big box home improvement center to go to for their flower and vegetable selections. Chances are, they couldn't have afforded it anyway. They would save seeds from season to season and replant. Or, for some flower varieties, they would get cuttings from other folks, root them and plant them. My grandparents didn't have a lot of extra money. For most of their lives they were poor as church mice. Spending money for vegetable plants might have been easier for them to justify than the cost of flowers. At least the vegetable plants would produce food for them. But, there was one flowering plant that was an extravagance worth the cost: Amaryllis lilies. I don't remember a time that Granny wouldn't go on and on about her "a-mer-reel-yer" lilies. She has such a fascination with those beautiful bloomers. If I visited them during bloom season, she would always walk me around to the side of the house where she made her lily bed. And I would stand there with her and marvel at the beauty of the big red blooms. She always had red ones. "The red ones just show up better", she would say. And, show up they did. They were stunningly beautiful. During the spring of 1981, as my father was nearing the end of his life, Granny took one of her beautiful red lily blossoms to the florist, had them put it in a nice vase and dress it up with a pretty bow. She wanted him to have this flower to bring some sunlight into his life. That sweet gesture was certainly appreciated by me. She loved those flowers and she wanted to share them in the most special way she could imagine.
Amaryllis lily bulbs are quite expensive as bulbs go. Granny would scrimp and save and somehow manage to get the $7.50 that she needed to buy a new bulb. That was an exorbitant amount of money for them considering their meager household income. But she pulled off. I suspect that she would stick back a quarter or 50 cents here and there from the money she made as a seamstress. Sewing didn't bring her much in the way of money, either. She charged $7.00 for a dress. After I was able to appreciate the significant cost of the bulbs in relation to their modest disposable income, I grew to love the lilies even more. Several years back, I came across Steve Bender's book "Passalong Plants". A passalong is a cutting or a seed or a bulb that you give to someone else who in turn will propagate and grow the plant. It's a longstanding Southern tradition. Part of the tradition, that flies in the face of Southern manners and grace, dictates that you don't say "thank you" or the plant won't grow and flourish. Anyway, after reading Steve's book, it occurred to me that I didn't have the passalong that would have meant the most to me. I never got one of Granny's "a-mer-reel-yers". And now, since Granny had been gone for several years, it seemed the lilies were gone forever, too. In a later conversation with my sister, Kathy Anderson who lived several states away from where my grandparents had lived, I mentioned how much it saddened me that I didn't have one of Granny's lilies. She told me that if she was ever around where they had lived, she would stop by, go to the side of the house where the lily bed was and see if she could "borrow" one for me. As it turns out, Kathy did have the chance to visit the little town where my grandparents had lived. She got out of her car and headed straight to the side of the house. There were no lilies in sight. Not a single one. She did happen to see the woman who had been Granny and Grandaddy's neighbor for years and years, Katherine. Kathy told her that she was hoping to find one of Granny's lilies because I would have loved to have one. Katherine said, "I've got one of your Granny's lilies. It's right over there in that pot. You take that to Jackie." Goodness gracious. So, Kathy brought the pot that had one of Granny's most beloved red a-mer-reel-yers. The color that shows up so good. I planted the lilies as soon as I received them. The second season,which was 5 or 6 years, this was the blessing that I received right outside my kitchen window: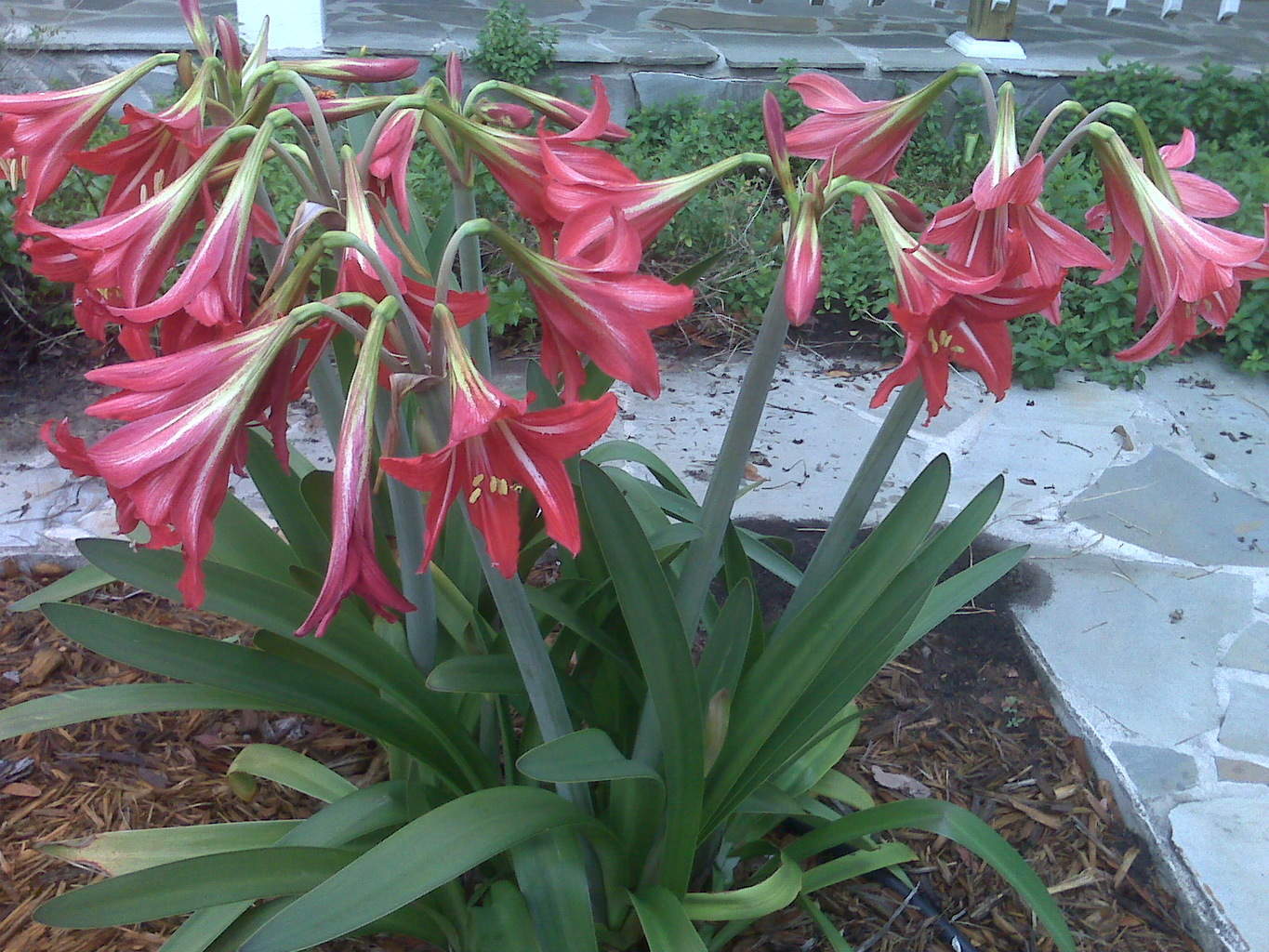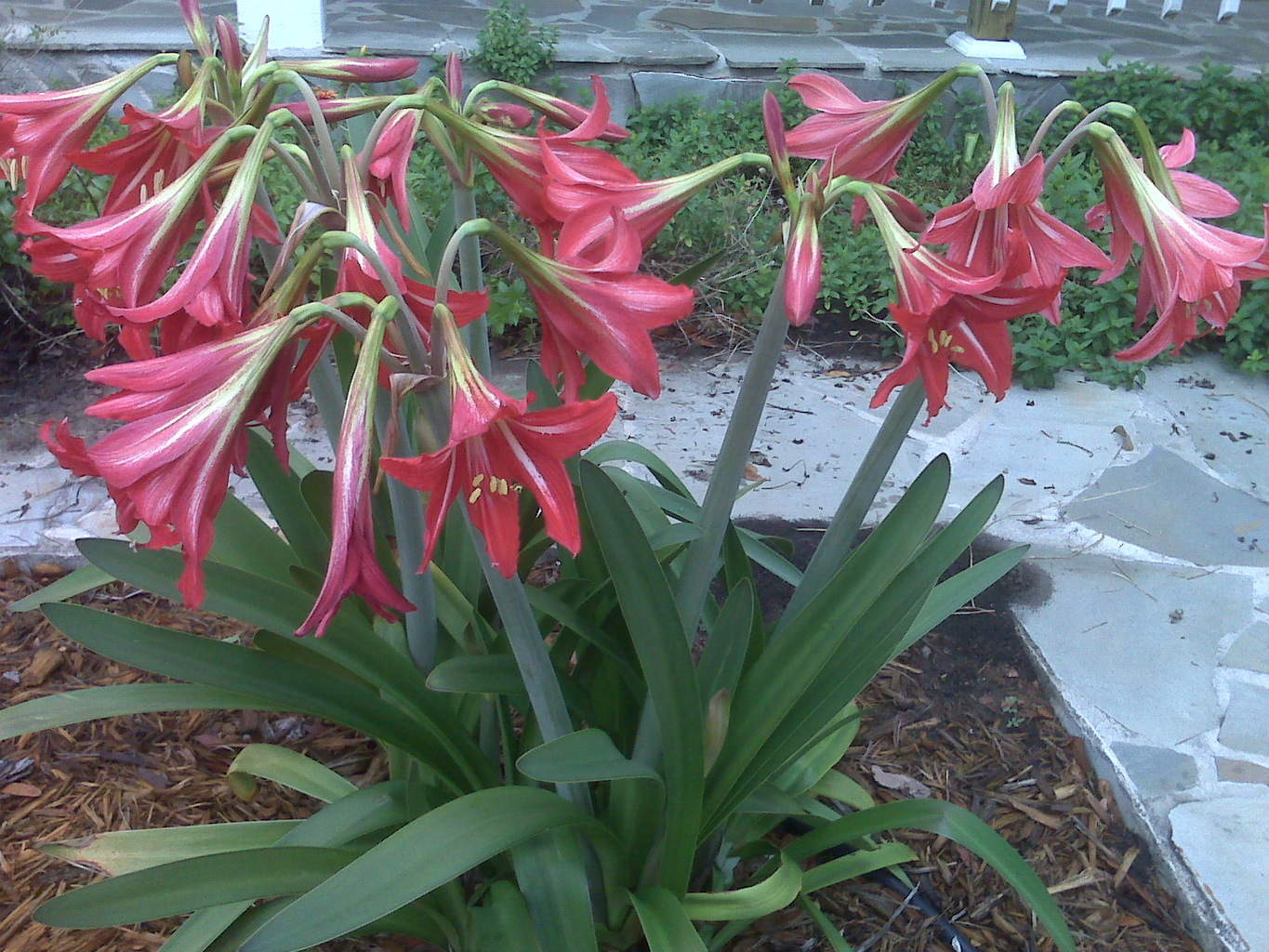 There's no price tag that can be attached to this. From a $7.50 bulb, I am now the richest person on earth. It's bloom season once again. The lilies haven't yet peaked but the blooms are already beautiful. Knowing that I wanted to tell the story of Granny's lilies, I had to come up with a related recipe. How on earth could I relate a red lily to a dish that would be appetizing? I searched the internet, my cookbooks and my brain to no avail. It dawned on me that I was looking the wrong place for inspiration. The inspiration needed to come from the lily. I walked out to the lily, just like I would do with Granny, and stood there to admire the grandeur and beauty of the bloom. Except, this time I was all alone. Finally, as the tears started welling up, it hit me upside the head. The inspiration is in the color. Red. I need to tie this red beauty to red food. What's more Southern than Red Velvet Cake? I cut the three stalks that had bloomed, came it, got my handwritten recipe for Red Velvet Cake and this is the end product: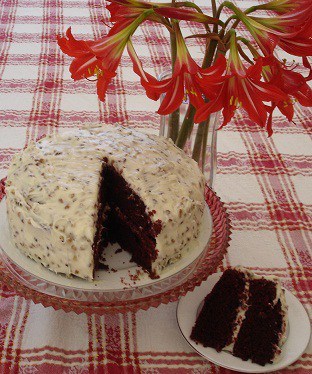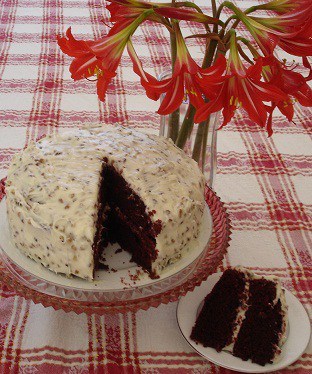 There's Granny's lilies standing majestically over the Red Velvet Cake. Now, I'm not so blind that I didn't notice the great variation in the shades of red. For one thing, I believe if you are going to make a Red Velvet Cake, it needs to be a red Red Velvet Cake. I could have toned down the shade of red in the cake to make it match the lilies perfectly. But, that wouldn't be a true representation of a Red Velvet Cake. Life's not about perfection. Life's about looking for goodness and appreciating special memories, occasions and connections. I see a perfect connection between this cake and the lily. It's the color red. In the opening of this blog, I said that red is a powerful color. It still is. For you see, red brings my beloved Granny right back to me.
Y'all come see us.
***********************************************************************************
Red Velvet Cake
I got so wrapped up in telling the story of Granny's lily and this cake that I forgot to take pictures of preparing the cake batter. I was writing and baking at the same time. Life's really not about perfection! I've had this recipe in my file for over 30 years. I'm not exactly sure where I got it but I know it's a family recipe. The card is in my handwriting. The original recipe called for margarine in the icing but I use butter instead.
For the cake:
1 1/2 cups sugar
2 cups salad oil ( this seems like a lot. I've tried cutting back a little but the cake is too dry. You just need to go on and add it all and eat smaller pieces. You only live once)
2 eggs, beaten
1 tsp. vinegar
1 to 2 ounces red food coloring – don't skimp on this or else the batter won't look like velvet. The amount of red food coloring that you need to get the correct red velvet color will depend on the type of cocoa that you use. For this cake, I used Dutch processed which is very dark and I only needed one ounce of red. I have used lighter cocoa powders before and had to use up to 2 ounces of red food coloring.
2 1/2 cups flour
1 tsp. baking soda
1 tsp. salt
2 tbsp. cocoa ( I use Dutch processed)
1 cup buttermilk
1 tsp. vanilla extract
Cream sugar and oil in mixing bowl. Add eggs and beat well. Add vinegar and food coloring. and beat well. Sift flour, soda, salt and cocoa together and add to creamed mixture alternately with buttermilk. Mix in 1 tsp. vanilla. Pour into 2 greased and floured cake pans. Bake at 350 degrees for 30 to 35 minutes or until toothpick comes out clean. Cool completely before icing.
For the icing:
1 stick butter, softened
8 ounces cream cheese, softened
1 pound powdered sugar
1 tsp. vanilla extract
1 cup chopped pecans (puh-cahns not pee-cans. Pee-can is something you keep under your bed.)
Cream butter and cream cheese. Slowly blend in powdered sugar. Add vanilla and blend. Add pecans and blend. Frost cooled cake. Cut yourself a nice slice and don't think about the two cups of oil. Or the butter. Or the cream cheese.
Here's where the pictures pick up. This is what the cakes look like after they've baked.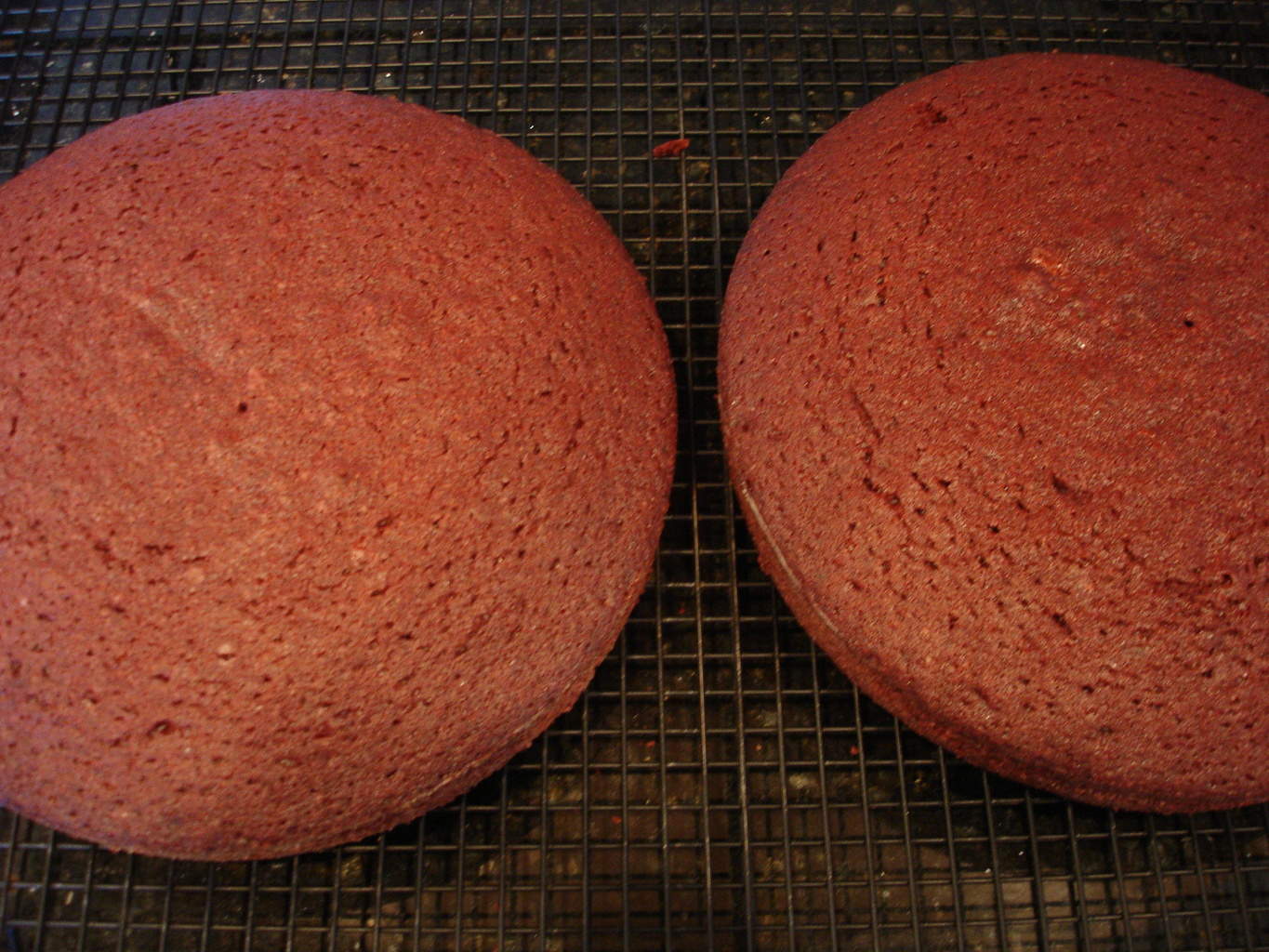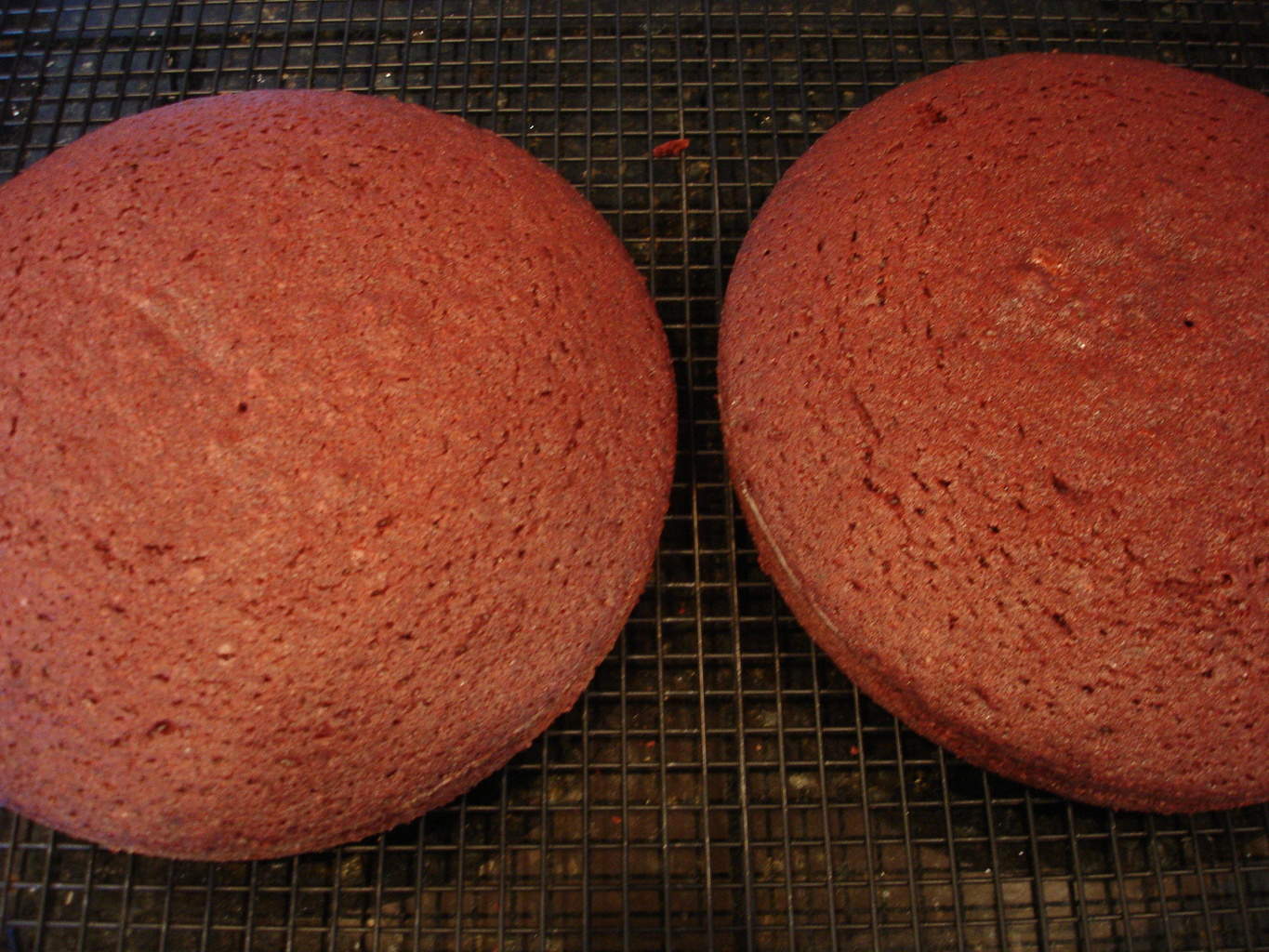 For the icing, start by creaming softened butter and cream cheese.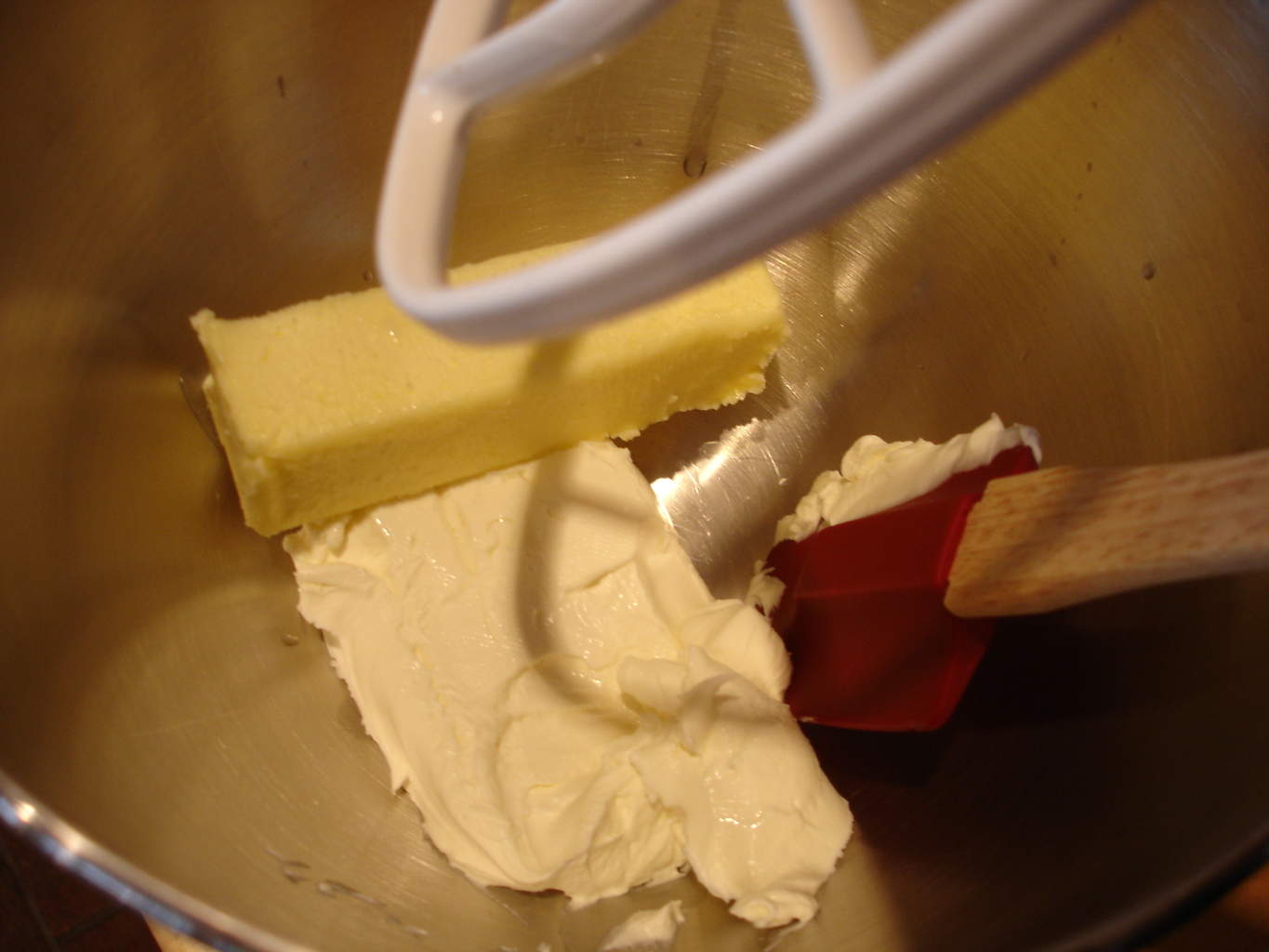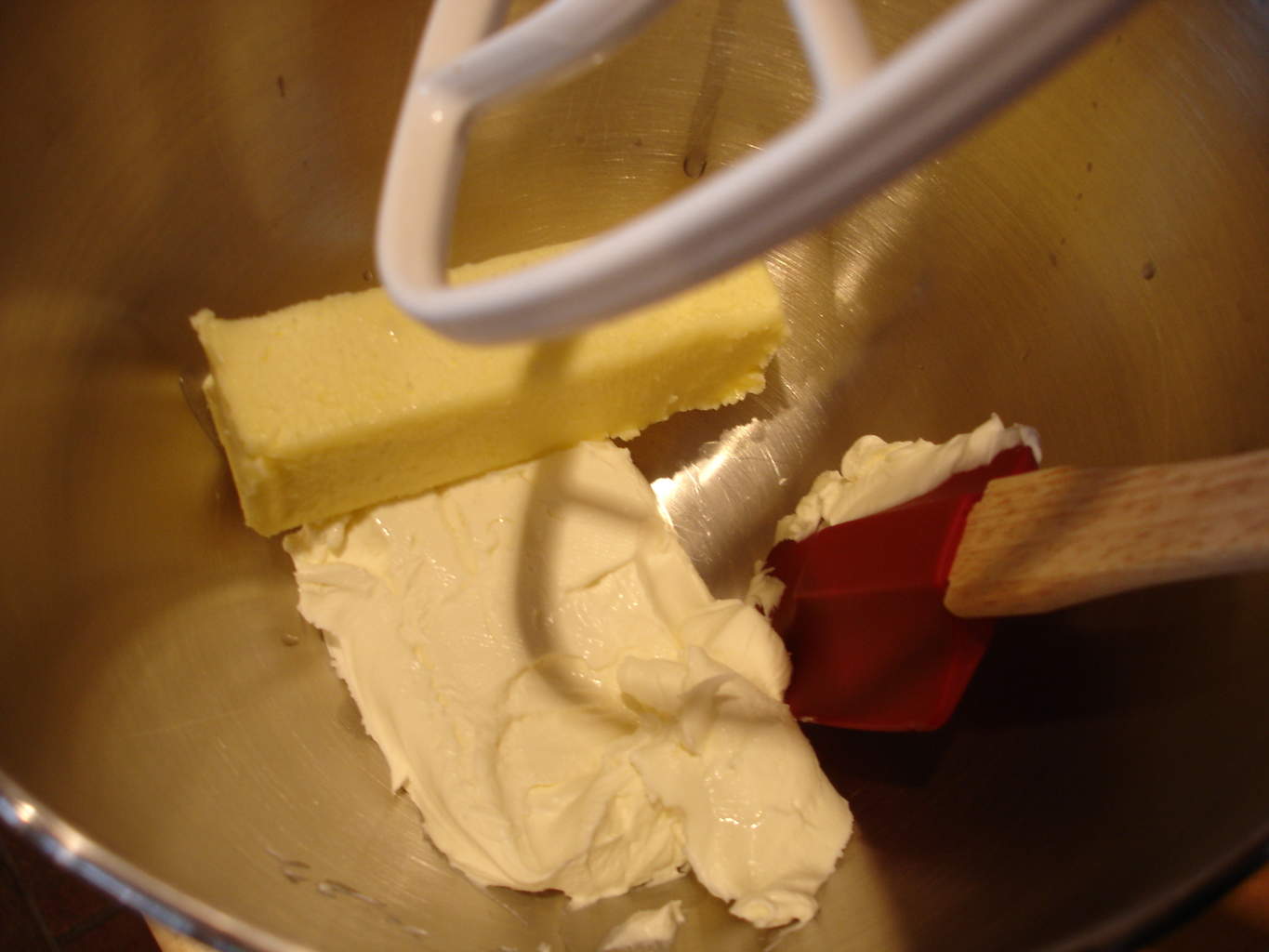 Slowly beat in 1 pound of powdered sugar.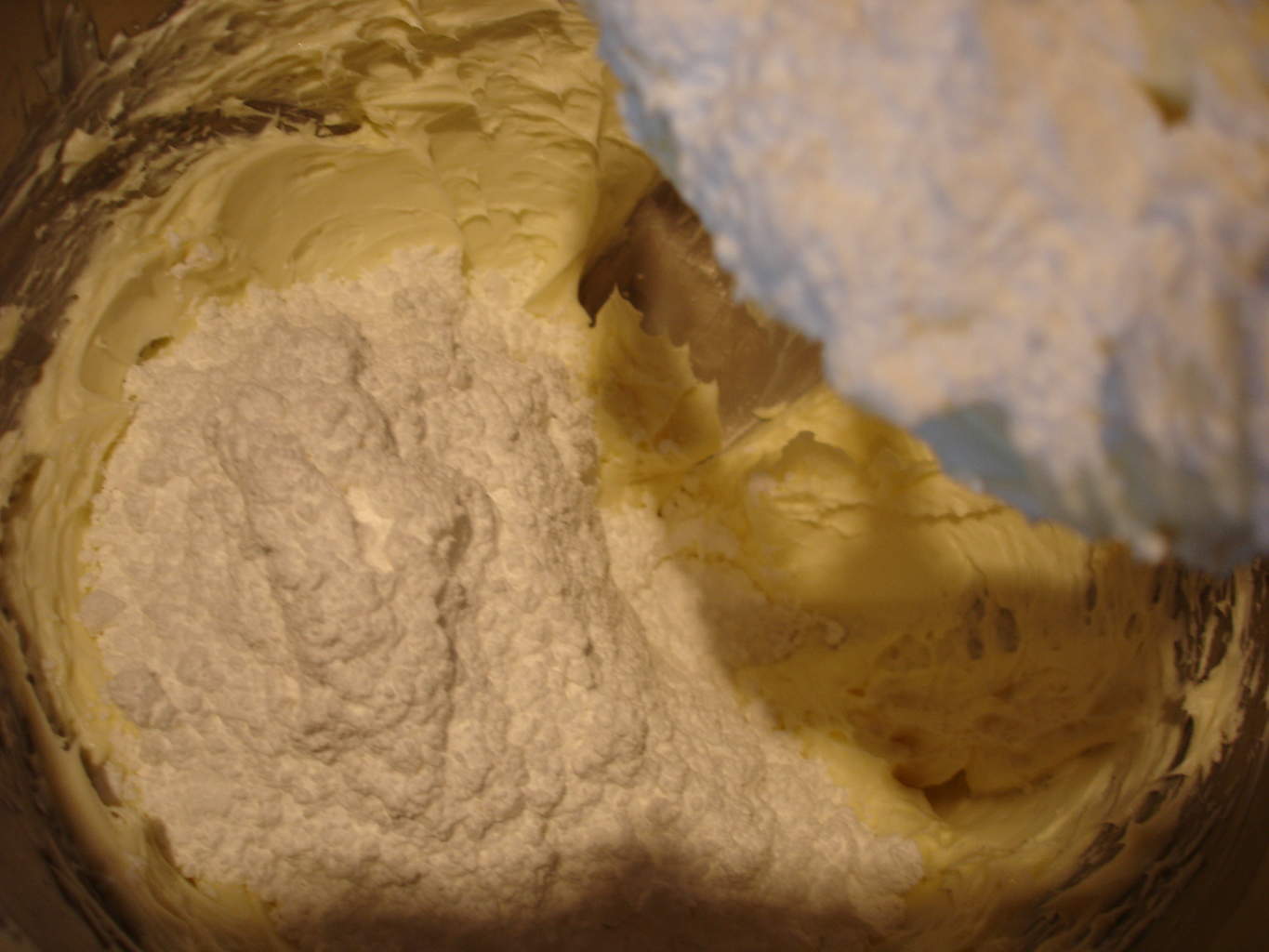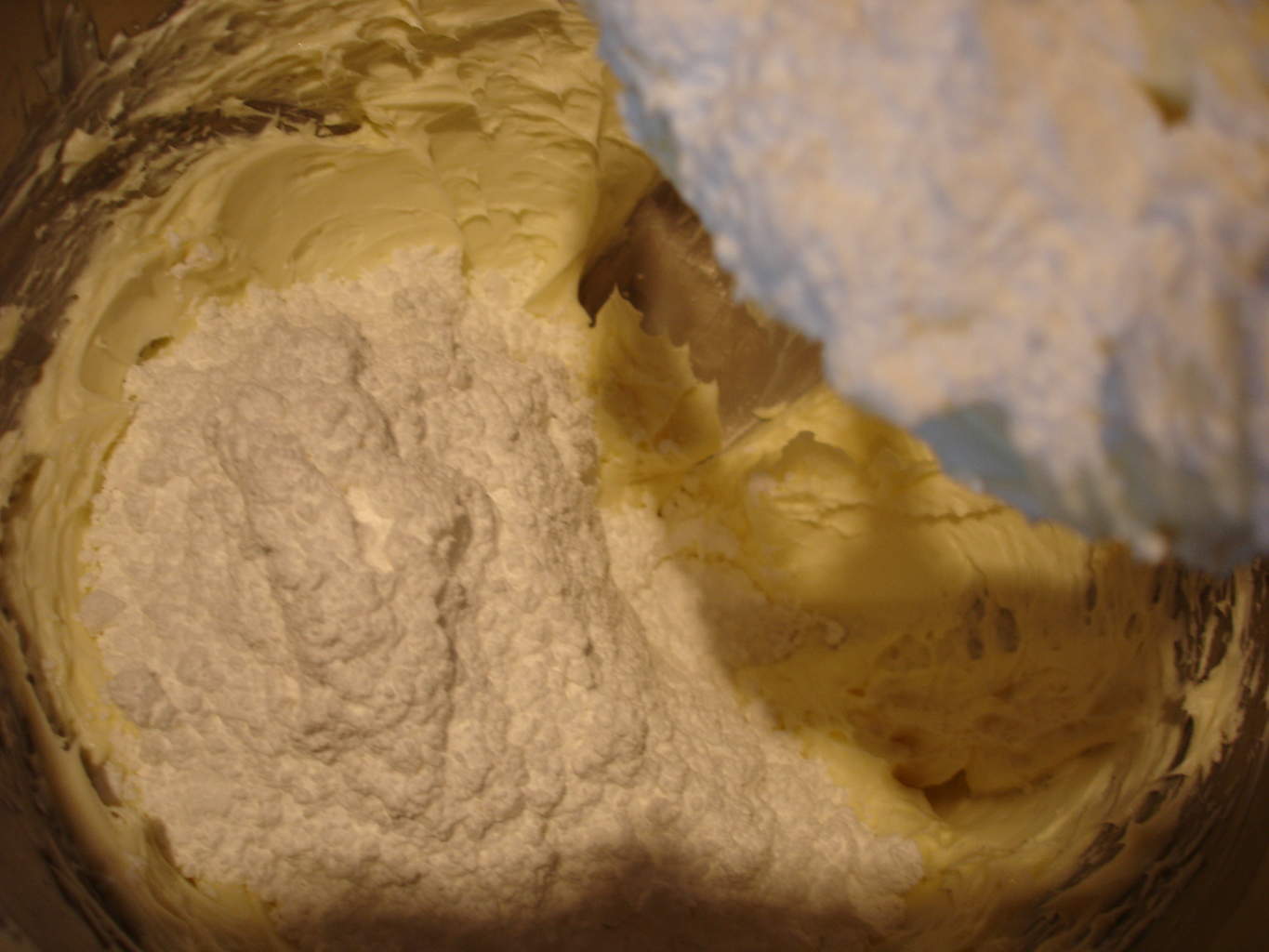 Add vanilla, blend well.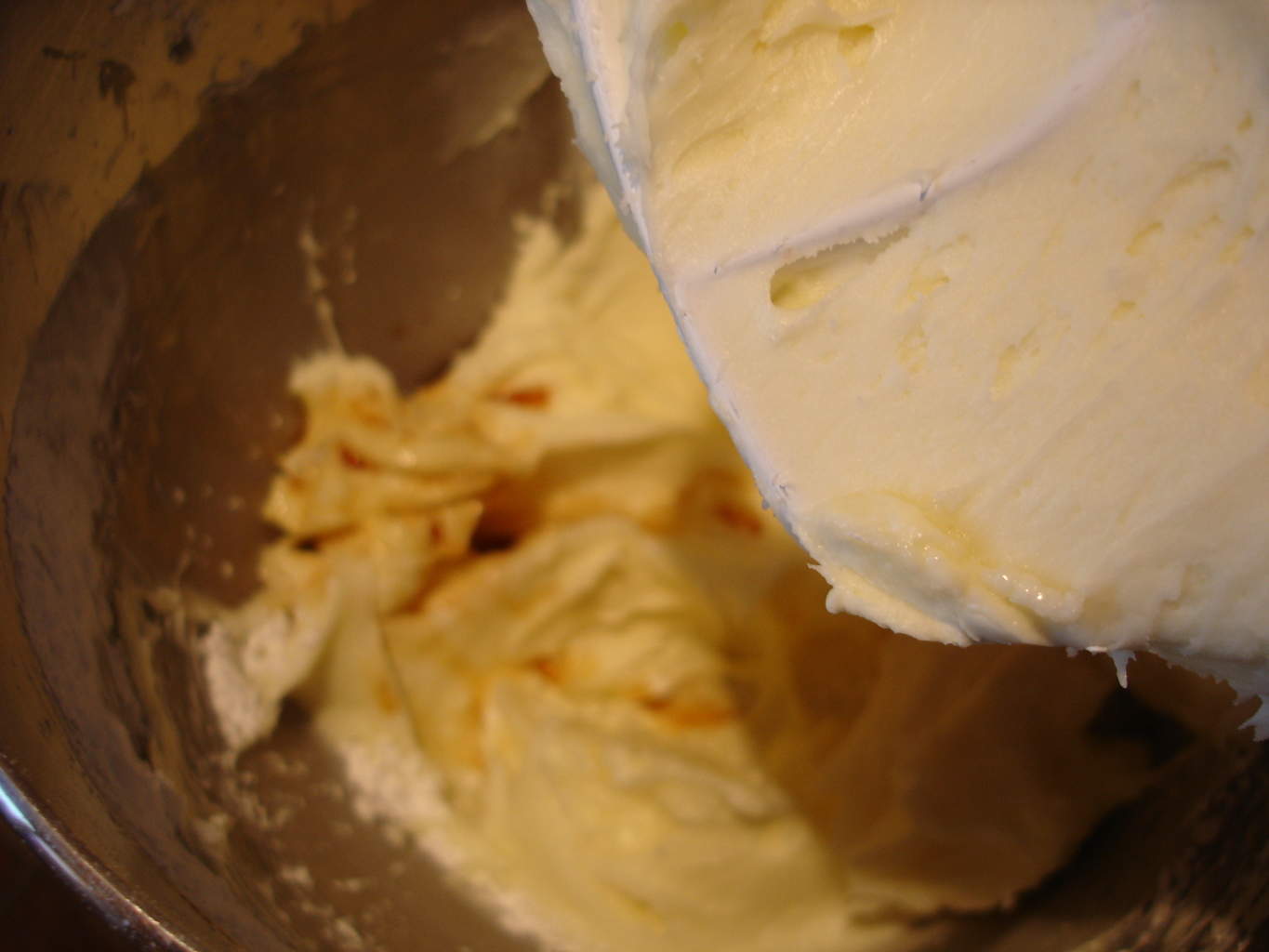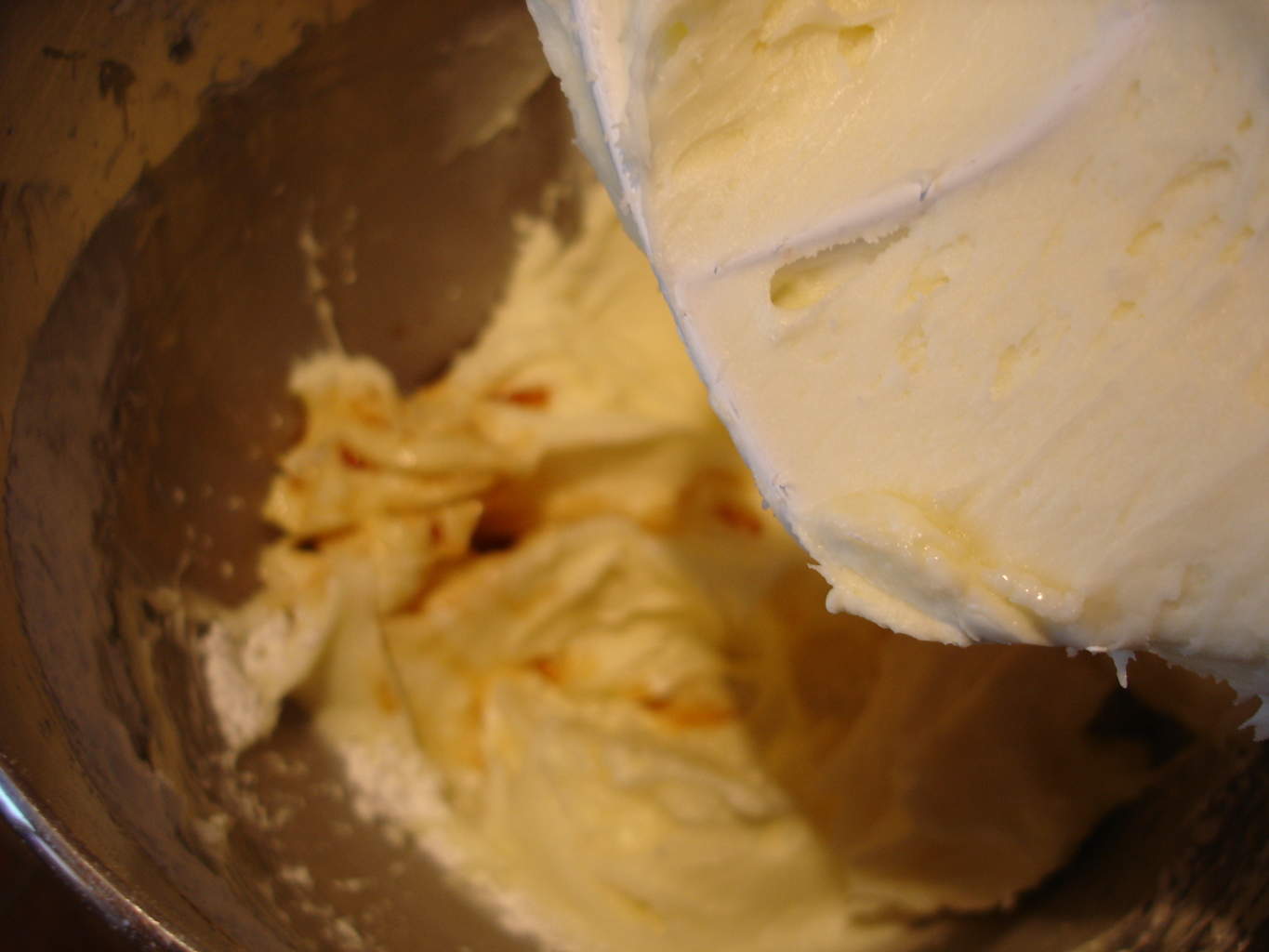 Add pecans. Blend well.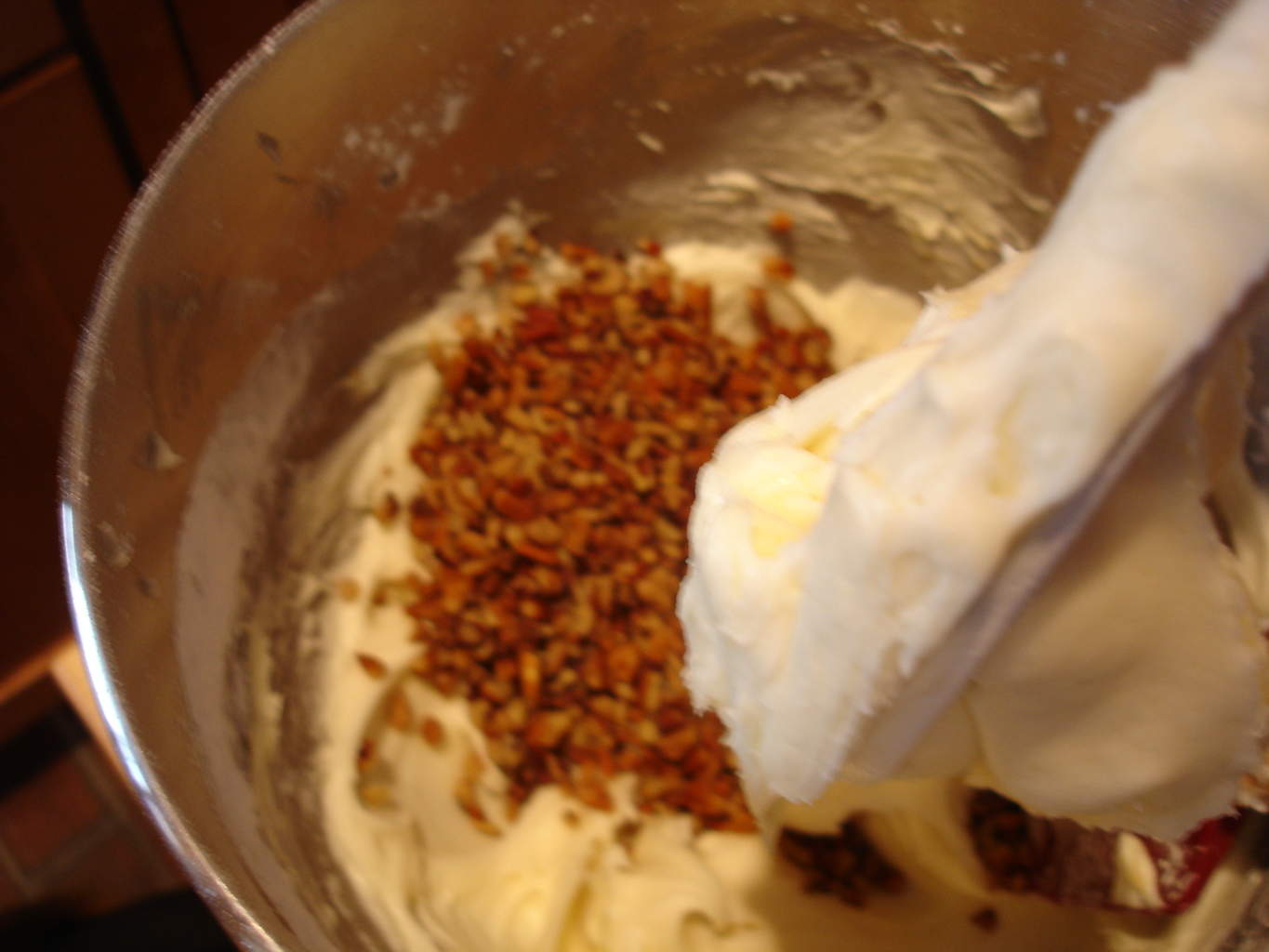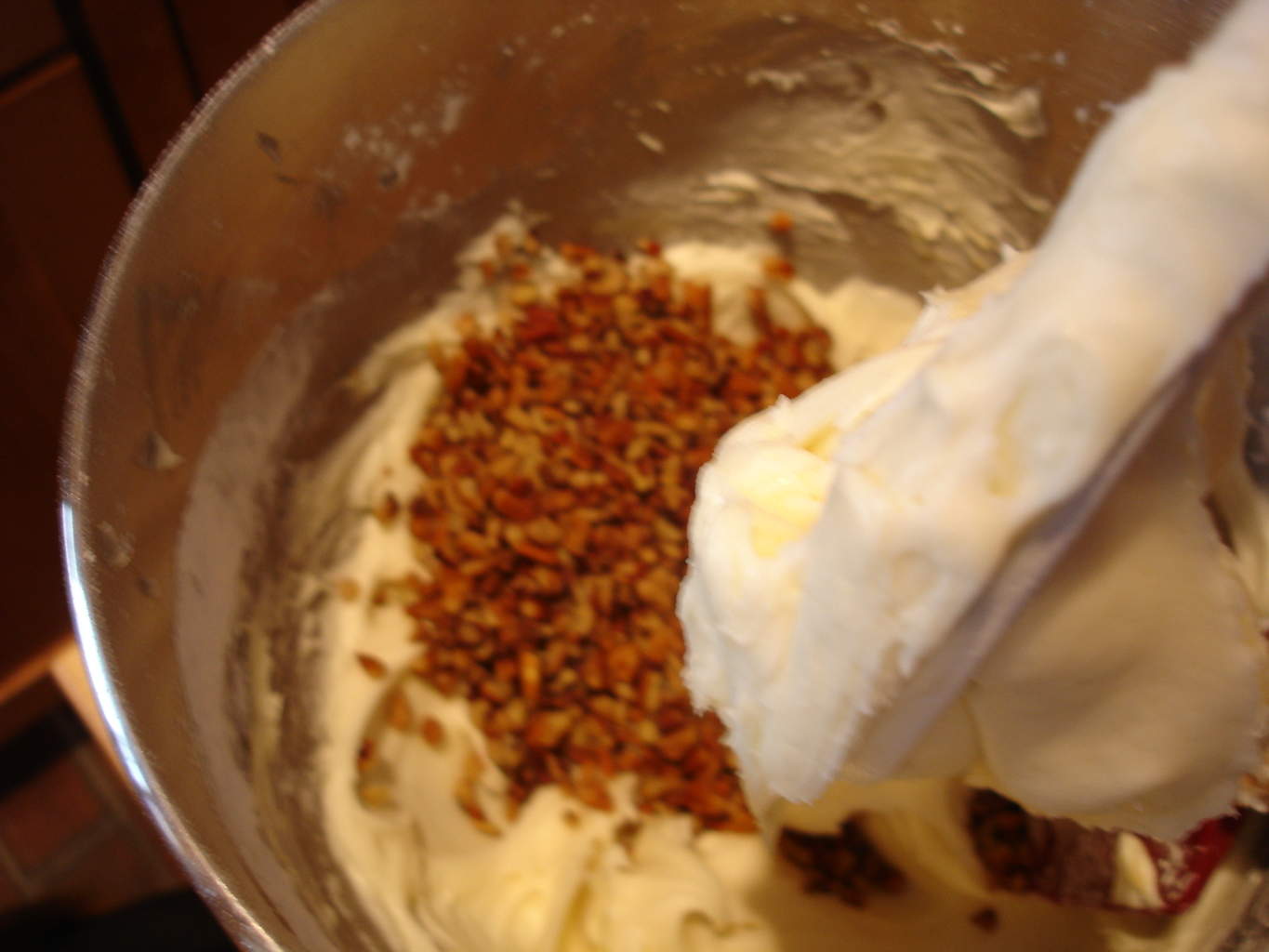 Half the frosting goes on one layer and…..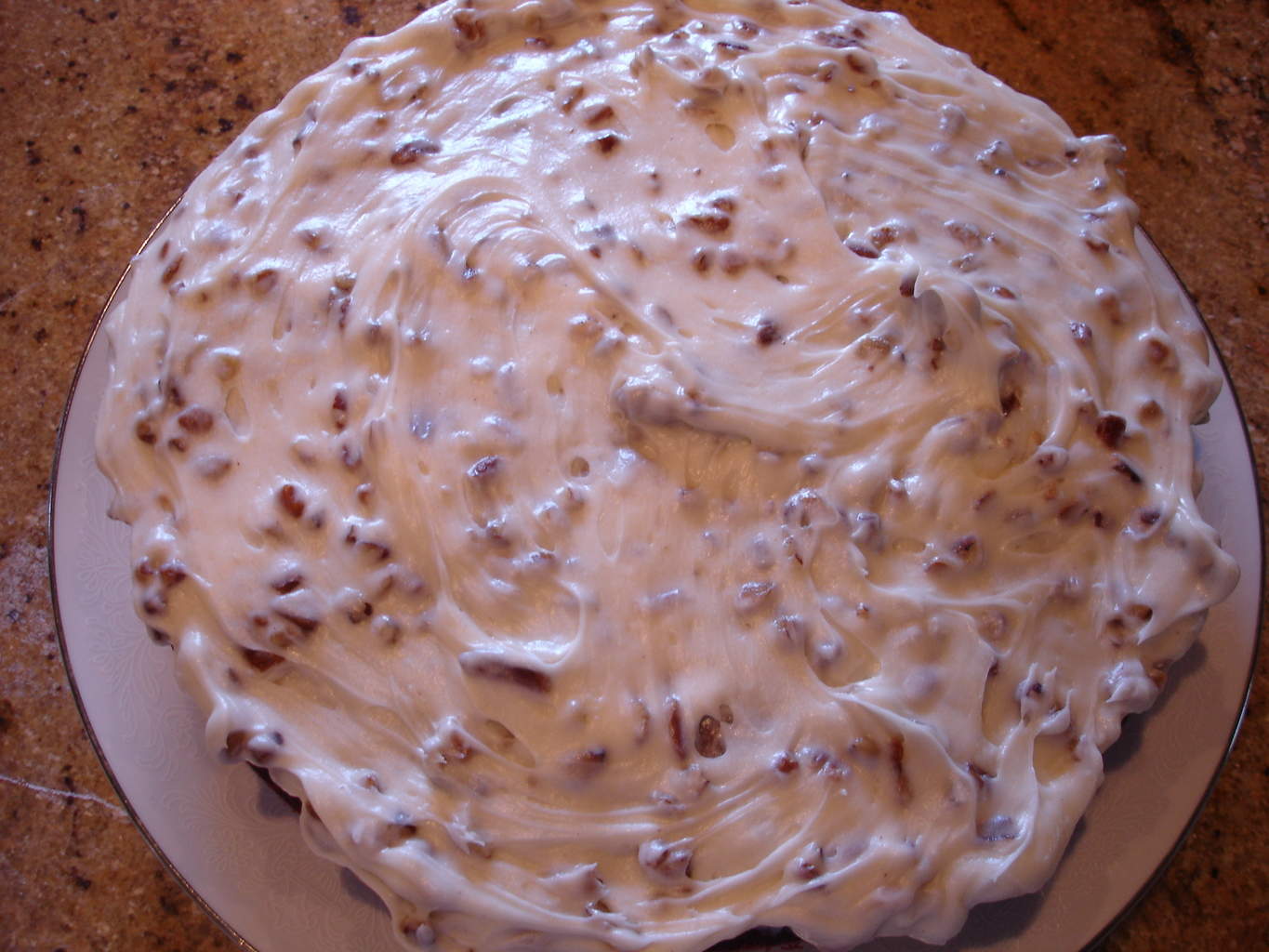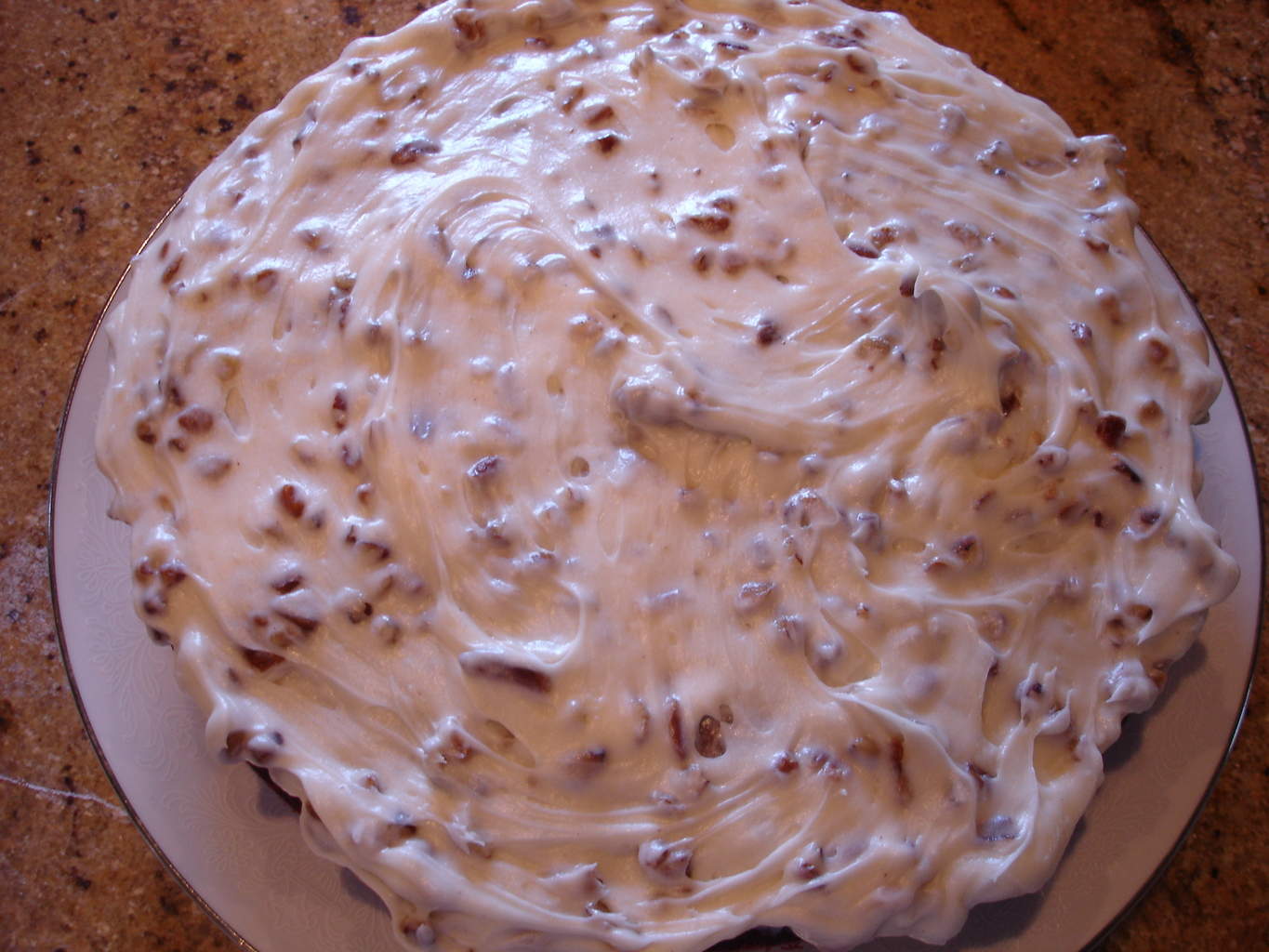 Stack the second layer on top and frost with the second half of the icing.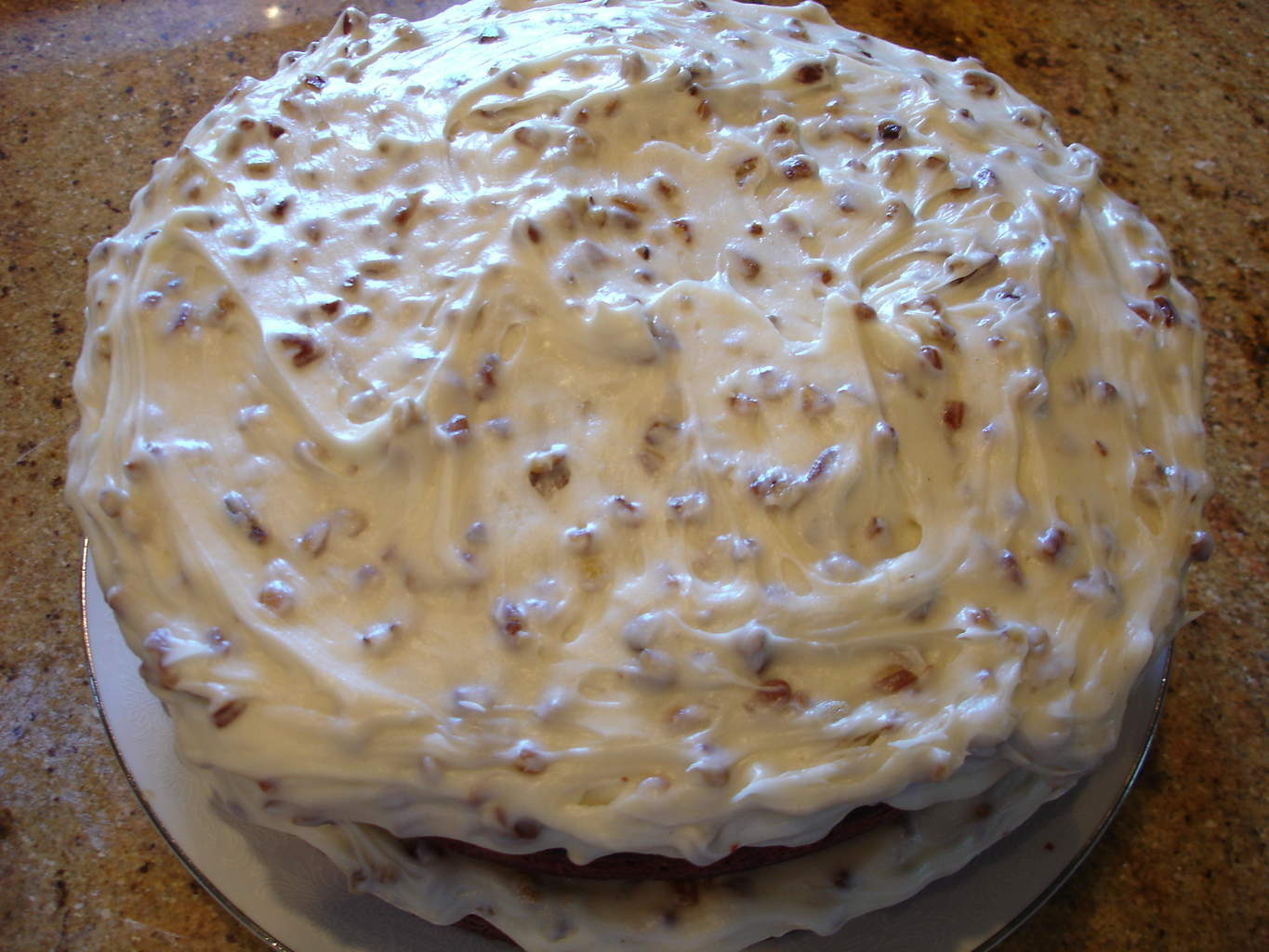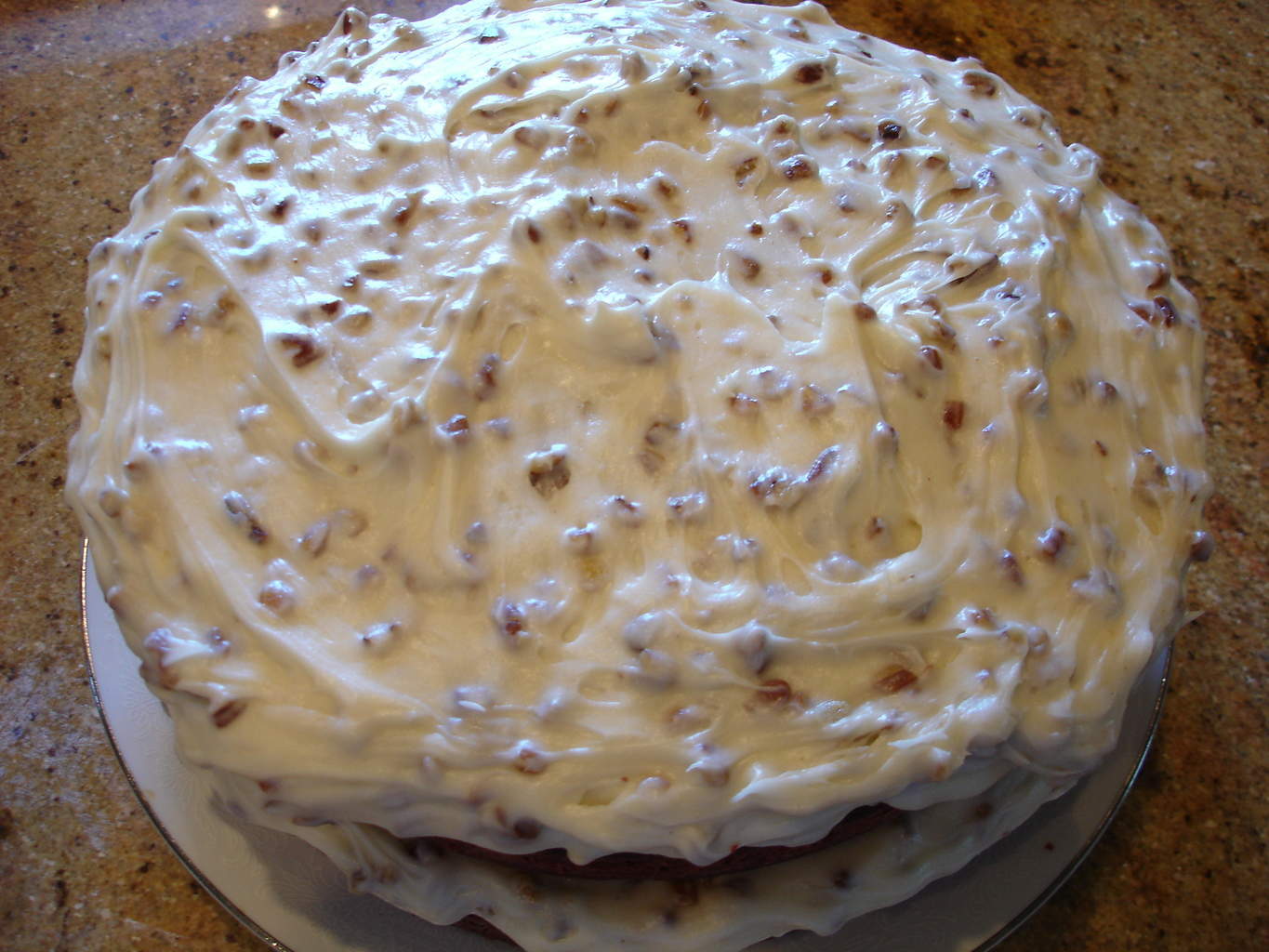 Pull the icing down over the sides of the cake and completely cover the cake.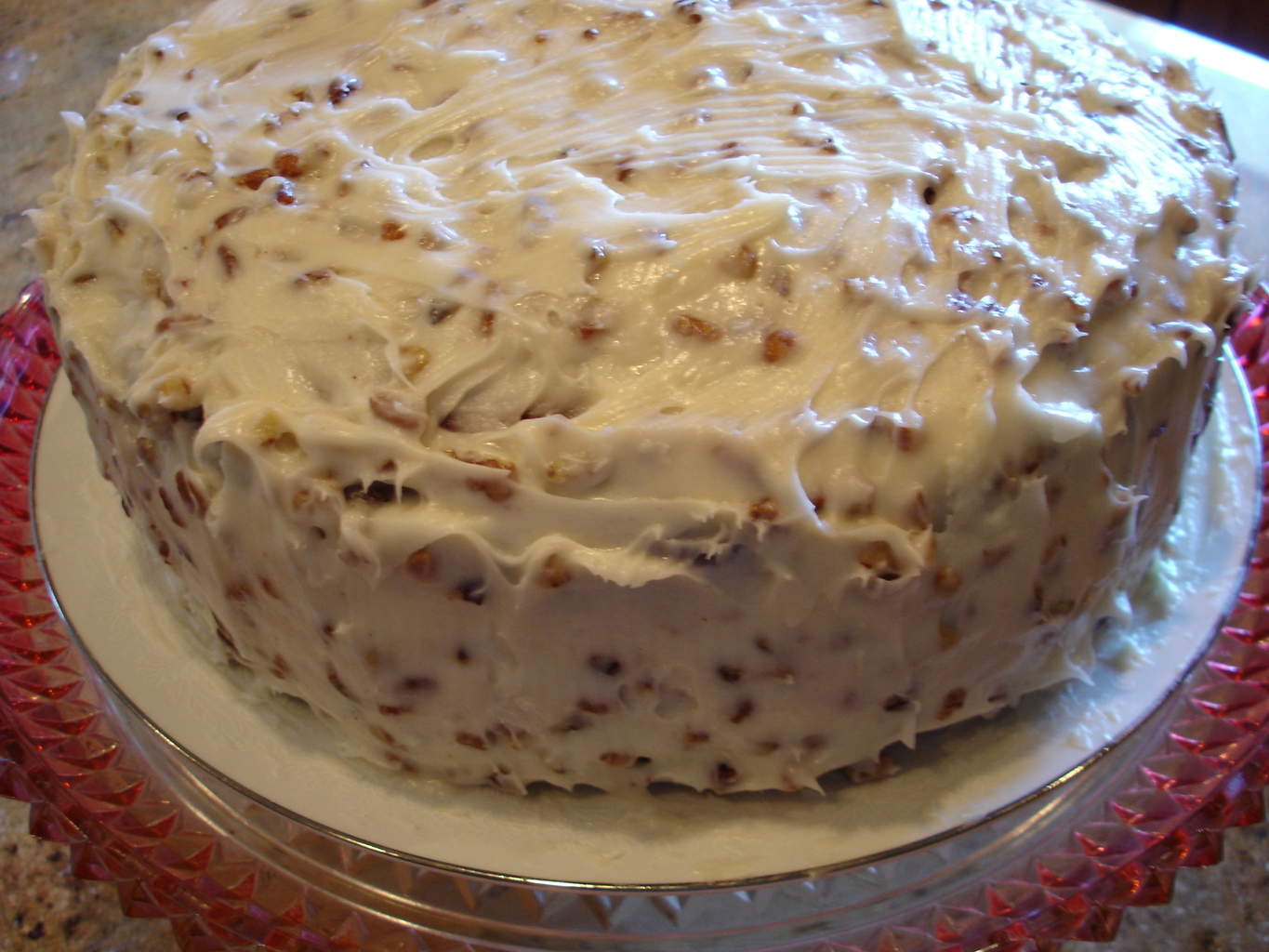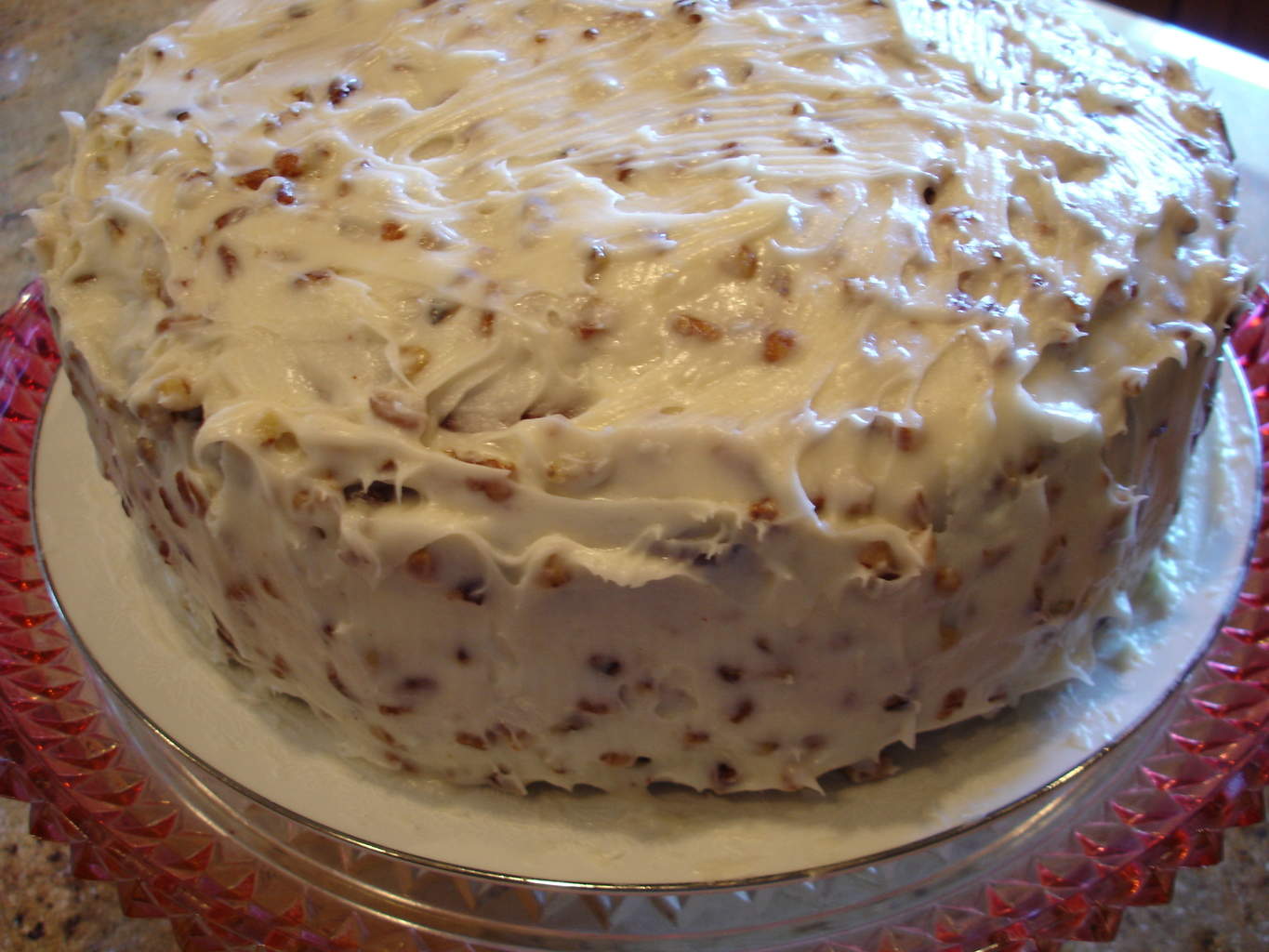 Think about your Grandmother.