How on earth could we live if no one had come up with the idea for soup, salad or sandwiches? Each one can be as light or as hardy as you wish. The variations are countless and can please any palate. They are a staple of American diets. Gooseberry Patch offers 101 ideas all in one tidy cookbook.
The 8 1/2 x 8 1/2 inch, 110 page cookbook is a different size from any other Gooseberry Patch cookbooks that I've seen. It's still has the familiar spiral binding. Coated pages, which this book has, makes a lot of practical sense for a cookbook.
Simmering Soups features comfort food dishes such as Beef Stew and Biscuits, Creamy Chicken and Wild Rice Soup and Macaroni and Cheese Chowder. Pepper Jack – Crab Bisque is served in a bread bowl and has a stunning presentation. BBQ Sloppy Joe Soup is an interesting take on a familiar sandwich.
Span the globe in the Sensational Salads chapter with Italian inspired Chicken Cacciatore Soup, Asian inspired Asian Summer Salad and Peruvian inspired Sunny Quinoa Salad. Then, find your way back to Mom's kitchen with Mustard and Thyme Potato Salad.
The next chapter, Satisfying Sandwiches, will have you craving Scott's Ham and Pear Sandwiches. A note on the recipe for Scrumptious Chicken Sandwiches says, "These taste so much like a popular restaurant's sandwiches but cost much less." A country fair favorite, Louisiana Sausage Sandwiches, offers a slow-cooker method for the hearty sandwich.
Terrific Toppings has recipes for salad dressings, croutons, pickles and more.
A wonderful gift idea, 101 Soups, Salads & Sandwiches would be welcomed by cooks of all skill-levels. Gooseberry Patch has an anticipated publication date of January 2012.
You might also enjoy the recipe for Sausage and Bean Soup from this cookbook.
Spicy Cabbage-Apple Slaw
This recipe is reminiscent of Waldorf Salad, but much lighter. Instead of a mayonnaise based dressing, yogurt is used. The salad needs to chill and marinate for a few hours to improve the flavor. There's enough acid in the yogurt to keep the apples from turning brown. Spiciness comes from cinnamon and adds a nice flavor to the salad.
2 cups shredded green and red cabbage slaw mix
2 cups Red Delicious apples, cored and diced (about 1 medium)
1/2 cup celery, chopped (1 stalk)
2 tablespoons walnuts, chopped and toasted
2 tablespoons raisins
1/2 cup plain yogurt
2 tablespoons apple juice (I substituted cranberry-grape because I had some in my refrigerator)
1 tablespoon honey
1/2 teaspoon cinnamon
Add cabbage slaw, apples, celery, walnuts and raisins to a large mixing bowl.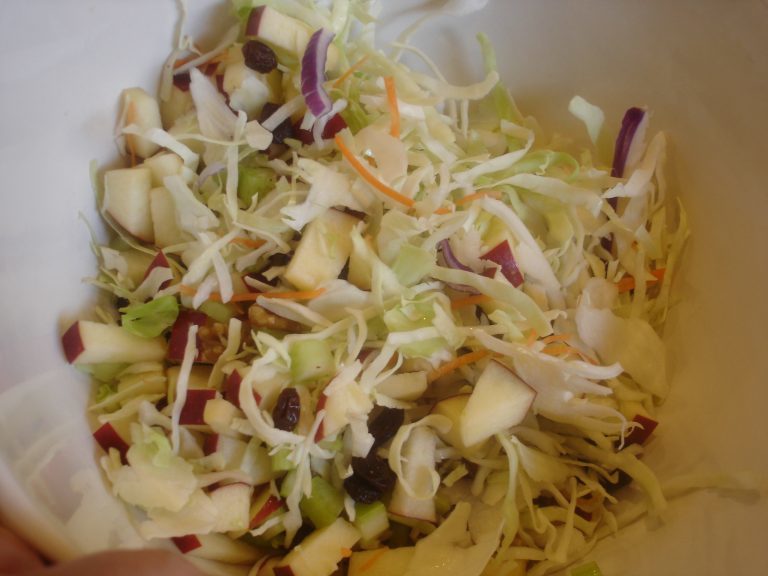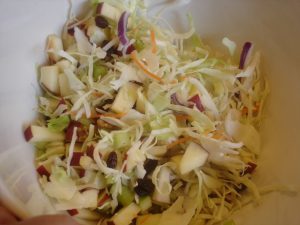 Mix yogurt, fruit juice, honey and cinnamon. Pour over slaw and mix well. Chill well before serving.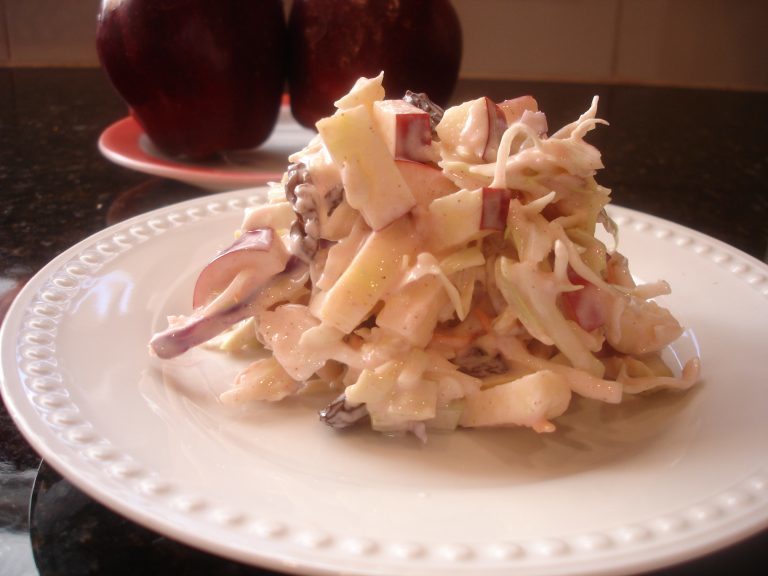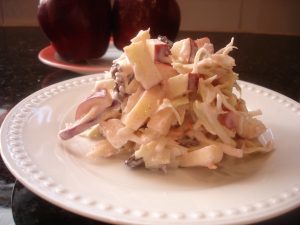 Check back in on Friday, December 9, for the giveaway contest rules for 101 Soups, Salads & Sandwiches. You can win this book before it even hits the market!