As a freshman at the University of South Alabama in 1973, I had a part-time job in the Department of Philosophy. The department secretary, (they were called secretaries back then) Ellie, and I shared a space that was also the front lobby of the Department. The faculty would frequently gather where we sat and and they would drink coffee and chat. That was the first time I had been around so many academicians. They were an interesting bunch. Some friendly, some stand-offish. Some happy, some seemingly depressed. They were either Christian and Jewish theologians or Atheists. I don't recall anyone from other religions. This was Mobile, Alabama in the early 70's. The University was relatively new and probably didn't attract a diverse faculty.
Their front lobby discussions were quite interesting owing to their differing opinions regarding religion. Ellie and I never participated in the discussion. We would sit quietly. One day, the discussion became rather spirited. Glancing at Ellie, I could she was becoming increasingly nervous. I wondered if the two faculty members engaged in the discussion would eventually come to fist-a-cuffs. Ellie's behavior suggested she was thinking the same thing. As the "discussion" elevated, Ellie suddenly blurted out, "Jackie, have you ever had Spiced Tea?" The discussion stopped dead cold and all eyes fixed on me waiting for my answer. She had obviously said this as a hint to the dueling professors that they should take their argument somewhere else. As everyone in the room waited for my answer, I showed off my simple upbringing and lack of worldly knowledge and answered, "I don't think so. We only drink Luzianne tea at my house." I had no idea what Spiced Tea was. The brand of tea that we used to make iced tea was Luzianne. The room erupted in laughter and everyone thought I was making a joke. I laugh at that now and still appreciate my simple upbringing.
After the room cleared, Ellie went on to tell me that Spiced Tea is a drink mix for hot tea that she had been making for years and she would like to share the recipe with me. The next day, she brought in some of the drink mix along with the recipe. She explained to me that some people call it Russian Tea but they were incorrect. She told me the difference between the two but that difference didn't stick in my memory bank. She made me a cup of the hot, spicy tea and I thought it was indescribably good.
I've made this tea every year at Christmas time since 1973 and I still have the original recipe that I copied from Ellie. It makes wonderful gifts and is great to have around to house to offer to guests. The flavors are perfect for Christmas.
You can see this is a well-loved and well used recipe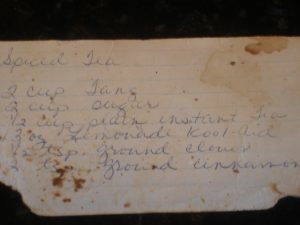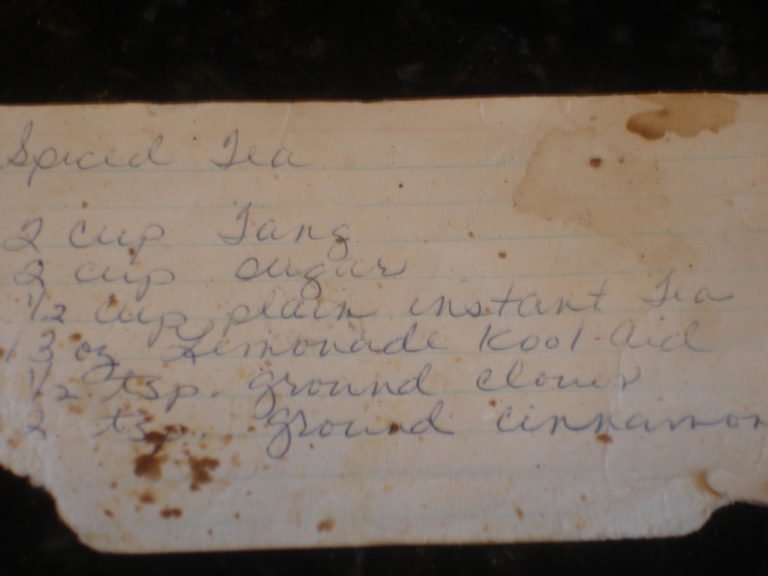 I've made some modification to the original recipes to make it more reflective of the current availability of products. It's difficult to find plain instant tea now. I guess folks finally figured out the stuff isn't drinkable. Some years I can find it, some years I can't. This was one of the can't years. I used Publix brand Natural Lemon flavored iced tea mix and increased the amount to 1 cup. Kool-Aid brand lemonade isn't always available plus I think Country Time Lemonade drink mix has the best flavor. Instead of 13 ounces, I measure out 2 cups. I believe Kool-Aid lemonade used to come in a 13 ounce canister. The smallest size Country Time that I can find is 19 ounces. I increased the ground cloves to 1 teaspoon and the cinnamon to 1 tablespoon. Since the instant tea mix has sugar, you might want to back off on the amount of sugar you add. I use the full two cup measure and it suited me just fine. However, I might remind you that I have a tremendous affinity for sugar. I don't just have a sweet tooth. I have a sweet head.
Y'all come see us.
Spiced Tea
2 cups Tang powdered drink mix
1 1/2 to 2 cups sugar
1 cup lemon flavored iced tea mix (I used Publix brand) or 1/2 cup plain instant tea
2 cups Country Time lemonade drink mix
1 teaspoon ground cloves
1 tablespoon ground cinnamon
Mix all ingredients well. Add about 1/4 cup to 12 ounces of boiling water in a mug. Stir well. For your fist cup, start with a little less than 1/4 cup and stir and taste until you get just right for your taste.
Here's to you, Ellie!