Chris' BEST Macaroni and Cheese Ever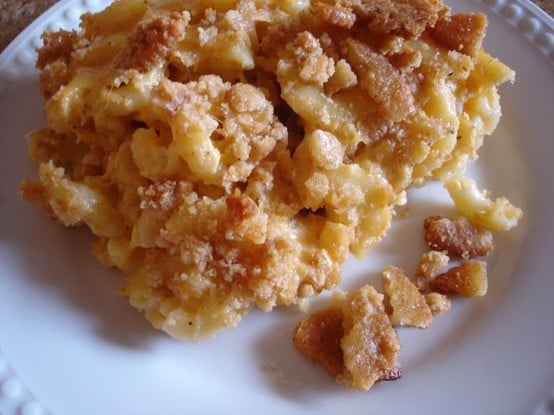 I posted a challenge on my Facebook page looking for the BEST Macaroni and Cheese Ever. I asked people to send a photo of their dish and then describe the dish in the comments. What makes it special? Why do you like it so much? Chris from Sharing Recipes caught my attention by saying that she had gotten the recipe from her sister-in-law and promptly went home and threw away all other macaroni and cheese recipes. Now that's some seriously good macaroni and cheese. After making the dish, I agree with you, Chris. It is the BEST. Having a blend of three cheeses gives it a depth of flavor that you just can't reproduce from a single cheese. The buttery Ritz cracker topping is, well…..have you ever had a Ritz cracker? And then, did you ever put butter on your Ritz cracker? Need I say more? This recipe is now a permanent part of my recipe collection and it will bear Chris' name from until eternity.
4 cups uncooked large elbow macaroni (one 16 oz. box)
12 oz evaporated milk
*8 oz. shredded cheddar cheese ( I used sharp)(*see note)
*8 oz. shredded Swiss cheese (*see note)
*8 oz. shredded Colby cheese (*see note)
1 cup milk
1 1/2 cups Ritz crackers
1 stick butter, melted
2 tsp. salt
1 1/2 tsp. sugar
1/2 tsp. pepper
(*note: Chris' original recipe called for shredded cheese. I didn't shred but cubed the cheese since I was going to melt it prior to mixing it with the macaroni. I'm not sure if Chris melted hers first or just folded the shredded cheese into the mixutre.)
Cook macaroni according to package directions just until tender. I boiled mine for 9 minutes. Drain.
Add evaporated milk and regular milk to a large pan. Heat slowly.
Cube all three cheeses.
Throw the cheese in the pan with the milk. Well, don't throw it, the milk will splatter on your stove, counters and you. Just toss it in. Maybe toss isn't the right word either. Slide it in. Choose which ever verb is comfortable for you and just put the cheese in the pan with the milk. Don't splatter. Start stirring.
Crush up the Ritz crackers. I didn't measure them. I just used a whole sleeve of crackers.
Throw a good handful of the crackers into the milk and cheese. Now, crackers you can throw and not have the splattering risk that you did with the cheese. Just stand close to the pan when you throw them. Add salt, sugar and pepper to the pan.
Add melted butter to remaining cracker crumbs in the plastic bag. Smoosh around to make sure all the crumbs are coated with butter.
After the cheese has melted, the macaroni goes in the pot.
Stir, stir, stir.
Pour, pour, pour into a 13×9 greased casserole dish.
Top, top, top with the buttered cracker crumbs.
Bake, bake, bake at 325 degrees uncovered for 30 minutes or until bubbly. Don't overcook or it will dry out.
Eat, eat, eat.
Chris noted that she has halved this recipe for her family and the portions are easy to manage. Go visit Chris over at Sharing Recipes. Thank her profusely for the BEST Macaroni and Cheese Ever. Tell her Syrup and Biscuits says, "Hey!"