Stewed Summer Squash and Onions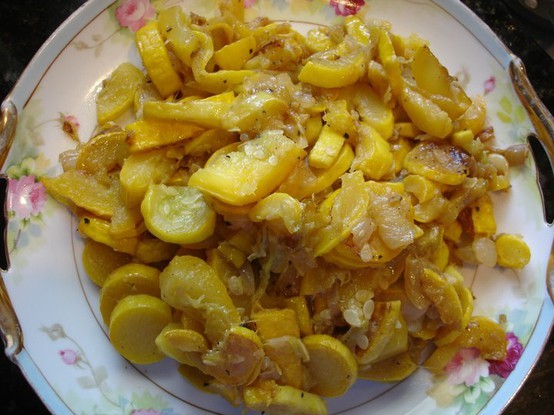 After being gone for almost a week, I returned to my garden to find some overgrown squash. You know, those things can grow from teensy to gigantic almost overnight. So, instead of my usual way of roasting squash and onions, I decided to stew them in case some of the squash was a little on the tough side.
I added about 2 tablespoons of butter to a pan and threw in the cleaned (you have to scrub squash really well or you will wind up with a mouthful of grit) and sliced squash and sliced onions. I seasoned with 4-1-1 Seasoning.
After it had cooked down some, I tasted the squash for seasoning and tested the tenderness. The seasoning was perfect and the squash was tender. Had it been tough, I would have added a teensy bit of water, covered it and let it simmer until tender. Instead, I just let it cook in it's own juice. For stewed squash to be really good and tasty, you want the liquid to cook out enough that the squash and onions can caramalize a bit. That's where the good flavor comes from. It only requires about 15 or so of cooking time. Just make sure to taste for seasoning before you set your bowl of squash and onions on the table for everyone to eat.