Back in the day, it was common for department stores to have restaurants. Ladies would get dressed with their hats and gloves, shop in the morning, go to the restaurant for a Salad Plate and continue shopping in the afternoon. Mall food courts with chain eateries have all but eliminated unique department store restaurants.
As a child, I remember the restaurant at F. W. Woolworth's at the shopping mall in Mobile, AL. The seating area jutted out into the mall walkway. The mall wasn't very big so if you were going anywhere in the mall, chances are you'd pass the Woolworth restaurant. The diners always seemed so happy. There they sat, enjoying their lunch while we walked up and down with our mother in search of who knows what. Pleadings to let us eat in the restaurant always elicited the same response from her, "We can't afford it."
Then, one day it happened. While shopping, our mother surprised us with a lunch at Woolworth's! Walking up to the hostess stand was thrilling enough. I might have been perfectly satisfied if we had stopped at that point. My mother, my two sisters and I were seated at what I thought was the best table. It was real close to the low rail that separated the restaurant from the mall walkway. I was certain that everyone passing was looking at us and thinking how lucky we were to be in the restaurant. I never gave one thought to the possibility that no one but us cared that we were there. This was a big moment in my life.
What we had to eat was less significant that the fact that we eating in the restaurant. And all the mall walkers could see us eating in the restaurant. In fact, what we ate was so insignificant, I can't remember what it was. Most certainly, my mother ordered for us. And, understanding our financial restraints, she probably ordered from the right side of the menu which displayed the prices.
I left the mall feeling that the department store lunch was a very special event. The experience has stuck with me for over 45 years. That's pretty special.
Y'all come see us!
Department Store Lunch
My friend Dawn's mother was visiting her from Alabama for a few days. I'd been tossing around the idea of recreating a Department Store Lunch and thought this would be a perfect occasion. It would give Dawn's mother a chance to meet some of her friends and give us a chance to meet Dawn's mother and maybe find out some juicy tidbits about what Dawn was like growing up.
Here's Dawn and her Mama, Judy. Look how pretty they are.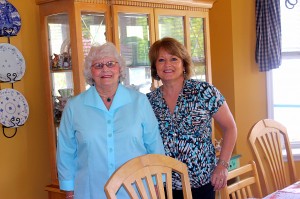 I framed the menu with sales adds.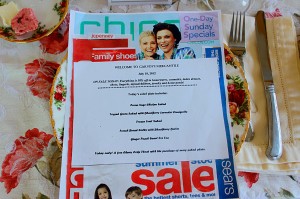 Each of the place cards had a store department under the name.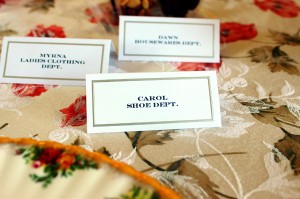 We had fashion models as special guests who also served as table decorations.
Remember when department stores had candy counters? Who made the decision to get rid of those? The smell of hot nuts wafted throughout the store. This is my meager attempt at creating something reminiscent of a candy counter.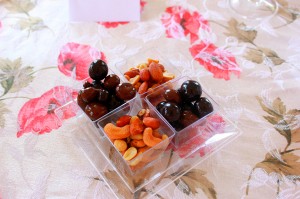 Scattering shopping bags down the center of the table added to the department store theme. My husband surprised me with these beautiful roses for the table. Yes, he scored many points!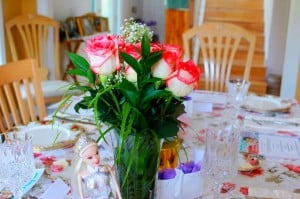 A shopping bag was the bread basket.
The menu was my version of a classic department store restaurant salad plate.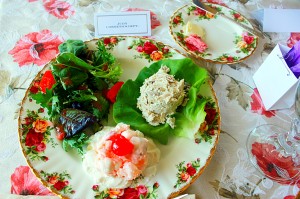 Spring Lettuce Salad with Blackberry Lavender Vinaigrette
French Bread Rolls with Blackberry Butter
As I shopped for the luncheon, I came across these tissues and just had to have them.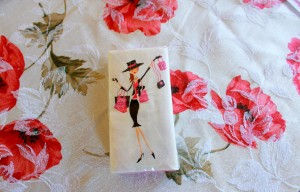 They became favors along with a jar of Blackberry Lavender Vinegar.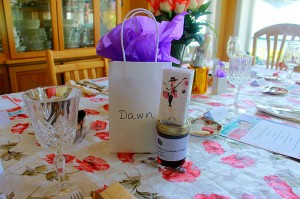 I warned the ladies ahead of time that I might be a shutterbug in addition to being hostess and they might want to wear their favorite earrings.
Myrna doesn't wear earrings. I should have taken a picture of her pretty ears. Judy was so cute and posed for a shot of her earrings. The light was so bright coming in the window in back of her that it completely washed out the picture and I wasn't able to salvage it.
Jan, Shari, Martha and Judy………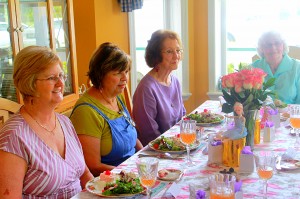 ….are listening to Dawn drive home a point to Carol and Myrna.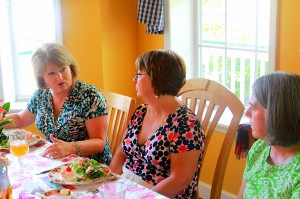 The day of the luncheon happened to be my birthday. It just so happened that it was the best day during Judy's visit to have the luncheon. I thought it was a perfect way to spend my birthday. I didn't intend for the day to be about me. Dawn, in all her sweetness, brought a cake.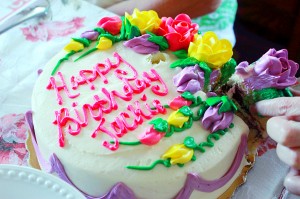 The ladies blessed with me cards and gifts. They made this day even more special than the day I had the department store lunch when I was a little girl. Such sweet and wonderful friends! Martha colored coordinated her gift with her clothes. Look how stunning!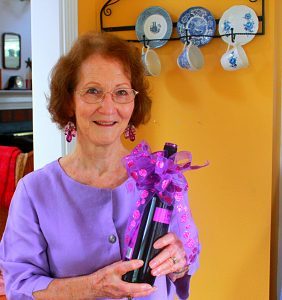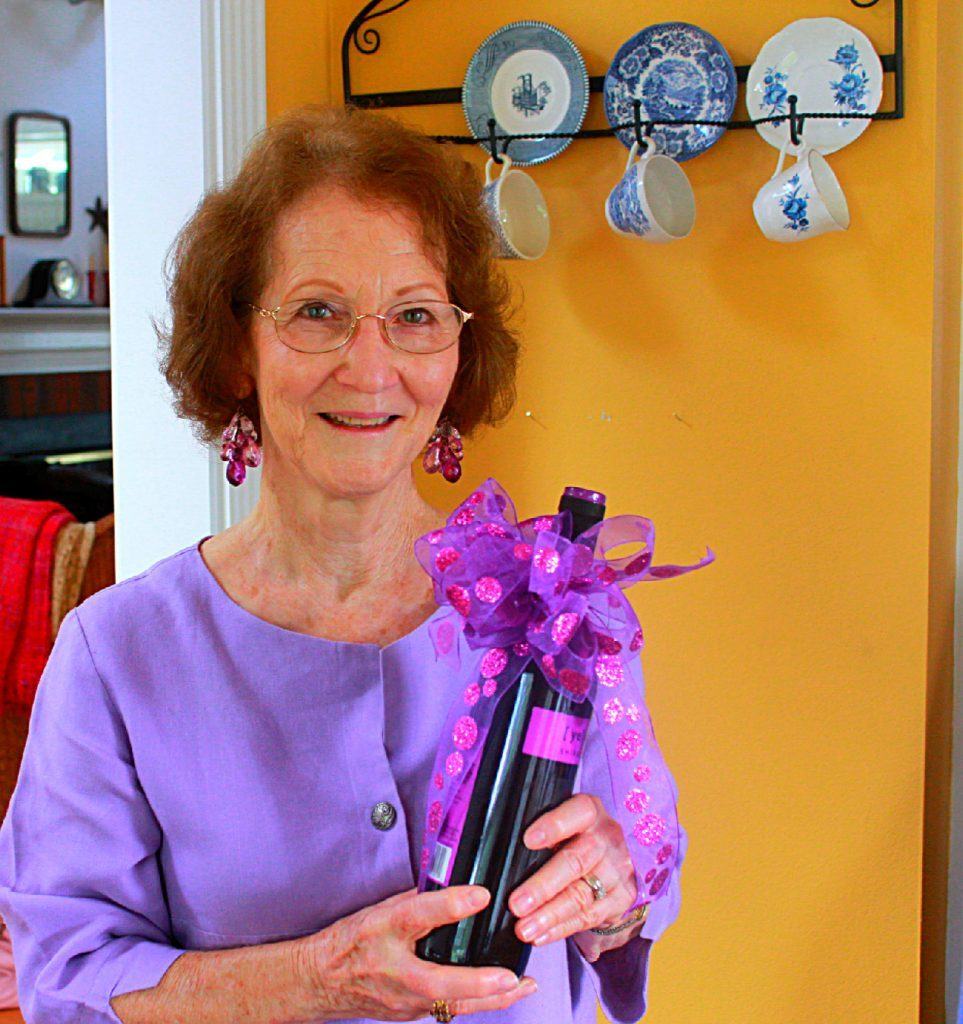 Myrna, who sat next to me at the table, reminded me that write ups about parties used to always end with, "And a good time was had by all." I think that's the perfect ending for this post.