My Granny loved chicken salad. She'd boil chickens that were seasoned only by adding salt and pepper added to the water. Carrots and celery never made it into her chicken pot, either. After the chicken cooled, she'd shred it and add boiled eggs, pickle relish and mayonnaise. That was the only way she ever made it. Chicken salad containing other ingredients such as fruits and nuts was known as "fancy chicken salad" to her. Never mind that the fruits and nuts were very common to her such as grapes and pecans. You put that stuff in chicken salad and it turns it fancy. She had no objection to eating fancy chicken salad but it never made the menu in her kitchen. Perhaps she was a creature of habit. Perhaps she was afraid no one else would like anything other than her regular chicken salad.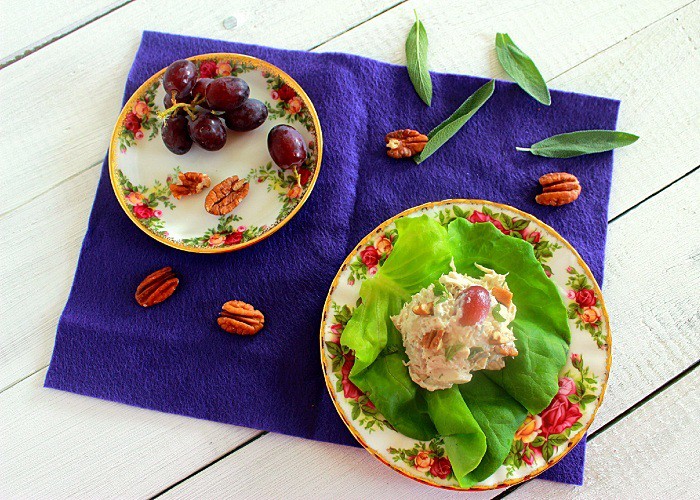 The fact that the addition of something so common could turned an everyday dish into fancy, tells a lot about my Granny's humble existence. She lived a simple life without much variation and very little glitz and glamour. I pray that I will always appreciate simplicity. Living a simple life is honorable and noteworthy. My grandparents bestowed a blessing on me by teaching me that lesson.
Y'all come see us!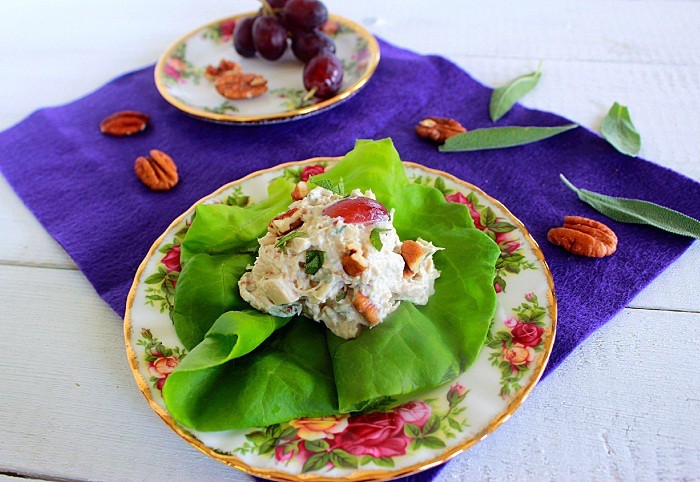 Pecan Sage Chicken Salad
This is a "fancy" chicken salad that would have delighted my Grandmother. She would have eaten it and just gone on and on about how good it is. But she would have never made it herself.
Roasted chicken brings more flavor to chicken salad than does stewed or boiled. I use both dark and white meat because dark meat is more flavorful than white. Fresh sage needs a little time to develop its flavor. This chicken salad is best made the day before.
The sweetness of grapes and minty overtone of sage blends for a nice combination.
4 cups cooked chicken, skinned, deboned and cubed
1 1/2 cups seedless red grapes, washed and halved
1/2 cups chopped pecans
1 cup good quality mayonnaise (I prefer Duke's)
2 tablespoons fresh sage, finely minced
1 tablespoon sugar
juice of one lemon
salt and pepper to taste
Place chicken, grapes and pecans in a large bowl.
In a small bowl mix mayonnaise, sage, sugar and lemon juice together. Add to chicken, grapes and pecans and mix well. Chill before serving.
You might also enjoy: