My love affair with my favorite summer berry, blackberry, is being fed a full course dinner this summer. The vines in my backyard generously yield daily harvests of the purplish-black fruit.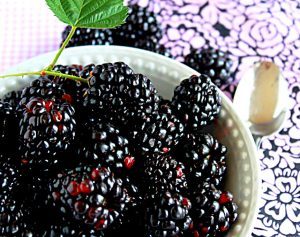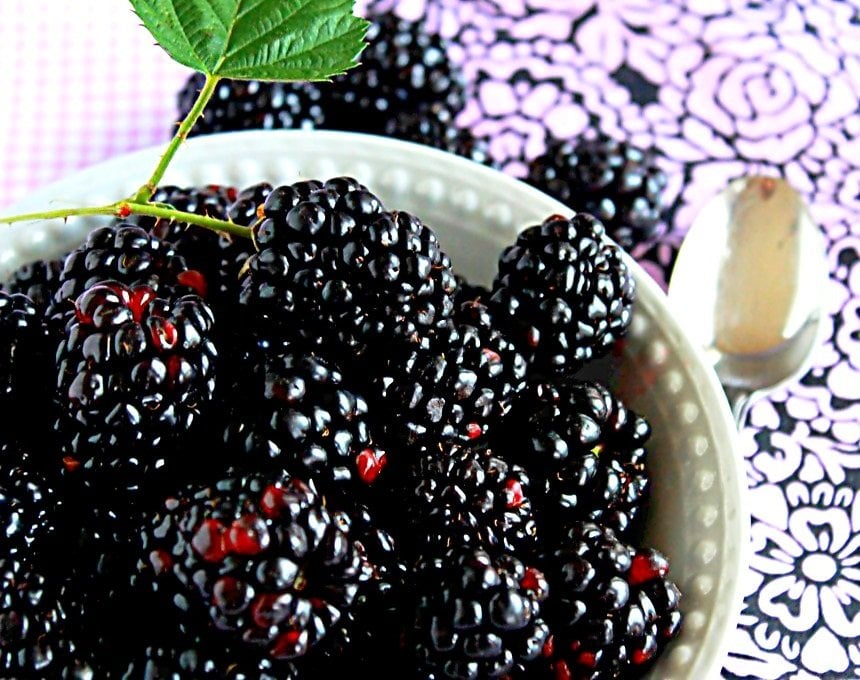 A post by David Leite of Leite's Culinaria for Chive Blossom Vinegar, inspired a use of my favorite summer berry for a flavored vinegar. My kitchen garden produced ample amounts of lavender, also, which seemed like it might be nice floral addition to the vinegar. And it didn't disappoint.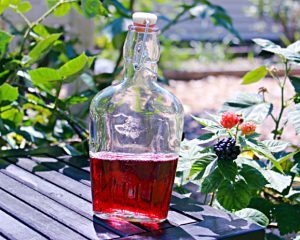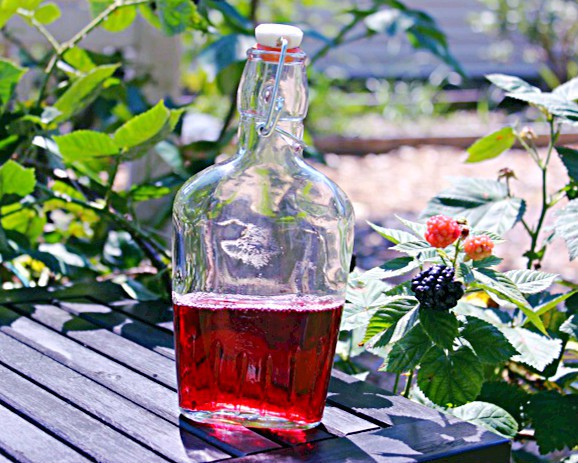 Blackberry Lavender Vinegar
Wash blackberries and lavender blossoms carefully in cold water making sure to remove debris and bugs. If you're in the habit of eating pickled bugs from your garden, leave the bugs in.
Fill a sterilized pint jar with equal portions of blackberries and lavender blossoms. Heat about 1 cup of 5% distilled white vinegar in a small saucepan. You need enough vinegar to completely cover the berries and blossoms. The amount of vinegar will vary depending on how big your berries are and how tightly you can pack them. I grow whopping big Kiawah blackberries. Six ounces of vinegar was a sufficient amount for me. Heat the vinegar till warm, don't boil. You don't want to have the vinegar so hot that the berries will cook and fall apart.
Seal tightly and store in a cool dry spot for at least two weeks. When ready to use, strain through a cheese cloth and pour into a pretty bottle. The lavender floral fragrance remains and noticeable several weeks later. I keep it in my kitchen window so I can see it everyday. The color is stunning. The color was too perfect not to use in Red Velvet Brownies.
Soooooo….I've got this little luncheon coming up that I'm hosting for some lady friends. Tossed salad's on the menu. What better time to develop vinaigrette recipe using Blackberry Lavender Vinegar than for a ladies luncheon? That's I what thought, too.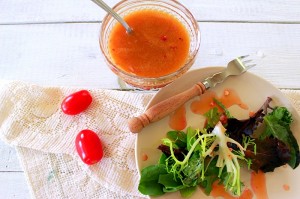 Blackberry Lavender Vinaigrette
yield: one cup
In addition to adding flavor,the skin of the shallot boost the color of this lovely lady. I found myself being protective of the color. Naturally, the color changed some with the addition of green extra virgin olive oil. I decided against adding mustard as an emulsifier for fear that the color would change to some sickly shade of gray. Due to the lack of an emulsifier, you'll need to vigorously shake the dressing before use. Mixing all the ingredients in a quart canning jar and covering with the lid, makes shaking it an easy task.
The light, floral fruity bouquet makes this a perfect salad dressing for summer.
1/3 cup blackberry lavender vinegar
2/3 cup olive oil
1 tablespoon honey
1 shallot, minced
couple pinches kosher salt
few grinds of black pepper
Mix in a quart canning jar and cover with the lid. Shake vigorously. Store remainder in refrigerator.
You might also enjoy: