One of Gooseberry Patch's newest cookbooks, 101 Breakfast and Brunch Recipes, features recipes from breakfast and brunch that will not only make the you look like a superstar, but will have your family and guests craving the recipes. In the tradition of Gooseberry Patch cookbooks, this hardcover, spiral bound book delivers easy-to-make, flavor packed dishes. Known for their reader contribution model, this cookbook contains 101 tried and true recipes that are favorites of home cooks.
One of the recipes that caught my attention the first time I perused the cookbook was PB & J Breakfast Bars. The make ahead bars have the goodness of oats, peanut butter and your favorite jam that would make a perfect breakfast for a busy school morning. Look for this recipe at the end of the post.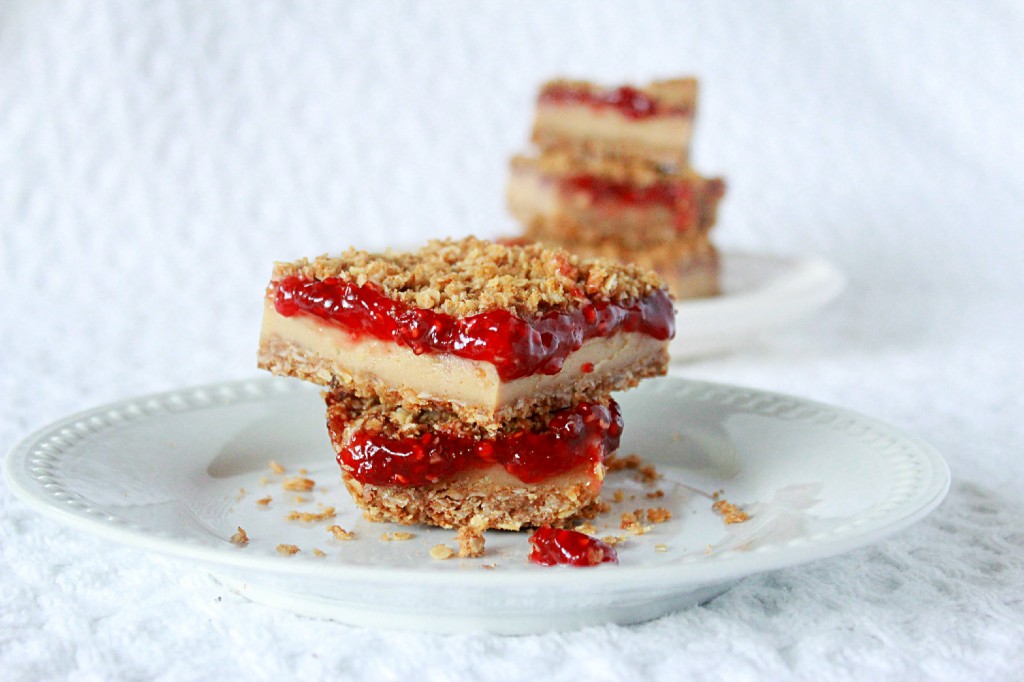 In the Rise and Dine chapter, you'll find an interesting twist on Green Eggs and Ham as well as a quite unexpected recipe for grits titled Strawberry-Hazelnut Grits. Leisurely Weekend Mornings will have you rushing out to buy white chocolate chips and cranberries for Cranberry Hootycreek Pancakes and checking your supply of brown sugar needed for Sugarplum Bacon. French Toast Casserole and Hashbrown Quiché are but two of the treasured recipes in Come to Brunch that are certain to become family favorites. Blueberry Oatmeal Crisp and Cinnamon Cream Cheese Squares will have your kitchen smelling just like the aptly named chapter, Corner Bakery.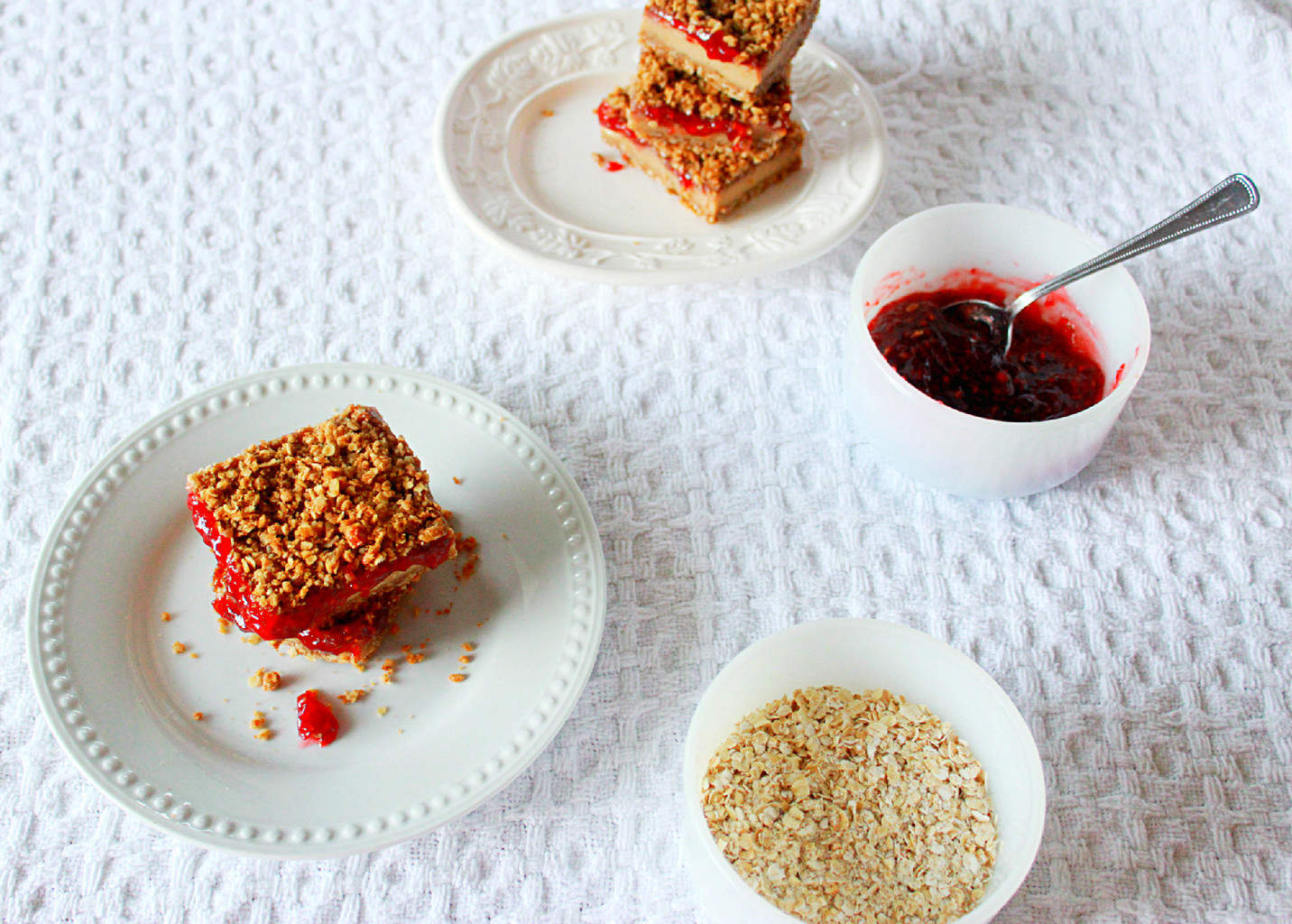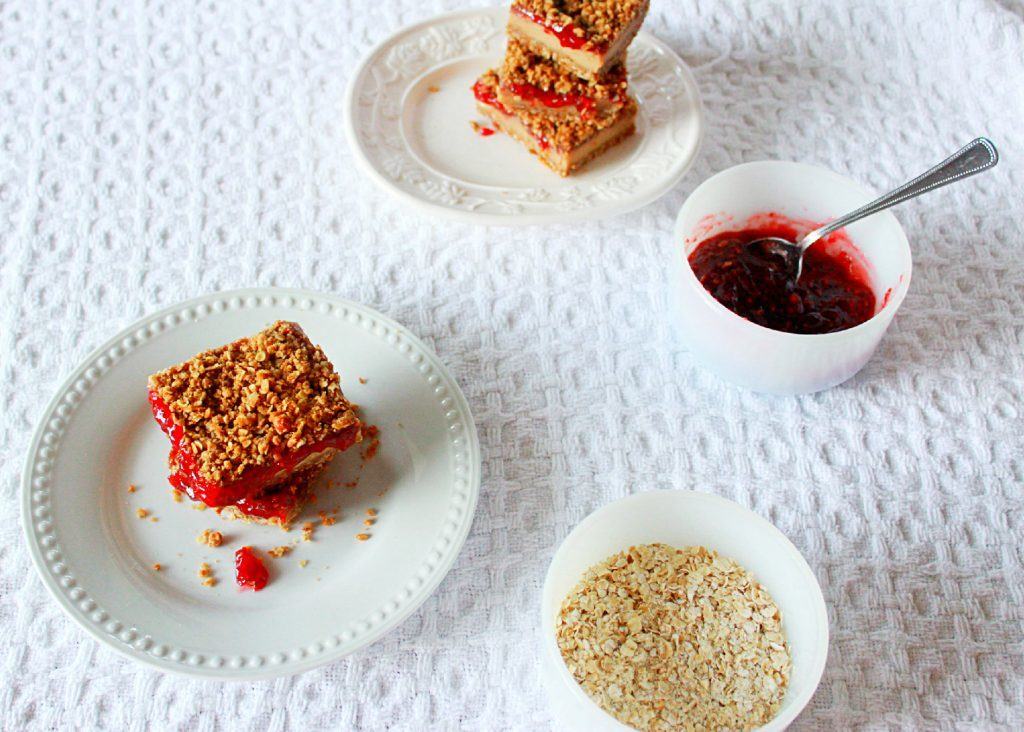 While Gooseberry Patch cookbooks have always contained wonderful, time-tested recipes, the older cookbooks didn't have food pictures. This cookbook has a large, full color picture of each recipe. The quality of the pictures are outstanding and clearly show what you have to look forward to with each scrumptious recipe.
I wanted to give you a chance to win a cookbook AND get a glimpse of some of the photographs. Pick the next recipe, from the photos below, that you'd like to see featured in a post. By leaving a comment stating your selection, you'll automatically be entered into the giveaway contest. Please note that the photos below are photos of a photo so the quality isn't nearly as good as you'll see in the actual cookbook. Also, I reproduced the images with the permission of Gooseberry Patch.
Choose from these options:
This contest is now closed. Congratulations to the winner!
You may earn additional chances to win by doing the following and leaving a comment on this page stating what you've done:
(1) Pin this post on Pinterest.
(2) Share this post on Twitter.
(3) Share this post on your Facebook page.
(4) Leave a comment on Syrup and Biscuits' Facebook page (https://www.facebook.com/syrupandbiscuits) that simply says, "Gooseberry Patch cookbooks rock!"
(5) Leave a comment on Gooseberry Patch's Facebook page (https://www.facebook.com/gooseberrypatch) that simply says, "Visiting from Syrup and Biscuits."
The contest will continue through Monday, August 20. Look for a post published on that day that will share the recipe for the most popular selection between Johnny Appleseed Toast, Farmer's Market Omelet, Easy Breakfast Squares and Hot Chocolate Muffins and announce the winner of a copy of 101 Breakfast and Brunch Recipes.
8/20/12: The contest is now closed. Keep checking back, though. There will be other giveaways!
*******
PB&J Breakfast Bars
adapted from 101 Breakfast and Brunch Recipes, Gooseberry Patch
yield: 12 bars
1 1/2 c. uncooked quick cooking oats
1/2 c. all-purpose flour
1/2 c. light brown sugar
1/4 teaspoon baking soda
1/4 teaspoon plus 1/8 teaspoon salt, divided
1/4 teaspoon cinnamon
6 tablespoons butter, melted
8 oz cream cheese, room temperature
1/2 c. creamy peanut butter
1 egg, beaten
1/2 c. raspberry jam (or substitute your favorite jam)
Lightly spray an 8×8 baking dish with non-stick spray. Line pan with parchment paper.
Mix together oats, flour, brown sugar, baking soda, 1/4 teaspoon salt and cinnamon. Add melted butter and stir well until mixture is coated. Reserve 1/2 cup and set aside. Press remaining mixture into the prepared pan. Bake at 350 degrees for 15 minutes or until mixture is lightly browned.
Beat together cream cheese, peanut butter, egg and remaining salt. Spread over the baked crust.
Heat jam just until it's pourable. Spread evenly over cream cheese mixture.
Top with reserved crumbs and bake an additional 30 minutes. Remove from oven, let cool. Refrigerate for at least one hour before cutting into bars.
Gooseberry Patch provided a free cookbook for a giveaway in exchange for a review. All opinions expressed are mine. Are you kidding? No one else would claim them.