I've been a Gooseberry Patch fan as long as there's been a Gooseberry Patch. Walking through my house, you will catch glimpses of some of the Gooseberry Patch home decor items they used to sell. Several Gooseberry Patch cookbooks have taken their place among my cookbook collection. My traditional Christmas morning breakfast entrée is a Gooseberry Patch recipe from their original Old-Fashioned Country Christmas. I have history with Gooseberry Patch.
After I started my blog, I received such a kind email from them asking if I would be interested in letting them spotlight Syrup and Biscuits and me for one of their Featured Friday articles. I read that email three times to make sure I wasn't misreading it. Then, I called my daughter and read it to her just to be sure. I was so excited I could have died. The article was kind and gracious. It's one of the best things that's happened to me since I began writing Syrup and Biscuits. I'm forever grateful to Gooseberry Patch.
Now, I have the opportunity to be an Early Bird Reviewer for some of their new cookbooks. That gives me a chance to get a sneak peek before the books hit the market. Unbelievable.
This week is going to be Gooseberry Patch week at Syrup and Biscuits. Today, I'm sharing a recipe from 101 Soups, Salads and Sandwiches which will be available for purchase soon. Wednesday, I'll do a review of the complete cookbook and share another of its recipes. Friday, a giveaway for the cookbook will be announced. That's a whole lot of Gooseberry Patching in one week. I'm tickled pink.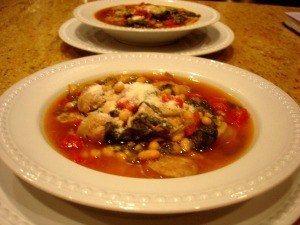 Sausage and Bean Soup
Adapted from 101 Soups, Salads & Sandwiches, Gooseberry Patch
A wholesome and delicious one dish meal, this soup will warm you from head to toe. Make a large batch and freeze some.
I use a whole sweet onion diced instead of 1/4 cup and increased the garlic to 5 cloves. I typically cook with more aromatics than the recipes calls for. The recipe didn't specific that the white beans should be drained and rinsed but I chose to do that. Instead of 4 cups of torn spinach, I substituted fresh baby spinach which I didn't tear.
5 Italian sausage links
1 medium sweet onion, diced
5 clove garlic, minced
1 tablespoon olive oil
1/4 to 1/2 teaspoon red pepper flakes
15 ounces can diced tomatoes
32 ounces chicken stock or broth (I prefer stock)
2 (15 ounce) cans white kidney beans (I used Bush's White Beans)
4 cup fresh baby spinach (1 bag)
Garnish: grated Parmesan cheese
In a large heavy pan or Dutch oven, cook sausage, onions and garlic until sausage has started to brown. Stir occasionally.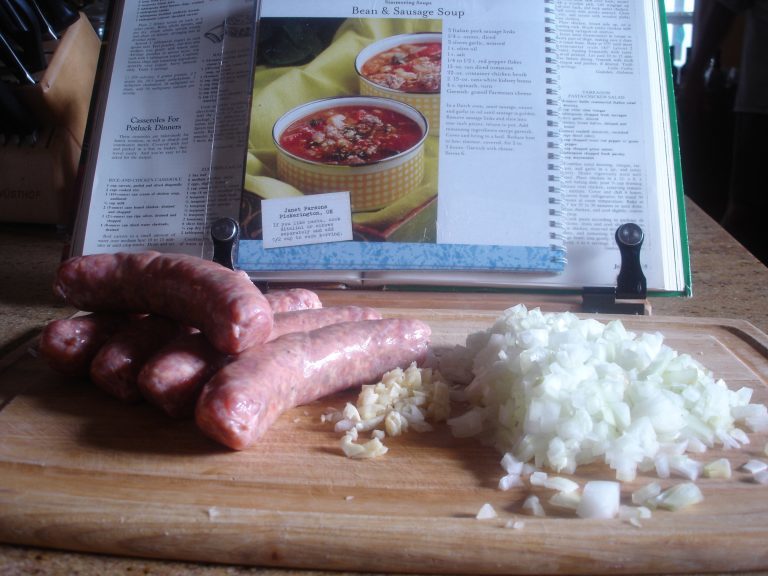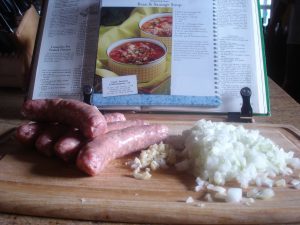 Remove sausage when brown and cut into one inch slices. Return to pan.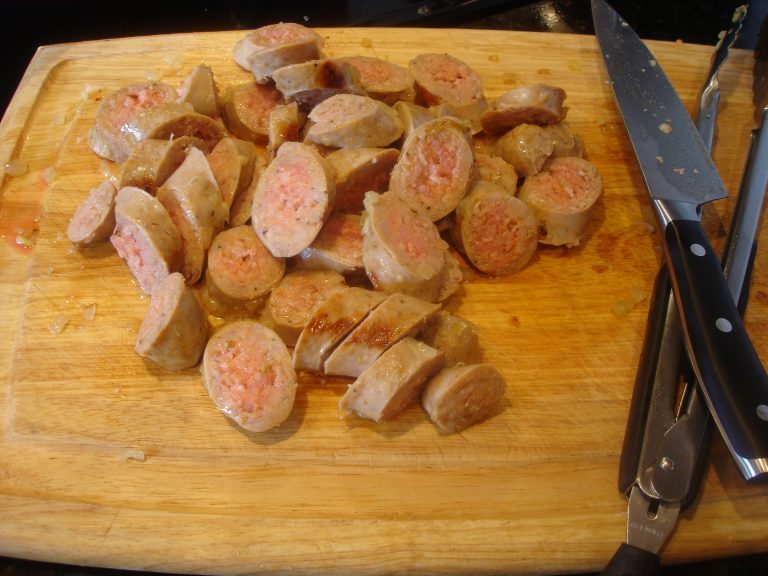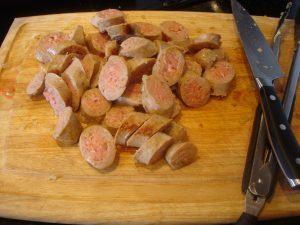 For some unknown reason, Belle decided to take a nap in the kitchen while l was cooking but someplace other than right under my feet. This is highly unusual. I'm not sure what's up with her.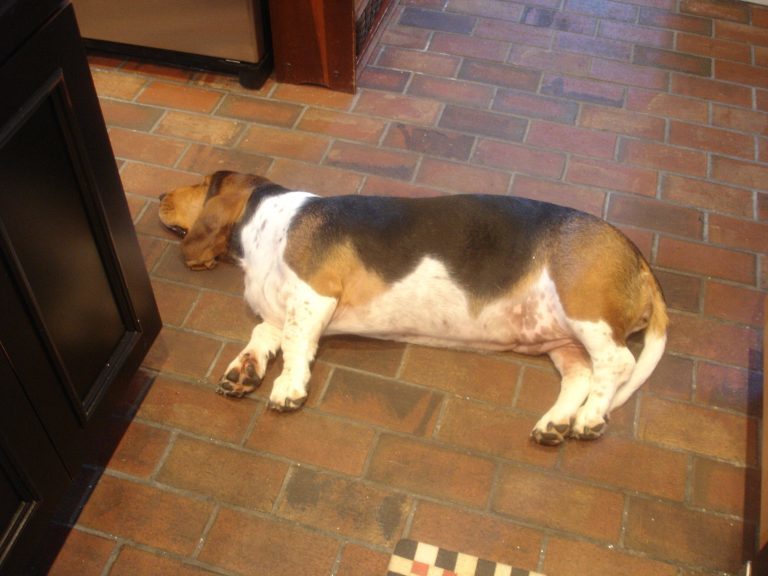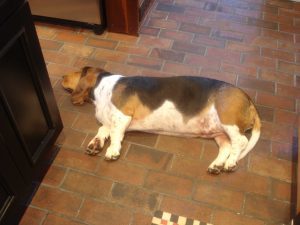 Add stock and stir until all the brown goodness has been loosened from the bottom of the pan. Some of you may know this process as deglazing. My grandmother called it "stirring up the goody". Add tomatoes, beans, red pepper flakes and bring to a boil.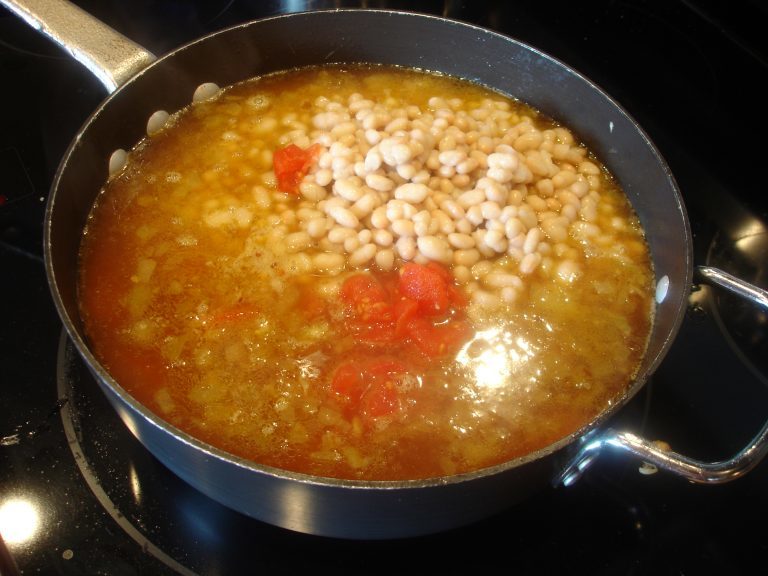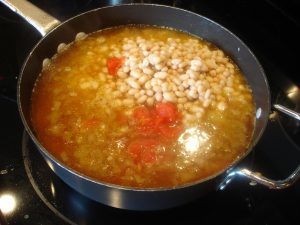 Add spinach. It cooks down a lot. Here's the spinach when it's first added to the pot…….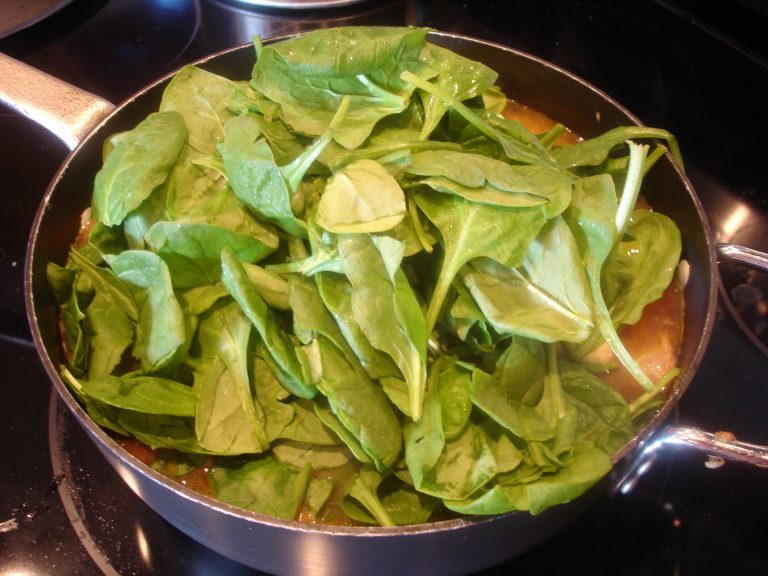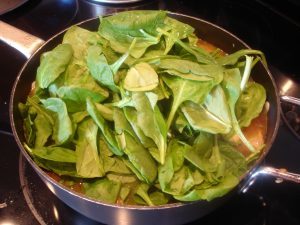 …..and here it is 5 minutes later.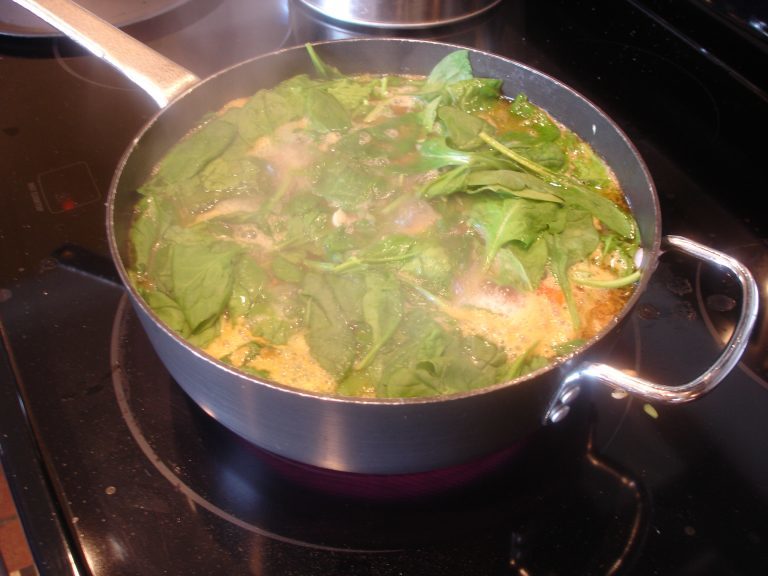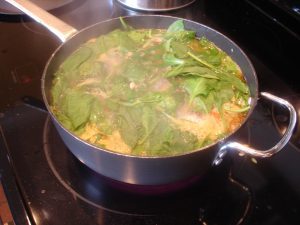 Simmer for two to three hours. Garnish with Parmesan cheese.