Within the 178 pages of Quick-fix Southern, Rebecca Lang managed to squash the notion that Southern cooking has to be a long drawn out process. Taking inspiration from both her grandmothers, she grew to appreciate Southern food and Southern culture. That appreciation grew to become a passion and a basis for her Southern identity. In keeping with her identity, Mrs. Lang set out on a quest to convert time-honored Southern favorites into quick-fix meals without losing the quality that defined that dish as Southern. Published by Andrews McMeel, this soft cover book contains over 110 quick-fix Southern dishes.
As a contributing editor for Southern Living, Rebecca Lang is featured in weekly cooking segments on the nationally syndicated show Daytime. She is the contributing editor for myrecipes.com and writes a monthly column, "Girls' Night In, " for the site. Her food writing has appeared in the Atlanta Journal Constitution, Flavors Magazine, Edible Atlanta, and Legacy Magazine. Having taught hundreds of classes, Lang is an accomplished cooking instructor and travels the country teaching classes in cooking schools and to group as large as 1,200 students.
Drawing on her love of Southern culture, Mrs. Lang intertwines history lessons that explain the shaping of Southern food culture in passages such as
"There are practical explanations for many of the Southern dishes we eat today. Before the time of air-conditioning, frying was the cooking method of choice because it was fast and didn't heat up the kitchen like an oven."
In addition to fine Southern recipes, you will find useful tips and pointers peppered throughout the book in sections called Cooking School. Most notable, in my opinion, is
"For the juiciest watermelon, choose one that's heavy for its size. To check for ripeness, turn it over and look for a yellow flattened side. This is the side that sat in the soil as it grew."
Despite endless thumping of watermelons, I have never had luck choosing a good one. Apparently, the reason behind the thumping was never clear to me. Nonetheless, I thumped. Going forward, Mrs. Lang's watermelon choosing advise will be memorized.
The book is divided into eleven chapters with one chapter devoted to the basics of quick cooking in the South. If you are going to cook authentic Southern food, you need to know that bacon, buttermilk, grits and cornmeal are staples.
Featured in Rise and Shine, are traditional Southern breakfast foods such as Soft Buttermilk Waffles and Slow-cooking Stone-ground Grits, to the more exotic Wild Mushroom Quiche.
Libations to suit every palate can be found among the assortment in Sipping on the Screened Porch. Sipping on Southern screened porches must involve Classic Sweet Tea. Peach Daiquiri and Watermelon Margaritas are sure to be a hit as the mercury climbs.
I found the recipe for Slow Cooker Boiled Peanuts in Appetizers and Snacks interesting for its use of raw peanuts instead of green peanuts. Given that raw peanuts are much more available than green, this is a very practical recipe.
My favorite chapter is Picnics and Packables. Aside from loving the name, there are three different recipes for Pimento Cheese, or as we say in the South, pimmenocheese. Classic Pimento Cheese, White Pimento Cheese and Chipotle Pimento Cheese offer choices for the sandwich filler that fed multitudes of Southern children at lunchtime.
You would expect to find Fast Brunswick Stew in a Southern cookbook, but the addition of Chilled Strawberry Peach Soup in Salads, Soups and Sandwiches is a delightful surprise.
Tailgates and Gatherings covers the events Southerners love the most. We love to tailgate. We love to gather. Thanks to Mrs. Lang and her quick-fix solutions, we can feast on Pecan-crusted Racks of Lamb and Short-cut Barbecue without breaking a sweat.
Slow Cooker Pot Roast and Divine Chicken and Dumplings would make weeknight family meal preparation a snap. Busy Weeknight Suppers has these recipes plus nine others to help weeknight home cooked meals a mainstay.
Just the name Comforting Casseroles makes me want to grab my favorite bathrobe and fuzzy slippers. I would have a hard time deciding between Spinach and Vidalia Souffle and Country Ham and Swiss Casserole.
While Mrs. Lang's personality shown throughout the book, it was the most vivid in the header for the recipe for Stuffed Corn Bread. I had a great chuckle when I read,
"If you thought you loved corn bread as much as possible, get ready for a near emotional breakdown."
Now, I can relate to that. It's all about experiencing and loving our food. We do get emotional about it. Fittingly, the recipe is found in the chapter Girls Night In. If we are going to have an emotional event over the wonderment of our food, where better than in your safe haven surrounded by your girl friends? Brilliant, Mrs. Lang. Just brilliant.
Easy Ice Cream (with 3 Variations-Blueberry, Peach, Strawberry) is the star of Southern Sweets. Three recipes in one is certainly worth the price of admission. Homemade ice cream makes our steamy Southern summers just a little more bearable.
Overall, the recipes are interesting and the directions seem straight forward. The useful tips and southern food history and culture comments are a bonus..
To purchase this book, please go to amazon.com or barnesandnoble.com
*****************************
Okra Fritters
1/2 pound okra
3/4 cup cornmeal
1/3 cup self-rising flour
1/2 cup plus 2 tablespoons buttermilk
1 large egg
1/2 teaspoon salt
1/4 teaspoon freshly ground black pepper
1/4 cup vegetable oil
Cut the okra into 1/8 -inch-thick-slices. You should have about 2 cups of sliced okra. Combine the cornmeal, flour, buttermilk, egg, salt, and pepper in a large mixing bowl. Whisk until everything is combined. Stir in the okra.
Heat the vegetable oil in a large nonstick skillet over medium-high heat.
Scoop out heaping tablespoons of the okra batter and carefully place in the hot oil. use the back of a spoon to flatten slightly in the pan. Cook for 2 to 3 minutes per side, or until browned and crispy. Drain on paper towels. Repeat with the remaining batter.
************************************
After wet and dry ingredients have been mixed together, add in okra and stir well. Depending on the texture of your cornmeal, you may need more buttermilk. The finer the cornmeal is ground, the more liquid it will absorb.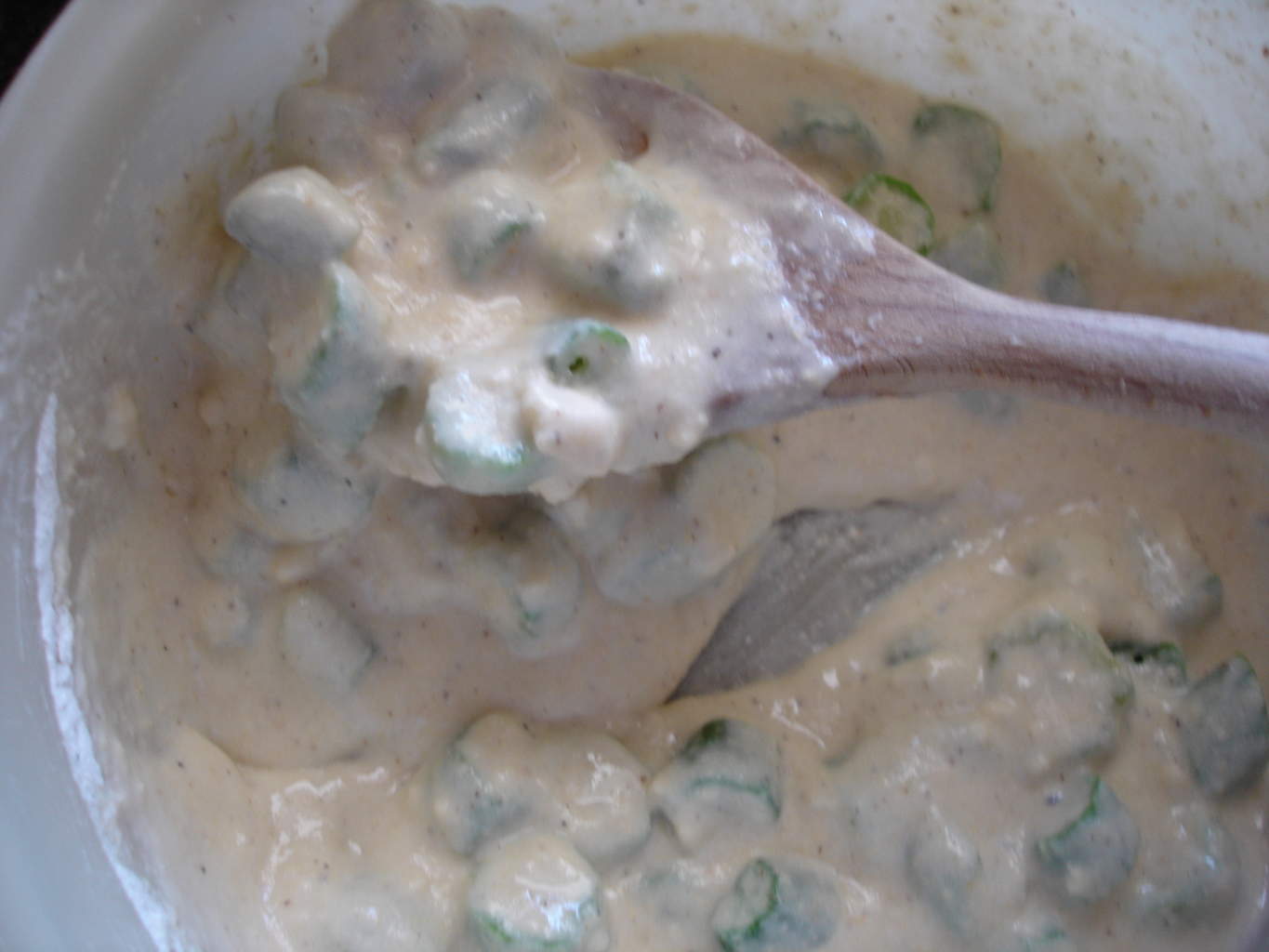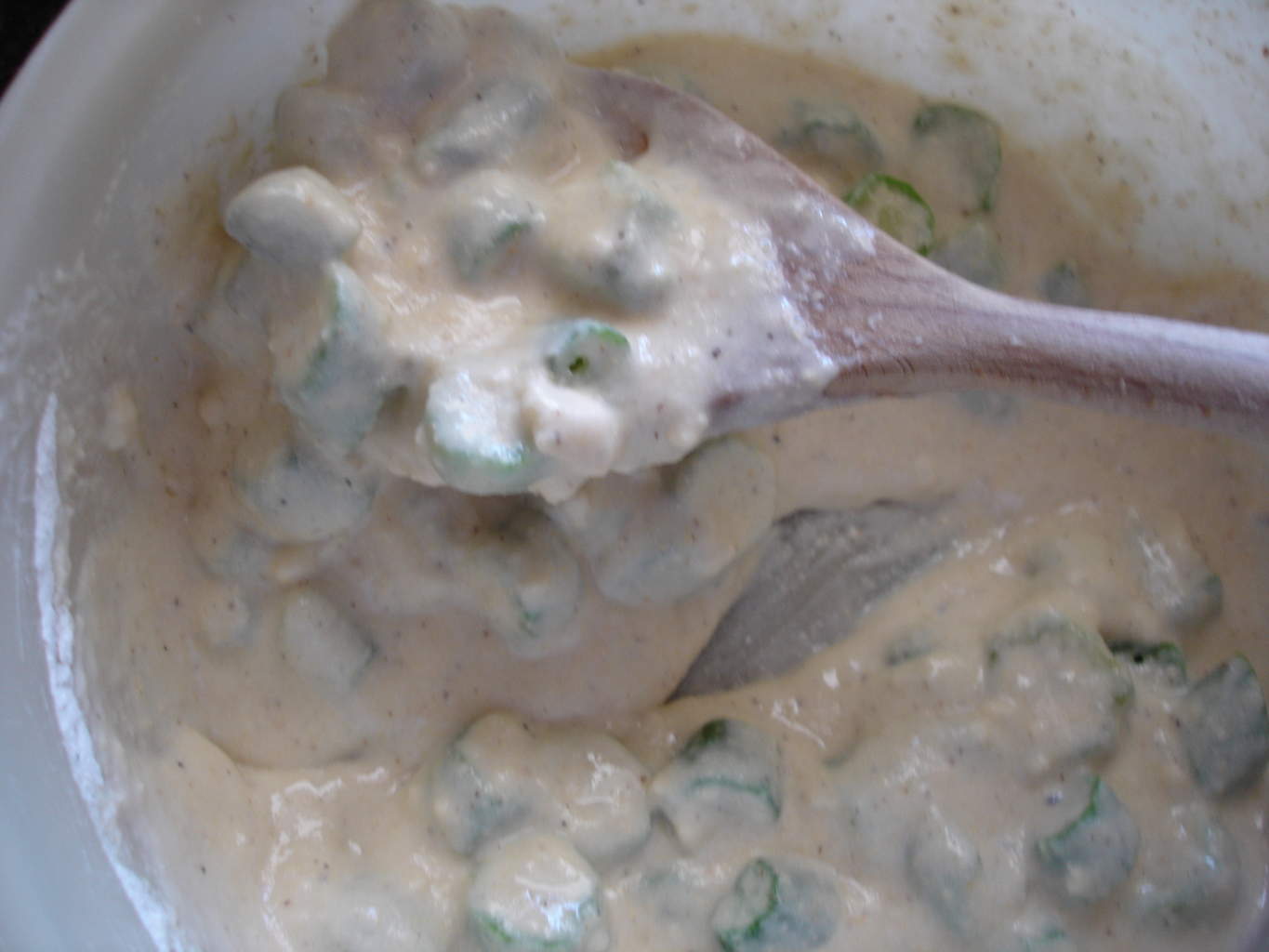 Drop by spoonfuls into a hot iron skillet with oil covering the bottom. Cook 2 to 3 minutes per side or until nice and brown. Remove when both sides are brown and drain on paper towels. Taste for salt and add it while the fritters are still hot.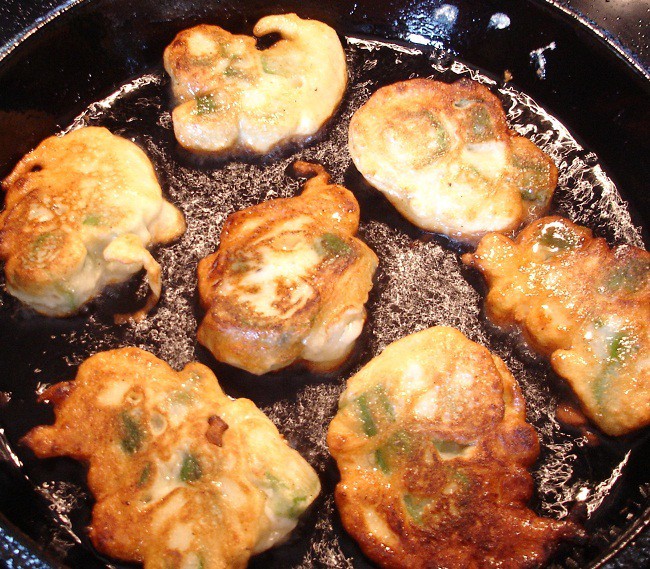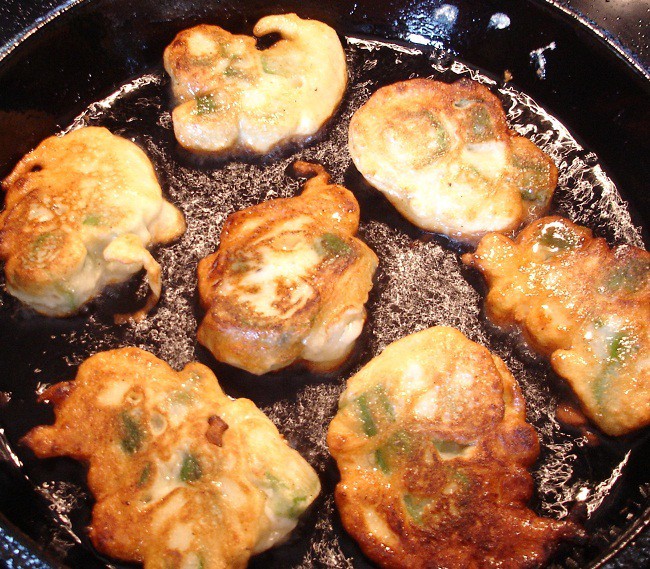 Here they are!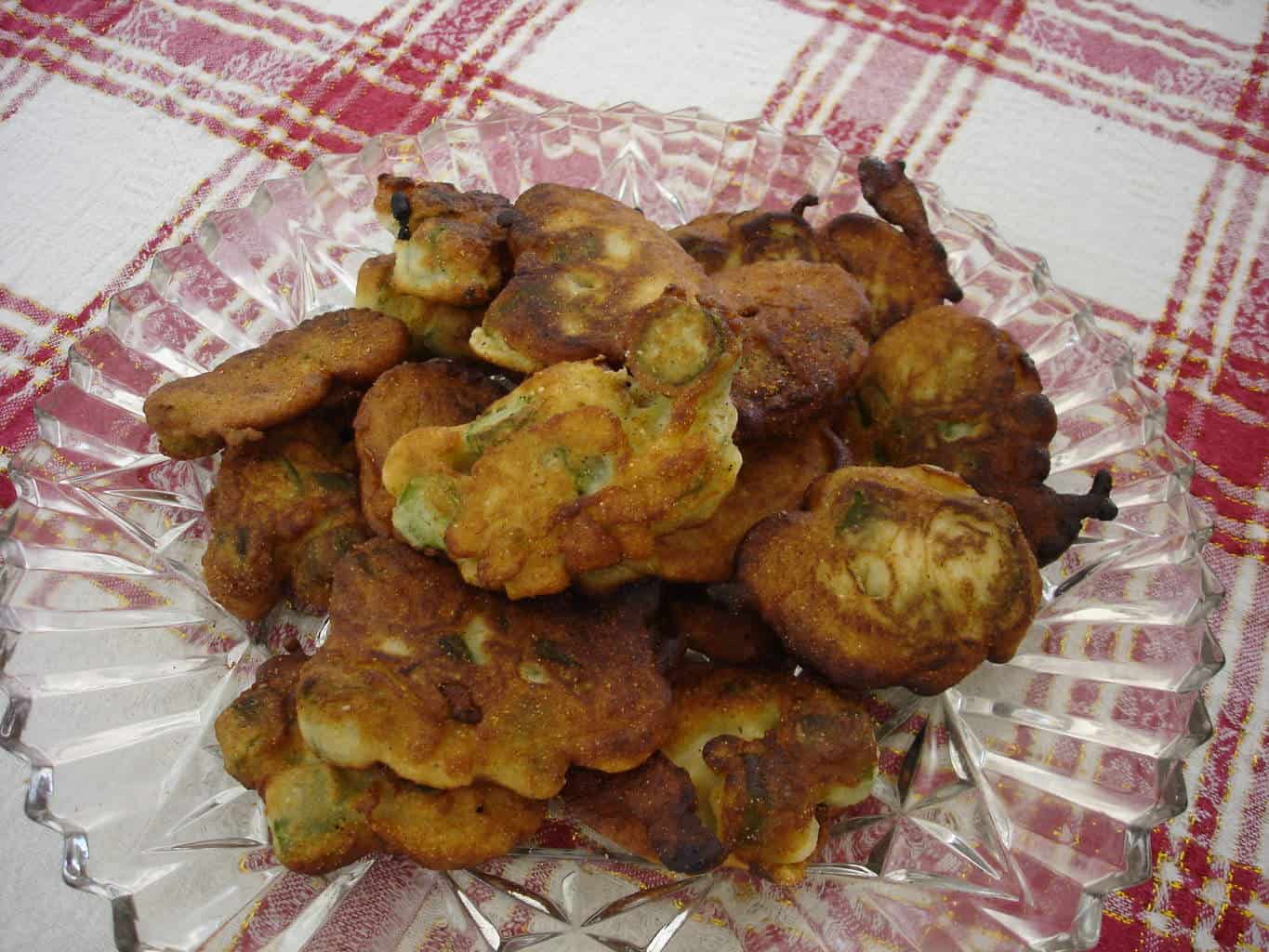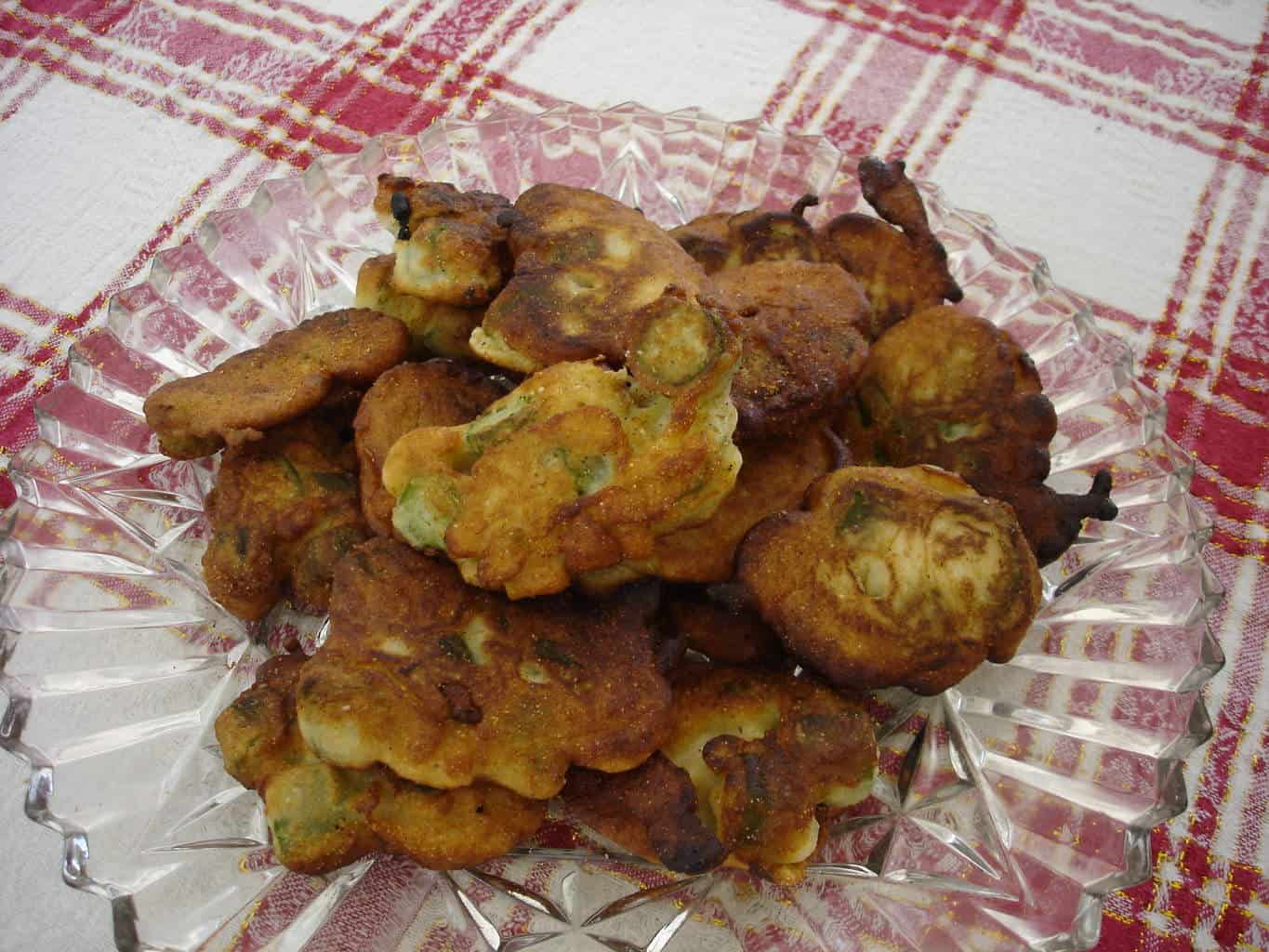 What a nice lunch.