I've been pondering buckwheat pancakes. My grandmother often made buckwheat pancakes for breakfast on school mornings during the year she lived with us. They've been on my mind lately. Thinking about a certain dish over and over is my signal that I need to make the dish. I consider it to be a sign. The banana in my fruit bowl too ripe to eat was further inspiration. It was begging to be a cooking ingredient.
I've previously made banana blueberry buckwheat pancakes with great success. The success was measured by the fact that my grandchildren loved them. When it comes to enjoying pancakes, who else matters but children and grandchildren? Adults enjoy pancakes, too, but the gleeful anticipation of a good pancake breakfast is better demonstrated by children. So I pondered good buckwheat pancakes possibly with the addition of the ripe banana but without blueberries. Long before a recipe makes it to written format, I mull it over and over in my head. Some recipe developers and food bloggers start by writing the recipe as soon as they get inspired. I have to think about it, imagine the taste of the final product and see the image in my mind's eye first. And I talk out-loud to myself during that process. That's how the circuitry in my brain works. I stayed in the mulling-over phase of this recipe a little too long. The banana became over ripe and had to be offered up for bird and squirrel food. I could have easily thrown the banana in the freezer to keep it but I was thinking I was going to make the pancakes TODAY. You know how that goes. There was another banana that was two days away from the same fate. I need to proceed to the next step quickly.
As the buckwheat pancake pondering continued, I received a package from our friends, Beth and Barry Mitchell. The package contained a recipe for Caramelized Carrots with Cumin and Wildflower Honey along with a jar of honey. But not just any honey.
BUCKWHEAT HONEY!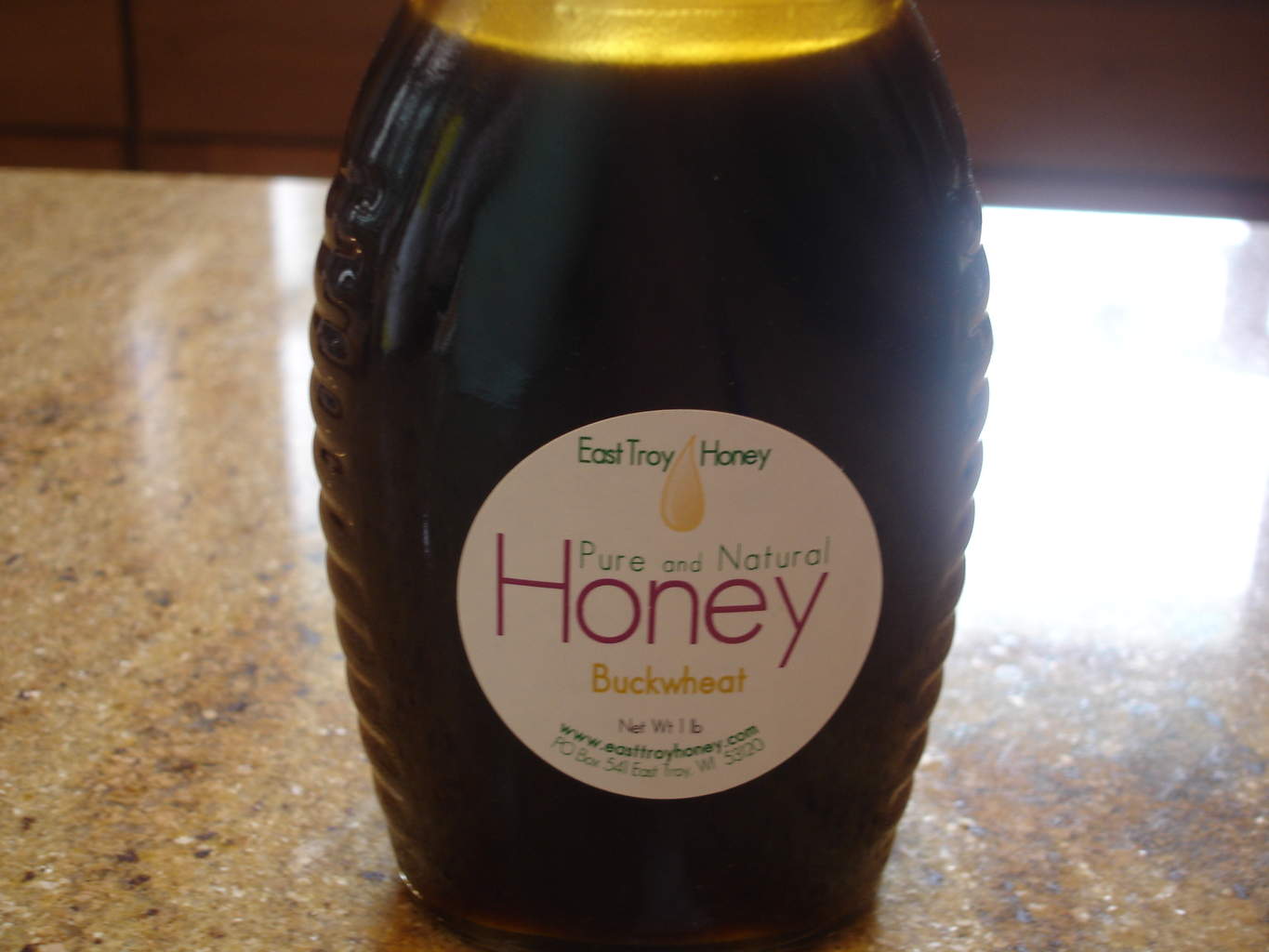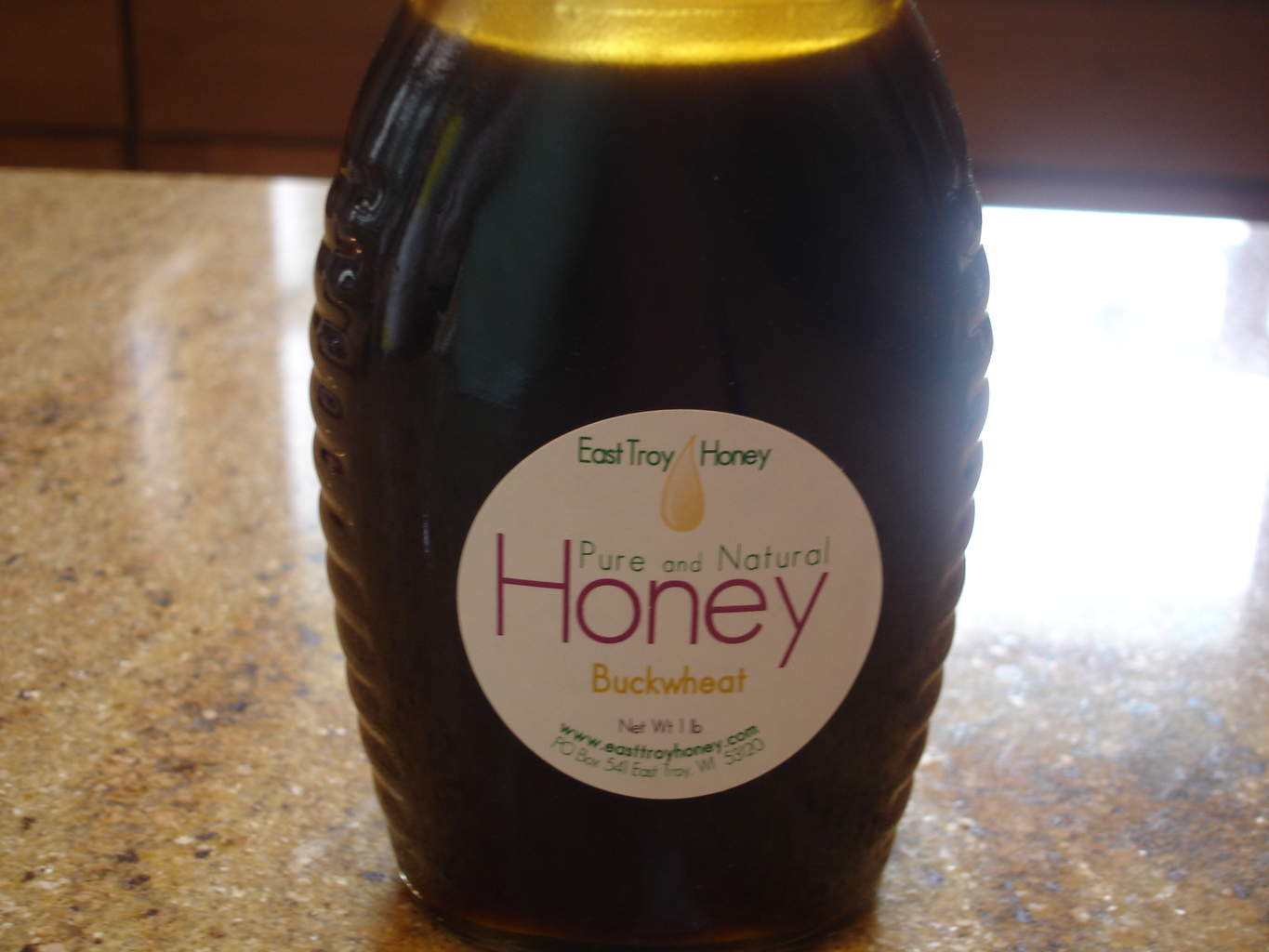 This was my first experience with Buckwheat Honey. It's very dark and thick. You have to spoon it because it's too thick to pour. You can smell the wheat fields as soon as you open the jar. It tastes nutty and somewhat chocolate-y.
Beth knows how I love honey but she had no idea of the buckwheat pancake pondering. I use honey in my batter. There's no honey more suited for buckwheat pancakes than buckwheat honey. That's a sign. The longer I write Syrup and Biscuits, the more those types of signs appear. I don't know if it's attributed to my stars lining up, or the positioning of the sun and the moon or something else. As a person of faith, I see it as a sign that Syrup and Biscuits was meant to be. My heart and soul tells me that's what I should believe. Amen.
Y'all come see us.
**********
Banana Buckwheat Pancakes with Blueberry Maple Butter
Bananas and blueberries are a perfect pairing. I had bananas but no blueberries. I did have Polaner All Fruit Blueberry Spread so I made a compound butter by adding two tablespoons of the blueberry spread and 1/2 teaspoon of maple flavoring to one stick of softened butter. Mix well. Spoon it on a piece of plastic wrap and cover completely. Form into a log shape and chill until ready to use. You can substitute any type of blueberry preserves or jam.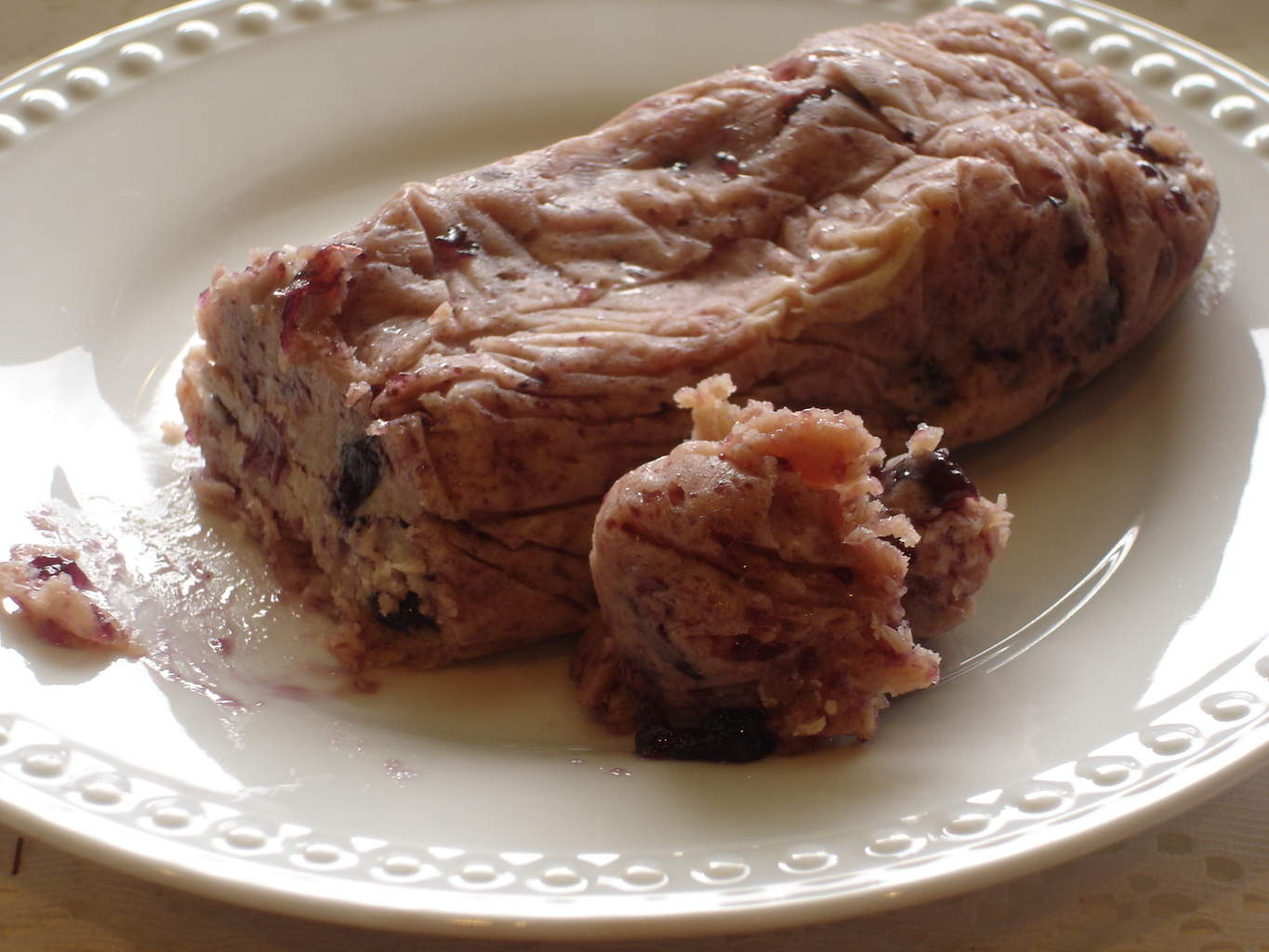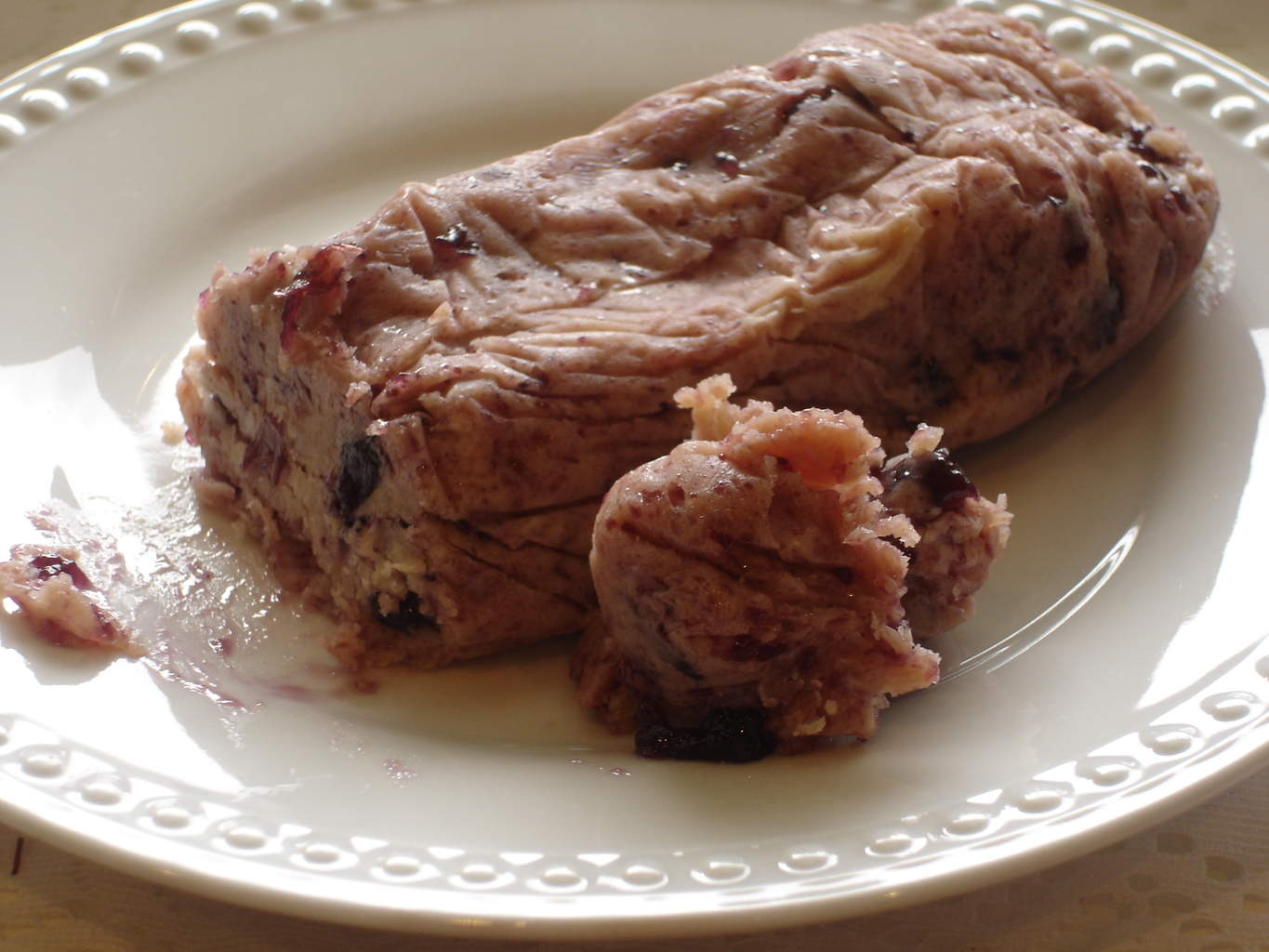 The pancakes had the perfect amount of banana flavor; just enough to soften the buckwheat taste but not overpower it.
For the pancakes:
1 ripe banana, mashed
1 large egg
3/4 buttermilk
2 teaspoons honey (I used buckwheat honey. You can substitute another honey variety. Maple syrup or sugar can be used, also.)
2 teaspoons cooking oil (I use canola)
2/3 cup buckwheat pancake mix (I use Arrowhead Mills)
Mash the banana in a large bowl.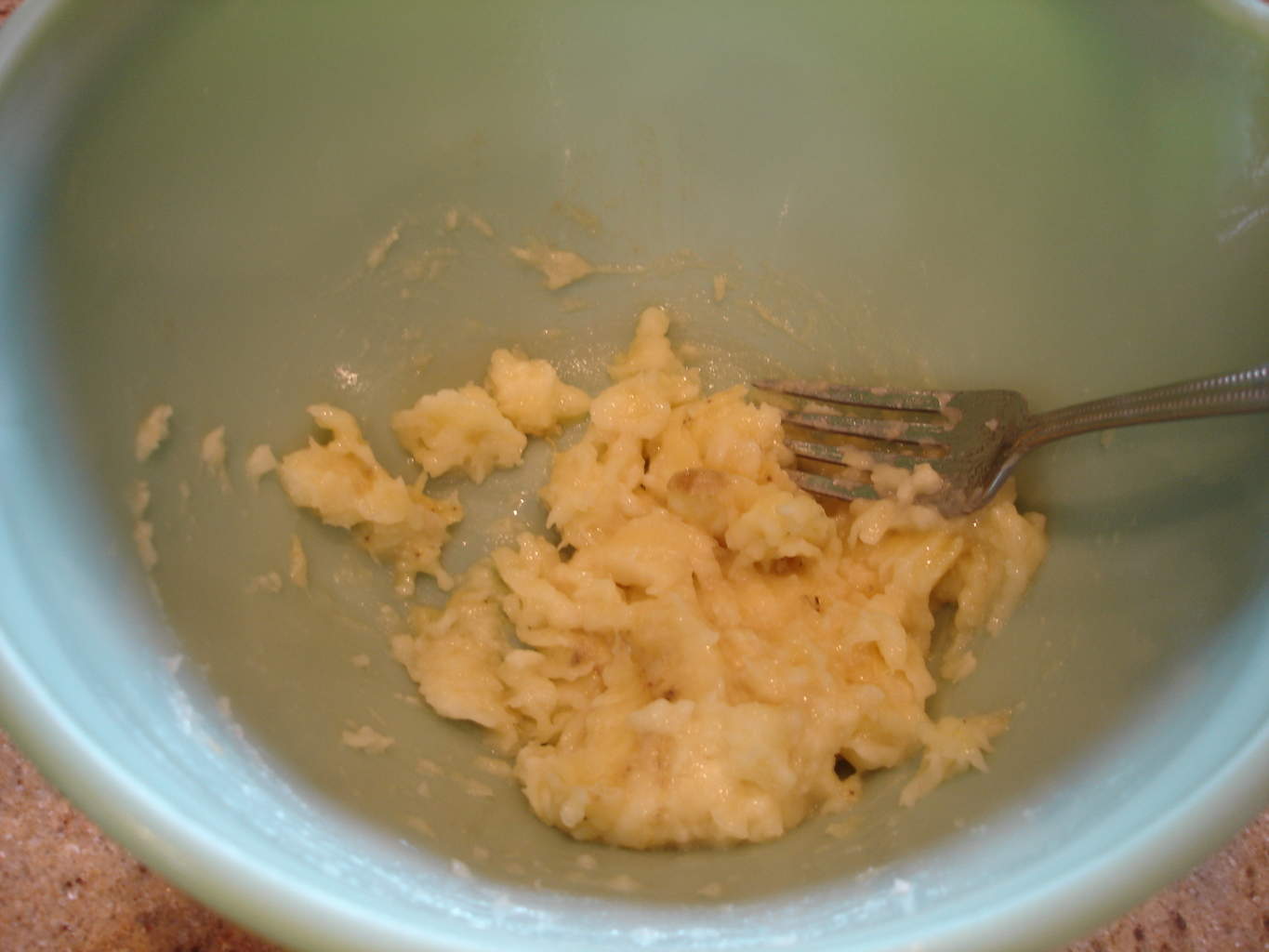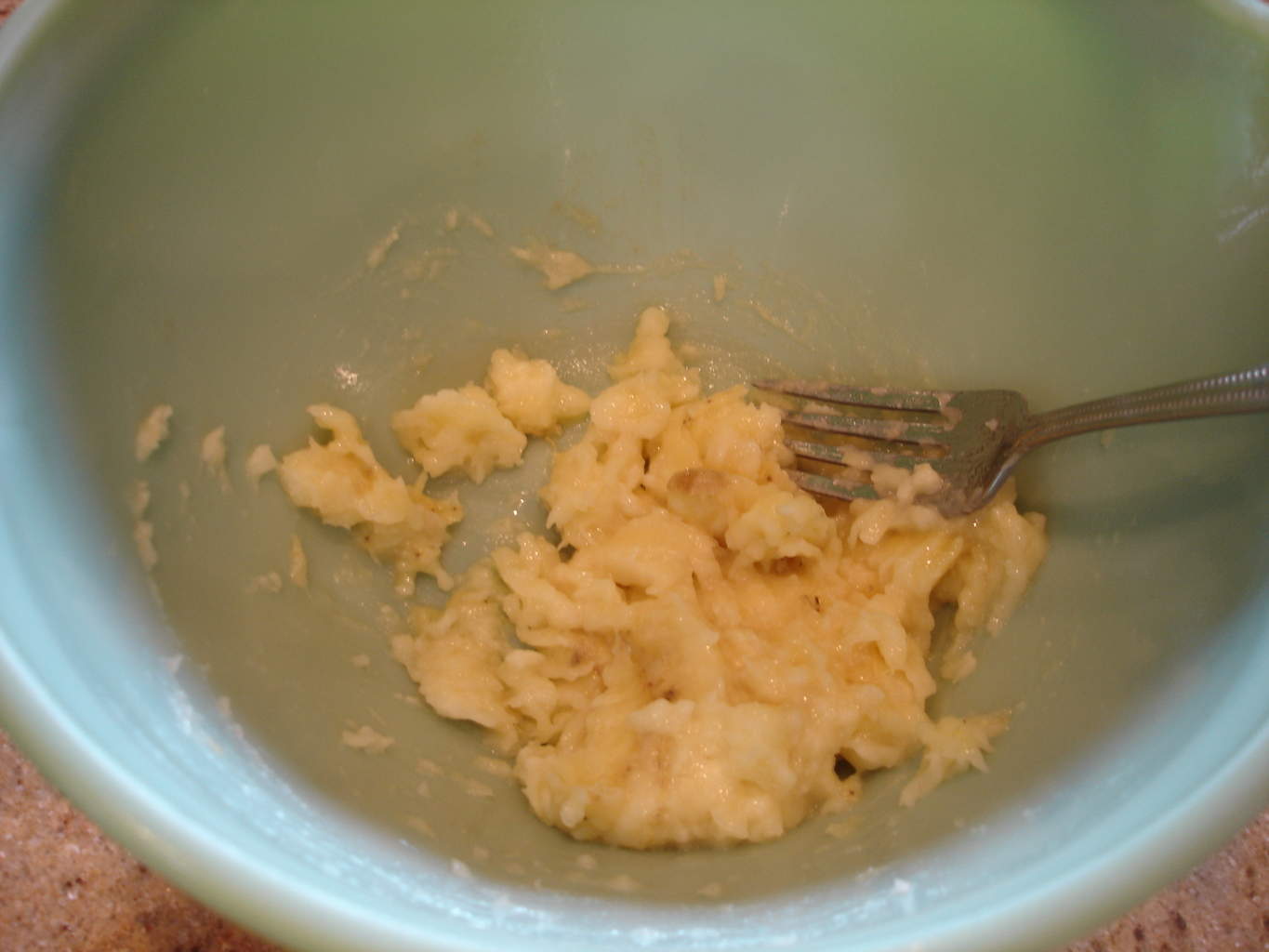 Mix together buttermilk, egg, honey and oil.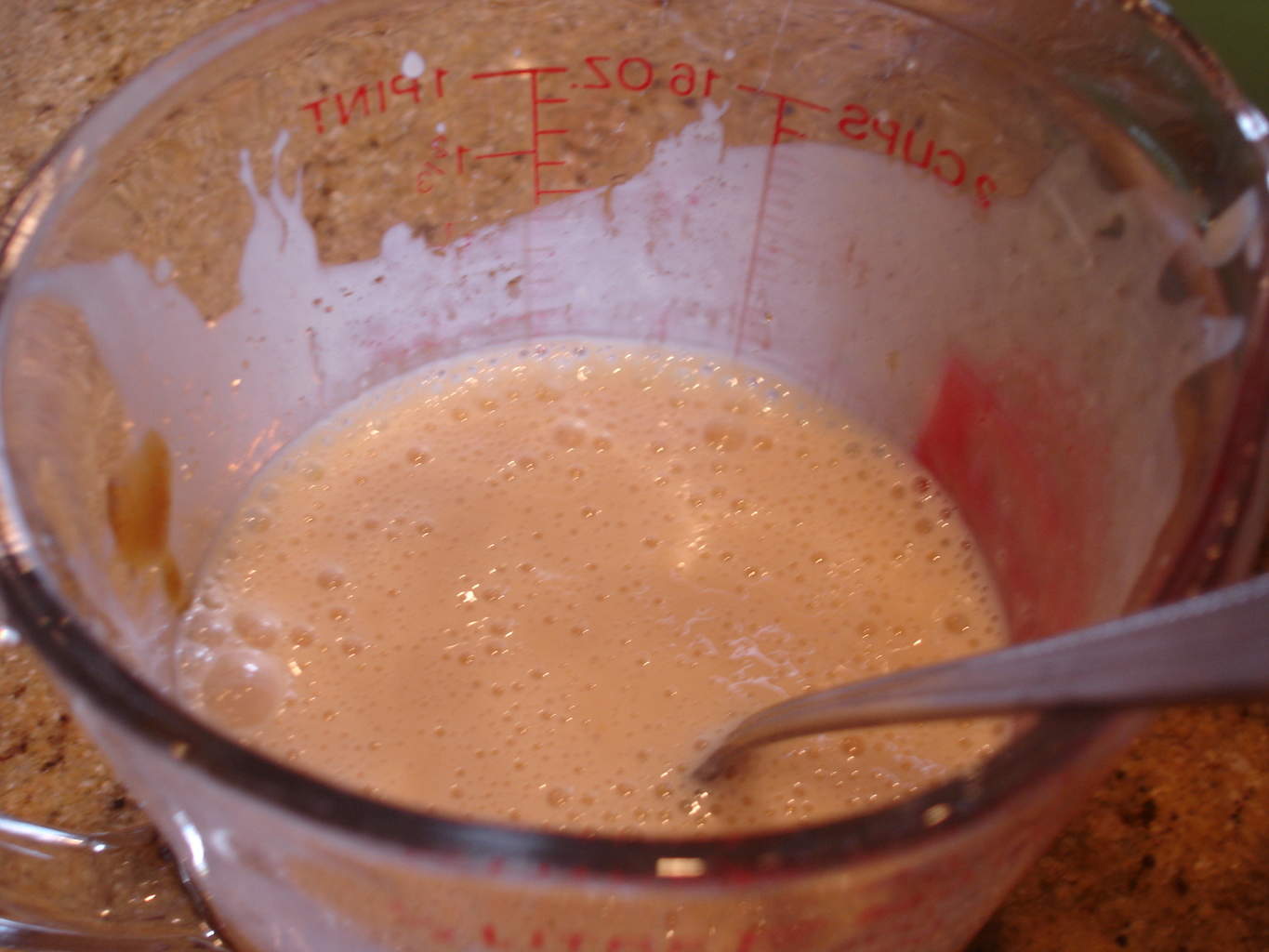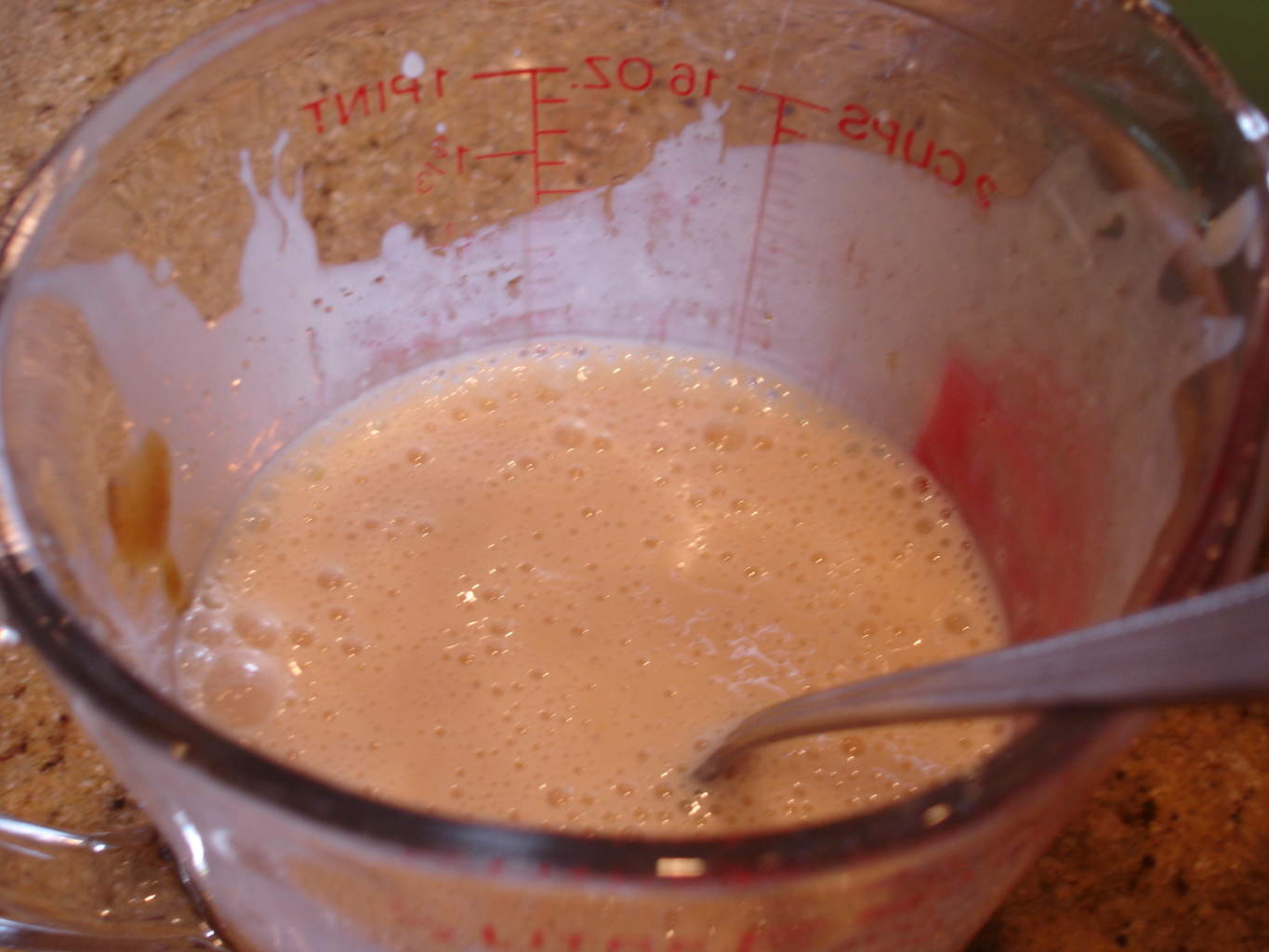 Add to banana and stir.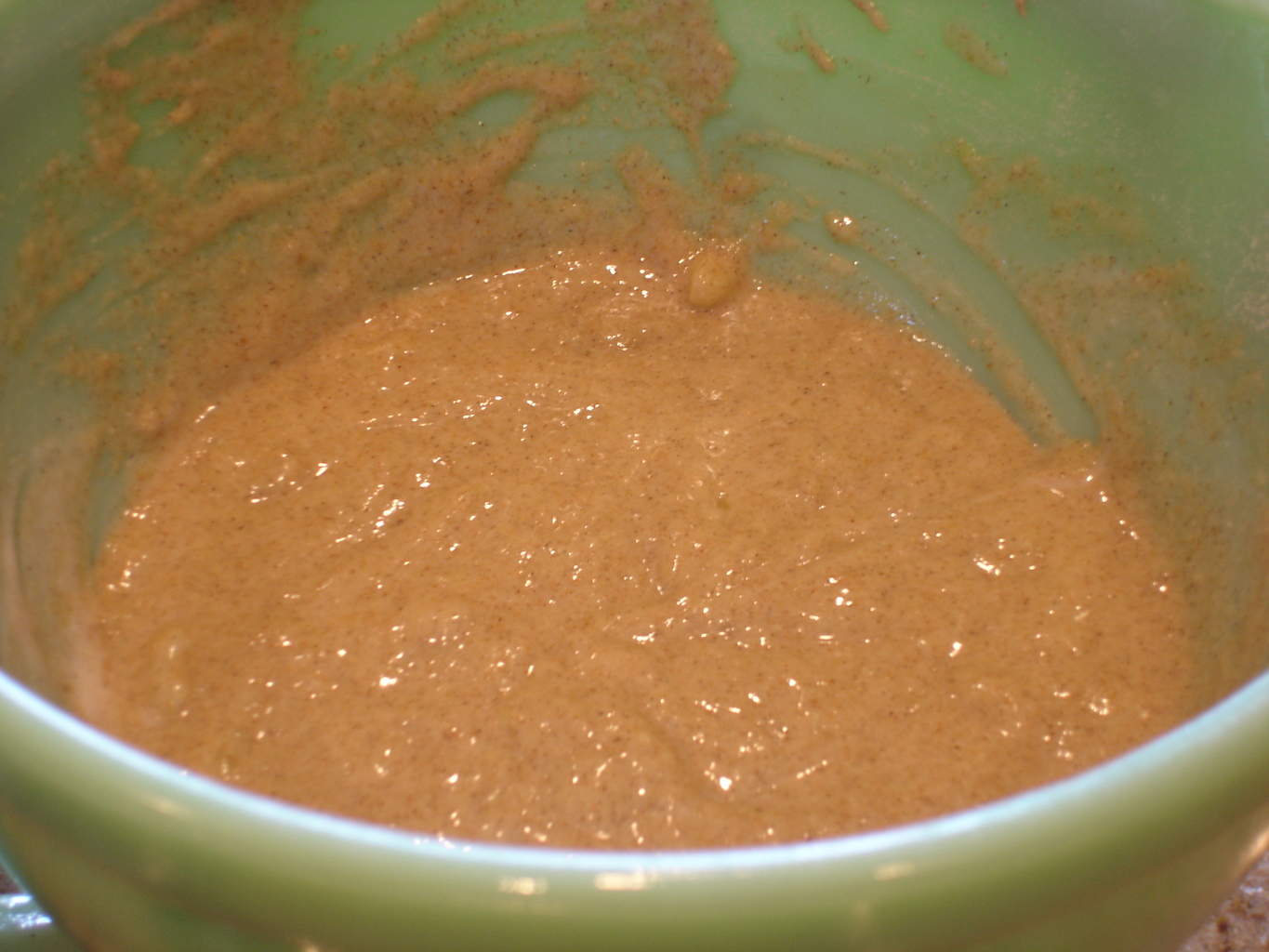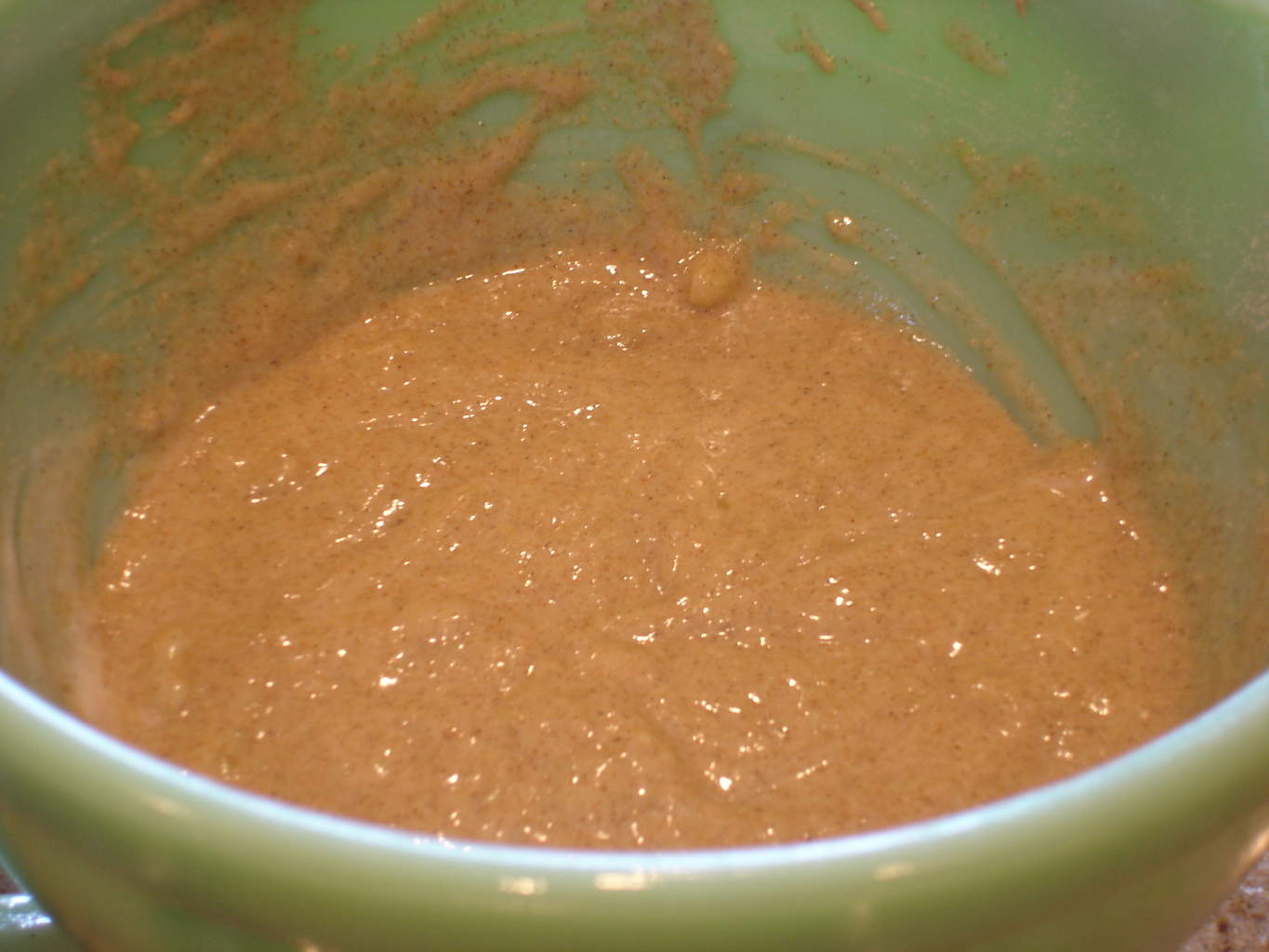 Stir in pancake mix until lumps disappear. Cook on a hot, well greased griddle.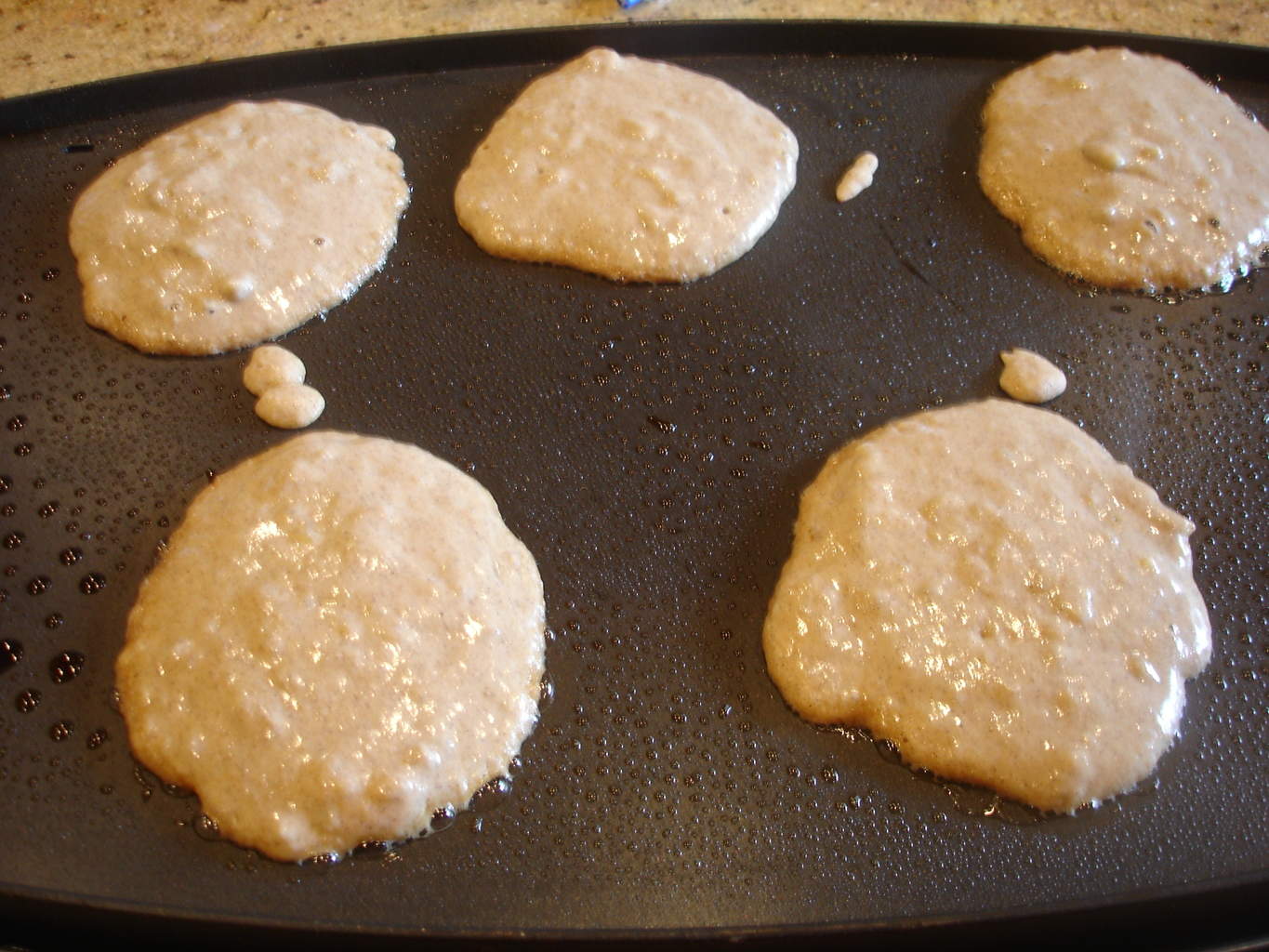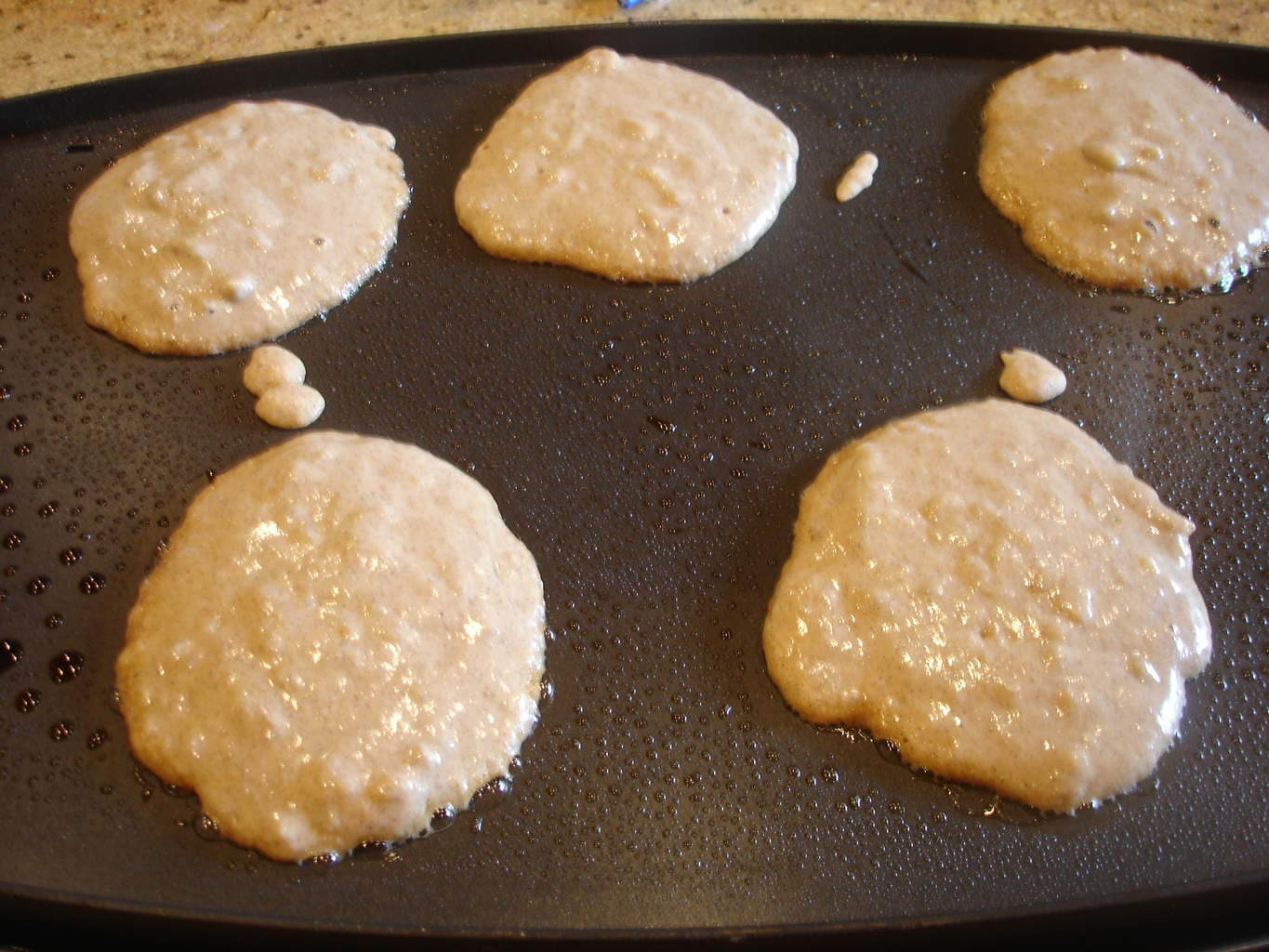 As soon as the edges start to dry and bubbles form on the top, flip the pancakes. After they're flipped, test for doneness by touching the pancake. It will spring back if it's done.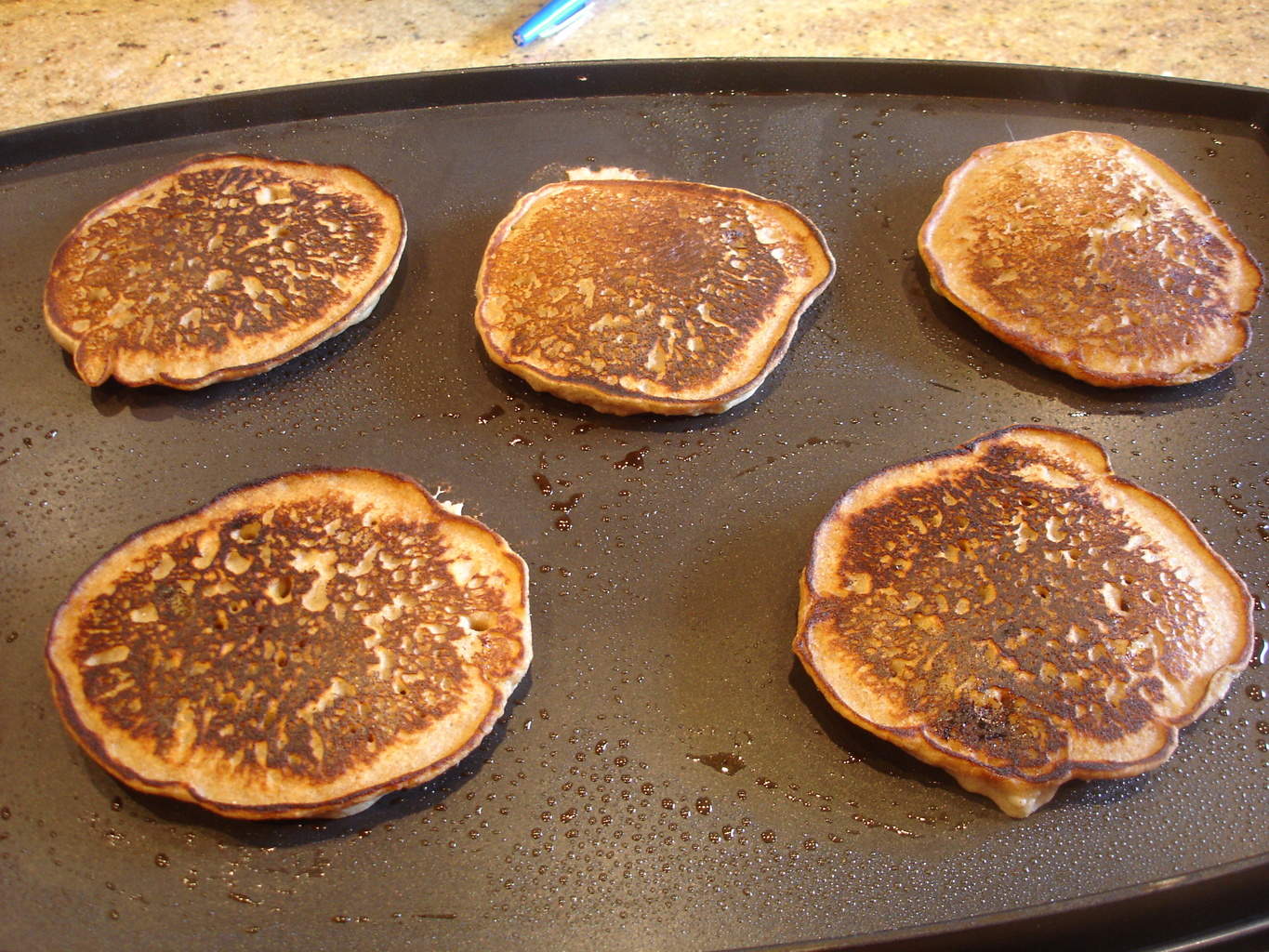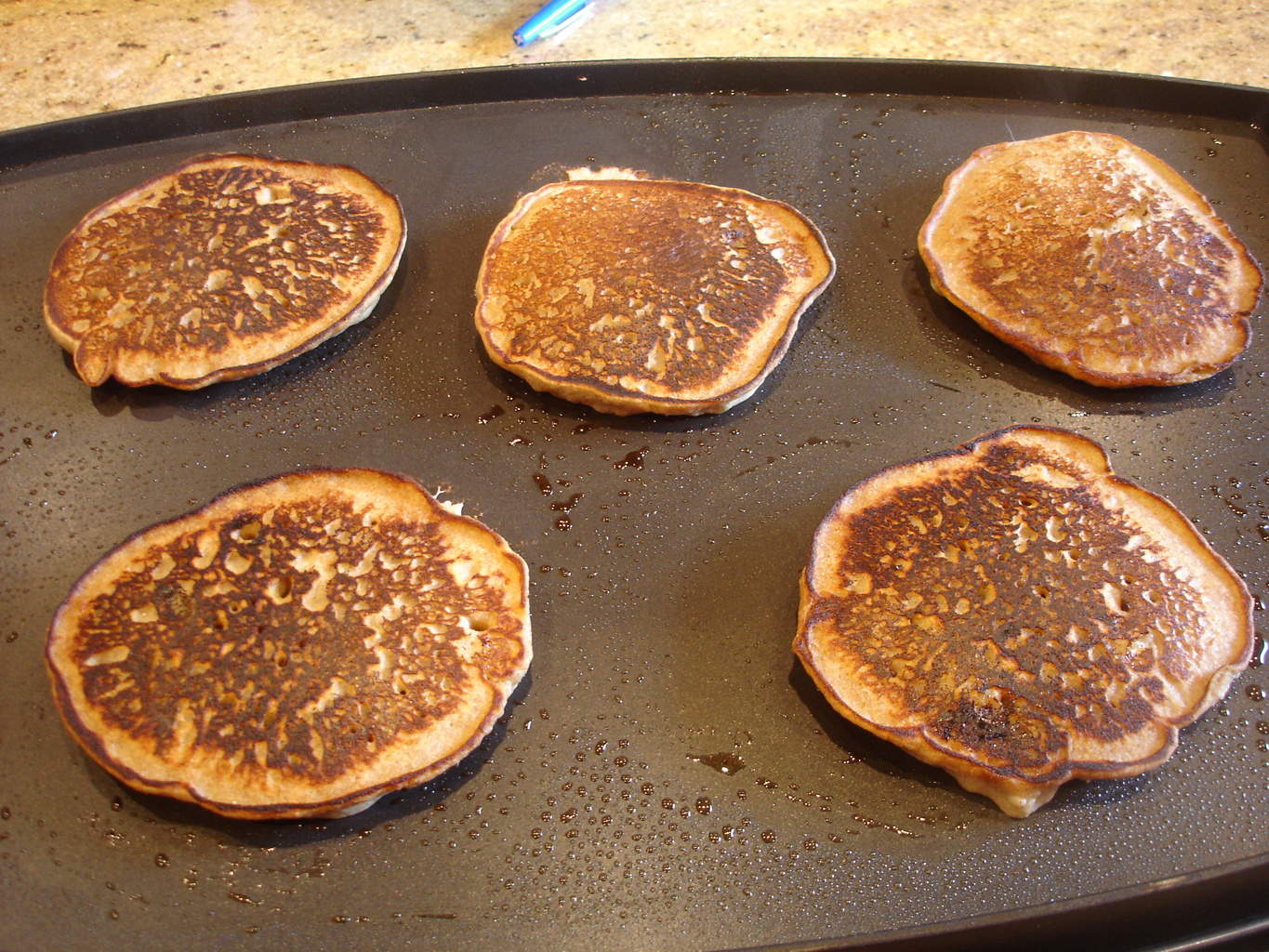 Stack 'em up while they're hot. Spread Blueberry Maple Butter all over them. Pass around your favorite syrup.