Celebrate Your Tradition is a promotion hosted by Tuttorosso. After learning the idea of the promotion is to celebrate and honor someone who inspired you in the kitchen, I wanted to participate. Opportunities to share the story of my grandmother and all she taught me about life, food and the connections between the two, are precious.
Virginia Phillips was born in rural Alabama in 1909 and grew up in dire poverty. Life was always hard for her and her family. The harshness of life continued after marrying my granddaddy who was an honest, hardworking man full of good character who tried to make a living as a sharecropper, but you just couldn't get ahead sharecropping. Forget about getting ahead, you couldn't stay even. My grandparents knew the pain of real hunger. Not the hunger pangs of missing lunch by an hour but the sort of hunger that gnaws at you until you just consider it a fact of life. Just when they thought it couldn't get harder, it did: the Great Depression hit.
By the time I was born, they had given up farming and Granddaddy worked in the cotton mill in Geneva, AL. Granny made extra money by sewing and babysitting. Life was still hard for them but they had enough food, sturdy housing and many friends among the close-knit community in the mill village and their loving church family.
Granny was happy in her kitchen. Whether she was cooking a meal or preserving food, she would frequently break out in song,
"This is my story, this is my song.

Praising my savior all the day long."
Contrary to the hard life she'd experienced, her faith was strong and her heart soft. She taught me to give and share as much as you can. The gift she shared frequently was her gift of cooking. The starvation she experienced in her young life made her appreciate food as a blessing. And it was a blessing she passed on to others. She took food to people so often, I thought it was her job. I asked her once why she cooked for so many people and her memorable response was,
"The good Lord intended for us to be neighborly, and I'm a-gonna do."
That's really all I ever needed to learn about life: share the gifts you have with others. The lessons that Granny taught me in her kitchen go way beyond making biscuits, frying chicken and brewing a fresh batch of sweet tea. I learned that regardless of your circumstances and unfortunate incidences that have come you way, you should always have a grateful heart, sing Hallelujah daily and put others before yourself. Who would have imagined all that wisdom could be found in a sink of dirty dishes?
Y'all come see us!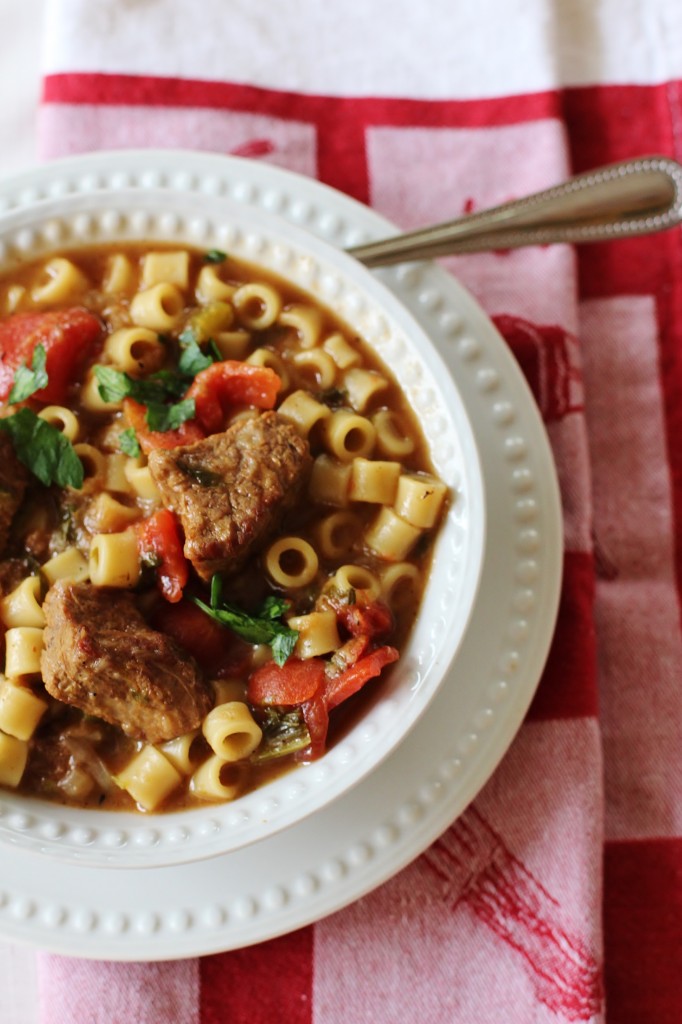 Granny's Beef Soup
yield: 6 to 8 servings
I don't know the history of this soup and when Granny learned to make it. She simply called it "Beef Soup". While I don't think Granny floured and browned her stew beef, I find that dredging it in seasoned flour and then browning before stewing it, adds flavor to the meat. The addition of celery is my touch. I don't remember celery finding a home in her kitchen very often. She only used macaroni in this soup. I'm using Ditalini because it's in my pantry.
1 1/2 pounds stew beef, in 2 inch cubes
1/2 cup all-purpose flour
1 tablespoon homemade taco seasoning
cooking oil
2 medium onions, thinly sliced
2 stalks celery including leaves, thinly sliced
2 quarts water
1 (28 ounce) can Tuttorosso diced tomatoes
salt and pepper, if desired
2 cups dried pasta of your choice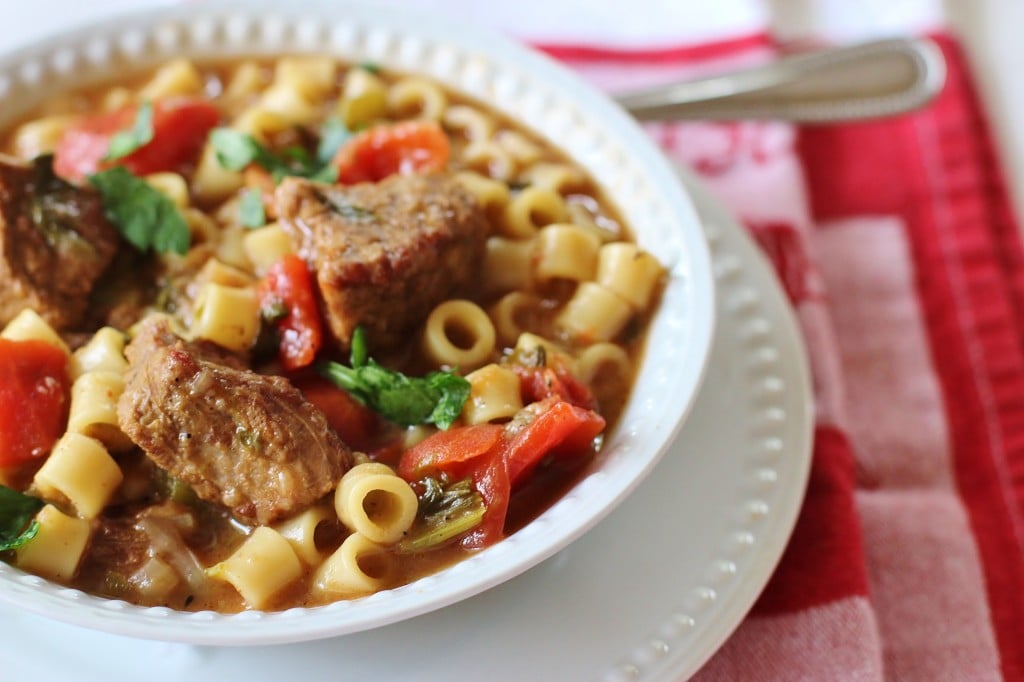 Heat one inch of cooking oil in a cast iron Dutch oven over medium high heat.
Cut meat into 2 inch cubes. Add flour and seasoning to a gallon storage bag and shake to stir. Throw stew meat in the bag and shake to coat well.
Add seasoned beef cubes to hot oil and brown on all sides. Remove from Dutch oven and turn heat down to medium.
Add onions and celery to Dutch oven. Cook for 10 to 15 minutes or until onions have started to brown.
Put meat back in Dutch oven and add water. Cover and simmer for 1 1/2 to 2 hours or until meat is fork tender.
Add tomatoes and simmer for 20 minutes.
Taste for seasoning and adjust.
Stir in pasta and cook for 10 minutes or until pasta is tender. The amount of cook time for the pasta will depend on the type of pasta used
You might also enjoy:
Homemade Tomato Soup and Herb Cheese Biscuit Croutons
Lemon Pound Cake with Lemon Glaze
Tuttotosso supplied me with product that was used to create this recipe. Also, this post contains affiliate links. If you purchase products through the links, I might make a penny or two. All thoughts and ramblings in this post originate in my head.