The legend of the hushpuppy is a wonderful part  of Southern foodways.  So the story goes, bits of cornbread were fried up by hunters to feed their dogs so they would "hush".  The cornmeal used  to make the hushpuppies was probably on hand for use as a batter to cook the hunter's  food.
Cornmeal was a kitchen staple for Southerners and the connection between hunting and the South has long been established. Long before Piggly Wiggly came to town, folks had to head for the woods to do their grocery shopping. Both of these points add credence to the popular story of the origin of the hushpuppy.
In parts of the South, it's flat out against the law to have a fish fry without hushpuppies. Flat out. I'm serving mine with roasted chicken thighs tonight.  Fish and hushpuppies are a marriage made in heaven. However, hushpuppies know how to get along  just fine with chicken.  They're Southern and got the same lesson on manners that we all did.
Y'all come see us!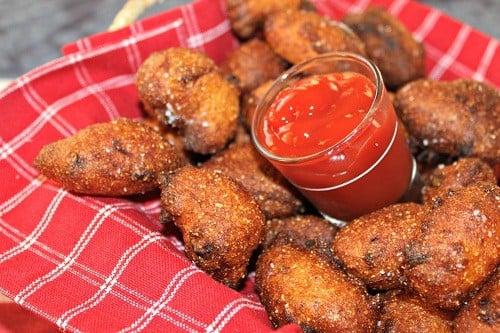 Hushpuppies
yield: about 30
The key to making hushpuppies come out with a crispy outside and soft, but done inside, is to have plenty of hot oil.  The hushpuppies need to float or they will not cook evenly.  Also, only drop a teaspoon full of batter per hushpuppy. The batter will poof up and expand when it hits the hot oil.   A small size is key to getting the proper amount of doneness before the little nugget gets burned on the outside.  With a small diameter and hot, hot  grease, hushpuppies cook fast and don't soak up lots of oil. When cooked right, they are surprisingly light for a food that's been deep-fried.
1 cup cornmeal (not cornbread mix)
1/2 cup all-purpose flour
1/2 teaspoon kosher salt
1/2 teaspoon baking powder
1 1/2 tablespoons sugar
1 cup buttermilk
1 egg
1/4 cup green onions, finely diced
Mix first 5 ingredients.  In a separate bowl, add  buttermilk and egg.  Whisk until egg is well beaten.  Add green onion and stir.
Add buttermilk mixture to dry ingredients and stir until well blended.
Pour about three inches of oil into a deep pan.  Heat to medium high.
Drop teaspoons of batter into the hot oil in batches.  Don't overcrowd the pan.  Do not walk away from the pan.  These puppies fry up quick.
As soon as they start to brown, which will be a minute or less, turn them over. Keep turning to ensure they brown evenly. Fry until deep golden brown.
Take a batch out and test for doneness. If they are getting too brown on the outside before the insides cook, the heat is too high.  Add a little oil to the pan to cool it down.
Drain on paper towel. Sprinkle on salt while still hot.
Serve with ketchup.
You might also enjoy:
Pan-fried Buttermilk Breaded Catfish