Following the teachings of my grandmother to "make good with what you've got", the end product of my kitchen adventures frequently depends on what I happen to have on hand. Some refer to this as refrigerator/freezer/panty raiding.
I say,
"Let's see what we can drag out of the refrigerator/freezer/pantry."
I don't actually "drag", as in pulling said object across a hard surface. I lift and carry, the same as you.
Today, I had to drag out green onions and peppers that needed using. I spotted eggs and bacon that came along on the same drag.
Frittata pops into my mind. One, I could use all the things I procured on the current drag. Two, frittatas are a lot easier than omelets and that appeals to my somewhat lazy side today. Three, I can use a cast iron skillet. Four, it's getting to be mid-morning and I haven't eaten yet. Number four was the main motivator; I shall not lie.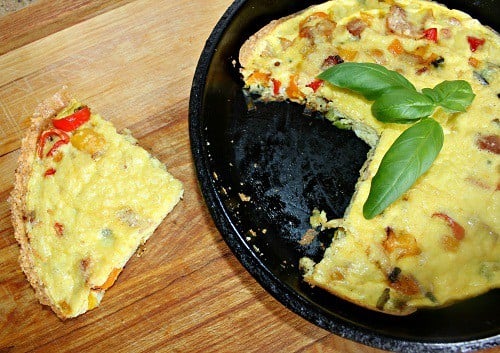 That's the long and the short of the creation of a Bacon Onion Pepper Frittata . Nothing thrilling, exciting or heart-warming. Just something good to eat – without going to the store.
Y'all come see us!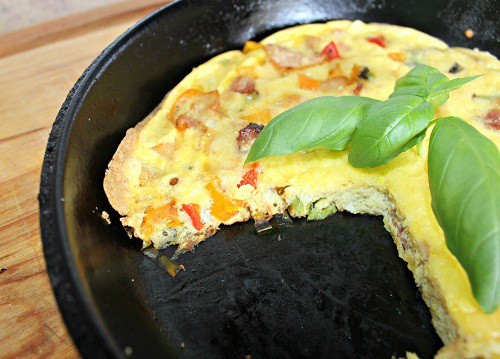 Bacon Onion Pepper Fritatta
yield: between 1 and 6 servings. It depends.
Use any combination of vegetables that you have or hand. Or, use whatever vegetables crank your tractor. I see frittatas as a vehicle for using leftover or fresh produce before it grows alien beings. Bake the frittata just until the center is set. Over-baking will result in a dry frittata that will hurt your feelings.
My cast iron skillet is very well seasoned. Therefore, I don't have food stick. Ever. If you're not as fortunate, add some cooking oil to the pan before adding the vegetables.
2 strips bacon, diced
1/2 cup green onions, diced
1/2 cup sweet peppers, diced (I used a combination of yellow, orange and red)
1/8 teaspoon dried red pepper flakes (optional)
1/4 cup grated Parmesan cheese
salt and pepper to taste
6 eggs, well beaten
Throw diced bacon into a hot 9 inch cast iron skillet. Cook until the bacon renders some of its fat and the edges start to crisp. Add onions, sweet peppers and pepper flakes right in there with the bacon. Cook for an additional 5 minutes or until the vegetables soften. Season lightly with salt and pepper. Don't go too heavy with the seasoning because Parmesan cheese is very salty.
Pour well beaten eggs in the pan. Sprinkle with cheese.
Bake in a 350 degree, preheated oven for 10 minutes or until center is set. Don't over-bake.