I keep my pantry stocked with quality canned tomato products. If fact, tomatoes are one of the few canned vegetables I use on a regular basis. Sam needs to watch his sodium intake so that makes frozen or fresh a better choice for his health. When I cook with tomatoes as an ingredient, I will use a large amount of liquid which greatly reduces the amount of sodium per serving. There are very few soups or stews that I cook without some type of tomato product.
We certainly eat our share of fresh tomatoes. As long as we can find good ones, either from our garden, grocery store or produce stand, sliced tomatoes are a side that accompanies most of our meals. To say we are a tomato lovin' bunch of people is an understatement.
A kitchen that's whipping up homemade tomato soup and fresh biscuits, is just the place I want to be. Each dish is comfort food supreme on its own. Serve the two together and you've got a comfort food masterpiece. Try to remain humble and don't let the applause go to your head.
Y'all come see us!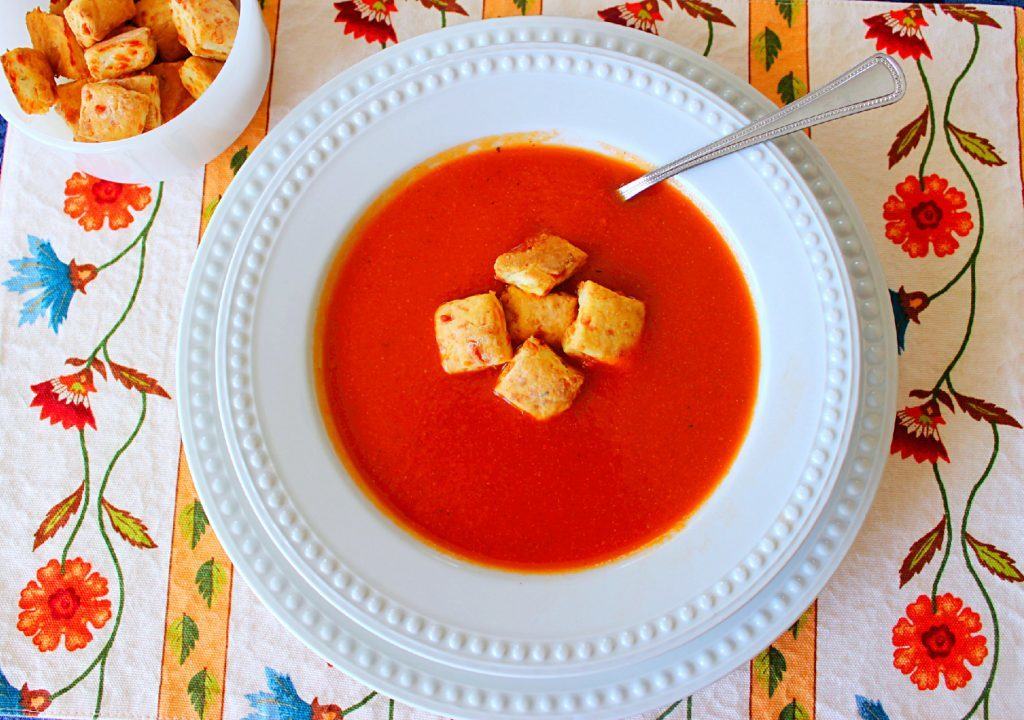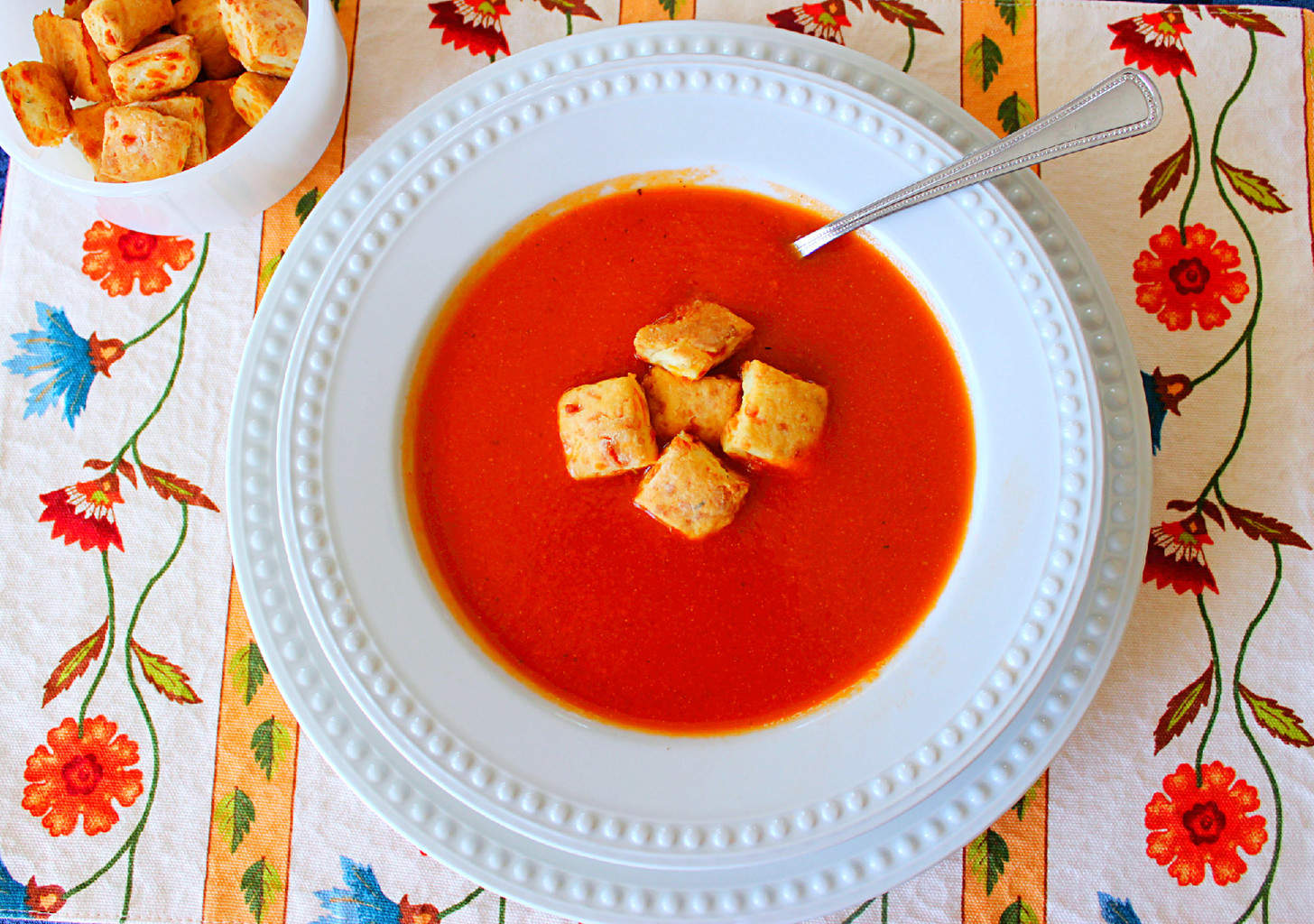 Tomato Soup
yield: approximately 1 1/2 quarts
I use sweet onions which are much milder than other types of onions. If another variety is substituted, the amount may need to be adjusted down. I didn't add additional salt because the amount of sodium in the canned tomato products was sufficient for our taste. Plus, the cheese biscuit croutons will add saltiness. If you don't have an immersion blender, soup may be pureed using a food processor or blender. Take care in transferring the hot liquid.
2 medium sweet onions, diced
1 medium carrot, peeled and diced
2 tablespoons cooking oil
2 (14.5 ounce) cans diced tomatoes, undrained
1 (15 ounce) can tomato sauce
1/2 teaspoon garlic powder
1/2 teaspoon dried thyme
4 cups chicken stock
1 tablespoon honey
1/4 teaspoon ground black pepper
2 tablespoons half and half
Cook onions and carrot in cooking oil , over medium high heat, until onions are translucent.
Add tomatoes, tomato sauce, garlic powder, thyme , chicken stock and honey. Stir well, bring up to boil. Reduce heat, cover and cook over medium heat for 30 minutes.
Remove from heat and puree using an immersion blender. Add half and half. Taste for seasoning. Serve with Herb Cheese Biscuit Croutons.
Herb Cheese Biscuit Croutons
yield: approx. 80 one inch croutons
Ordinarily, I brush the tops of biscuits with cooking oil. Since the size of these biscuit croutons is small, it's much easier to spray the tops of these croutons with cooking spray.
1 cup self-rising flour (I use White Lily)
2 tablespoons very cold butter, diced
1 cup sharp cheddar cheese, shredded
1/4 teaspoon dried thyme
1/2 cup buttermilk
Add flour to mixing bowl. Cut in, or mix in by hand, cold butter until flour resembles course meal.
Stir in grated cheese and thyme.
Add buttermilk and mix until flour is well incorporated.
Turn out onto floured surface. Sprinkle with flour and gently knead adding more flour as necessary, until the dough is no longer sticky.
Roll out dough to 1/4 inches thick.
Cut into one inch squares. Place apart on prepared baking sheet. Spray tops with non-stick cooking spray.
Bake in a preheated 425 degree oven for 12 to 15 minutes until tops brown.
You might also enjoy:
Roasted Red Pepper and Tomato Soup with Crab
This post contains affiliate links. If you buy a product by clicking on the links, I might make a few pennies. Very few.