When a food blogger descends upon a state fair, there's no telling what the end result will be. There's a multitude of food blogging opportunities. There's even blogging opportunities to blog about how you decided what you wanted to blog about at the fair. I've been thinking about the the Florida State Fair all week. Today was the only day the Rare Fruit Council was going to have their exhibit at the there. After all, how many chances do you get during the average shelf life of a food blogger to blog about rare fruit? Rarely. So, Sam and I set out, one of us more willingly than the other, to visit the fair and spend lots of time at the Rare Fruit Council's exhibit so I can write an interesting and rare blog about rare fruit.
I stated getting nervous as soon as we got within 1/4 of a mile of ONE of the fair entrances. The nervousness had nothing to do with writing the blog and everything to do with my husband's lack of patience and his aversion to things like crowds…which you usually have at state fairs. The traffic was backed up. It didn't move for a long time. We sat there, and sat there. Finally, we made it to the parking lot. Our parking spot was about 1/2 mile from the entrance to the fair. And there were crowds of people. I silently said a prayer that the gorgeous blue sky would soften his mood and make him forget that he really doesn't like crowds. He seemed to be in a pretty good mood as we walked quickly to the gate. Once inside, guess what we saw?
People, lots of them.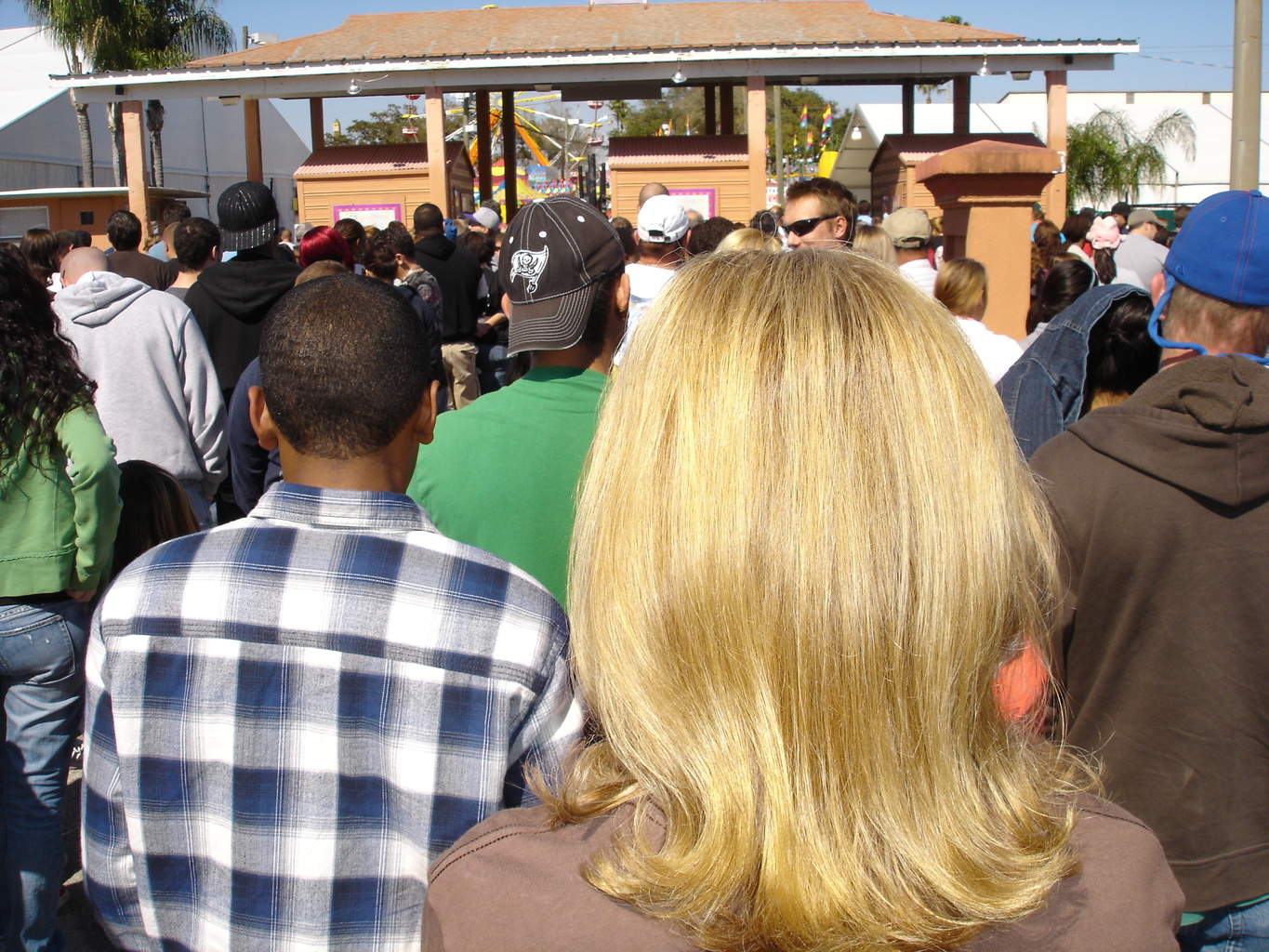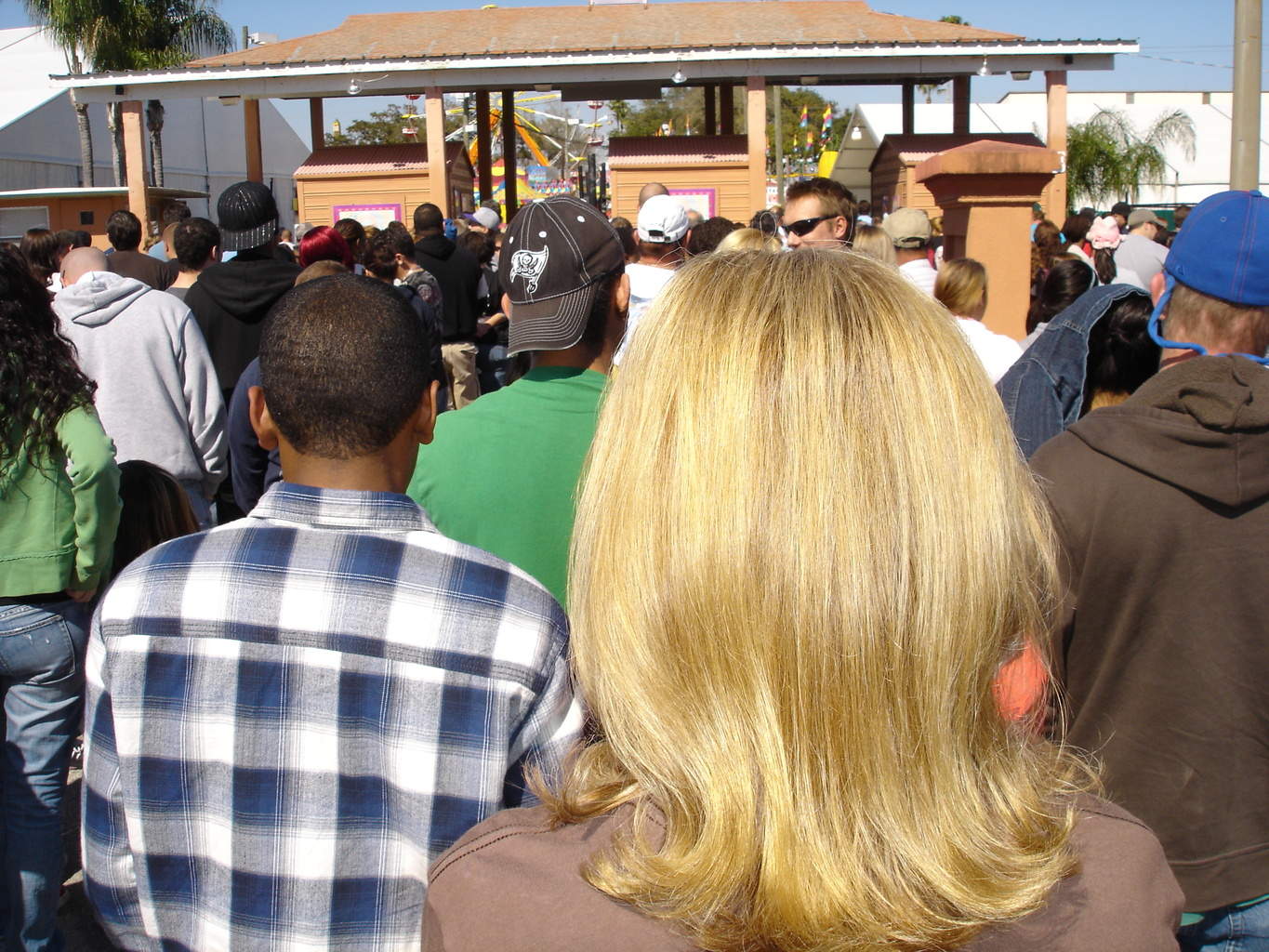 We had to wait in line just to buy our tickets. They gave us pudding samples. Pudding is good.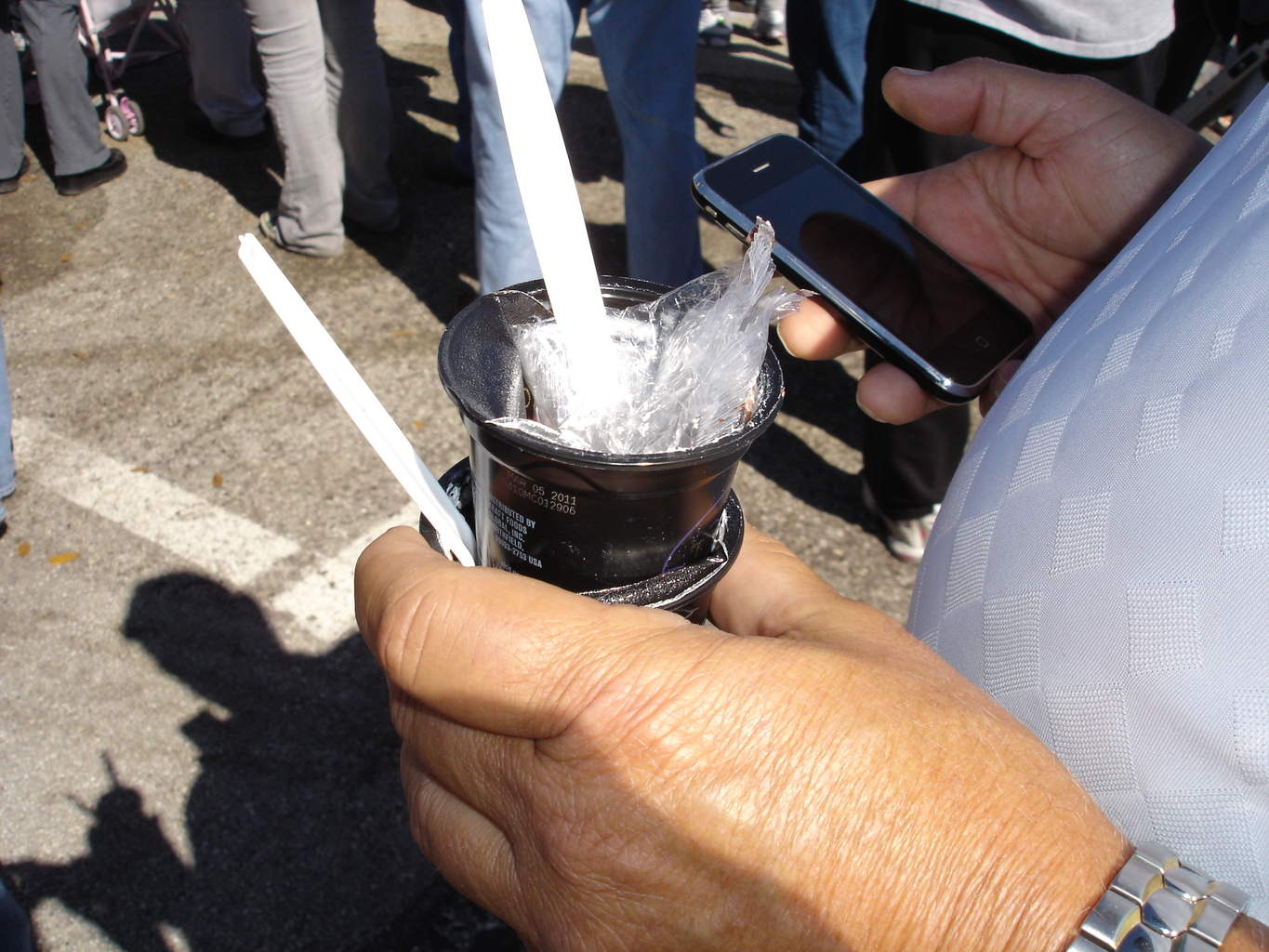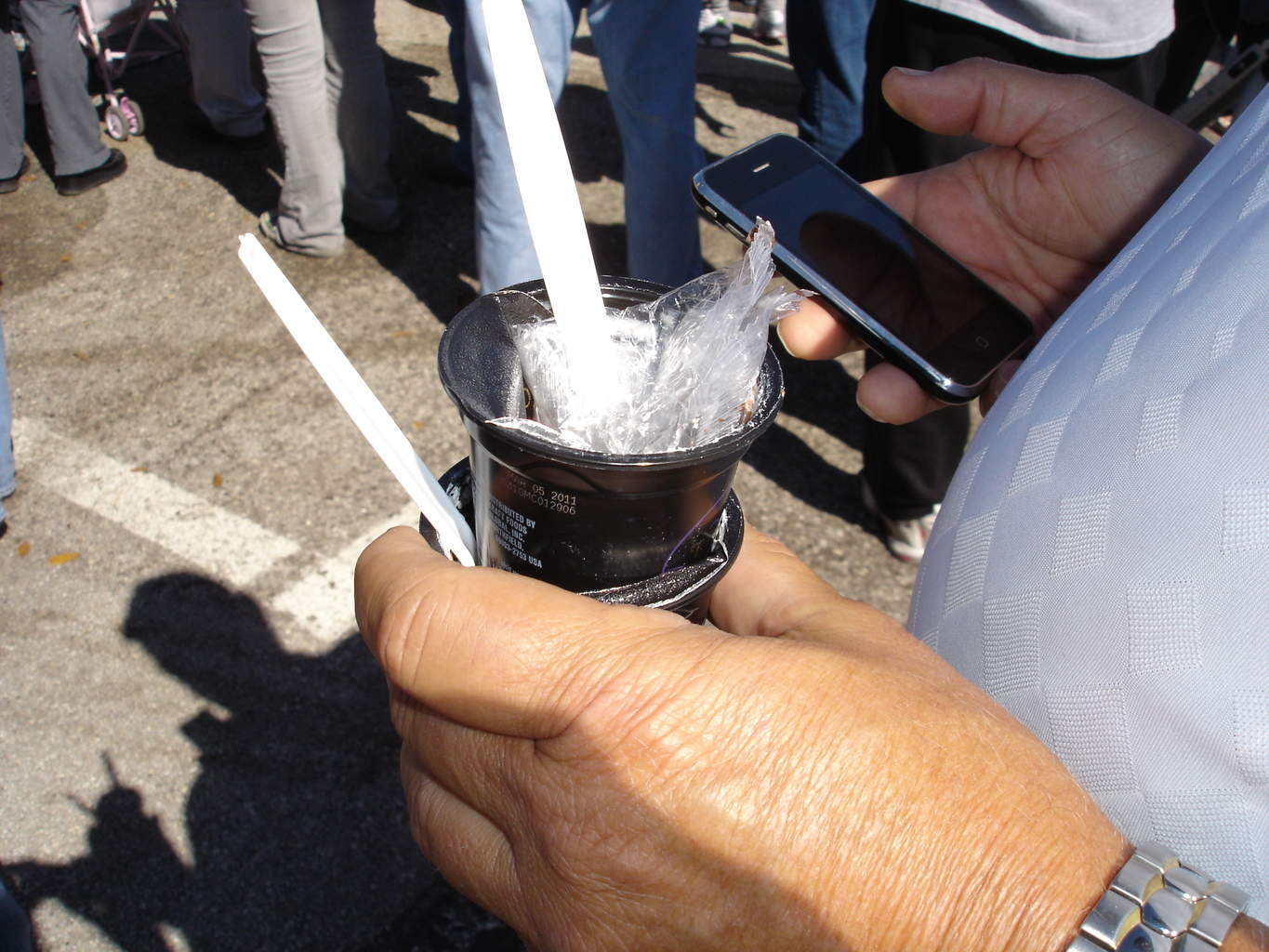 After eating our pudding and waiting in this line 15 minutes, this is what we saw.
Still lots of people.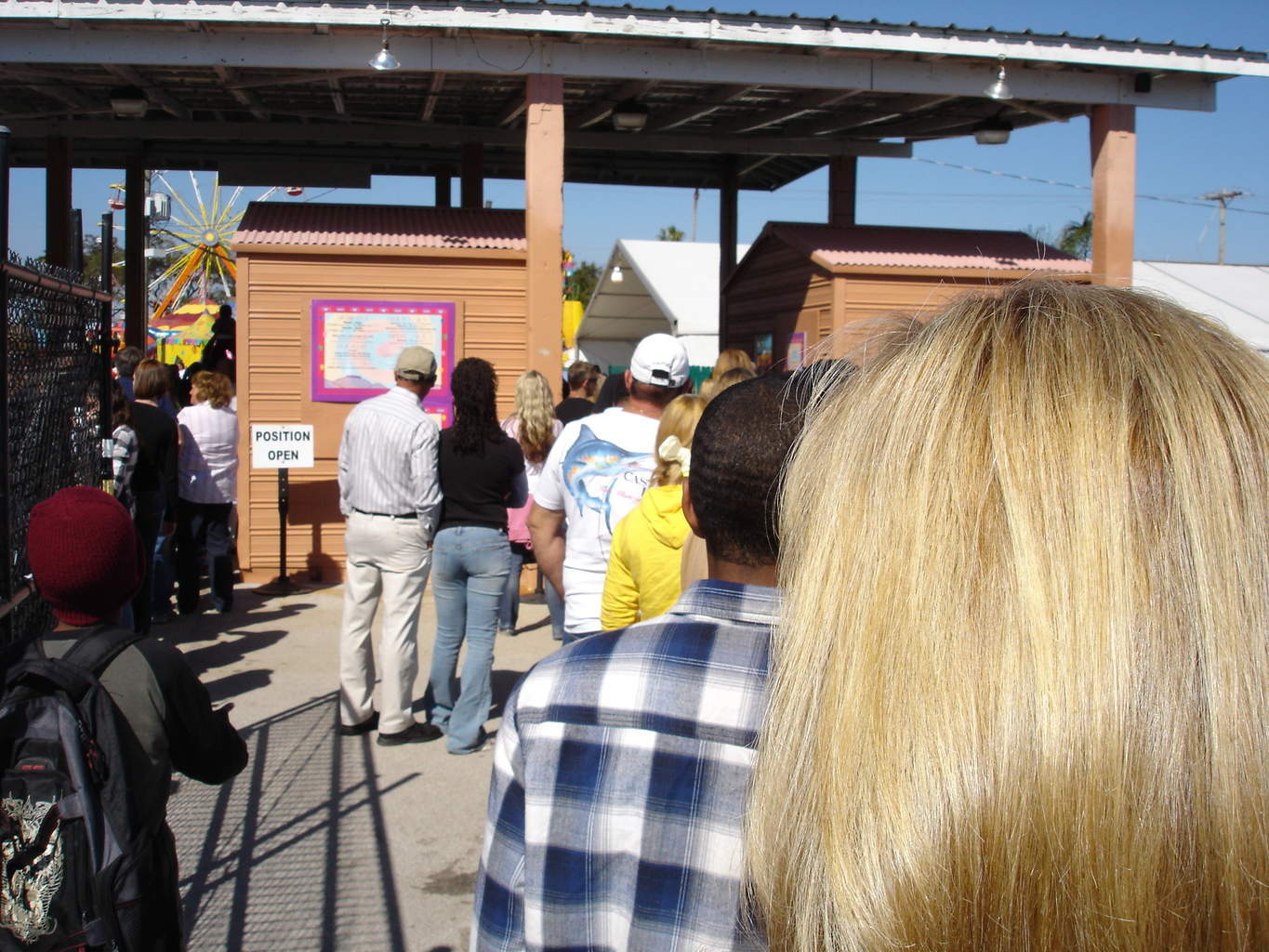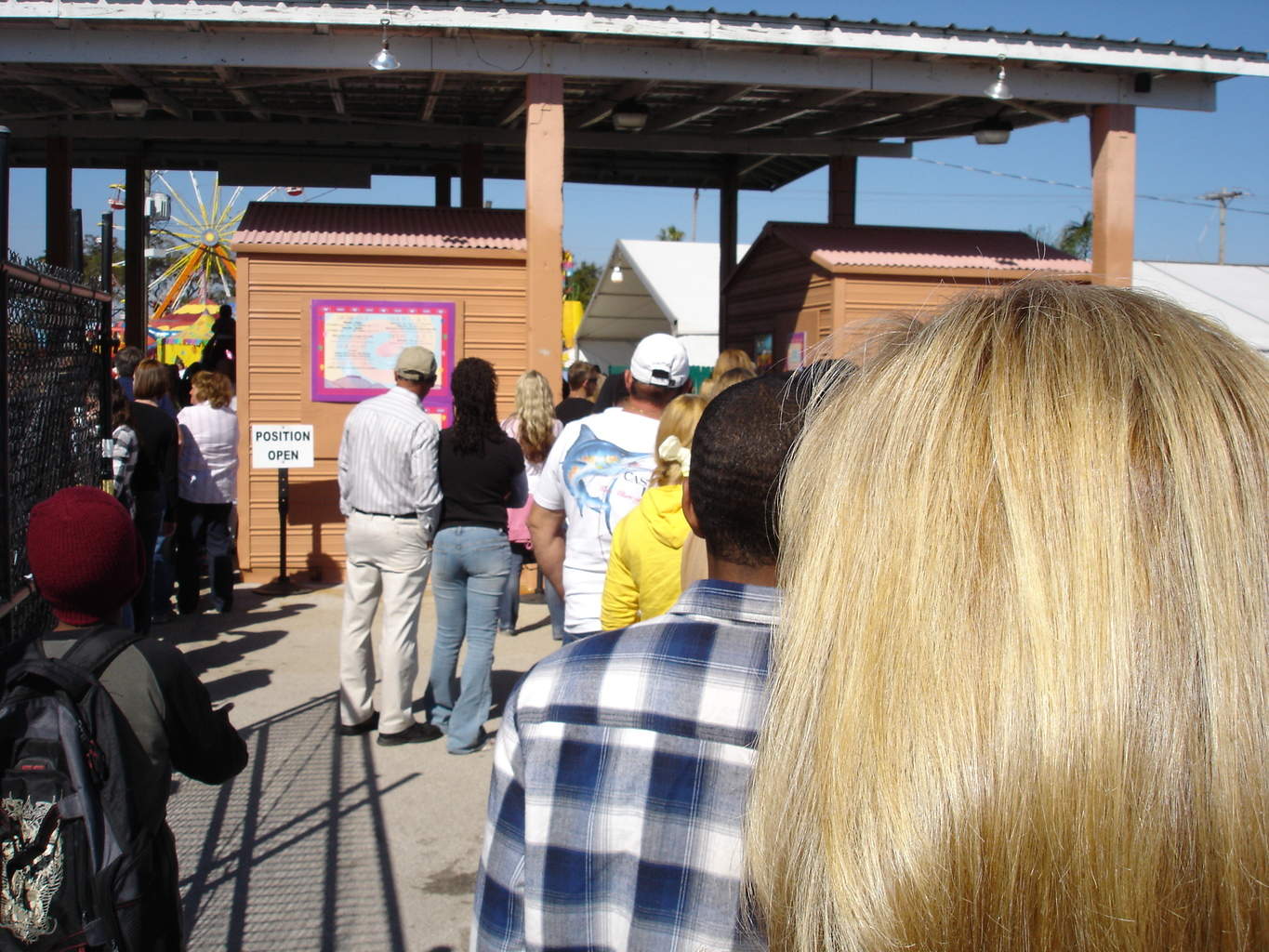 We stood in line 15 more minutes and……
Getting closer but still not there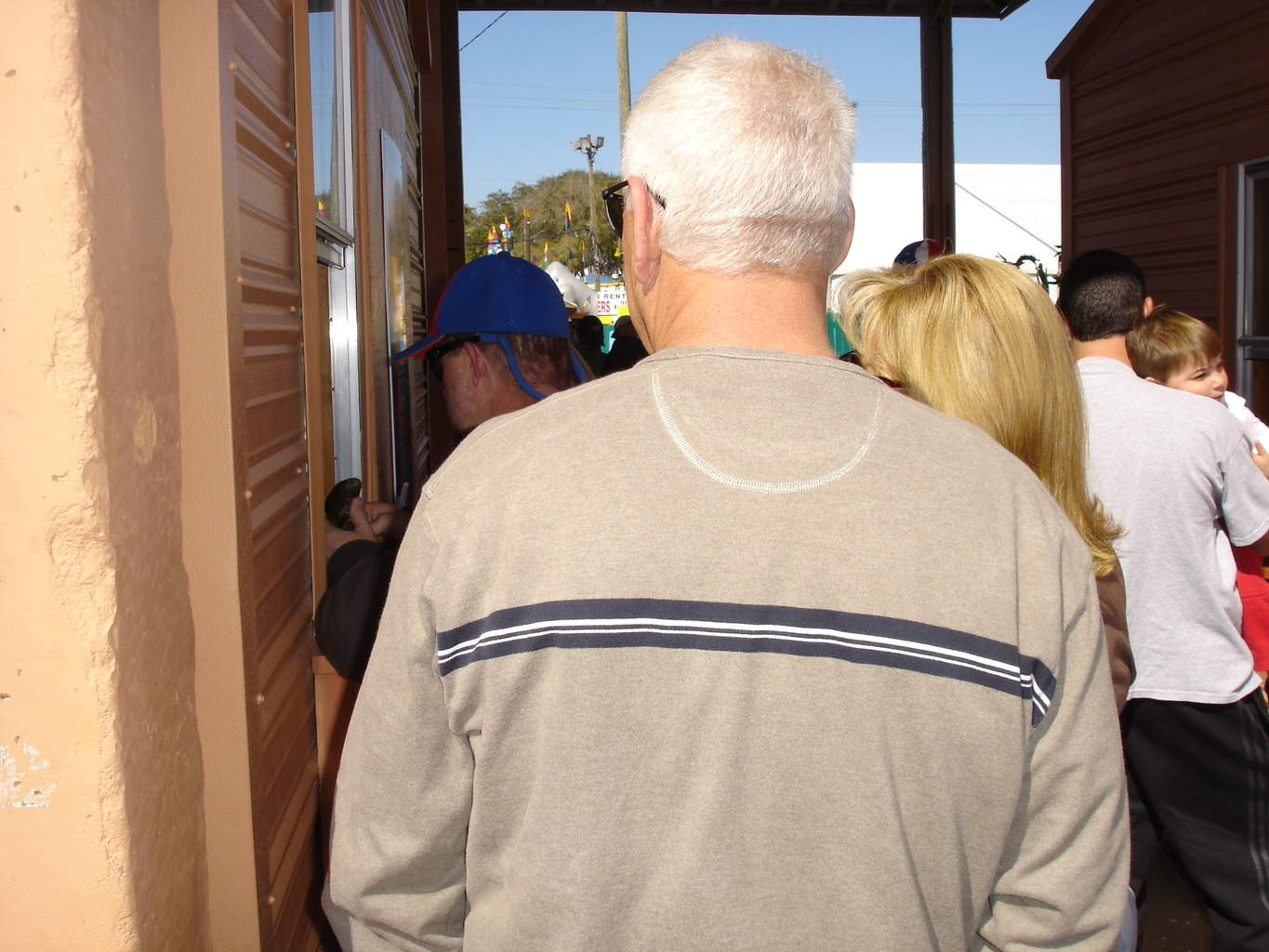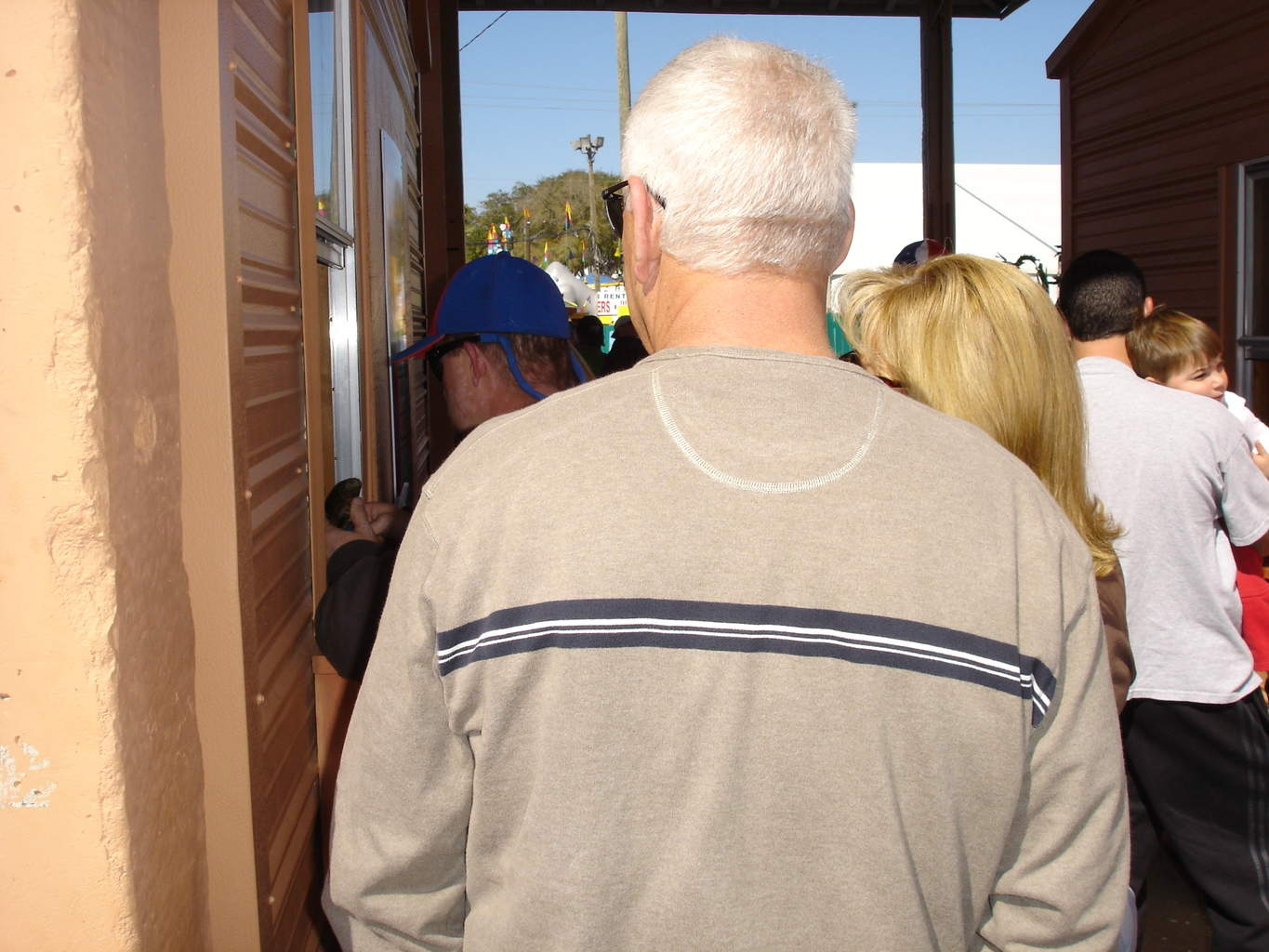 Either Sam was keeping himself occupied with something of interest on his i-phone(refer back to pudding photo), or the pudding is a miracle substance. He never complained. We finally made it through the gates, got our map of the fairgrounds and scoped out the rare fruit exhibit. To get there, we had to walk past all the food vendors. Lord, please give me strength. Amen. This is the first vendor I saw.
Danger, Will Robinson!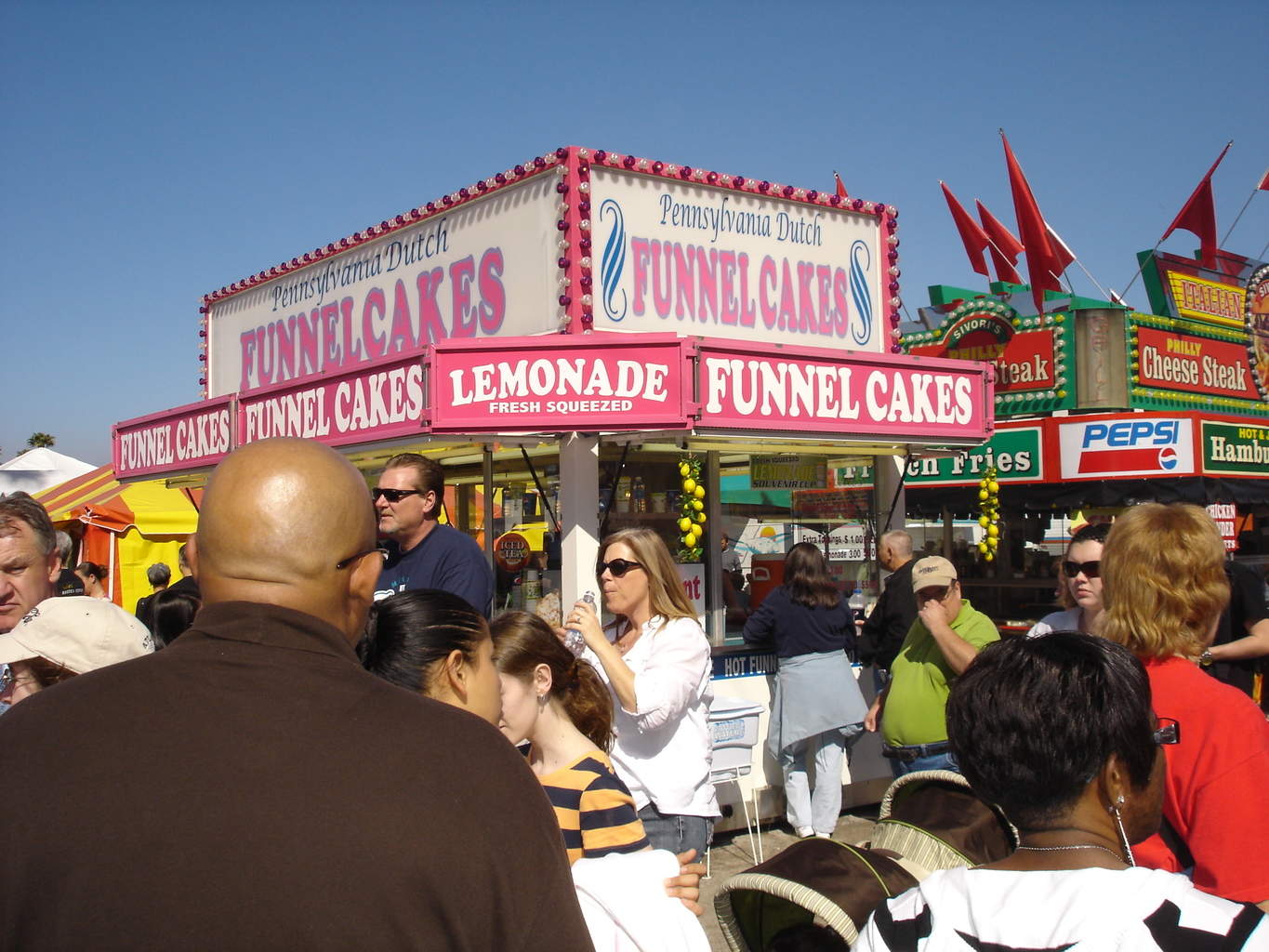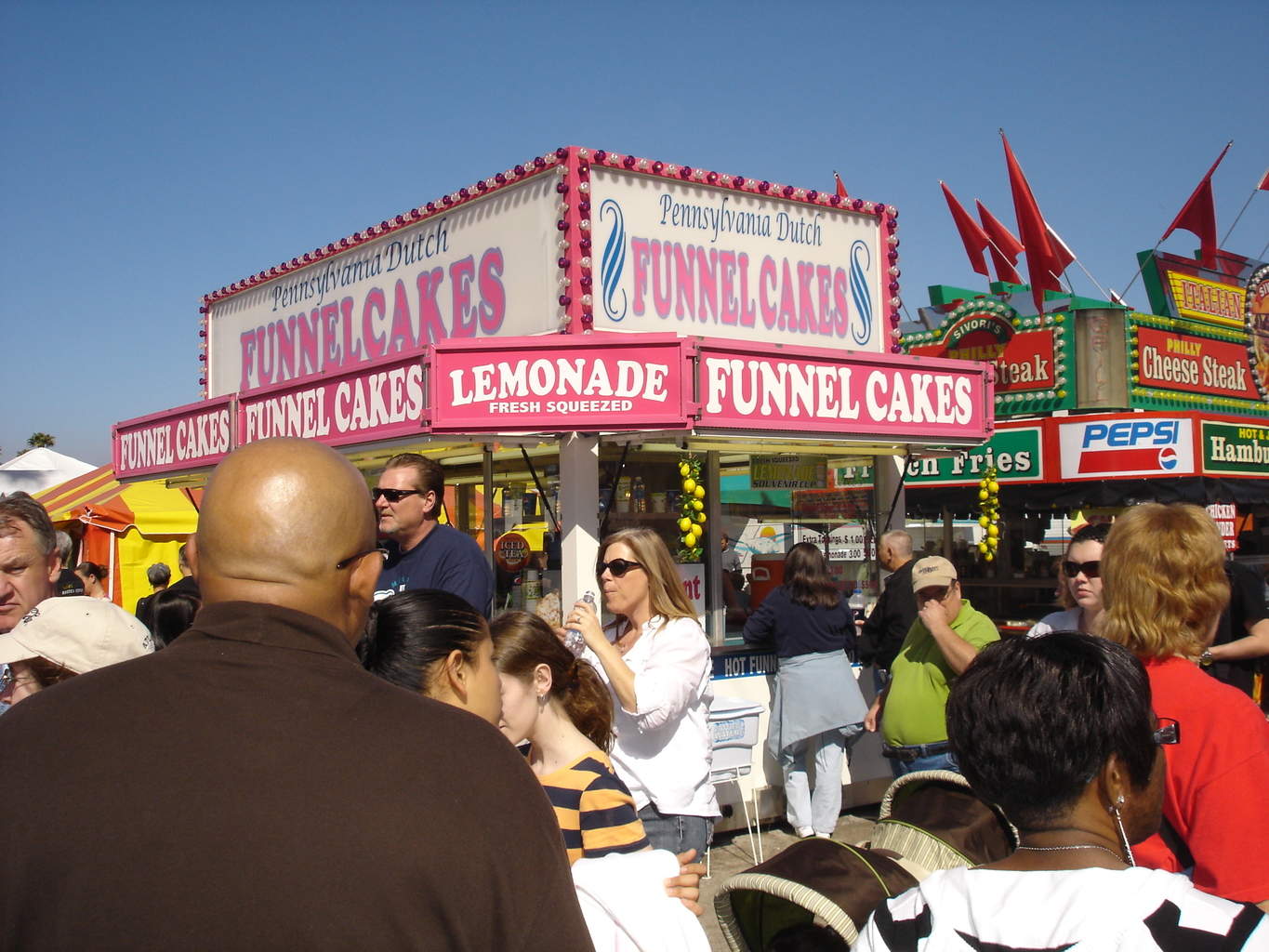 Keep walking! We did keep walking and ran into this next.
Oh, no!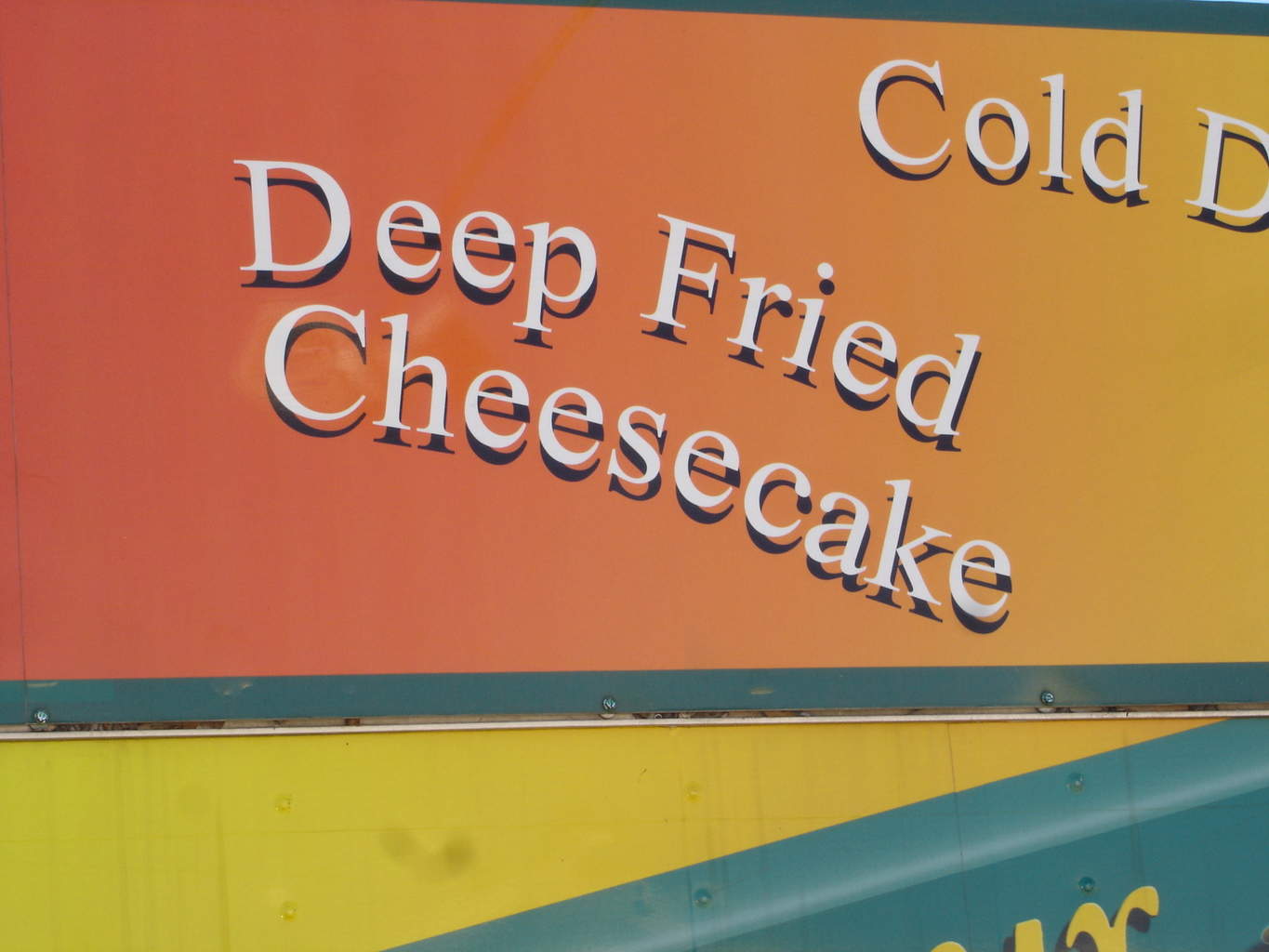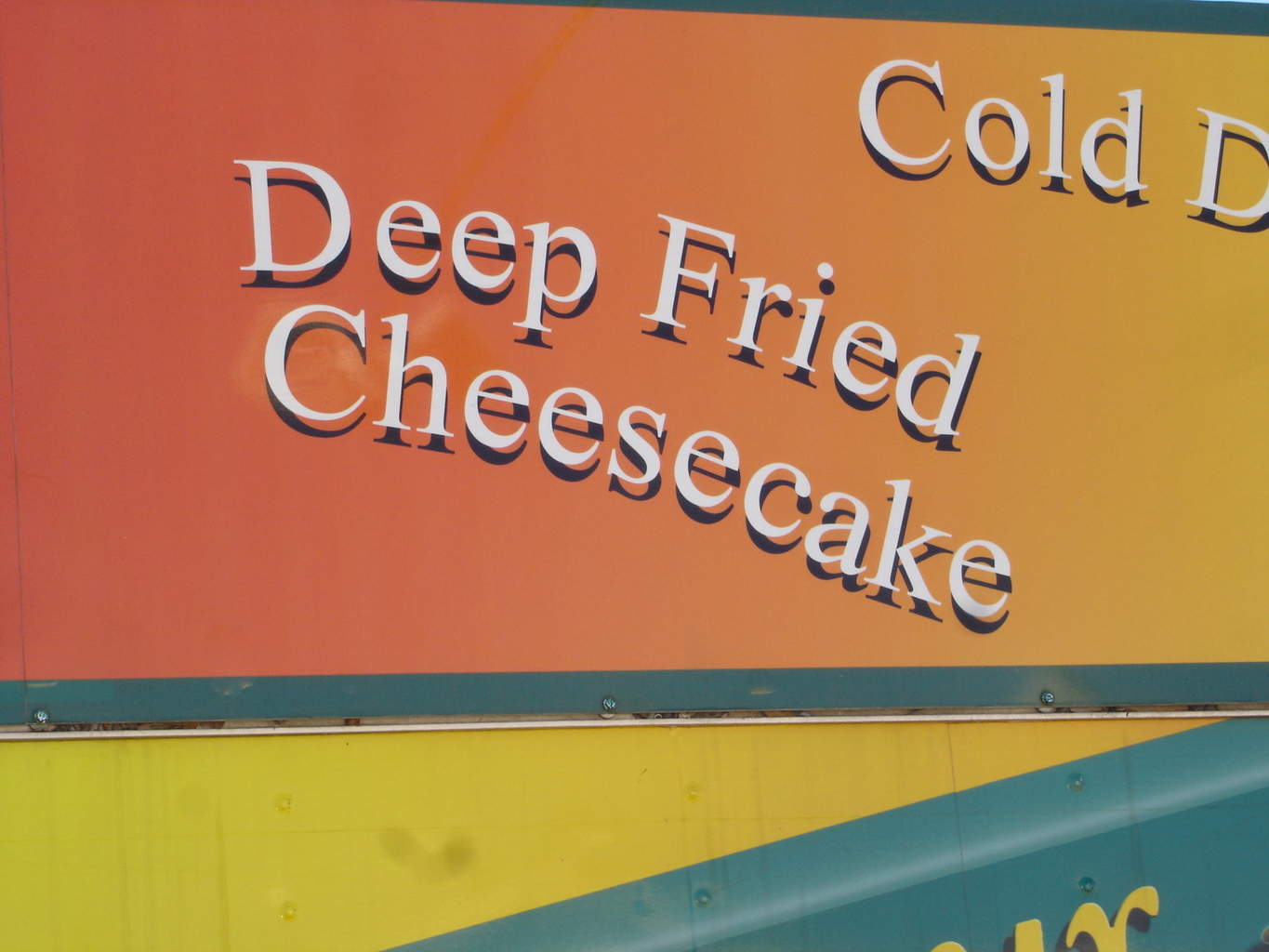 And if that wasn't enough…..
I do believe there was a Paula Deen sighting here.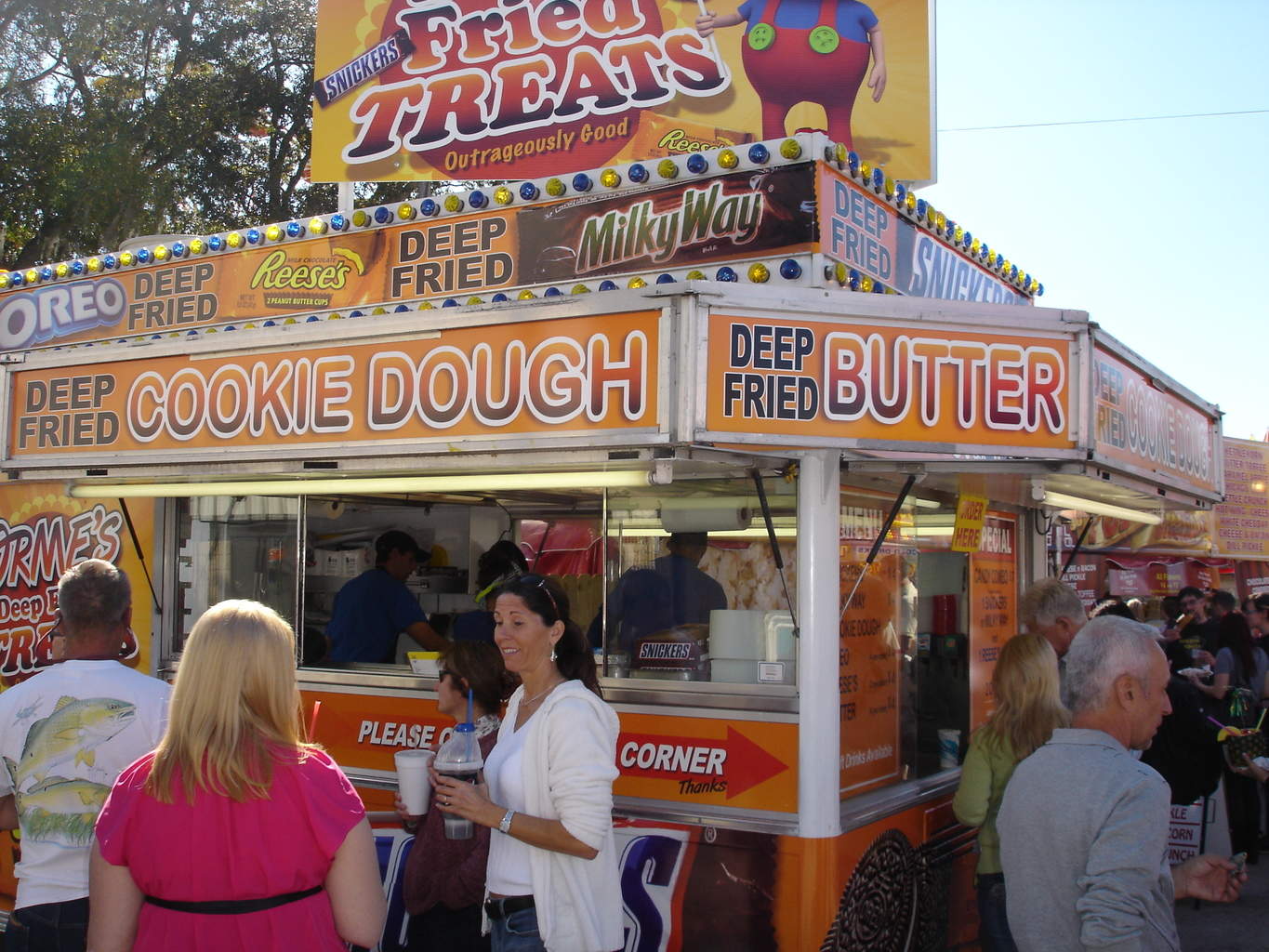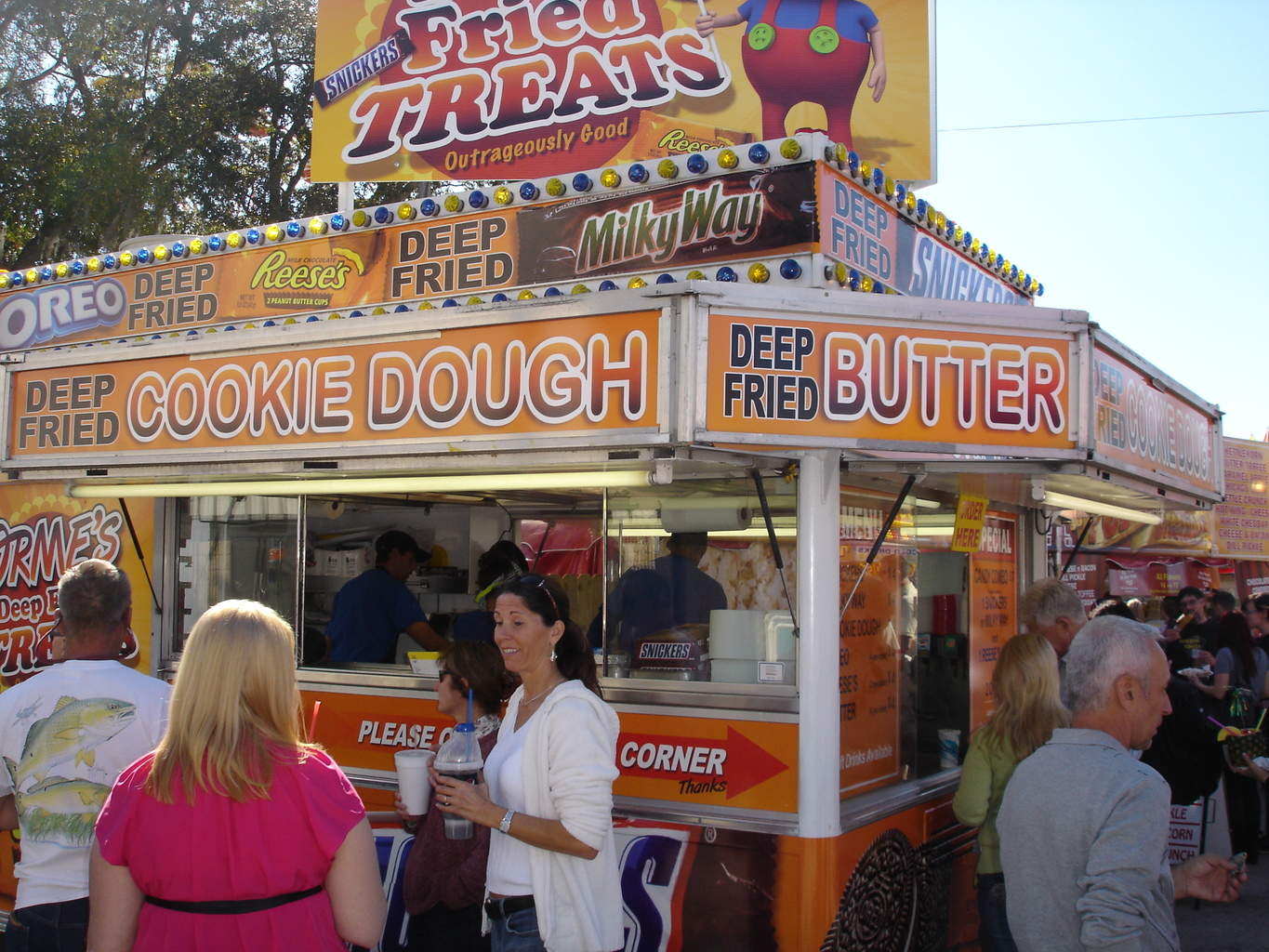 And…….
Everything under the sun fried. Deep fried.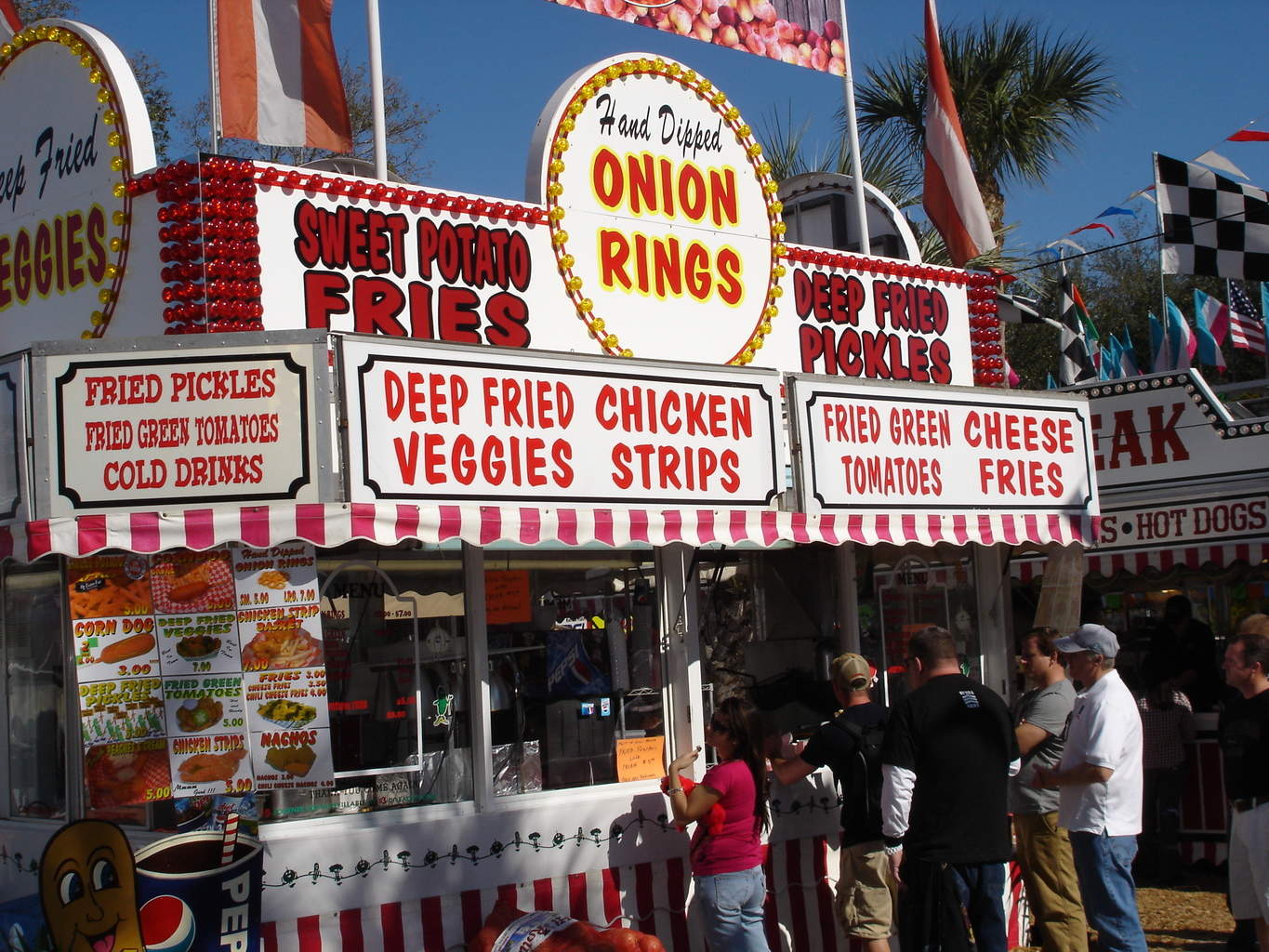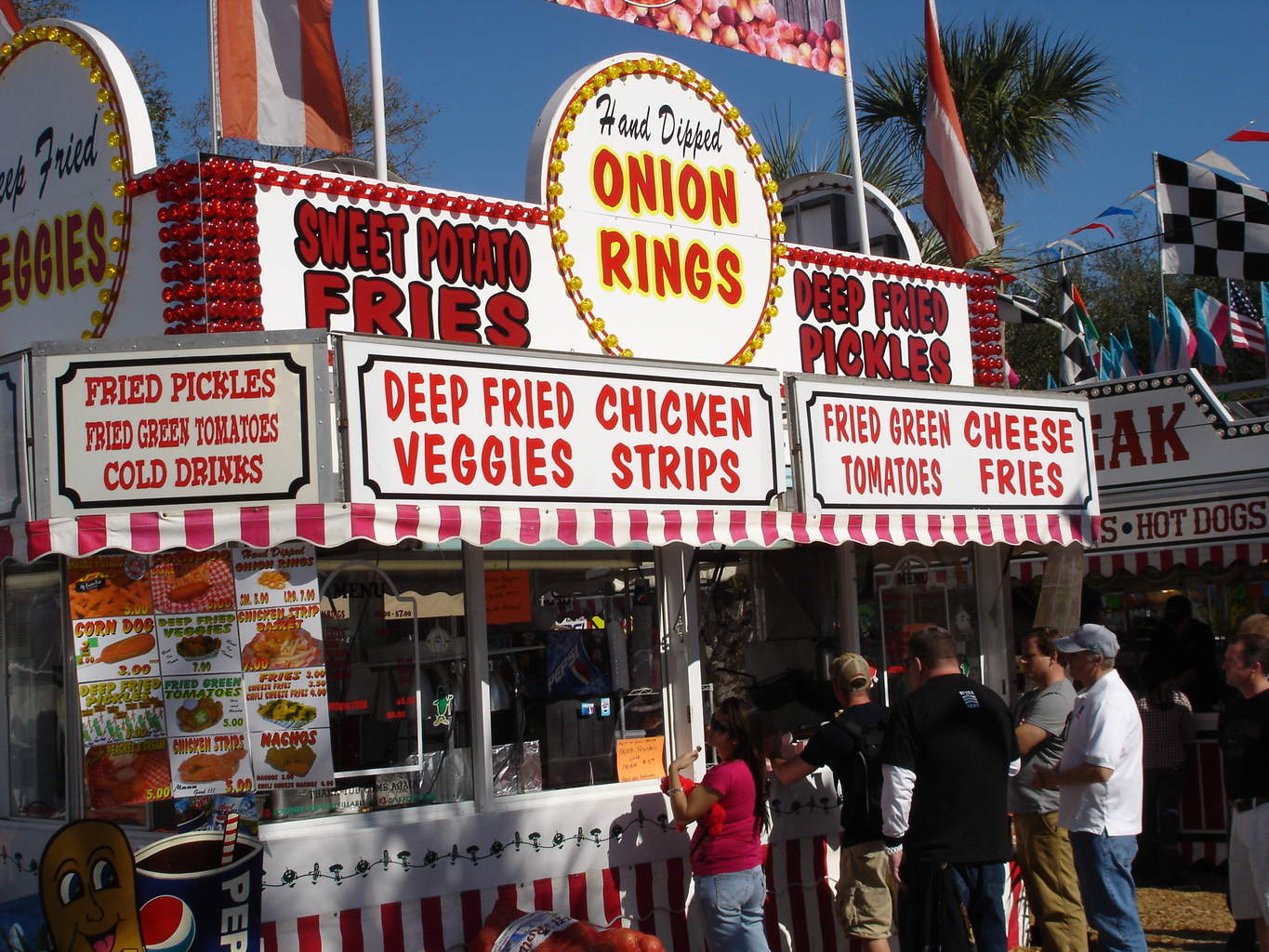 I couldn't bring myself to even take a picture of the vendor hawking the Krispy Kreme doughnut hamburger. Just couldn't do it. I was afraid to stand that close to his food cart. Aside from the fattening, artery clogging, heart stopping food temptations, you may have noticed all the crowds. Yes, lots and lots of people. The thought of needing to abort this mission completely was certainly in the realm of possibilities. How long can I reasonably expect Sam to stay cool? People were bumping into us, we were bumping into them. We still hadn't even made it to the building that housed the rare fruit exhibit. My blog was on my mind. Maybe I could blog about all the food choices from the vendors. Heaven knows, you could write a dissertation on fair food. In fact, people have done so. As I was mulling the thought over in mind, I glanced up and saw the back Sam's head. His head, and his body, was walking in the direction of the rare fruit exhibit. Maybe I'm home free! Gosh, he's really being a trooper.
Finally! We made it to the exhibit. What did we find? People, lots and lots of people. People standing in a line to sample the rare fruit. A long line of people waiting to sample the rare fruit.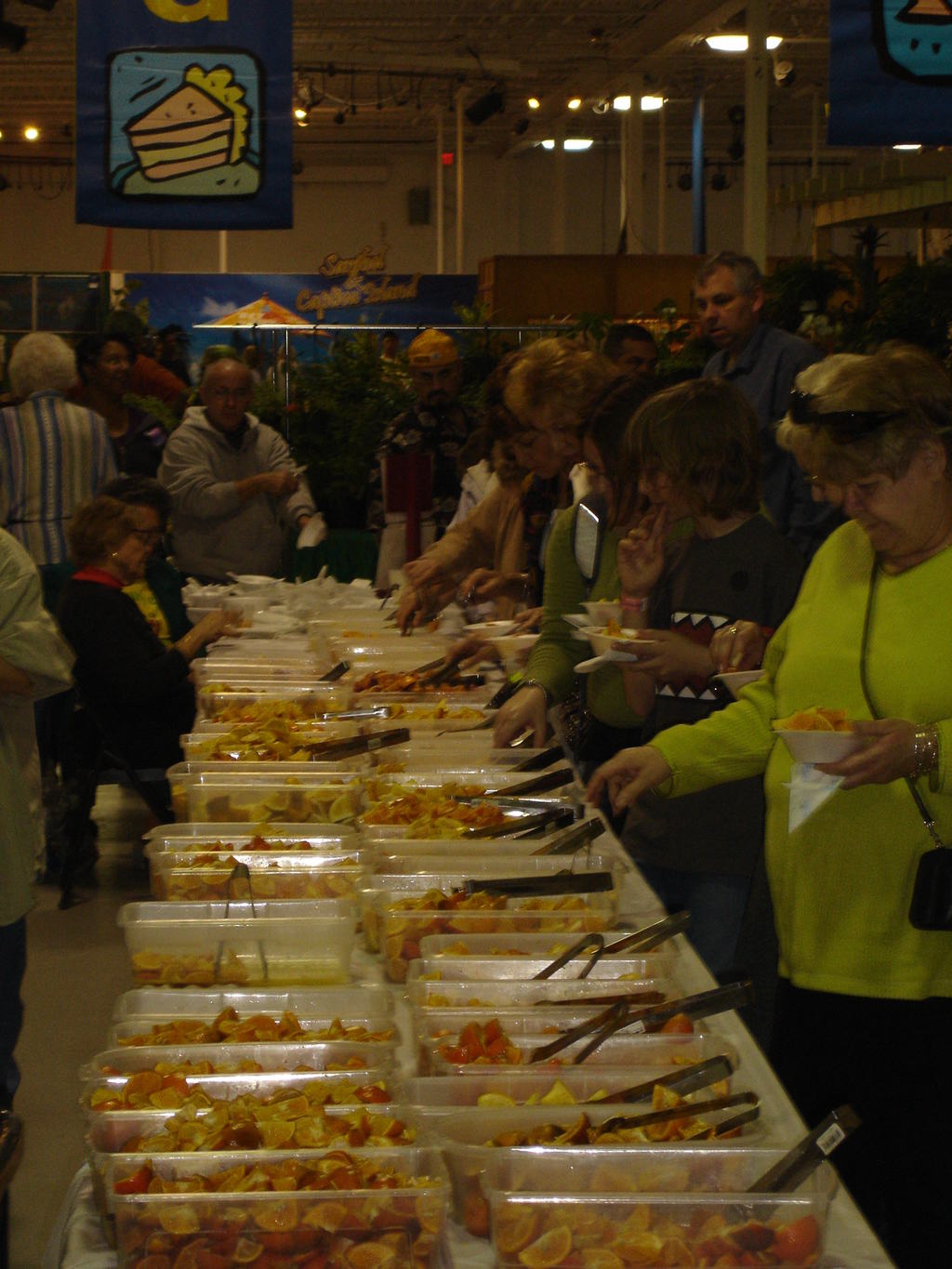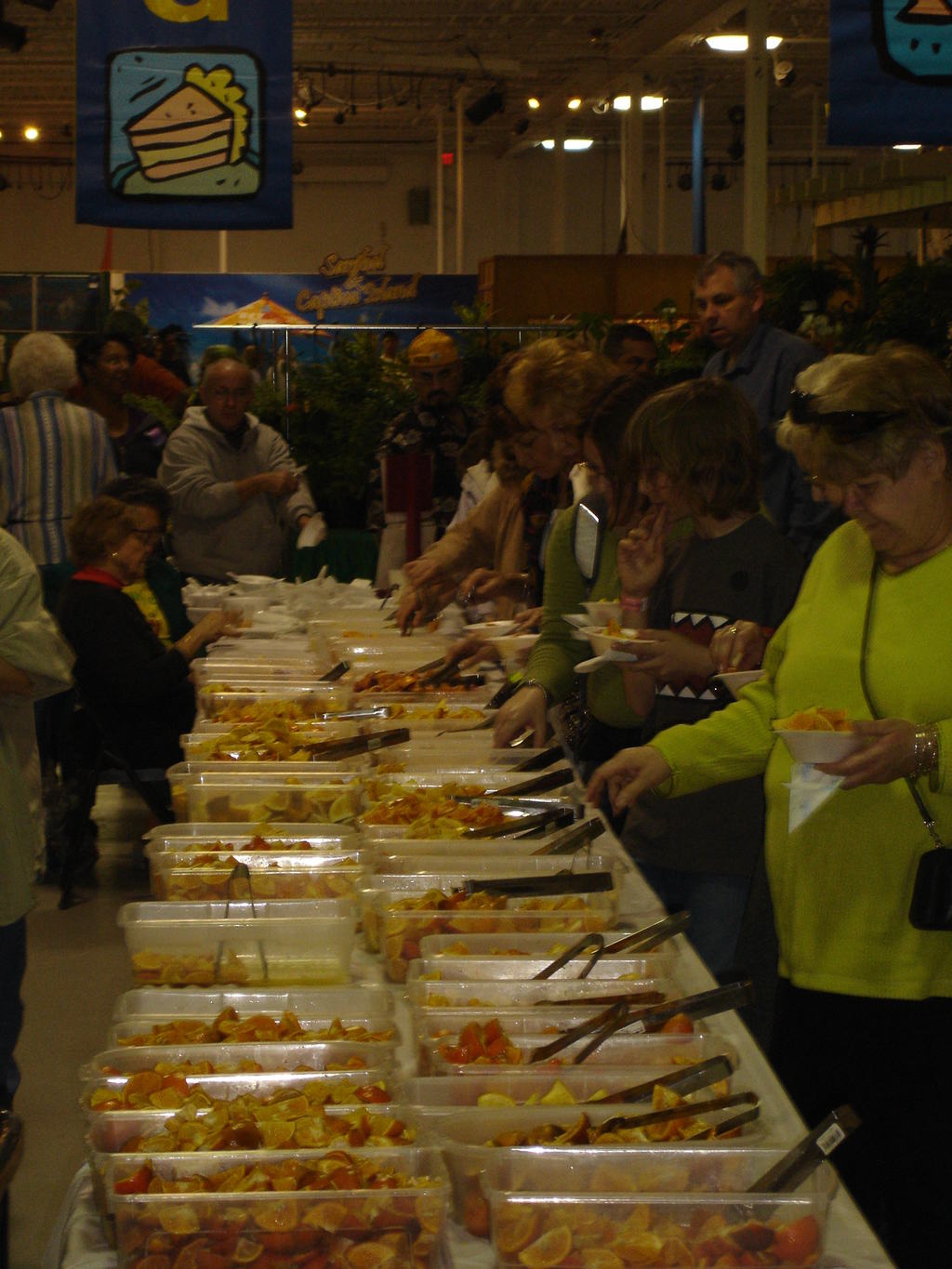 A picture is as close as I'm getting. This was one line too many. I know when to hold 'em and I know when to fold 'em. This blog is changing in my mind again. But let me get another picture, just in case.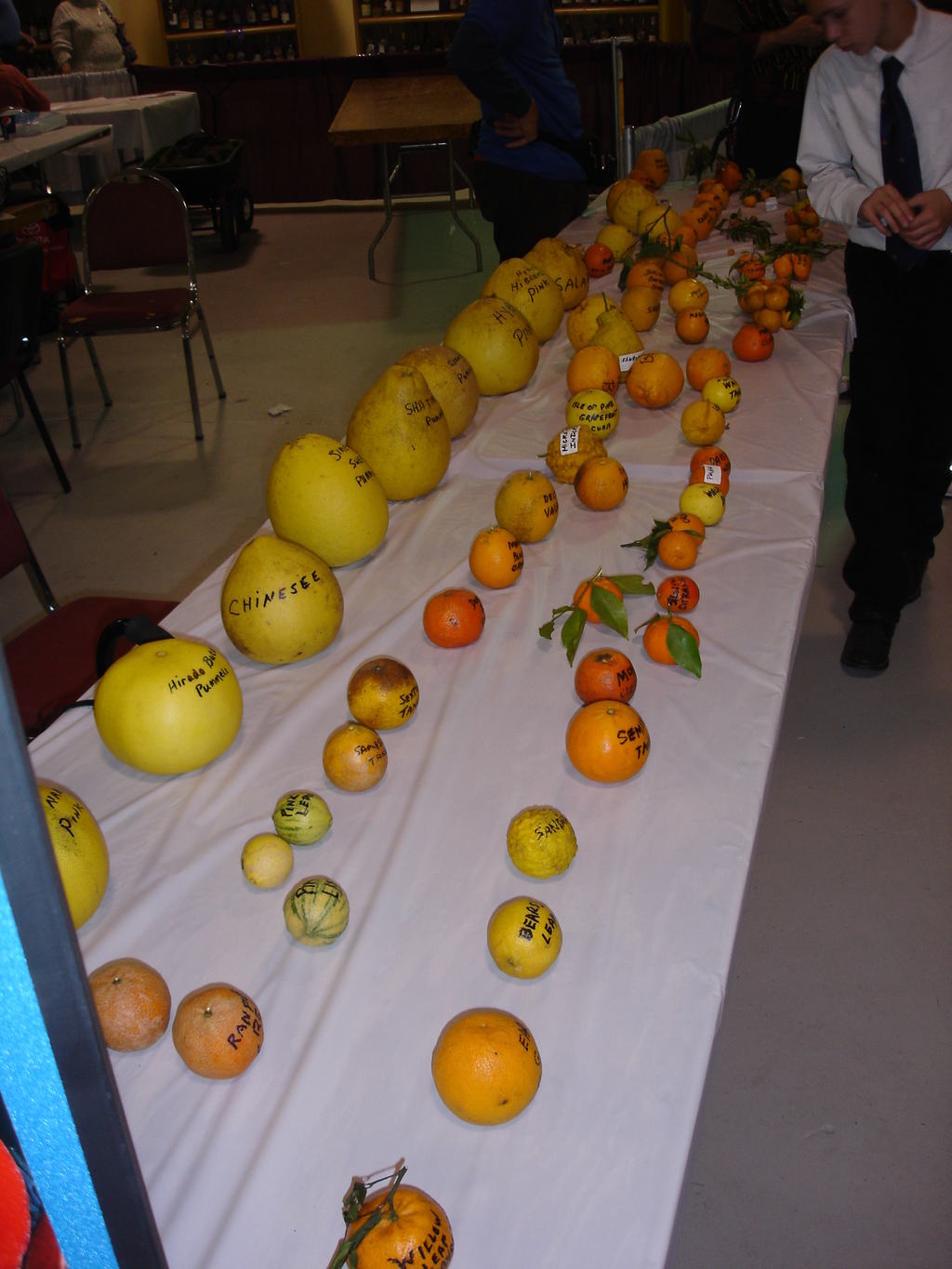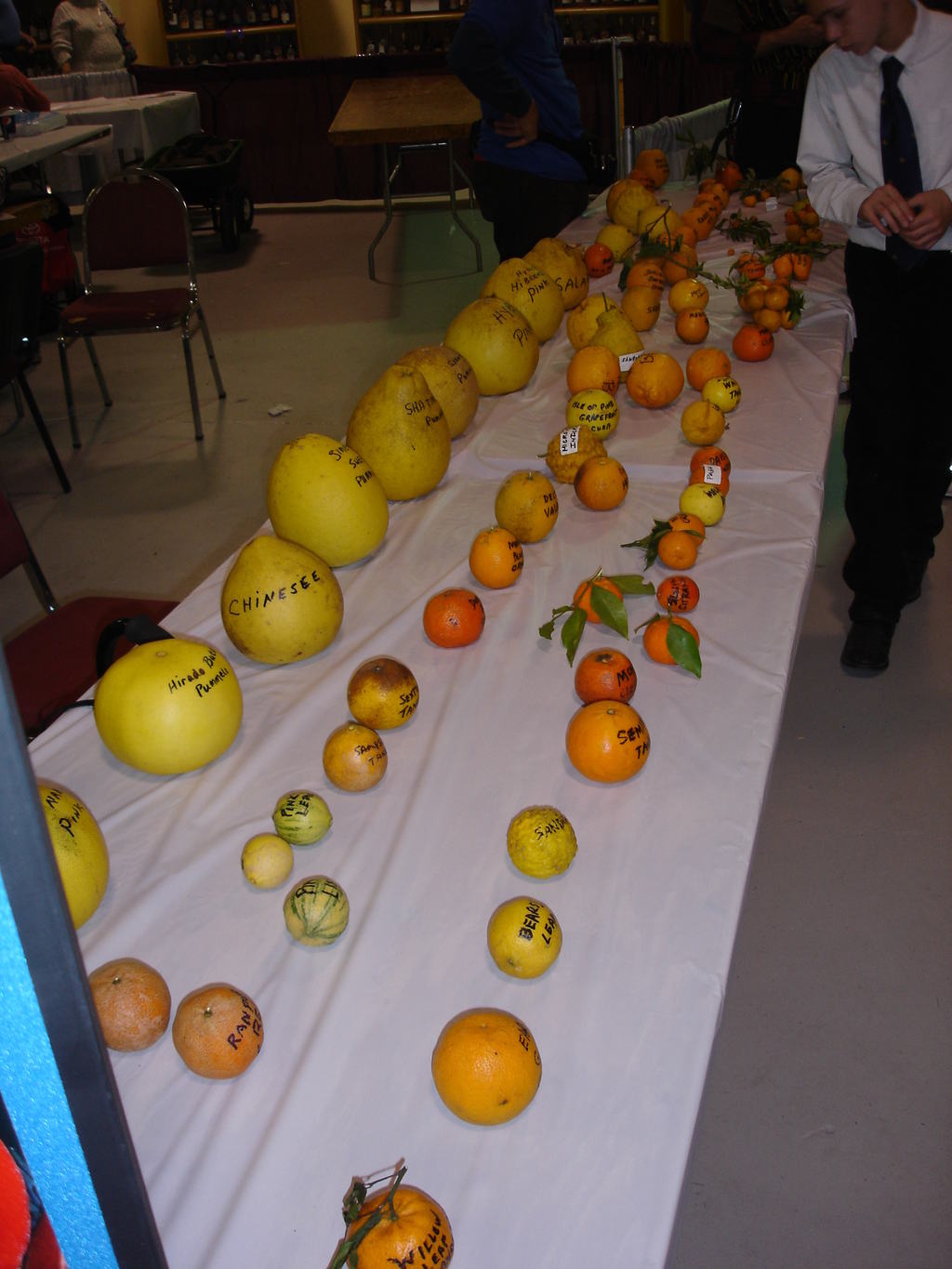 This isn't panning out to be one of those rare occasions when you can blog about rare fruit.
So, "we" decided to walk around the fairgrounds. So much for the rare fruit exhibit. On the way out of the building, we saw the things you expect to see at a fair.
Quilts.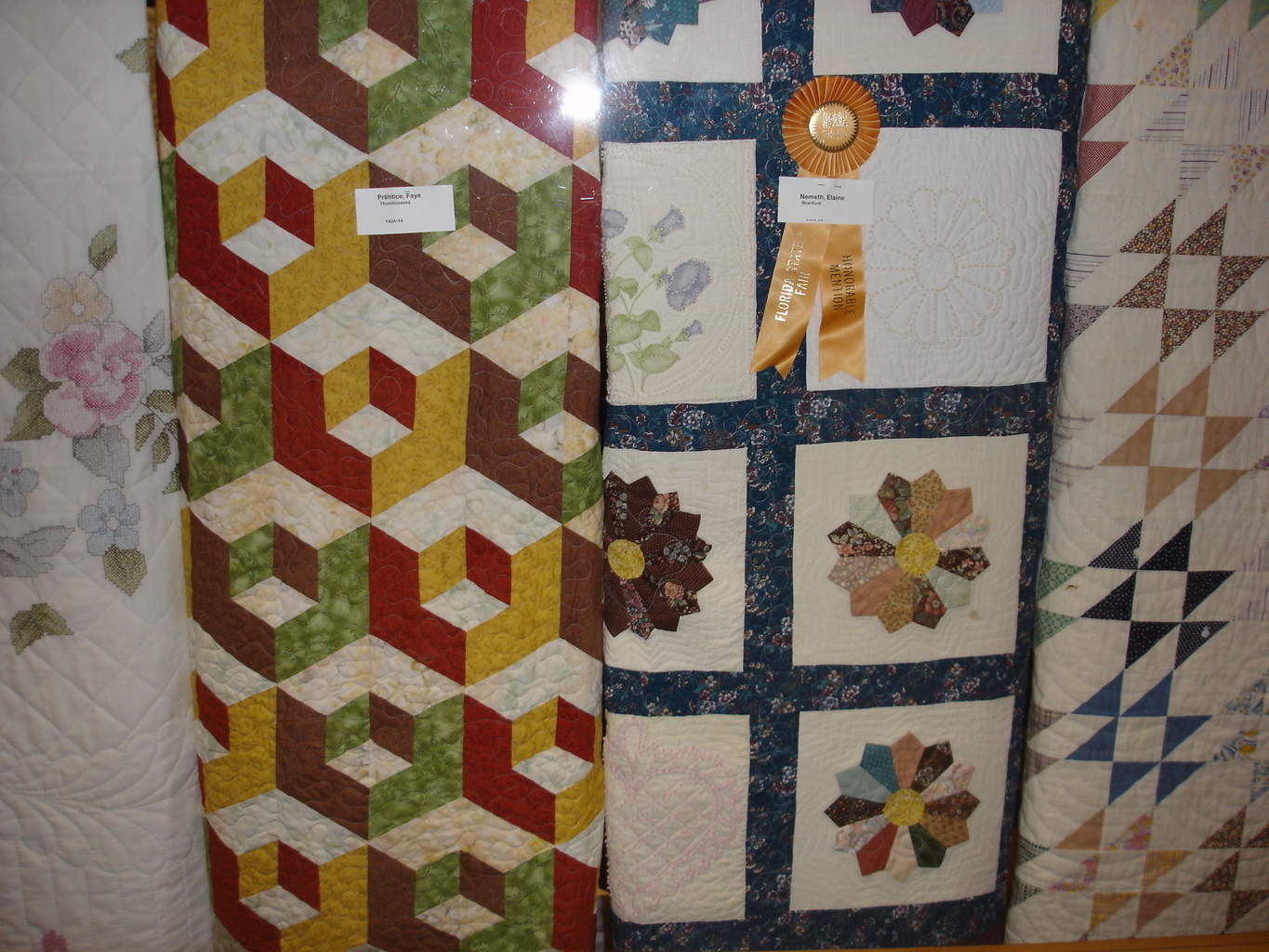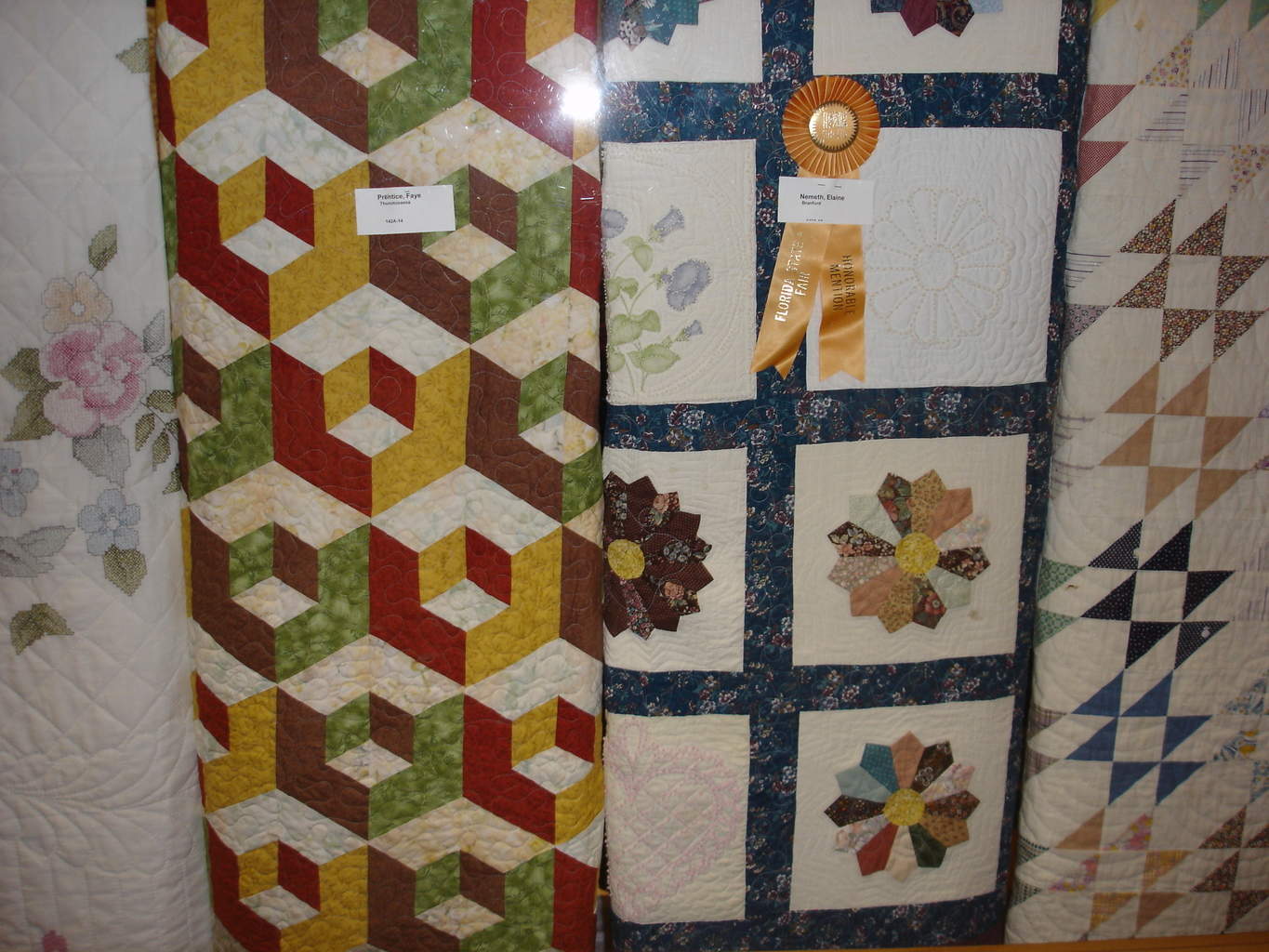 Art.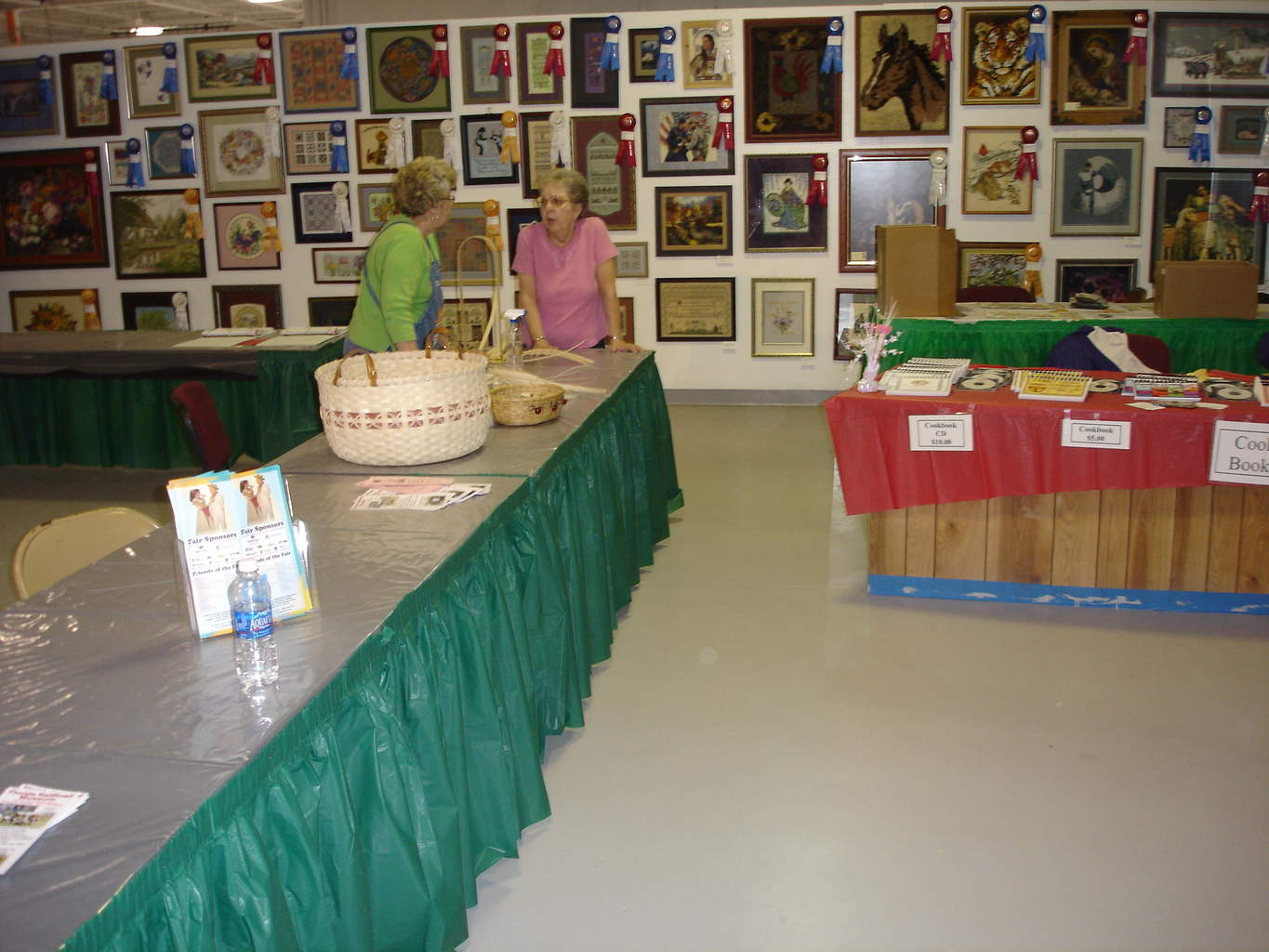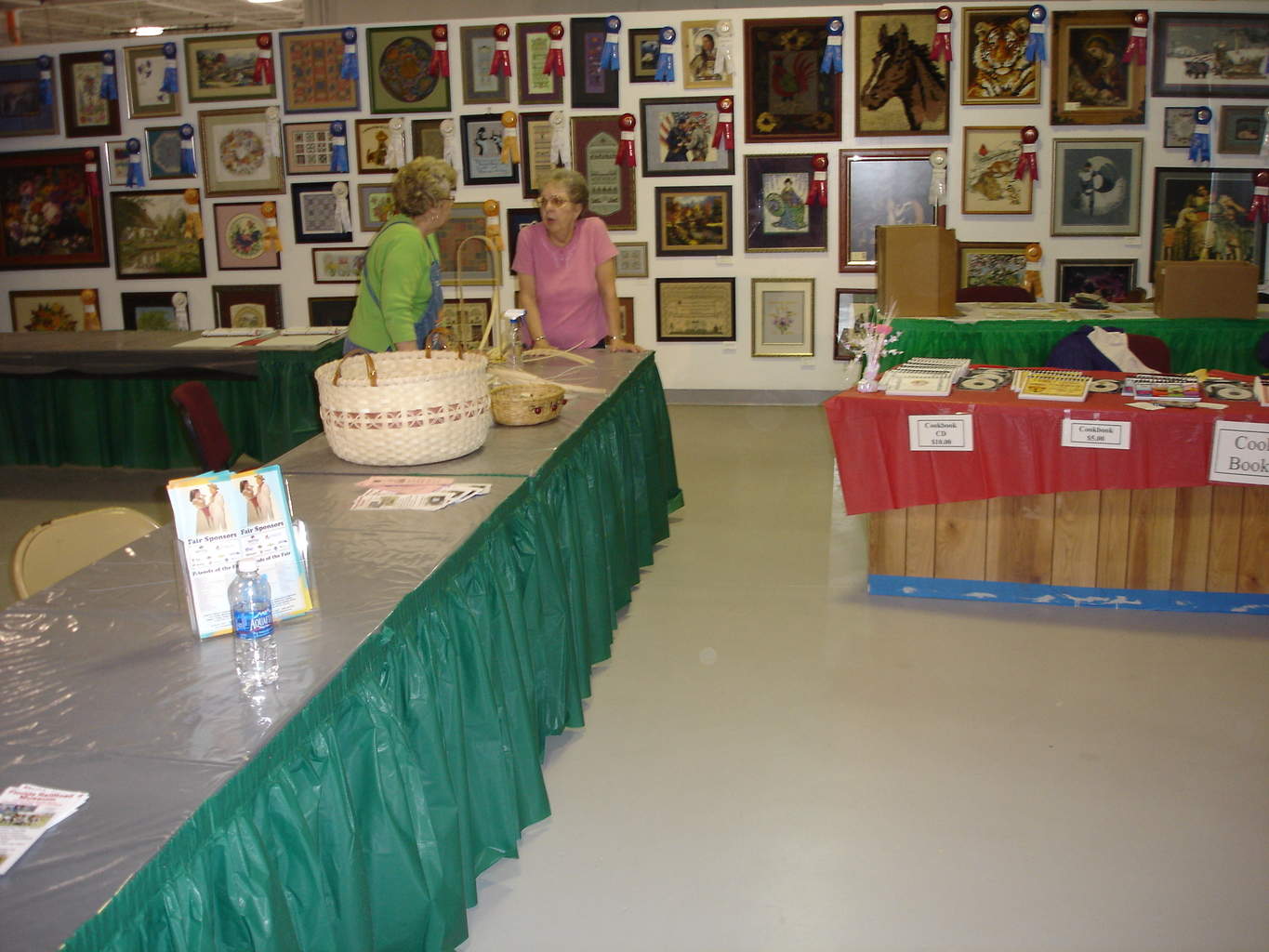 Pillows.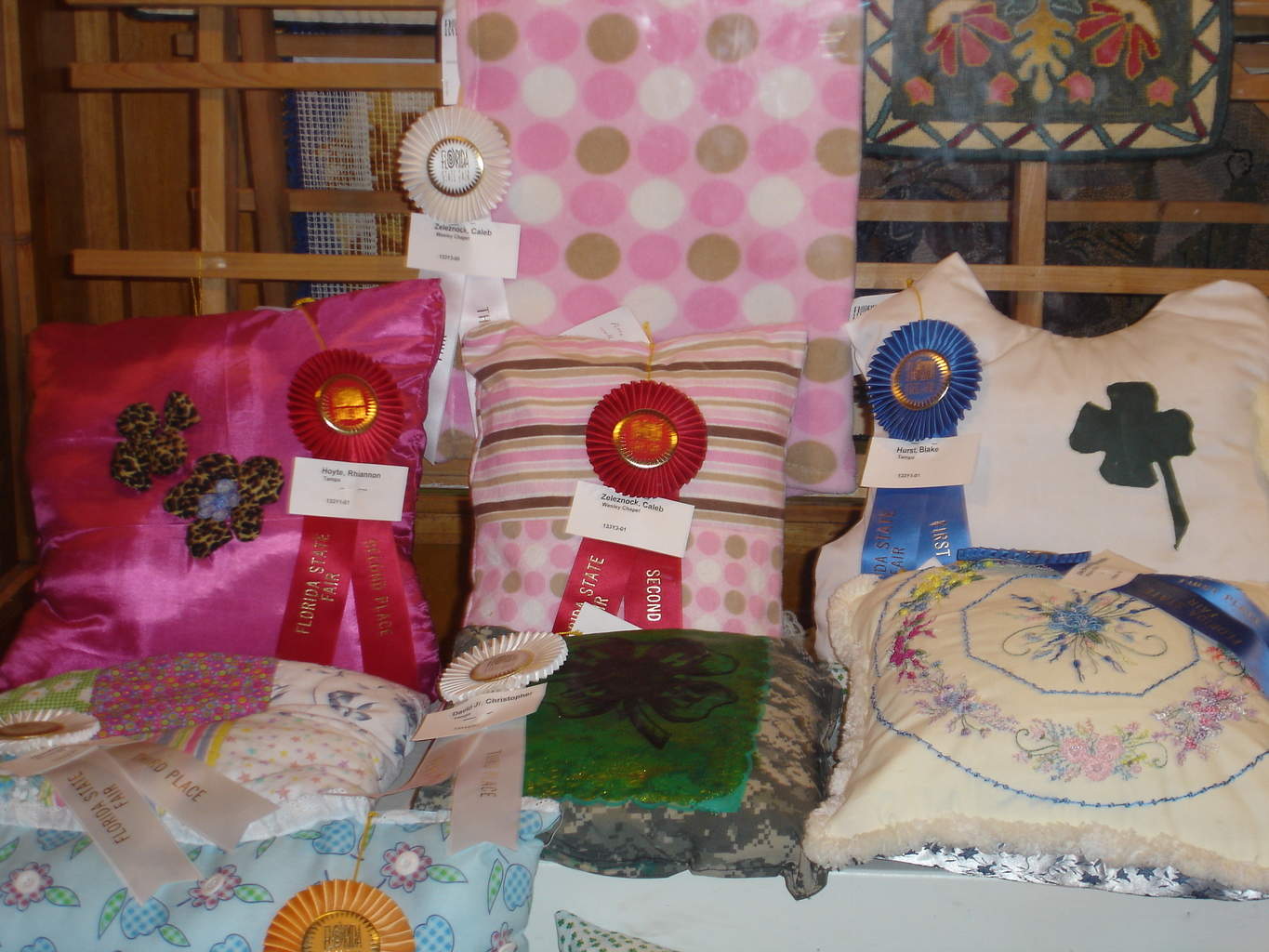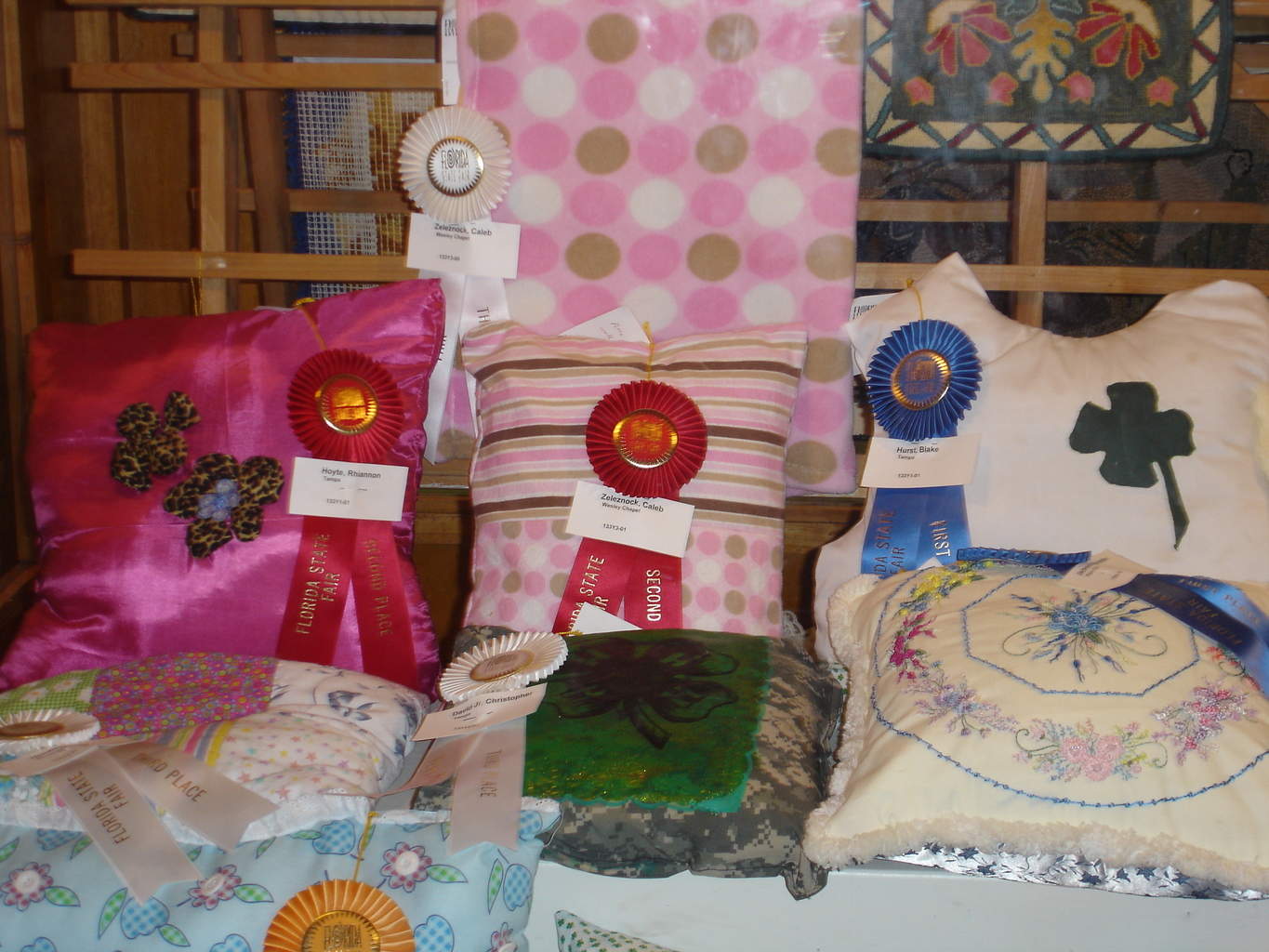 Exhibits.
And you thought I was making the whole Rare Fruit Council thing up.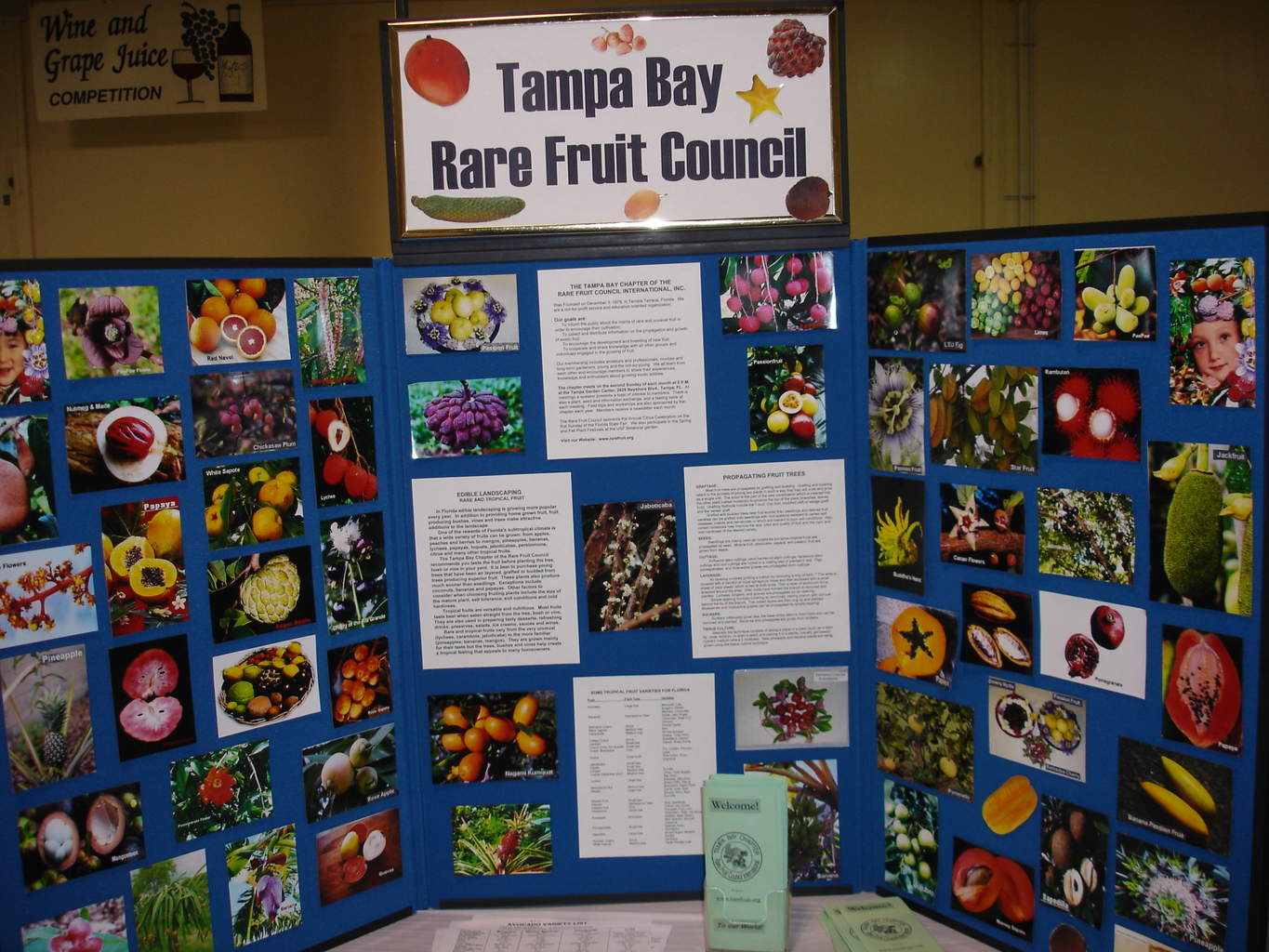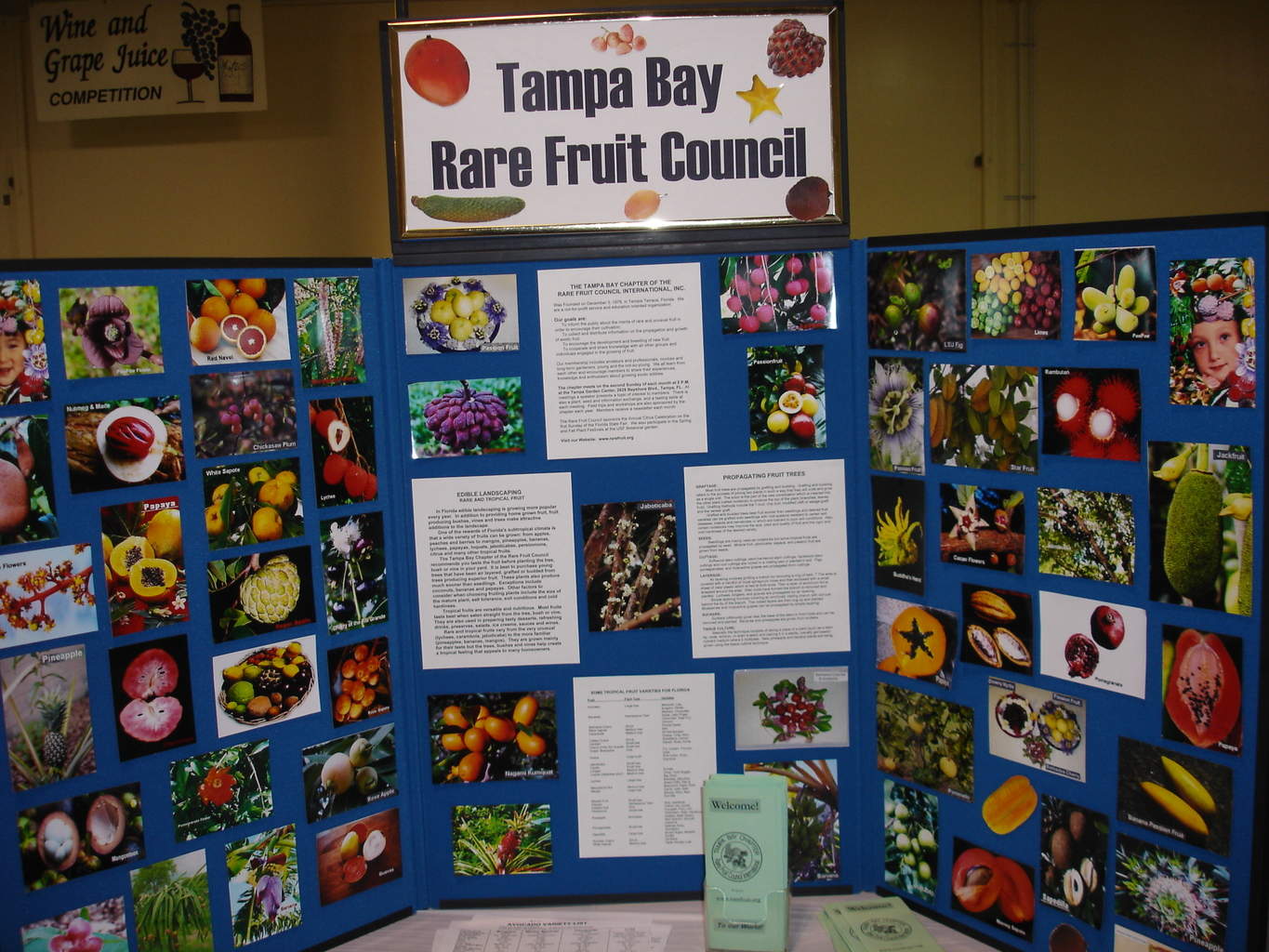 The arts,crafts and exhibits are wonderful. But what's a food blogger supposed to do with that? I need more material. Florida is an agrarian economy. Blogging about agribusiness would be interesting. So, off we go to the agricultural tent. But first, we need to get some food. Hey, food! I can blog about our lunch! More than likely, we would make different selections. That might be blog worthy.
His lunch. Gyro.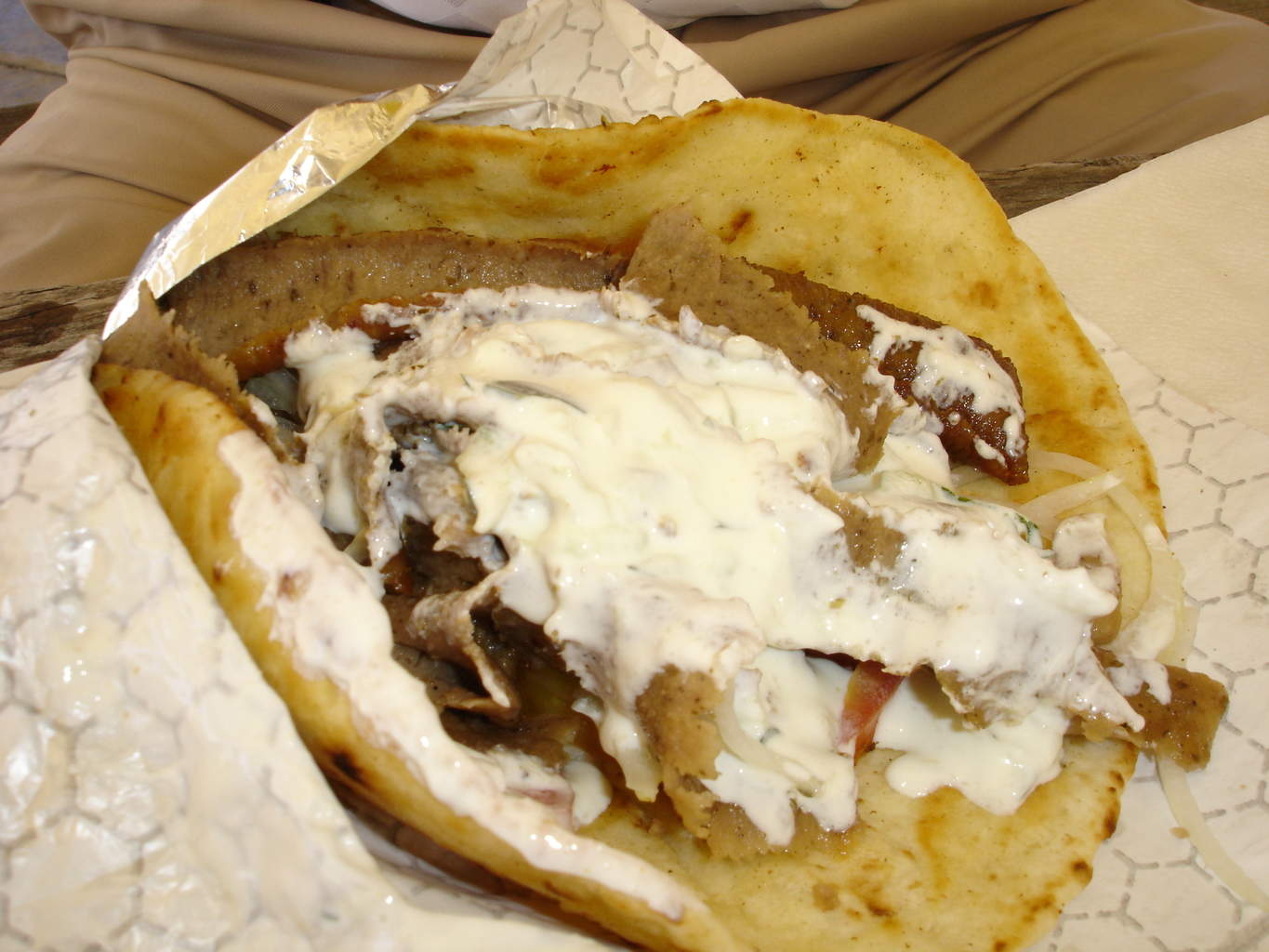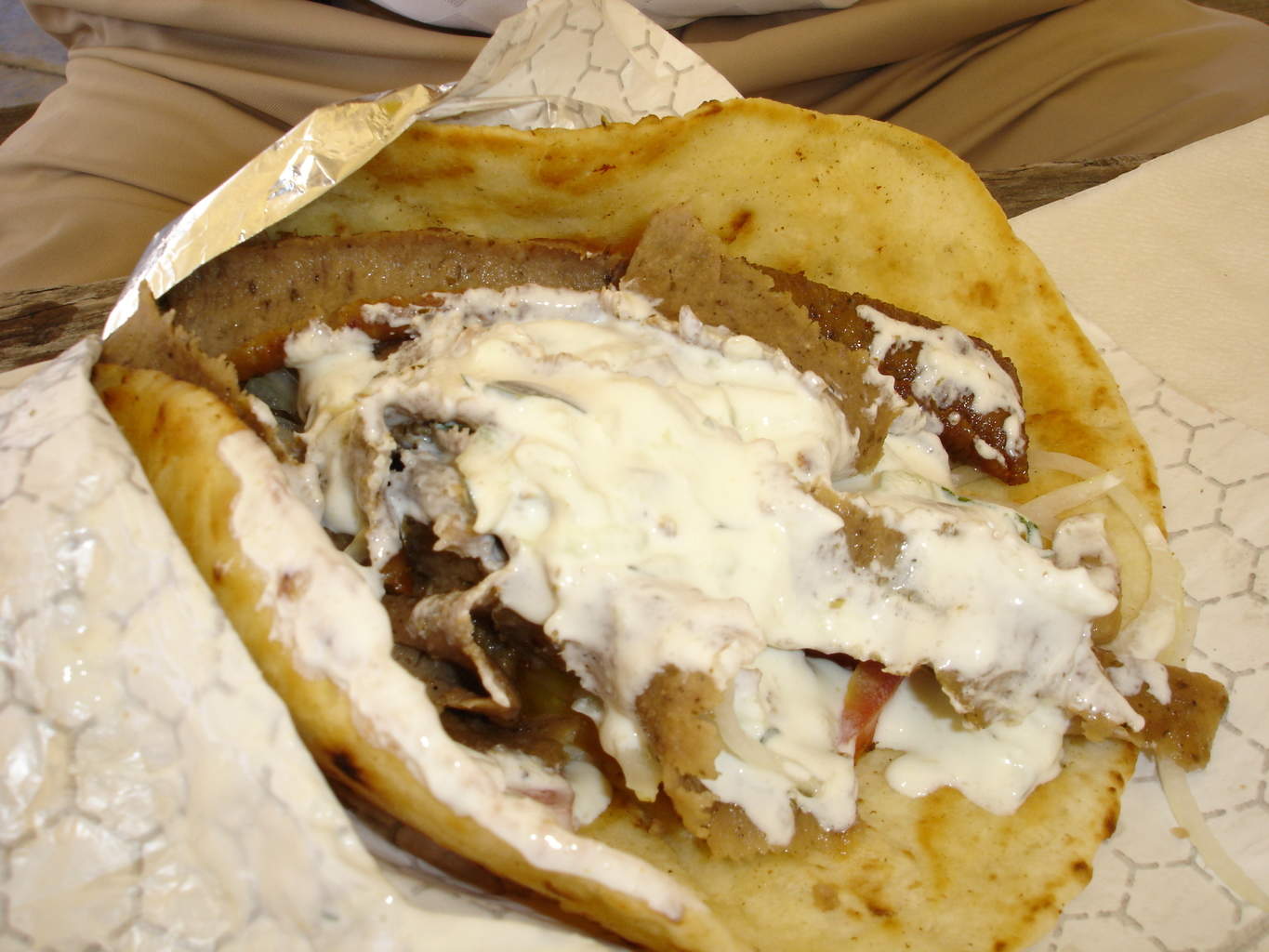 My lunch. Smoked turkey leg. This is the before shot.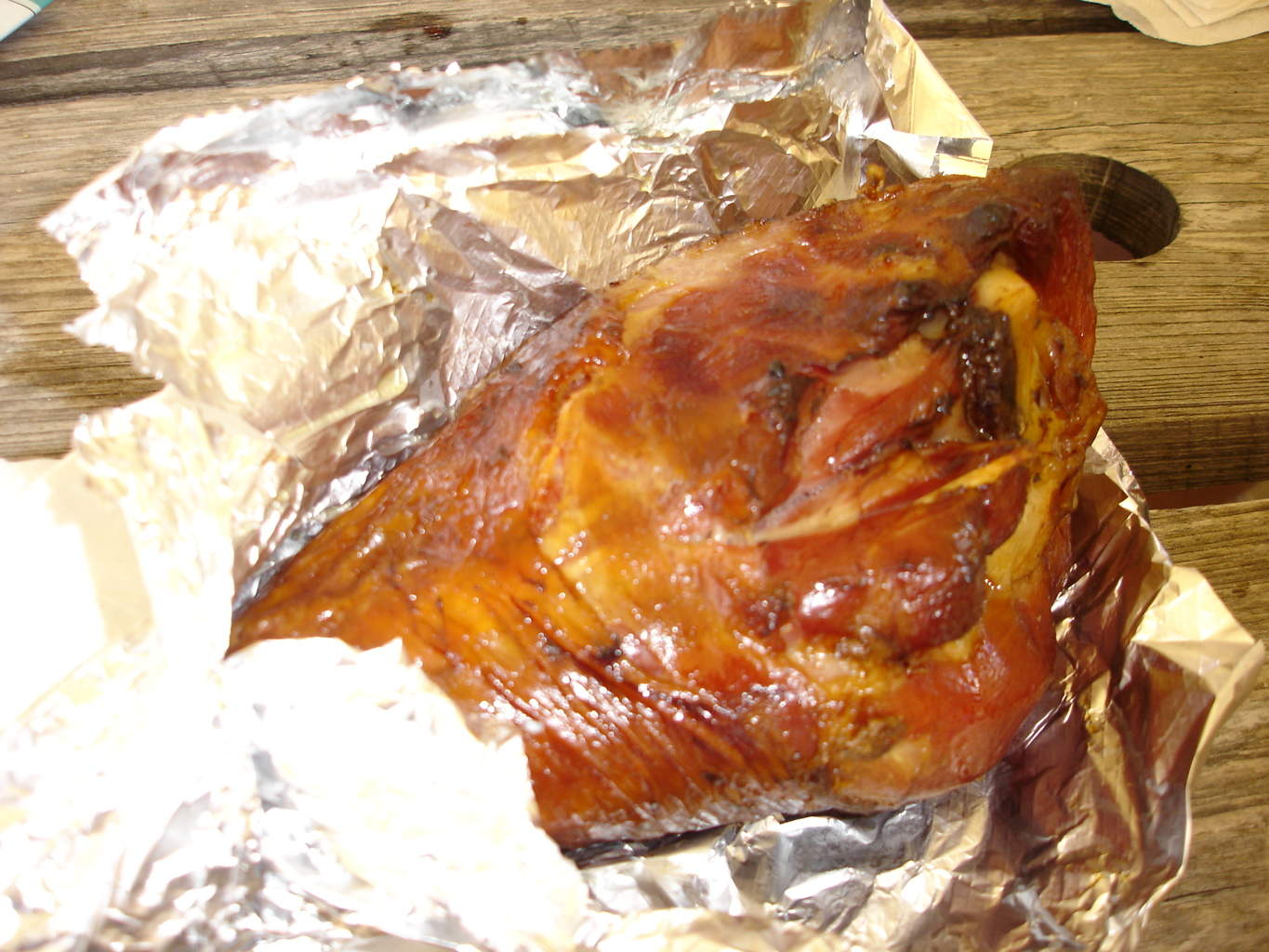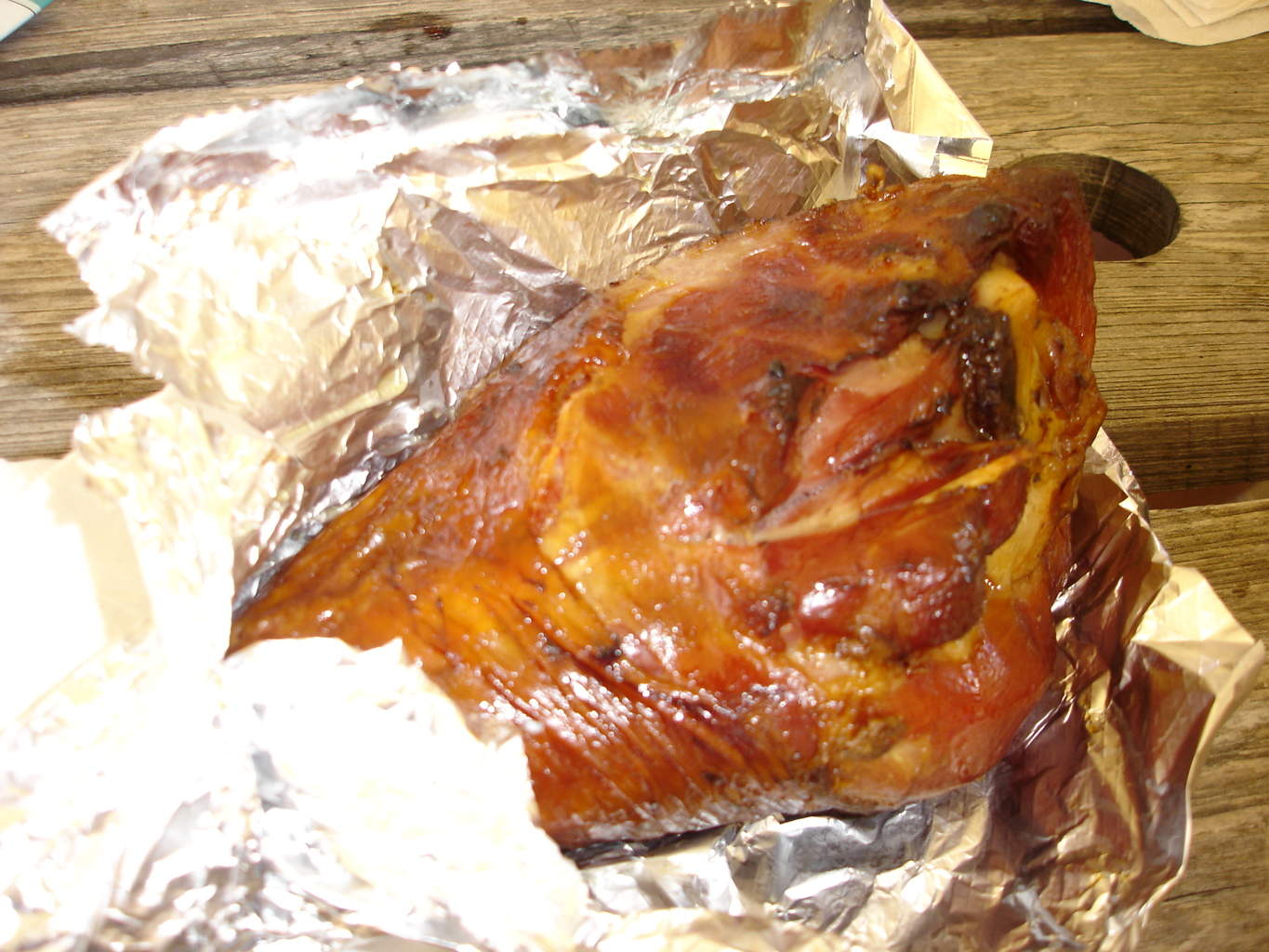 After.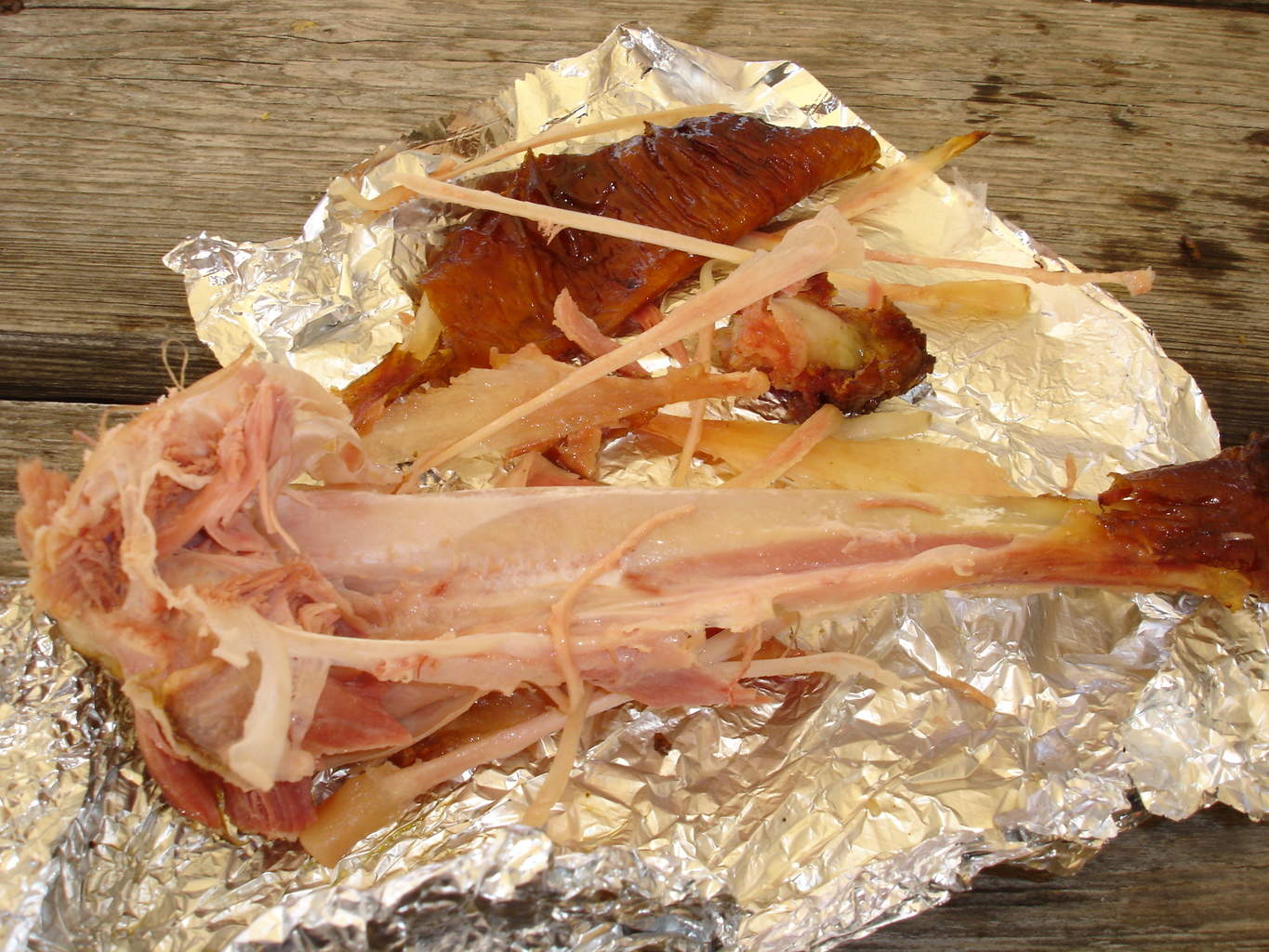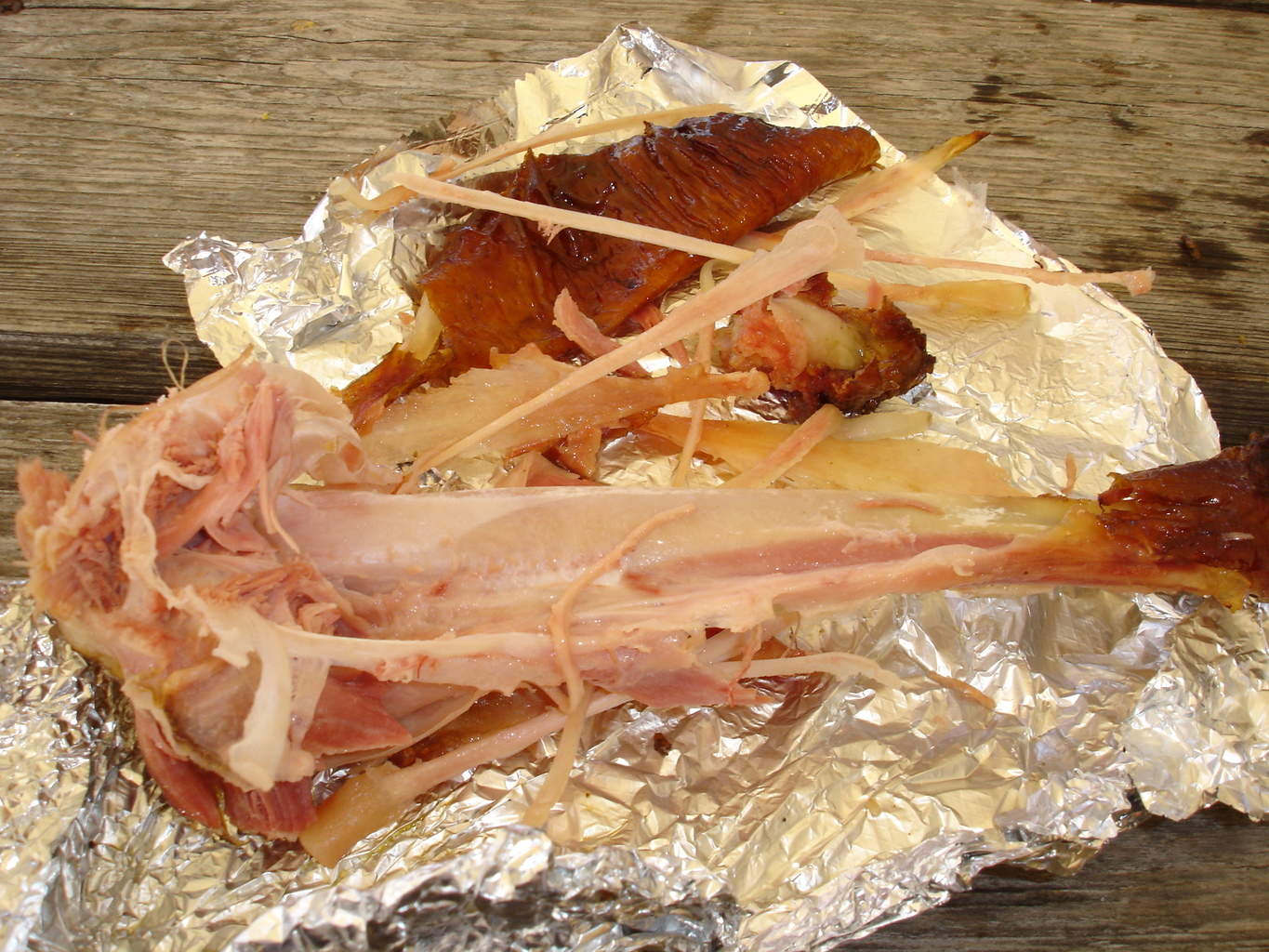 We tore that turkey leg up! It was tasty. So, let's recap. We have a gyro and a turkey leg. This does not a blog make. Back to the whole agrarian economy idea. Once again, we are off to the agricultural tent.
Here's what we find that show some examples of the diversity and importance of agribusiness in Florida. We produce:
Honey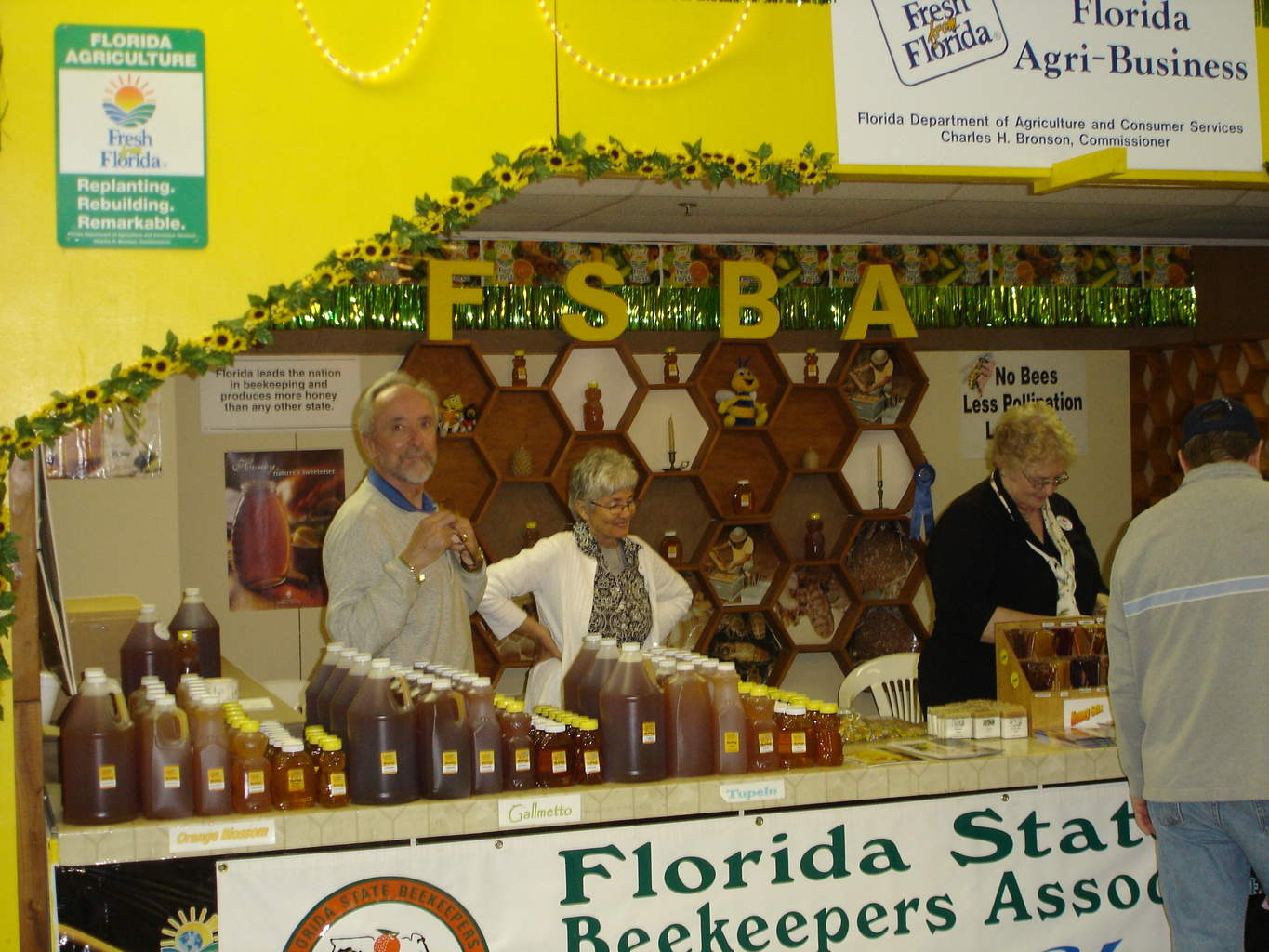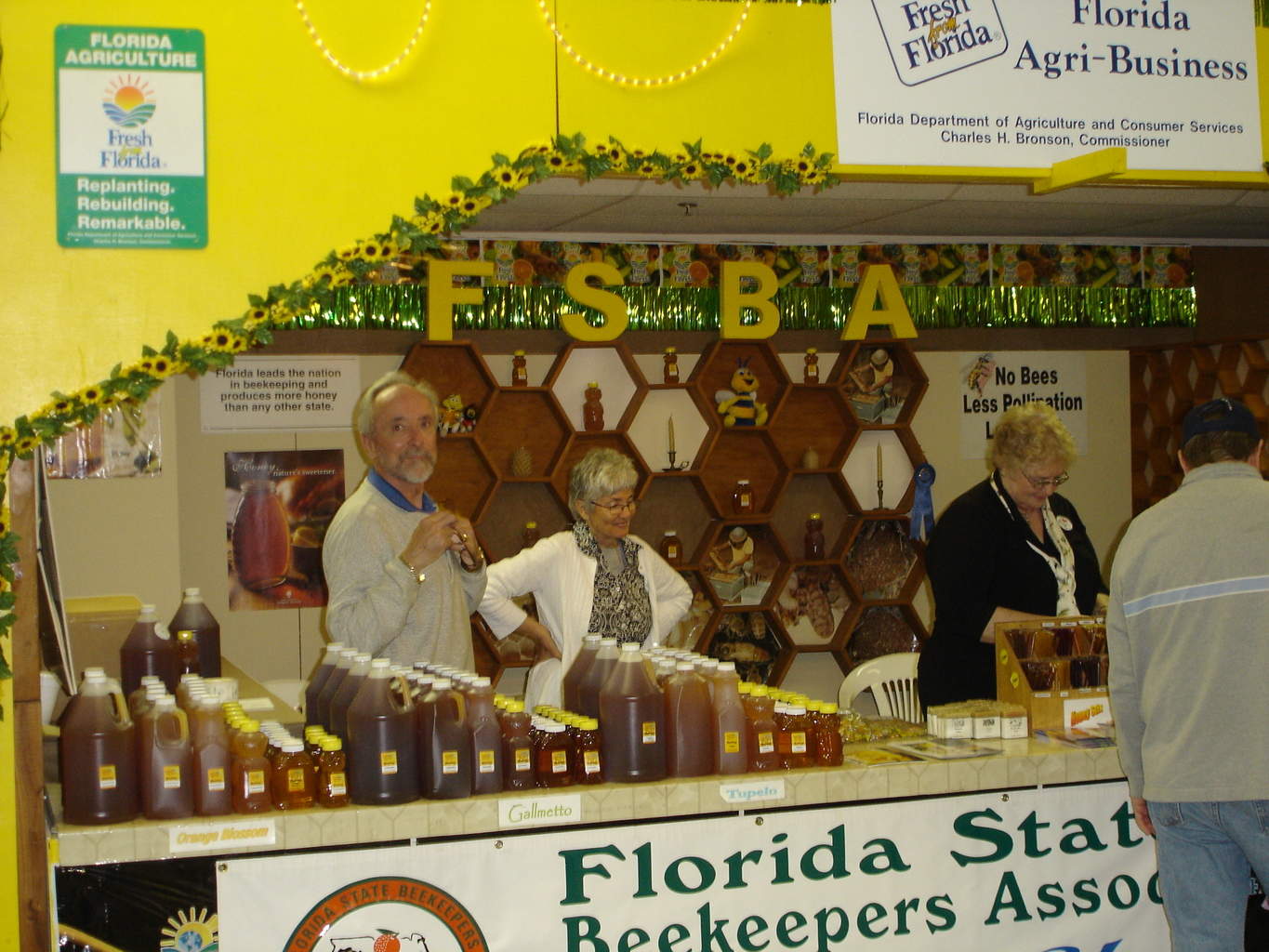 Strawberries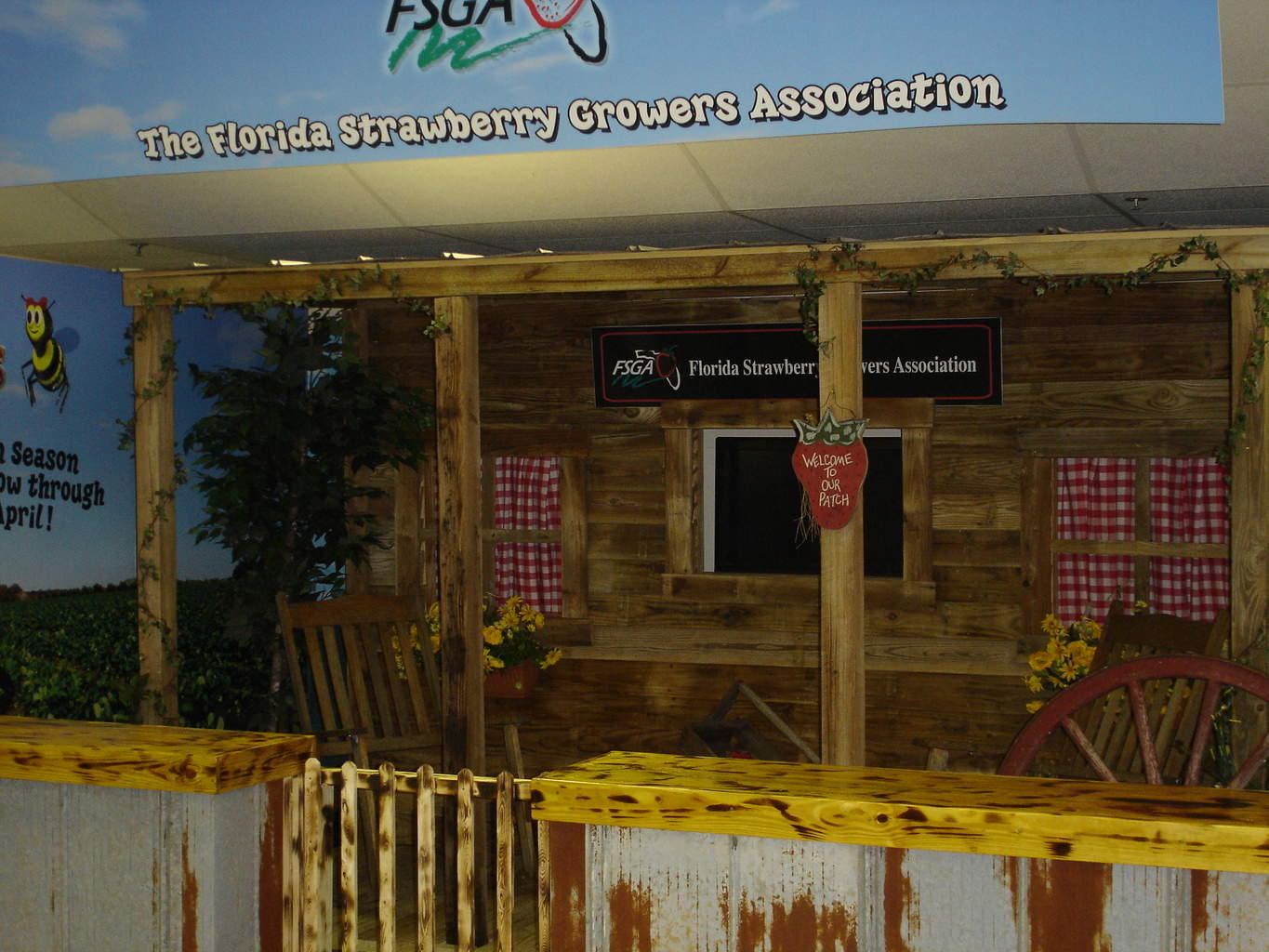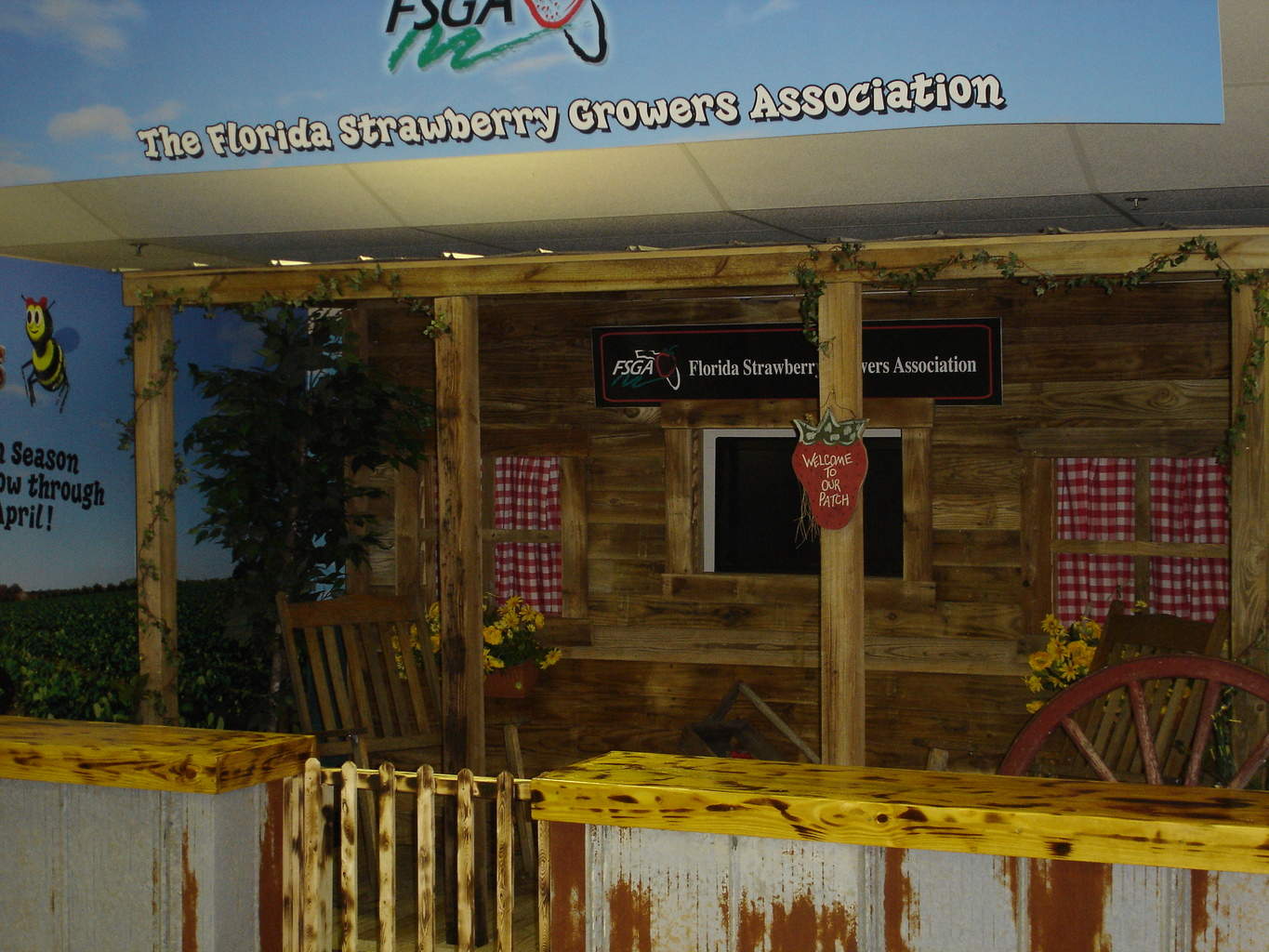 Peanuts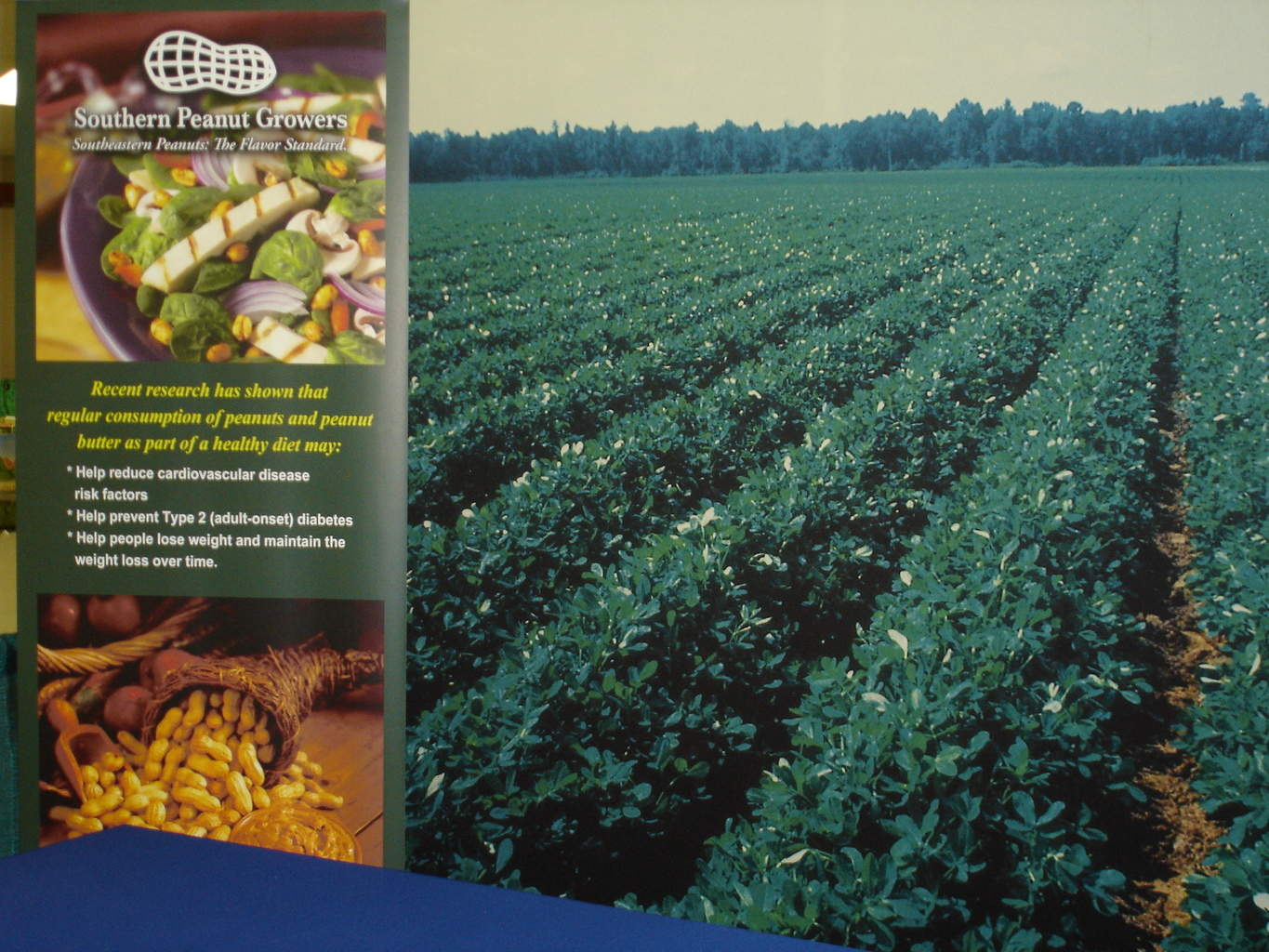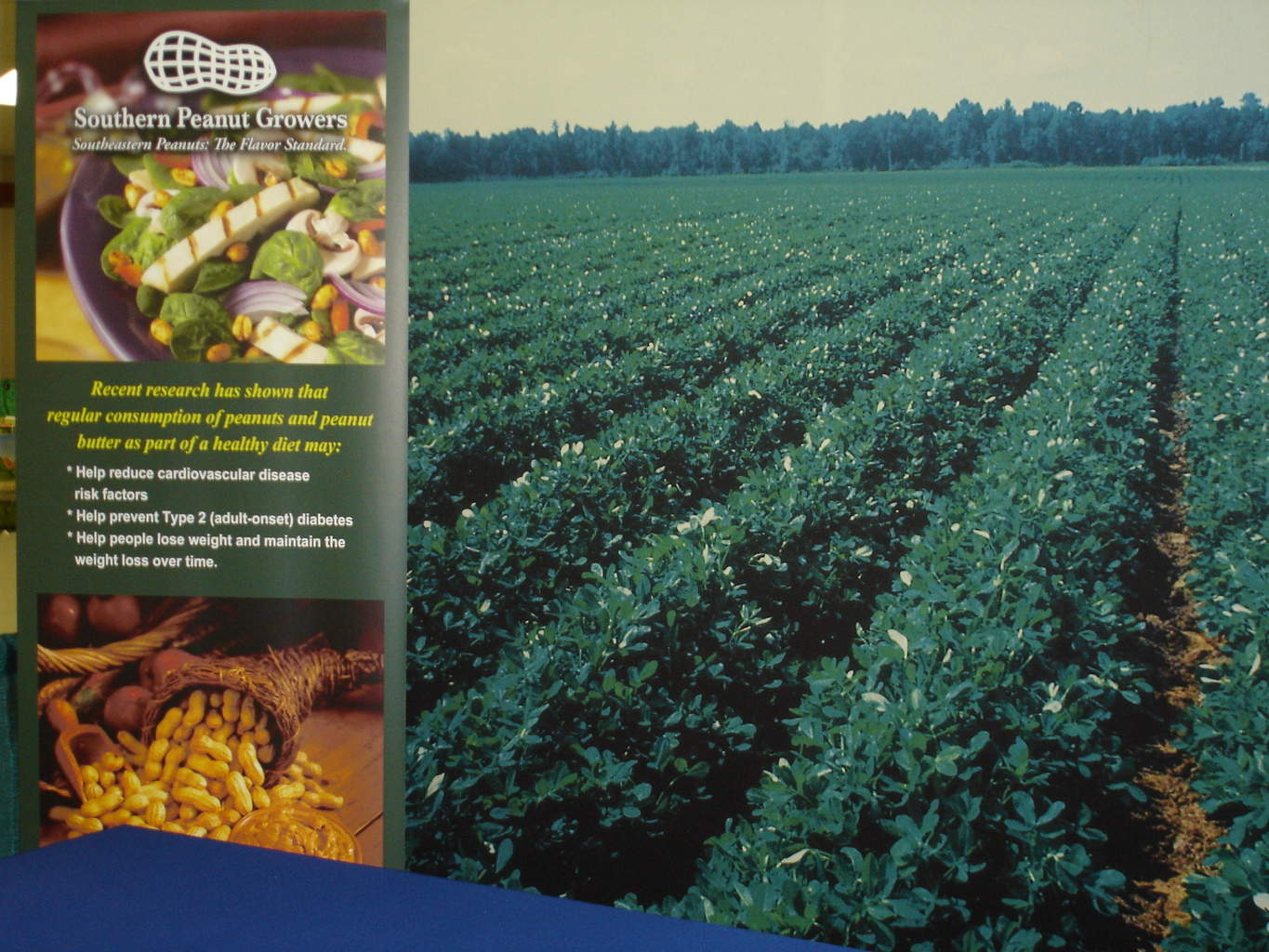 Cattle Women
(Keep the jokes to a minimum, please)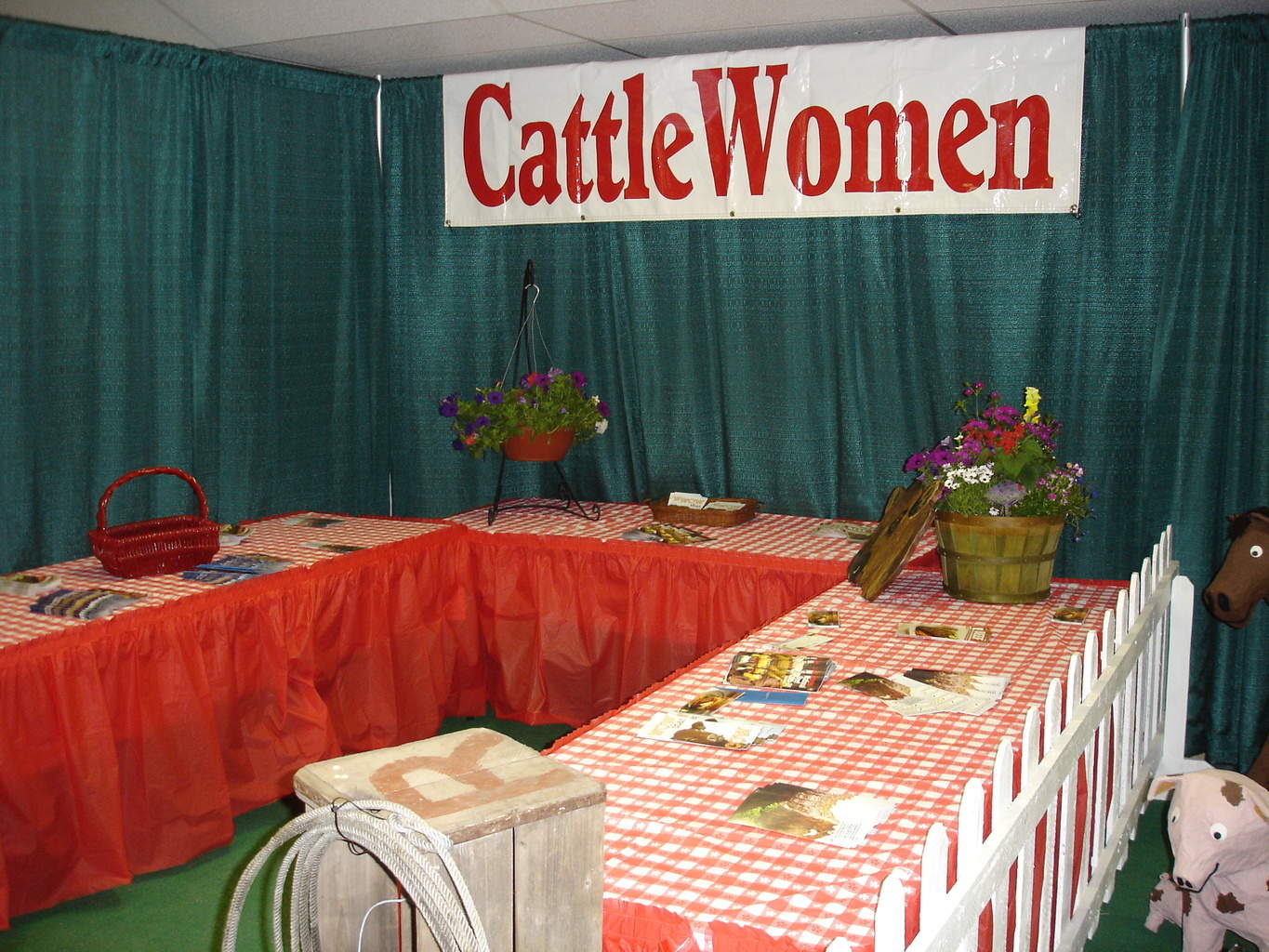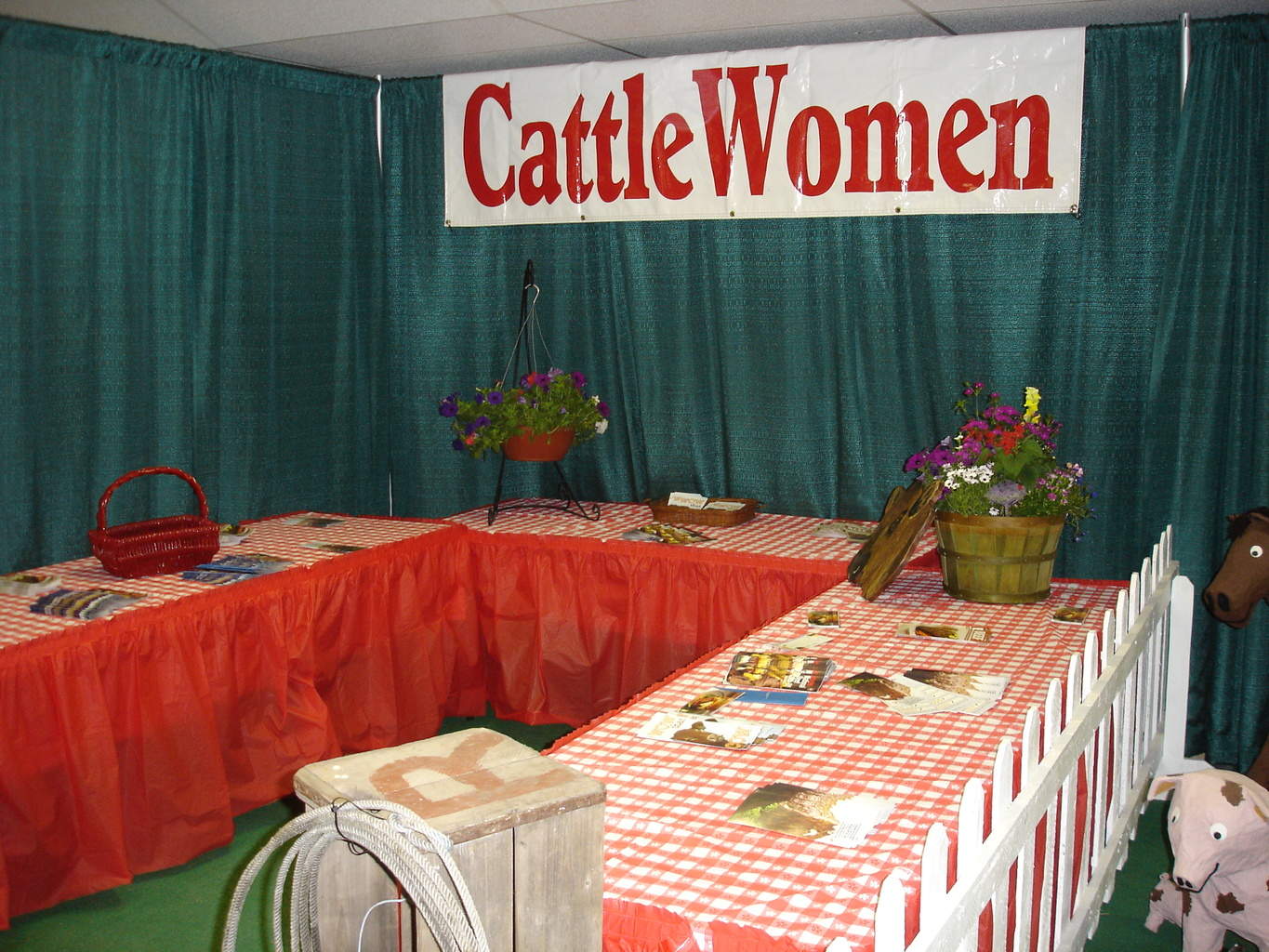 Sugar Cane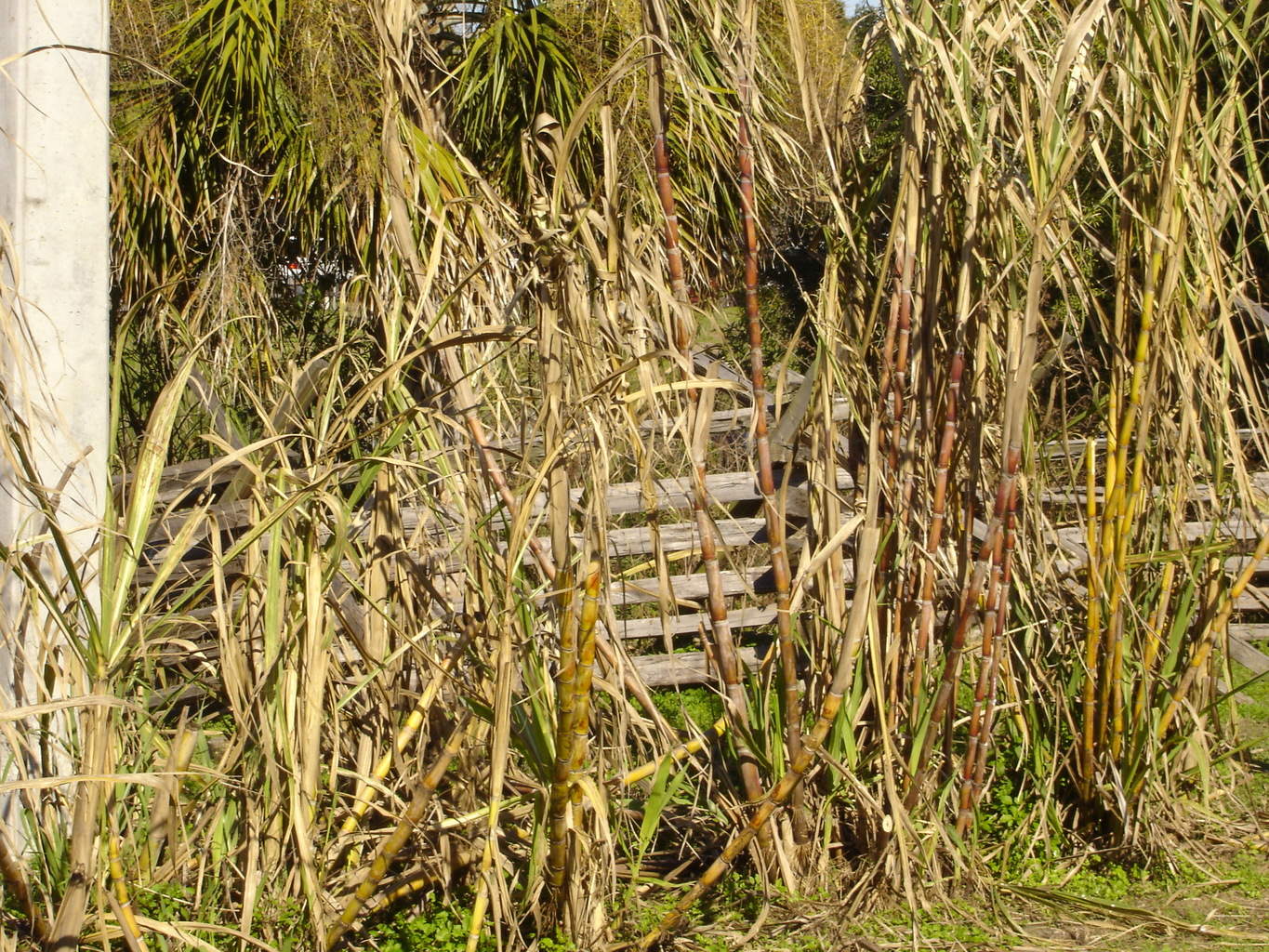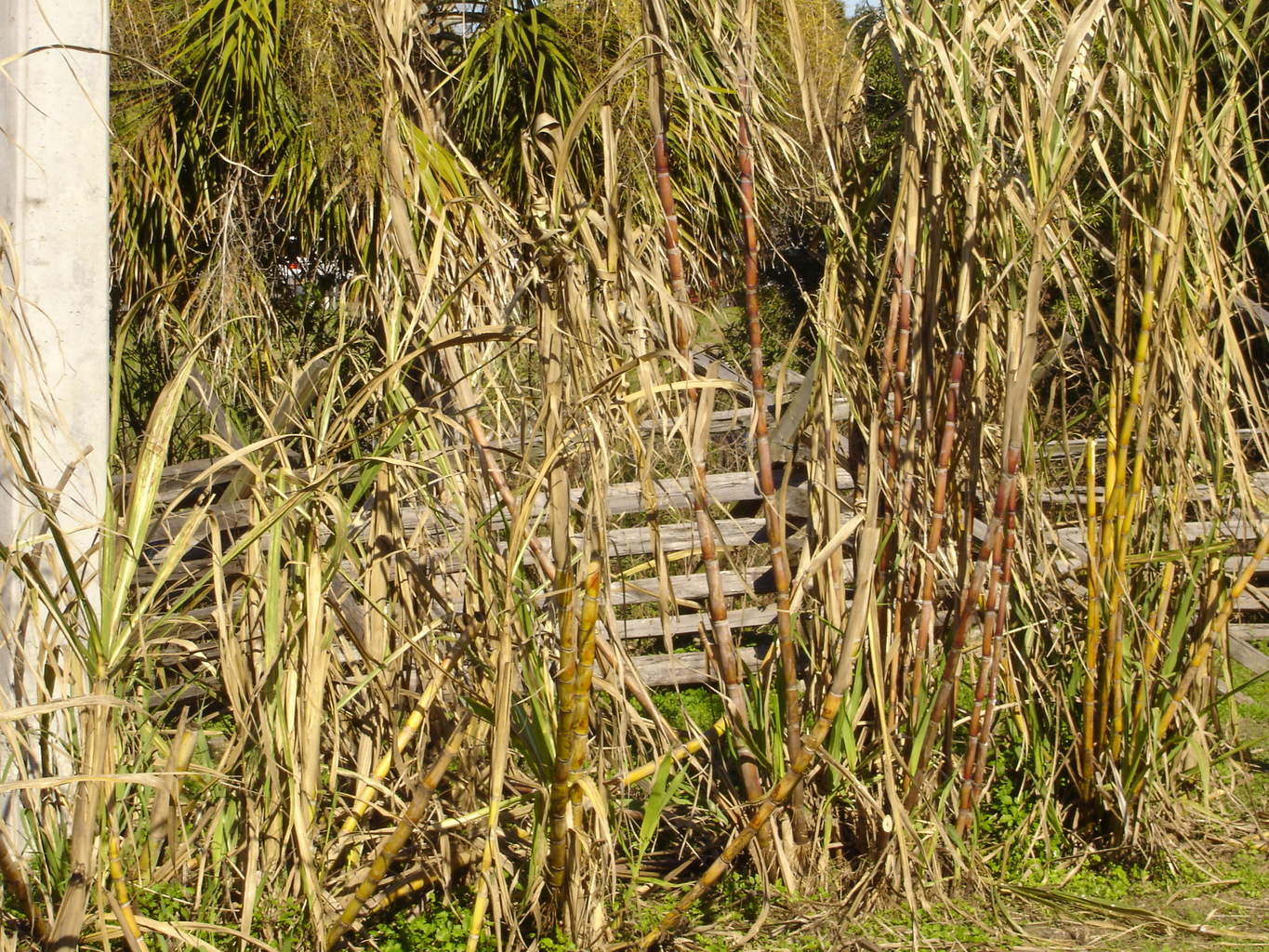 Cotton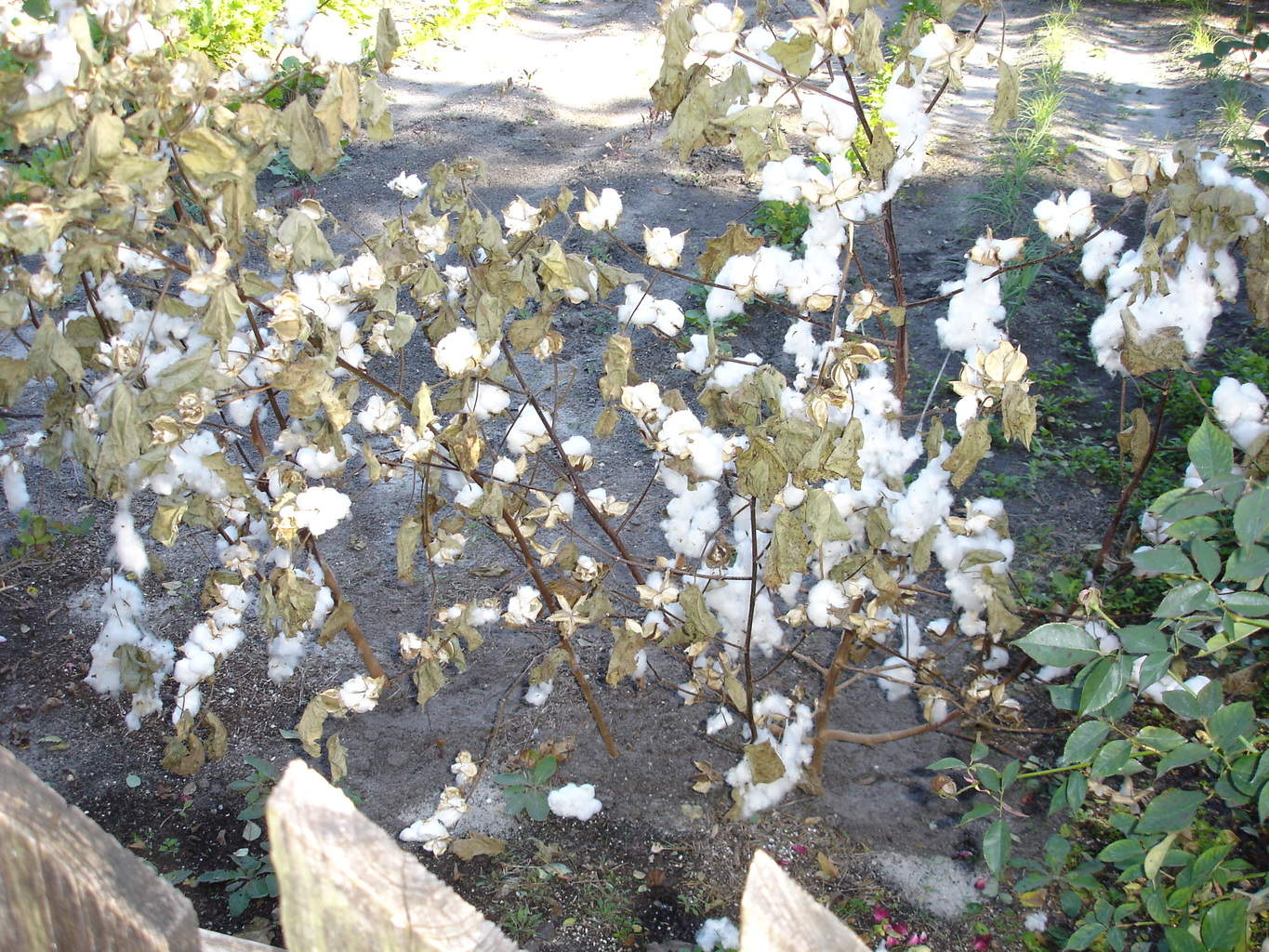 Grapes
(Who knew?)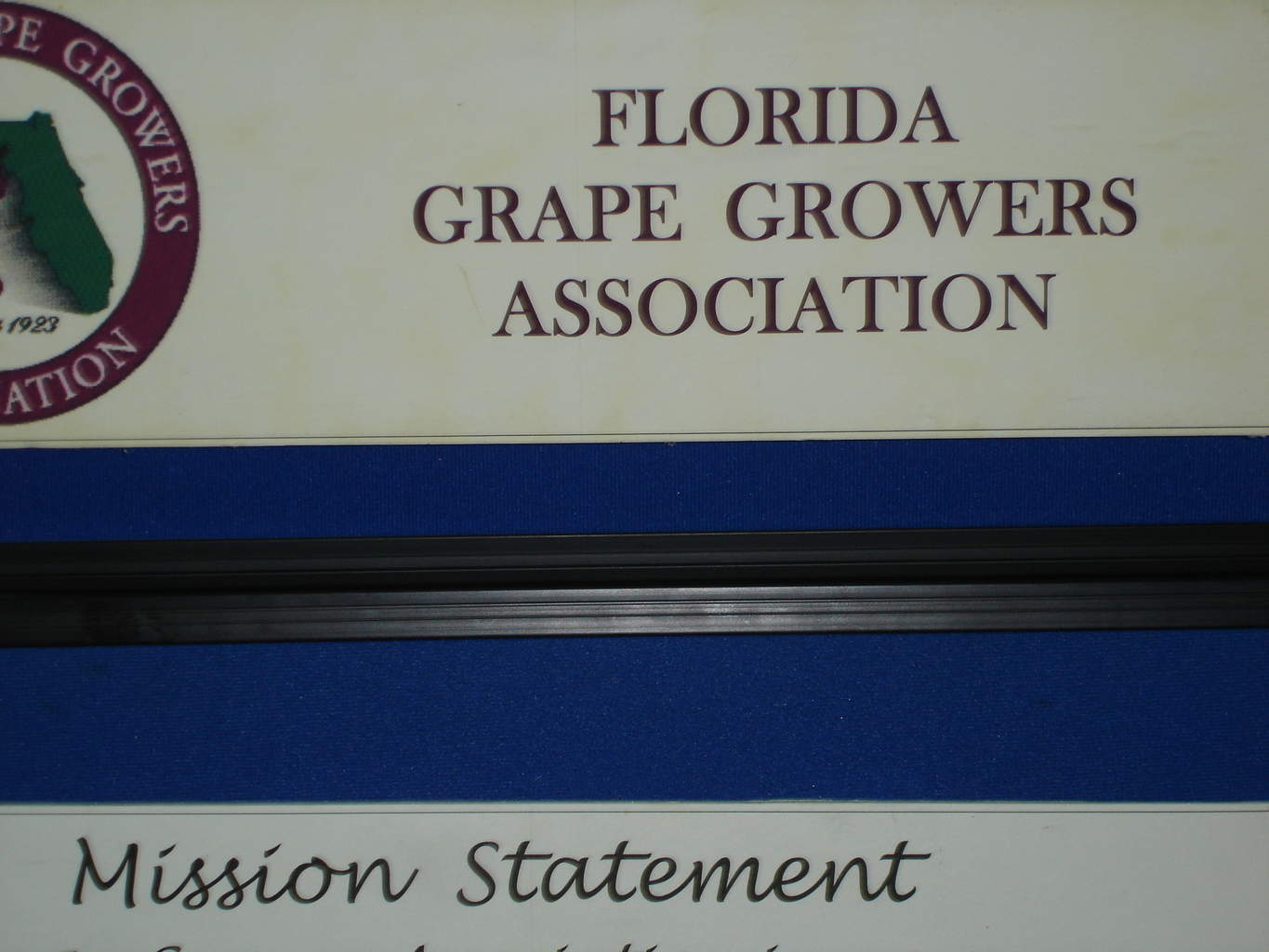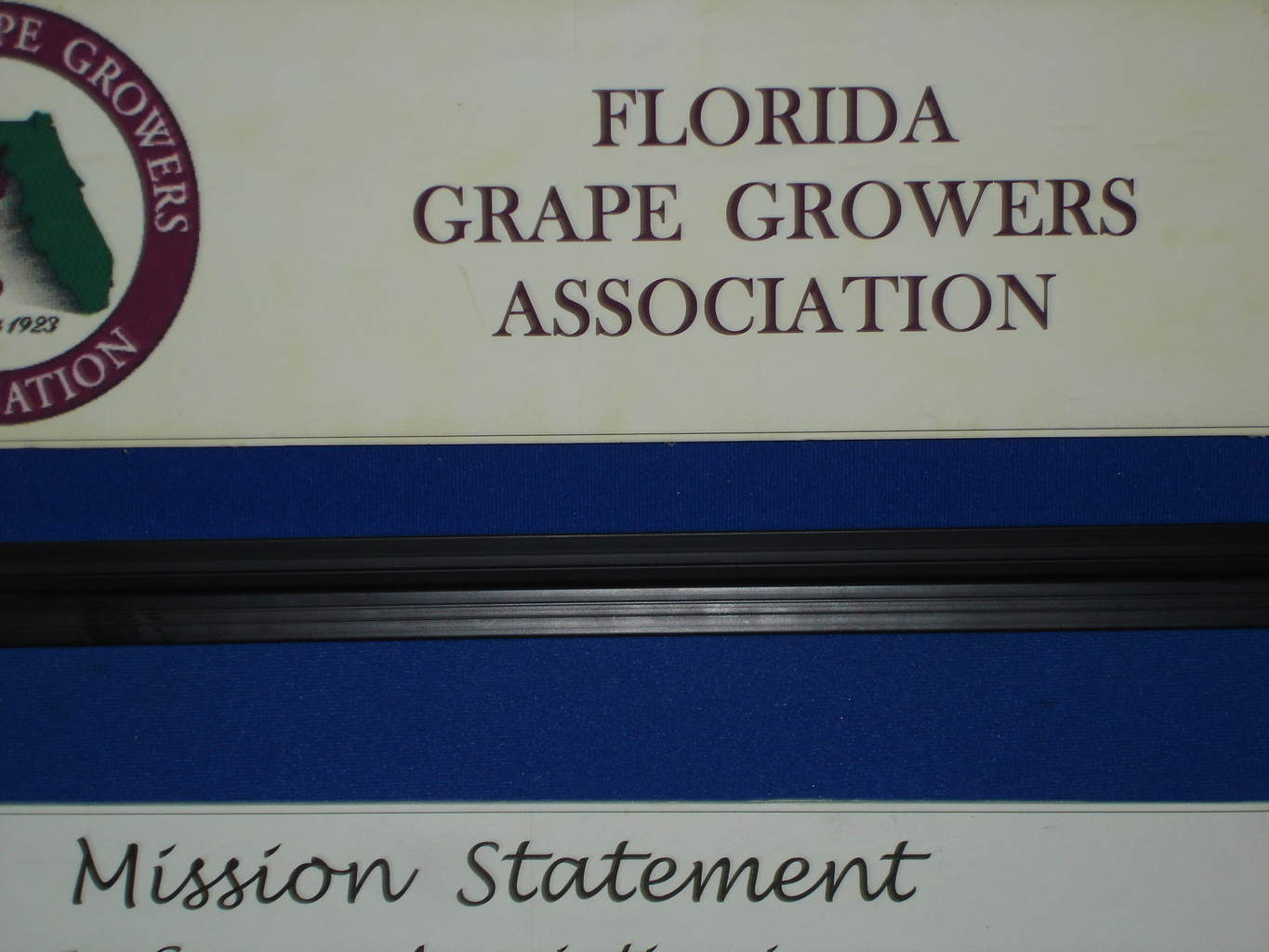 Dairy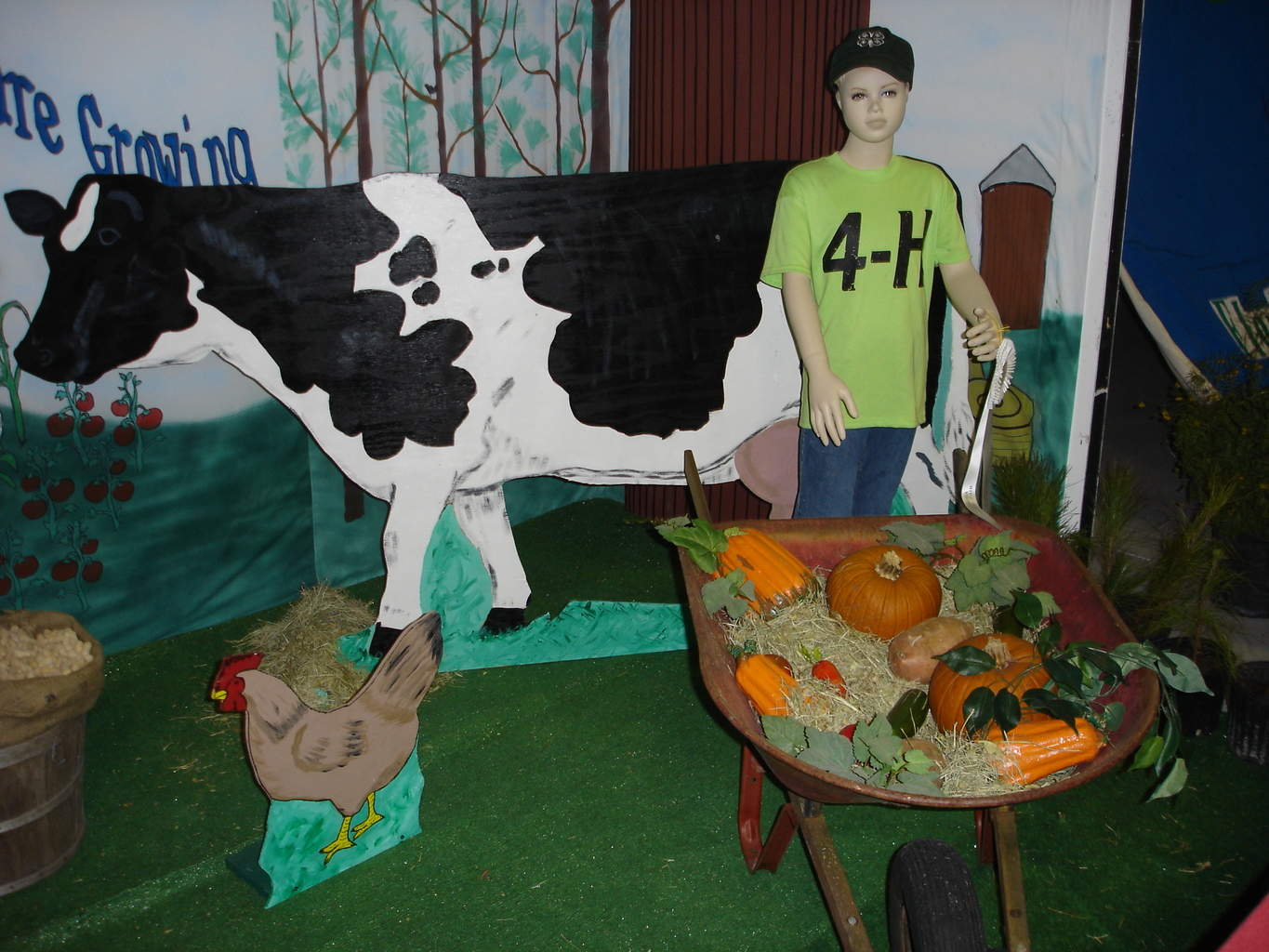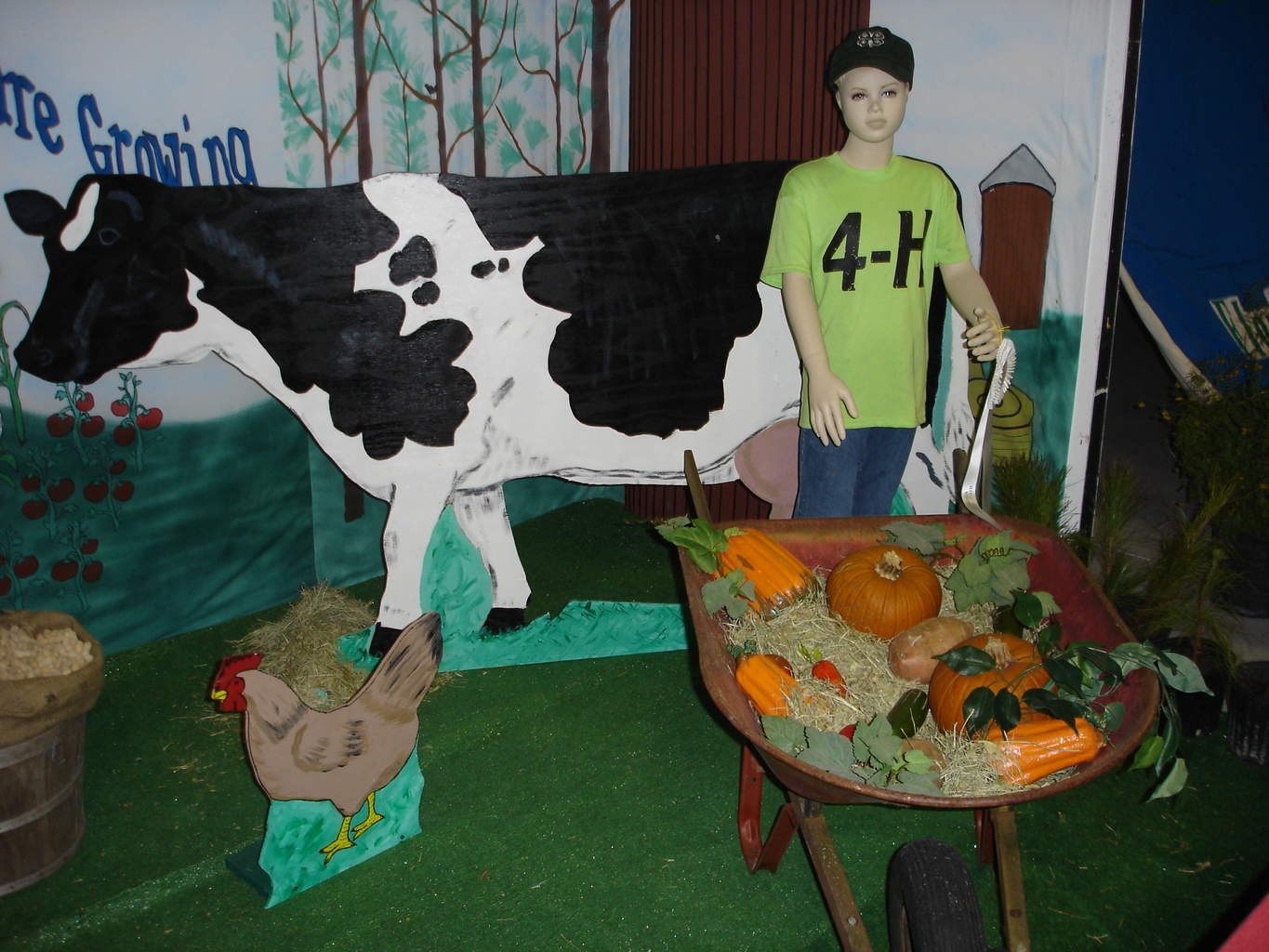 And, of course……….
Citrus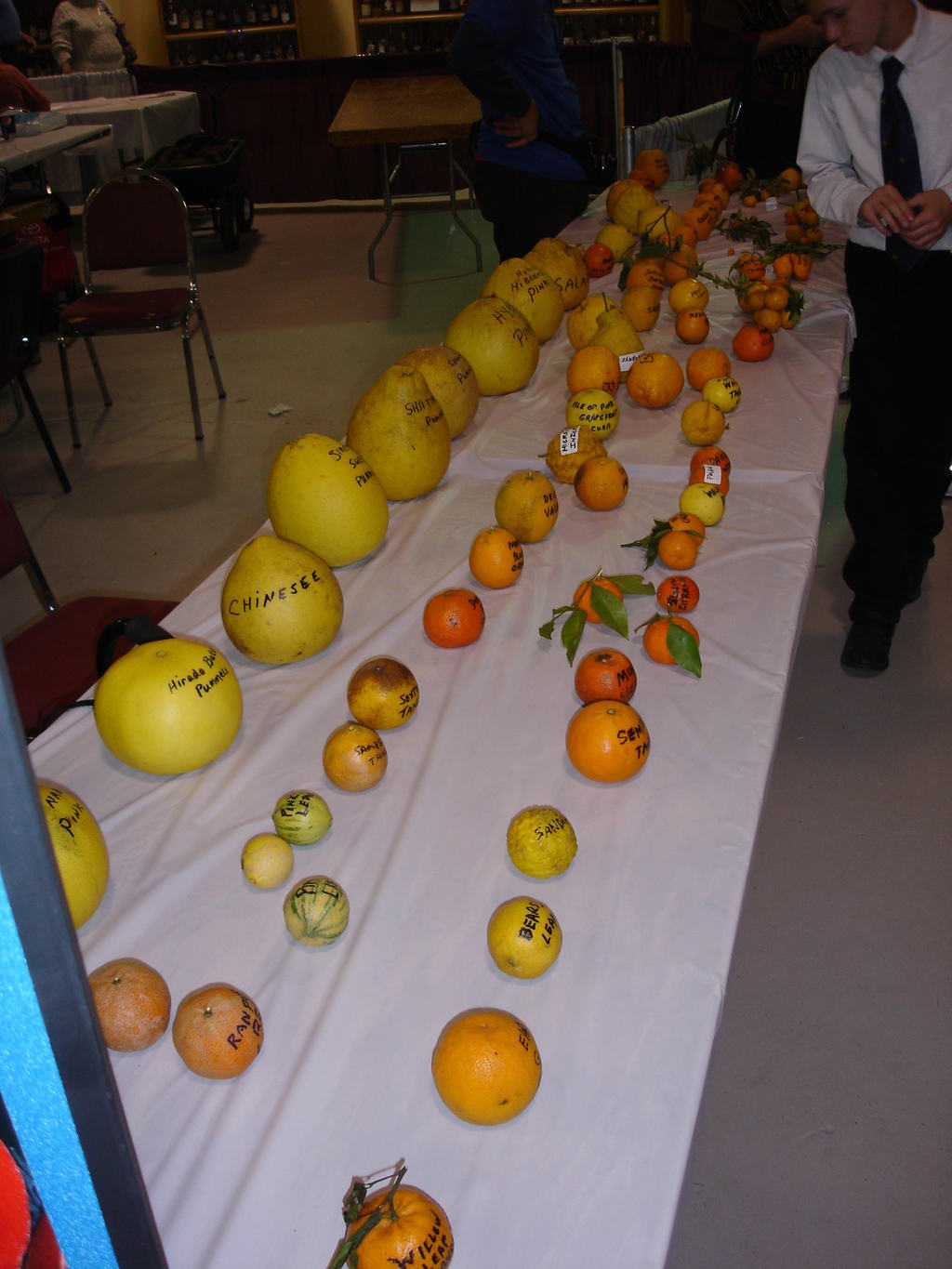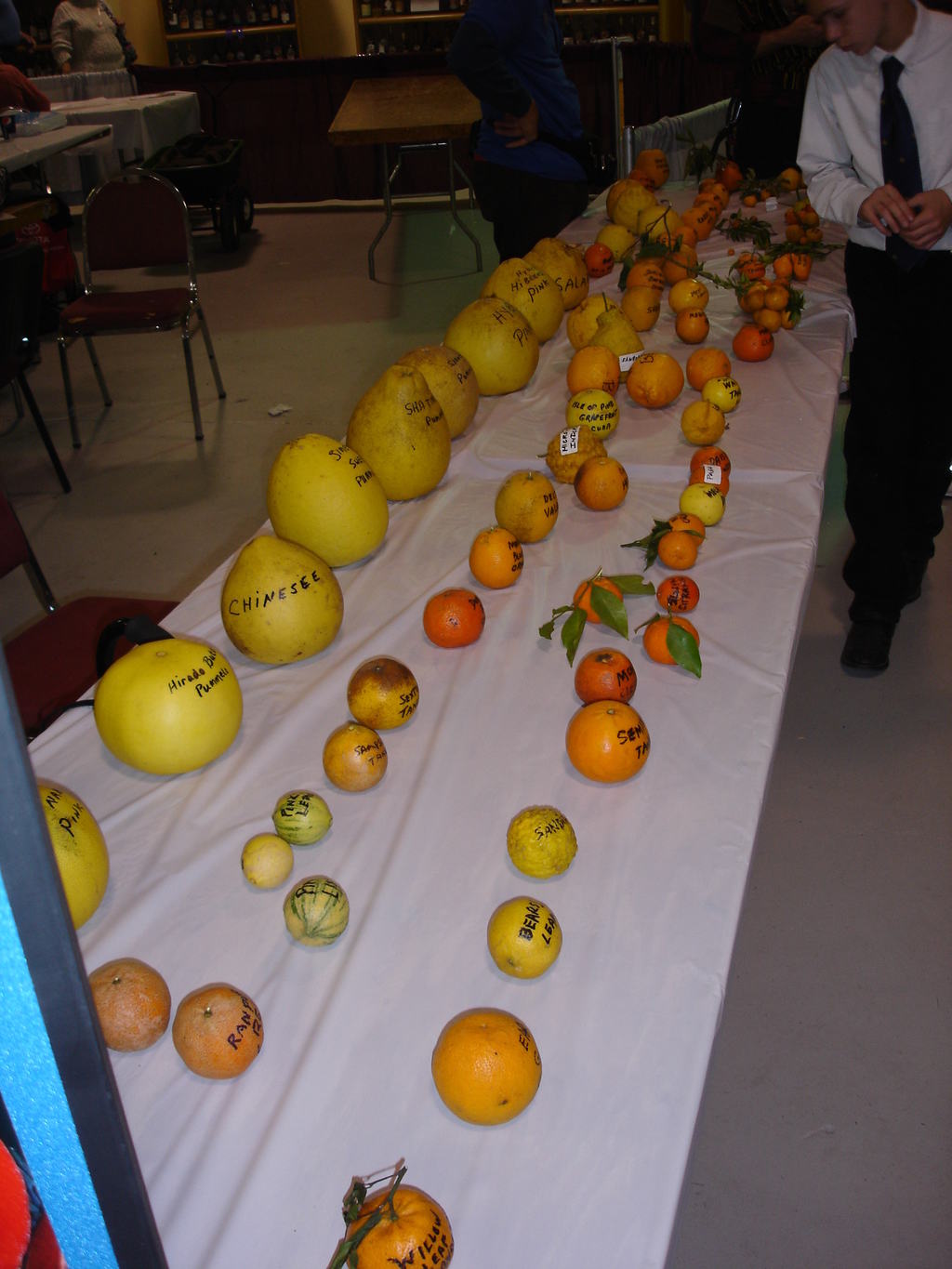 We saw the 4-H and FFA students with all their livestock and farm animals: chickens, roosters, rabbits, steer, cows, pigs and some kind of llama looking thing with no ears.
We saw well dressed goats.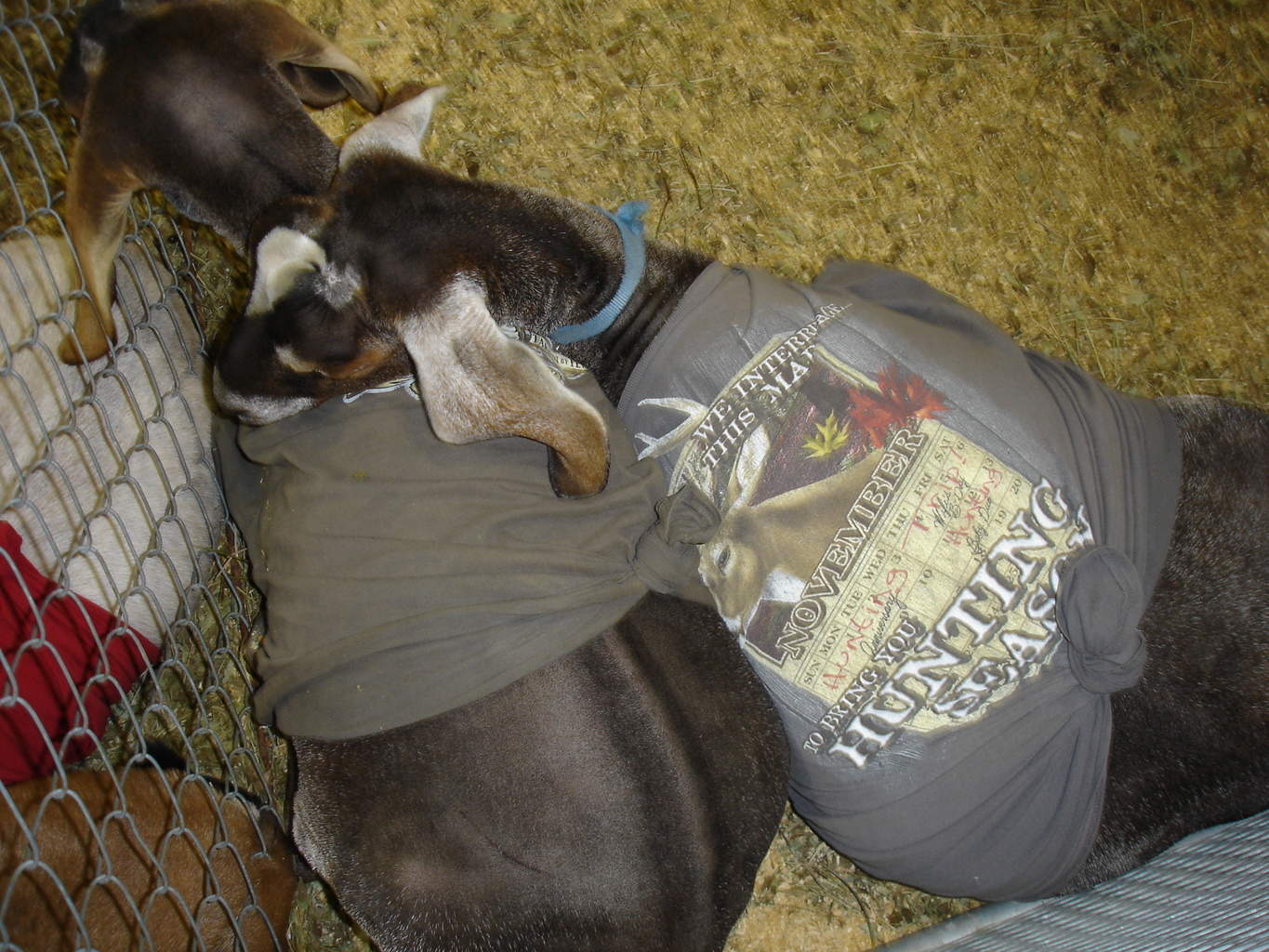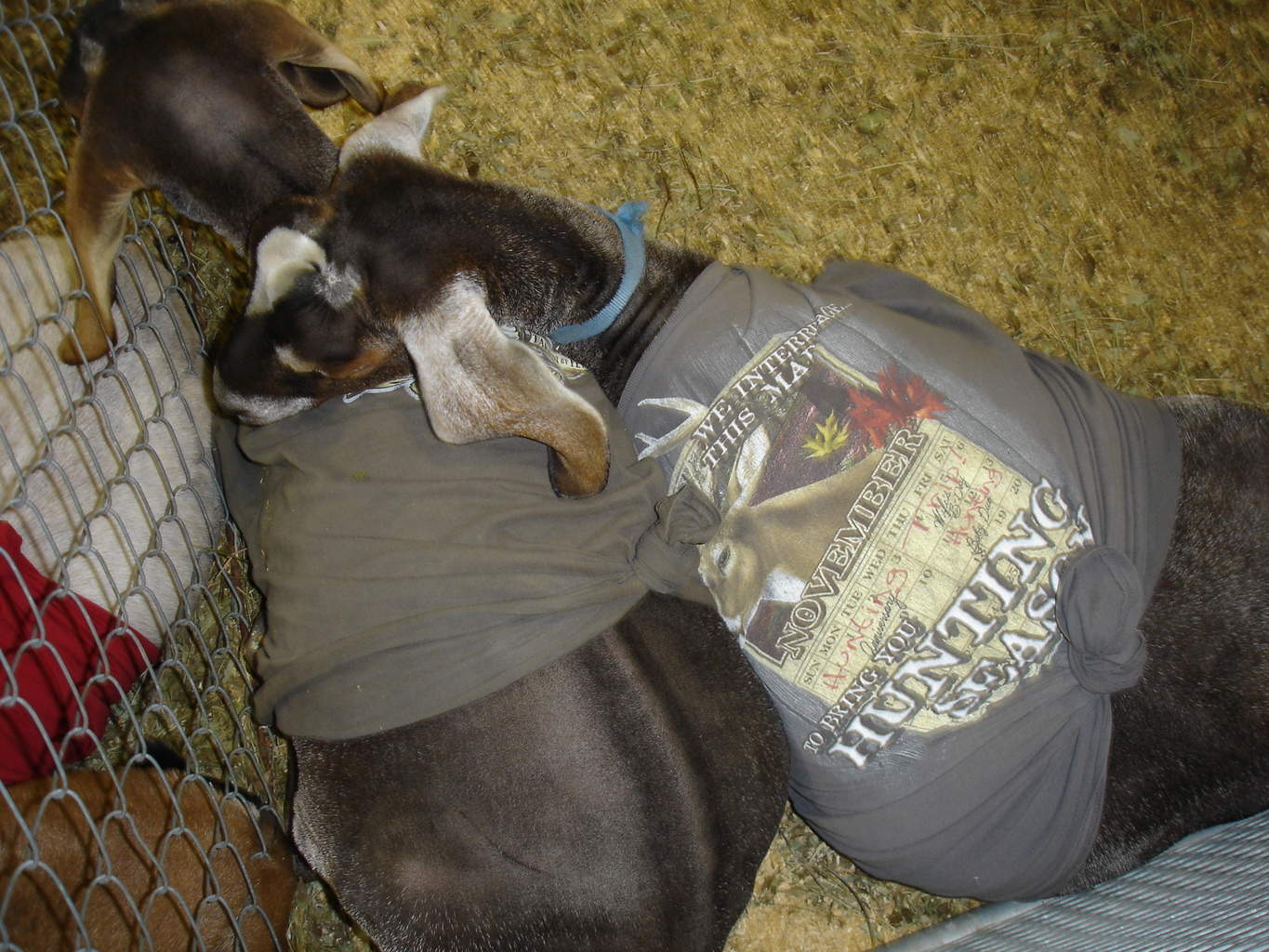 And one party girl goat.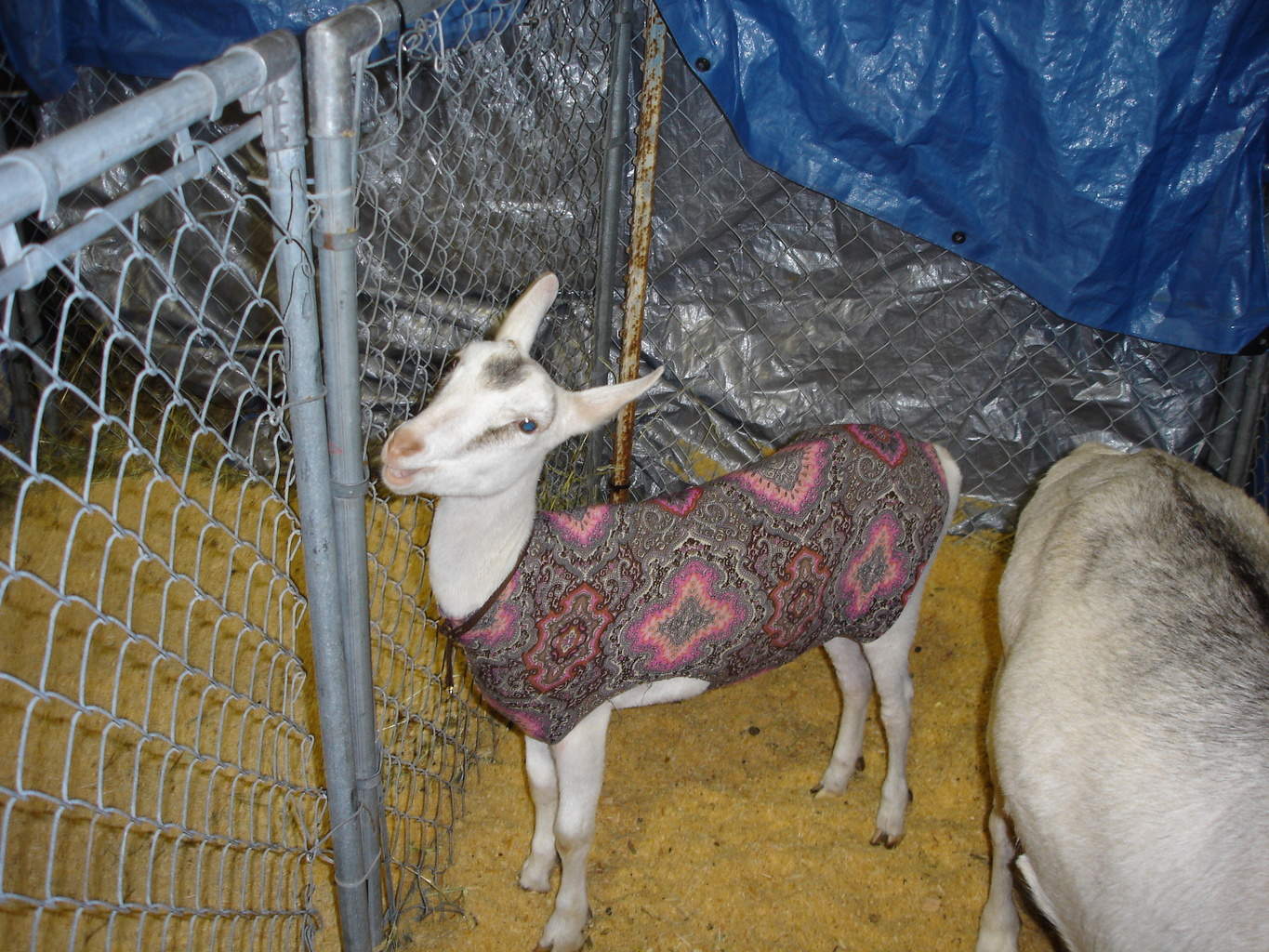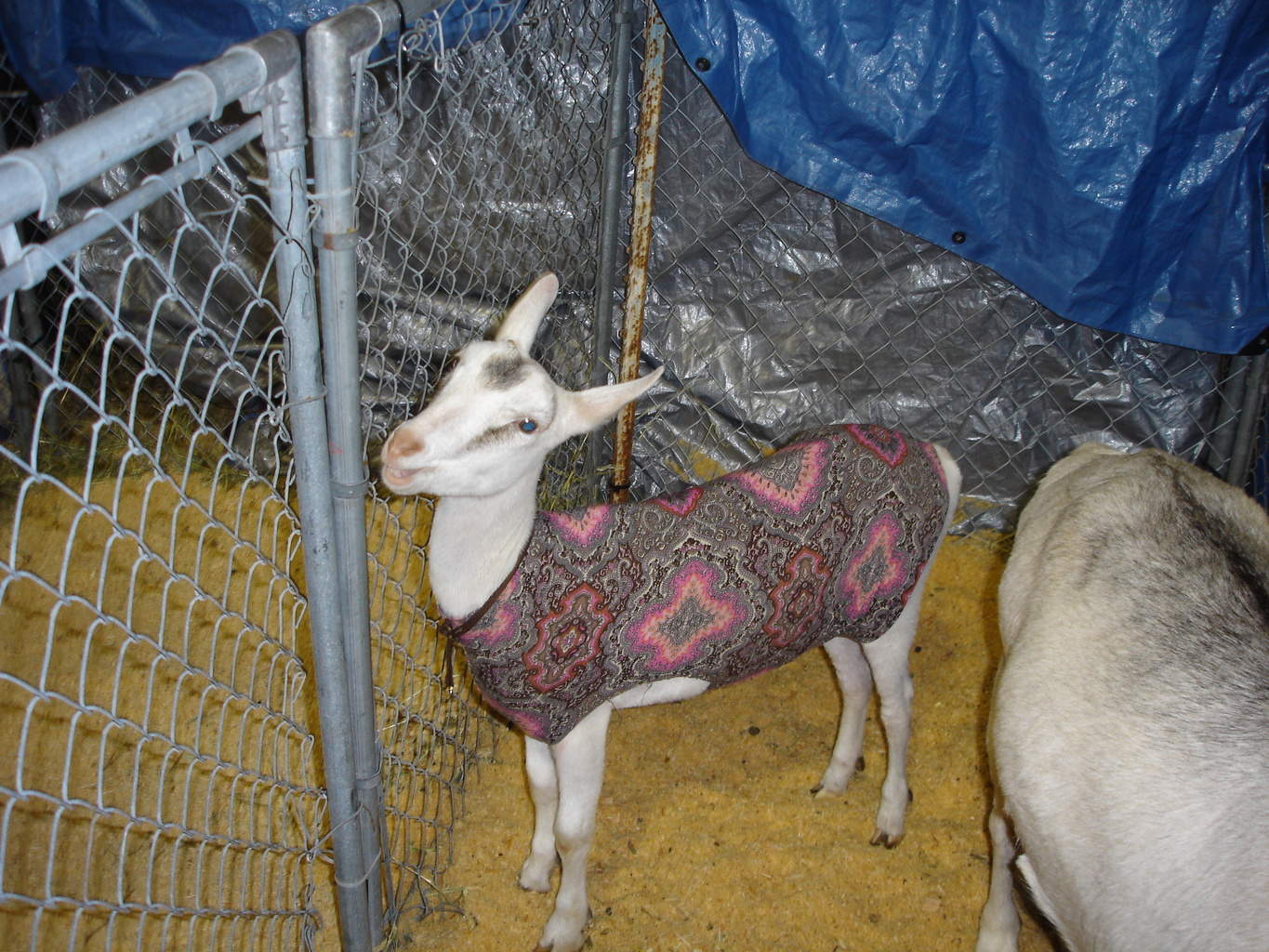 Leaving the agriculture tent with the fresh barnyard scent in our nostrils, we headed over to Cracker Country which is a restored 1800's Florida pioneer village. I just love restored villages. Not only do I get a wonderful education, but I always come away feeling renewed and refreshed. The reminder of the efficiency and self-sufficiency, that was required for survival , somehow regenerates my soul. Our forebearers didn't sweat the small stuff. They focused on the big stuff like feeding their families, keeping clothes on the backs and concocting home remedies as cures for illnesses. The kindness of people was evident in everyday life. They helped each other. You could depend on your neighbor. They genuinely cared for each other. Families lived together and children grew up knowing their cousins. So, here among the historic buildings like
The Carlton House (built 1885),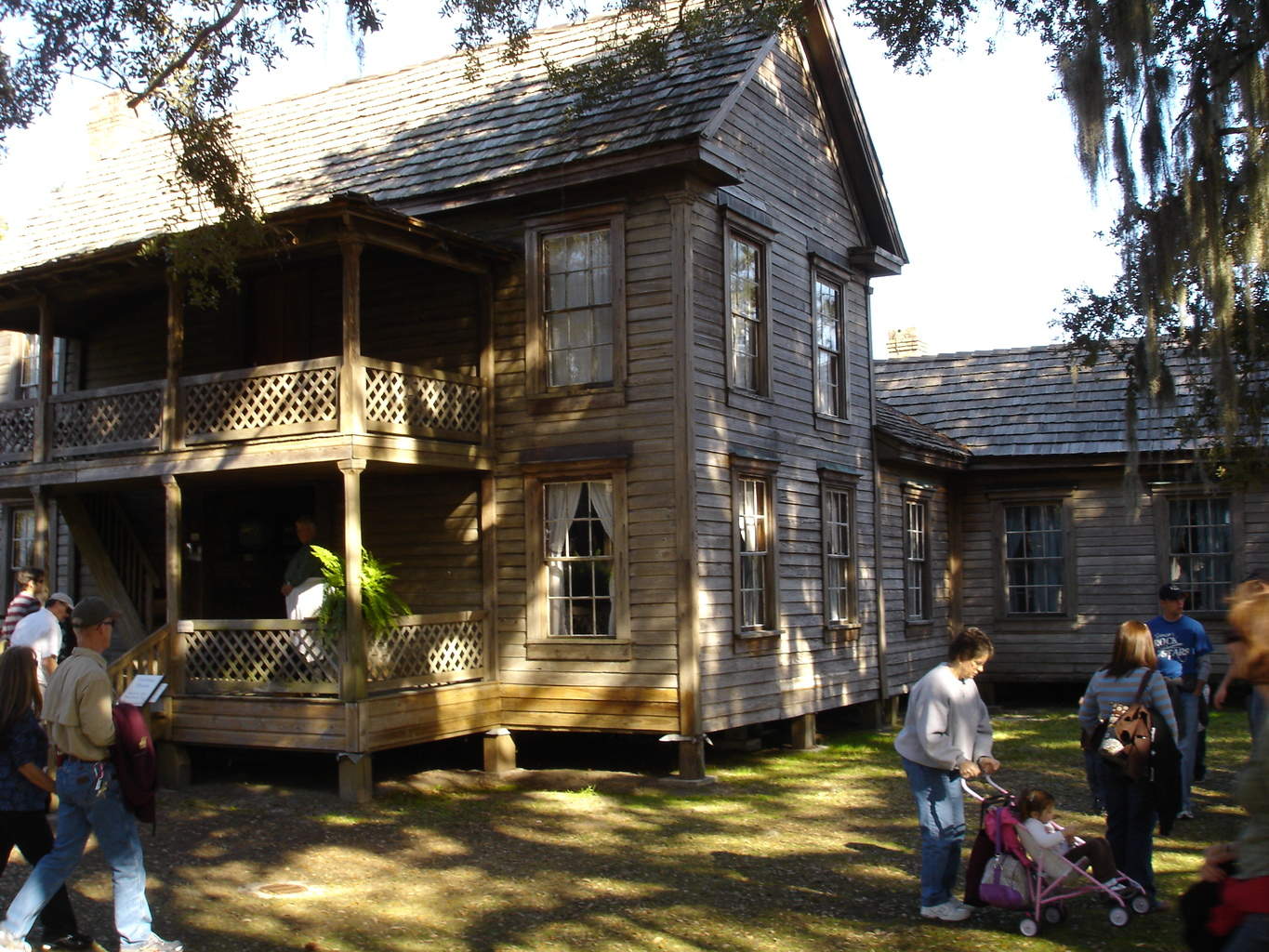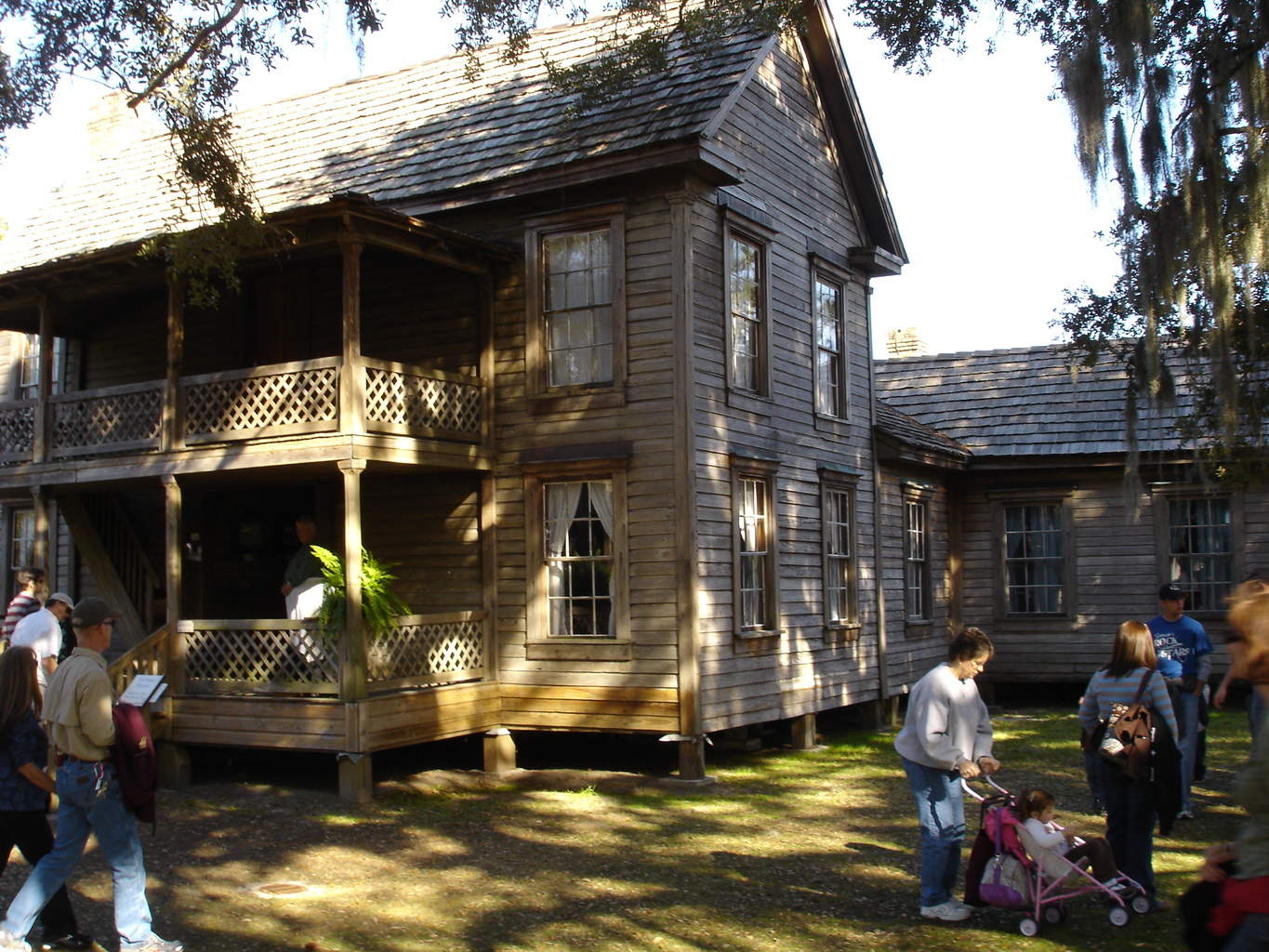 the church,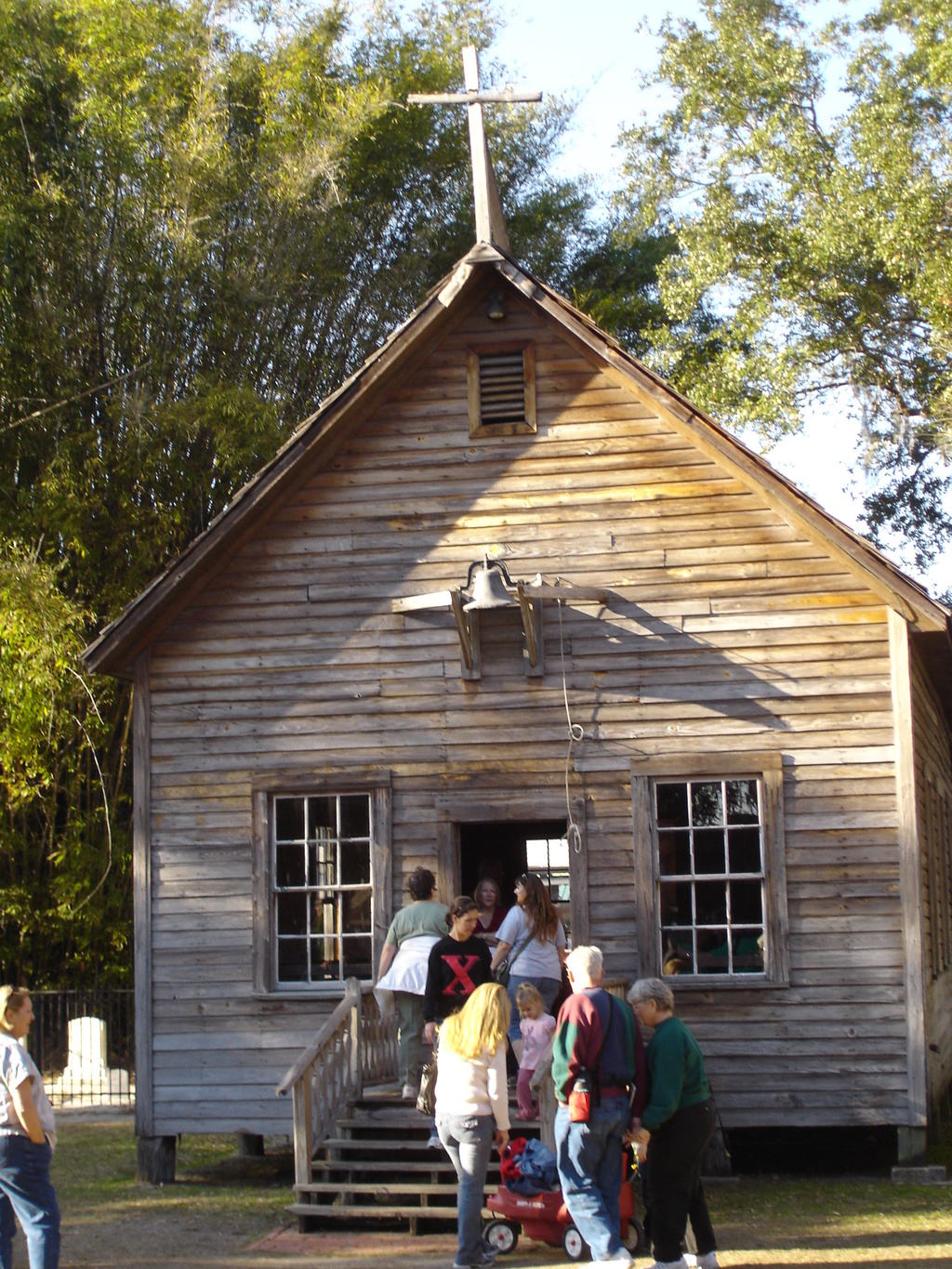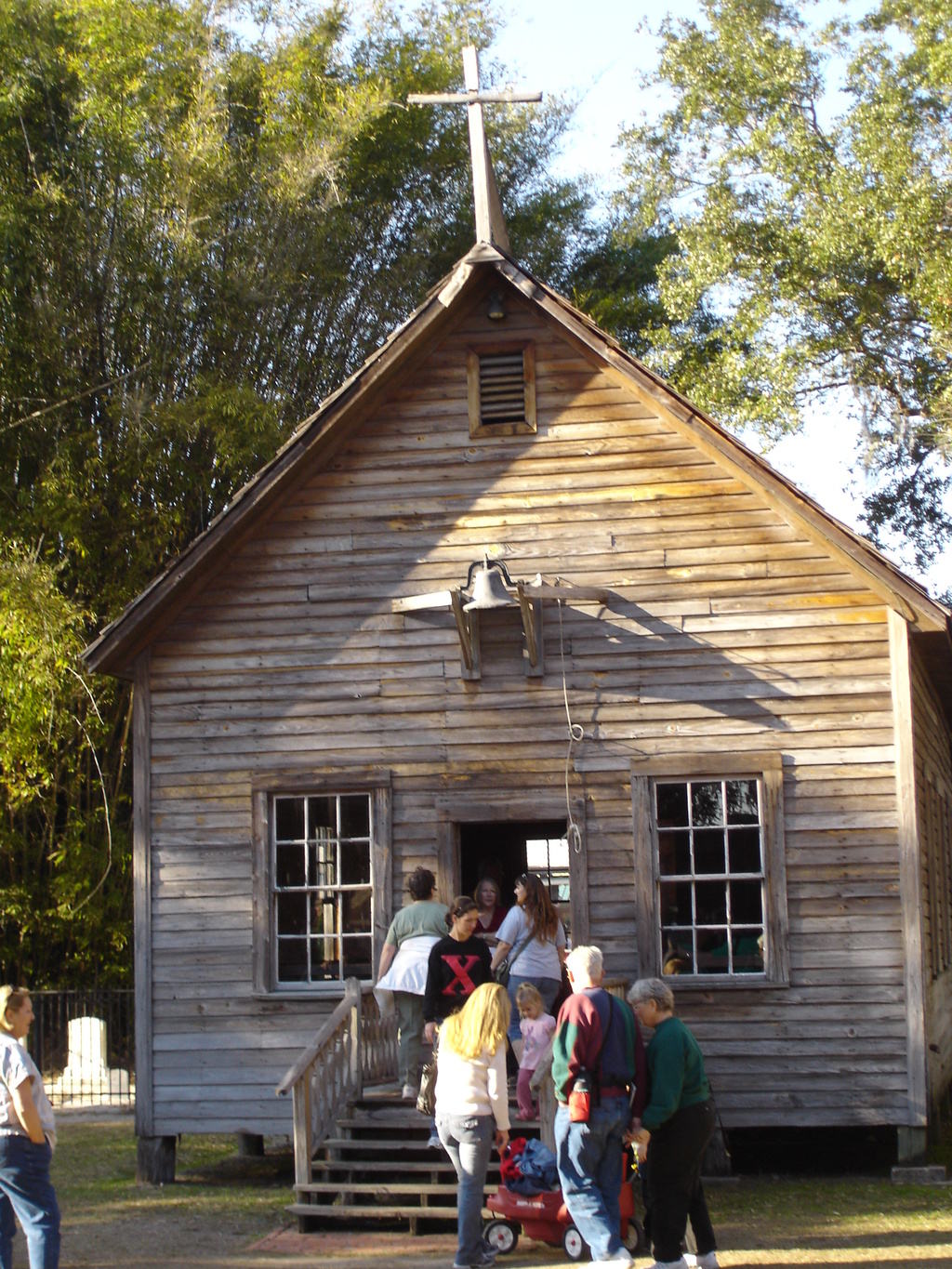 and the general store,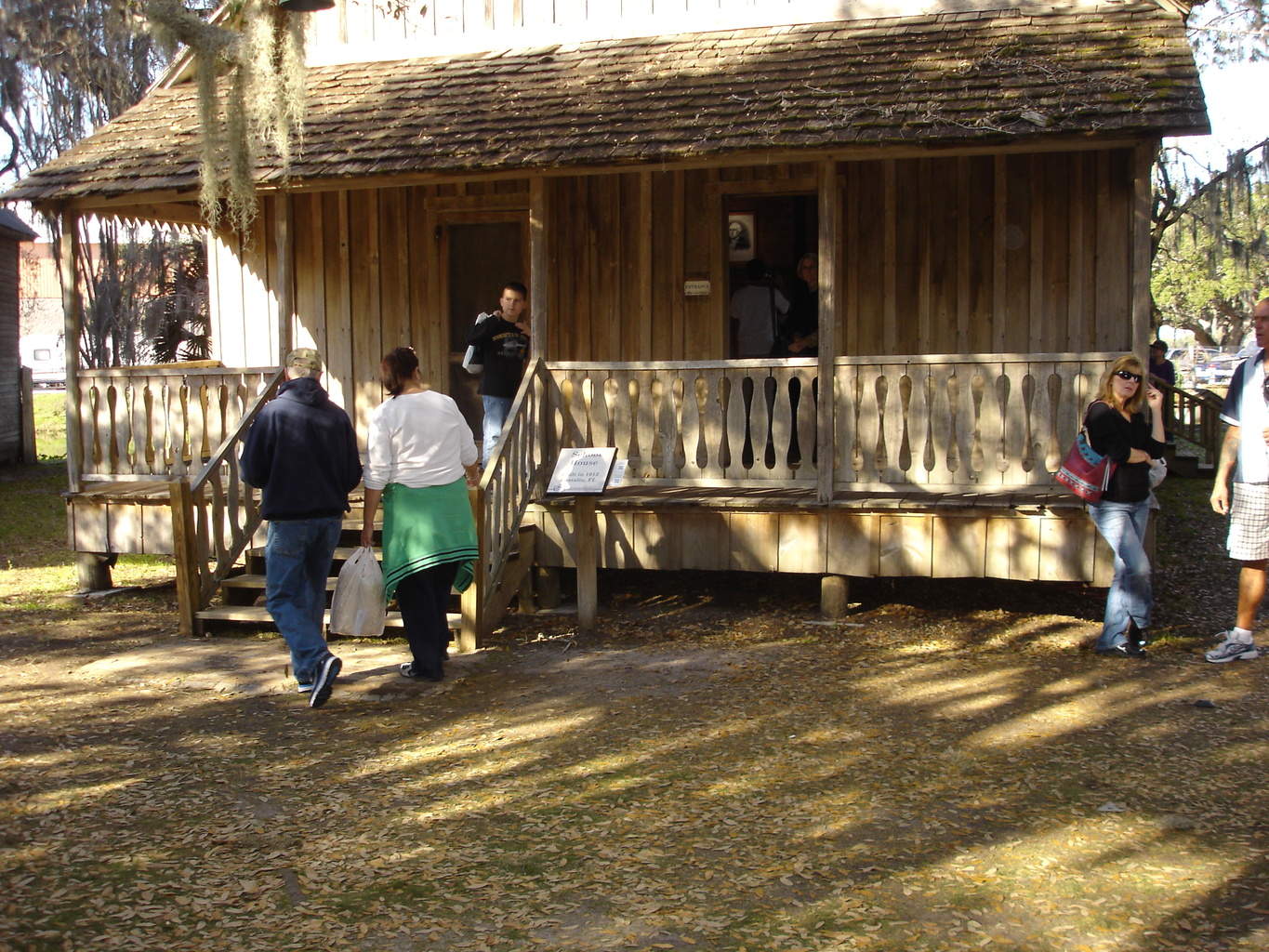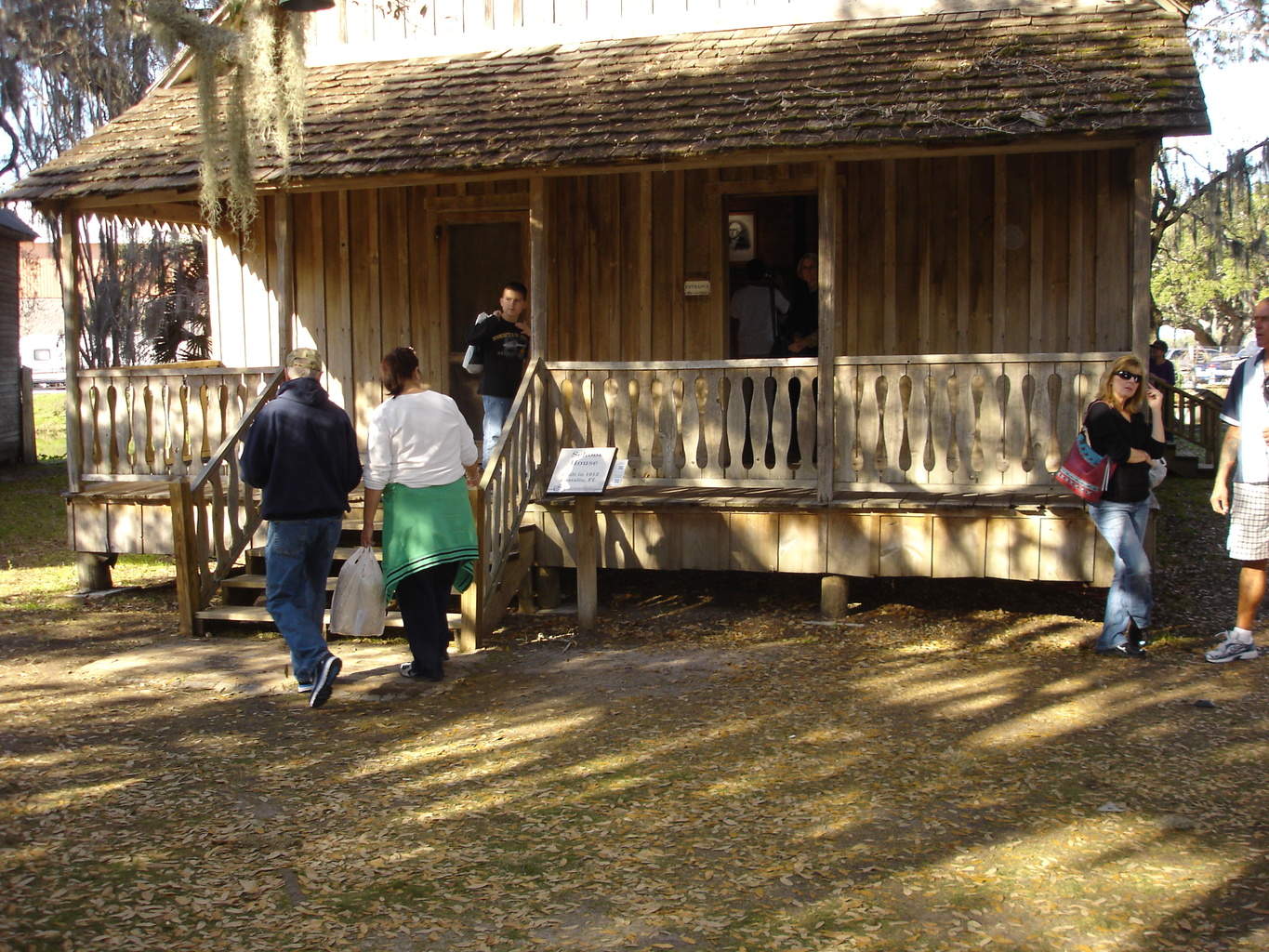 I found a man who reminded me of the goodness that still lives in people. Writing a blog called "Syrup and Biscuits" and the first post being about the significance of cane syrup in my life, I was thrilled beyond description when I learned that Cracker Country has a mule operated cane press. I approached (okay, I ran) to the cane press and saw the mule not working but off to the side with a gentleman. I asked the gentleman if the mule would be operating the press any time soon. He said, "Well, she already has earlier today." I asked if he would be so kind as to take the mule back over to the cane press so I could get a picture. I told him about my food blog and my cane syrup story. He did and this is the picture I snapped.
This is a great picture but, as you can see, the mule isn't harnessed to the cane press. However, I was so happy to get this picture.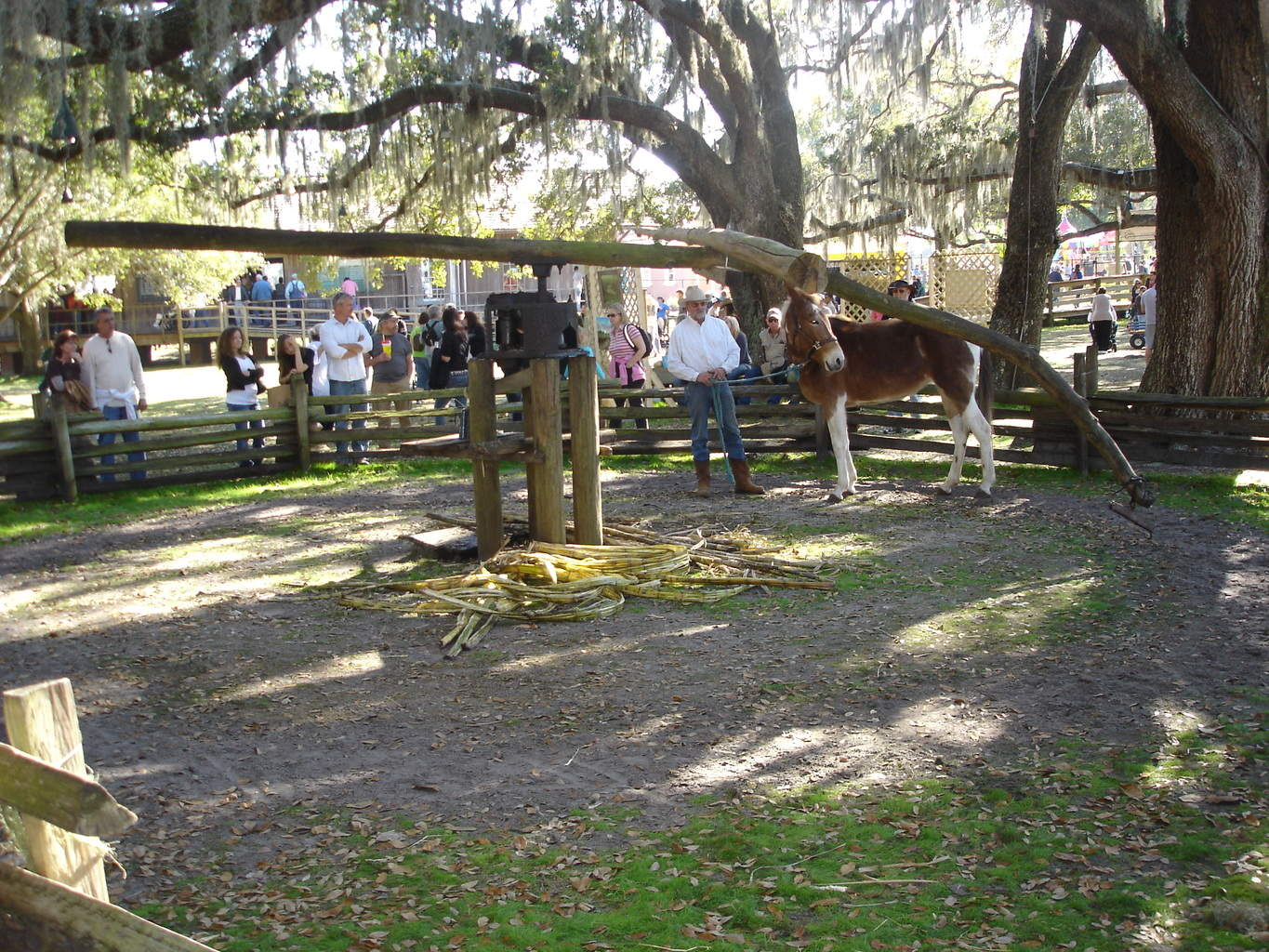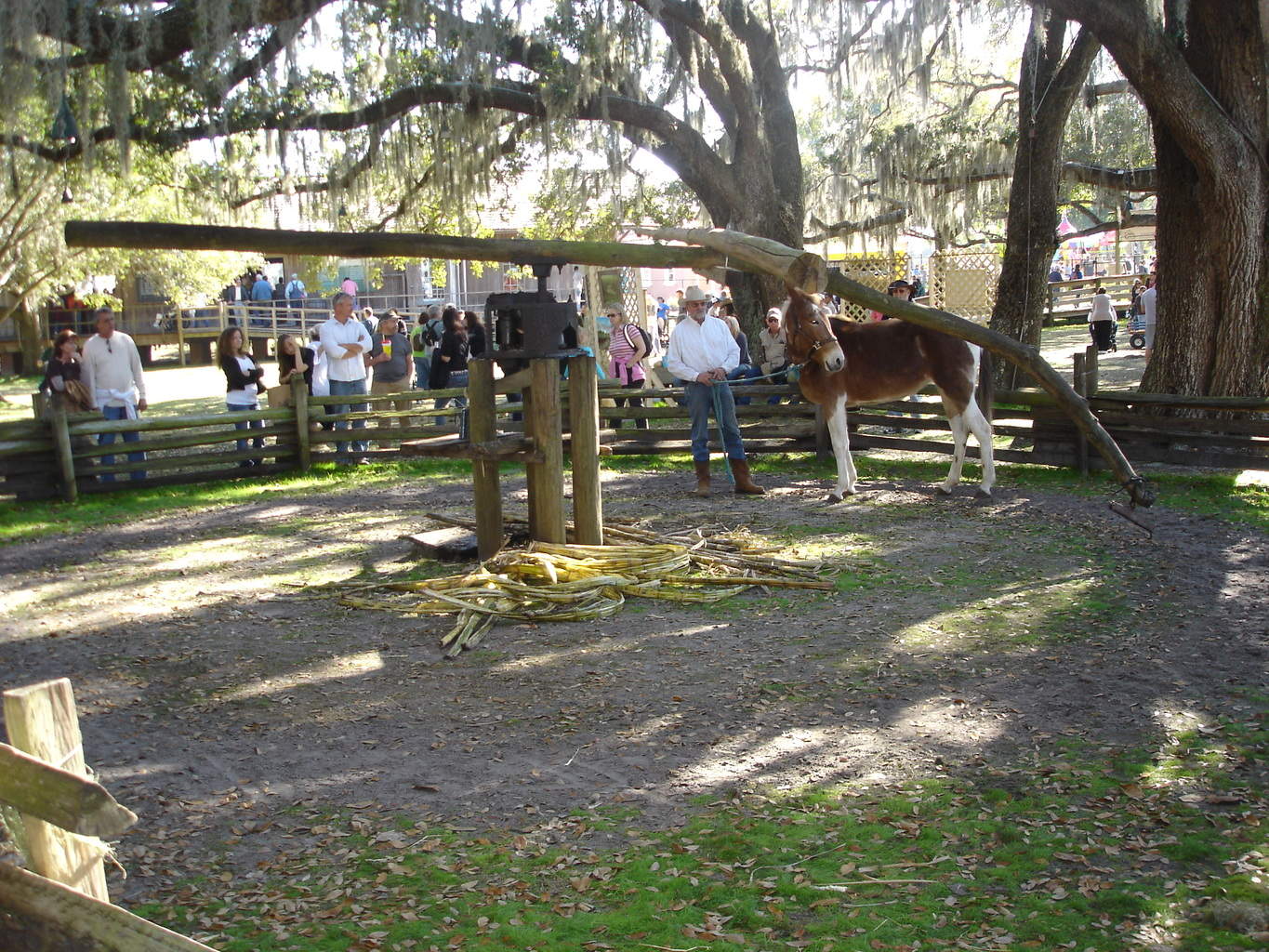 Later, as Sam and I walked the grounds of Cracker Country, the gentleman pictured above stopped me and said, "Aren't you the lady that was wanting a picture of Dolly?' I said, "Why, yes I am." He told me he could send me some pictures. Now, obviously, that had been on his mind ever since I left the cane press area. If you remember, I described the crowds at this place earlier in this blog. There's no reason for him to have remembered me except that he wanted to help me out. Just like the pioneer spirit of the 1800s, this gentleman, Mr. Ron Tarlton, just wanted to help me out. That's the goodness that still lives in people. That's what this blog is all about. Goodness. Goodness in food, memories and people. So, Ron sent me this picture of Dolly working.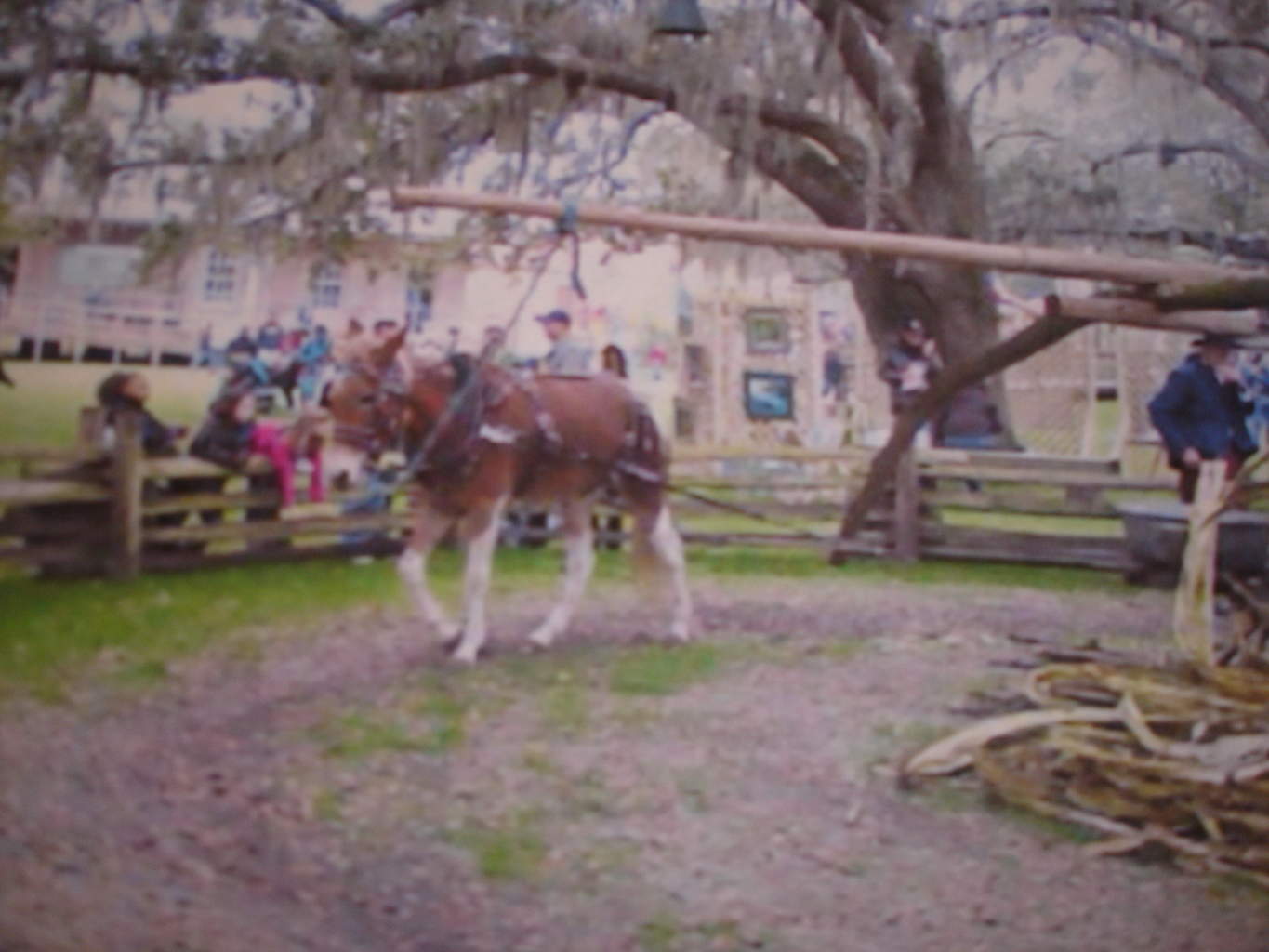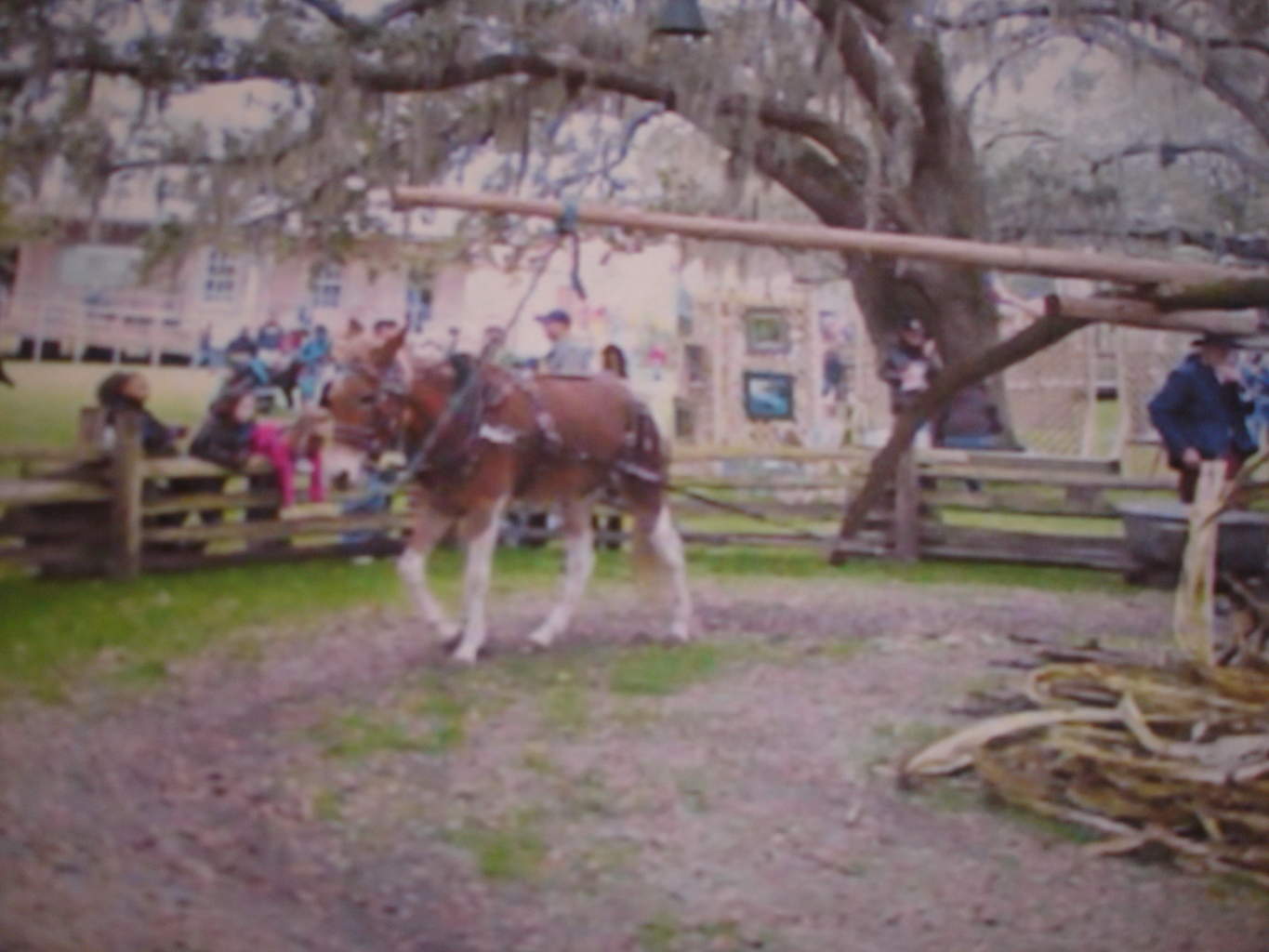 So, welcome to" Syrup and Biscuits", Ron Tarlton and Dolly! This is where I blog about things so important to me like my family, happy memories and lots of goodness. Ron and Dolly, you have some might good company here.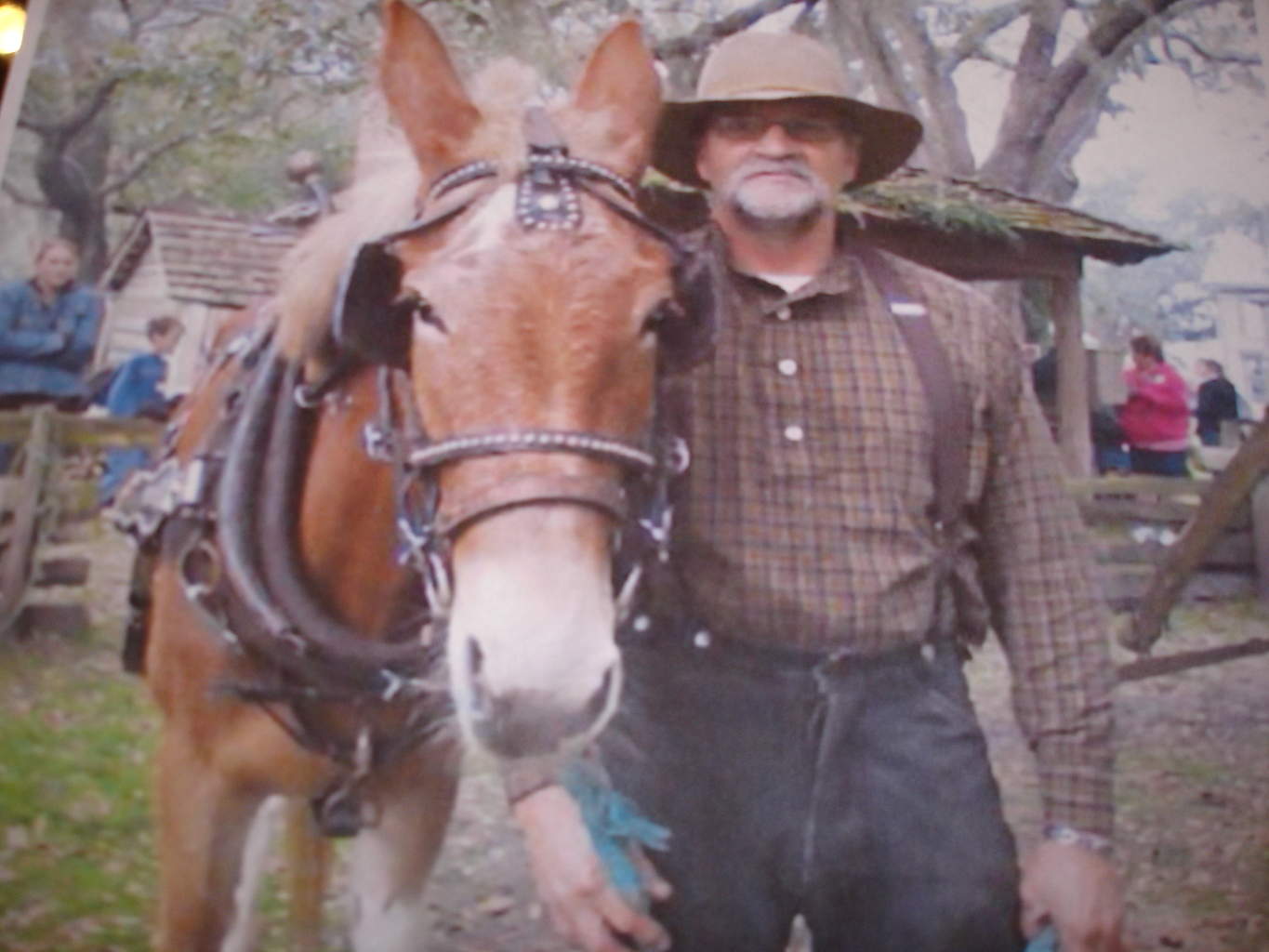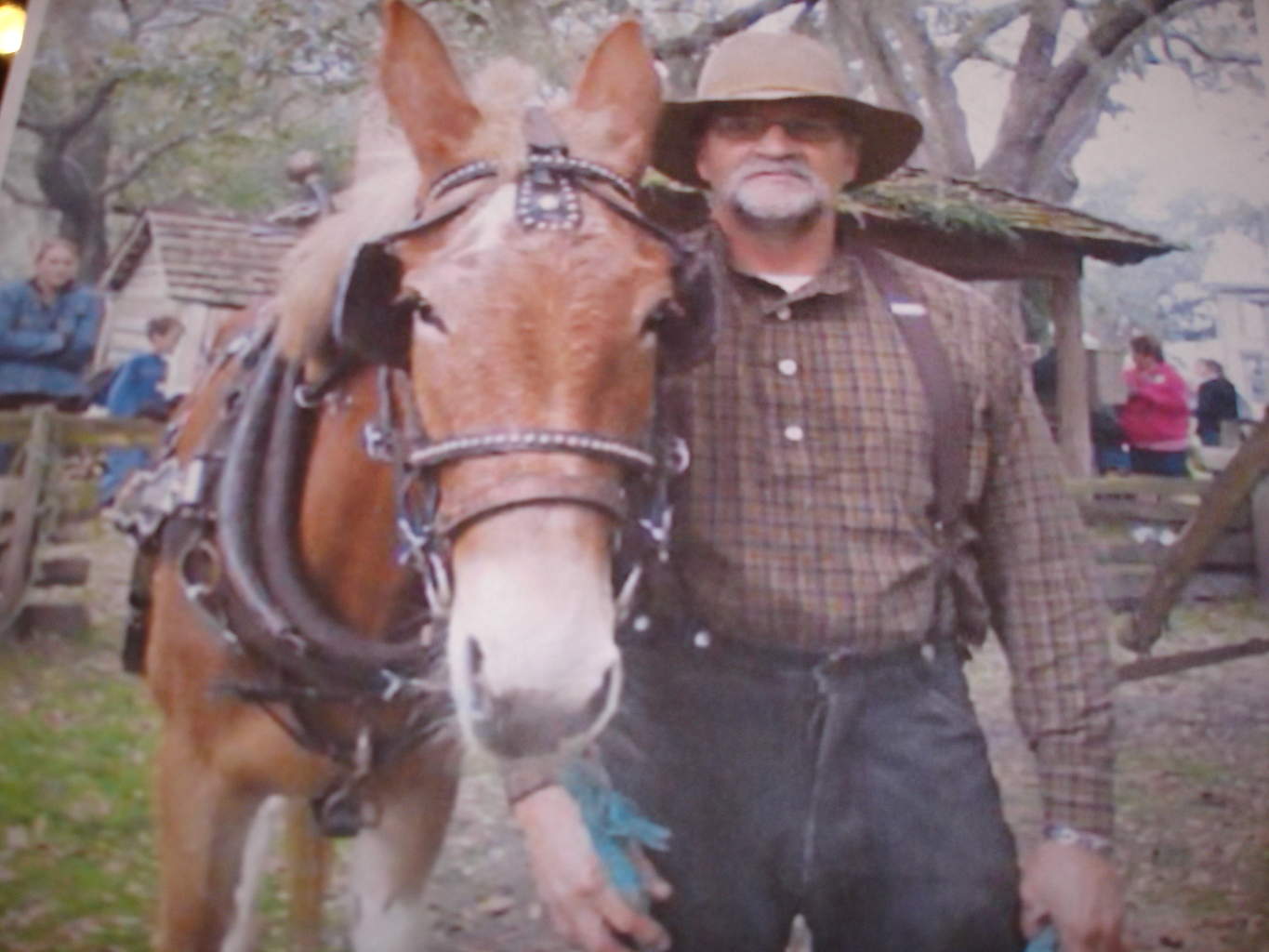 Y'all come see us.
*****************************************************************************************************************************************************************************************************************************
I bought a cookbook from the Cracker Country General Store called "Log Cabin Cooking" by Barbara Swell. The recipe below is an adaptation of the recipe in the cookbook.
Chicken Pie
Melt butter in pan.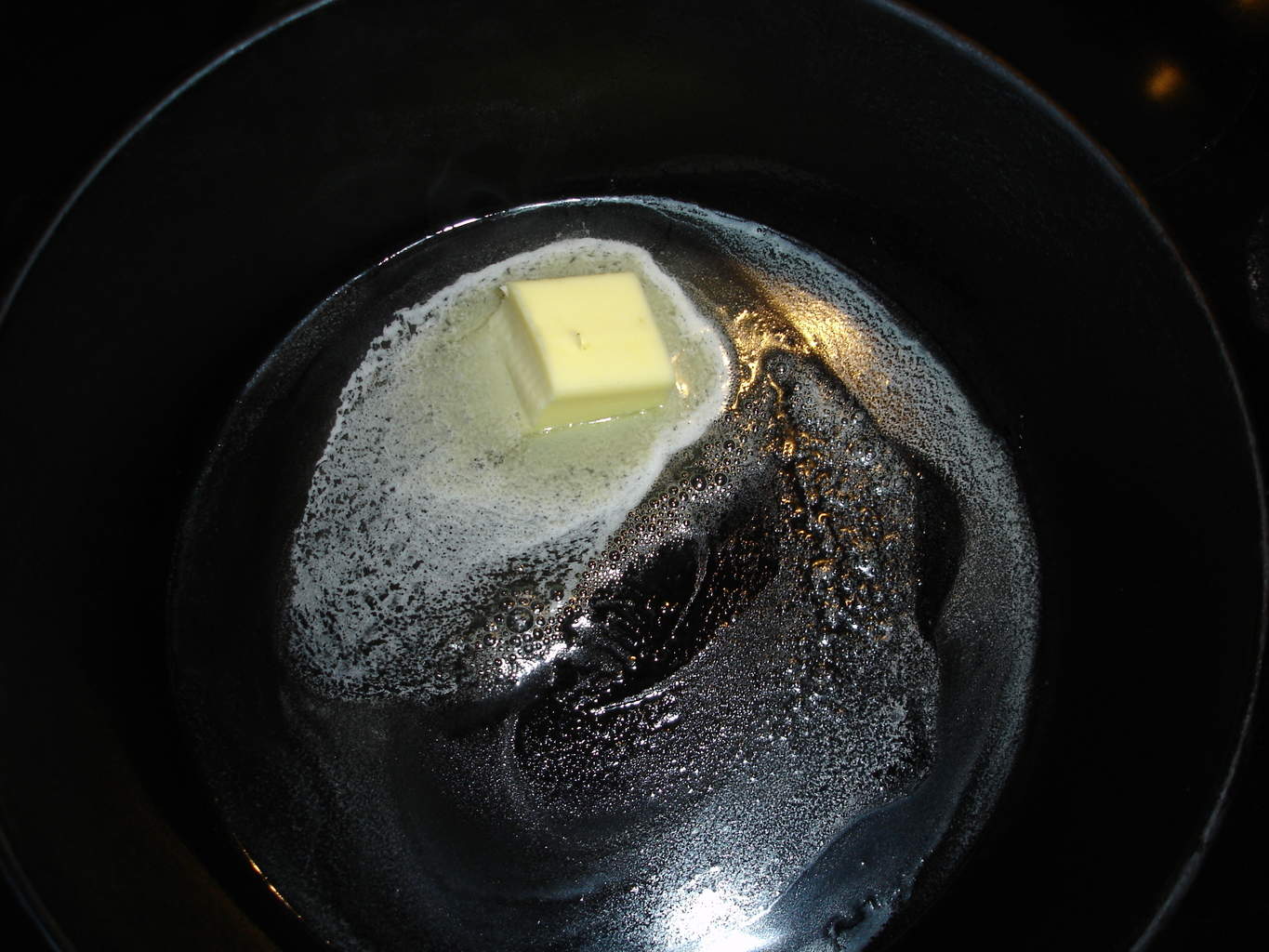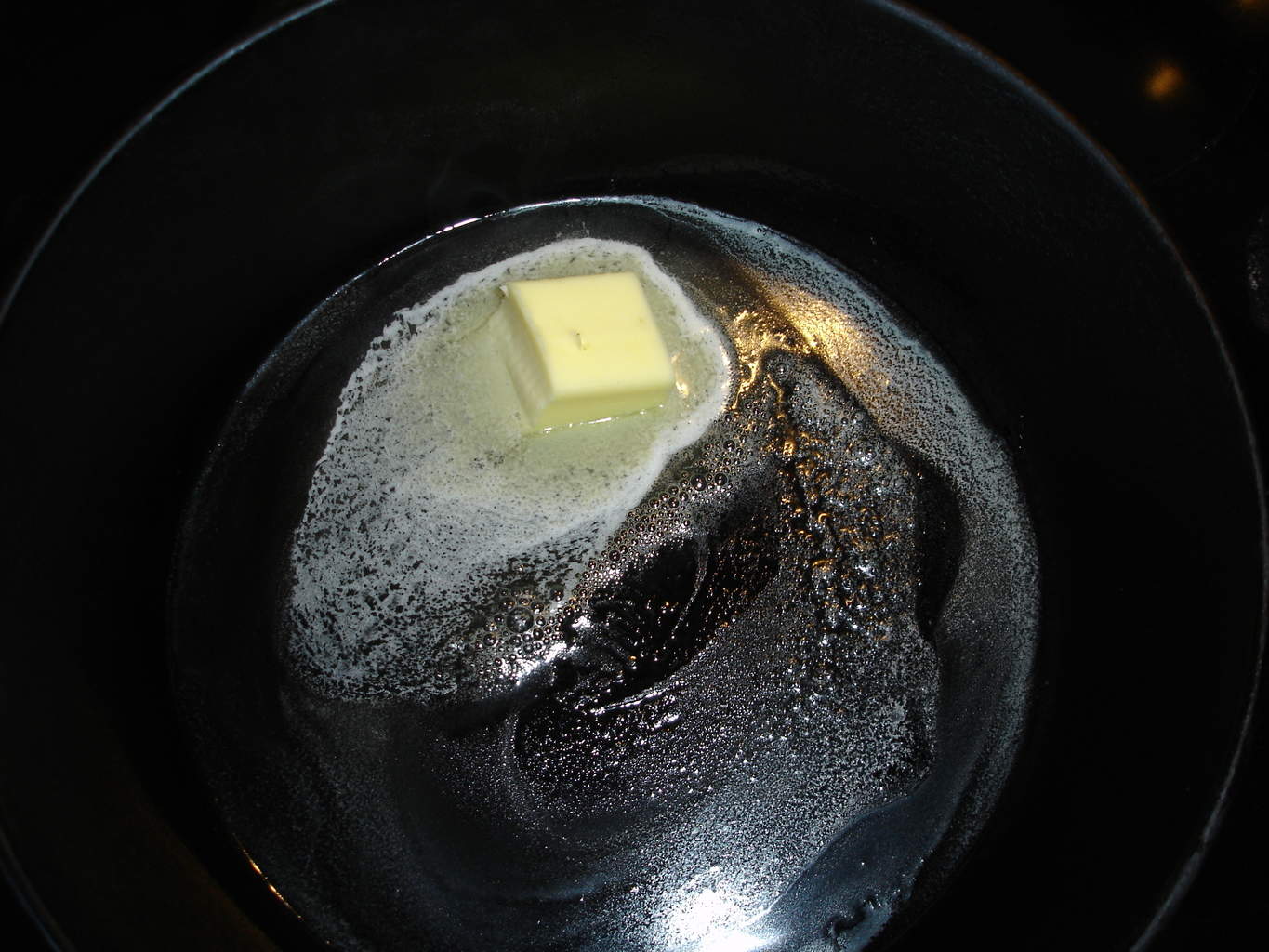 Add onions and cook until soft.
In goes the flour.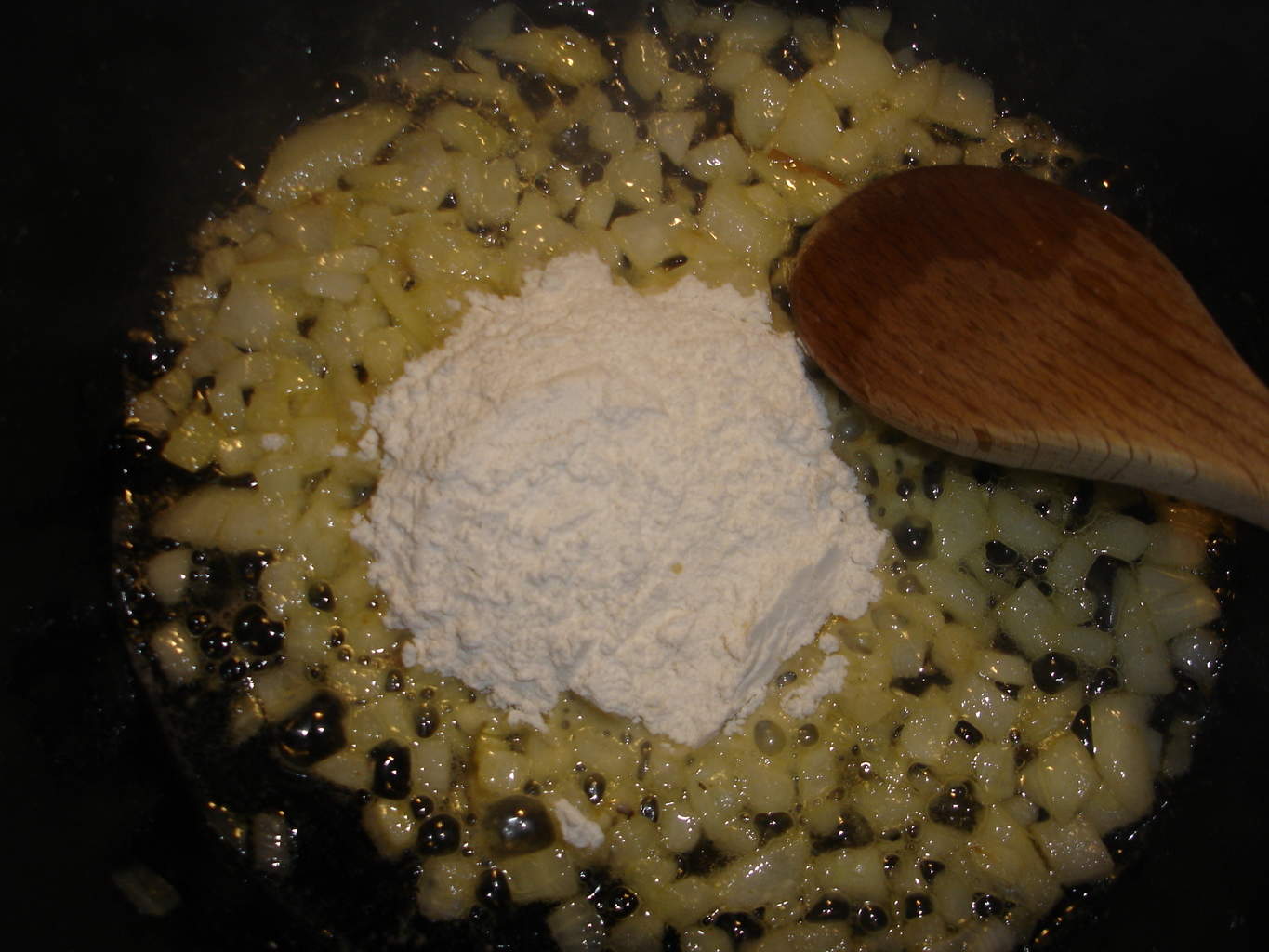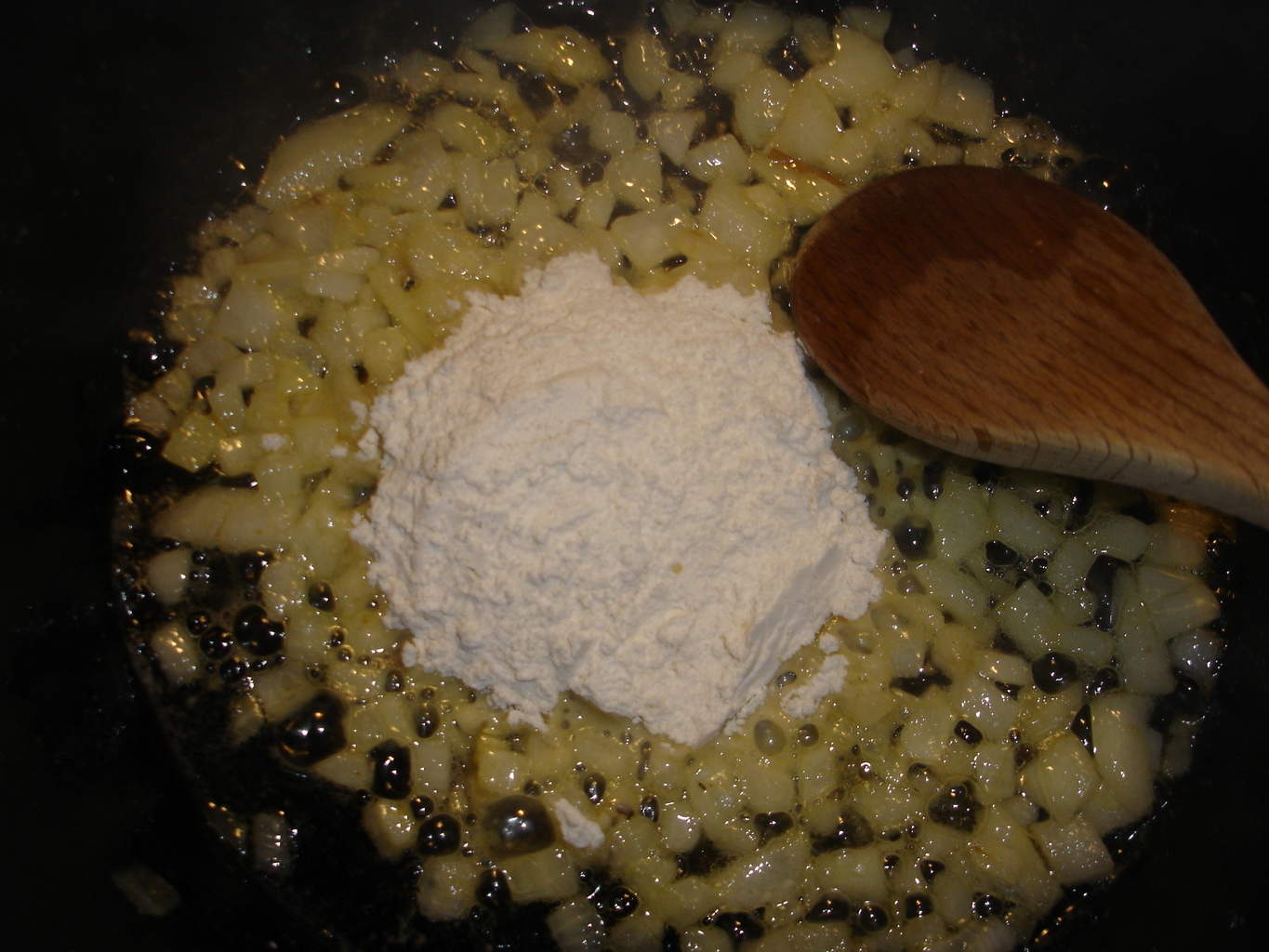 Stir until golden brown.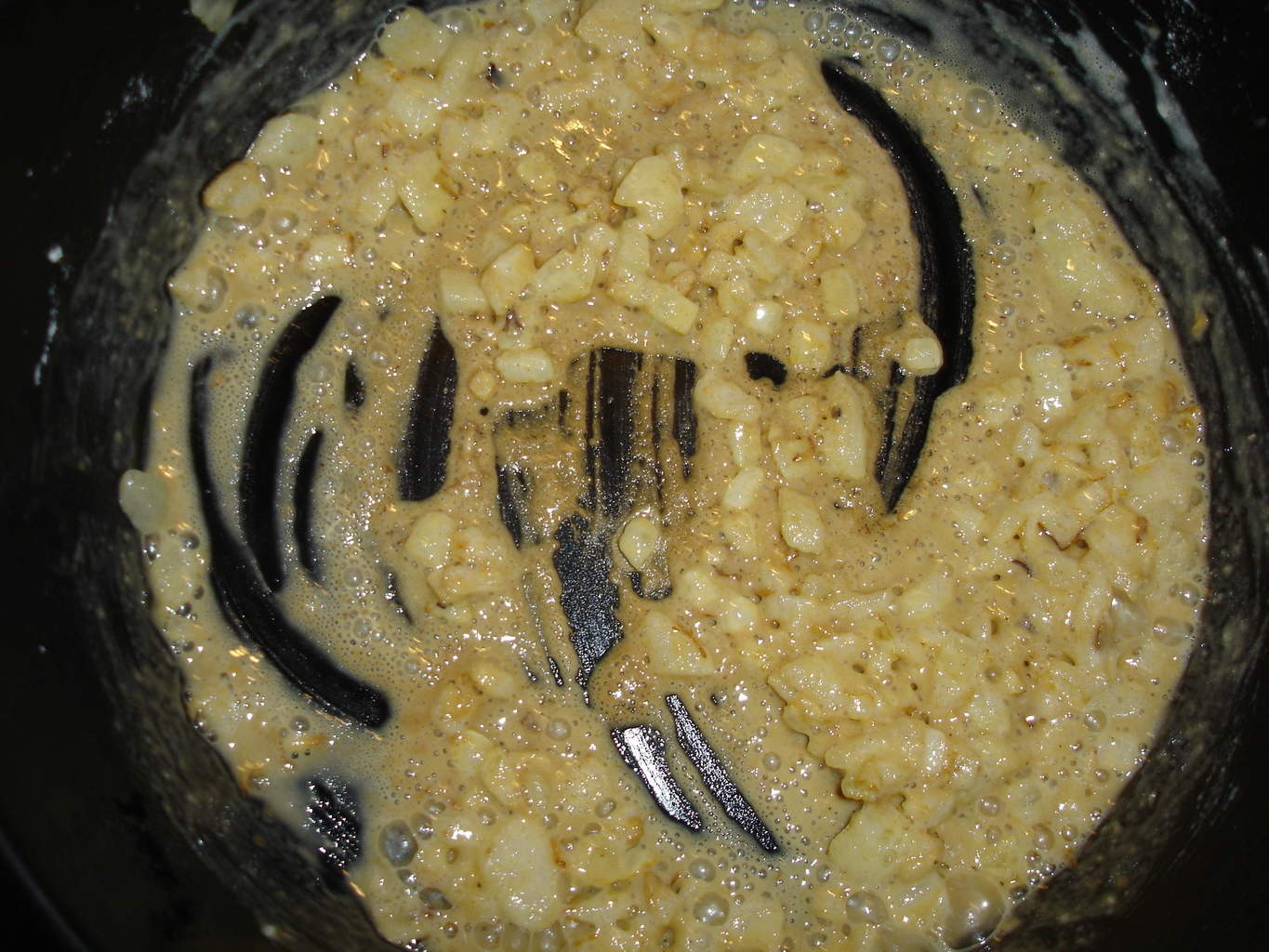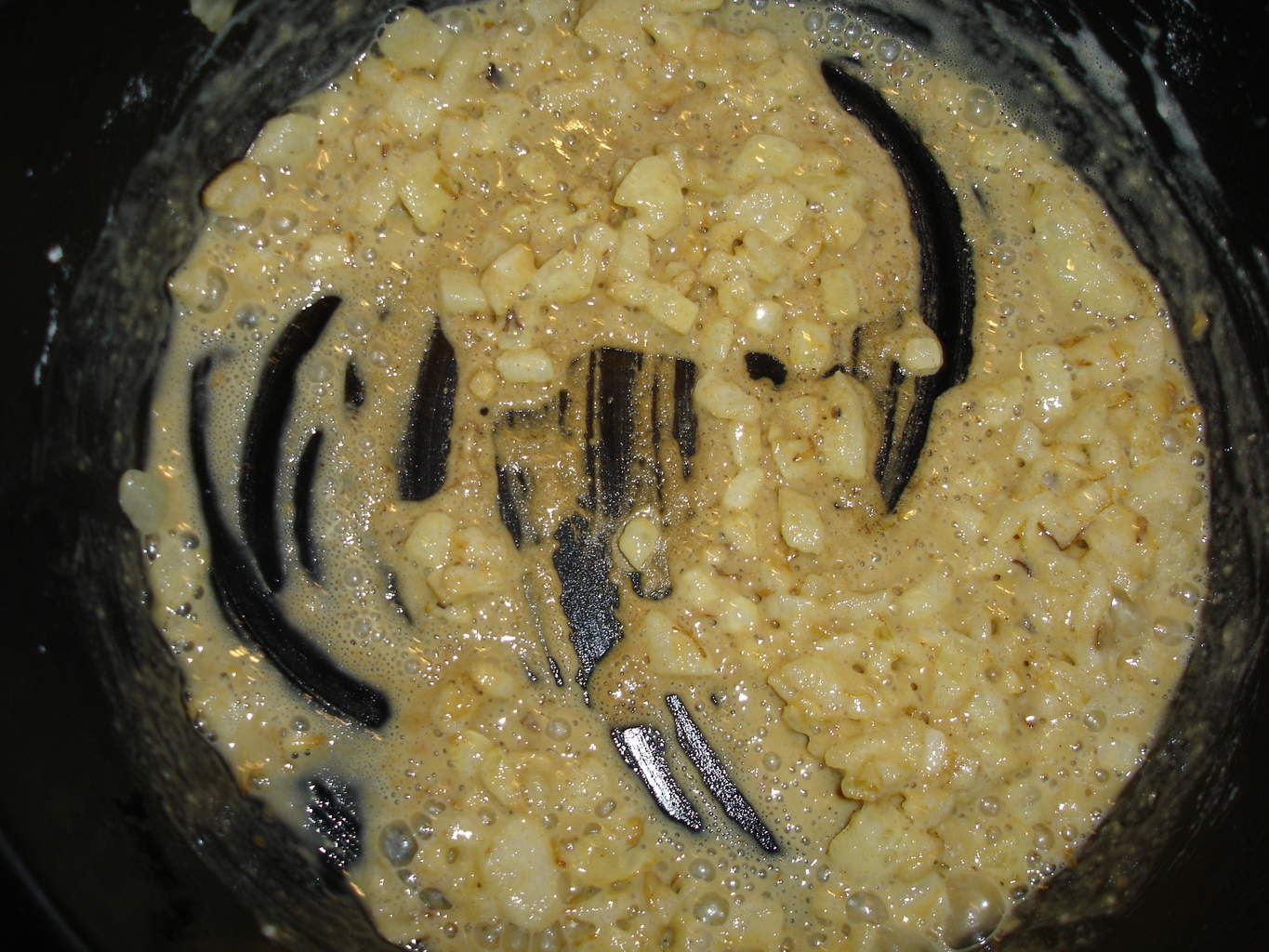 Whisk in the milk and make sure all the lumps are gone.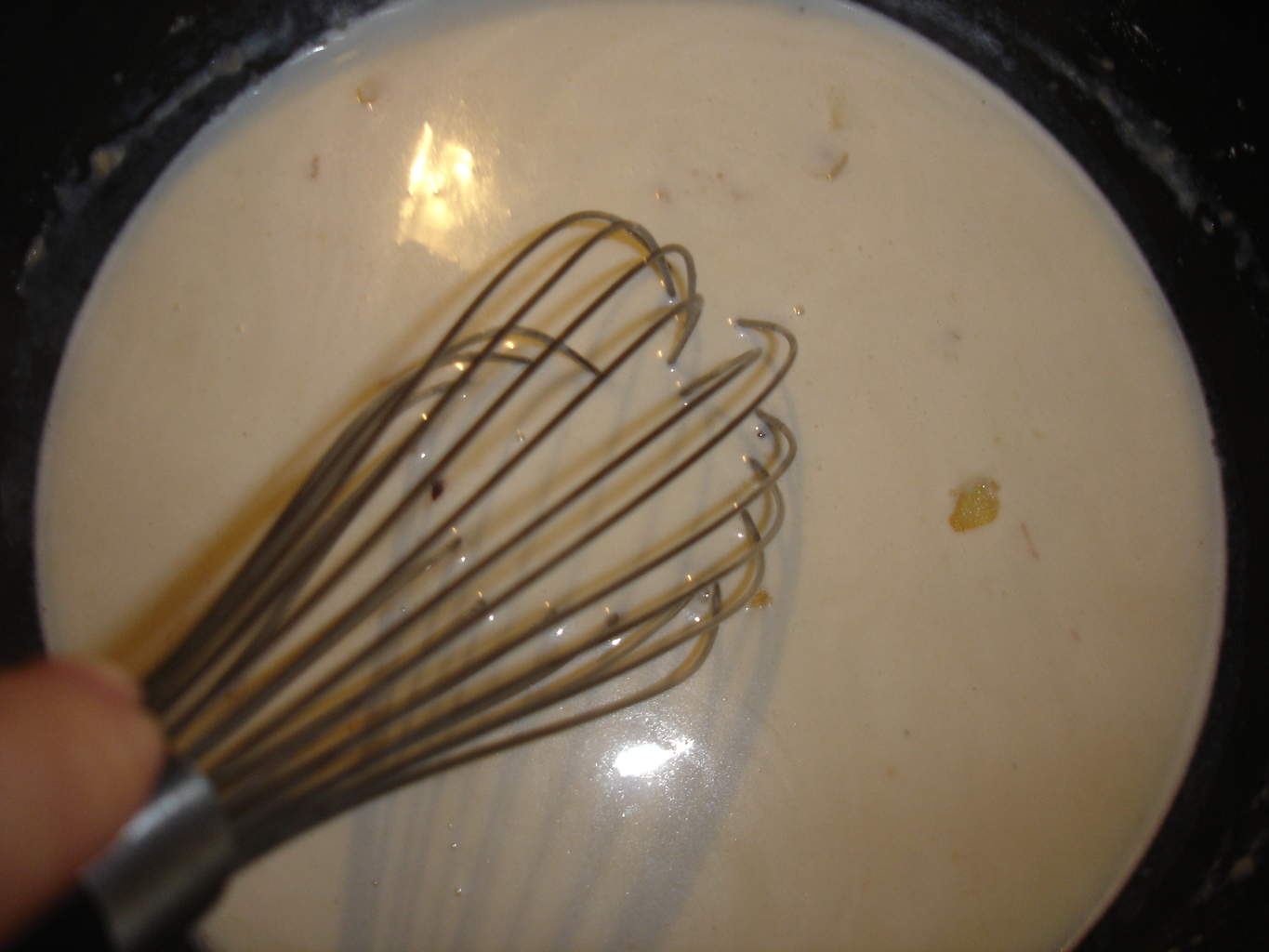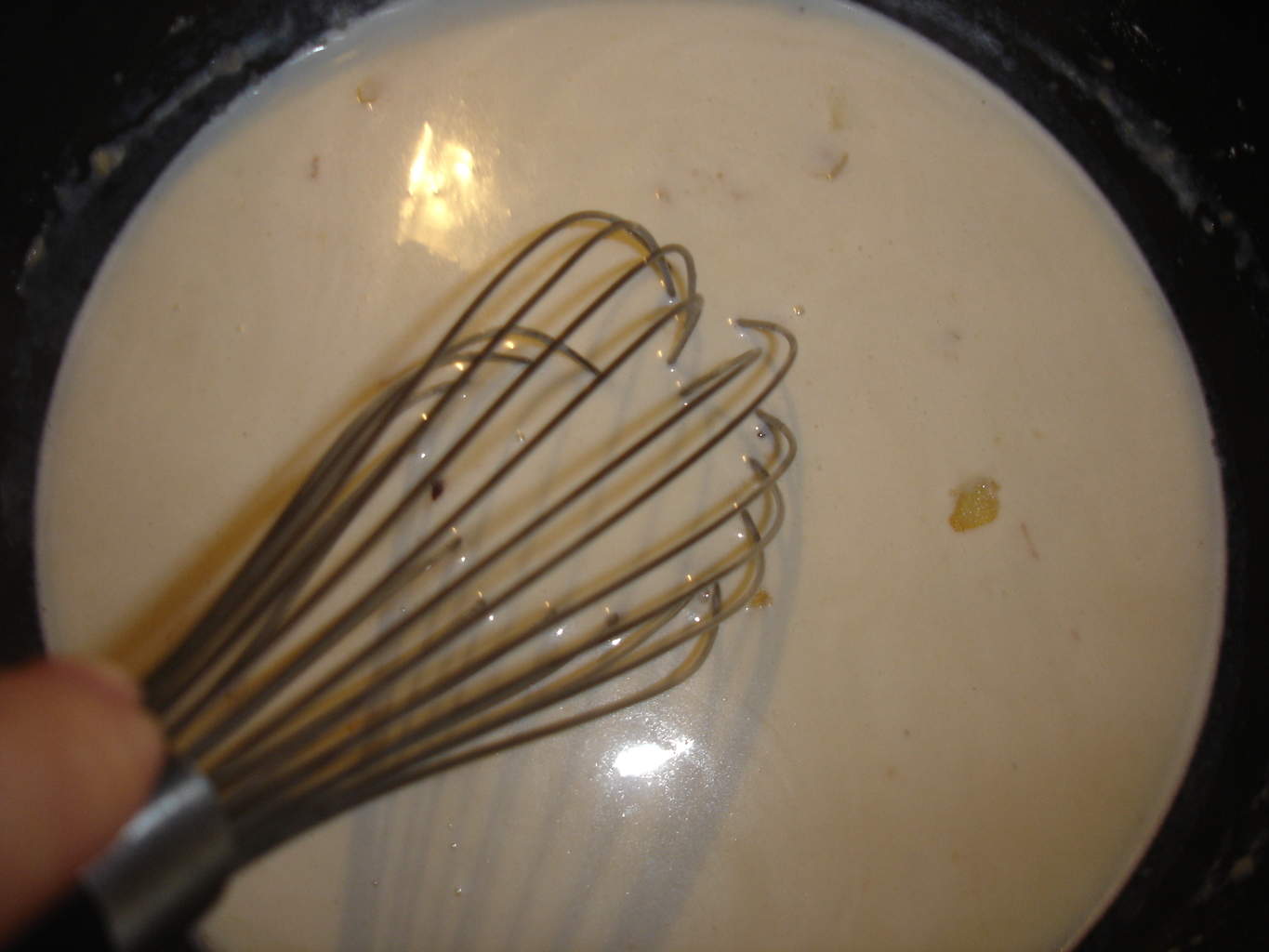 Add chicken, vegetables, salt, pepper and herbs. Stir well and taste for seasoning.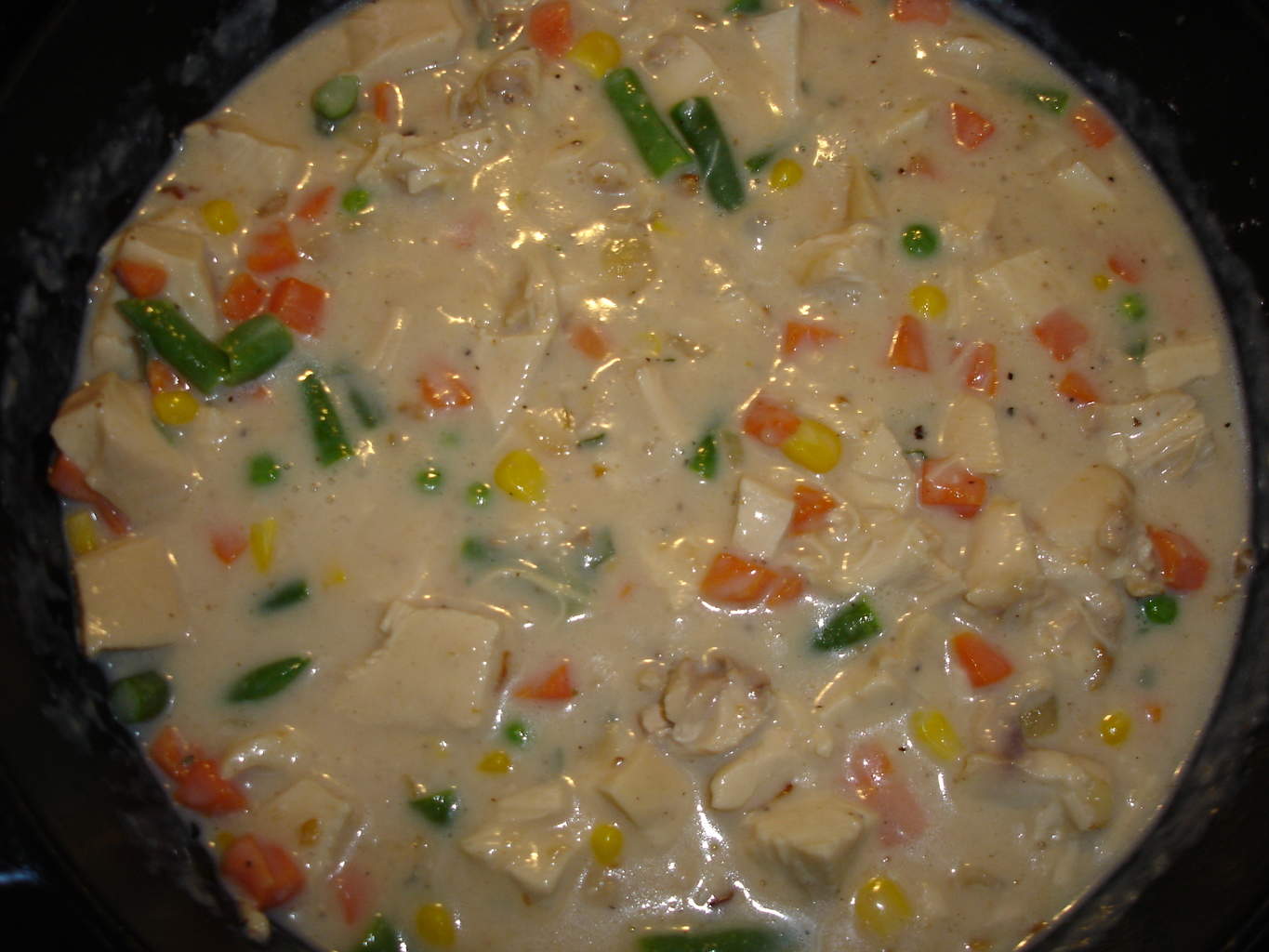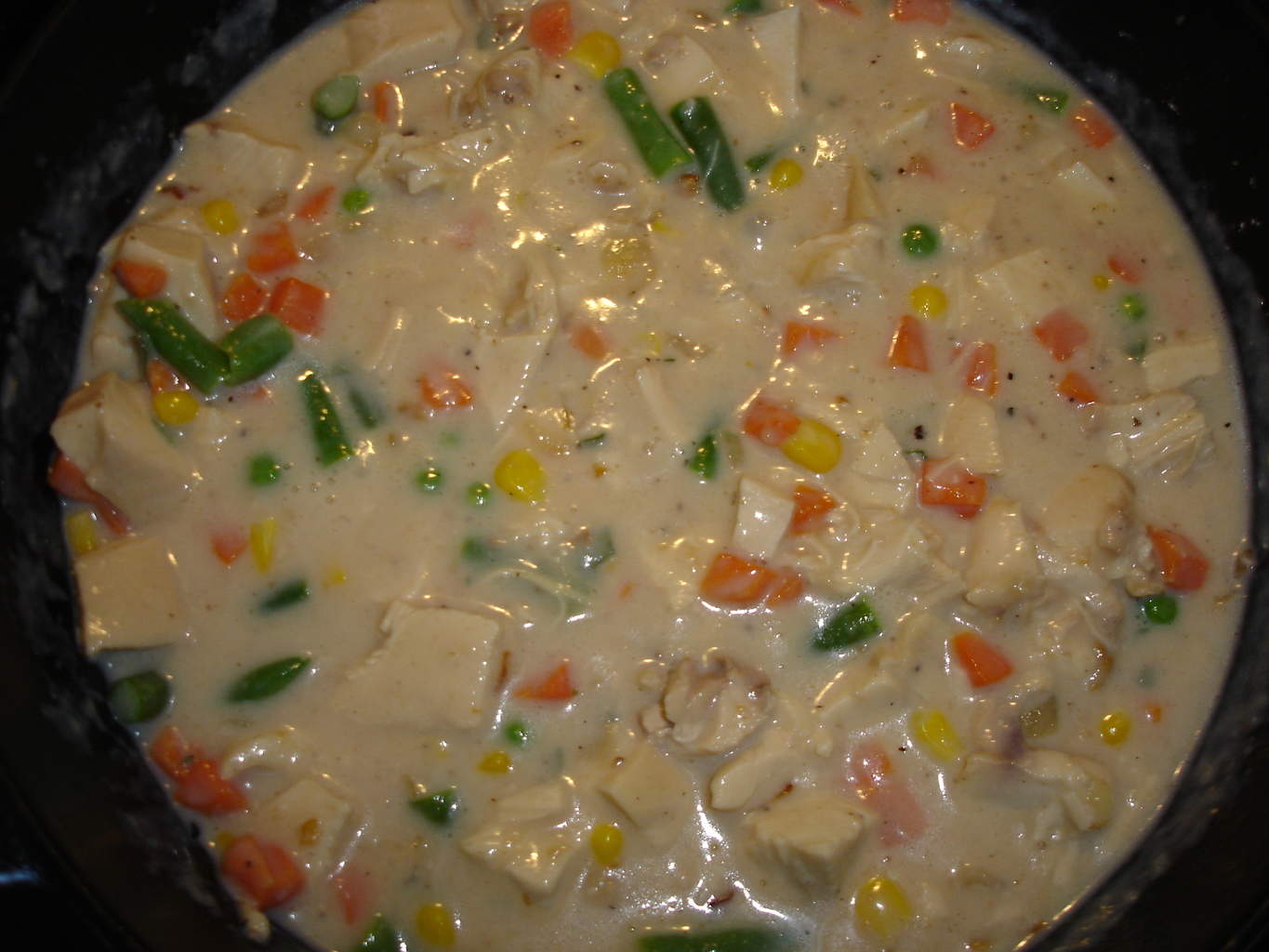 Add cornmeal topper. Bake until browned and bubbly.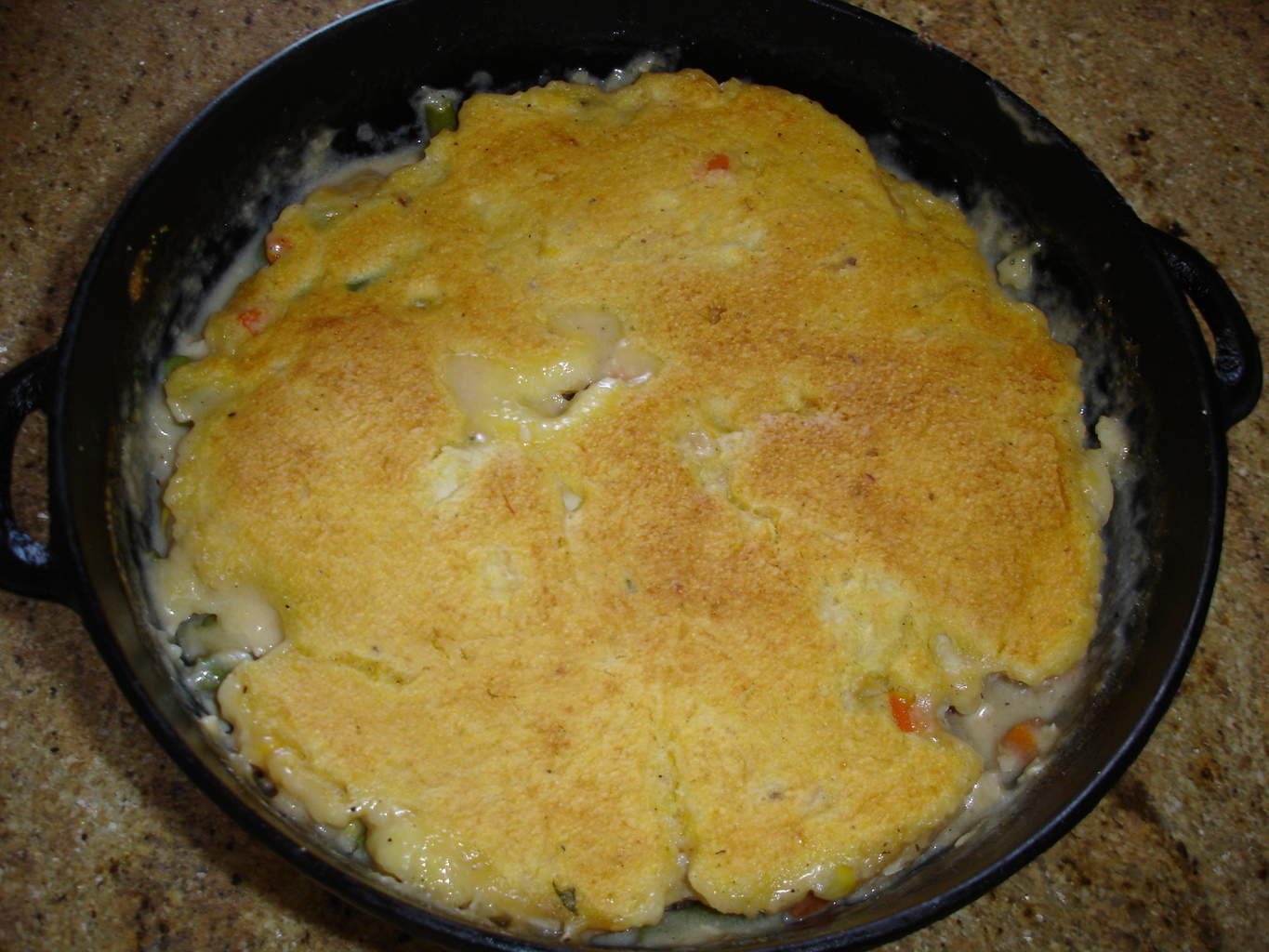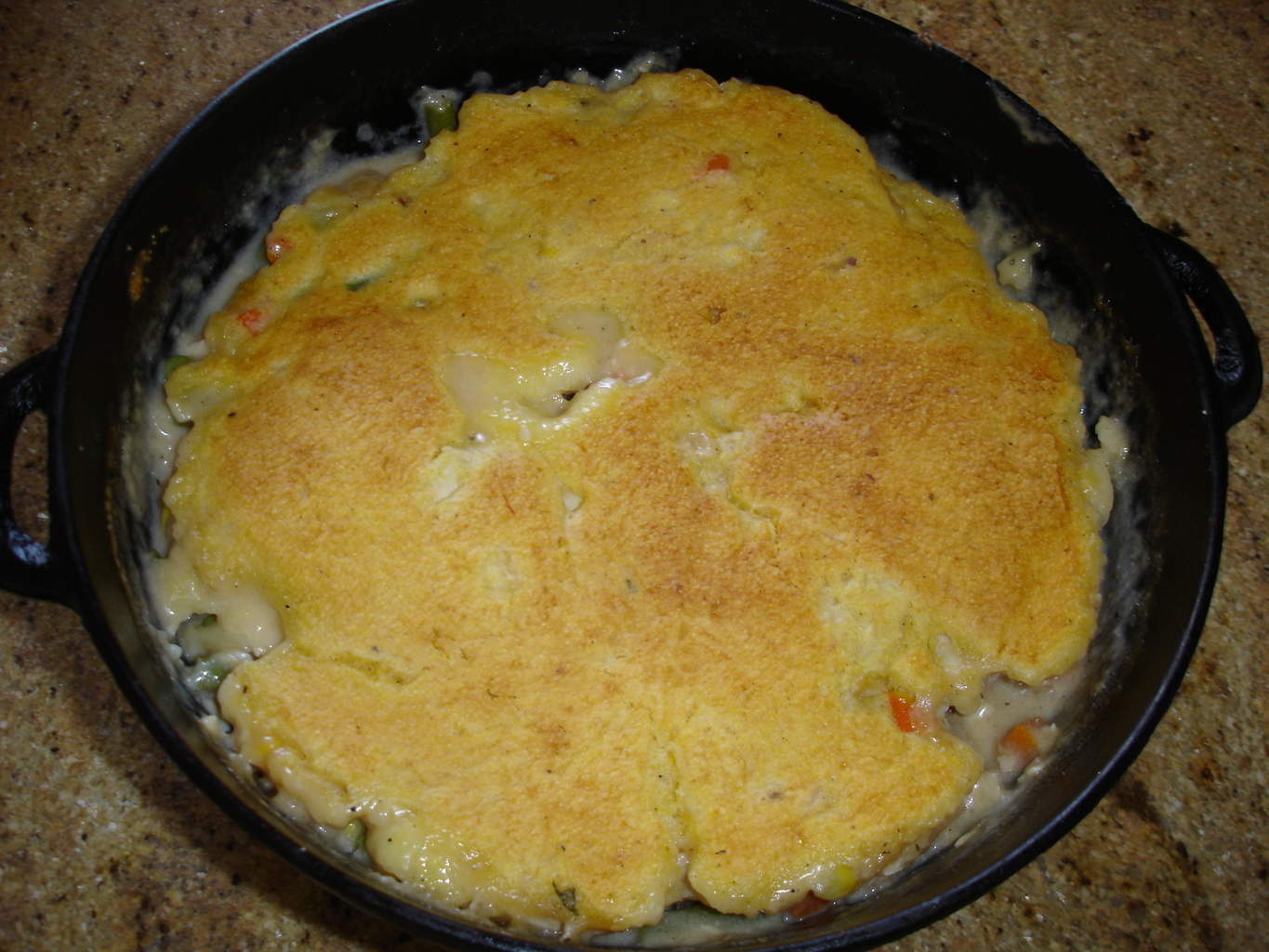 For filling:
3 cups cooked chicken, cut up
2 tbsp butter
1/2 onion, diced
2 tbsp flour
1 cup milk
dried herbs
salt and pepper to taste
2 cups of vegetables such as cooked potatoes, carrots, peas, green beans
cornbread mix (I used Betty Crocker authentic cornbread mix and followed directions except substituted buttermilk for sweet milk).
Melt butter in pan and saute onion until soft. Add flour and cook until brown. Slowly add milk, whisk to keep from lumping. Add chicken, salt, pepper, herbs and vegetables. Cover with cornbread mix and bake in a moderate (350) degree oven until browned and bubbly