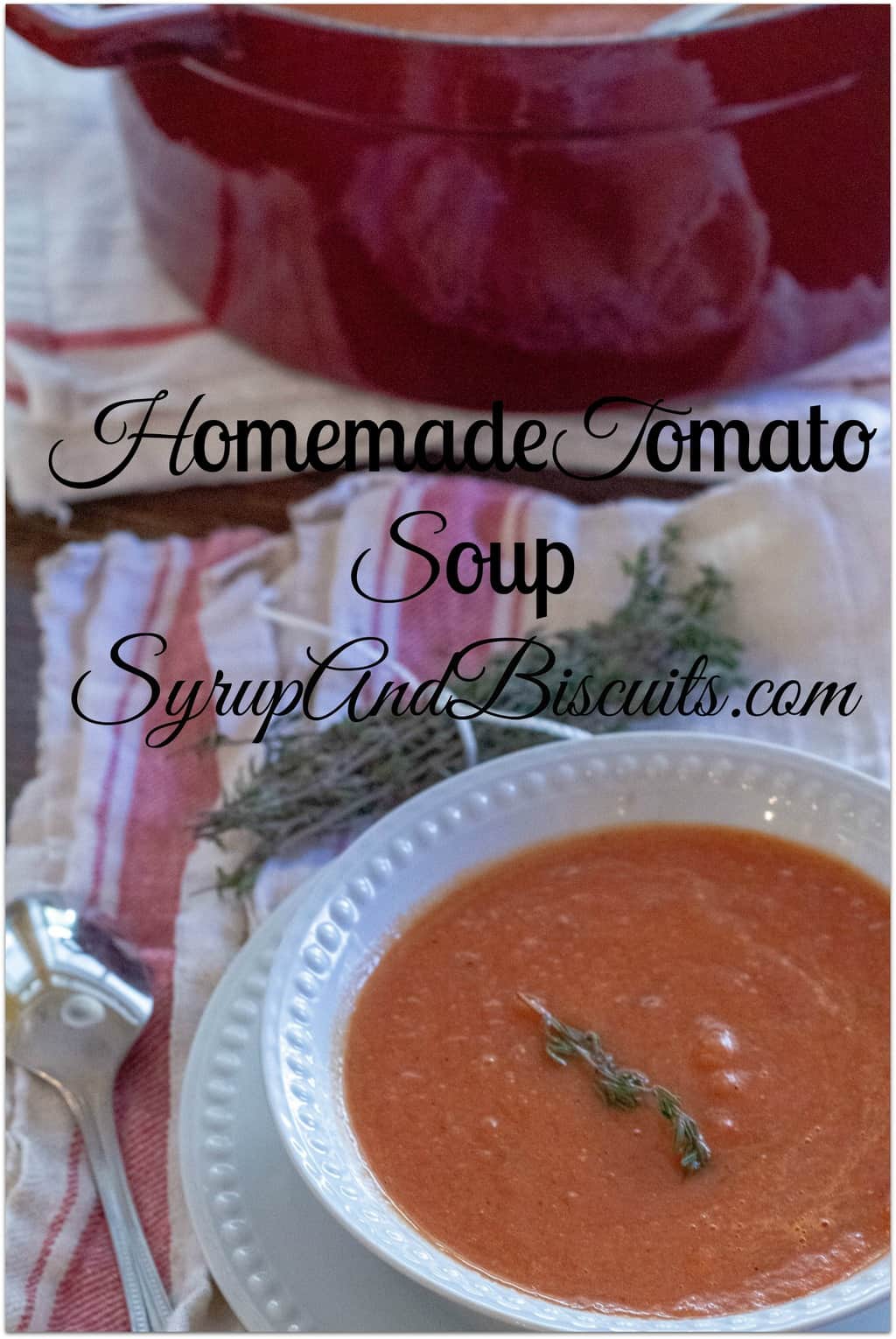 Classic Homemade Tomato Soup is quick and easy to make. As much as I love homegrown tomatoes, I find that canned tomatoes yield a more consistent end result. But, if you have homemade on hand, and no canned, use what you've got.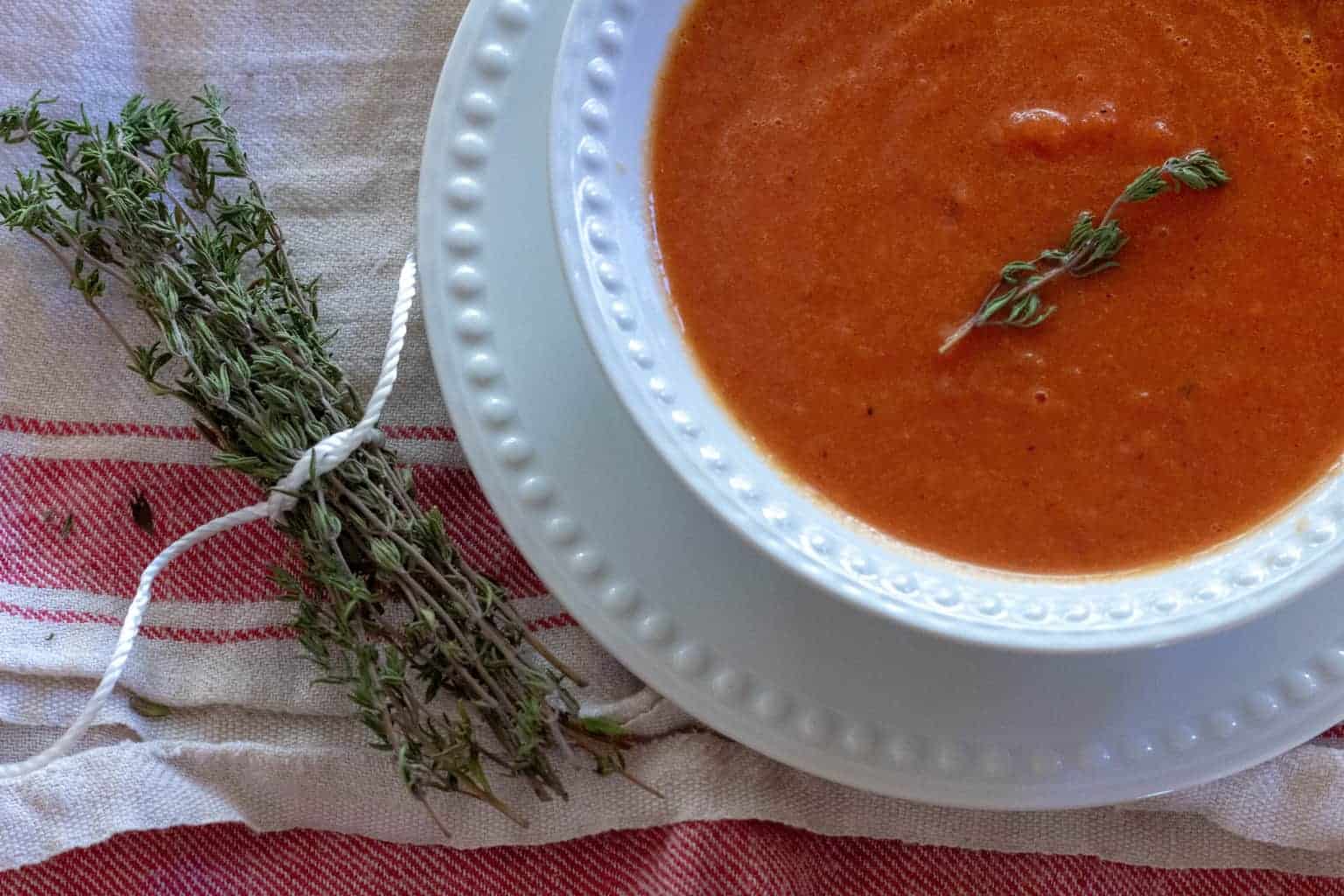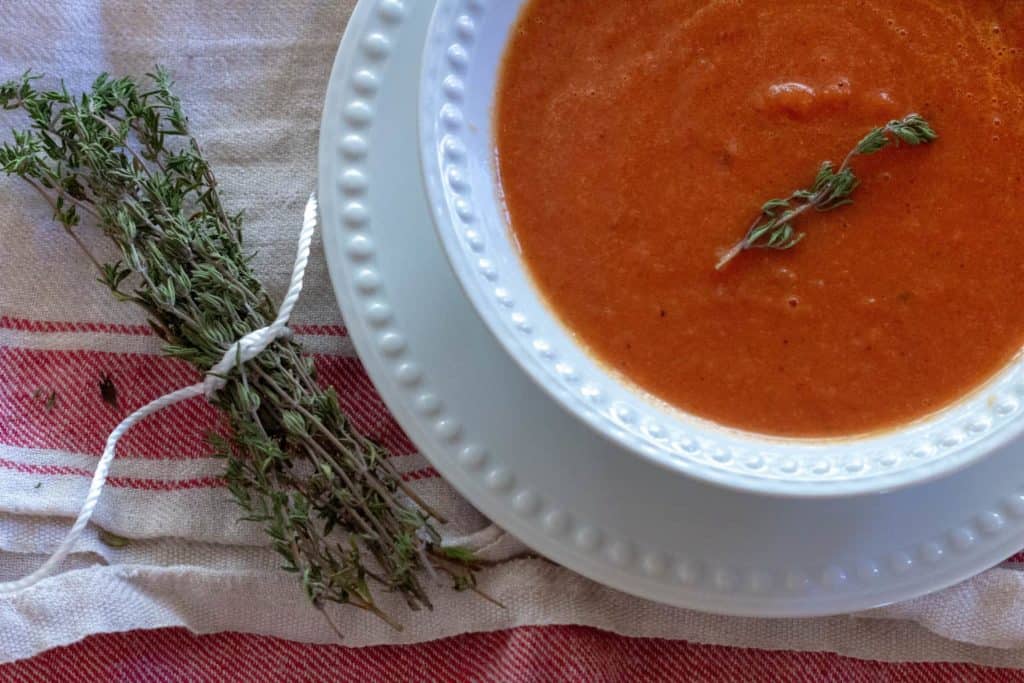 We've got some big news to share. At least it's big news to us. After 33 years in Florida, we've uprooted deep, deep roots and moved to the mountains of Western North Carolina. That's a huge change in many ways. For one, we were deeply entrenched in our community. We've got so many wonderful friends and know multitudes of the nicest people who lived near us. Two of our children live in Florida. We were set up with doctors, hair stylists, dentists, and pet groomers. Everything we needed was conveniently located near us. We were members of the same church for 33 years.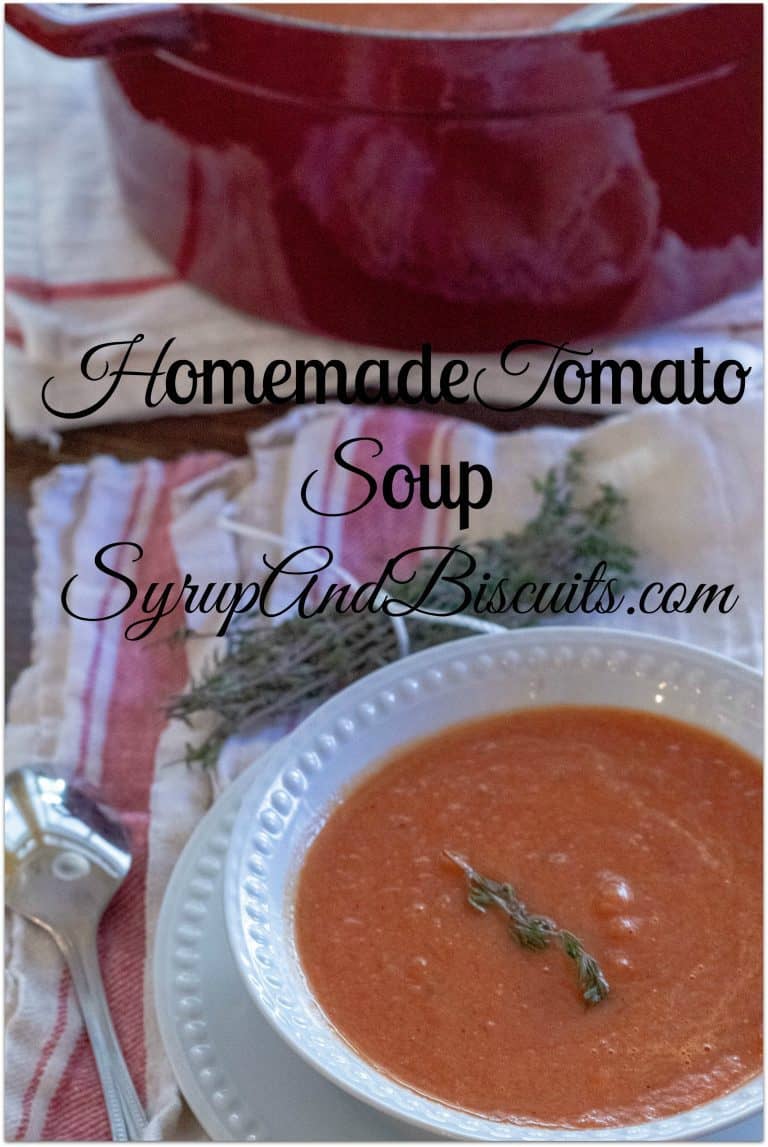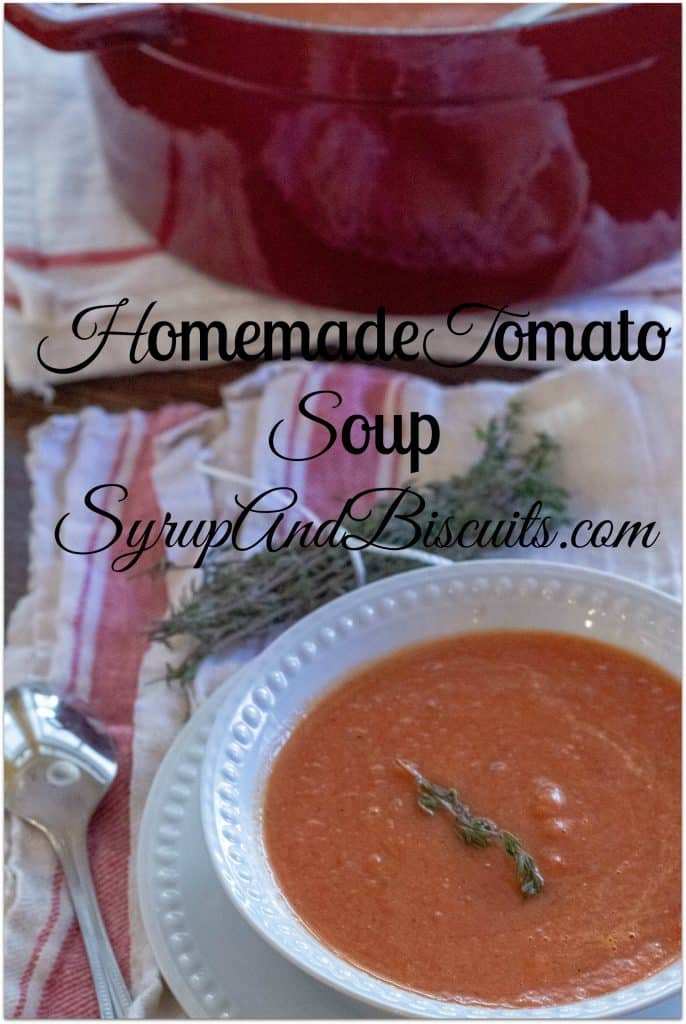 We moved because the heat and oppressive humidity was making me miserable. And mad. We moved because the traffic was almost unbearable. We moved because the Appalachian mountains have been calling my name since my first visit when I was 16 years old.
We moved because we wanted to and because we can.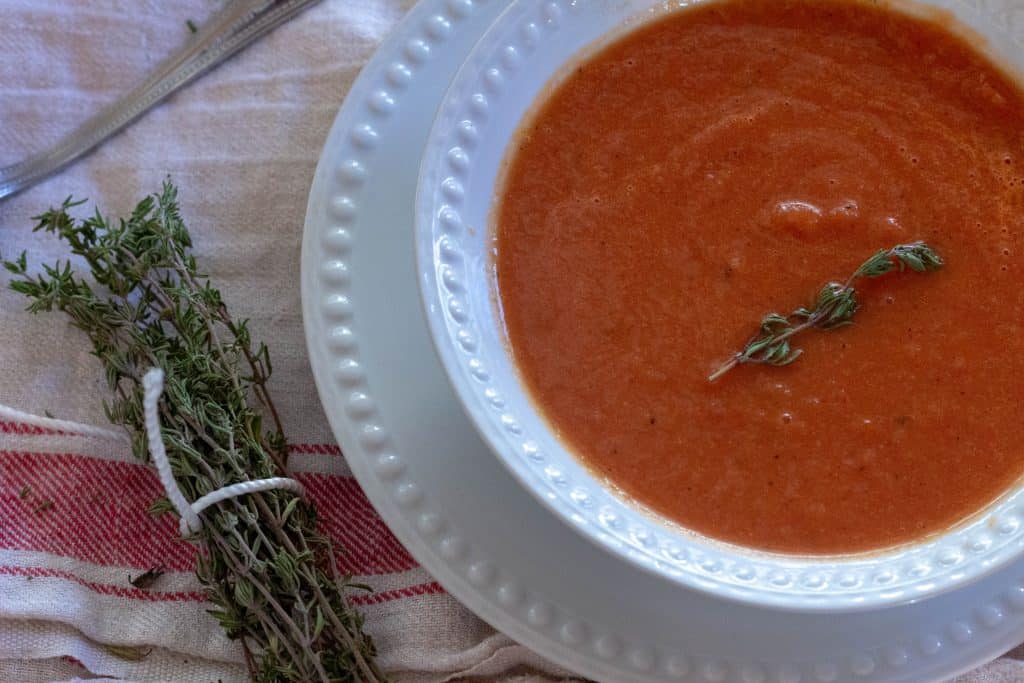 So, we've traded in our Colonial style farmhouse on flat land for a log cabin on the side of a mountain. Also, we're swapping one and half seasons for four distinct seasons. We've given up some conveniences for a simpler lifestyle in a laid back, down home community. Yes, we have to drive a little further for the grocery store, Lowe's, the hair stylist, golf, and church, but we feel it's worth it. When we look out our back door and see those glorious mountains, we know it's worth it. When we can get on the road and travel without constant traffic snags, we're absolutely convinced we made the right decision.
We're growing into a new lifestyle. It's been fun, exhilarating, and a little stressful at times. Not so stressful that we want to pull out our hair but more of a good kind of stressful that requires us to think and figure out things together. Nothing is familiar here to us yet. But, it will be soon.
We will raise a few backyard chickens. We have no formal chicken training so we're depending on Tractor Supply to get us smart about it. That's something we look forward to. We've already got chicken names picked out before we've got chickens.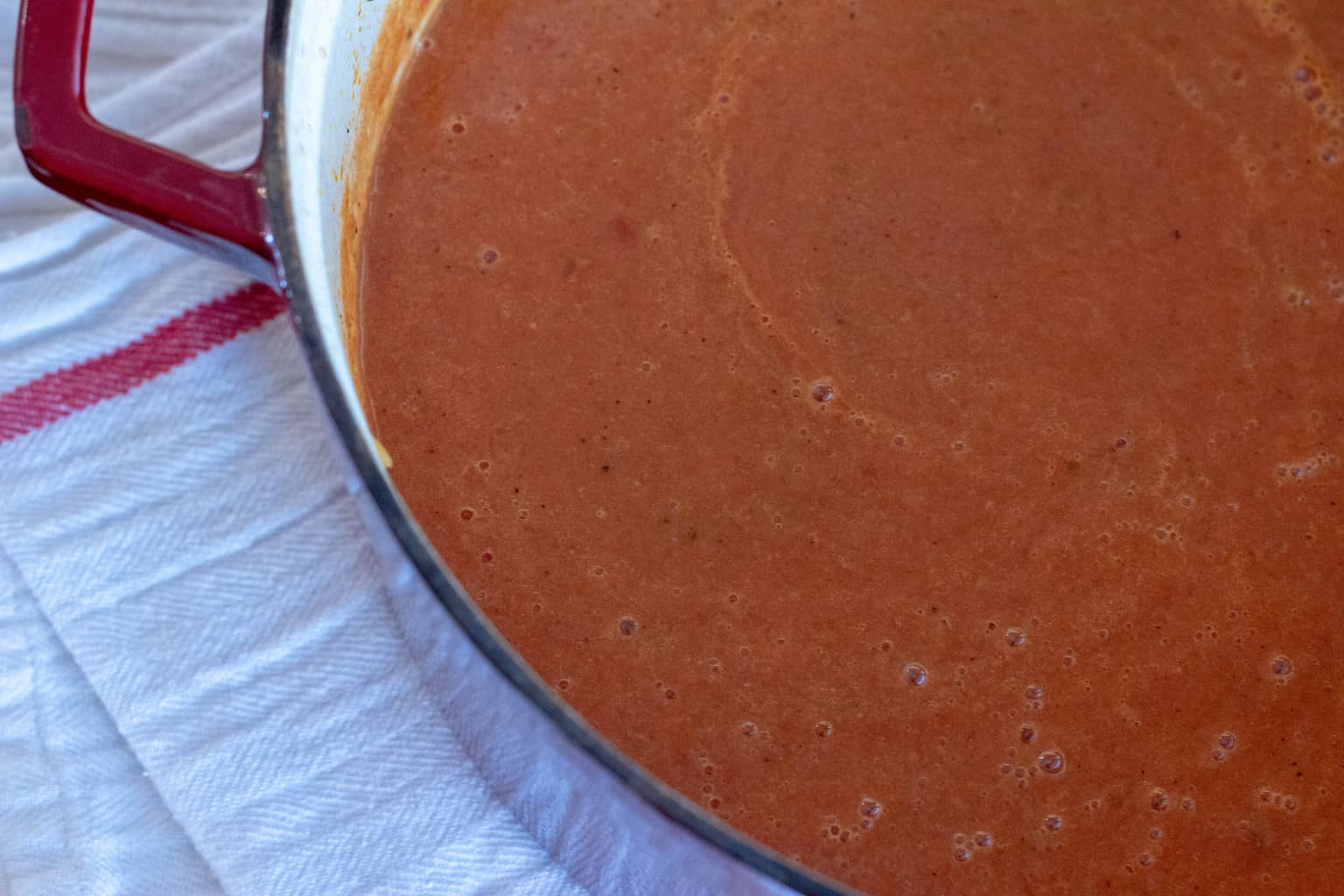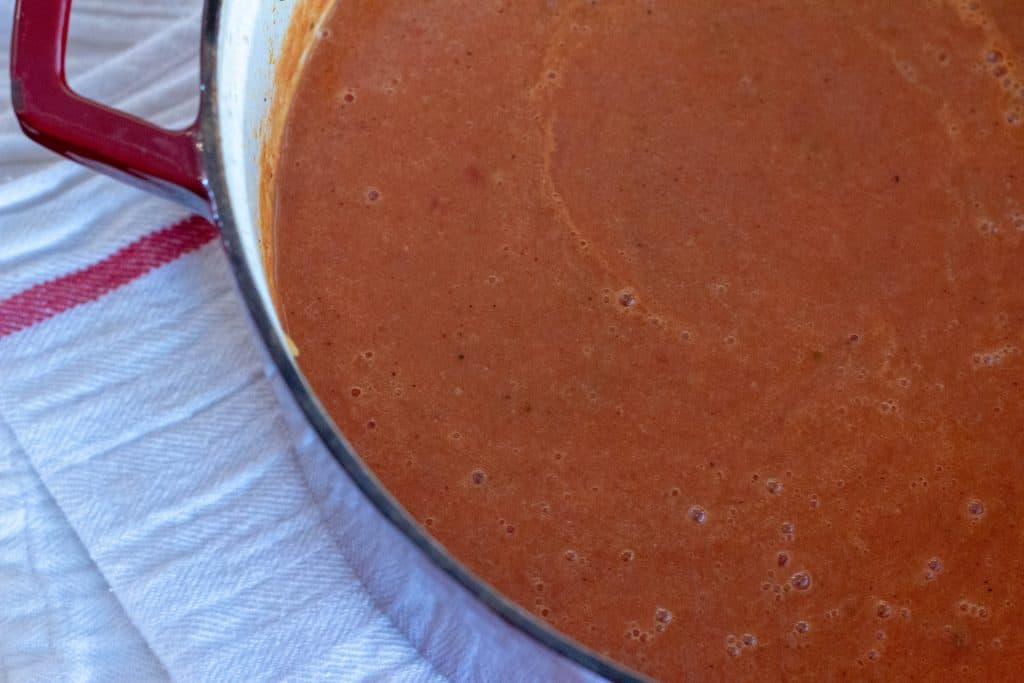 So, what on earth does this post have to do with tomato soup, you might ask. Well. I will have to relearn everything I know about gardening. Florida gardening and North Carolina gardening are two different animals. All the planting and growing rules are different. I've gone from agricultural zone 9 to zone 6. The growing seasons are opposite. We left Florida on March 26 and had been eating tomatoes from our back yard for several weeks. Here, in the mountains, I'll have to wait several weeks to plant tomatoes. We had citrus and pineapple in our Florida backyard. We'll grow apples and peaches on our mountain property.
I'll admit that growing tomatoes was second nature to me. Now, my tomato growing knowledge is worthless. That's a little bit unsettling, but, we will get it all worked out.
We cherish all the well wishes we've received from friends and family. We ask for continued prayers as we settle in and find our place in our new community.
Please pray that I don't sacrifice too many innocent tomato plants until I learn how they grow here.
You might say a little prayer for our chickens, too.
In the meantime, make a batch of my tomato soup. It's very tasty. It's also safe. I used canned tomatoes.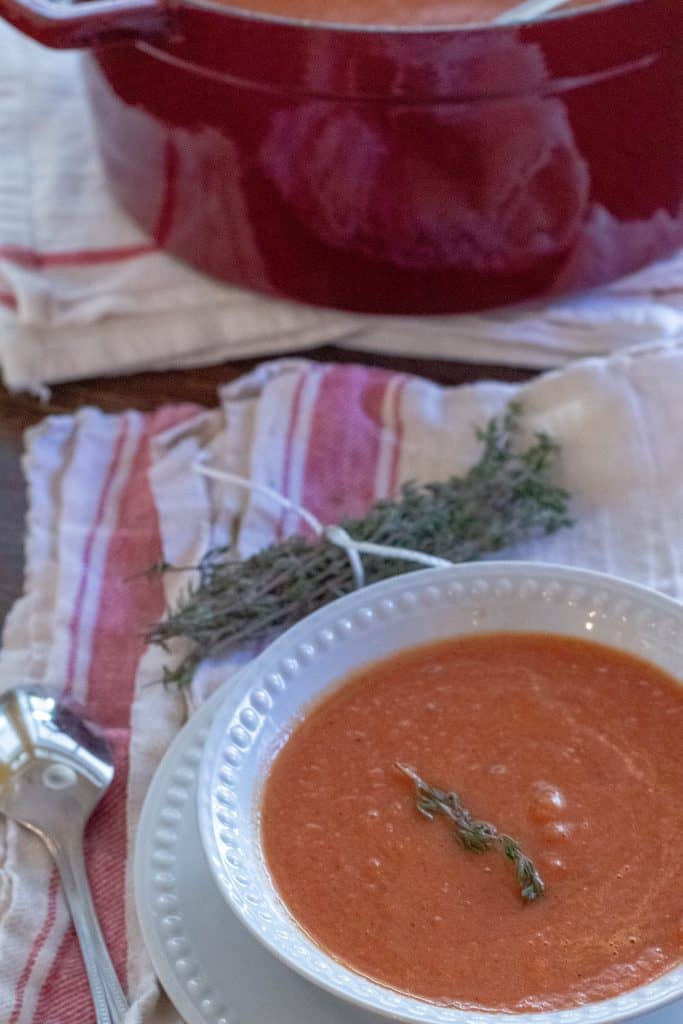 Classic Homemade Tomato Soup
Homemade tomato soup is quick and easy to make. As much as I love homegrown tomatoes, I find that canned tomatoes yield a more consistent end result. But, if yon have homemade on hand, and no canned, use what you've got.
yield: 6 servings
2 tablespoons cooking oil
1 tablespoon unsalted butter
2 medium sweet onions, diced
3 (14.5 ounce) cans diced tomatoes
4 cups chicken or vegetable stock
1 tablespoon honey
1 teaspoon kosher salt
1/2 to 1 teaspoon ground black pepper
3 to 4 sprigs fresh thyme, tied with kitchen string
2 tablespoons half and half
Over medium heat in a Dutch oven, or similar size cooking vessel, sauté onions in olive oil and butter until onions are soft, but not brown (about 5 to 8 minutes).
Stir in remaining ingredients, except half and half.
Cover and simmer on medium low for 30 minutes.
Remove lid and simmer an additional 10 minutes to reduce some of the liquid.
Remove from heat and stir in half and half.
Discard thyme bundle. Purée with immersion blender, food processor, or regular blender.
Serve warm.
Check out these tomato dishes:
Roasted Red Pepper and Tomato Soup with Crab
Summer Garden Tomato Sauce Pasta
Classic Homemade Tomato Soup
Ingredients
2

tablespoons

cooking oil

1

tablespoon

unsalted butter

2

medium sweet onions

diced

3

14.5 ounce cans diced tomatoes

4

cups

chicken or vegetable stock

1

tablespoon

honey

1

teaspoon

kosher salt

1/2 to 1

teaspoon

ground black pepper

3 to 4

sprigs fresh thyme

tied with kitchen string

2

tablespoons

half and half
Instructions
Over medium heat in a Dutch oven, or similar size cooking vessel, sauté onions in olive oil and butter until onions are soft, but not brown (about 5 to 8 minutes).Stir in remaining ingredients, except half and half.Cover and simmer on medium low for 30 minutes.Remove lid and simmer an additional 10 minutes to reduce some of the liquid.Remove from heat and stir in half and half.Discard thyme bundle. Purée with immersion blender, food processor, or regular blender.Serve warm_