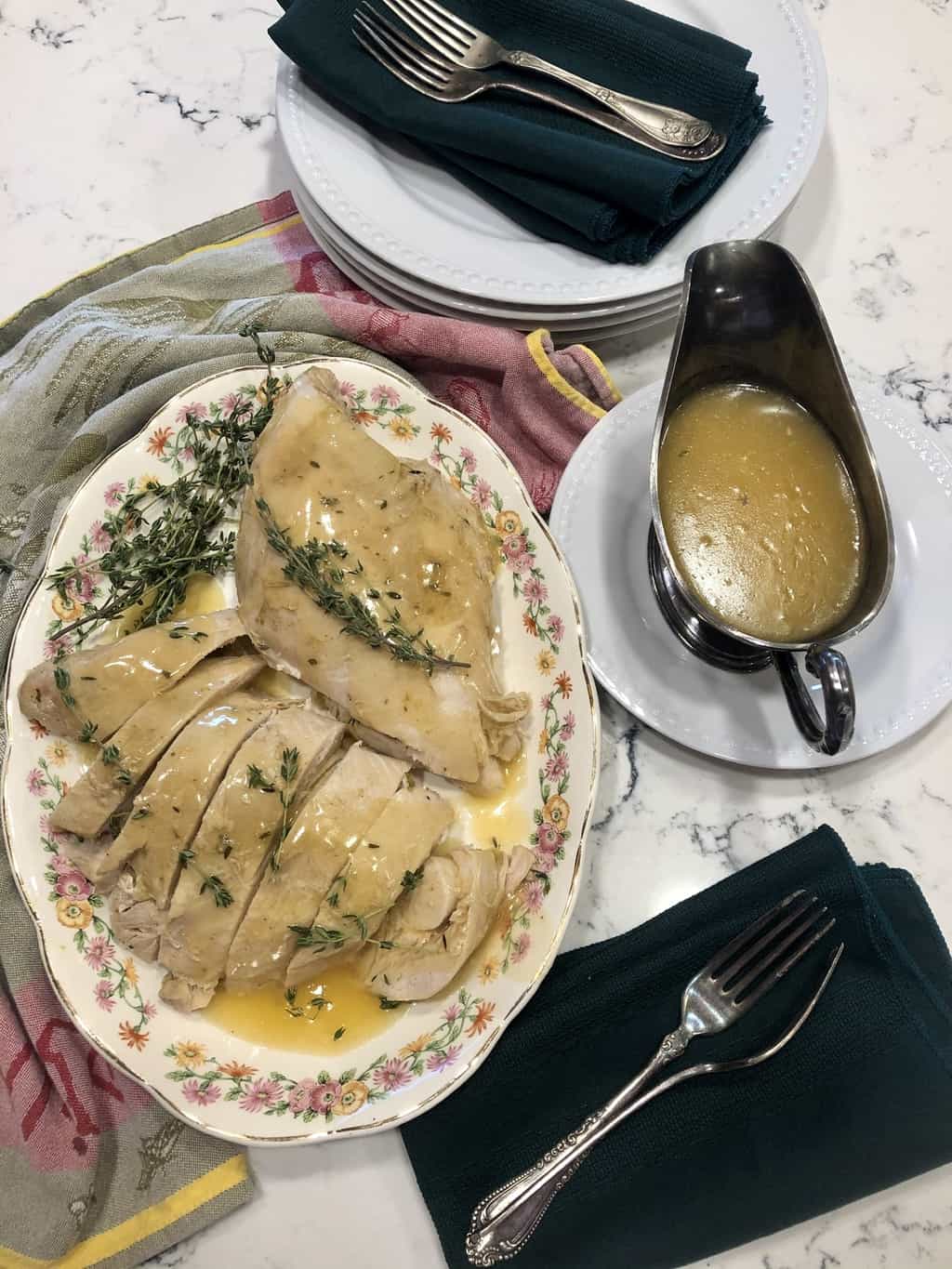 Slow-Cooker Turkey Breast with Gravy is a bone-in, skin-on turkey breast seasoned with flavored butter, cooked in a slow-cooker on a bed of fresh fruit, vegetables, herbs, and white wine. The flavorful cooking stock is thickened for gravy.
Flavorful and juicy turkey breast is delightful. Anything less is a disappointment. Don't let yourself get caught up in the disappointment fiasco. Follow our tips for a turkey breast and gravy that's company worthy and a family favorite.

How to buy a turkey breast
The best results are obtained by cooking a turkey breast that's bone-in and skin-on. The bone adds flavor and the skin helps maintain juiciness. Deboning and removing the skin after cooking is quite easy and makes the decision easy to leave them be during the cooking phase.
Flavored butter
As the name suggests, flavored butter, sometimes known as compound butter, is an easy to way to get extra flavor in your food. Simply soften butter and add flavorful things like spices, herbs, aromatics, and cheese for a savory flavor. For a sweet version, use syrup, honey, flavorings, jams, jellies, and preserves.
I chose to add fresh sage and thyme in addition to garlic powder, onion powder, salt, and paprika. Substitute any spice or herb you like. There's no rules, rather, lots of room to experiment.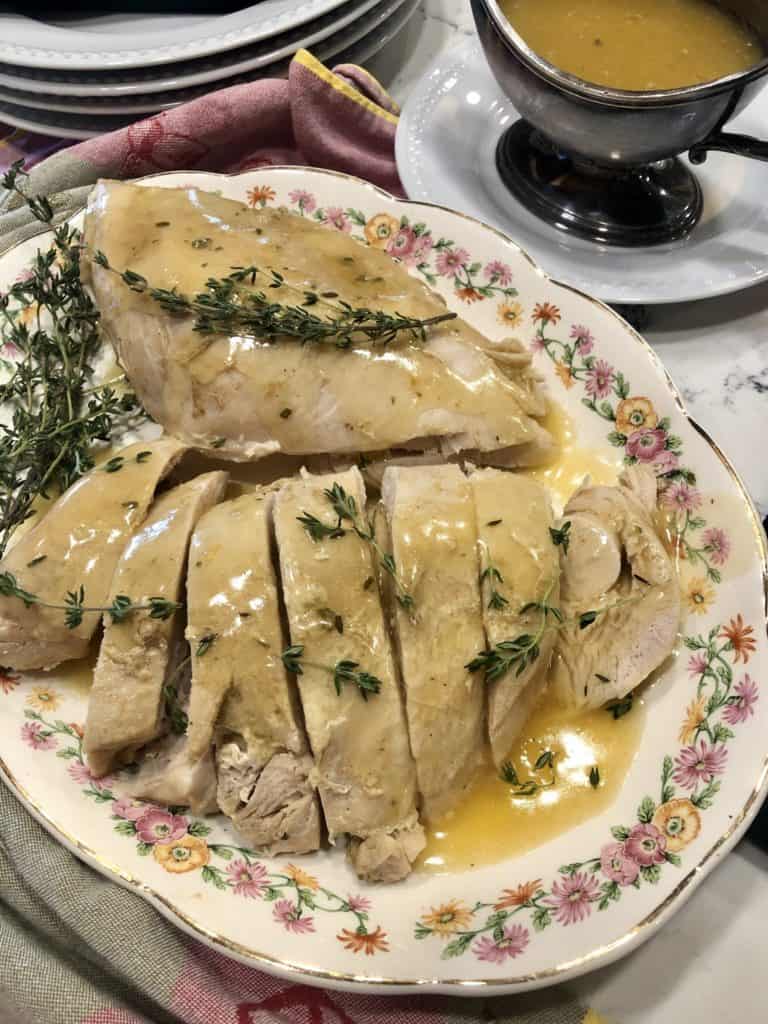 Gravy
All the flavor from the turkey, and the flavored butter, combine with fresh produce, herbs, and white wine to create an incredibly flavored cooking stock. I simply strain the liquid into a sauce pan and thicken it with some dissolved cornstarch. It's an easy and fail safe way to make a tasty gravy that enhances the flavor of perfectly cooked turkey. For a great meal using leftovers, heat sliced turkey and gravy to serve over bread for open faced turkey sandwiches.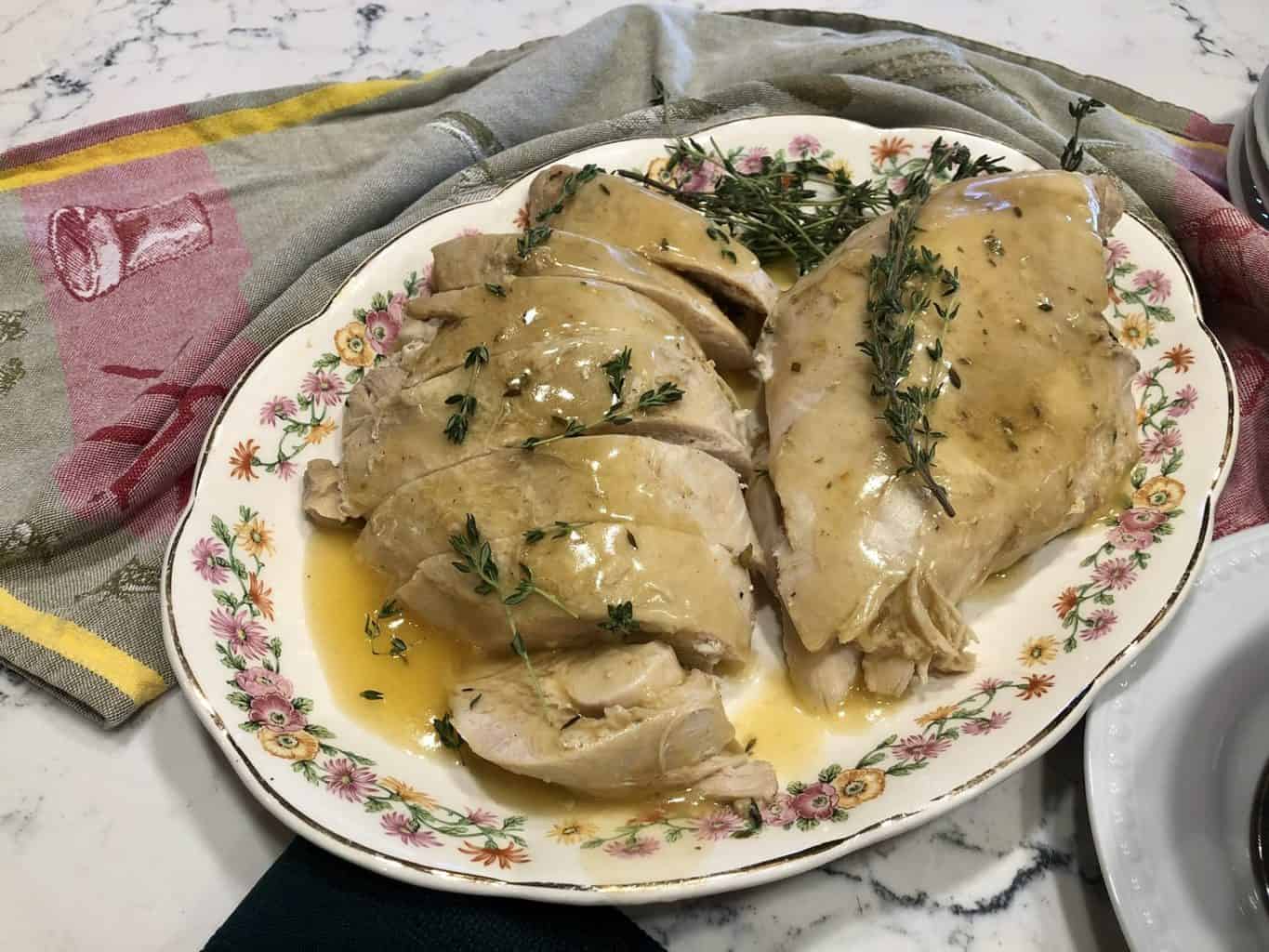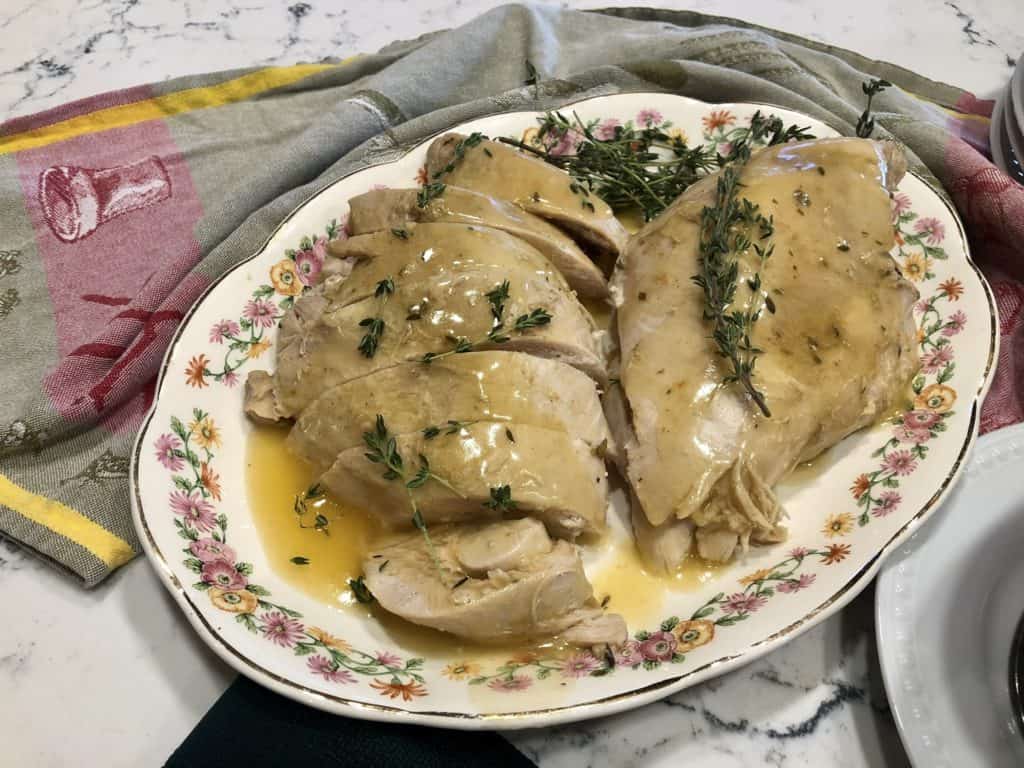 Final thoughts
The turkey was as flavorful, tender, and juicy as I'd hoped. It would be just as grand without gravy, but I feel the gravy is an important addition. Not only does it add flavor to turkey, it's makes a great second meal when served with the turkey as a hot, open faced turkey sandwich. Cooking with skin-on, in a slow-cooker, and a generous smear of butter, helps produce a final product that's moist and flavorful. That's exactly how turkey should be. Skin doesn't crisp up in a slow-cooker so it should be removed before cooking.
Y'all come see us!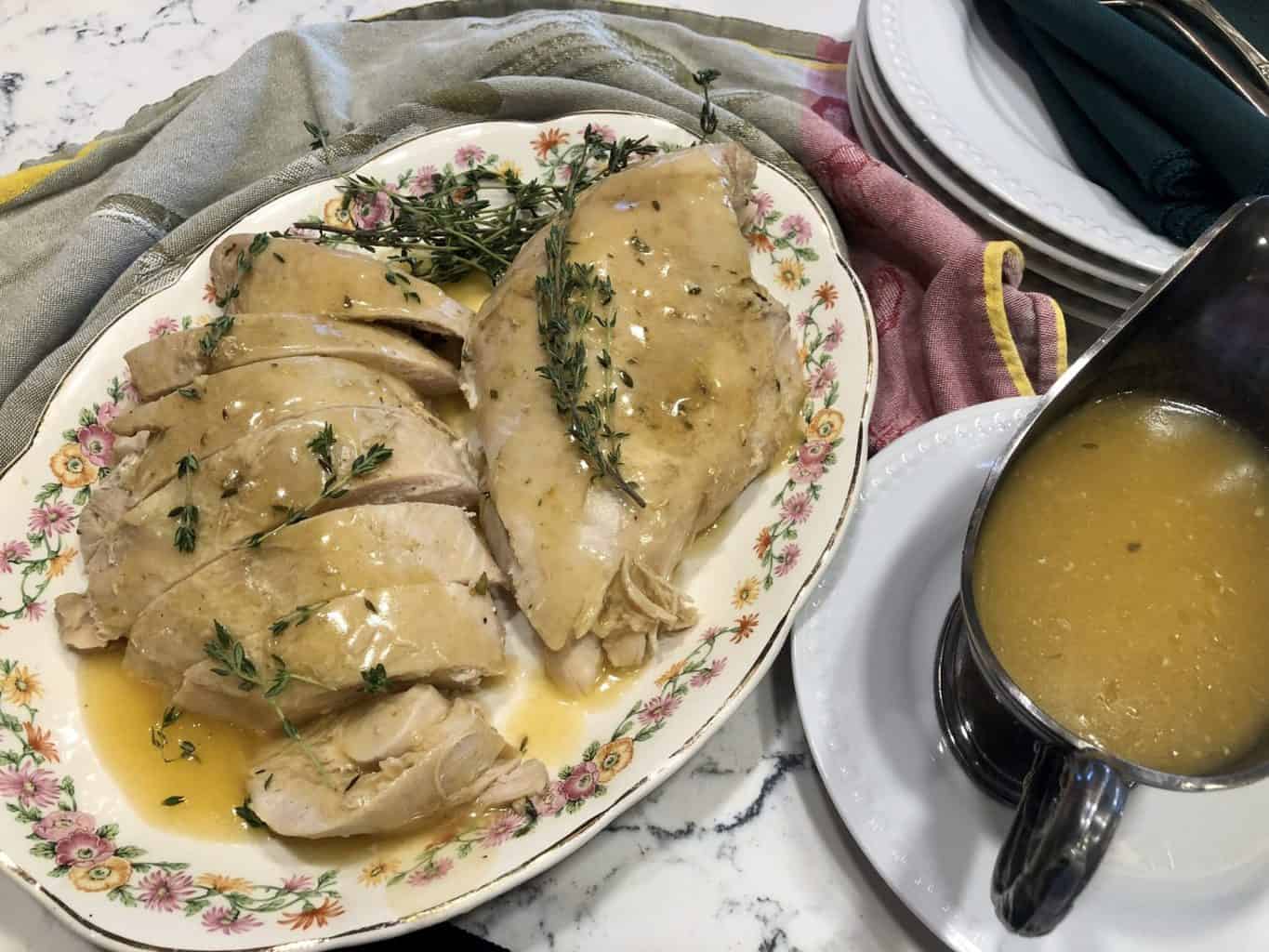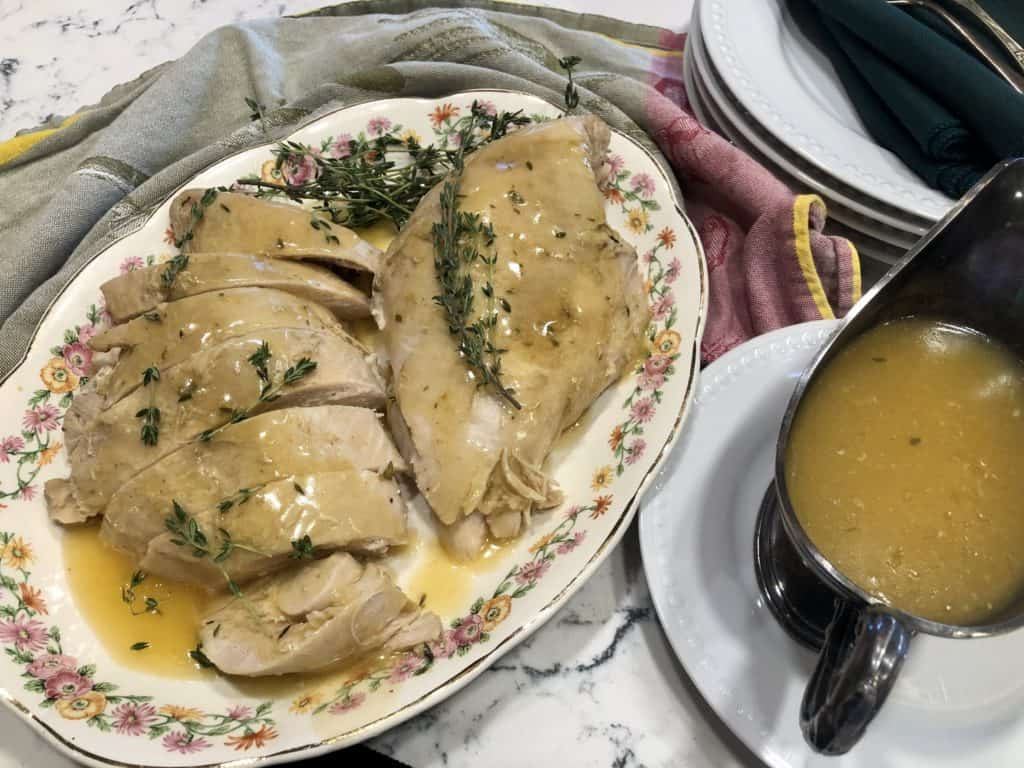 Slow Cooker Turkey Breast with Gravy
Bone-in, skin-on whole turkey breast seasoned with compound butter, cooked in a slow-cooker on a bed of fruits, vegetables,herbs, and white wine. Flavorful cooking stock is thickened for gravy.
Ingredients
1/2

cup

unsalted butter

softened

1

tsp

kosher salt

1

tsp

garlic powder

1

tsp

onion powder

1

tsp

paprika

1

tsp

Fresh sage

minced

1

tsp

fresh thyme

minced

2

carrots

cut in large chunks

2

celery stalks

cut in large chunks

1

sweet onion

cut in large chunks

1

orange

cut in large chunks

5 - 6

sprigs

fresh thyme

2 - 3

springs

fresh sage

1

bone-in, skin-on whole turkey breast

approx. 5 - 6 pounds

3/4

cup

water

1/4

cup

white wine

kosher salt and ground black pepper for sprinkling

1 1/2

tbsp

cornstarch

1/2

cup

water
Instructions
Make the compound butter
To softened butter, stir in next six ingredients. Set aside.
Prepare and cook the turkey
Add next six ingredients to a large slow-cooker. There's no need to trim or peel the produce. All of it will be removed from the cooking stock and discarded at the end.

Place turkey on top of produce. Loosen the skin and smear compound butter under the skin as best you can. Smear remaining butter on top of the skin. Be sure to place the turkey in the slow cooker before you begin the butter smear process. It gets messy and you don't want to handle the turkey after it's coated.

Add water and wine around the edges of the turkey.

Sprinkle top with additional kosher salt and pepper, if desired.

Cover. Cook on high for approximately 4 hours or to an internal temperature of at least 165 degrees.
Make the gravy
Remove turkey from slow-cooker.

Strain cooking stock into a medium size sauce pan. Bring to a boil.

Dissolve cornstarch in cold tap water. Stir into boiling stock. Add additional dissolved cornstarch if necessary to achieve desired thickness of gravy. Serve hot with sliced turkey.